[Test page] Zety Resume Builder
Make a Resume Online—Quick & Easy
Zety lets you create a professional resume in less than 15 minutes. All you need to do is enter basic details about yourself, we'll help you with the rest.
Create my resume now
Rated excellent on Trustpilot
Pick one of our expert-recommended resume designs:
See descriptions below for tips on how to pick the best design for your profession!
Want to explore more design options?
SEE MORE RESUME TEMPLATES
What are the benefits of Zety's online resume maker?
Cover Letter Builder
Write a cover letter using the same templates as your resume.
20+ Best Resume Templates
Create a modern and professional resume and cover letter.
Resume Check
Our builder will give you suggestions on how to improve your resume.
Follow Tips From Experts
Our experts' tips will show you how to write a resume.
It's Fast and Easy to Use
Our online resume builder will help you write a perfect resume in minutes.
Flexible Text Editor
You will have access to the best text editor available.
I found an article about how to write a professional resume on Zety. Then I discovered the application. It's useful and simple to use. It's not a free resume builder, but I guess you can't have everything.
Thomas Freeman
Why is Zety the best resume builder online?
Professional CV Templates
Choose professional, elegant, creative, or modern resume templates. Zety's resume maker offers 18 templates. You can easily change colors and adapt the layout to any resume format you choose: functional, reverse-chronological, or combination.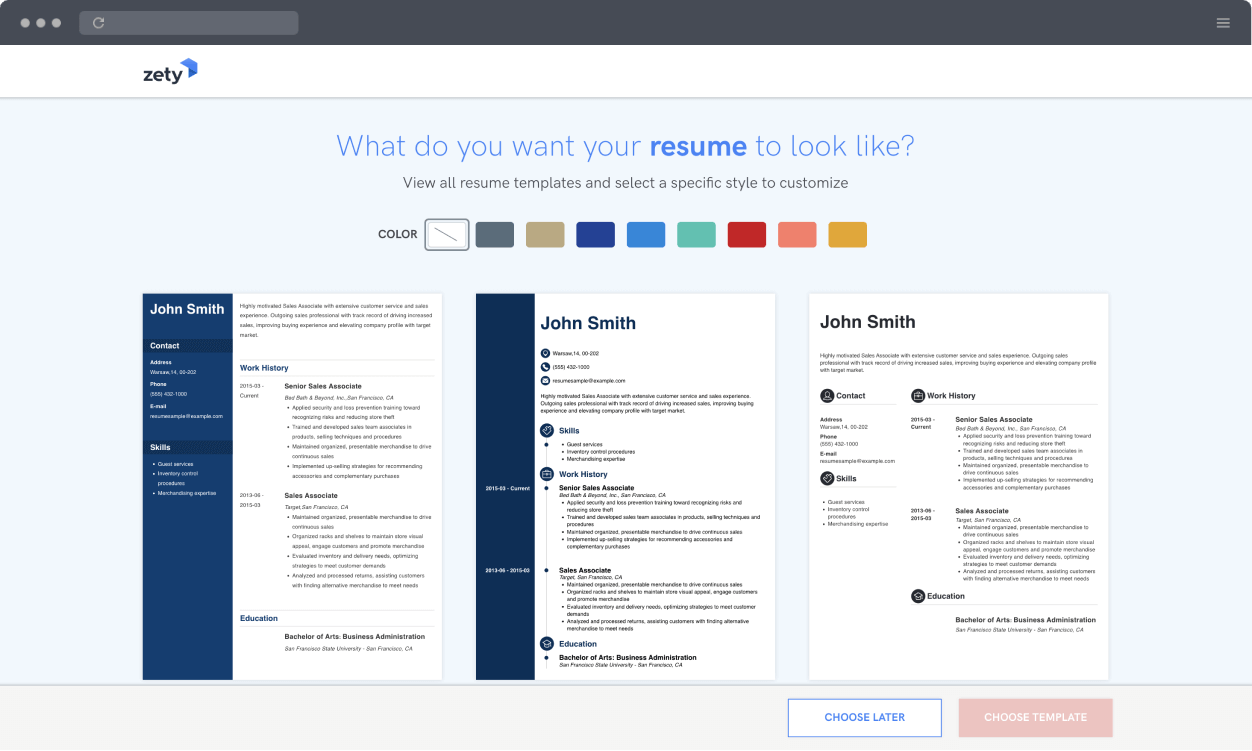 Tips From Recruiters
You no longer have to worry about how to make a resume. Our resume generator will guide you through the process of writing each section, step-by-step. Resume writing tips will help you get more job offers.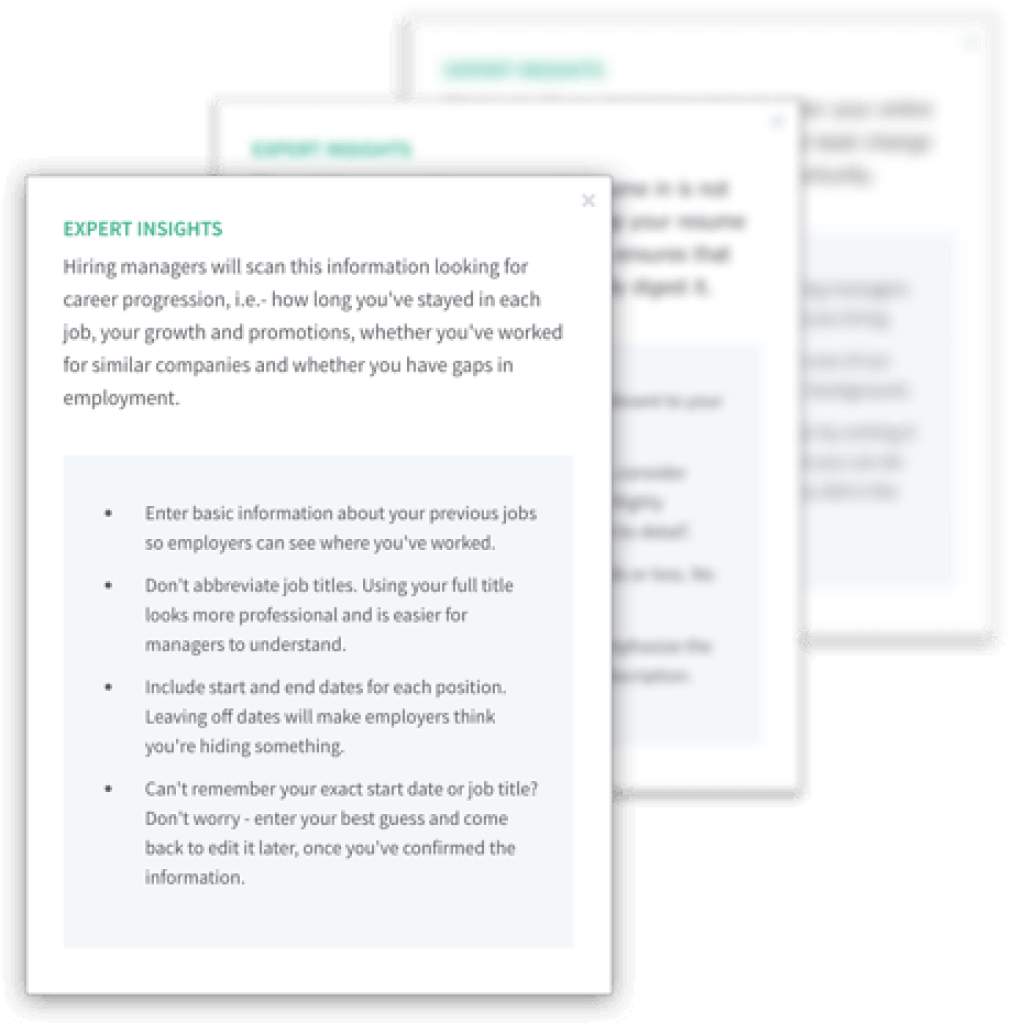 Edit Your Resume As You Like
Choose font types, sizes, and spacing. You can bold, italicize, and underline your text. You don't need to use MS Word resume templates: we take care of the formatting, and give you access to the best resume designs you'll ever see.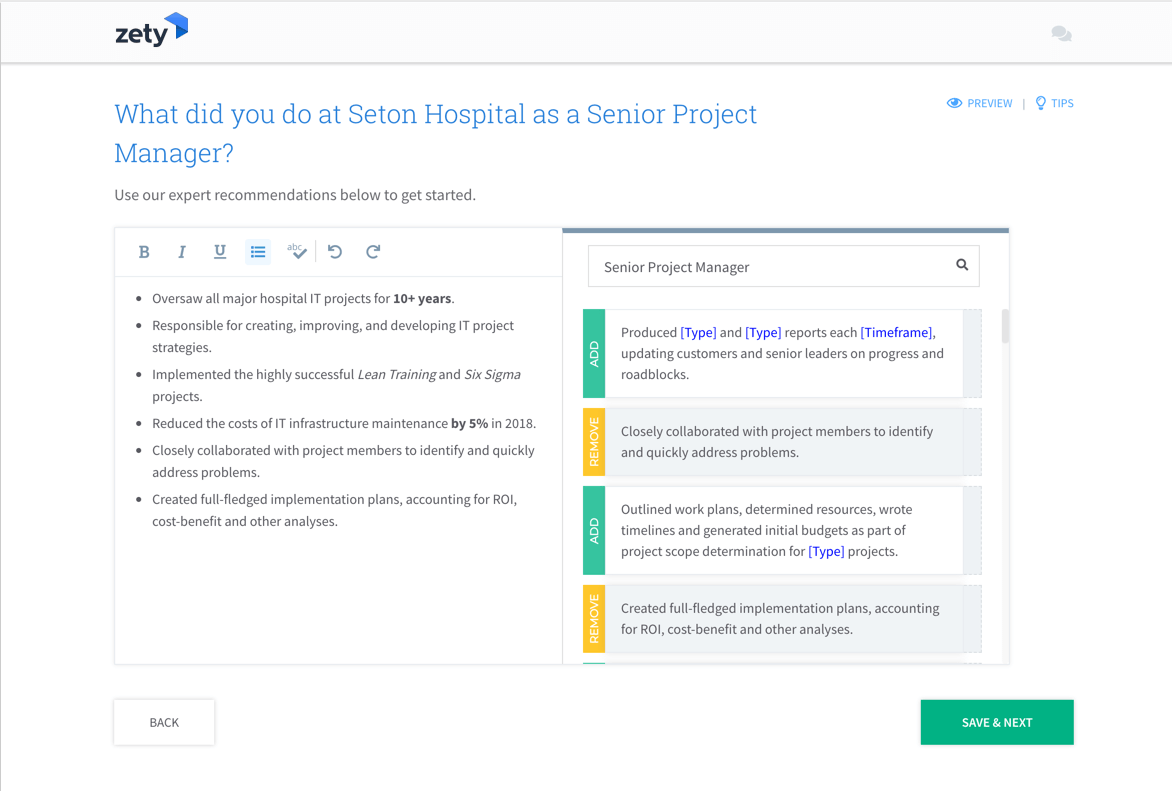 Cover Letter and Resume Builder
Create your professional cover letter in just a few simple steps. Use the same template for your cover letter and resume. Convince hiring managers to set up an interview with you.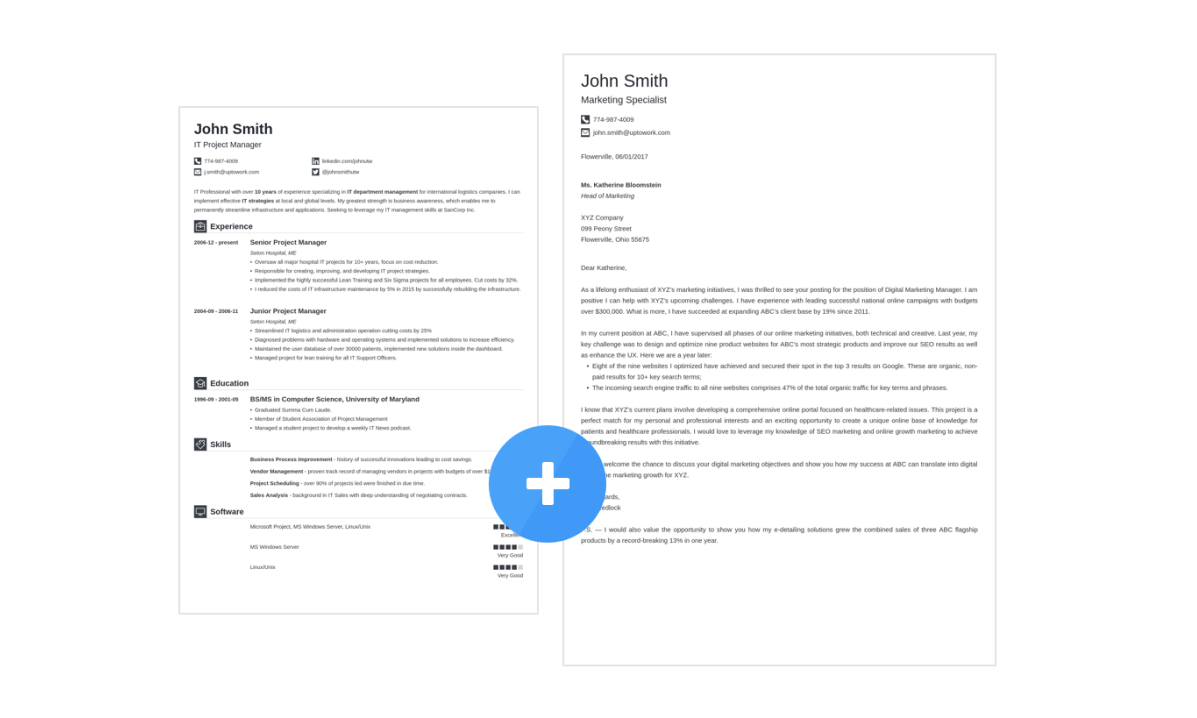 Write your professional resume online.
Download with a single click. Land that dream job.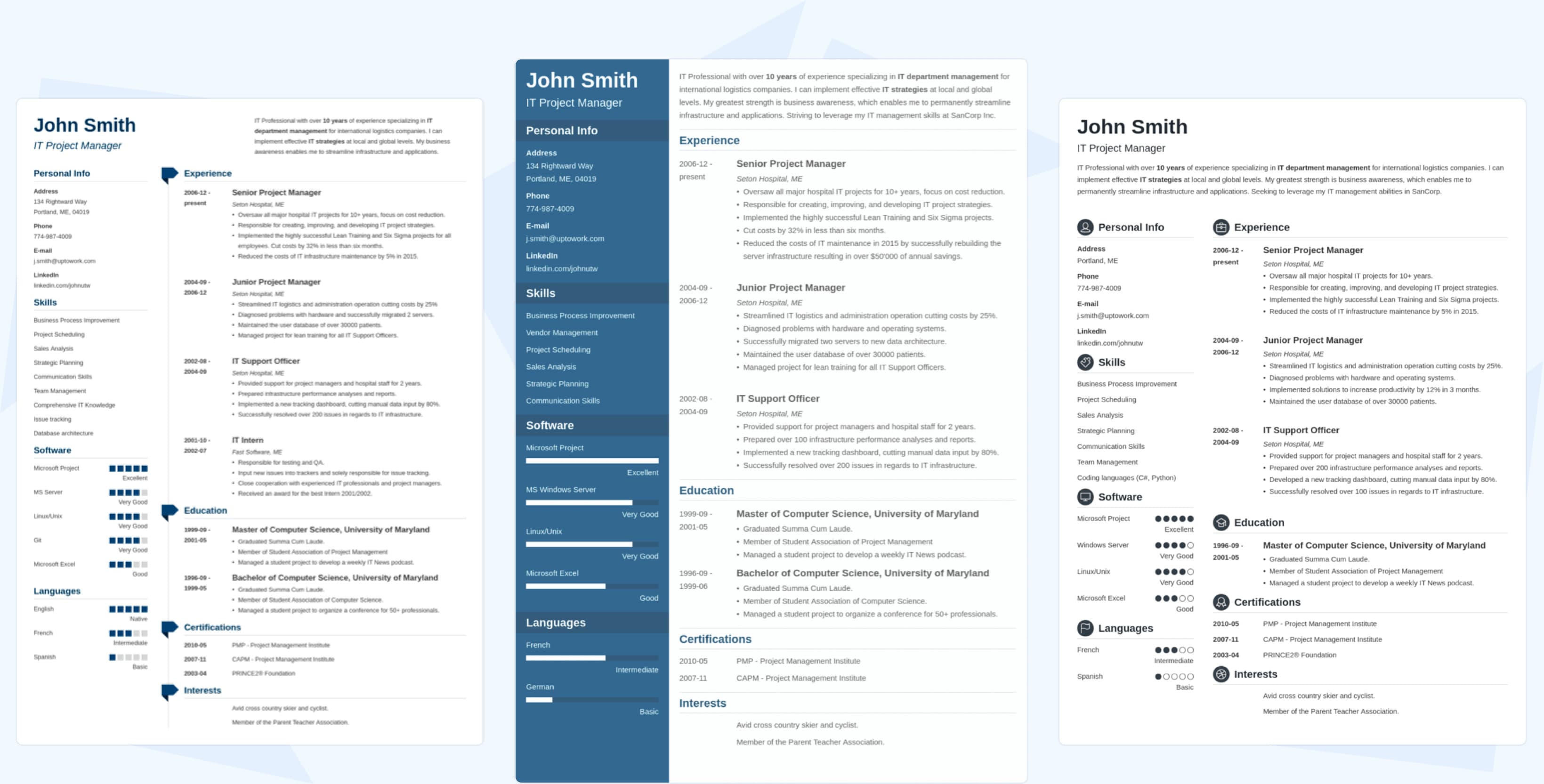 GO TO RESUME BUILDER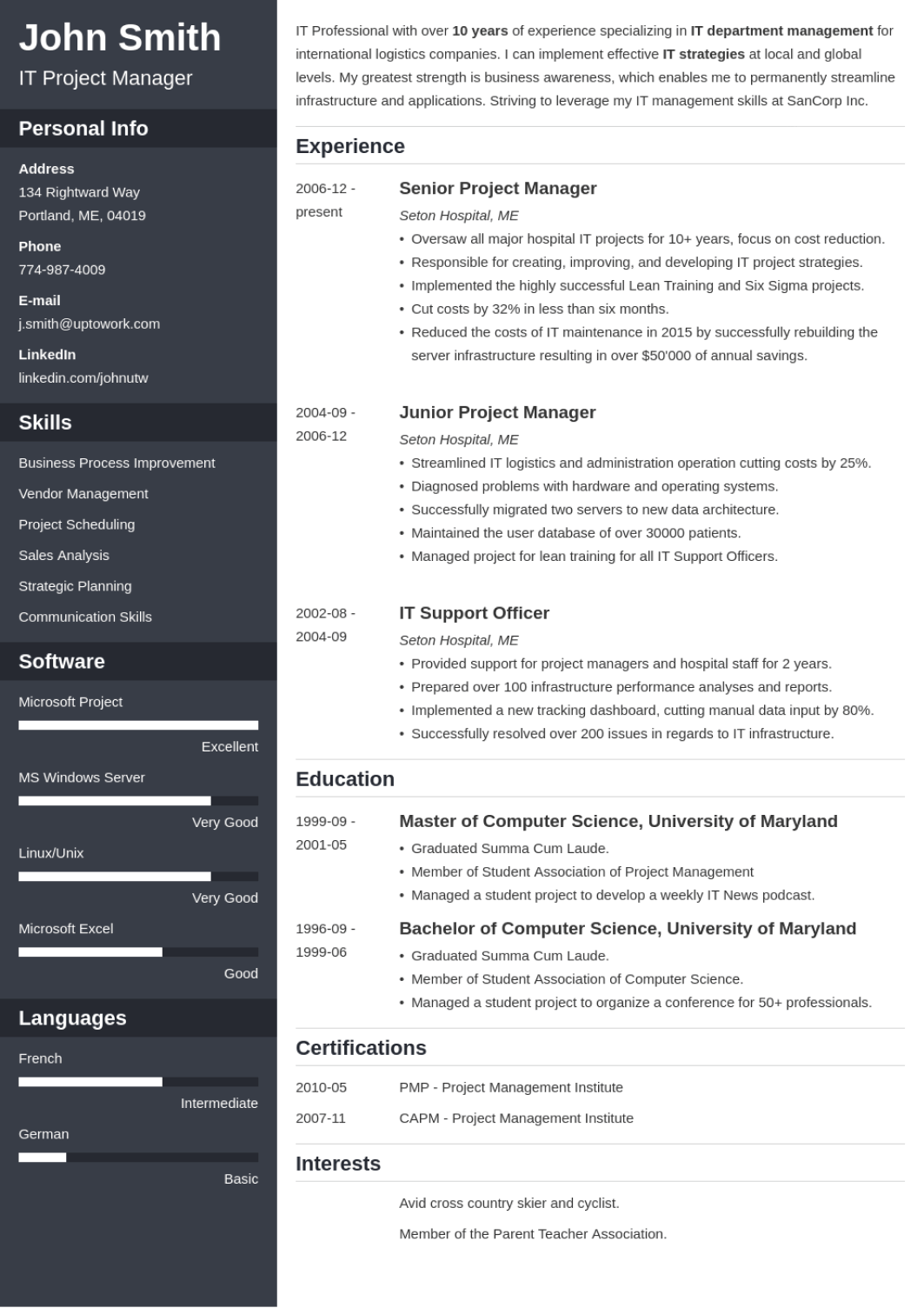 Cascade template
Cascade uses a nifty bar graph for your skills and language sections and a sidebar with subtle shading differences.
You can add, remove, and rearrange the sections and further customize your resume, picking from dozens of color combinations...
Template chosen by
1,500,000+ users
Create my resume now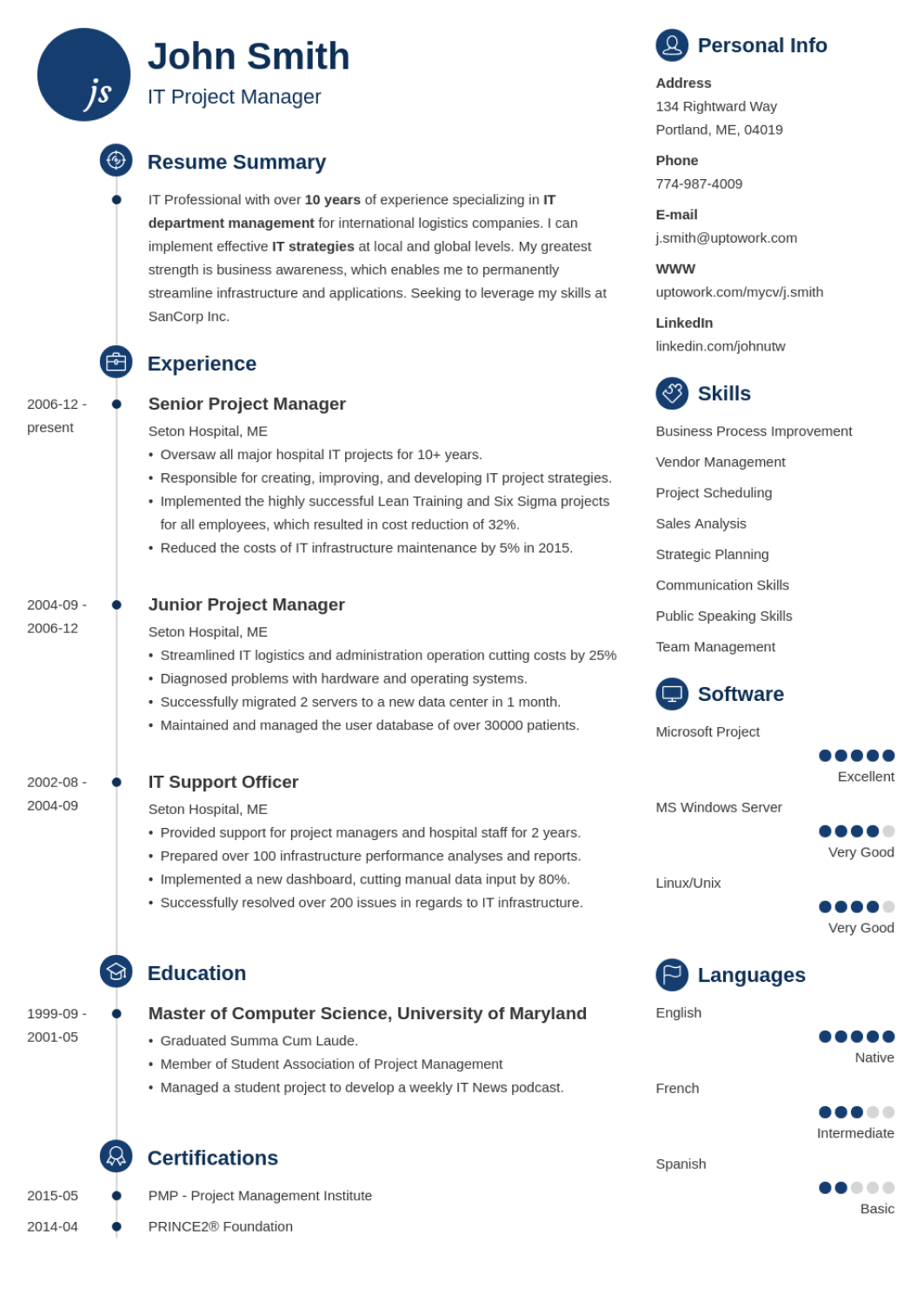 Primo template
This template has a modern, upbeat look in the style of an infographic timeline.
You can add, remove, or rearrange its sections and icons to your liking. Primo uses a side column to help you save space and tiny icons to draw recruiters' attention
Template chosen by
400,000+ users
Create my resume now
Zety's CV builder is fast and easy to use. I loved the great resume templates, and I loved the fact that I can have my cover letter in the same design.
Mark Horotsky