Childhood Dream Jobs [Study]
Do people end up in their dream jobs from childhood? Our study asked 2,000 respondents if their career dreams were fulfilled. Here are the results.
What did you want to be when you grew up? Doctor, film star, musician, superhero—
We all had that one dream job.
Whether it was fighting crime, winning Olympic gold, or starring in the next hit film, our younger selves were determined to fulfil their childhood dreams.
But—how many of us succeeded?
According to new research, more than 6 in 10 people did not achieve their childhood dreams.
Read on to discover even more fascinating findings from this study.
Unfulfilled Promises of Yesteryear
In a survey taken by 2,000 people, respondents were asked to recall their childhood dream jobs and how their dreams changed as they grew to adulthood. The survey found that sadly, more than 6 in 10 people failed to attain their childhood dream jobs.
The exact figure was 67% and 58% of those respondents still wish they could make their dreams come true.
While some respondents said their childhood dreams changed over time, the most common response was that they 'became more realistic'.
This realism was perfectly expressed by one respondent who said: 'I chose to work in a career that was readily accessible instead of idealised jobs, taking a practical approach to available employment which I usually learned to love or leave'.
For others, their hand was forced by external factors when they started their working lives: 'I couldn't teach, since there were no available jobs in 1970. I became a nurse instead, where I teach my patients and their families every day'.
Or for some, the economic reality of their dream job intervened: 'I realised that the job I dreamed of as a child had low pay and minimal opportunities for advancement. I pivoted to law and am probably better for it'.
In other cases, the reality of the childhood job showed it wasn't the dream they expected: 'My childhood dream job was to be a veterinarian. I got a job working for a veterinarian for a year and had several experiences that taught me that I couldn't mentally handle the harder parts of the job'.
Another honest respondent said the following: 'I wanted to be a lawyer, so I got to know more about the legal system. I realised how dirty and corrupt the legal system and most of its lawyers are and I didn't want any part of it'.
One surprising finding from the survey is that 82% of people who did not fulfil their childhood dreams are not pursuing them at all as adults.
But that said, there are still a lucky few people whose dreams came true as this respondent explains: 'I became a professional ballerina who also acted part time. Now I mostly act, sing & still dance, but mostly teach ballet. That dream is still alive and kicking'!

When did reality kick in for those who didn't achieve their childhood dreams?
At 15 years old—right around the time when they started getting their first experience of paid work. The most popular first jobs for men were mowing lawns (15%) and for women, babysitting (25%).
Respondents reported starting their first full-time "adult" job at age 20—catering industry (15%) and retail (13%) topping the list.
What Did You Want to Be When You Grew Up?
So, what do children want to be when they grow up? Bet you can't guess the top answer—
It was a doctor. 6 in 10 wanted to wield the stethoscope and prescription pad. Other top answers were: teacher, veterinarian, musician, and film star. Here are the full results: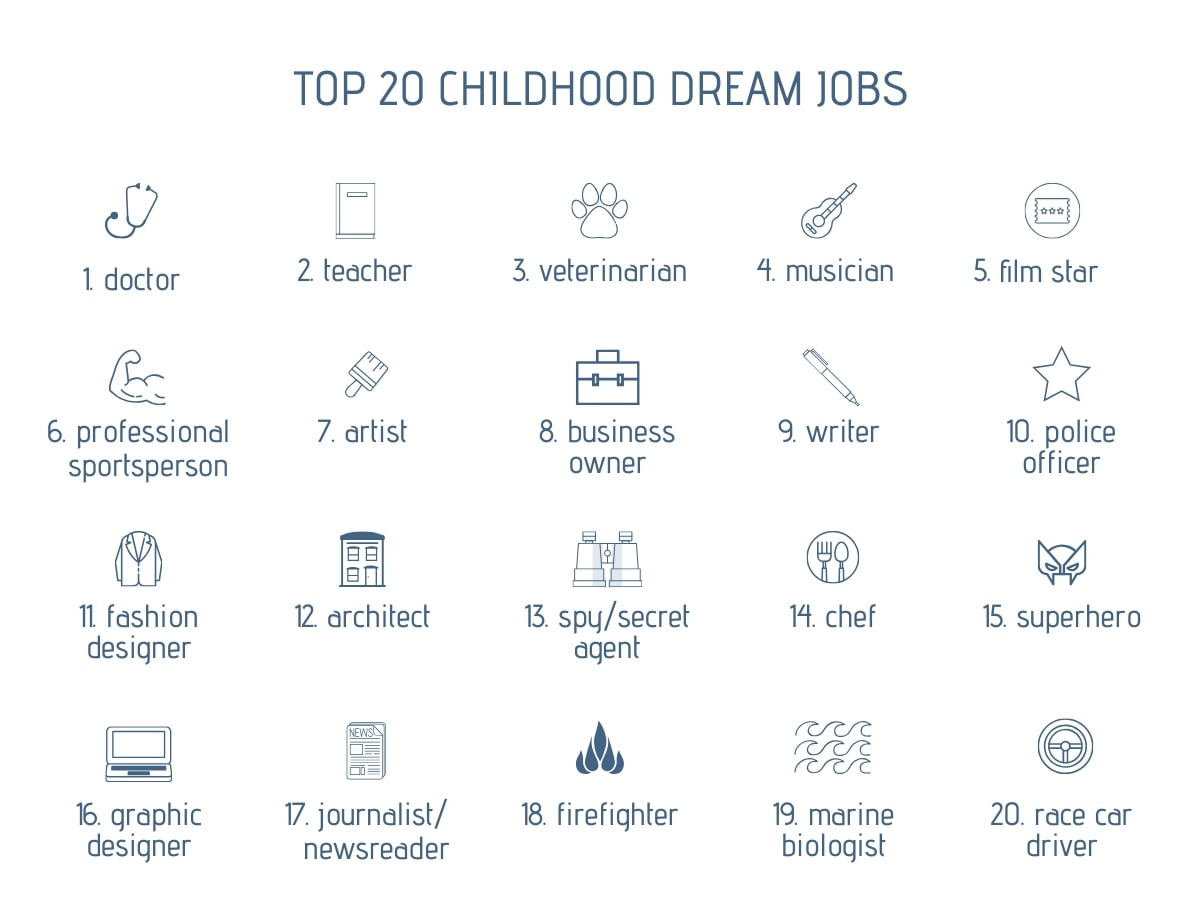 Interestingly, both men and women shared an interest in becoming doctors when they grew up. Both sexes had a doctor as their second choice of dream job (15% of men, 17% of women).
For male respondents, the top childhood dream job was becoming a professional sportsperson (17%). Here are the other top choices:
TOP 10 Childhood Dream Jobs for Men

1.

Professional sportsperson

2.

Doctor

3.

Musician

4.

Police officer

5.

Business owner

6.

Superhero

7.

Teacher

8.

Film star

9.

Architect

10.

Firefighter
For female respondents, the top childhood dream job was becoming a teacher (22%). Here are the other top choices:
TOP 10 Childhood Dream Jobs for Women

1.

Teacher

2.

Doctor

3.

Veterinarian

4.

Film star

5.

Writer

6.

Artist

7.

Fashion designer

8.

Musician

9.

Business owner

10.

Chef
The Best of the Rest
But that's not all, our respondents pointed out some other incredible dream jobs. In no particular order here are a few of the other jobs that sprang from our respondents' childhood dreams.
First some typical jobs kids love:
Astronaut
Ballerina
Pilot
Lorry driver
Acrobat
And a few that are very specific. Obviously some kids are more career-oriented than others.
Trade show coordinator
Office secretary for upper management
Electronics engineer
Entomologist
System analyst working in the aerospace industry
What Went Wrong and How to Make it Right
Of course, not everyone can be a doctor or professional sportsperson. But what wrong turns did we take on the path to our adult careers?
The survey gave respondents a hypothetical scenario—what would happen if they applied for a job now with their first-ever CV?
The result—
44% of respondents stated they wouldn't be able to get a well-paid job with that CV.
When crafting their first CVs, 27% of people asked mum and dad for help to write them. 18% turned to a teacher or professor for help.
Unsurprisingly, nearly 40% of respondents are embarrassed by their first CV.
Did respondents improve their CV writing skills since then? Yes and no.
Nearly half of respondents have updated their CVs within the past two years. But worryingly, a quarter of respondents haven't updated their CVs in over 10 years.
The average person rates their confidence in their CV as a 6.5—with one being not at all confident and 10 being completely confident. Clearly there's room for improvement.
One thing remains the same. No matter if you're pursuing your childhood dream job or simply transitioning to a new one, crafting a perfectly tailored CV is a must.
Key Takeaways
Let's recap the main findings from this new research:
More than 6 in 10 people failed to secure their childhood dream jobs.
6 in 10 people wanted to be a doctor when they grew up.
27% of respondents asked their parents for advice when writing their first CV.
The average respondent rated their CV confidence as a 6.5.
About Us
Apply with Zety and land the dream job. Try our online CV builder, get inspired by great CV examples, learn how to create a CV that will beat the competition, and match it with a compelling cover letter made with our cover letter generator.
About Zety's Editorial Process
Our editorial team has thoroughly reviewed this article to ensure it follows Zety's editorial guidelines. Our dedication lies in sharing our expertise and providing you with actionable career advice that offers you real value. Every year, the quality of our content attracts 40 million readers to our site. But that's not all – we conduct original research to gain a detailed understanding of the labour market. We take pride in being cited by top universities and leading media outlets in the UK and worldwide.