When it comes to writing your CV it can be easy to fall victim to choice overload. It's not about firing up your trusty word processor and doing it yourself anymore. There are a ton of CV makers out there now that claim to do the job for you. Type 'free CV builder' into Google and you'll get hit with almost 30 million results.
But are they any good? How can you be sure they'll build you a CV that looks great and gets you interviews?
In this article, you'll see six of the most popular free CV makers, discover their pros and cons and learn what a CV creator needs to guarantee job-hunting success. So let's find out whether there actually is such a thing as a free lunch.
Want to save time and have your CV ready in 5 minutes? Try our CV builder. It's fast and easy to use. Plus, you'll get ready-made content to add with one click. See 20+ CV templates and create your CV here.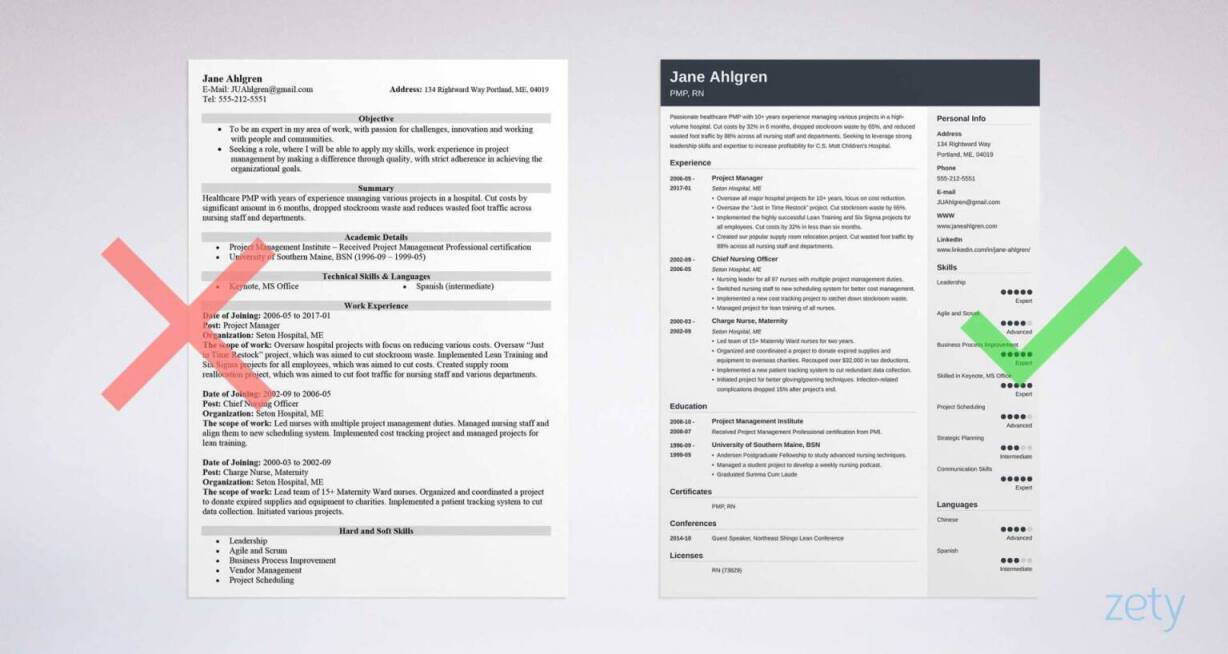 Sample CV made with our builder—See more CV examples here.
Looking for CV templates? Read more here: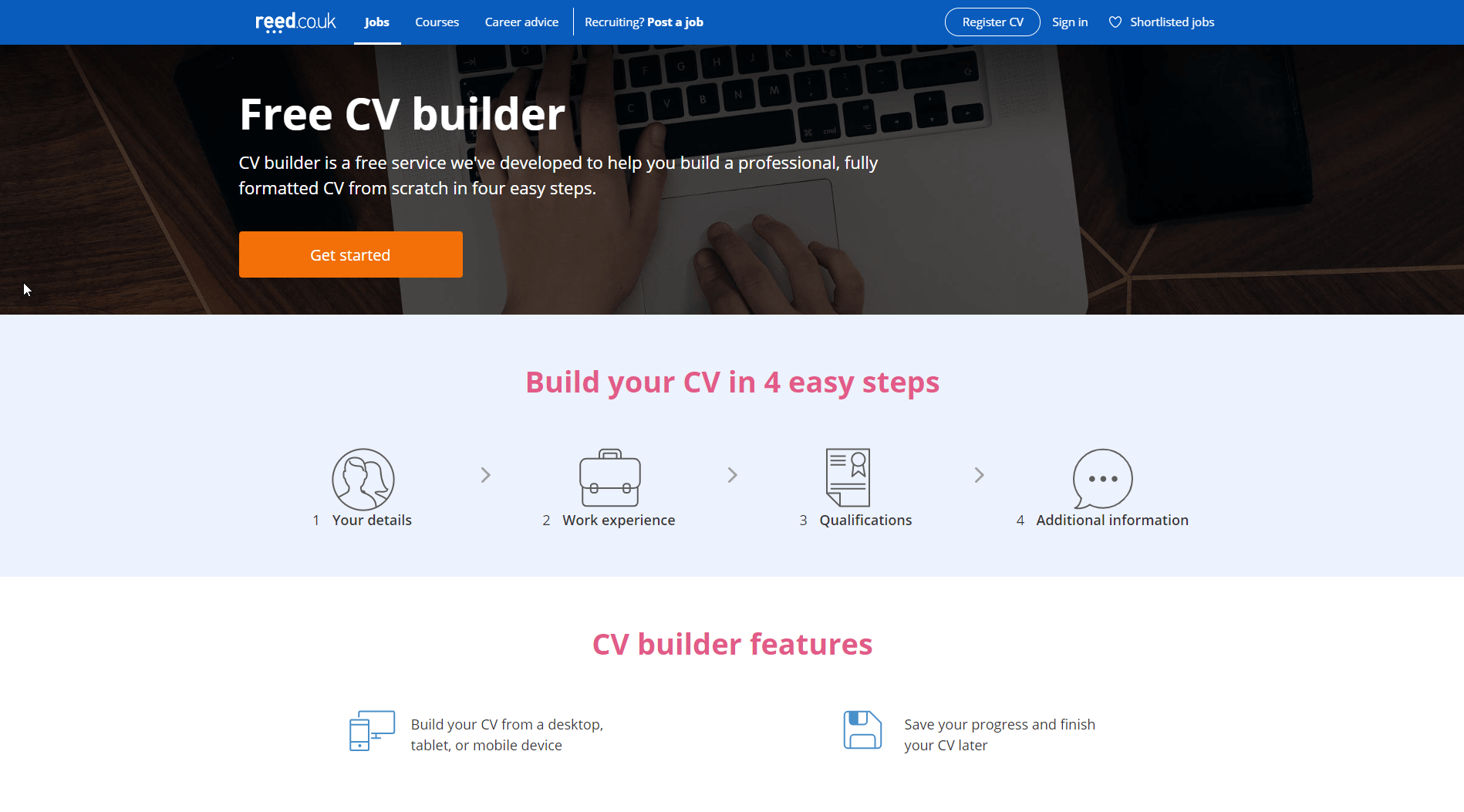 Reed has been in the employment business since 1960. They're a household name, so it should be safe to assume they know their onions. But does their free CV builder live up to their reputation?
Reed—Example CV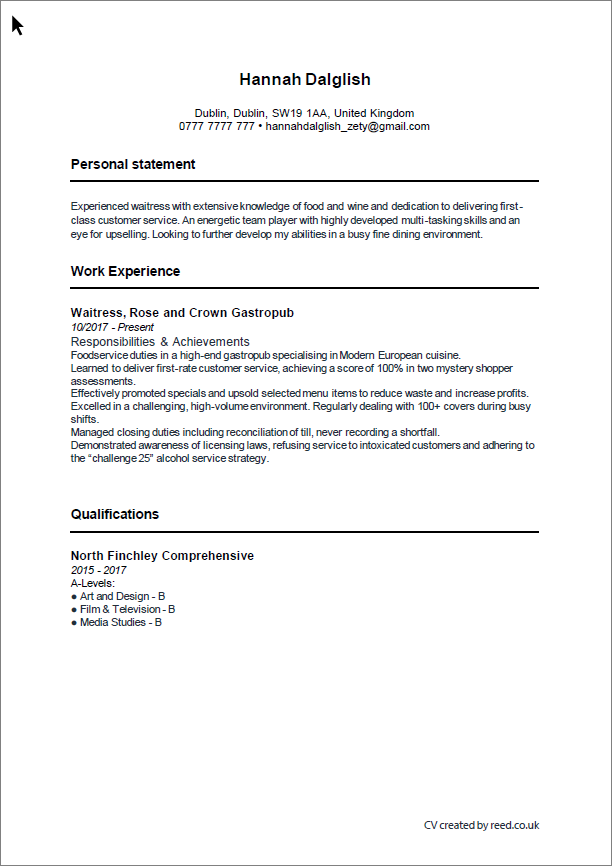 Pros:
Simple interface. (But almost too bare bones.)
Cons:
Only one choice of CV template.
CV downloadable in Microsoft Word format only.
Very basic in-app editor. No options for bullet points, bolding etc.
No options for customisation of fonts or colours.
No in-app tips or suggestions.
No cover letter builder.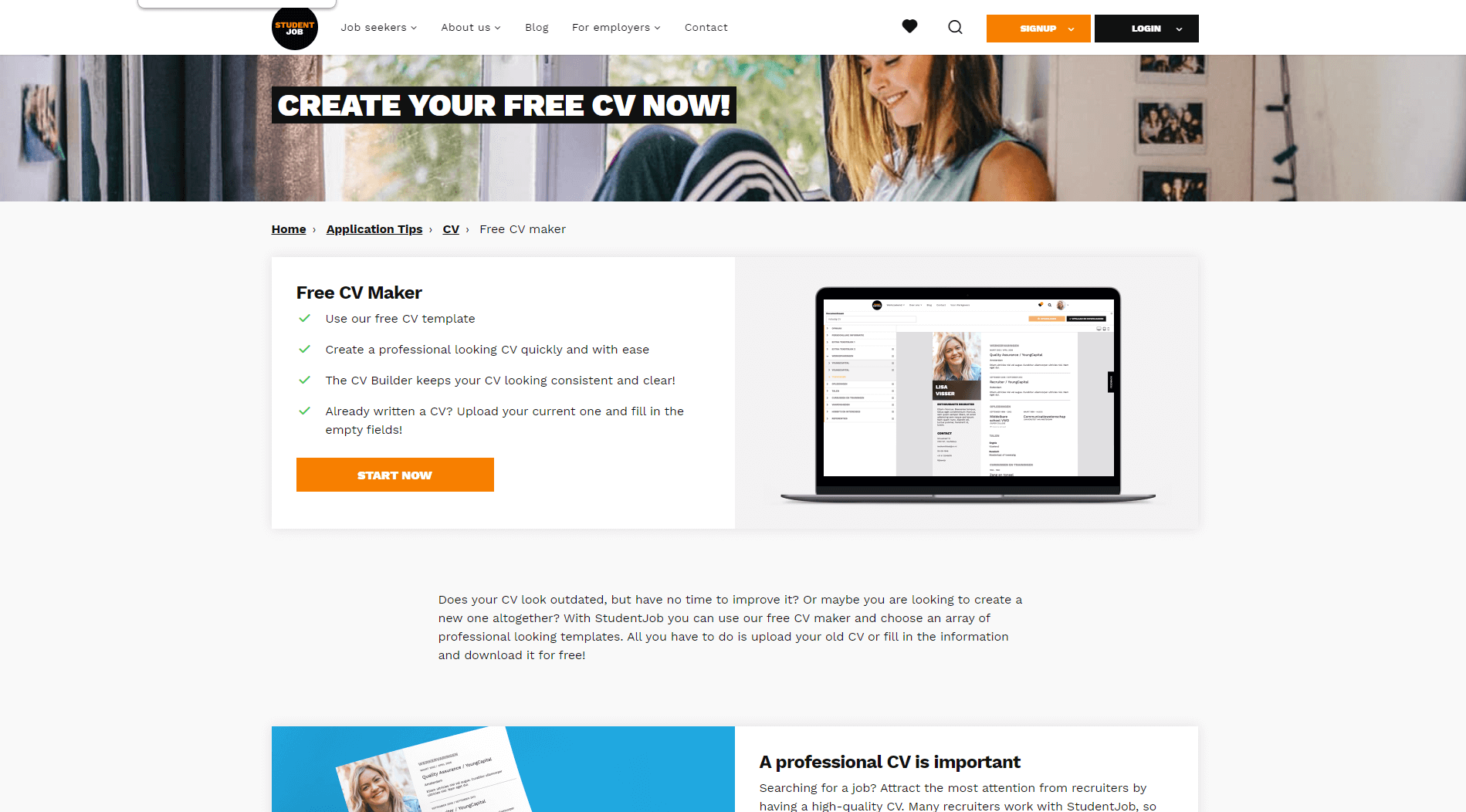 StudentJob was established in 2000. They've got a presence in countries across Western Europe and are focused on the student CV market. But does that translate into a well-built and effective CV builder?
StudentJob—Example CV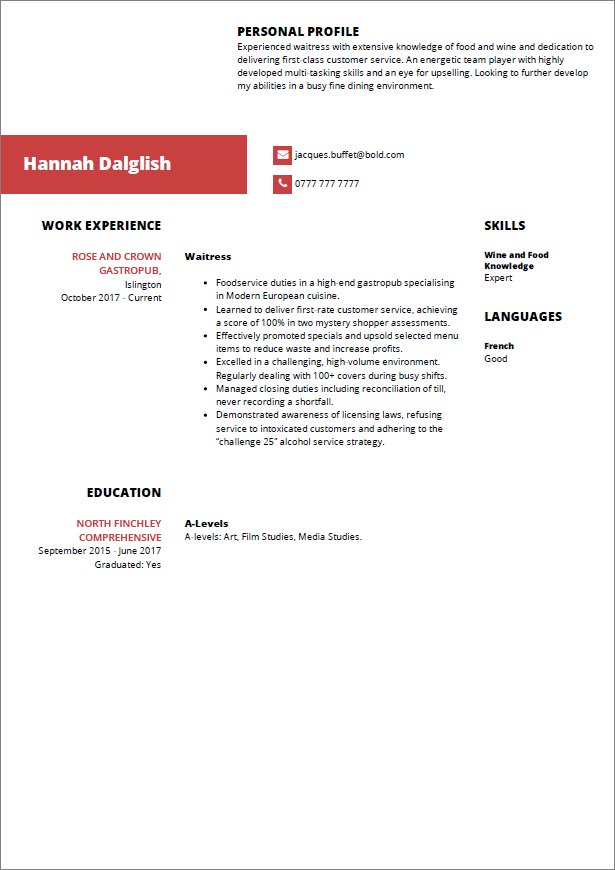 Pros:
CV layout is somewhat customisable. (Options are limited though.)
Adaptable to different types of CV format.
In-app editor allows bullet points, bolding etc. (But not much more.)
Cons:
Only four templates are available and there are only seven colour options.
Date of birth is included by default. Your date of birth should never appear on a UK CV template.
No cover letter builder.
Only allows download in PDF.
No in-app tips or suggestions.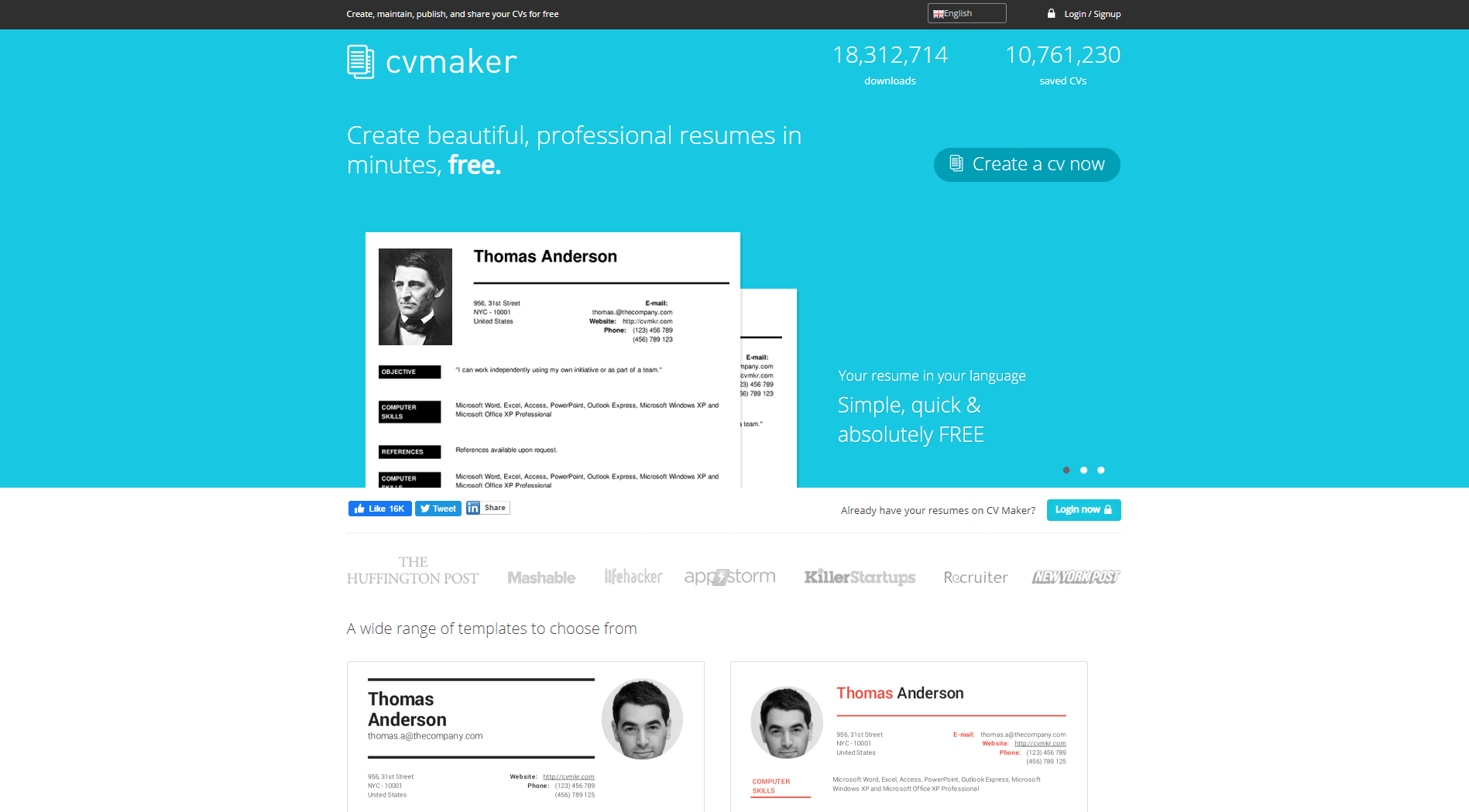 CV Maker, the name is certainly self-explanatory. This free CV creator has a global presence, offering its services in 30+ languages. It claims to create beautiful, professional CVs in minutes for free, but does global reach mean high quality?
CV Maker—Example CV
Pros:
Allows some formatting and customisation.
Allows addition of new sections. (But doesn't suggest titles of optional CV sections.)
Cons:
Claims to be a free editor but some features are only available with a premium subscription.
Paid version only adds four rather lacklustre templates.
Free version doesn't allow you to remove unwanted CV sections.
Doesn't allow download in Word format.
No in-app tips or suggestions.
No cover letter builder.
When making a CV in our builder, drag & drop bullet points, skills, and auto-fill the boring stuff. Spell check? Check. Start building your CV here.
When you're done, Zety's CV builder will score your CV and tell you exactly how to make it better.
Cool Free CV didn't make a great first impression. The web design looked dated and it had large intrusive adverts, which I removed for the purposes of the image above. So did the builder manage to dispel this negative first impression?
CoolFreeCV—Example CV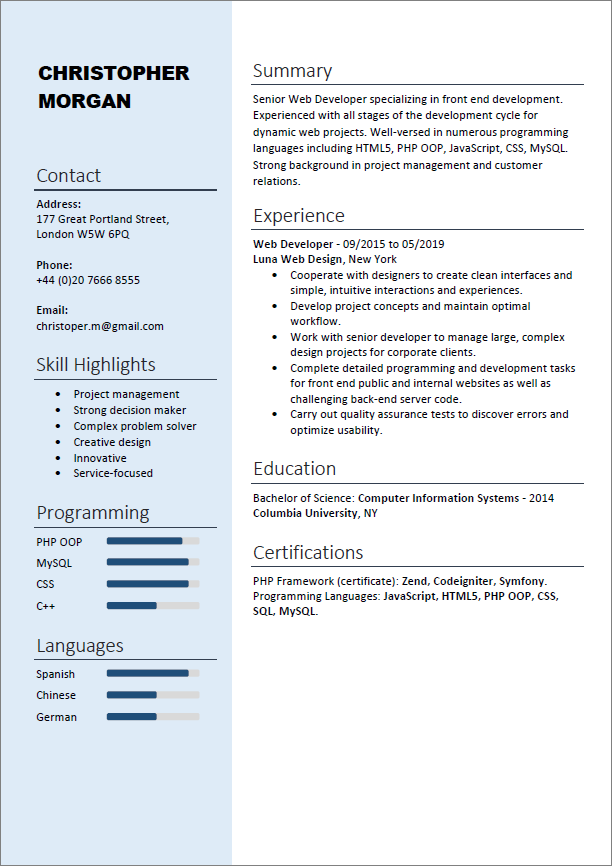 Pros:
I know this seems harsh, but allow me to explain. This wasn't actually a CV builder or maker, despite claiming to be so. All it does is allow you to download CV templates, then all the hard work is up to you. It completely defeats the purpose of being a free online CV maker. Just don't bother with this one.
It also lacks any visible privacy policy. Bad news for your personal data.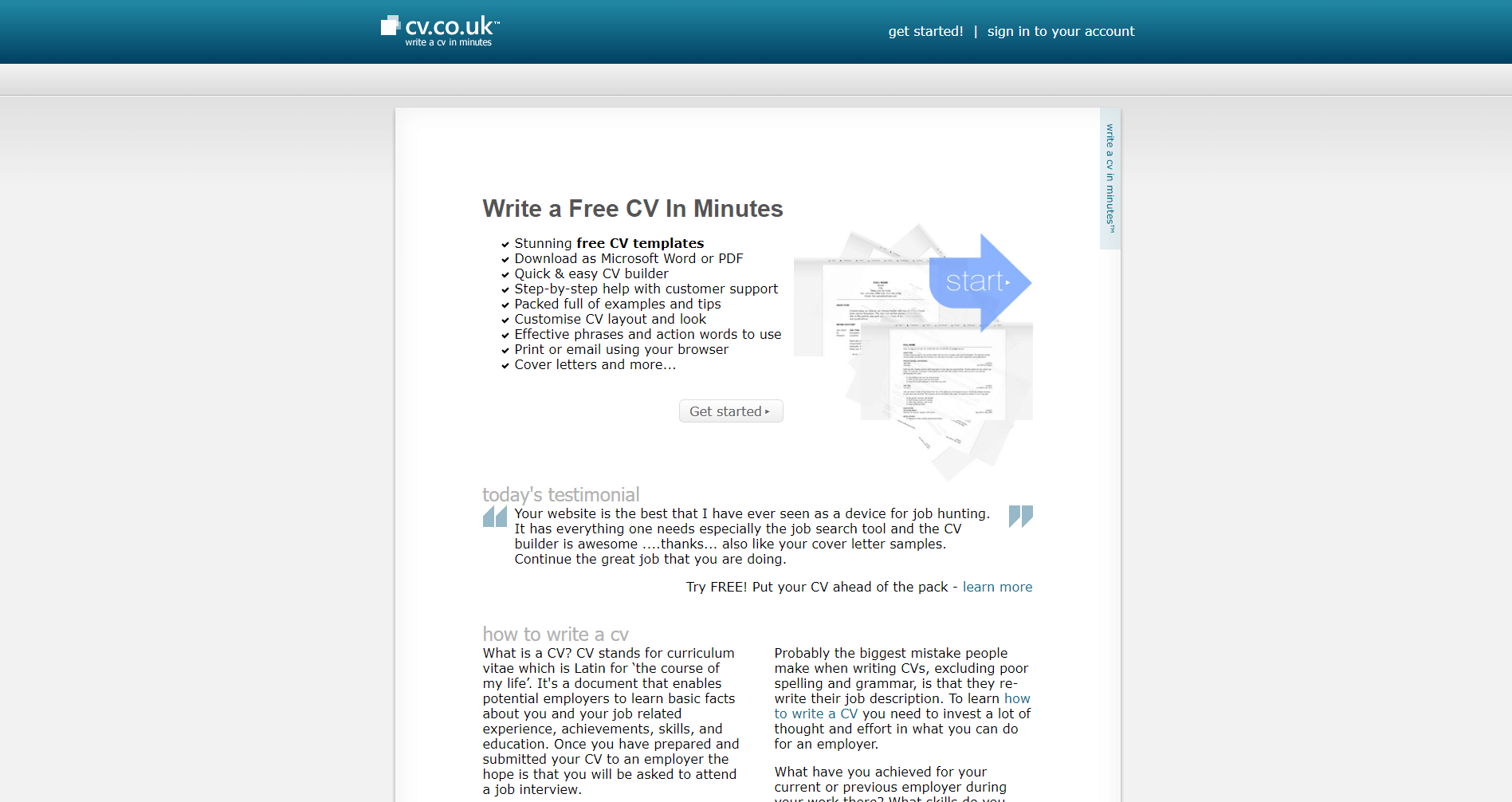 Again, there's not a lot to say about the fine people at cv.co.uk. Apart from the fact they managed to get a pretty self-explanatory domain name! Let's take a look at an example of one of their CVs and see if their builder is worth trying.
cv.co.uk—Example CV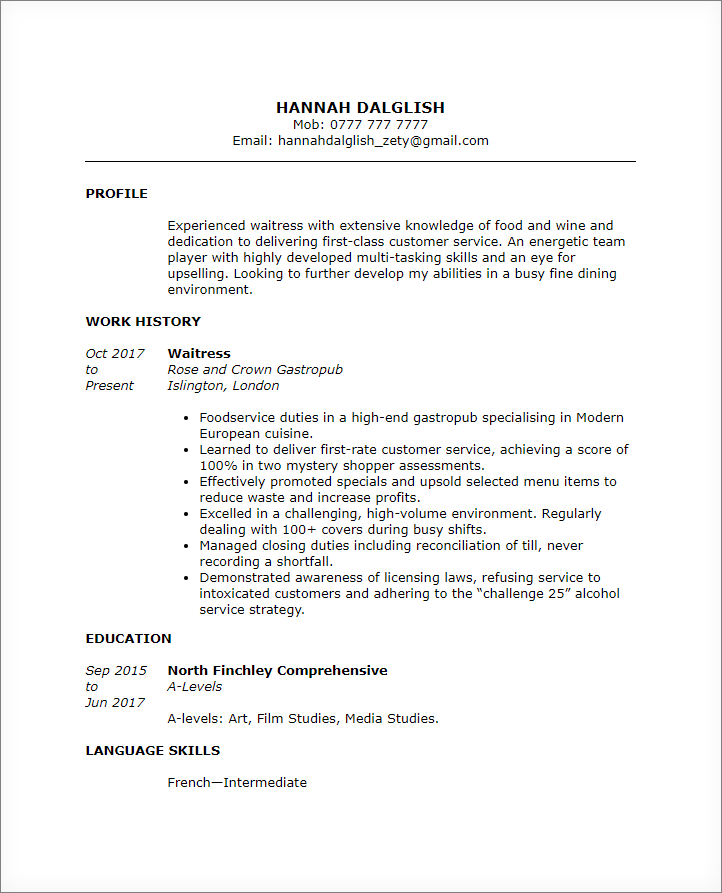 Once again, I'm afraid the news wasn't good.
Pros:
Relatively simple interface.
Some customisation of layout possible.
Cons:
Is not actually a free CV builder and is not transparent about this fact, you have to pay to actually download your CV.
No cover letter builder.
Gives tips that are incorrect. E.g. it suggested that a CV personal profile isn't necessary. This is definitely not true.
Very limited choice of templates and CV fonts. No colour customisation.
No cover letter builder.
No privacy policy.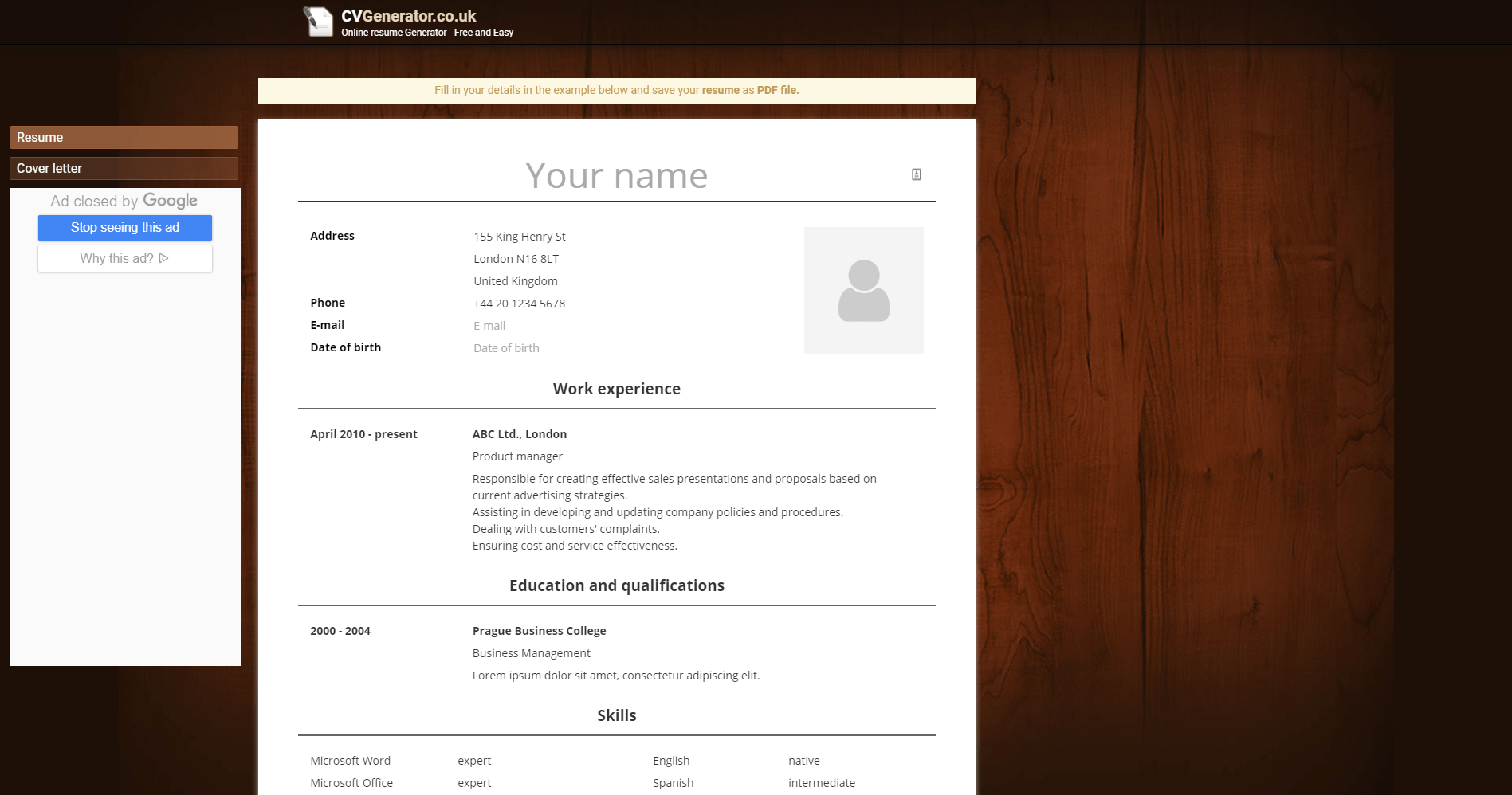 More grim, dated web design and more irritating adverts. First impressions weren't great with CV Generator. How does its free CV builder stack up? Let's take a look at an example and see.
CV Generator—Example CV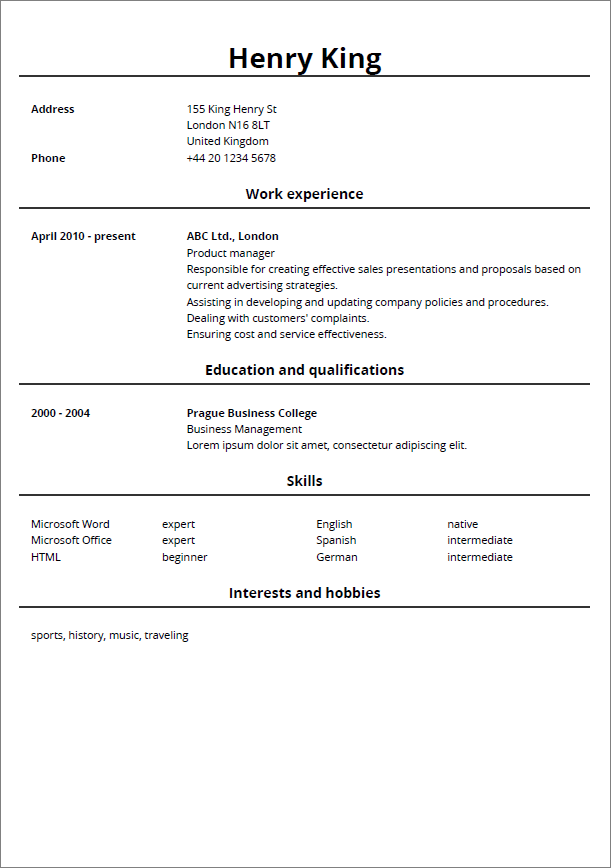 It turns out this free CV builder doesn't stack up well at all.
Pros:
Simple interface. (But dated and unattractive design.)
Allows some customisation of CV layout.
Cons:
Only two CV templates and limited fonts to choose from.
Can only download in PDF.
No in-app advice.
No cover letter builder.
No privacy policy.
7. Conclusions—Will a Free CV Builder Work for You?
So we've reviewed an even half-dozen. There are other free CV makers out there but to be honest, it's more of the same. They're generally of poor quality and lacking in the functionality required to create a truly effective CV.
On a more worrying note, the lowest quality builders lacked a privacy policy. When writing a CV you're handing over personal information so it's concerning that some builders don't appear to take data protection seriously.
In short, don't waste your time with them. On the other hand, a good CV builder needs to have the following features:
A wide selection of CV templates that are designed by experts to give recruiters all the information they need in an easily readable format.
Easy customisation of colour, font, spacing and sections. This includes renaming, adding and removing sections to your CV. There has to be flexibility to adapt to different CV formats and to adapt to the needs of different candidates.
The builder should do the hard work for you. You should have the freedom to customise your CV and be sure the layout will stay looking great.
Guaranteed ATS scannability. Applicant Tracking Systems scan your application. If it can't be read then it's rejected instantly.
Expert career advice that'll help you write a better CV and improve your chances of landing a job.
A matching cover letter builder with templates to match the CVs.
The ability to download in PDF, Word and plain text formats.
Honesty and transparency on pricing.
A robust privacy policy that protects your data.
Zety has all of those features and more. We're not a free CV maker, but we do let you try before you buy and you'll only pay once you're satisfied with the results and ready to download.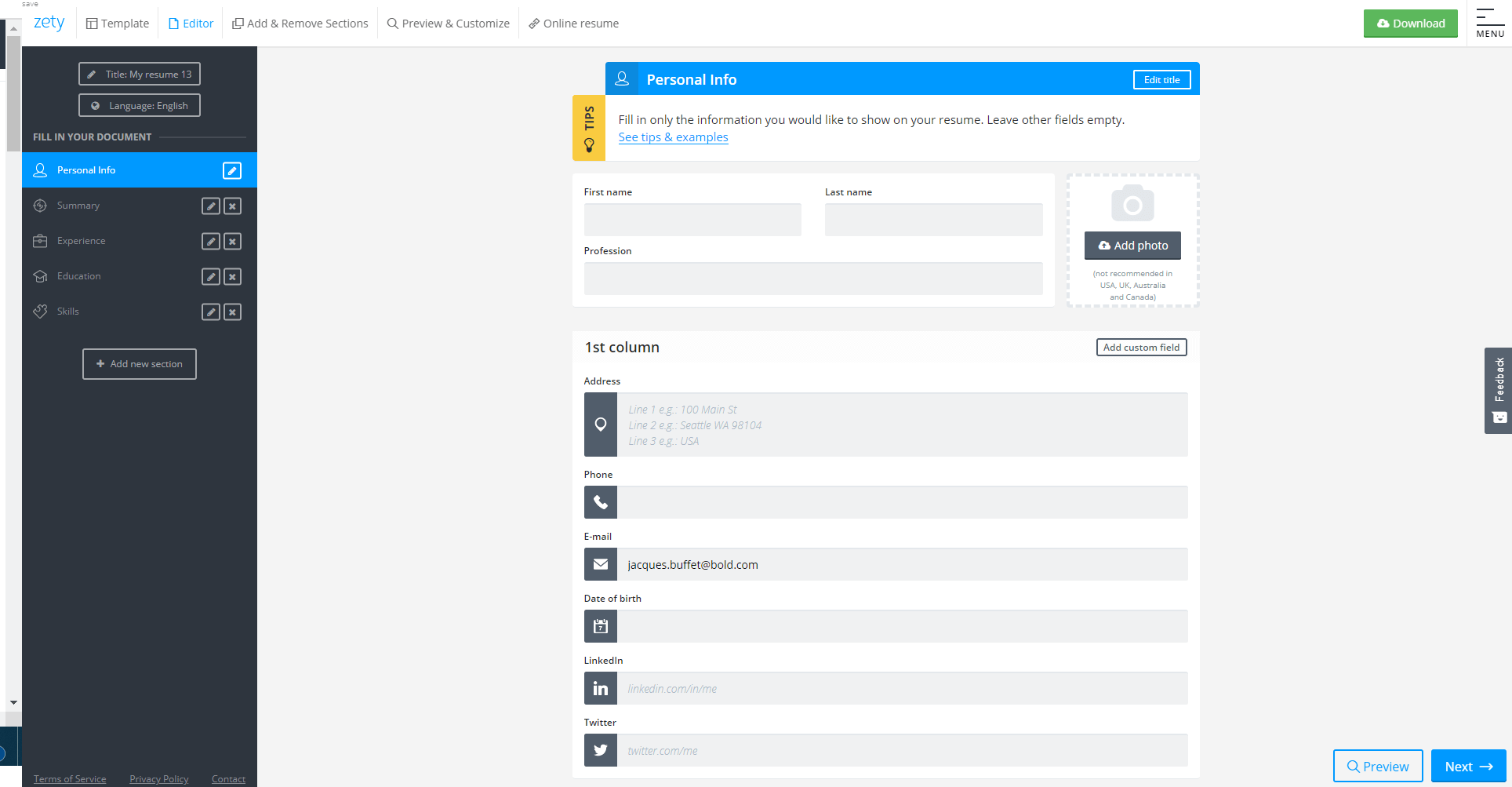 Here's a look at our builder. As you can see, it has a clean, modern interface designed for ease of use. You can easily access tips as you're writing and chop and change the sections as you please. And yes, we do have a section to add a photo, but we make it clear that this isn't recommended for the UK.
The Zety CV builder also has these features:
A choice of 18 templates and 400 colours. There's something for every taste.
Customisable font types, font size, line spacing and margin size. You can also adapt the date format, column spacing and section spacing to fully adapt the template to your requirements.
Whatever options you choose, our CV builder will keep the layout sleek and professional.
A checker that gives you suggestions on how to improve your CV.
And a cover letter builder with the same great features and matching templates.
Here's an example of a Zety CV template: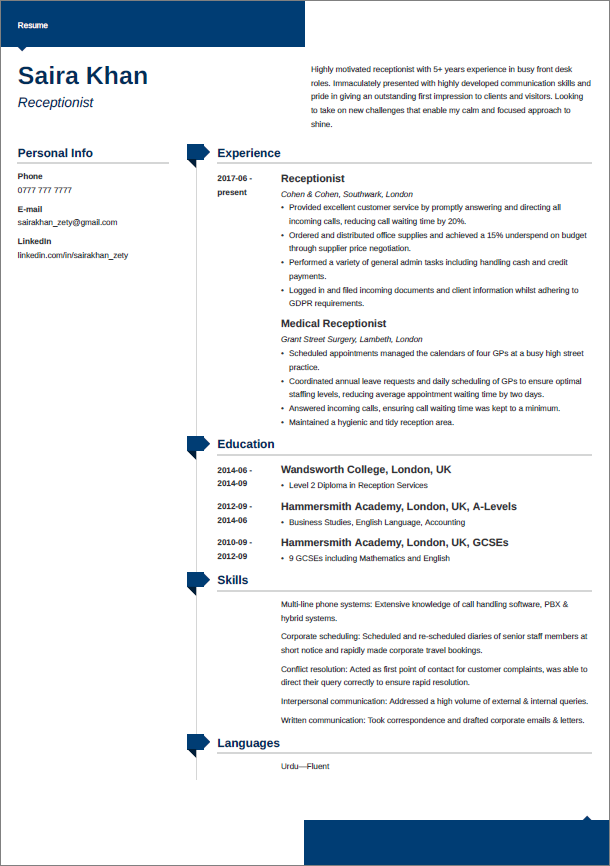 This is our 'Modern' template. As you can see it's eye-catching and attractive whilst remaining professional. It also makes good use of white space and subtle graphics to help recruiters easily find all the information they want.
Don't forget there's 17 more where that came from and they're all accompanied by matching cover letter templates. But that's not all.
Plus, a great cover letter that matches your resume will give you an advantage over other candidates. You can write it in our cover letter builder here. Here's what it may look like: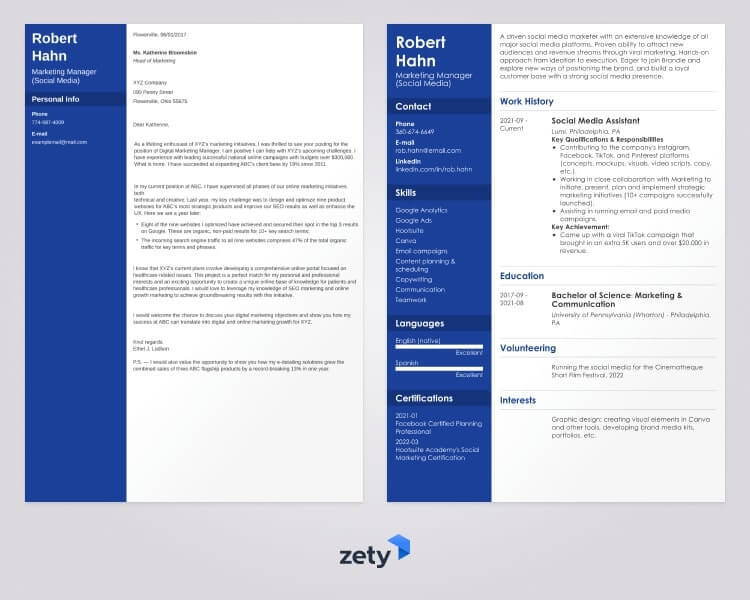 See more cover letter templates and start writing.
Expert advice:
We also have an ever-expanding collection of expert guides so you can learn to make your CV and cover letter better than ever before. Read more here.
The conclusion is simple, there really is no such thing as a free lunch. Choose a quality CV builder like Zety. All you need to do is choose a template and fill in the blanks. We take away the stress and create your CV quickly, so you can get the job you want, not the one you have to take.
Thanks for reading. What else would you like to know about writing a CV or using our builder? Ask away in the comments section and I'll be happy to reply.
About Zety's Editorial Process
Our editorial team has thoroughly reviewed this article to ensure it follows Zety's editorial guidelines. Our dedication lies in sharing our expertise and providing you with actionable career advice that offers you real value. Every year, the quality of our content attracts 40 million readers to our site. But that's not all – we conduct original research to gain a detailed understanding of the labour market. We take pride in being cited by top universities and leading media outlets in the UK and worldwide.
Sources