The thought "why bother?" might have crossed your mind. After all, it's just a font.
But is it?
The choice of the CV font has actually been proven to change the reader's mood. Nice fonts create a good mood.
Wouldn't it be a good idea to choose the best font for your CV that will put the recruiter in a pleasant mood? That is a strictly rhetorical question.
So which font is best?
No need to worry, there are only more than 500,000 to choose from. Shouldn't take too long.
Wait. How many?!
Fortunately for you, we've scratched and scribbled down the list to give you the best fonts there are for your CV.
In this guide you'll:
See a list of the 10 best fonts for your CV to make it look professional and modern.
Get expert tips on how to format your CV fonts to make them pleasant to read.
Learn which CV font size is best and how to use font pairing to have your CV stand out from others.
Want to save time and have your CV ready in 5 minutes? Try our CV builder. It's fast and easy to use. Plus, you'll get ready-made content to add with one click. See 20+ CV templates and create your CV here.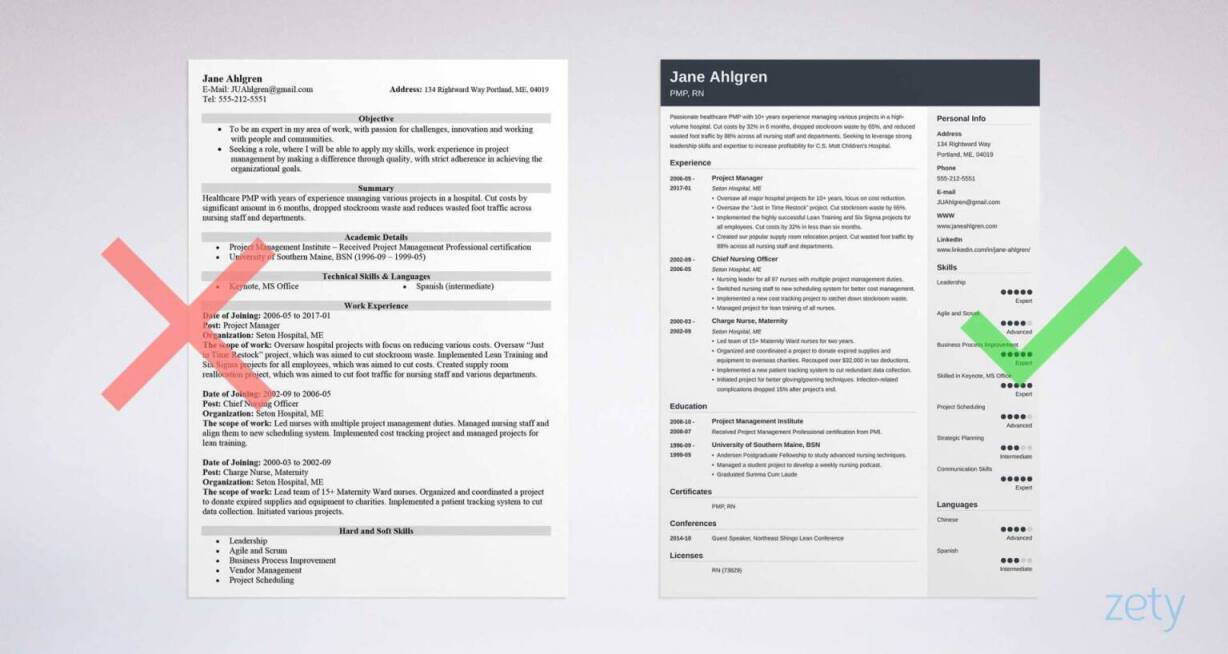 Sample CV made with our builder—See more CV examples here.

The fact that this font has ousted Times New Roman as Microsoft Word's default font tells you how popular and celebrated it actually is. Modern and light, it's a great choice for your CV. Plus, each and every one of these fonts works perfectly for writing a cover letter too.
2. Times New Roman

Though no longer the king of all fonts, Times New Roman is still considered the ruler of what are popularly called 'traditional' fonts. It's a good choice for candidates in careers such as law, medicine, civil service, or business. A solid addition to your CV layout.
3. Garamond
Often classified as the most modern of the serif fonts, Garamond is a nice fusion of the modern look of sans serif and the classic structure of serif. This is a popular font among creatives as well as academics.
4. Arial

Arial is probably the most minimalist member of the sans serif family. It's sleek, no frills design makes a great font for almost any professional sector.
5. Helvetica

This Swiss font is so revered that it has its own documentary film. Often seen in major brand names, this font is an excellent choice for job seekers in business, marketing, or sales.
6. Cambria

This font was designed to work well for on screen reading and in small sizes so it's an especially great font to use if you know you'll be printing your CV.
7. Trebuchet MS

Named after its medieval inspiration, this font is a bit more assertive than the other fonts on the list. Slightly larger and darker than its counterparts as well as quite versatile, it's a good choice for any profession.
8. Georgia

This easy to read font is another fusion of both the modern and classic style. It's a very popular font in the writing community and used by big name newspapers. A great font for creative or writing jobs.
9. Tahoma

This sans serif font is exceptionally easy to read and so makes a great choice for your CV no matter what position you're applying for.
10. Didot

This font is considered one of the more creative in its family. A particularly popular font in the fashion world, this is a great go to for artists and creatives without going overboard.
Remember that font choice isn't just a matter of taste. CVs are often scanned by an ATS (applicant tracking system) that helps recruiters sift through massive amounts of CVs more quickly. If the ATS can't recognize the font on your CV and read it, then you might as well have sent a blank sheet as your job application.
Try you font of choice in different CV templates. Read more: 20+ Free CV Templates to Download Now
When making a resume in our builder, drag & drop bullet points, skills, and auto-fill the boring stuff. Spell check? Check. Start building a professional resume template here for free.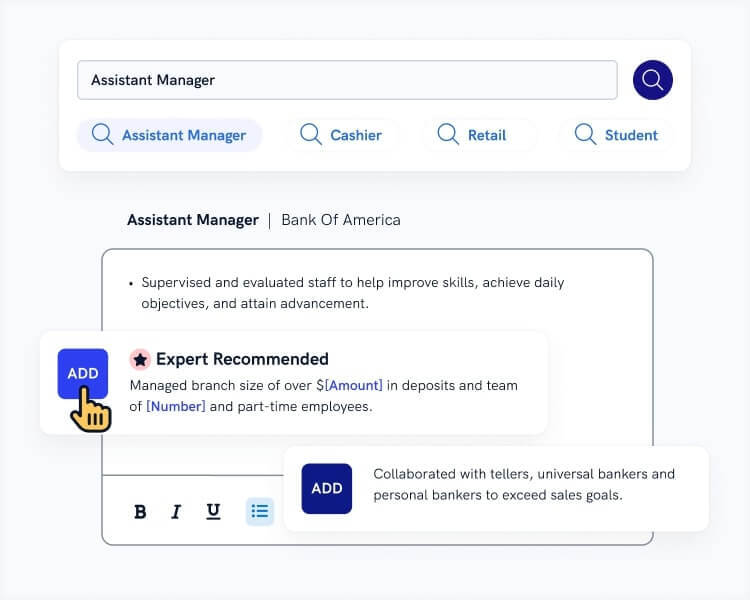 When you're done, Zety's resume builder will score your resume and tell you exactly how to make it better.
Sans vs. Sans Serif Fonts

One thing you may have noticed is the slight differences in the styles of the letters, primarily the 'tails', or lack thereof, at the ends of most letters. Those are serif and sans serif fonts.
Serif fonts have the 'tails' and generally have a more classic, distinguished look. Times New Roman or Didot are examples of serif fonts.
So as you can guess, sans serif fonts lack the 'tails' giving the letters a sleeker, more modern feel. Good examples are Calibri or Arial.
Neither is better than the other, but if you happen to see the company you're applying to using a specific type of font on their webpage or job advert, you might want to use a similar font on your CV in case the have a particular fancy for it.
Once you've chosen your font, then put it to good use with this guide: 20+ CV Tips for Job Hunting Success
And make sure you use the right CV format: Best CV Format for Job Application Success
Best Font Styles and Formats
Picking the best font for your CV is half the battle. The other half comes from figuring out what to do with it.
When reading, your eyes go through a natural scan path. Adding all kinds of frills and trimming to your letters only ends up making your CV difficult to read and frustrating.
Let's go through the different format options word processors let you fiddle with to learn how to use them without going from swish to naff in a few seconds.
Before we dive straight into the different formatting options, a gentle word of warning. You don't need to use all of the below options. Moreover, you definitely don't want to use them all at once. Choose a couple and remain consistent throughout your CV.
Font Formatting for a CV
1. Bolding
This is probably the best and also most overused format option.
Bold is a great format feature, it makes the words really stand out on the page and grab the reader's attention whether in the text or your CV section titles. The problem begins when it turns out that half the page is in bold and becomes a large mass of dark goo.
Use bold sparingly to really emphasise the most important elements in your CV. See what I did there?
2. Italicising
This is the second most widely used option to emphasise words in a CV. While italics do make words stand out as much as bold does, it also makes them slightly harder to read, especially in smaller sizes.
Italics can be a good option to differentiate titles or company names from the rest of the text.
You can also 'reverse engineer' italics. Use italics for words or phrases that are less important can help the rest of the text stand out more.
Whichever way you decide to make use of italics, make sure to be consistent.
3. Highlighting
Remember that friend back in uni who always highlighted ⅔ of the textbook because it was 'important?' That's not how CVs work.
Highlighting, whether printed or on a screen, may draw attention, but also makes it harder to read. It's also considered rather unprofessional. Bold or italics are emphasis enough.
4. Colouredlettering
There is absolutely no reason to do this unless your goal is to never get an interview.
Always use black text on a white background.
5. Underlining
This option is usually used to indicate CV section headings.
It's becoming less common, however, with the spread of CV templates and word processing options that let you divide the entire page with the use of full lines.
Underlining can be used to emphasise certain words when italics or bold wouldn't work very well.
6. CAPITALISING
Most everyone is aware that capitalising is synonymous with yelling.
This is not the case when used in CV section headings. 'Work Experience' and 'WORK EXPERIENCE' work equally well in your CV so feel free to use that option.
That said, refrain from capitalising in the main text of your CV. 'I INCREASED SALES BY 15%' is, indeed, yelling.
Font Size for a CV
This font size is too big. This font size is too small. This font size is just right.
Most of the text and information in your CV should be in 12pt.
Section headers should be a little bigger, 14-16pt to grab attention and naturally split your CV up into its sections.
If you have any additional information that isn't crucial enough to be at the forefront (e.g. dates) you can make them a little smaller (10pt).
Font Pairing on a CV
For those of you who would like to tap into your artistic side, font pairing might be something for you.
Font pairing is the use of two complementary fonts on the same page that work in harmony with each other to offer a pleasant reading experience.
This is a good option for those who might not be particularly fond of using font format options such as bold or italics. With two fonts, you can use one for the main bodies of your text and the other for the section titles.
Mix and match to see what suits you best with the help of this nifty site. Give it a try!
Plus, a great cover letter that matches your resume will give you an advantage over other candidates. You can write it in our cover letter builder here. Here's what it may look like: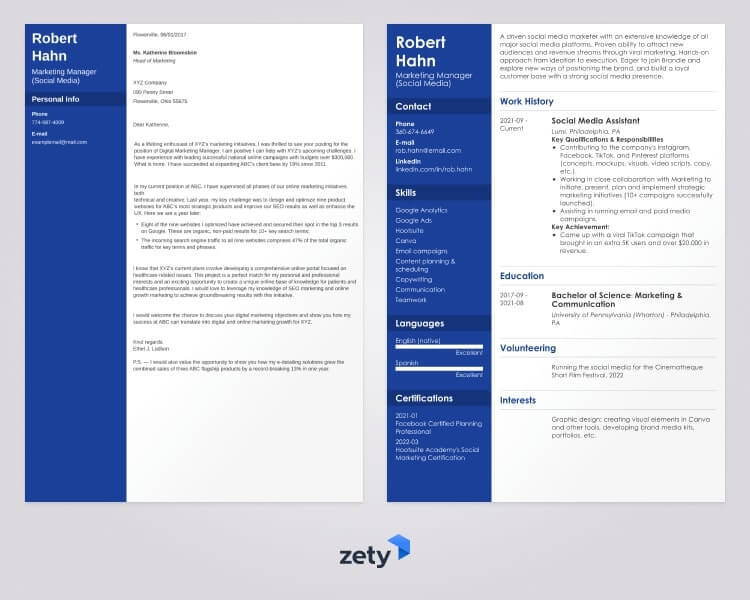 See more cover letter templates and start writing.
Key Takeaway
You can see that a seemingly trivial thing like your font choice can have a big impact on how your CV presents itself, and in effect, you as a job seeker.
To ensure your CV stands out as professional instead of tacky:
Choose a tasteful font that is easy to read.
Use font size or good font pairing to differentiate between CV sections, headings, and text.
Use formatting options sparingly to really emphasise the key points on your CV.
About Zety's Editorial Process
Our editorial team has thoroughly reviewed this article to ensure it follows Zety's editorial guidelines. Our dedication lies in sharing our expertise and providing you with actionable career advice that offers you real value. Every year, the quality of our content attracts 40 million readers to our site. But that's not all – we conduct original research to gain a detailed understanding of the labour market. We take pride in being cited by top universities and leading media outlets in the UK and worldwide.
Sources