Cover Letter Templates
Click on a cover letter template, fill it online, and download in seconds. Build a professional cover letter in a few clicks. Just pick one of 18+ cover letter templates below, add ready-made content, and get the job.
Free Cover Letter Template to Copy and Use
Your Name
Your Address
Your City, State Zip Code
Your Phone Number
Your Email

Date

Hiring Manager's/Recruiter's Name
Hiring Manager's/Recruiter's Title
Organization/Company Name
Address
City, State Zip Code

Dear Mr./Ms. [Hiring Manager's/Recruiter's Last Name]


When I found the opening for the [Position] with [Organization/Company Name] I felt as if it was addressed to me. In my current position as [Position] at [Organization/Company Name], I've improved [achievement] by [%] in [months/years] which resulted in [Number + Result]. I'm sure I can use my expertise to bring similar results for [Organization/Company Name].
In my current position as a [Position] with [Current Organization/Company Name], my key challenge has been [Main Responsibility]. Here are some of my recent results:
Succeeded at expanding [Achievement] by [%] since [Year].
Skyrocketed [Achievement] scores by [%].
Optimized [Achievement], saving the company [$/hours] a [month/quarter/year].
Led a team of [Number] employees to increase [Organization/Company Name] revenue by [%] in [Number] years.
My team has scored [Achievement] [Number] months/years in a row
I know that [Organization/Company Name]'s current plans involve [Company's Plans]. It would be an exciting opportunity for me to use [Your Skill] developing [Company's Project].
Can we schedule a meeting [Date] to discuss my solutions for boosting [Organization/Company Name]'s [Revenue/Traffic/Customer Satisfaction] by [%] in the next quarter?
Sincerely/Best regards,

Your Full Name

Your Phone Number
Your Email Address
Your LinkedIn Account
Create a Cover Letter Now
Best cover letter templates
for any situation
A cover letter for a resume or application is a brief presentation of your experience and skills in narrative form. The purpose of a cover letter is to highlight the most important information from your resume and add extra reasons why you should be hired. It's about looks and contents. And Zety will help with both—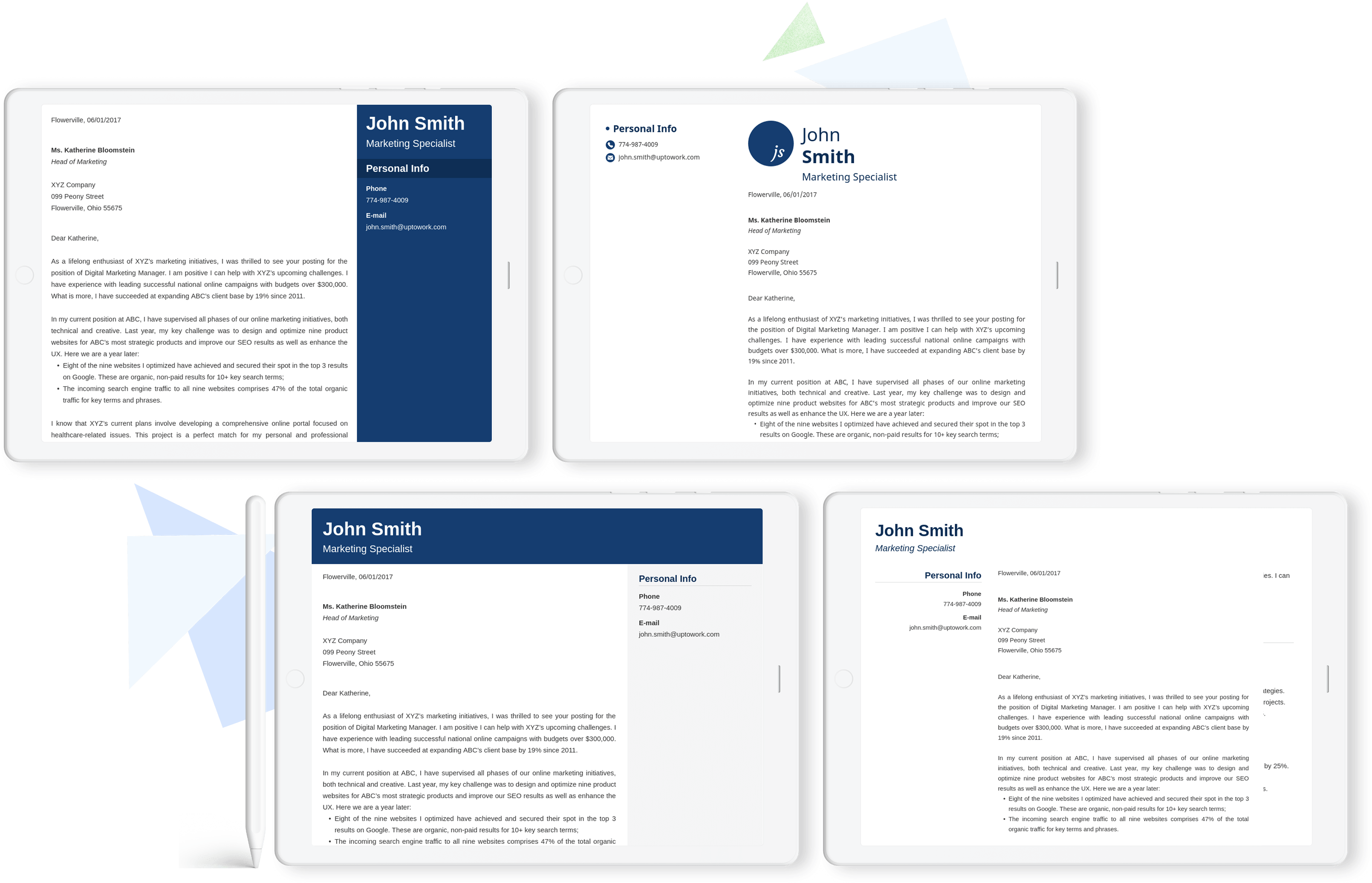 Professional design
These resume cover letter templates match Zety's resume templates and give your documents a polished look. Highlight key achievements in bullet points, use color and style to draw attention to what matters to employers. Writing a cover letter feels like doing homework assignments, but not with Zety—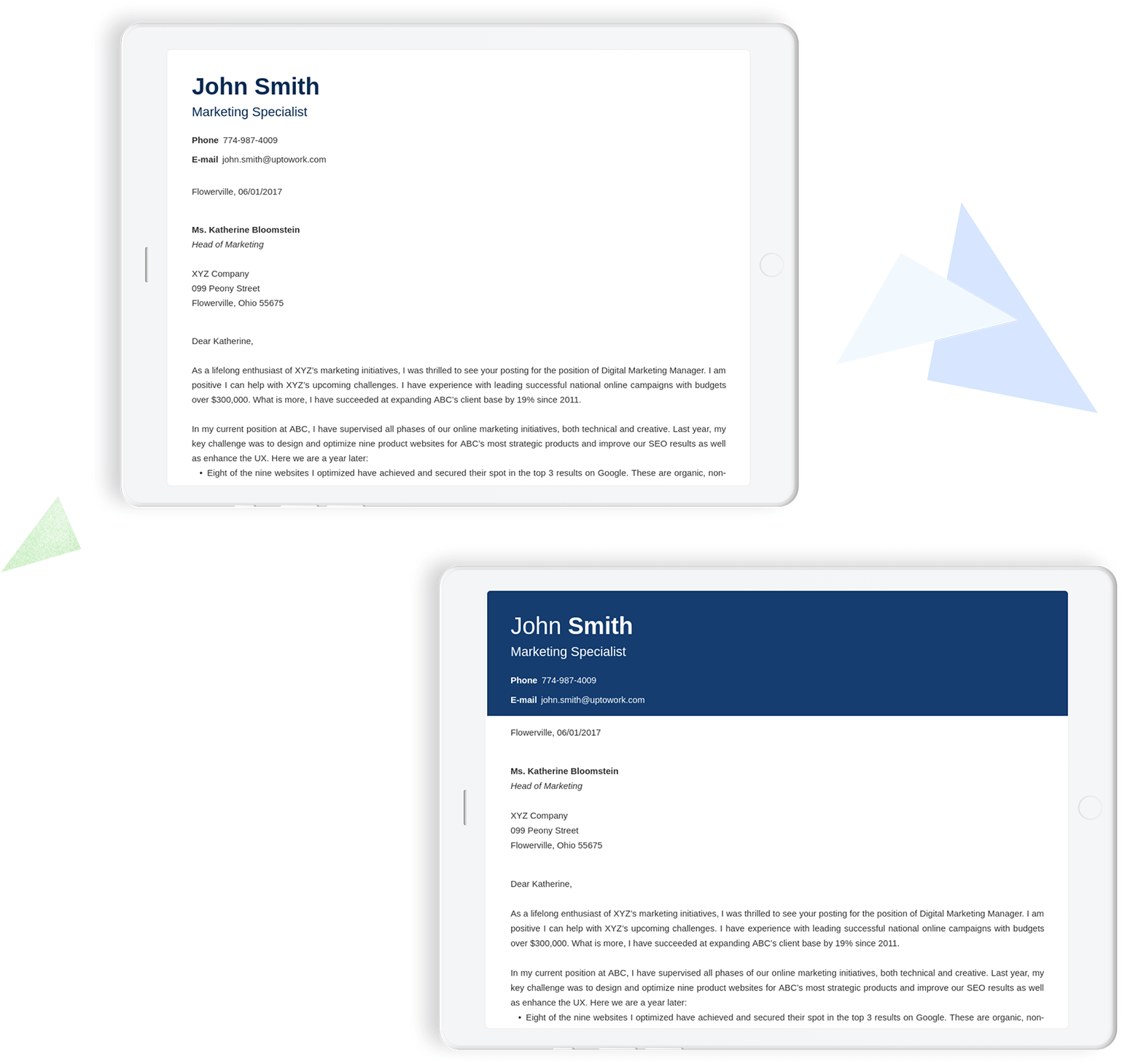 Ease of use
Fill in any of these professional cover letter format templates with help from our app. Simply tell the wizard a few things about yourself, and get a ready cover letter sample in a few clicks. Stop worrying about every single word you use and focus on what matters: your future job.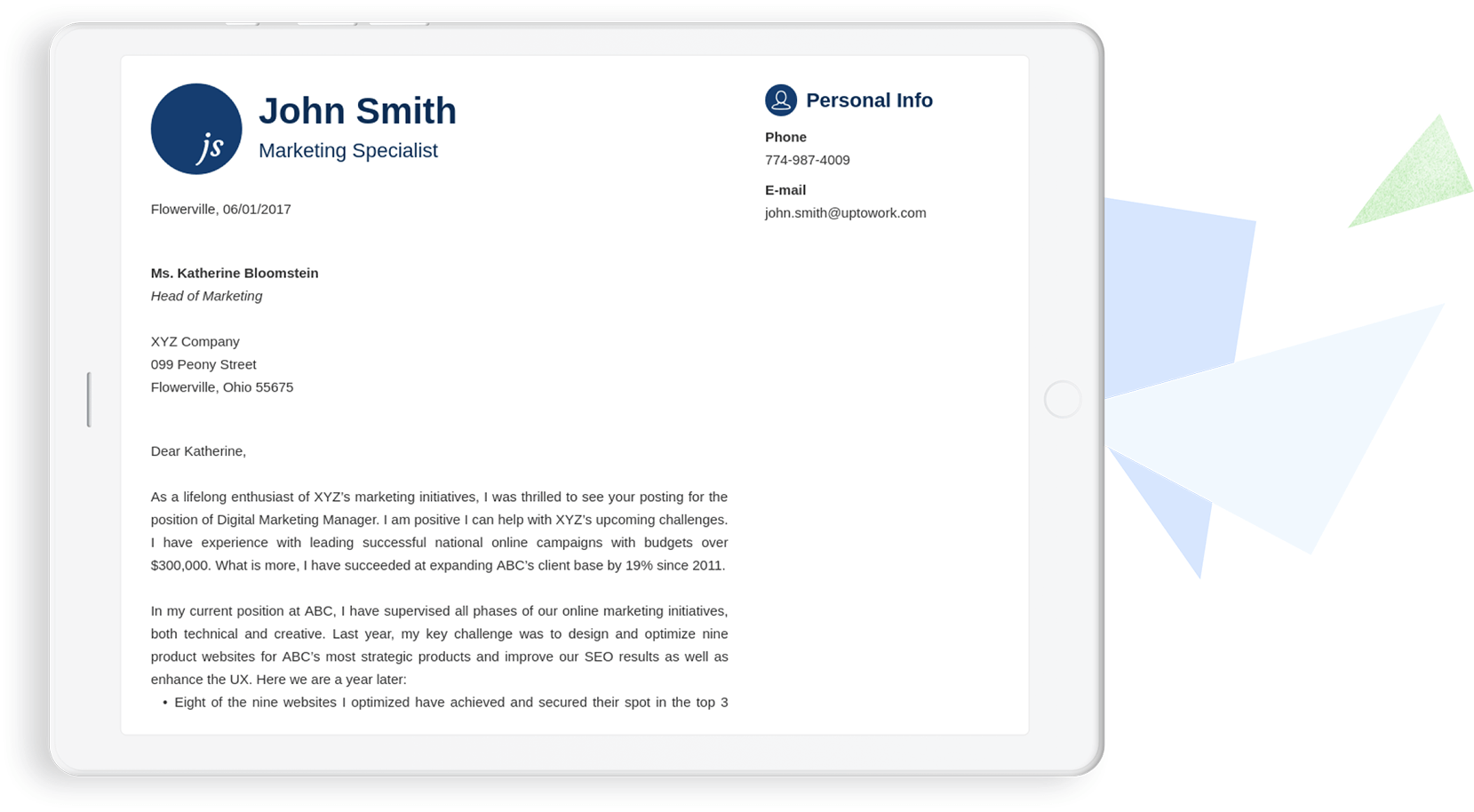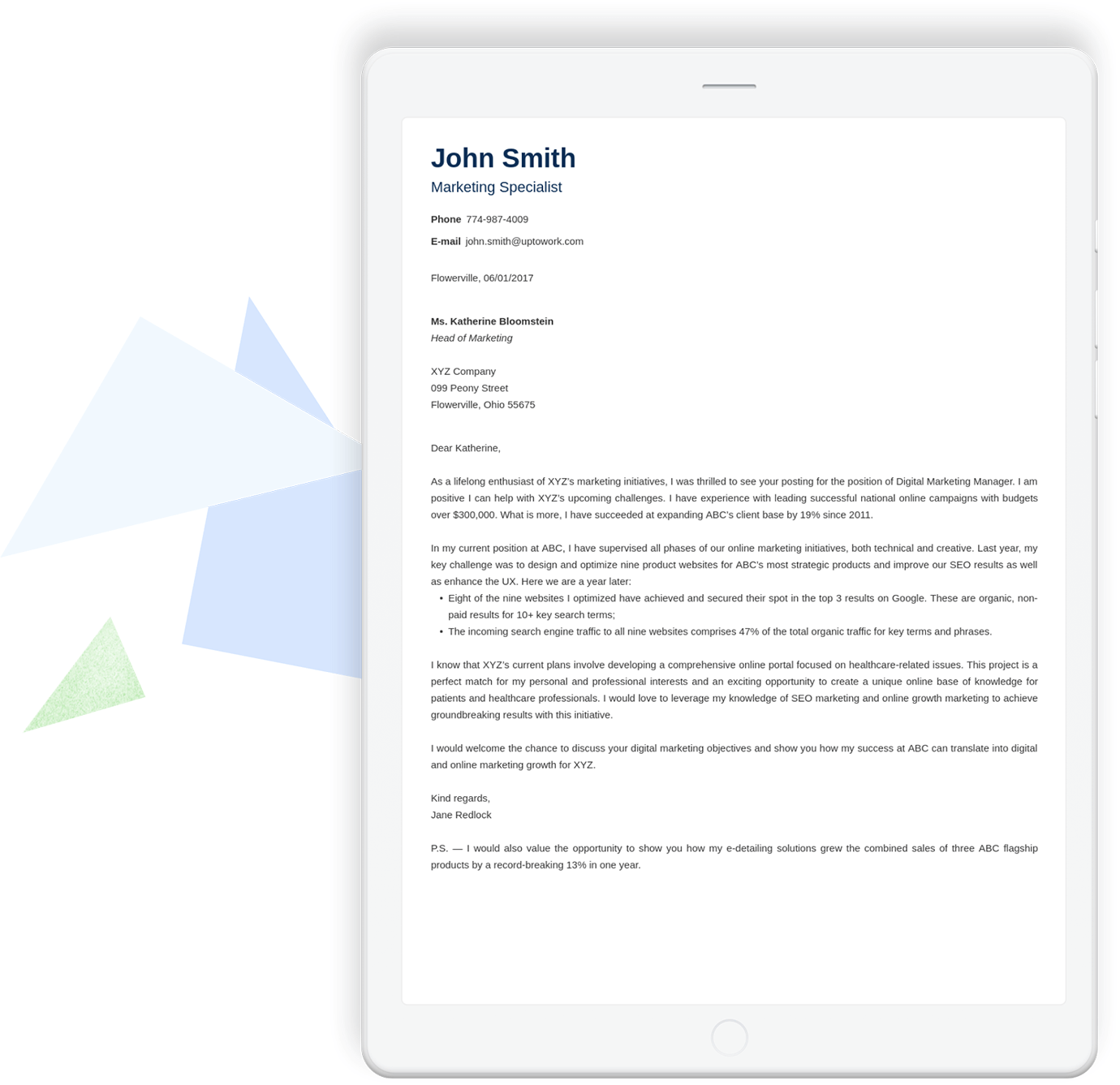 Speed
These user-friendly cover letter templates will save you hours of painful work. Remember the last cover letter sample you downloaded and got stuck filling out? This won't happen again. Choose between different sample cover letter layouts, click a few buttons, and you're done. Download your cover letter template in pdf or Word format.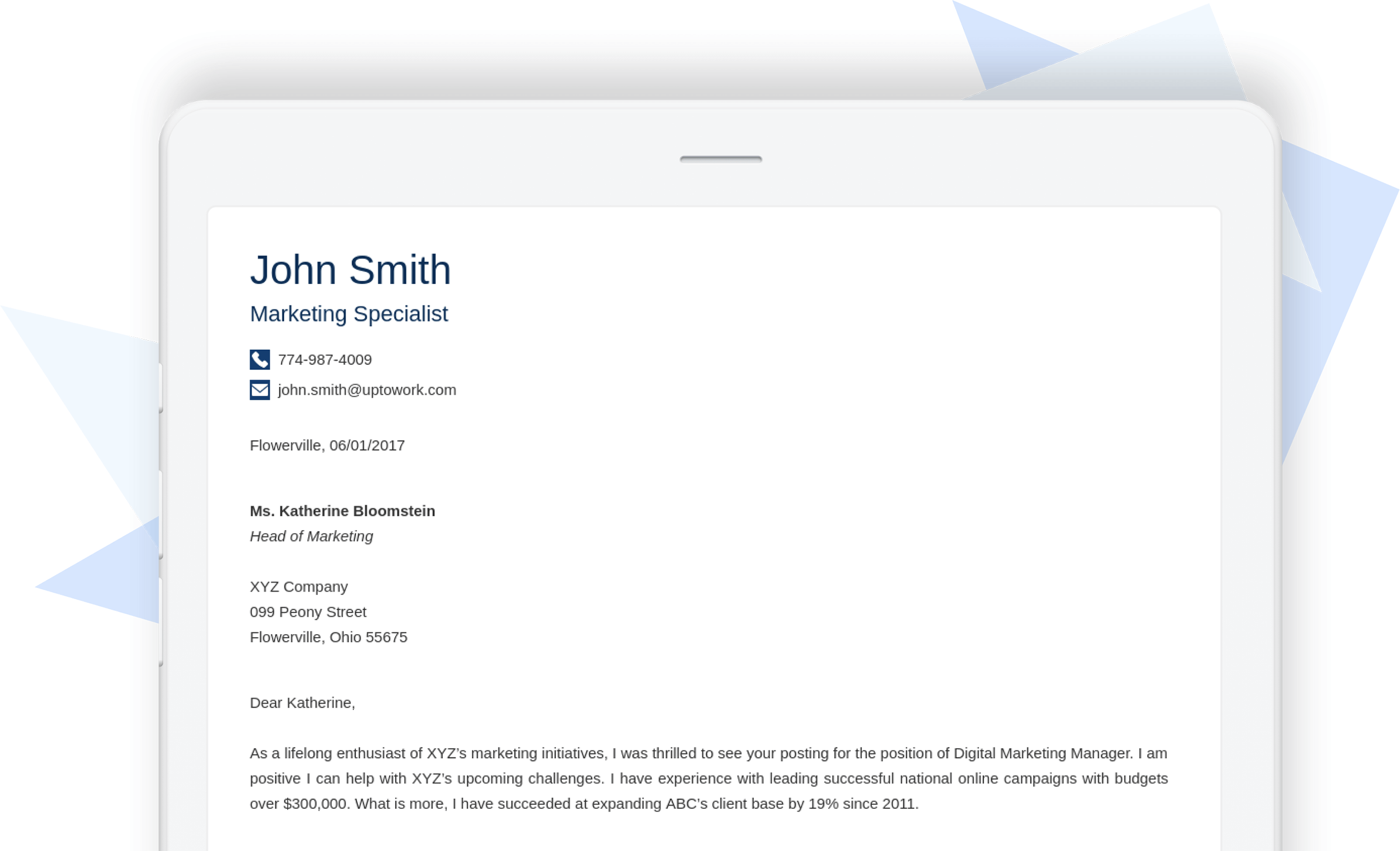 Confidence boost
Don't ignore your cover letter. About 20-50% recruiters expect you to write one even if they don't read it. Writing a cover letter from scratch feels like a chore, but it doesn't have to. You can create a cover letter for a job of your dreams in minutes. Employers will recognize you for who you are: the ideal candidate.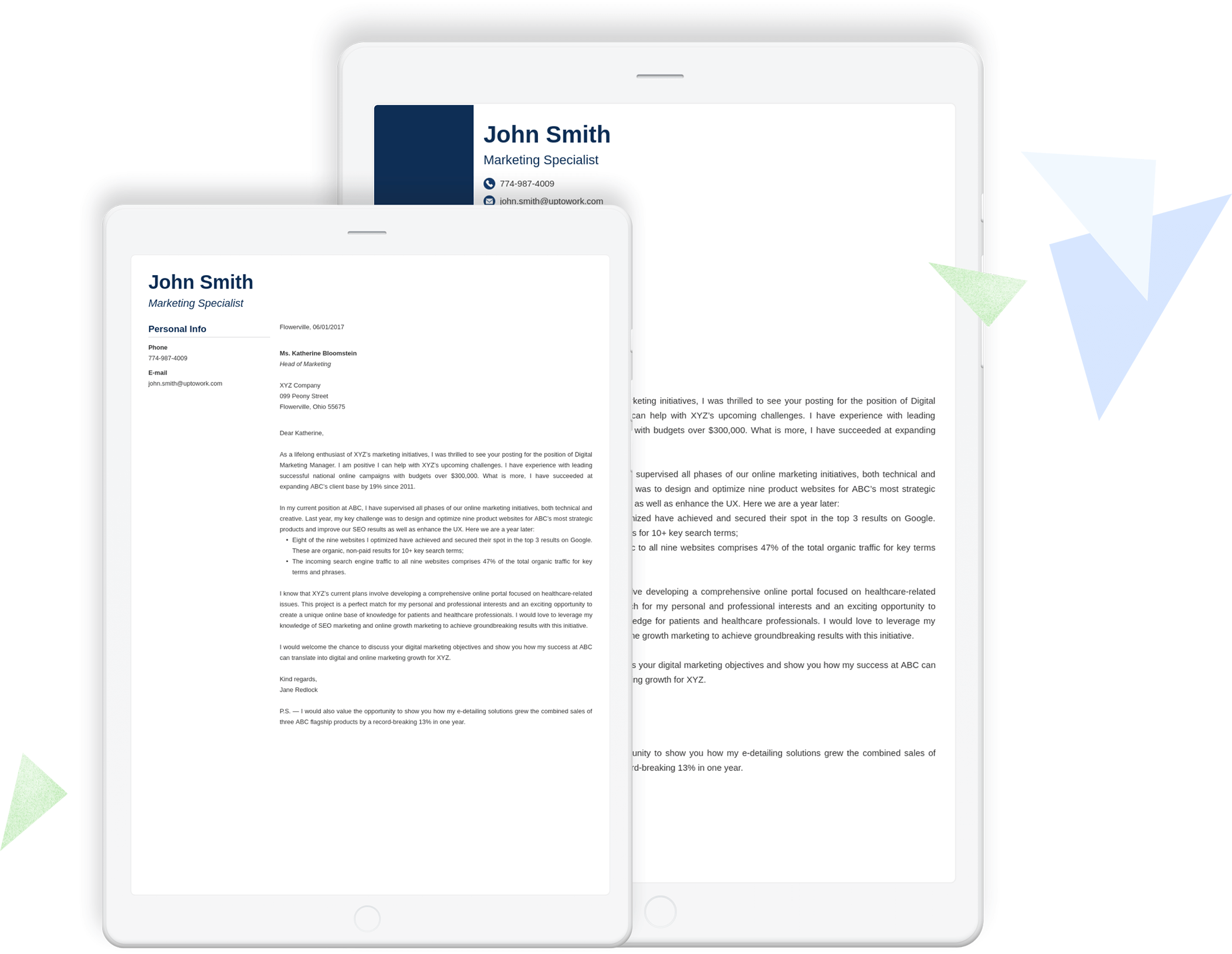 Proven effectiveness
A Zety resume and a cover letter is your one-two punch that will help you beat the competition. Only 20% of all applications contain cover letters and with Zety you'll stand out as the best candidate. Creating a cover letter can be simple, fast, and is proven to get jobs. It's surprising how little effort you need.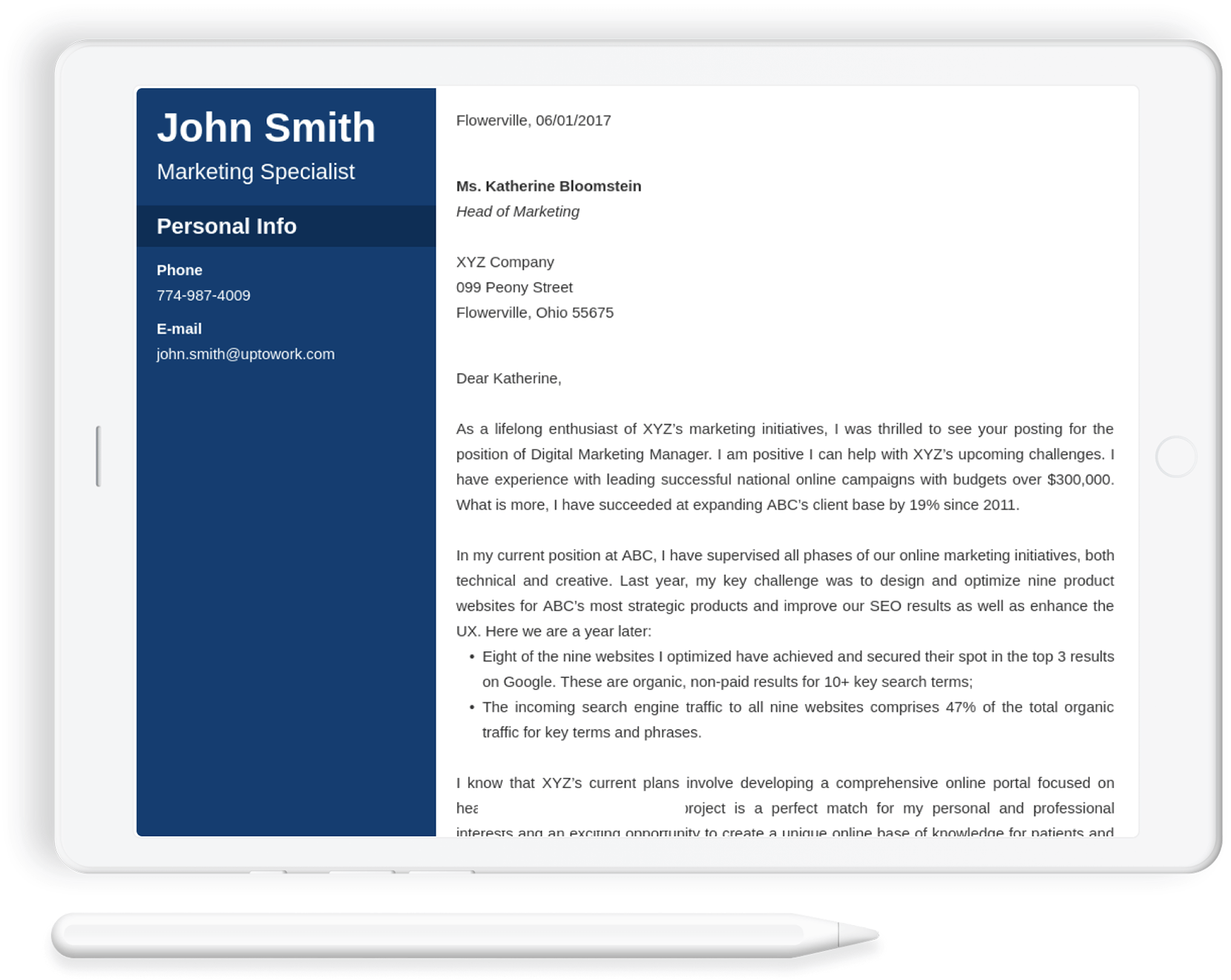 Why users choose our cover letter templates:
Frequently Asked Questions about Cover Letter Templates
What is a cover letter for a resume?
A cover letter for a resume is a document attached to your job application that should consist of a resume and a motivation letter for a prospective employer. Together, they provide details about your past jobs, qualifications and skills. It is strongly advised to use a cover letter template matching your resume template for an optimal application. Get a professional resume template here, to go with your cover letter. Note that a cover letter for a resume can also work for a CV – here's a selection of professional CV templates (and here's the difference between a resume and a CV).
What is the best cover letter template in 2023?
All our covering letter templates are equally adapted to modern HR trends and will appeal to recruiters. The best cover letter template is one that will allow you to write your personal details and list your strongest skills, while looking professional and simple. To pick the best cover letter template, focus on what will look perfect based on your industry, experience level, and preferences. Here's more on what a cover letter should look like in 2023.
How to format a cover letter?
While formatting a cover letter is not as complicated as finding the best resume format, you still need to follow the expected cover letter etiquette. Typically, cover letters are formatted with a lot of empty space on the page (double spaces between paragraphs), left-aligned text, and sufficient margins. For more tips, read our guide on how to format a cover letter the right way.
Do I really need a cover letter for a job in 2023?
Although resumes can be sent without a covering letter, every recruiter prefers receiving one, to have more options and details. Cover letters are not always necessary and read, but they are a serious advantage in case other candidates didn't send one.Besides, a professional cover letter shows your motivation, and allows you to say more about your projects and abilities.By sending a cover letter with your resume in 2023, you gain the lead over your competitors.
What to include in my cover letter?
A cover letter is made of several parts. The main ones are the cover letter header and the body. In the cover letter header, list the following information:
Your name
Your phone number
Your email address
The date
The name of the hiring manager
In the cover letter body, here's what should be available:
Main strength and skills
Motivation to join the company
Those lists are not exhaustive; you can add more information for a better chance of success, such as your title or a post-scriptum. Read more about all the important things to include in a cover letter here.
How long should a cover letter be?
A cover letter should be one-page long, on a single-page cover letter template, and composed of around 4 paragraphs, along with contact information in the header. 400 words is a good limit, as more could mean no recruiter will read your document, and not enough will not make it seem worth the attempt. Depending on your experience, industry, and circumstances, the amount of information to write can vary. We encourage you to read our post on the ideal cover letter length in 2023.
Do I need a unique cover letter for every job?
While writing a different cover letter for each job may sound tedious, it is a necessary step to increase your chances of being hired. A cover letter is impactful only when it is not generic, and when it surprises the recruiters with important and interesting details about you and your reasons to apply. Each cover letter must therefore be unique. However, you can save precious time by using our online cover letter builder, which allows you to duplicate, modify, save, and download your cover letters with just a few clicks. Besides, it offers pre-written content that you can use to write different application letters in no time.
Should I use a PDF or a Word cover letter template?
Just like your resume should be sent in PDF format, it is best to download your cover letter in PDF, too. The PDF format allows your cover letter layout to remain unchanged, whatever the device used by recruiters. Our cover letter templates all match our resume templates, and can be exported in Docx (Word), for you to modify them later, or in PDF for you to send them immediately.
Can I email my cover letter instead of sending a cover letter template?
For job offers that don't request a cover letter, and when you don't have time to write one, you can write a short cover letter directly in your email's body.Before choosing that option, we'd like to point out that our online cover letter application can generate a cover letter template with pre-written content for you, making the process faster and easier. If you still prefer to send a letter in text form rather than a cover letter template, here are all our tips on how to email a cover letter successfully.
Do you have cover letter examples for my template?
Our cover letter templates can be filled online using pre-written content. You'll only have to input your job title and generate content quickly and conveniently.Adapt what matters, and copy the rest to save time and speed up your job hunt.To help you adapt your cover letter and make it perfectly targeted, we have writtenhundreds of cover letter examples that you can find here.
How to make a cover letter with no experience?
A cover letter template can seem hard to fill with useful information when your resume itself is quite light on job experience and hard skills. But it is in those cases that your cover letter is even more important. Entry-level candidates can't rely on experience, and must therefore make the most of theirsoft skills, projects and original ideas. To start with, we encourage you to make a resume with no experience, and then write an entry-level cover letter that will complement it.
Are Zety cover letter templates free?
All our cover letter templates are free-to-use, and entirely customizable online. You don't have to pay to create as many cover letters as you want, until you are satisfied with the result.Zety follows the 'try before you buy' rule, and will never ask you for payment until you are 100% certain your cover letter template is pixel-perfect and ready to be sent to employers.