Want to start getting more job offers? Want to learn how to write the perfect resume for your profession?
Well, you can. And save time while doing it!
Want to save time and have your resume ready in 5 minutes? Try our resume builder. It's fast and easy to use. Plus, you'll get tips and right vs. wrong examples while writing your resume. See 20+ resume templates and create your resume here.
21 Most Popular Example Resumes
Resume samples by resume experts. Each example offers great advice—no more worrying if your resume for the job of your dreams is good enough. Just follow our step-by-step instructions!
Here are the most popular examples of resumes on our blog:
Resume-Writing Guides
Your last resume didn't get any replies?
We'll help you fix this.
Our resume-writing guides walk you through the entire process, from header to footer and section by section. We'll make sure you'll convince the employer you're the perfect candidate.
Get your suit ironed. You're about to get hired.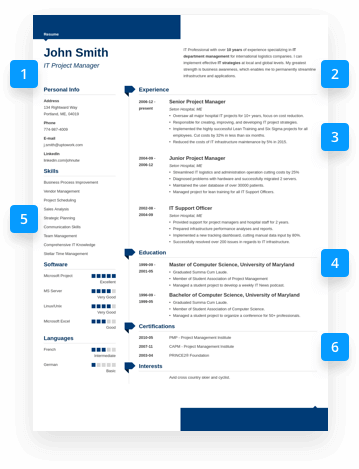 Resume Example Guides by Industry
Our resume guides give you right-vs-wrong examples and sample resume content created by pros. Extremely convenient, and it will save you hours of work.
Here's a breakdown of our perfect resume guides by industry. No need to read a 20-screen-long how-to if you can get exactly what you need with a single click.
Examples of Resume Templates