Barista Resume: 20+ Examples of Job Descriptions & Skills
Whether you're looking for a Starbucks barista job description for resume, or want to work at the independent café, this guide will help you do a barista resume right.
From brewing delicious pots of coffee to knowing which desserts to pair alongside, you know you'd make a fine barista. And just like a Starbucks cup, this barista job's got your name on it! But before you can don that cafe's apron with pride, you need to tingle their taste buds like an exotic blend with the best barista resume yet.
See a professional barista resume sample you can adjust and make your own and learn an easy formula for resume for barista jobs that will wow your future employer!
This guide will show you:
A barista resume example better than 9 out of 10 other resumes.
How to write a resume for coffee shop that will land you more interviews.
Tips and examples of how to write a, i.e., Starbucks barista job description for resume.
What are some skills recruiters are searching for on the best barista resume examples.
Want to save time and have your resume ready in 5 minutes? Try our resume builder. It's fast and easy to use. Plus, you'll get ready-made content to add with one click. See 20+ resume templates and create your resume here.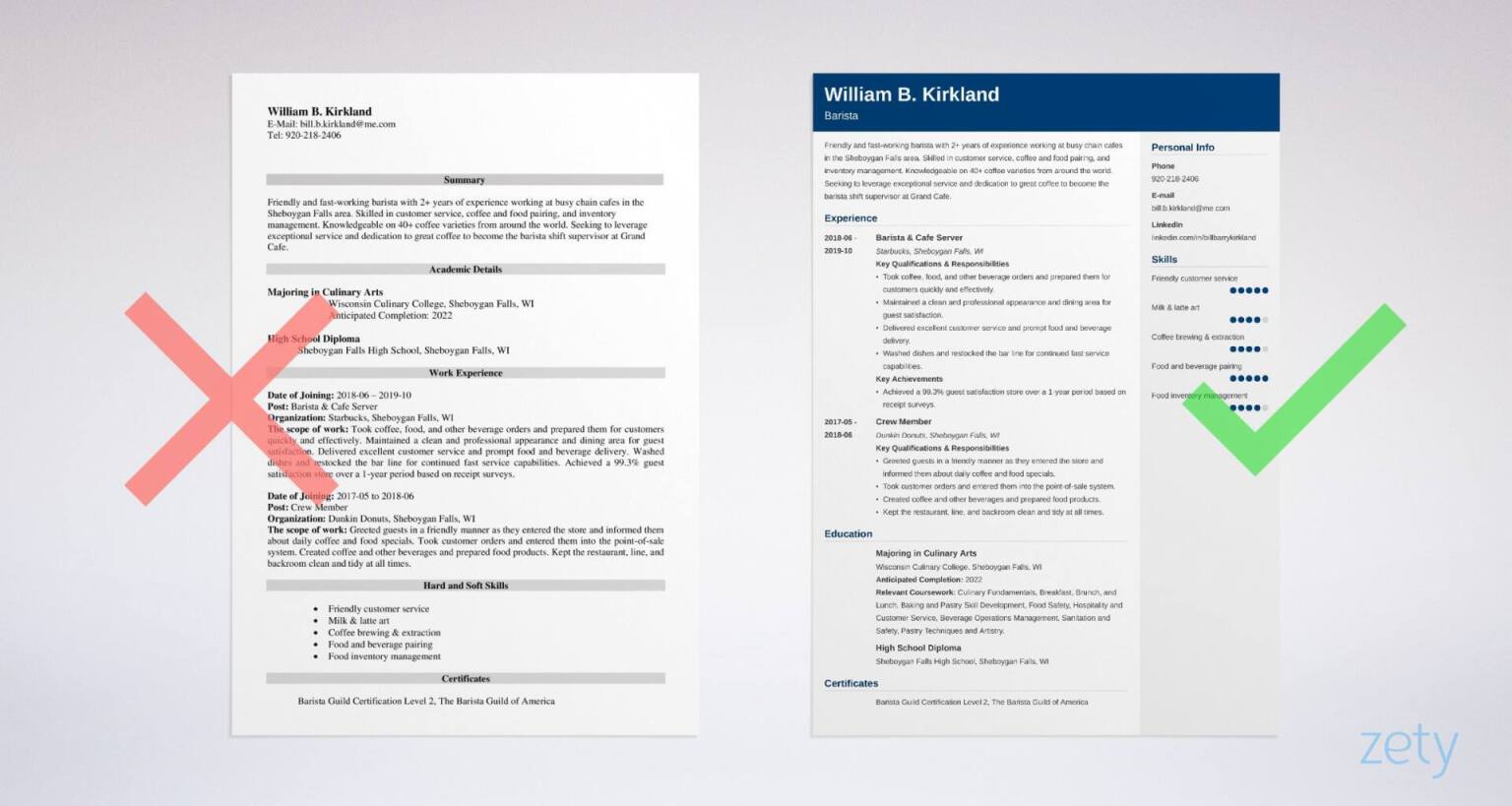 Sample resume made with our builder—See more resume example here.
Before we begin, here are a few other food service-related resume examples:
Barista Resume Sample to Get You Inspired (Text Version)
William B. Kirkland
Barista
920-218-2406
bill.b.kirkland@me.com
linkedin.com/in/billbarrykirkland
Summary
Friendly and fast-working barista with 2+ years of experience working at busy chain cafes in the Sheboygan Falls area. Skilled in customer service, coffee and food pairing, and inventory management. Knowledgeable on 40+ coffee varieties from around the world. Seeking to leverage exceptional service and dedication to great coffee to become the barista shift supervisor at Grand Cafe.
Experience
Barista & Cafe Server
Costa Coffee, Sheboygan Falls, WI
June 2018–October 2019
Key Qualifications & Responsibilities
Took coffee, food, and other beverage orders and prepared them for customers quickly and effectively.
Maintained a clean and professional appearance and dining area for guest satisfaction.
Delivered excellent customer service and prompt food and beverage delivery.
Washed dishes and restocked the bar line for continued fast service capabilities.
Key Achievements
Achieved a 99.3% guest satisfaction store over a 1-year period based on receipt surveys.
Crew Member
Dunkin Donuts, Sheboygan Falls, WI
May 2017–June 2018
Key Qualifications & Responsibilities
Greeted guests in a friendly manner as they entered the store and informed them about daily coffee and food specials.
Took customer orders and entered them into the point-of-sale system.
Created coffee and other beverages and prepared food products.
Kept the restaurant, line, and backroom clean and tidy at all times.
Education
Majoring in Culinary Arts
Wisconsin Culinary College, Sheboygan Falls, WI
Anticipated Completion: 2022
Relevant Coursework: Culinary Fundamentals, Breakfast, Brunch, and Lunch, Baking and Pastry Skill Development, Food Safety, Hospitality and Customer Service, Beverage Operations Management, Sanitation and Safety, Pastry Techniques and Artistry.
High School Diploma
Sheboygan Falls High School, Sheboygan Falls, WI
Skills
Friendly customer service
Milk & latte art
Coffee brewing & extraction
Food and beverage pairing
Food inventory management
Certificates
Barista Guild Certification Level 2, The Barista Guild of America
That's one of the tastiest barista resume examples! But let's make find out how to make one that works just as well! Here's our barista resume recipe:
1
Structure Your Barista Resume Template Properly
A barista resume written without a properly formatted template is like old coffee left in a drip carafe—
Bland and bitter.
To serve up an aromatic and flavorful barista resume, ensure its layout is structured just right before you start writing.
Here's how to format a barista resume template:
Layout: stick with reverse-chronological order.
Subheadings: use bold title headings so cafe managers find what they want quickly.
Fonts: choose the best resume fonts which are legible and standard.
Font size: keep font size to 11–12pt in general text, and 2–4pts larger for titles.
Margins: keep a 1" margin on all sides of your coffee barista resume.
Line spacing: use single line spacing in the body text of your cafe resume.
Sections: don't skimp on white space—it makes your resume easier to read.
Filetype: export your resume in PDF format, unless they specifically say otherwise.
And, here's a brief outline on what a barista resume should include:
Header: include relevant contact details at the top of your Dunkin Donuts resume.
Introduction: write a compelling paragraph that gives your professional background.
Work experience: document your previous work history and past job duties.
Education: add your academic history and any school-related accomplishments.
Skills: give a list of relevant cafe skills and barista skills for a resume.
Extra sections: cafe awards, food service certifications, second languages, etc.
Read more about resume formatting: How to Select the Ideal Resume Format
One trick to writing an irresistible Dunkin or Costa Coffee resume?
Start from the middle.
Save writing the barista resume heading statement for the end. This way, you'll have a better idea of what key items to include in this topmost section.
2
Start With a Barista Resume Work Experience Section
Employment of food and beverage servers, including baristas, is expected to increase 9 to 11% between 2021 and 2031.
That comes out to over three-quarters of a million (775,300) new hires in the United States alone.
Meaning—
Coffee shop managers have a latte choose from.
You've got to get your resume work history section just right to have a shot at your barista job interview.
Here's how to write a great job experience section on a resume for a coffee shop:
Start with your most recent job title and go back in reverse-chronological order.
For each job you've held, list your position title, the company's or cafe's name and location, and the dates you were employed there.
Give several bullet points detailing your job responsibilities tailored in a way that is relevant to this particular barista job.
Give one or two numbered achievements to prove how capable you'd be as their next barista or cafe supervisor.
Begin each bullet point entry with an action verb for maximum impact.
Now—
Here are two barista job description examples for experienced baristas:
Barista Resume Examples (Experienced Barista Job Description)
Right
Barista & Cafe Server
November 2017–December 2019
Costa, Roseville, CA
Key Qualifications & Responsibilities
Anticipated customer and store needs by constantly evaluating and assessing the environment for cues.
Maintained a safe, clean, and professional workspace and appearance at all times.
Took customers' orders, prepared beverages, served food items, cleaned tables, and restocked bar for maximum efficiency.
Assisted customers with any concerns which may have arisen, from coffee mistakes to dietary restrictions.
Key Achievements
Achieved 100% on-time attendance record during entire employment span.
Wrong
Barista
November 2017–December 2019
Costa, Roseville, CA
Key Responsibilities
Took coffee orders.
Rang up customers on POS.
Served drinks and food items.
See the differences?

The first one has plenty of detailed job duties neatly arranged like macarons in a refrigerated display case. Plus, a numbered achievement proves to the cafe manager how talented you are.
What if you don't have barista experience yet?
No worries.
All you need to do is list your past job responsibilities in a way which is most relevant to this prospective barista job.
Check out these two barista job description resume samples:
First-Time Barista Resume Examples (No Experience Barista Description)
Right
Food Service Team Member
August 2018–October 2019
Brenda's Beverages & Bagels, Seguin, TX
Key Qualifications & Responsibilities
Accepted orders from restaurant visitors in a friendly and efficient manner.
Created beverages based on guest orders, including smoothies, shakes, coffees, teas, and fresh-squeezed juices.
Prepared sandwiches according to customers' wishes.
Maintained a neat and orderly workspace, kitchen area, and dining room.
Key Achievements
Capable of assisting over 50 guests in a 1-hour period during morning rushes.
Wrong
Food Service Team Member
August 2018–October 2019
Brenda's Beverages & Bagels, Seguin, TX
Key Responsibilities
Cooked bagels and other foods.
Crafted drinks for patrons.
Cleaned up restaurant.
The second one is as bland as robusta.
The first one, however, has just the right ingredients served up just right.
When making a resume in our builder, drag & drop bullet points, skills, and auto-fill the boring stuff. Spell check? Check. Start building a professional resume template here for free.
When you're done, Zety's resume builder will score your resume and our resume checker will tell you exactly how to make it better.
Read more about adding work experience onto a resume: Tips for Creating a Resume's Work Experience Section
3
Highlight Your Education on Your Resume for a Coffee Shop
Unless you're applying to become a cafe supervisor or a Costa regional manager, you don't need a college degree for barista jobs.
However—
You do need to document your education correctly if you want a chance at landing the job.
So, if you have plenty of experience, just give the reader the basics on your education:
Barista Resume Education Sample (Candidate With Experience)
Right
Bachelor of Arts in Food Service Management
Roseville Community College, Roseville, CA
Completion: 2016
But—
When you have less experience (or none at all) as a barista, give them more relevant details to bolster your case, like this:
Barista Resume Education Sample (Entry-Level)
Right
Majoring in Culinary Arts
Texas Culinary Institute, Seguin, TX
Estimated Graduation: 2021
Relevant Coursework: Food Service Fundamentals, Introduction to World Cooking Methods, Latin American Cuisine, Coffees and Teas from Around the World, Pastries and Baked Goods, Food Safety, Restaurant Inventory and Recordkeeping.
High School Diploma
Seguin High School, Seguin, TX
When you haven't finished your college degree yet, add high school below as a second entry, just like in this example.
However, if you have a degree from university, omit your high school diploma from your Costa shift supervisor resume or Dunkin Donuts resume.
If your education area is more impressive than your work experience, swap their places so the restaurant manager gets the yummiest bits first.
Read more about adding high school or college degrees onto a resume: How to Add Your Academic History Onto a Resume
4
List Barista Skills on a Resume Relevant to the Cafe Position You're After
When preparing, say, a gingerbread latte, you'll add a bit of ginger, a pinch of cinnamon, and perhaps a touch of nutmeg (unless you just use a premade syrup). You probably wouldn't add banana or coconut.
Point is, you'll add just the right spices.
Well, if you want to bring out the flavor on your barista resume, include just the right skills. You can't list every skill in your arsenal, just like you don't add every ingredient in the cabinet into a single beverage.
So—
Here's how to add the perfect touch of barista skills onto a resume:
First, identify the various skills you have related to making coffee, serving customers, and working at a cafe.
Next, get out the barista job description and look through the job requirements portion—that's where you'll find the most important resume keywords they're looking for.
In the skills section, include 5–10 of the most relevant skills, those which were identified in both of the above steps.
Include both hard skills and soft skills in your barista resume skills list.
Have a look at these common skills for baristas and cafe jobs:
25+ Necessary Skills for a Barista Resume
Customer Service Skills
Latte Art & Milk Steaming
Food Safety and Hygiene
Coffee Bean Grinding
Espresso Machine & Tamping
Knowledge of Coffee Brews & Roasts
Brewing Coffee Manually & Automatically
Speed and Efficiency
Arithmetic & Cash Handling
Point-of-Sale System (POS)
Ability to Work Well Under Pressure
Food & Beverage Pairing
Fast-Paced Work
Friendliness & Tact
Stock & Inventory Management
Collaboration & Teamwork Skills
Computer Skills (for POS and Cash Registers)
Technical Skills (Operating Kitchen Machinery)
Now—
Have a look at these example barista skills resume sections:
Barista Resume Skills Example (Experienced Candidate)
Right
Friendliness and personability
Great communication and collaboration skills
Skilled with latte art, espresso making, and brewing iced coffee
Skills for Barista Resume Example (No Experience Candidate)
Right
Friendliness and collaborative skills
Teamwork and organizational skills
Food and beverage pairing
Easy as a Nespresso machine, right?
Whether you're a coffee-cupping whiz or just starting out, always choose the barista skills which perfectly match the cafe job description.
Read more about adding cafe skills to resumes: List of Top Skills for a Resume
5
Show, Don't Tell: Include Additional Sections to Your Barista Resume
You've got the base for a good Dunkin or Costa resume so far.
But how can you make it great?
Additional sections.
Extra resume sections help you stand out among all the other resumes for barista jobs.
Here are a few top examples of additional sections to include on a barista resume:
Barista Resume Samples: Extra Sections
Industry Certificates or Licenses
A barista course will help secure the job at the cafe, especially if you don't have barista experience. Do you have a food handling license? Add that to your resume for barista gigs, as well.
Volunteer Work
Having unpaid volunteer experience under your belt is awesome, especially if it's relevant to barista jobs. Worked in a shelter's food kitchen or volunteered serving students at a school cafeteria? That's great experience to add to your coffee-making resume.
Knowledge of a Second Language
Proficiency in a second language is valuable now more than ever before. If you're applying in a neighborhood where customers speak a foreign language in large numbers, knowing that language definitely gives you the edge over other barista candidates.
Passions & Pastimes
As an ambassador for the cafe, the cafe owner wants to see baristas who are well-rounded. Show off your interests and hobbies on a resume for barista jobs to give them a taste of your full self.
6
Compile the Best Bits Into a Barista Resume Objective or Summary
Now, it's time to crown your barista resume with that dollop of whipped cream on top—
The resume heading statement.
The heading statement comes in two flavors: the summary statement and the objective statement.
Are you an experienced coffee craftsperson?
The barista resume summary gives the cafe owner or restaurant manager a quick glimpse into your bean-brewing background. Include a numbered win or two to show them how talented you really are.
Here are two barista resume example summaries:
Barista Resume Examples (Summary Statements)
Right
Personable and customer-oriented barista with over 3 years experience making coffee beverages at cafes. Passionate about fair trade coffee and exotic blends. Skilled at latte art, multiple espresso machines, and customer service. Achieved 100% on-time attendance record during entire employment span.
Wrong
I've been a barista for several years now, and I've learned many aspects of the coffee-making business. I'm seeking a higher-level barista job to make the most of my various cafe skills and customer service talents.
The wrong example is a watered-down cup o' joe, while the right one is a bold caffè ristretto.
It's detailed, tailored to one particular barista job description, and it includes a number for the win.
Now—
What if you're new to barista jobs?
A career objective is great when crafting a resume with little experience. It shows some passion for the barista job and a statement of your career goals. However, it also includes a quantifiable achievement to help seal the deal.
Here are two barista resume objective examples:
Barista Resume Examples (Objective Statement)
Right
Skilled food service team member and bachelor's degree student of culinary arts at the Texas Culinary Institute. Skilled at providing great customer service, preparing a variety of foods and beverages, and helping guests make pairing decisions. Capable of assisting over 50 guests in a 1-hour period during morning rushes. Seeking to leverage beverage-making abilities to become the next barista at Dunkin Donuts.
Wrong
I don't have experience as a barista, but I am studying food-related topics at the local university. I'd like to get a job as a barista, cashier, or dishwasher to help me pay my college tuition and car loans.
As in the barista summary statement, show rather than tell. Personalize your opening statement to one specific job. And, if you have numbers to back up your claims, make sure to include them!
Need help with writing your heading statement? Have a look at this guide: How to Start a Resume
7
Do Write a Barista Cover Letter
Would you serve a cappuccino without frothing the milk first?
Well, a resume without a barista cover letter is the same—
Not ready to hand over.
Cover letters are very important, whether for an entry-level barista resume or a Peet's shift supervisor resume.
Here's how to write a cover letter for barista jobs:
The cover letter is king. In an industry where hundreds of generic resumes get thrown across the counter every month — the cover letter is what makes you stand out. Something with personality that explains why you'd fit that particular cafe's ethos and vibe.
Want a few more ideas for how to make a cover letter that'll earn you that cafe job interview? Check out this guide: 35+ Best Tips for Writing a Cover Letter
Plus, a great cover letter that matches your resume will give you an advantage over other candidates. You can write it in our cover letter builder here. Here's what it may look like: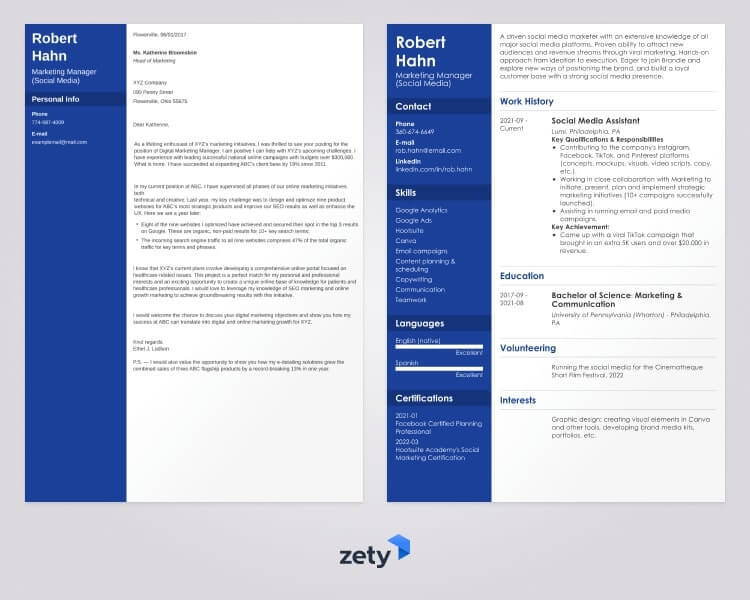 See more cover letter templates and start writing.
Key Takeaway
Let's summarize how to write a barista resume:
Format your barista resume template right by using the best font, font size, line spacing, and resume margins.
Document your work history with detailed bullet points, numbered achievements, and relevant information.
List your coffee-making skills and abilities on a barista resume.
Give a brief description of your academic history, and go into more detail when you have less barista experience.
Add extra sections onto your resume for barista jobs, such as certifications, awards, or hobbies.
Go back to the top and write a compelling barista resume objective or summary.
Remember to include a barista cover letter before you send in your application.
Well, that's our guide. We'd love to hear from you:
What are the biggest challenges you face when writing a barista resume?
Need help parsing the barista job description for resume keywords?
Do you have any stories of barista jobs or cafe job interviews you want to share?
Let's chat here in the comments, and thanks for reading!
About Zety's Editorial Process
This article has been reviewed by our editorial team to make sure it follows Zety's editorial guidelines. We're committed to sharing our expertise and giving you trustworthy career advice tailored to your needs. High-quality content is what brings over 40 million readers to our site every year. But we don't stop there. Our team conducts original research to understand the job market better, and we pride ourselves on being quoted by top universities and prime media outlets from around the world.
Sources