Here's the deal:
Every business needs savvy project management pros.
So no wonder jobs for PMs are projected to grow by 11% in the upcoming 10 years and salaries are over double the average.
But—
What makes a great project manager or project coordinator?
In a word: skills.
Good project management skills are what guarantees that things get done. Better yet: done on time and within a budget.
If you want to learn more about essential technical and soft skills for project management and how to put them on a resume to land more jobs, you came to the right place.
This guide will show you:
A full list of essential soft and technical skills needed for project management jobs.
How to put your skills on a project manager resume to land more interviews.
Why picking the right few project management achievements is key to proving and validating your PM qualifications.
Want to save time and have your resume ready in 5 minutes? Try our resume builder. It's fast and easy to use. Plus, you'll get tips and right vs. wrong examples while writing your resume. See +20 resume templates and create your resume here.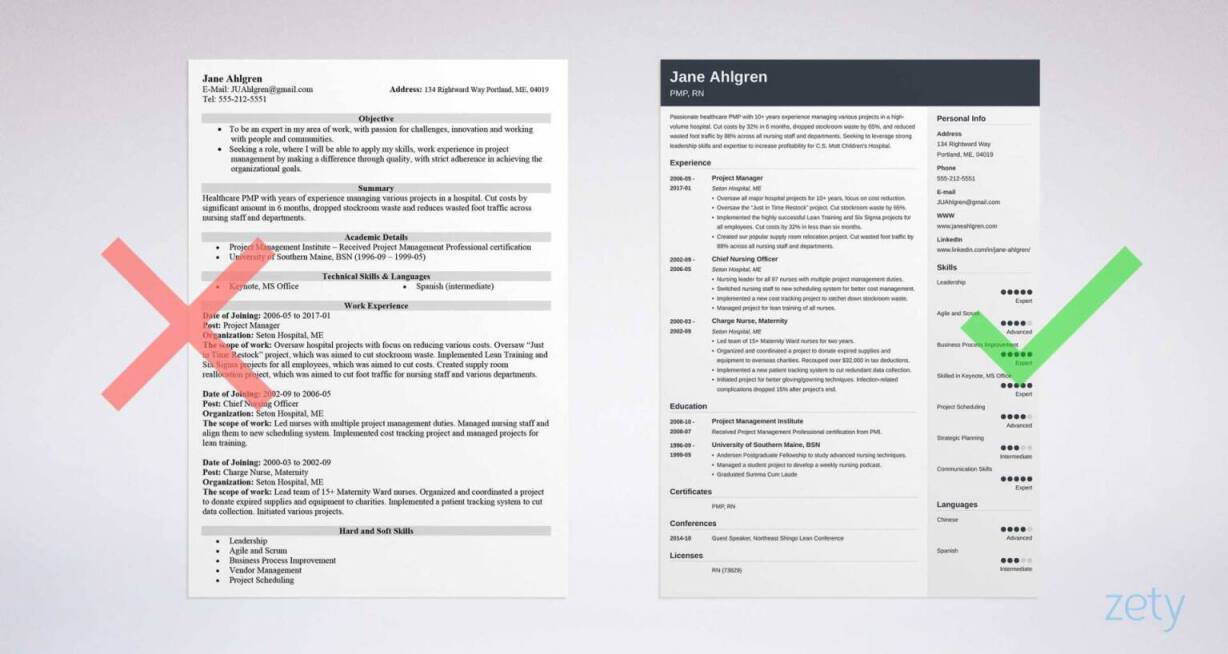 Sample resume made with our builder - See more templates and create your resume here.
For the best tips about listing all kinds of skills on a resume, see our guide: 99+ Key Professional Skills to Put on a Resume & How to List Them (+Examples)
Need some help with creating a full resume for project management jobs? Check out one of these:
1
20 Project Management Skills Essential in 2019
If you're simply looking for a list of project management skills to put on a resume or to get a grasp of what skills are most important for the job, here's just that: examples of the most important project management competencies.
Best Soft Skills for Project Management Jobs
Leadership
Communication
Time Management
Critical Thinking
Problem-Solving
Risk Assessment
Negotiation
The single most important skill for project managers nowadays? Problem-solving. By being able to use tools to lead groups through problem-solving sessions, you'll have a valuable skill that can be used in any situation. This is true whether your team follows waterfall or Agile. And with organizations needing to work more efficiently than ever, you'll be able to help your team identify ways to make improvements through your problem-solving skills.
Leigh Espy
What are project management skills when it comes to technicalities and hands-on PM experience?
Technical and Job-Specific Project Management Skills
Project Scheduling
Strategic Planning
Subject Matter Expertise
Project Lifecycle Management
Agile Software
Scrum Management
Meeting Facilitation
Financial Modelling
Kanban
Forecasting
Lean Thinking
Performance Tracking
Budgeting
Alright.
So you've seen a full list of project management essentials and key competencies. The thing is—
Raw lists of PM skills are pretty useless. You need to learn how to make the most of them to supercharge your job search!
Our resume builder (you can create your resume here) will give you tips and examples on how to write your resume summary or any other section. You can easily copy them straight into your resume - it will save you a ton of time.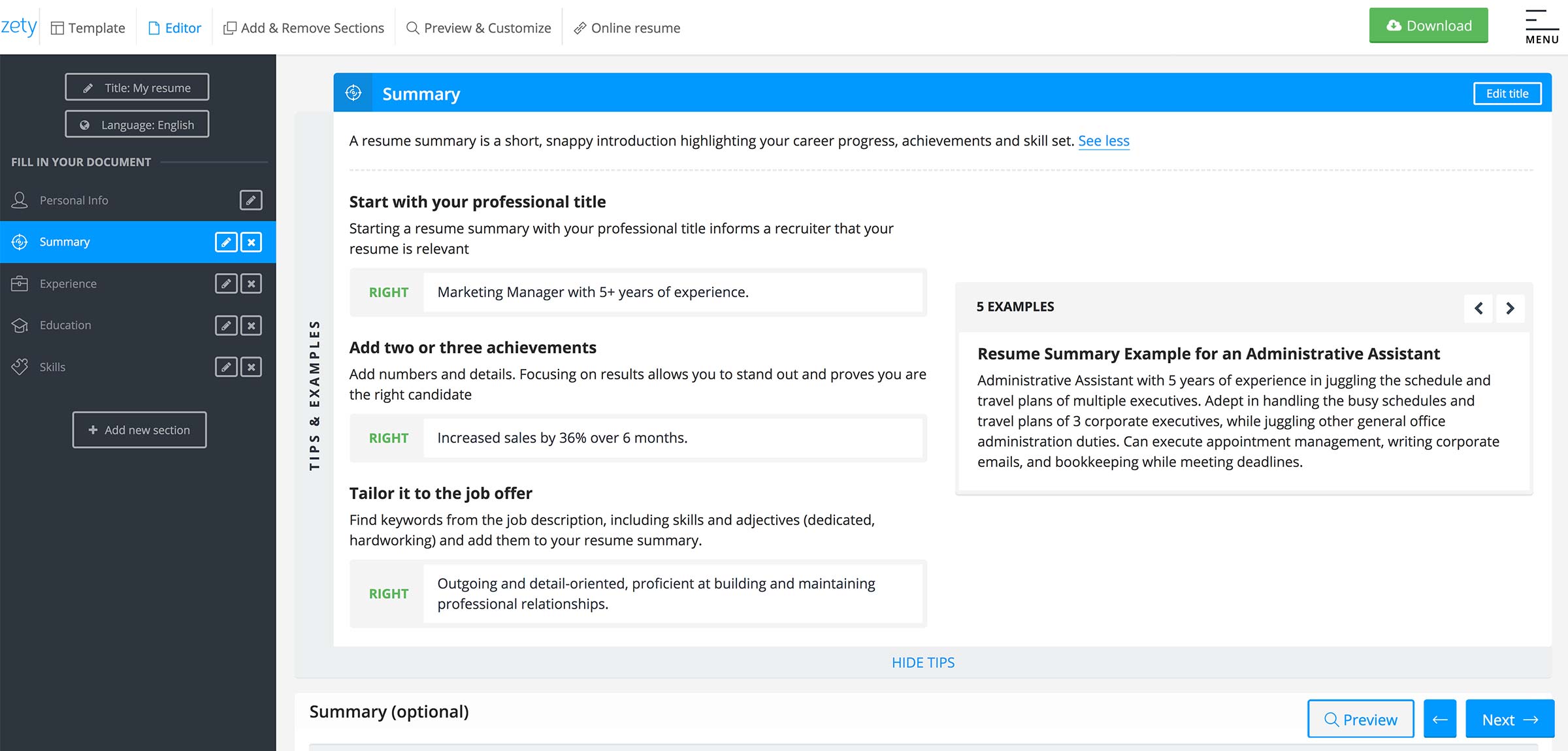 Inside Zety's resume builder you will find tips and examples for your resume.
And if you want to learn more about other job-winning skills, we've got you covered! Check out our dedicated guides:
2
How to Put Project Management Skills on a Resume
When it comes to listing project management skills on a resume, two notions are key:
Relevance and specificity.
First of all, the skills you choose to list have to match the position you're eying.
Secondly, you can't just randomly enter whatever is expected of you. You need to show specific, tangible proof of how you've put a given skills to use.
So use the examples of project management skills above only as a point of reference and put in a bit more work for your resume project management skills section to truly shine.
Here's how to list PM skills on a resume step by step :
Start with a spreadsheet with all your professional project manager skills and qualifications.
Read the job description carefully and look for skills-related requirements.
See which of these project management competencies match your skills listed in the spreadsheet. Quite a few, right?
Put those project management resume keywords in a separate skills section of your resume.
Don't stop there: research the company online. Find what sort of software and technical knowledge, as well as "soft," transferable skills they value. Plug these into your resume as well.
Provide proof for your most strategic skills instead of just listing them in bullet points.
See what I mean in this real-life example.
Here's a sample project manager job description. Note the highlighted skills required.
Project Manager Job Description Example
Excellent in

written and verbal communication(1)

.
Solid organizational skills including attention to detail and multi-tasking skills.
Strong working knowledge of Microsoft Office.

Experience in data analysis a plus(2)

.
Experience with Agile Software(3).
Highly competent in project and program management, budgeting(4), scheduling, and task estimation.
Excellent team leadership skills(5), with the ability to motivate and inspire team members.
Now, here are two project manager resume skills sections—one tailored to match the job ad and another one, generic.
Project Manager Skills for a Resume—Examples
right
Agile Software(3)

: employed Jira and Taiga to improve team velocity 35%.

Data Analysis(2)

: 3+ years of experience in Oracle 8i and MS Access.

Leadership(5)

: boosted team NPS by 32% by introducing incentive-based gamification.

Strong written and verbal communication skills(1)

.

Budgeting(4)

: saved $800,000 through a company-wide automation drive.
See this? The candidate listed her key skills relevant to the position and backed them up with evidence.
wrong
Written and verbal communication
Organizational skills
MS Office
Data analysis
Agile Software
Program management, budgeting, scheduling, task estimation
Leadership
Come on. "Tailoring," doesn't mean copy-pasting stuff.
One more thing to keep in mind:
While your key project management skills should be listed in a separate section, don't limit yourself to that.
Mention project management technology and tools you know in the resume summary or resume objective.
Show how effective your project management skills have been in the work history section of your resume.

Finally: back up your skills with tangible proof.
On your resume, add an extra section with your unquestionable wins.
Include everything that fits into one of these categories:
Project Management Certifications
Conference participation
Courses taken
Awards and Professional Achievements
Publications
For more inspiration on how to spice up your project management resume, see: Achievements and Awards to Put on a Resume [Examples]
And by the way, don't let your mind go blank in your interview. Check out our guides to make sure you always come out on top:
Here's everything you need to know about project management skills in a nutshell:
Some good examples of technical project management skills include: project scheduling, agile software, scrum management, meeting facilitation, financial modelling, kanban, and performance tracking.
The best soft skills for project management are: leadership, communication, time management, problem-solving, and risk assessment.
To list project manager qualifications on a resume the right way, customize your skills section so that it matches the requirements from the job ad.
Don't just showcase your project management skill set in the skills section: sprinkle some skill-related keywords in your summary and the work experience section.
Have any questions? Need further assistance? Drop me a line in the comments, I'm here to listen, respond, and straighten out all your queries!