Our customers have been hired by:
Your project managerial kung-fu has no rival. You're great at your job and you know it. But if you're finding difficulty landing yourself that awesome, stress-free (okay, relatively speaking stress-free) position, this guide is for you.
The truth is—your senior project manager resume is likely the key underperformer, and you need to whip it into shape. And that's by EOD.
So, without further ado—
This guide will show you:
A senior project manager resume example better than 9 out of 10 other resumes.
How to write a senior project manager resume that will land you more interviews.
Tips and examples of how to put skills and achievements on a project manager resume.
How to describe your experience on a resume for a senior project manager to get any job you want.
Want to save time and have your resume ready in 5 minutes? Try our resume builder. It's fast and easy to use. Plus, you'll get ready-made content to add with one click. See 20+ resume templates and create your resume here.
Sample resume made with our builder—See more resume examples here.
See these related guides if they fit your bill better:
Senior Project Manager Resume Sample
Wayne Jones
Senior Project Manager
617-493-0448
waynejones@zetymail.com
Summary
Energetic senior project manager with 11 years of experience. Skilled in establishing core processes and recommending feature requests and alternative technical approaches. Coordinated up to 12 simultaneous projects with a cumulative value of $4.5 million, and adapted to successfully identified risks on a regular 14-day basis, reassessing as necessary.
Work Experience
Senior Project Manager
DISH, Littleton, CO
April 2019–January 2022
Coordinated a team of 14 project managers, handling a total number of up to 55+ projects at a time.
Oversaw the process of integrating new go-to-market operations at 350 brick and mortar stores, which increased revenue by 75% in initial quarters post launch.
Streamlined C-level communication, reducing time needed for catch-up meetings by 50%.
Slashed poor resource allocation instances and saved on average $20,000 a year.
Key Achievement: Introduced new risk assessment approach and began 14-day adaptation schedules, thus avoiding 95% of predicted risk scenarios.
Project Manager
Anthem, Atlanta, GA
December 2011–February 2019
Applied project management knowledge and skills to ensure all deliverables, processes, and systems are delivered on time and under budget 90% of the time.
Recommended using Scoro to hasten both intra- and inter-departmental communication and successfully cut delivery times by an average of 3 working days.
Maintained accurate project information in central project repository for up to 20 projects at a time.
Education
Bachelor's Degree in Business Administration
MIT Sloan School of Management, Cambridge, MA
2006–2010
Key Skills
Scrum, Agile & APF
Project Scheduling
Core Process Identification
Leadership Skills & Empathy
Project Assignment
Recruiting
Effective Communication
Certifications & Licenses
Project Management Professional – PMI, 2017
Certified Project Director – GAQM, 2016
Awards & Achievements
DISH – Selfless Leader Award (2020 & 2021)
LinkedIn article: "9 Key Steps for Better, Flexible Project Management Your Company Needs", viewed 2.7 million times
Now, let's get you up to speed on how to write the perfect senior project manager resume:
1. Prepare Your Senior Project Manager Resume Using the Right Format
As senior project manager, you're responsible for handling high-priority projects, overseeing their execution, and delivering on time. This isn't Little League, oh no—stakes are high, and your senior project manager resume has to show your leadership and strategic planning skills are on point.
And guess what—if your resume isn't chock-full of tangible examples of PM excellence, it's going to be a bust.
So, just like you start by drafting up the project execution stages, deliverables, and potential roadblocks, your resume needs to start with a plan, too. Or in our words, a well-designed resume outline:
How many pages should a resume be for senior management roles? Well, it depends—
If you have enough experience and noteworthy achievements to fill two pages or more, go for it. Otherwise, stick to a one-page resume.
Read more: What Does a Professional Resume Look Like? Examples & Tips
2. Summarize Your Senior Project Manager Resume
Resume introductions for entry-level positions come in the form of resume objectives.
But you're no entry-level candidate. You've got an entire novella's worth of highlights and properly managed resources, and project evaluations.
That's why for you, the goal is to cherry-pick the crème de la crème, and squeeze it into a juicy resume summary the recruiter simply won't be able to resist.
Here's the ultimate formula:
The first sentence should start with a positive adjective, like driven, motivated, results-oriented, or reliable.
Then, add the name of your position—senior project manager.
Add your years of experience (3+ years, over 5 years, 8 years, what have you).
List just a couple of your best achievements, definitely save some for later.
Use numbers—it will make you stand out while keeping the recruiter's eyes peeled. Wins all around.
Read more: How to Start a Resume the Right Way
3. Write an Impressive Senior Project Manager Job Description
Whatever company you're applying to, keep in mind one thing:
They want to know why you're putting senior in front of your job title.
In other words, the job description you present should inform them about more than simple duties and mundane descriptions. You need to demonstrate remarkable achievements and results in your work experience resume section if you want to get hired.
Here are the key tips for getting it done right:
Read more: How to Write a Perfect Targeted Resume
4. Include Your Education on the Senior Project Manager Resume
How many years of experience do you think are enough to forego the education section?
5? 10?
Well, typically, you can become a senior PM in about 3 or 4 years, but regardless—
That was a trick question because you cannever skip the education section on your resume, no matter your experience level.
However, seniority in your field means you can focus on the simplest stuff and move on to the other sections. Just make sure you're doing it right:
Add your school name, graduation year, and highest obtained degree.
Don't mention your high school, it's irrelevant at this point in your career.
Include your GPA on your resume if requested in the job ad (or high enough to strut your stuff—3.5+).
Read more: How to List Your Degree on a Resume
When making a resume in our builder, drag & drop bullet points, skills, and auto-fill the boring stuff. Spell check? Check. Start building a professional resume template here for free.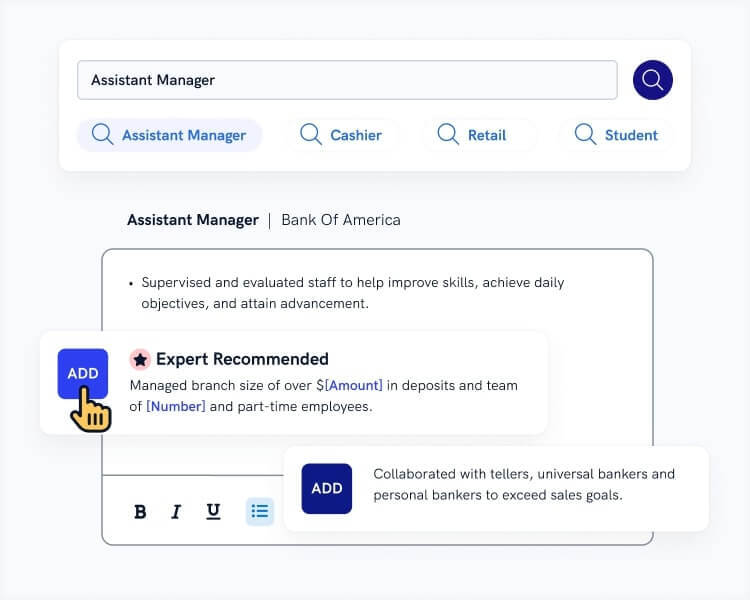 When you're done, our easy resume builder will score your resume and our resume checker will tell you exactly how to make it better.
5. Bring up the Skills They Want to See from a Senior Project Manager
Here are some of the top skills a senior PM needs to exhibit on the daily:
Senior Project Manager Resume Skills
Budgeting/ACWP Modeling
APF/Agile Management
Business Cases
Core Process Identification
Timebox Strategizing
Project Scheduling
Staffing & Recruiting
Project Management
Management Skills
Process Improvement
Planning
Performance Monitoring
Attention to Detail
Analytical Thinking
Innovation
Conflict Resolution
However, just like anything else in a senior project manager resume, it's not entirely what you present, it's how you do it.
And stacking 25 skills on top of one another and calling it a day won't get you very far. There is a better way:
Draft a list of your professional skills split into categories. Soft skills, hard skills and technical skills are a good starting point.
Look through the job ad to see what resume keywords will perform the best. These are your KPIs and they should find their way onto your resume.
Pro Tip: Don't just write about your project management skills, actually convince the recruiter that you have them! In your work experience section, when mentioning past duties, weave those skills into your descriptions.
6. Add Extra Sections to Your Senior Project Manager Resume
With the kind of senior project manager resume you've prepared thus far, your reader will know hiring you wouldn't be a mistake.
But all the other applicants have done the same thing with their resumes. What now?
You've got an ace up your sleeve, and that ace is called personality.
It goes without saying that PM's need a good dose of technical expertise and management, but multiple studies show that people skills and being a good, empathetic leader are just as important.
So to set yourself apart and show your friendly side, include extra sections to your resume and let your personality shine through.
Here are a few great additions to a resume:
Conference attendance (especially as speaker)
Read more: How to Put Projects on Your Resume
7. Finish with a Senior Project Manager Cover Letter
Is a cover letter a necessity?
Definitely so.
By not including one, you're doing a 50/50 on whether you run into a recruiter who's a cover letter hardliner.
So, better get to it. Fortunately, we've got you covered with a few steps to writing a cover letter:
Know what cover letter format you will be picking ahead of time.
Start your cover letter with an engaging introduction.
In the middle of the letter, elaborate on your strengths and your ability to use them to help the company overcome their challenges.
When ending the cover letter, implore your reader to think about all the benefits hiring you would bring.
Lastly, do not exceed one page when writing your cover letter. The ideal cover letter length is 3–4 paragraphs.
Read more: What Should a Cover Letter Say?
Plus, a great cover letter that matches your resume will give you an advantage over other candidates. You can write it in our cover letter builder here. Here's what it may look like: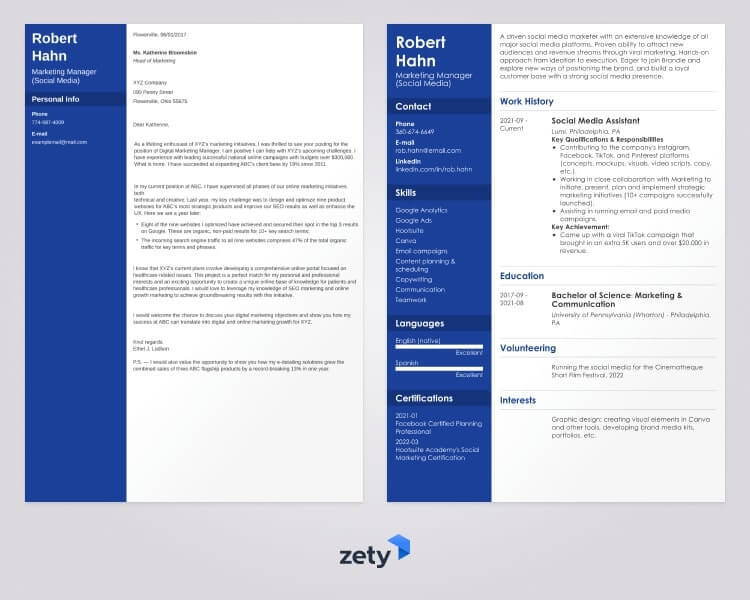 See more cover letter templates and start writing.
That's it! Thanks for reading
Got any more questions? Finding any particular part of writing your senior project manager resume extra frustrating? Let's get the discussion started in the comments section.
About Zety's Editorial Process
This article has been reviewed by our editorial team to make sure it follows Zety's editorial guidelines. We're committed to sharing our expertise and giving you trustworthy career advice tailored to your needs. High-quality content is what brings over 40 million readers to our site every year. But we don't stop there. Our team conducts original research to understand the job market better, and we pride ourselves on being quoted by top universities and prime media outlets from around the world.
Sources