Freelance Work on a Resume [Freelancer Resume Examples]
Napoleon Hill said "forget about a job," but now you need one. How does freelance resume experience fit in? Take heart. This guide shows the ins and outs to get you hired fast.
How do you list freelance work on a resume?
It's a problem.
You've got great experience that's not from day jobs.
Sometimes it's your best or only work.
Do it wrong, and a freelance resume looks like a giant resume gap.
Do it right, and you'll prove you're applicant #1.
Don't fret.
This guide will show you:
How to list freelance work on your resume.
Where to list freelance projects on a resume for best effect.
Freelance resume samples better than 9 out of 10 others.
Why adding a cover letter to your freelance resume will boost your chances of getting hired.
Want to save time and have your resume ready in 5 minutes? Try our resume builder. It's fast and easy to use. Plus, you'll get ready-made content to add with one click. See 20+ resume templates and create your resume here.
Sample resume made with our builder—See more resume examples here.
Wondering how to put freelance on a resume for other jobs? Making a consultant resume or writer resume? Try these guides:
Guides to help you list freelance work on a resume:
Freelance Resume Guides for Business:
Freelancing Resumes for Creative Jobs:
Tech and IT Freelance Resume Guides:
Need to know how to put freelance work on resumes?
That's next.
1
How to List Freelance Work on Resumes
To show freelance work on a resume:
List your freelance position on your resume as if it were a job.
Understand the job offer you're applying to. Know the required skills.
Think when you used those skills doing freelance work.
Tailor your resume—find your biggest achievements from freelancing that fit.
Add the achievements to your resume bullet points.
Use the best resume format and resume fonts.
Save your resume as a PDF unless the job ad forbids them.
Consider this—
A freelance resume doesn't have to be that different from a regular professional resume.
For instance, if you're hunting a consultant job, were you a freelance consultant?
If you're trying for a writer job, were you a freelance writer?
You can show either as full jobs.
Do it like the first of our freelance resume examples:
Freelance Resume Examples [Experience]
See these sample freelancer resume experience sections.
(They also make great how to list temp jobs on resume examples!)
right
Freelance Writer
2015–2019
Served as key writer in team of 3 that grew traffic from 1M to 3.5M per month.
Wrote hundreds of career articles with Google rank of #1 to #3.
Commended 7x by management for excellent content writing and SEO.
Told recently by editor, "You're the most professional person I've ever met."
Landed 300+ backlinks from external sites with high domain authority.
Receive 10+ user emails per week thanking me for my helpful articles.
Pow. The employer would have to have to be squirrely to pass that up.
But yank out those achievements, and you get the next of our freelance resume examples:
wrong
Freelance Writer
2015–2019
Wrote articles as a freelance content creator.
Responsible for getting backlinks.
Delivered work on time.
Tasked with writing excellent content with SEO slant.
That freelancing resume example won't get you hired.
It's not clear if you actually did anything or just binge-watched a lot of Netflix.
So—
Make sure to prove your skills with accomplishments.
Pro Tip: Add metrics to your freelance resume to show you did good work—and plenty of it. Make $ and % and other numbers your best friends.
Don't use uninspiring language in your freelancer resume. See our guide: 240 Resume Action Words & Power Words to Make Your Resume Shine
2
How to Put Freelance Projects on a Resume
You've done a zillion projects!
How do you list them so employers notice them?
Put them in a special "Projects" section in your freelancer resume.
Important:
Only list the ones that prove your key skills.
And only list what space allows in one or two pages on your resume.
So if you're writing a freelance artist resume, list art projects.
See the next two sample freelance resume examples:
Freelance Resume Examples [Other Sections]
The next of our artist freelancing resume examples is beside the point:
wrong
Additional Activities
Created my own portfolio site with HTML.
Built my own house.
Avid NFL fan
You seem self-motivated. That's great. But are you a good artist?
The next of our freelancer resume samples does it better:
right
Additional Activities
Taught design class to 30+ professional artists from the National Association of Independent Artists (NAIA).
Mentored two full-time artists at Creative Onion Branding, NYC.
Avid whitewater kayaker.
Conferences
2017 NAIA Conference
2019 NAIA Conference—Taught popular online session on design
Exhibitions
2017 Solo Exhibition, Automatic Writing and Gearboxes, Choupachou Art Gallery, New York, NY.
2018 Juried Exhibition, Mallawanda Piko Center, Framingham, MA.
That's Banksy-level. That freelancing resume example will hit the gallery owner where she lives.
Pro Tip: Got freelance experience that doesn't prove your key skills? Leave it off your freelance resume. The only reason to list freelance work on resumes is if it proves you're a good candidate.
Should you put hobbies on a freelancer resume? See our guide: +20 Best Examples of Hobbies & Interests To Put on a Resume (5 Tips)
3
How to Put Freelance Work in a Resume Summary or Resume Objective
Here's a shocker:
That dream employer? (We'll call her Sharon.)
She won't read your freelance resume.
She'll skim.
Grab her fast before she vanishes.
How?
By showing her you're a warrior without a W-2.
Got freelance work achievements that'll peel her eyelids back? Add them to your resume summary or resume objective.
These two freelancing resume examples show the way.
Freelance Resume Examples [Resume Summaries]
What's wrong with the first of these freelance resumes for part-time jobs?
wrong
Creative photographer with 5+ years of freelance experience. Handled several big clients for five years. Shot dozens of assignments. Created magazine covers, web images, and more.
That's not horrifyingly bad, but it won't get you on the A-list.
So, do like the next of our freelancing resume examples. It's for a freelance writer resume.
right
ASJA Journalist and Writer with 5+ years of experience, seeking to write high-ranking, high-traffic articles for Comcast. Current clients include Adobe, Costco, and Lowes. Regular contributor to Boys' Life and Scouting magazines. Have written 1,500+ published, high-ranking, high-traffic articles since 2014. Built traffic for a money blog to 800,000 in 18 months and career blog to 3.5M.
Standout. The employer just forgot the other applicants. Those past accomplishments electrified her.
Here's another freelancer resume example. This one's for a freelance web developer:
right
Passionate web developer, skilled in JavaScript, JQuery, and Photoshop. Created 10 wireframes as freelance projects for local businesses. Wrote a product launch website and an ecommerce webapp. Teach regular coding sessions at local web developer meetups.
A resume for freelancers like that will put you on the roster.
Pro Tip: How long should a resume be for freelancers? One page—maybe two. Got four pages of eye-popping freelance projects? Save most for your portfolio.
When making a resume in our builder, drag & drop bullet points, skills, and auto-fill the boring stuff. Spell check? Check. Start building a professional resume template here for free.
When you're done, Zety's resume builder will score your resume and tell you exactly how to make it better.
Need more line-level tips to write a freelancing resume objective or summary? See our guides:+20 Resume Objective Examples - Use Them on Your Resume (Tips) andHow To Write A Resume Summary: 21 Best Examples You Will See
4
How to List Freelance Skills in a Resume
Let's not beat around the bush.
Fail to prove your skills, and your freelancing resume experience won't count.
To make employers stop yawning:
Scour the job ad for skills they want.
Scrub your past for times you used those as a freelancer.
List them in your freelancer resume bullet points.
The freelance resume examples below show how.
Freelance Resume Examples [Skills]
Pretend Sharon listed these skills in the online job posting:
Required Skills: 1) traffic growth, 2) keyword research, 3) competitive analysis, 4) inbound links
Of course add them to your freelance skills list.
Then do this:
(1) Built lifestyle blog to 800,000 visits per month in 18 months.
Used (2) keyword research, (3) competitive analysis, and search-intent discovery to rank #1 to #3 for 500+ high-competition articles. Outranked Forbes, Fortune, The Economist, and dozens more.
(4) Cited by Fortune, Forbes, BBC News, ABC, NBC, and other top outlets.
Interviewed by the BBC about my Olympic Training article.
Do that, and you'll have medical insurance fast.
Not sure what professional skills to list on your resume? Find them in our list of job-specific resume guides up top.
Then list some transferable skills and use them as your resume keywords.
Remember, focus on what's in the job posting.
Pro Tip: Are freelance resume achievements really "proof" of skills? They won't hold up in court, but they'll stand up enough to get the interview.
What mix of soft skills and hard skills for a resume should you include? See our guide: Soft Skills vs Hard Skills for a Job: What Employers Look for
5
What About a Freelance Cover Letter?
Are you supposed to send a cover letter with a freelance resume?
Yes. More than with any other kind of resume.
Almost half of all employers crave them.
But—
You must explain freelance IT work, consulting, or writing on your cover letter.
To stand out:
Use the hiring official's name.
Prove you know the job's needs.
Explain why you're the perfect applicant.
This short example freelance cover letter will make employers gnaw their lips:
I'm thrilled to apply for the IT Manager position at Wedesco Aerospace. I've admired your corporate culture since I read the "Work Schematics" book about it by your founder, Kevin Mastache. As Program Manager at R/B Systems International, I used Oracle Primavera to save 5 meeting hours per week for 15 engineers, freeing them up to earn an additional $315,000 in annual revenue.
On the side, I did five freelance IT projects with budgets in excess of $50,000. For the first, I led a project to create custom ERP software. That software automated the requirements-tracking for 19,000 customers and 120+ programs. For the second...
That freelance cover letter goes great with a freelance resume. Why? It shows your freelance IT work and skills built new opportunities for clients.
Pro Tip: You should end your cover letter with some kind of offer. Try, "I'd be glad to talk to you about how I expanded our custom software to cut daily disruptions by 25%."
Not sure how to start a cover letter for your freelancer resume? See our guide: How To Write A Cover Letter in 8 Simple Steps (+12 Examples)
Plus, a great cover letter that matches your resume will give you an advantage over other candidates. You can write it in our cover letter builder here. Here's what it may look like: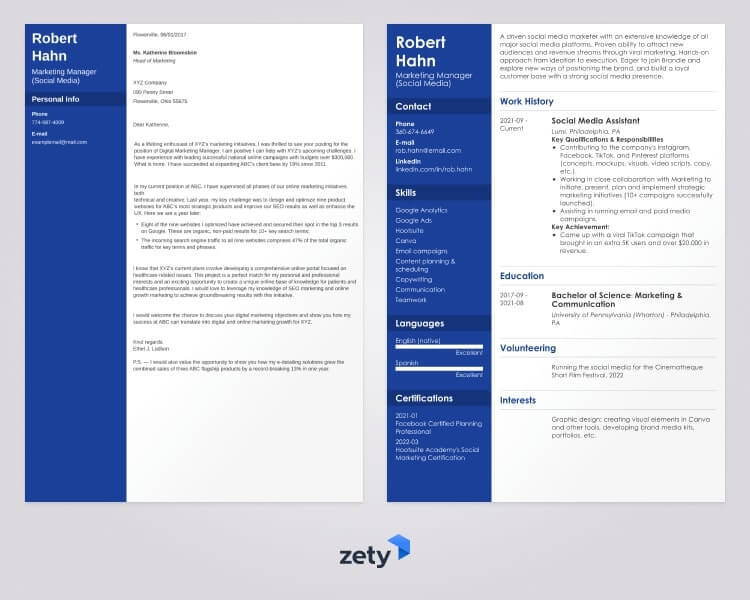 See more cover letter templates and start writing.
Key Takeaway
Here's a recap of how to list freelance work on a resume:
Start with a freelance resume summary. Win the employer's trust by showing how your freelance work helped clients.
Tailor your resume to the job. Show times you used job-matching skills toward reaching client goals.
Add a "Freelance Projects" section to your resume. In it, put your freelance writer, architect, consulting, IT, or artist jobs.
Write a freelance cover letter. Add your best freelance accomplishments that show you've got the skills to do the job.
Do you send freelance resumes to job postings and hear crickets? Are employers flat-out ignoring your freelancing resume? Frustrating! Give us a shout in the comments. We'd be happy to discuss.
Article summary
The article discusses how to include freelance work on a resume. It highlights the importance of showcasing freelance work on a resume to demonstrate relevant skills and experience to potential employers. The article suggests including a dedicated section for freelance work, detailing the specific projects, clients, and results achieved. It also recommends highlighting transferable skills such as project management, communication, and time management. Additionally, the article emphasizes the importance of tailoring the resume to the job description and using quantifiable metrics to demonstrate the impact of freelance work. Finally, it advises being transparent about freelance work and avoiding misrepresenting it as full-time employment.