An artist resume is a short document listing your key academic and professional achievements in reverse-chronological order. Artists use resumes to apply for residencies, exhibitions, or jobs in galleries.
Sounds pretty dull, doesn't it? You'll never be judged by something as mundane as a resume! Not so fast. Without a well-crafted art resume, you can get turned down for juried exhibitions. You can miss grants, awards, gallery shows, commissions, and residency programs. You can even turn off buyers.
Why?
Because a poorly-crafted resume is like art with poor symmetry, color, and composition. It frustrates the viewer.
This guide will show you:
An artist resume example better than 9 out of 10 other resumes.
How to write artist resumes that will land you more interviews.
Tips and examples of how to put skills and achievements on an art resume.
How to describe your experience on a resume for an artist to get any job you want.
Here's a sample resume for an artist made with our online resume builder.
Want to save time and have your resume ready in 5 minutes? Try our resume builder. It's fast and easy to use. Plus, you'll get ready-made content to add with one click. See 20+ resume templates and create your resume here.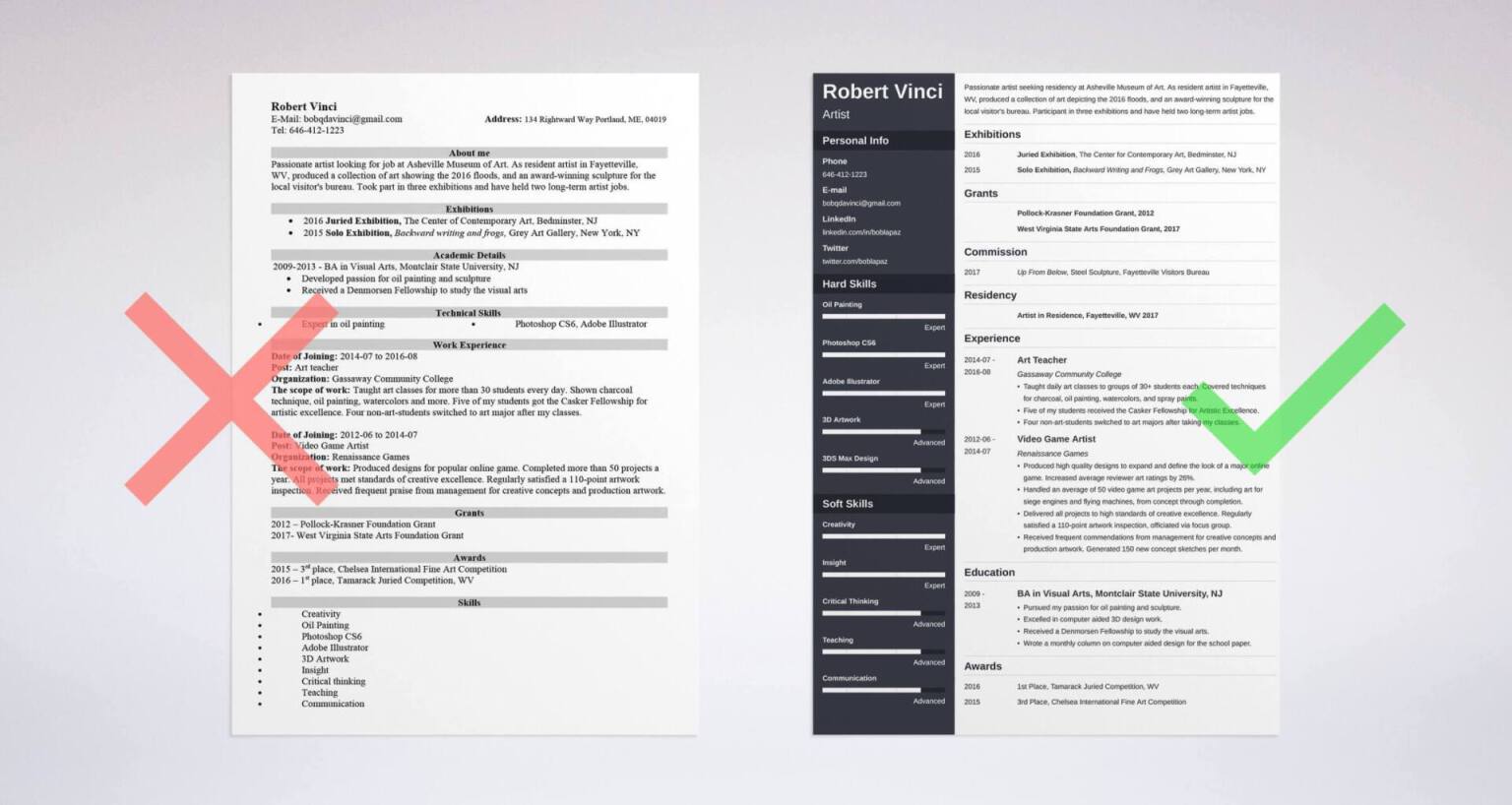 Sample resume made with our builder—See more resume examples here.
Looking for a guide to writing a more specific artistic resume? See one of our dedicated articles:
And if you need a more formal document, see: Artist CV
1
What's the Best Format for an Artist Resume?
I've got some bad news.
You just got turned down for that juicy juried exhibition.
Why? Your poorly-formatted artist resume made the jurors cranky enough to reject Klimt.
Don't let this happen to you.
Choose a respected resume structure like the reverse-chronological format. It'll show your best stuff first.
Use clear, legible fonts, the right amount of white space, and eye-friendly headings.
Finally, save it as a PDF. An artistic resume in PDF format keeps its layout intact no matter what computer it ends up on.
Pro Tip: Make sure the submission guidelines allow PDFs. Some Applicant Tracking Systems slip up on an artist's resume in PDF format.
Want to make sure your resume will hook every recruiter and get you that interview? Get our free checklist and learn what makes a job-winning resume: 46 Things You Need To Do Before You Send Your Resume.
Want to see the reverse-chronological format in action? See the free artist resume template above. Also, reference our guide: "3 Resume Formats: How to Choose the Best One [Examples]"
2
How to Write an Artist Resume Summary or Resume Objective
One eye-popping hr statistic: the average resume gets just seven seconds of reading time.
That's an eyeblink.
But that's only the ones that wind up in the rejects pile.
The winning artist cvs get lots more.
How do you get into category #2?
You do it with a resume summary or a resume objective. It's an artist bio that grabs the reader like a Banksy piece.
Look at these two fine arts resume samples:
Artist Resumes Examples: Two Summaries
See if you can spot the problem with the first of our two samples from artistic resumes.
wrong
Artist seeking residency position. I'm currently an artist in residence in Fayetteville, WV. I've held jobs in the past as an art teacher and a video game artist. I've also been featured in three art exhibitions.
That doesn't look terrible, does it? Neither does paint by numbers.
Instead, follow the better of our artist resume samples, below.
right
Passionate artist seeking residency at Asheville Museum of Art. As resident artist in Fayetteville, WV, produced a collection of art depicting the 2016 floods, and an award-winning sculpture for the local visitor's bureau. Participant in three exhibitions and have held two long-term artist jobs.
Bingo. That's an artist bio example you can sink your palette knife into.
Doesn't sound like you though? I'll show you how to build an artist bio just like it in a minute.
When making a resume in our builder, drag & drop bullet points, skills, and auto-fill the boring stuff. Spell check? Check. Start building a professional resume template here for free.
When you're done, Zety's resume builder will score your resume and tell you exactly how to make it better.
How to Write an Emerging Artist's Resume Objective
"I have nothing to put on my resume."
Does that sound more like you?
If so, take heart.
You're about go from nowhere to Vermeer.
You'll do it with a resume objective for an artist's resume with no experience.
Check out the very different creative resume samples for artists below.
Two Artist Resume Examples
What's the problem with the artist bio example below?
wrong
Artist with a BA in fine arts from Montclair State University, seeking job as an art teacher. No experience yet but I'm a hard worker.
That's not actually offensive, but it won't satisfy the critics.
Even an artistic resume with no experience needs, well, experience.
Look at the next of our fine artist resume samples.
right
Passionate artist with BA in Fine Arts from Montclair State University, seeking artist's residency in Fayetteville, WV. Recipient of an undergraduate Dobson Visual Arts Fellowship. Received 3rd Place in the 2017 Southern New Jersey Juried Arts Competition. Awarded a Pollock-Krasner Foundation Grant as a promising new artist.
That's the art spirit.
But hold the phone. How did a straight-from-the-easel artist get that kind of experience for a resume?
She did it by entering contests and competitions and applying for some grants. Was it easy? No. Did it take a year of her life? Absolutely not.
The point is, even a beginner artist's resume can have that kind of robust composition.
Pro Tip: An artist bio is the elevator speech for your professional artist resume. Write it last so you'll have plenty of material.
Want more tips to make an experienced or beginner artist resume? See our guides: How To Write A Resume Summary: 21 Best Examples You Will See AND +20 Resume Objective Examples - Use Them on Your Resume (Tips)
3
What Goes After the Summary on a Resume for Artists?
Meet an exhibition juror. Her name's Sue.
She's in a cafe, sipping coffee.
Beautiful saltwater fishtank.
If she votes you in, you'll get free advertising and website placement. You'll have access to exclusive classes, and the opportunity to sell your work to millions.
You really want to get admitted.
But what is she most interested in? Your other exhibitions? Residencies? Work experience? What about awards? Commissions? Grants?
In other words, what should you show next on your artist's resume?
It's enough to give Bob Ross an anger issue.
Be creative. Put yourself in the juror's, manager's or buyer's shoes.
If awards are your career's most shining moment, put those first.
If you just graduated from the California Institute of the Arts with highest honors, show that first.
Maybe you had a show at the Peter Freeman Gallery in NYC, but you've done little else. In that case, list it right after your summary.
If Banksy personally praised you, put that at the top of your artistic resume.
Are you applying for a job as curator? If you've already held other curator positions, show those first.
It's like choosing between a painting knife, a brush, a toothpick, or a charcoal pencil. It all depends on the task at hand.
Pro Tip: The reverse-chronological format means, "last job first." Break that rule when you've got something very impressive to show, like an exhibition at MOMA.
4
How to Show Exhibitions and Other Achievements on an Artist Resume
Let's get back to Sue, our exhibition juror.
The waitress just put a crispy biscotti near her coffee, but she's not looking at it. Instead, she's reaching for an Advil.
Why?
She's having a hard time comparing the 250 artistic resumes on her laptop.
Most of them have buried key achievements like Waldo hiding in a crowd.
Then she gets to yours.
You've listed your most impressive achievements first. They're your previous exhibitions.
You listed them like this:
Year
Show Title
Venue
Location
Exhibitions
2015 Solo Exhibition, Backward Writing and Frogs, Grey Art Gallery, New York, NY
2016 Juried Exhibition, Fazekas Gallery, Wharton, NJ
2015 Group Exhibition, Hallston Gallery, Knoxville, TN
If you've got only a few exhibitions, group them together. If you've got lots, consider grouping them by type.
Notice it's got all the chronological order of a Dali print?
That's because the Grey Art Gallery show is your best one by far.
Other Achievements to Put High Up on an Artist Resume
Several other items can figure prominently on a resume for an artist. They include grants, commissions, residency programs, collections, and collaborative projects.
Grants
Pollock-Krasner Foundation Grant, 2012
West Virginia State Arts Foundation Grant, 2017
How do you show grants on an artist cv? Put them in a separate section, ranked by their importance to the current reader.
Commissions
2017 Up From Below, Steel Sculpture, Fayetteville Visitors Bureau
2015 Big Bridge, Paint on Glass, Union Street Bakery
Commissions can be another important feature on an artistic resume. List the year, the title, medium, and venue.
Residency
Artist in Residence, Fayetteville, WV 2017
Residency programs lend heft like something buried in the dirt at Easter Island.
Show them on an arts resume by name, venue, and year. If you're applying for another residency, put them higher.
Collections
Camilla Paddison Celsus Collection, Scituate, MA
Albany Institute of Art Collection, Albany, NY
Show collections alphabetically. Get permission from any private collectors first. Avoid listing your Aunt Beth as a collector.
Collaborative Projects
150 Times is the Charm, Hudspeth Theater, Boothbay Harbor, ME (performance in collaboration with Cynthia Blaisdelle)
The National Shockey Playoffs, YouTube (video art in collaboration with Donald Stout)
Collaborative projects look good on performance artist resumes. They also help with resumes for digital artists or video artists.
List the year, title, venue, and collaborators.
How to Cite a Piece of Art
When making a beginner artist resume, it's OK to cite a single piece of art. Display the title and medium.
Ferns in Moonlight, paint on canvas
As a tip, it's better if the piece was reviewed, written up in a blog, or received an award. I'll show you how to write those into a curriculum vitae in a bit.
To flesh out a professional art gallery resume or other artist cv, look online for opportunities. Look for grants and sholarships.
Wondering how to put things like reviews, print media, conferences, and work experience on a resume for an artist? Stay tuned.
Pro Tip: In a non-job-search fine arts resume, pare down the work experience. That includes resumes for art galleries, exhibitions, and residencies.
Want some tips to custom-fit your professional artist resume? See our guide: "6 Tips on How to Tailor Your Resume to a Job Description (Examples)"
5
Is Your Education Section too Minimalist? It Might Be
Where you put your education section depends on its importance.
Did you just graduate from London's Royal College of Art?
Yeah, go ahead and put that near the top.
Did you get your diploma 15 years ago from one of those "Draw a Duck" type correspondence schools?
Okay, maybe don't show that one on your painter resume.
Start your education section with the basics:
College Name and Location.
Years in School.
Degree.
Then add details that show your artist chops.
Two Visual Artist Resume Examples
wrong
2009-2013, BA in Visual Arts
Montclair State University, NJ
Received BA in Visual Arts
Studied painting, sculpture.
GPA 3.5
Holy dogs playing poker, right?
But add a few details and we're back up to Rembrandt level.
right
2009-2013, BA in Visual Arts
Montclair State University, NJ
Pursued my passion for oil painting and sculpture.
Excelled in computer aided 3D design work.
Received a Denmorsen Fellowship to study the visual arts.
Wrote a monthly column on computer aided design for the school paper.
Now there's an art school graduate with passion, drive, and talent.
The key is, anyone can dust off past achievements for a creative artist resume.
Working on a self taught artist's resume? In that case, you can leave the education section out.
Pro Tip: If you went to a prestigious art school or graduated recently, put it a lot higher up on your artistic resume. If you graduated a long time ago, put it lower.
Make your painter resume less velvet Elvis and more Caravaggio. See our guide: "How to Put Your Education on a Resume [Tips & Examples]"
6
How to Add "Other" Sections to an Artist Resume
Let's get back to our exhibition juror, Sue.
Right now her face looks like something by Picasso.
She's worn out from reading 200+ artistic resumes, all three pages long.
Don't try to cram in everything you've ever done.
"Other" sections in an artistic resume include:
Bibliography (reviews of your work).
Publications of your work in print media or online.
Write ups of your work in print, on radio, or on TV.
References or gallery affiliations.
Lectures or workshops you've attended or given.
Conferences you've participated in.
Awards you've received.
What do all these artist resume items have in common? They don't belong up top. That said, they make an attractive frame for your achievements.
Art Resume: Awards
Awards
2016 1st Place, Tamarack Juried Competition, WV
2015 3rd Place, Chelsea International Fine Art Competition
Awards are nice. But unless it's a big, national, prestigious one, they're far from vital.
As such, you can put them far down in the ranking order.
Here are a few more artist resume examples.
Bibliography (Anything written about you)
"Promising New Artists in American Culture," Huffington Post, Claire Kirtley, 2017
"Seven Times Around the World," Michael Danz, Wired, 2016
Publications as Author
"Technique vs Flow in Oil Painting," Painting Loose
"Mastery is a Boojum," From Street Art to Canvas
Lectures
Presentation, "The Artist Life," University of the Arts, Philadelphia, PA, 2017
Lecture, "Feeling vs Seeing," Alabama School of Fine Arts, 2016
Gallery Affiliations
Studio 550, Manchester, NH
Ridgewood Art Gallery, NJ
Radio/TV
TV Interview, WAXS News, West Virginia
Radio Interview, WERH, Maine
Now of course you wouldn't put all those on a single resume. But then, ceci n'est pas un artist resume.
Pro Tip: Not sure how to format bibliography entries in your artist resume? See this set of style guides, or simply use this online tool.
If you're writing a beginner artist resume, you can add a hobbies section. Nobody does it, but it works so well. See our guide: "+20 Best Examples of Hobbies & Interests To Put on a Resume (5 Tips)"
7
How to Describe Your Artist Work Experience
Is the experience section important on a professional artist resume?
It is if you're applying for a job.
If you're going for a grant, a show, or an exposition, you can put it further down.
List your most recent job first. Match it to the job description.
Two Creative Artist Resumes Examples
right
Art Teacher
Gassaway Community College
2014 - 2016
Taught daily art classes to groups of 30+ students each. Covered techniques for charcoal, oil painting, watercolors, and spray paints.
Five of my students received the Casker Fellowship for Artistic Excellence.
Four non-art-students switched to art after taking my class.
Received 95% positive feedback for all classes in student/teacher review questionnaires.
Wow. Look who's on the pedestal.
The secret is achievements, backed by numbers.
wrong
Art Teacher
Gassaway Community College
2014 - 2016
Taught art classes.
Covered multiple techniques.
Yikes. That's a bit Three Wolf Moon. It needs details. Real, tangible experience.
But what if you don't have any?
How to Write an Artist Resume with no Experience
There are lots of ways for artists to add experience to a resume.
The easiest? Dig deep into your job history and find experience that fills the bill.
Let's look at a job for a video game artist.
It cites a fast-paced environment, and a high standard of excellence.
So, here's how not to write your video game art resume.
Two Junior Web Developer Examples
wrong
Video Game Artist Experience: None yet, but I'm a very dedicated employee.
Other Experience
That has all the fine detail of Rothko's Royal Red and Blue.
Instead, try this:
right
Freelance Video Game Artist
2016-2017
Designed 30 3D video game characters using Autodesk
Created five background scenery designs for a new medieval war video game.
Facilitated a freelance project to develop the art for an endless runner game.
Drew 25 concept art sketches for a new video game project.
Wow. Your video game art resume just went from ick to Jan van Eyck.
But any junior artist can have a resume like that with just a little work. How? Apply for some quick one-off jobs at Indeed or Freelancer.com.
Pro Tip: Don't bore the reader with coloring-book language like "responsible for," or "worked as." Use engaging action words instead.
Need some action words for your professional fine arts resume? See our guide: "Resume Action Words for Every Profession"
8
How to Put Skills on a Resume for an Artist
Do skills matter on an artist resume?
If you're looking for a job, the answer's "yes."
Read the job offer carefully and highlight any skills you find.
Source a few more from job offers online.
Then list the most important ones in a special section of your artistic resume.
For example, let's go back to our video game artist job offer again.
For skills, it values creative thinking, 3D artwork, and Autodesk.
So, you'll list those on your resume. Then add a couple others like critical thinking skills, Adobe Illustrator and some hard skills.
Finally, you'll salt those skills throughout your artist resume experience section, like so:
Produced high quality designs to expand and define the look of a major online game.

Increased average reviewer art ratings by 26%.

Handled an average of

50 video game art projects per year

, including art for siege engines and flying machines, from concept through completion.
Delivered all projects to high standards of creative excellence. Regularly

satisfied a 110-point artwork inspection

, officiated via focus group.
Received frequent commendations from management for creative concepts and production artwork. Generated

150 new concept sketches per month

.
That way you prove you've got those skills. It's the difference between saying you love Gabrielle Berlatier and sending her a gift to prove it.
Pro Tip: If you've got your sights set on a grant or other non-job goal, you can strike skills from your artistic resume. In some cases, touting them looks tacky.
Want to make your painter resume skills section stand out like Michelangelo's David? See these guides: "+30 Best Examples of What Skills to Put on a Resume (Proven Tips)" and "What to include in a Resume"


9
Here's the Most Common Myth About Cover Letters
"No one reads cover letters anymore."
Untrue.
40% consider them essential.
Whether you're writing a beginner makeup artist resume or a resume for an experienced sculptor, you'll need a cover letter.
Like a Persian miniature, an artist cover letter should be short and powerful.
Write yours like this:
First, mention the reader by name.
Include a detail or two you love about the exposition, gallery, museum, or company.
Then tout your top 2-3 most impressive career achievements.
Last, add a call to action. That can be as simple as, "I'd love to talk with you about your gallery."
Did you know Leonardo da Vinci wrote a cover letter?
In it, he cites his ability to make bridges, cannons, and siege engines. He references catapults and "other instruments of wonderful efficiency."
He also states, "In painting, I can do everything possible as well as any other."
Should you be that bold? Probably not unless you're equally skilled. Remember, it's not bragging if you can prove it.
Plus, a great cover letter that matches your resume will give you an advantage over other candidates. You can write it in our cover letter builder here. Here's what it may look like: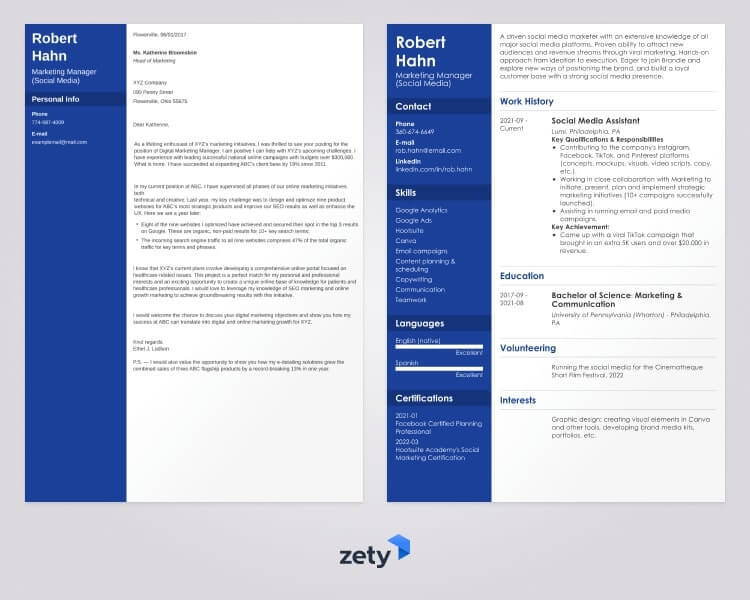 See more cover letter templates and start writing.
Pro Tip: After you send your creative artist resume, follow up. A well-timed call or email can be just the thing to put you top-of-mind.
Need more help for your winning artist cover letter? See our guide: "How to Write a Professional Cover Letter"
10
How to Add Contact Info to Your Resume
Everyone adds contact info to an artistic resume. Don't they?
Not necessarily in the right way.
Show your:
Full Name
Updated Phone Number
Professional Email Address
Art Resume: Contact Info
Robert da Vinci, bobqdavinci@gmail.com 646-412-1223
Then add your LinkedIn profile and other social media accounts.
Above all, have an online portfolio, and link to it from your fine art resume.
A portfolio lets you strut your stuff beyond your artsy resume.
Need inspiration? See these 25 great art portfolio ideas and our guide: How to Make a Professional Website: Complete Guide + 9 Tips
Pro Tip: You can put a portfolio on a personal website or on LinkedIn. Not web savvy? Put it on Instagram or Pinterest.
Want more advice to make the best professional artist resume you can? See this guide: "How to Make a Resume for Any Job You Want"
Key Takeaway
By now, you know how to make a resume for artists that stands out from the others like a Rembrandt on a Walmart shelf. Just apply these strategies:
Start with your most impressive "win." With only six seconds to impress, your artistic resume must work fast.
Make several artistic resume templates, then adjust and personalize them every time you send one out.
Create an online portfolio, and link your resume to it. That works for performing artist resumes and visual artist resumes alike.
Got questions or tips for how to make a great professional artist resume? Give us a shout in the comments section!