This is the bridge to the best music resume on the web.
But here's the downbeat:
Music jobs are as tight as the seams on a Stradivarius.
The best ones don't go to the most talented applicants. They go to whoever shows it best on their musical resumes.
Can you prove talent on a sheet of paper?
You don't have to be Steve Reich to write a musician resume that's molto vivace.
If music is your passion, you can do it.
Just pick the right skills and show them the right way.
This guide will show you:
A music resume example better than 9 out of 10 others.
How to write a musician resume that gets more interviews.
Tips and examples of how to put skills and achievements on artistic resumes.
How to describe your experience on a resume for a musician to get any job you want.
Here's a music resume template made with our online resume builder tool.
Want to save time and have your resume ready in 5 minutes? Try our resume builder. It's fast and easy to use. Plus, you'll get ready-made content to add with one click. See 20+ resume templates and create your resume here.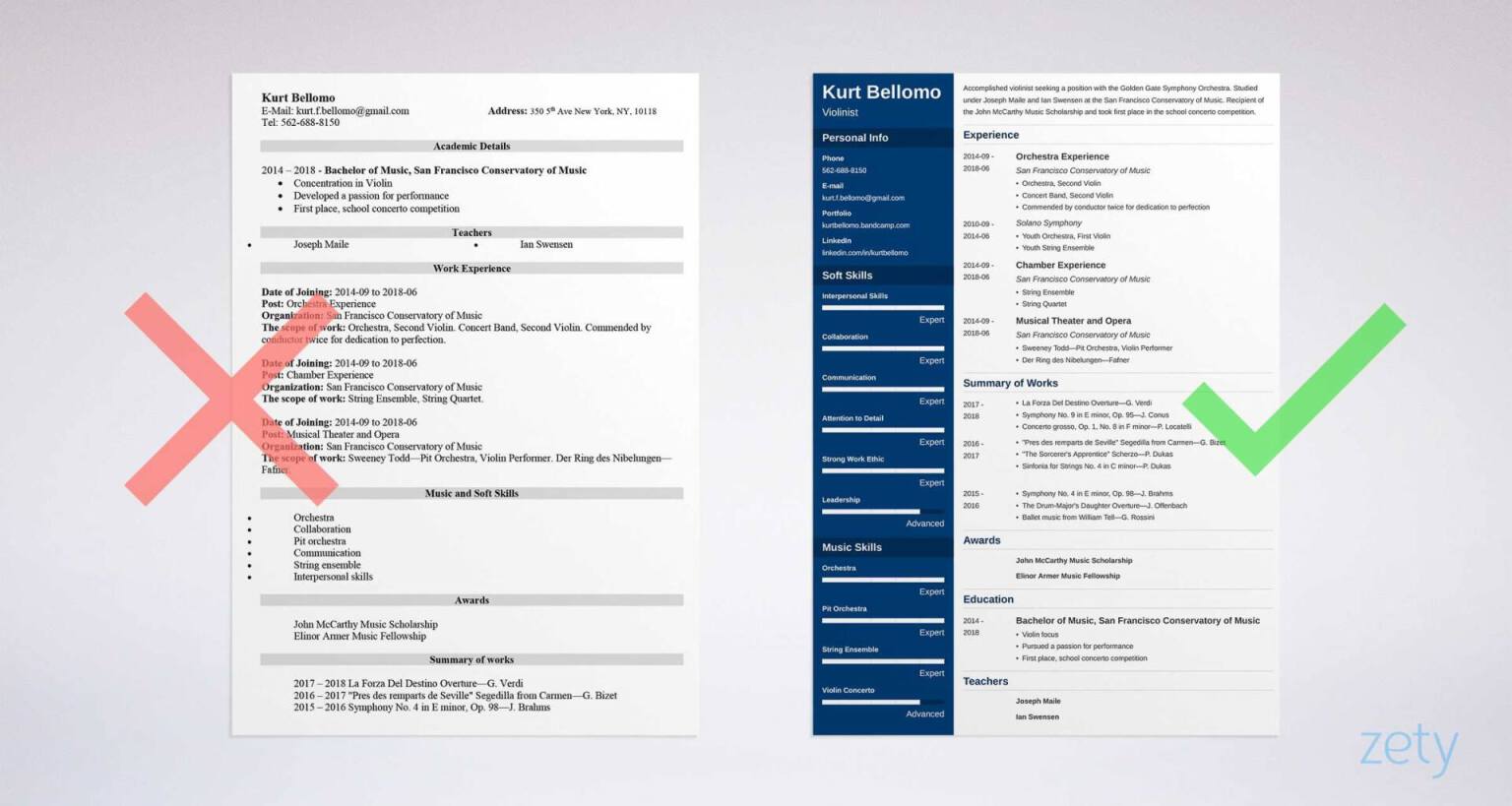 Sample Music Resume—See more resume templates here.
Are you writing a music teacher resume? Also see our other guides:
If you're applying for a scholarship, seeking a job in academia or writing a music resume for college, try one of these:
Is music one of your many talents? Trying to write a resume for music gig work or a musical theater resume? See these:
1
What's the Best Format for a Music Resume?
Why does format matter in a music resume?
The same reason it matters in sheet music.
Without it, the hiring manager won't know where to look.
Make it easy to find your high notes with the reverse-chronological resume format. It puts your best bits first.
Use big headings, white space, and the best resume typeface to get a standing O.
Then save it as a PDF. Modern PDFs are machine-readable. Musician resumes in MS Word format can go all jazz in transit.
Check the job ad first to make sure it doesn't ban PDFs.
When it comes to resume length, one page resumes work best.
Keep your resume short. One page max.
Bill Shepell
Front of House Audio Engineer whose clients have included Prince, Michael Jackson, and many others
Pro Tip: What if you're a programmer kicking off a music career? Show transferable achievements. Use the combination resume format to do that on a resume for music jobs.
Need to take a few beats to decide on the right music resume format? See our guide: 3 Resume Formats: How to Choose the Best One [Examples]
2
How to Write a Musician Resume Summary or Resume Objective
Let's give you the baton.
Imagine you're a hiring manager named Shana, reading a stack of 120 musical resumes.
The secret?
You don't read. You skim. Then come back and read the 25 you like.
Now—how can you dodge Shana's recycle bin?
With a well-crafted music resume profile. They press the mute button on skimming.
Use a resume objective if your experience is still warming up. An objective shows passion.
Use a resume summary if you've got so much experience you practically saw Mozart live. It shows achievement.
Turn either up to 11 with measurable accomplishments.
These two senior musician resume examples show how.
Music Resume Examples [Resume Summaries]
The first of our musician resume samples bounces off the ear:
wrong
Talented musician with experience in orchestras and playing concertos in large venues. Highly skilled as second violin in orchestra pit, plus chamber music, musical theater, and opera.
That's not fingernails on a chalkboard, but it won't amp up the interviews.
The next of our musician resume examples will:
right
Accomplished violinist seeking a position with the Golden Gate Symphony Orchestra. Studied under Joseph Maile and Ian Swensen at the San Francisco Conservatory of Music. Recipient of the John McCarthy Music Scholarship and took first place in the school concerto competition.
Now you're up there with Ha-na Chang. The measurable achievements make it sforzando.
Is your experience quieter? See the junior music resume examples below.
Two Entry-Level Music Resume Objectives
Is your experience is still in the fanfare stage? Try a musician resume objective.
Back when Moog organs were cool, that meant showing passion. This theater resume example does that:
wrong
Passionate theater musician who lives to play the trumpet. No real-world experience yet, but I'm an exceptionally hard worker.
Groovy. But what if you're up against someone with passion and experience?
Don't clam. A few measurable achievements can crank it up. Study the next of our music resume examples for entry-level music industry jobs:
right
Enthusiastic session musician, seeking position with Jerry Norwater Music. As First Violin in the Solano Youth Orchestra, performed La Forza Del Destino Overture by G. Verdi to favorable reviews in the Daily Republic. Commended by music director for hard work and dedication.
That'll make the employer drop her copy of The Rest is Noise.
But what if you have no experience for your performance resume or music teacher resume?
That's coming soon.
Pro Tip: Does every artistic resume need a resume summary or objective? If you're writing a performance resume with lots of appearances or venues, you can skip it. A music teacher resume or music industry resume for tech jobs needs a summary.
When making a resume in our builder, drag & drop bullet points, skills, and auto-fill the boring stuff. Spell check? Check. Start building a professional resume template here for free.
When you're done, Zety's resume builder will score your resume and tell you exactly how to make it better.
Want to up the tempo on job interview requests? Use the sample musician resume up top. (It works as a musical theater resume template too.) Plus, see our guides:
How To Write A Resume Summary: 21 Best Examples You Will See
+20 Resume Objective Examples - Use Them on Your Resume (Tips)
3
What Goes After the Summary on a Music Resume?
Let's get back to Shana, our hiring manager for high-exposure music jobs.
Nice "With no music, the world would B♭" tee shirt.
If she hires you, you'll have money and passion.
But what does she care most about? Performances? Works? Teachers? Awards? Compositions? Teaching experience?
In other words, what should you show next on your music resume?
It's enough to make Jack Johnson switch to thrash metal.
The good news?
It's not rocket science or Ligeti's Etudes.
In a performance resume, highlight your performances.
In a music education resume, focus on teaching experience.
Do music awards form the crescendo of your experience so far? Then list those first.
If you just graduated from Juilliard with highest honors, feature that.
It's like choosing between a D Z Strad, a Bechstein, a piccolo or an Ibanez Roadcore. It all comes down to the task at hand.
Pro Tip: Trying to fit music experience on a non-music resume? Talk about the skills you gained that transfer to the new job. For instance, leadership, planning, or communication skills.
Are you writing your first audition resume and don't have experience? See our guide: First Resume with No Work Experience Samples
4
How to Show Achievements on a Music Resume
Let's look in on Shana again, our music hiring manager.
The bartender just set a glass of Villadoria Riserva down in front of her and she's about to gulp it.
Why?
She's got 200 musician resumes to get through. They've hidden their achievements like Liszt's Tantum ergo.
Then she sees your artistic resume example.
You've shown past accomplishments like in these music resume examples:
How to List Performances on a Musical Resume
Orchestra Experience
San Francisco Conservatory of Music
2014–2018
Orchestra, Second Violin
Concert Band, Second Violin
Commended by conductor twice for dedication to perfection
Solano Symphony
2010–2014
Youth Orchestra, First Violin
Youth String Ensemble
Chamber Experience
San Francisco Conservatory of Music
2014–2018
String Ensemble
String Quartet
Only got a few performances? Put them in a single section in your music resume. Got lots? Consider grouping them by type.
Do not list every gig that you have ever done. Only list the best ones pertinent to the gig you're seeking, unless non-pertinent ones were in the music business for a long period (i.e. working in a lighting company warehouse for 3 years prepping tours, etc.) if you are seeking a similar gig in audio.
Bill Shepell
Front of House Audio Engineer whose clients have included Prince, Michael Jackson, and many others
How to Show Works on a Musician Resume
What works are you proficient with? Show them like these performance resume for music jobs examples:
Summary of Works
2017–2018
La Forza Del Destino Overture—G. Verdi
Symphony No. 9 in E minor, Op. 95—J. Conus
Concerto grosso, Op. 1, No. 8 in F minor—P. Locatelli
2016–2017
"Pres des remparts de Seville" Segedilla from Carmen—G. Bizet
"The Sorcerer's Apprentice" Scherzo—P. Dukas
Sinfonia for Strings No. 4 in C minor—P. Dukas
2015–2016
Symphony No. 4 in E minor, Op. 98—J. Brahms
The Drum-Major's Daughter Overture—J. Offenbach
Ballet music from William Tell—G. Rossini
How to List Your Teachers on a Resume for Music Jobs
You don't need to list all your teachers on a music resume. Show the ones you worked with most—and the most impressive.
If you studied under Itzhak Perlman, but only in a weekend seminar, don't pretend you're his apprentice. Mark it as a weekend class.
Of course, if he said something nice about your style, add it to your musician resume.
Principal Teachers
Master Class Teacher
Hilary Hahn—Commended my phrasing
How to Cite an Original Piece of Music
If you write music, it's okay to cite a single piece of music on a resume. If you've done albums, cite those too. Show the title, venue, and date.
Original Compositions
Angst and Goldenrod, In the Fridge Records, 2017
Chipmunk Under Duress, Dead Oceans Productions, 2016
When My Heart Returns to Zanesville, Flannelgraph, 2015
Got more experience than Pavarotti? Show your most impressive hits, or the ones that match the job ad best.
Teaching Experience and Tech Experience on Music Resumes
Wondering how to put music education work experience on a musical resume? Not sure how to show recording and production work? Stay tuned.
Pro Tip: If you're struggling with artistic resumes for entry-level music industry jobs, ramp up your networking. I interviewed a twentysomething who networked her way into a $100,000 job.
Need to customize your professional musician resume? See our guide: 6 Tips on How to Tailor Your Resume (Examples)
5
How to Describe Your Music Experience
Remember Shana, the hiring manager?
She's got a headache like a timpani head. Why?
Most of the musical resumes on her desk don't have enough experience to fill a dog whistle.
The rest are busier than Barber's Violin Concerto.
Then she spots yours and smiles.
What did you do right?
You showed the right experience on your resume for music jobs. That got her attention like Frank Zappa in a Dollar Tree.
Show your most recent job first. Add 3-5 resume bullets.
Copy the next of our professional music resume examples.
Musician Resume Examples [Experience]
Look at these two sample music resume experience sections:
right
Winston T. Bourassa High School
High School Music Teacher
2015–2018
Selected, taught, rehearsed, and performed material for three concert pieces.
Coordinated fundraising efforts that resulted in a $9,000 prize.
Two of my students placed in the Indiana Young Musician's Contest.
Cut inventory costs by 15% by working with suppliers.
Perfect. The hiring manager just turned a whiter shade of pale. Your professional resume for music jobs just gave her orchestra shock.
But silence those achievements, and:
wrong
Winston T. Bourassa High School
High School Music Teacher
2015–2018
Taught music class in a mid-sized high school.
Coordinated fundraising activities.
Handled inventory.
That's second fiddle. God's in the details, but she's left your musician's resume and gone to a Foo Fighters concert.
You need numbers to show how well you did those tasks.
But what if you have no experience from music jobs?
See these entry-level musician resume examples.
How to Write a Resume for Musician with no Experience
Have you taught music lessons? Played in a few venues? Busked? Subbed? Volunteered?
Adding those things will make your entry-level resume for music sing like Anna Netrebko.
You don't need a full time job to write a great audition resume or other music cv. A real job looks best on a resume, but accomplishments work too.
The next entry-level music resume samples show how.
Two Entry-Level Music Resume Samples [No Experience]
The next of our entry-level musician resume examples plays to an empty room:
wrong
Musician Experience: I haven't yet held any official musician jobs, but I'm a fast learner and hard worker and my friends say I'm talented.
Other Experience:
Whitewater raft guide
Snowmaker
Owch. Ukulele time.
But add the right details to get this music resume example:
right
Freelance Musician
2017–2018
Solano Symphony—Occasional Sub
Composed and produced an album of ten songs. Released it on Soundcloud and got 1,200+ downloads.
Volunteer flautist, Tomhegan Catholic Church
Blistering. Even though you've never held a music job.
Only give references that are way above your pay grade, and only 3 of them or so. Too many looks like ***-kissing.
Bill Shepell
Front of House Audio Engineer whose clients have included Prince, Michael Jackson, and many others
Pro Tip: A performance resume is a different instrument than a music teacher resume or other music industry resume. Fill performer artistic resumes with performances. Stuff other artistic resumes with jobs.
Don't make your music performance resume or music education resume a lullaby. Add accents with action words. See our guide: 240 Resume Action Words & Power Words to Make Your Resume Shine
6
Is Your Education Section Tone Deaf? It Might Be
Education matters on a resume for music jobs.
Even if you only got as far as high school, tie your education to the music job description.
If you don't, it's like having perfect pitch and only using it to hum the graduation march.
Start with:
School Name and Location
Years in School
Degree
Then match it to the job like Am to Em with measurable achievements.
The next two music resume examples show how:
Musician Resume Examples [Education]
These music resume samples aim for a job that wants a (1) performance (2) violinist who can play (3) concertos well.
right
Bachelor of Music, San Francisco Conservatory of Music
2014–2018
(2) Violin focus
Pursued a passion for (2) performance
First place, school (3) concerto competition
That's turns it around. It's Louis Lortie or Hélène Grimaud.
Now let's see how not to add a degree to a resume:
wrong
Bachelor of Music, San Francisco Conservatory of Music
2014–2018
Graduated with 3.7 GPA.
Received music degree from prestigious university.
Yuck. That candidate might be able to play chopsticks.
Pro Tip: Did you study under Evgeny Kissin or Cecilia Bartoli? Don't hide that in your education section. That means putting it in a special section in your music cv or music resume for college.
Write a resume music education section as popular as Drake. See our guide: How to Put Your Education on a Resume [Tips & Examples]
7
How to Put Skills on a Resume for a Musician
Let's pretend you know a secret chord. If you play it, you can convince any employer you've got the skills they need.
You're hired, right?
Maybe you don't know that chord—yet, but you've got something just as good.
All you have to do is:
Pick the right strengths for your resume and―
Prove them.
To do that, read the music job description like it's a PM from Paganini. The skills are listed in it.
Then show you've used those skills and you'll stand out like Chopin in spanx.
The professional music resume examples below show how.
Musician Resume Examples [Skills]
Let's say Shana put these skills in the music job description:
Required Musician Skills: (1) Live Music Mixing, (2) Logistics.
Put those in your audition resume skills list. Add a couple more to avoid echoing the job ad.
Then write your resume bullets like this:
Regular lead audio engineer for popular cover band.
(1) Mix and play audio for crowds of 200+ every Saturday night.
Written up favorably in OnStage Magazine
Handle (2) logistics for all shows. Cut logistics costs by 20% through more efficient handling.
Poof. You'll need Bill Zysblat to manage all your job interviews.
The music skills for resumes below will get you past the first few bars.
List of Skills to Put on a Musician Resume
Need a few musician resume skills to start?
The list below is stuffed with music resume keywords but it's not exhaustive. Find the ones you need in the job ad, and in other music job offers online.
Music Resume Skills

| | |
| --- | --- |
| Soft Skills | Performance Skills |
| Interpersonal Skills | Symphony Experience |
| Communication | Chamber Music |
| Collaboration | Opera |
| Leadership | Pit Orchestra |
| Strong Work Ethic | Concerto |
| Active Learning | Ensemble |
| Dependability | Quartet/Quintet |
| Adaptability | Performance |
| | Specific Instrument Skills |
| Stamina | Band |
| Teaching Skills | Technical Skills |
| Instruction | Digital Audio Workstations |
| Assessment | Ableton Live |
| Classroom Management | Pro Tools |
| Technique | Acid Pro 7 |
| Music History | Music Production |
| Theory | Acoustics |
| Professional Development | Electronics |
| Mentoring | Pitch, Rhythm, Timing |
| Consultation | Recording Equipment Skills |
| Technical Skills | Track Mixing |
Pro Tip: Does every kind of musical resume or audition resume need a skills list? On a performance resume, you can stick to where and what you've played.
Want to make your skills section the crescendo of your music resume? See our guide: +30 Best Examples of What Skills to Put on a Resume (Proven Tips)
8
How to Show Certifications on a Resume
"This one's qualified. This one's not."
Music teacher resumes and music education resumes need to show you're licensed.
Show a crucial certification:
At the top of your music resume, near your name
At the beginning of your resume summary
In a special "Certification" section just under your summary
Then it doesn't matter if employers skim your resume for music jobs. Your cert will pop out like Rick Nielsen's Five-Neck Hamer.
Certification
Indiana State Initial Practitioner License
Vocal & General Music P-12
Got non-crucial certifications like a gifted or blind cert?
Put them down below your education.
Additional Certifications
Gifted Certification
Blind and Partially Sighted Certification
Pro Tip: Does a Berklee Online Certificate look good on a music resume? If you're just starting out and don't have experience yet, yes.
Want the certifications on your musician resume to shatter glass? See our guide: How to List Certifications on a Resume: Guide
9
Add these Things and Give Your Resume Harmonic Function
Read 100 music resumes sometime.
You'll get tired of reading, "experience" and "education." They're like sneakers in a dryer, or Lambchop's Song That Doesn't End.
So—
How can you stand out?
Add "other" sections that most people botch.
Watch how that works in these sample music resume sections.
Musician Resume Examples [Other Sections]
The first of our music resume examples doesn't rock it:
wrong
Slalom water skiing
Fishing
Juggling
Okay, so you'd be fun to hang out with. But are you a musician?
Instead, put extra things on your resume for music jobs like this:
right
Awards
John McCarthy Music Scholarship
Elinor Armer Music Fellowship
Additional Activities
Member, Music Teachers National Association.
Volunteer flautist, Oak Hill Catholic Church
Canadian Music Week 2017—Spoke on a panel about bowing technique
Forte. Your professional artistic resume just blew the hiring manager's hair back...
Pro Tip: Don't have awards or professional associations? Even a compliment from a music teacher or director can look good on an opera resume or other performance resume.
Not sure what extras to note on your music teacher resume or other musical resume? See our guide: +20 Best Examples of Hobbies & Interests To Put on a Resume (5 Tips)
10
What About a Music Cover Letter?
Do you need to send a cover letter with a musician resume?
Every time.
Yes, 60% of hiring managers won't read music cover letters. But the other 40% won't read musician resumes without one.
Avoid generic "here's my resume" musician cover letters.
Show:
You know what the employer needs.
You deliver like a Fender Stratocaster.
Do that, and you're in the Tom Waits zone.
This short example musician hits the right notes:
It's been my dream to play for the Golden Gate Symphony Orchestra since I was five. Playing made me come alive, but I also knew I had to study hard.
When I was accepted to the Solano Symphony Youth Orchestra as first violin at age 17 I was elated, but I knew I had a long way to go. Studying under Joseph Maile at the San Francisco Conservatory of Music was a high point, especially when he praised my dedication to perfection. When I received the Elinor Armer Music Fellowship...
How do you end a cover letter? Make an offer. Try, "I'd value the opportunity to explain why I was awarded the John McCarthy Music Scholarship."
Pro Tip: Follow up on your music cover letter and music resume. Employers are busy. A reminder email in three days—and another in a week—can help you get the interview.
Plus, a great cover letter that matches your resume will give you an advantage over other candidates. You can write it in our cover letter builder here. Here's what it may look like: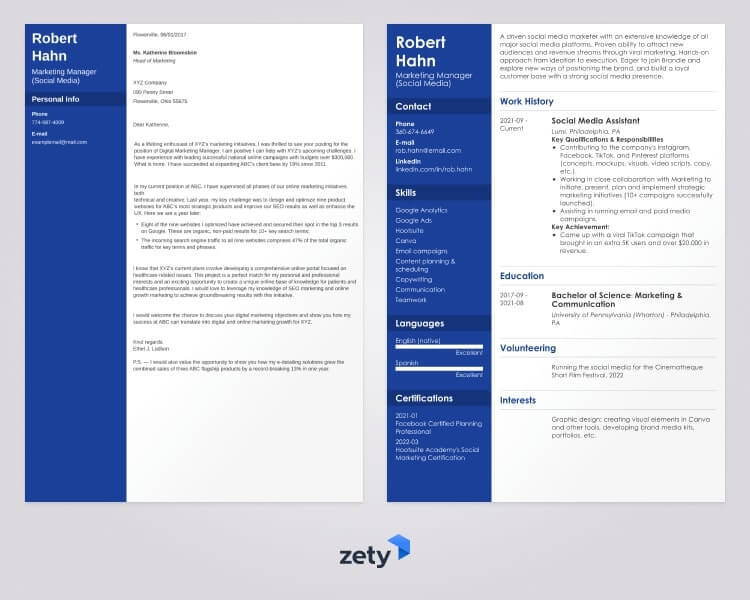 See more cover letter templates and start writing.
Want to make your musician cover letter fortissimo? See our guide: How To Write A Cover Letter in 8 Simple Steps (+12 Examples)
11
Do This Before You Add Contact Info to a Resume
It's easy to add contact info to a music resume. Right?
Not so fast, Philip Glass.
Of course you'll add:
Full Name
Updated Phone Number
Professional Email Address
Like this:
Kurt Bellomo, Violinist, kurt.f.bellomo@gmail.com, 562-688-8150
For a "professional email address," use john.doe@gmail.com. Don't use TillyLuvsTheBeach349872@yahoo.com.
But how do they know you've got the chops?
Put your work up on Soundcloud or Behance. Then link to it from your musician resume.
An artistic resume without a portfolio is like a Bösendorfer without keys.
Pro Tip: Don't have a LinkedIn profile yet? Get one. It's your place for extra detail that doesn't fit into a music resume. See our guide to how to write a great LinkedIn profile.
Want your resume for music jobs to work like Bob Dylan? See our guide: How to Make a Resume: A Step-by-Step Guide (+30 Examples)
Key Takeaway
Here's a recap of how to write a music resume:
Write a music resume objective or resume summary. Compose each with measurable achievements. That's the only way to make employers stand up and cheer.
Read the job description. Match your musician resume bullets to it like held-up-lighters to Fall Out Boy shows.
Add other sections that prove you know a movement from a melody. List certifications, conferences, kudos, and professional associations.
Write a music cover letter. Use the hiring manager's name. Show you understand her needs and that you'll fill them like Vivaldi filled the staff.
Do you have questions on how to write a great resume for a musician? Not sure how to describe your skills or achievements? Give us a shout in the comments! We'd be happy to reply.