Having trouble fitting your resume into one page?
Already have a single-page resume and want to upgrade its looks to wow the employer?
You've come to the right place.
Below, you'll find a gallery of beautiful one-page resume templates hand picked from hundreds of one-pagers available online.
In this gallery, you'll find:
One-page resume templates better than 9 out of 10 other resumes.
Professionally designed resumes that will make hiring you a no-brainer.
The best free single-page resume templates.
One-page resume templates for Word.
All templates below are available to download with a single click!
Ready? Here we go.
1
Cascade by Zety
Want to save time and have your resume ready in 5 minutes? Try our resume builder. It's fast and easy to use. Plus, you'll get tips and right vs. wrong examples while writing your resume. See 20+ resume templates and create your resume here.
Example of a One Page Resume - See 20+ resume templates and create your resume here.
We made our "Cascade" one page resume template to make fitting all your relevant information into a single page easy. The two-column resume layout makes it super scannable and the template follows a modern resume design that immediately grabs attention.
One of our users, Nikos, had this to say:
[I used] a nice template I found on Zety. My resume is now one page long, not three. With the same stuff.
Note: we have designed all our resume templates to be ATS-scannable.
2
Modern Resume Template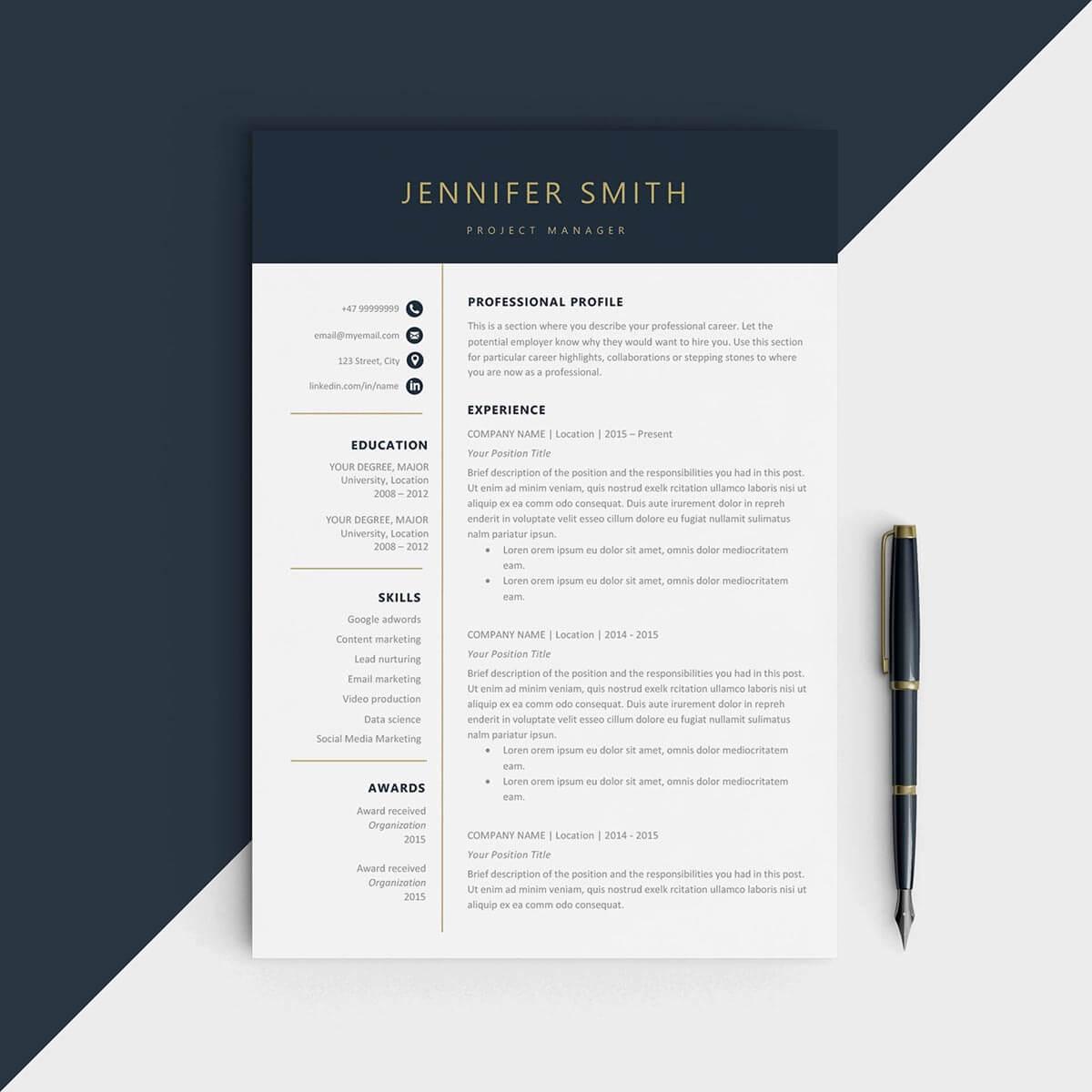 If you're looking for an elegant, eye-catchy one page resume template for Word, "Modern resume template" available for purchase on Etsy will be one of your best bets. Dark header adds a dynamic touch, the sections are divided in a way that enables you to keep your resume concise.
Here's the link.
By the way—resume: one page or two? Double-check if a single page template is right for you with this guide: How Long Should a Resume Be? Ideal Resume Length for 2018
3
Light Resume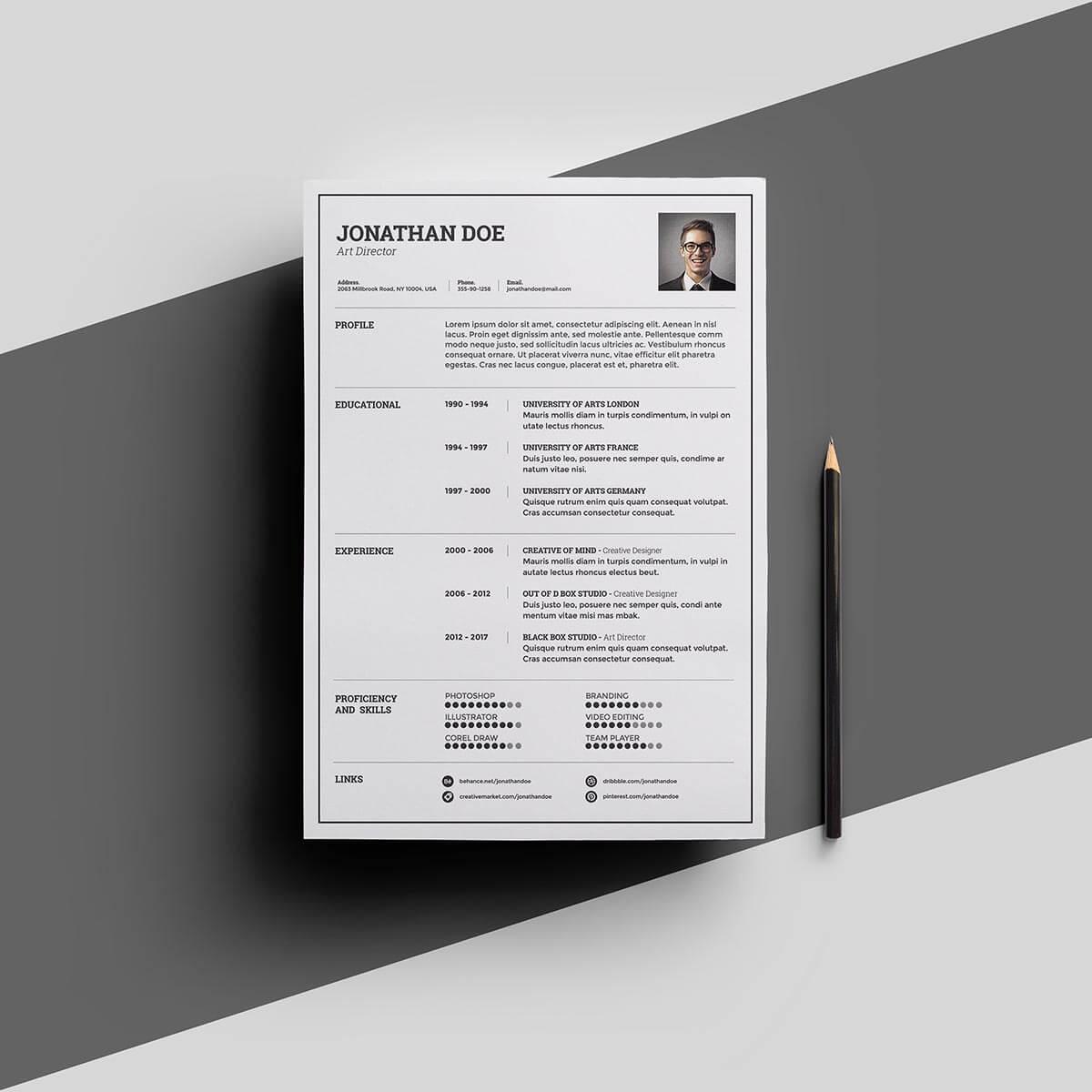 "Light Resume Template" by Behance's Gilang Tito Dharmawan is a great 1 page resume template for candidates across all professions and levels of experience. A basic and simple resume template with a creative touch that will help you stand out from the crowd.
Here's the link.
Can't make the one-page cut-off? Don't worry, we've got the guide for you! Should a Resume Be One Page? How to Make It a Single Page [+Tips]
4
Shades of Grey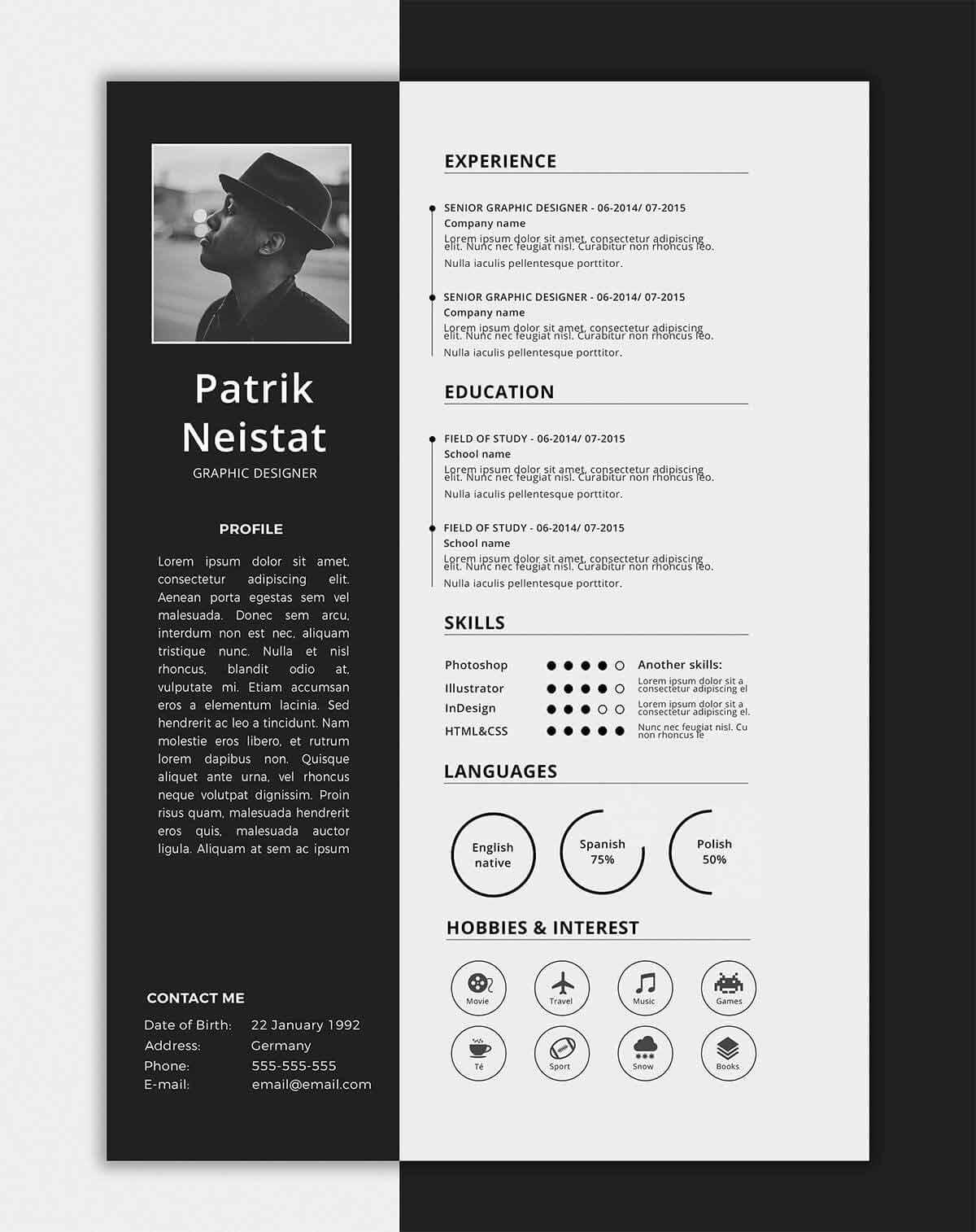 Julio. A Ramirez De Freitas's "Simple Resume Template" is the first free one page resume template for MS Word on our list. The greyscale used in this will surely help you interest recruiters, but it also makes this template not the best one-page resume template to print out. Use it only for digital job applications.
Here's the link.
Want to see more free resumes editable in Word? Here's a gallery for you: MS Word Resume Templates for Free Download
5
Dynamic and Professional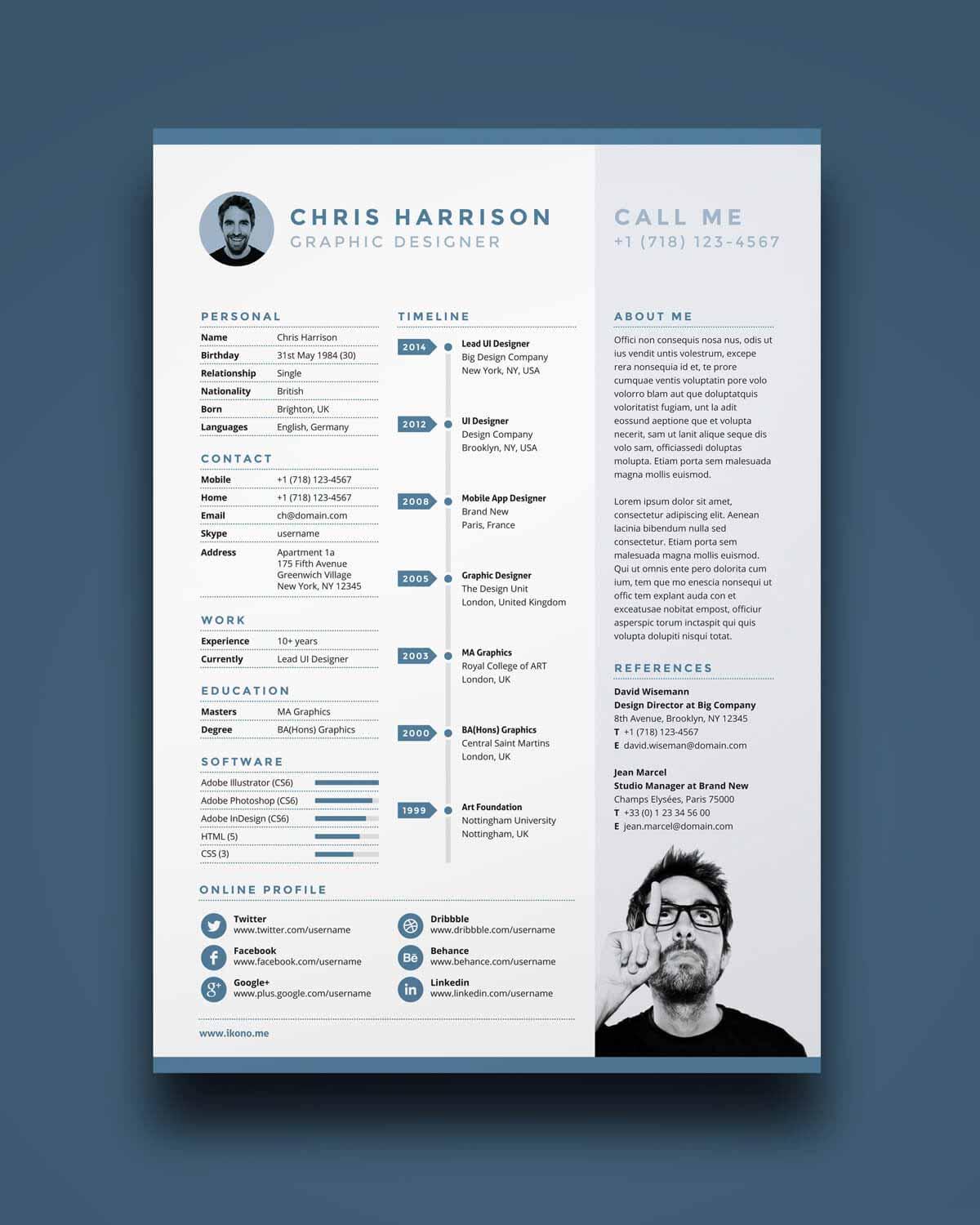 Another free resume template for a 1 page resume you can download and use right away. What we loved most about this single page resume template is its use of tiny icons across the whole page that guides readers' eyes to where you want them to go. A modern resume design indeed!
Here's the link.
6
Simple and Elegant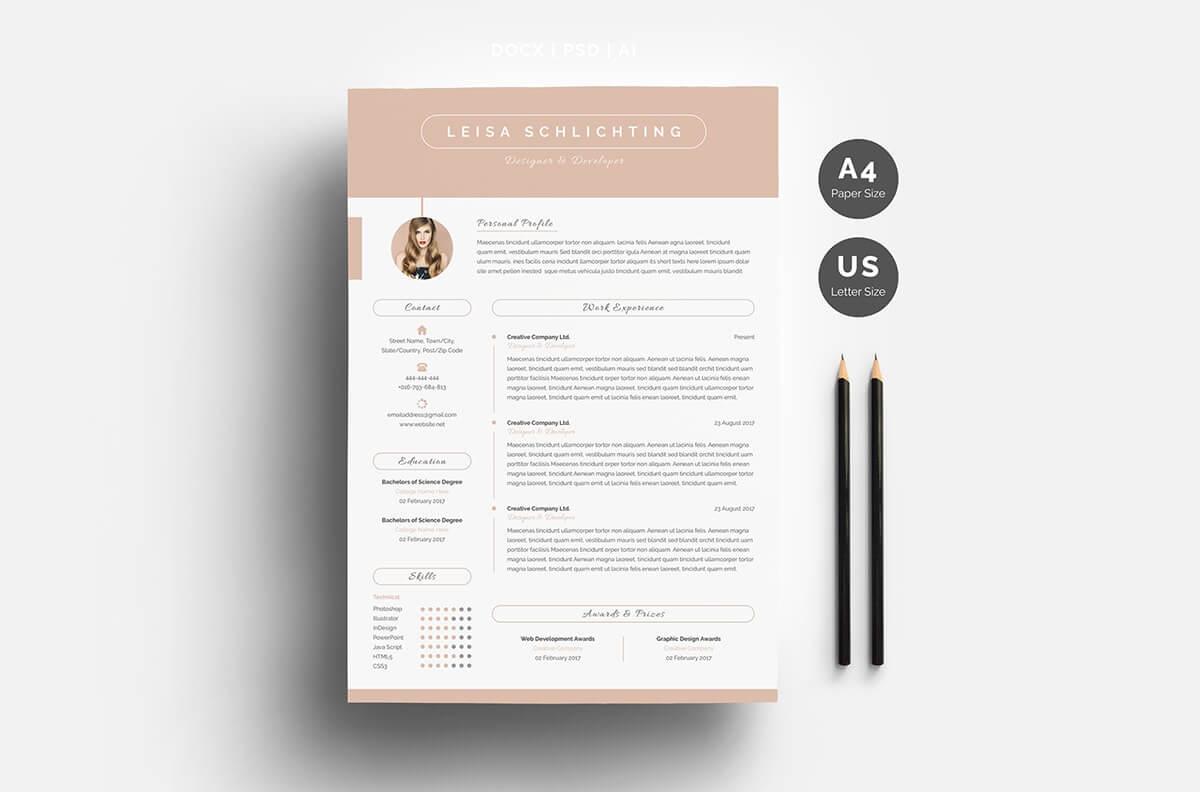 White Graphic design group created this light and crisp resume template to satisfy all job-seekers with a strong sense of aesthetics. Nice use of light colors and a well-organized layout make this simple one page resume template extremely pleasing to the eye.
Available on Behance with a matching cover letter template to help you prepare a polished job application.
Here's the link.
7
Cubic by Zety
Cubic's one of ours, a clean, elegant take on the modern 1 page resume template.

The top header is reserved simply for your name and title for you to stand out. A right-hand sidebar switches it up. Filled-in circles for your languages and skills allow you to showcase your knowledge in style.

This template is available when you create a resume in our builder, along with 20+ others.
8
Landscape Resume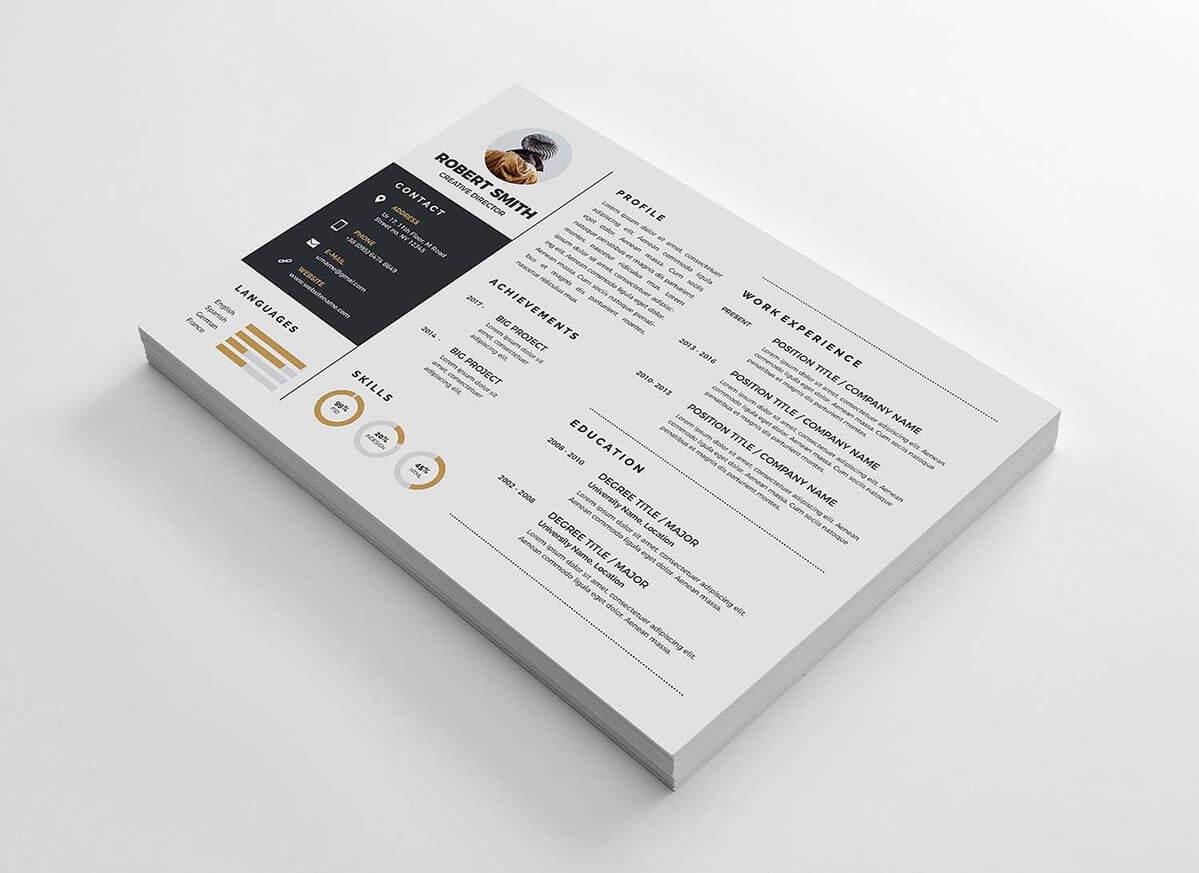 Not convinced by traditional resume templates? "Landscape Resume" by Generous Art2 might be the solution you've been looking for. The horizontal one page layout in this one will definitely make your resume different from all others in the pile! Recommended especially for creative positions.
Here's the link.
9
Perseus Resume Template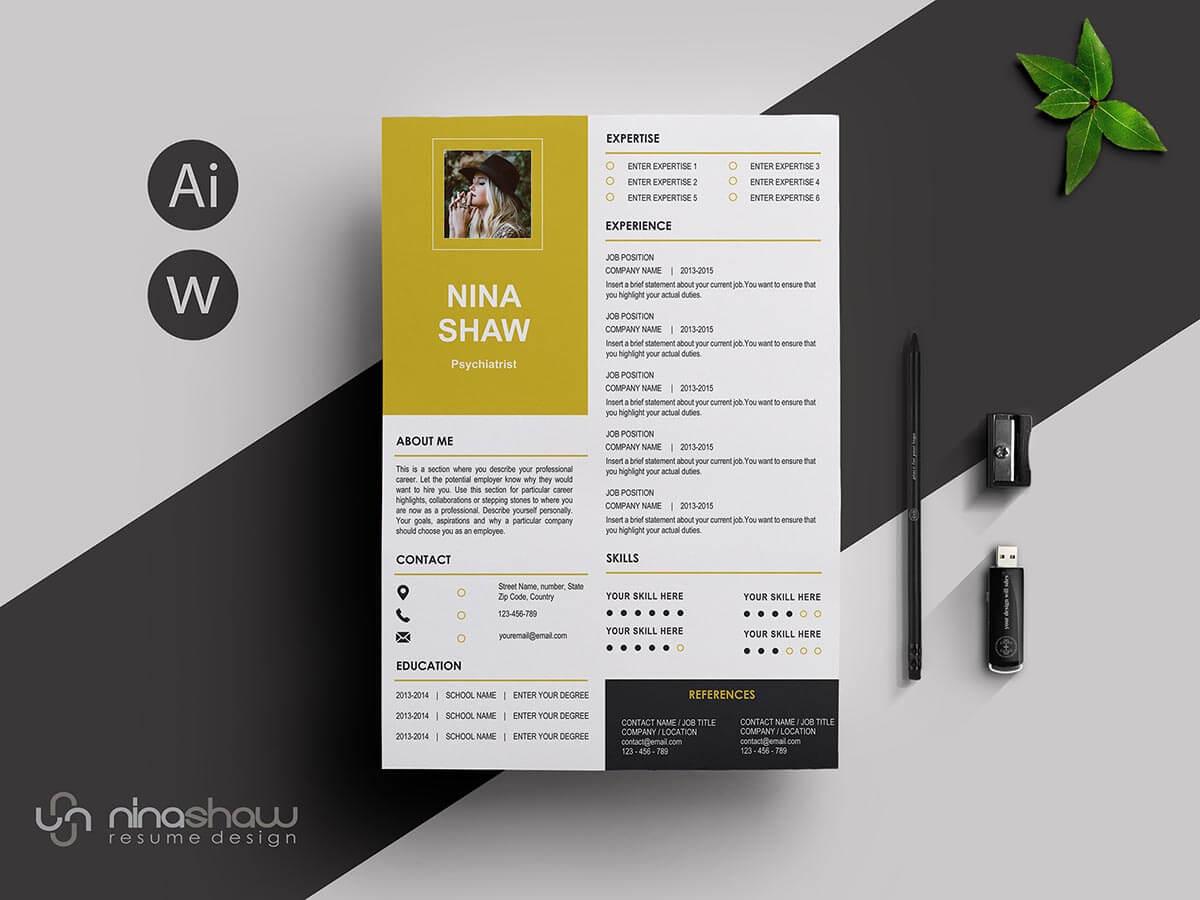 The "Perseus Resume Template" by Nina Shaw over at Creative Market is one of the best single page resume templates out there. It has a header and footer area like many 1-page resumes, but this one left-aligns the header while right-aligning the footer, making it quite unique while still functional.
Here's the link.
10
Simple Professional Resume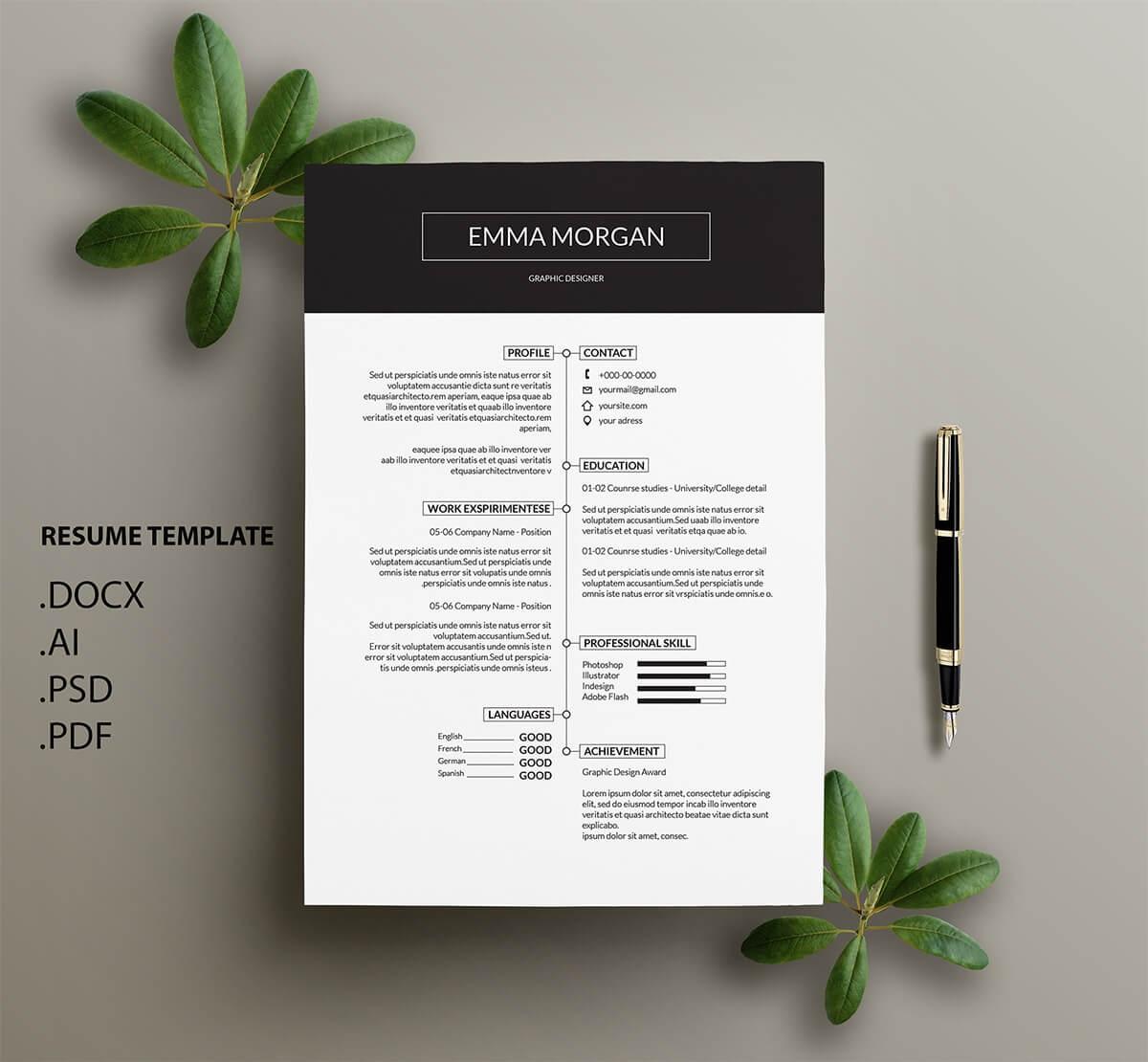 SHOWY 68 and Mee Hoang's "Simple Professional Resume Template / CV Template" delivers on what's promised in its title. It's got the right balance between a typical, formal one page resume template and a sprinkle of creativity. A lot of white space makes this one very pleasant to look at.
Here's the link.
For more basic resume templates like this one, visit our gallery: Basic Resume Templates—15+ Examples to Download
11
Clean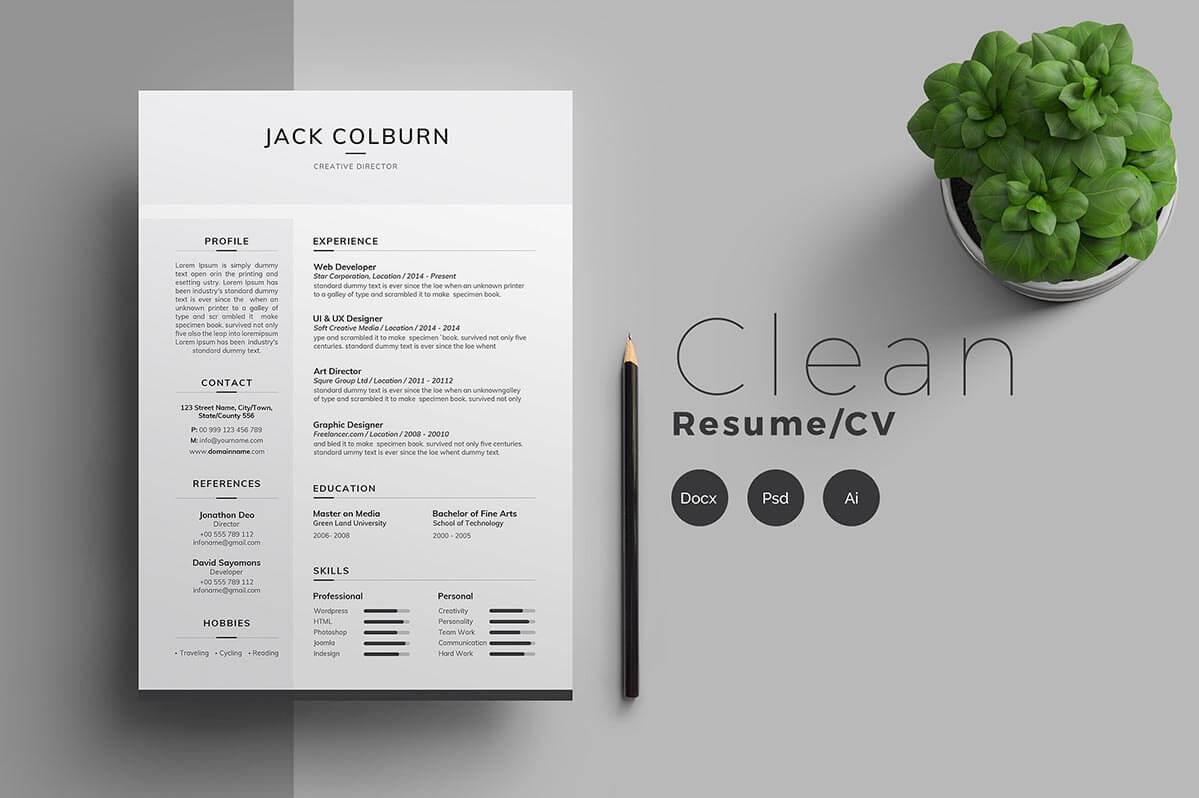 Designbird's "Clean" resume is very clean indeed—legible sections, nice font, clear layout. A great simple one-page resume template for job seekers in traditional industries, as well as students targeting their first job.
Here's the link.
12
To-The-Point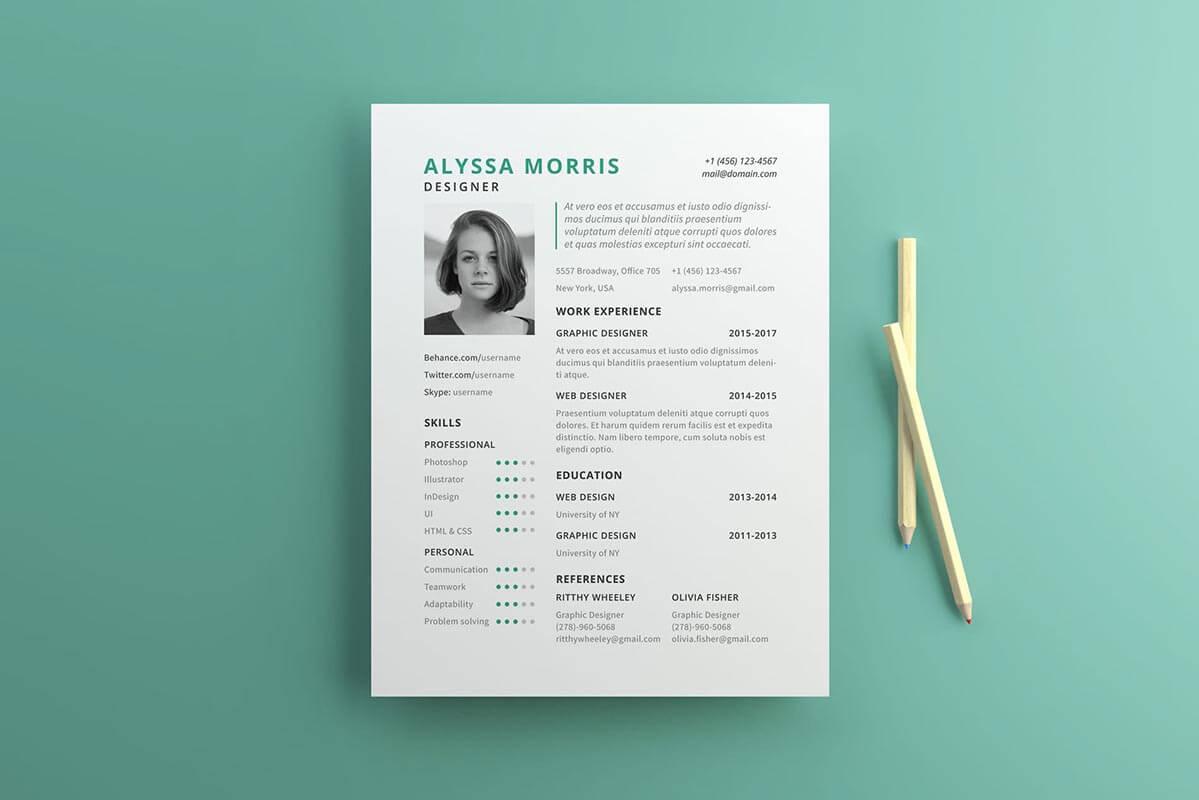 A great 1 page resume example to show that less can be more. It's got nothing but the basics, but thanks to smart resume formatting it'll help you highlight your professionalism and attention to detail.
Here's the link.
13
Primo by Zety
Another one of our very best. Primo uses two columns to save space and let you make a one page resume without any effort. See how the icons next to section titles draw attention to the most important parts of the resume.
You can access this single page resume template (and 20+ other amazing ones) in our resume builder: create your resume in 5 minutes here.
14
The Ivy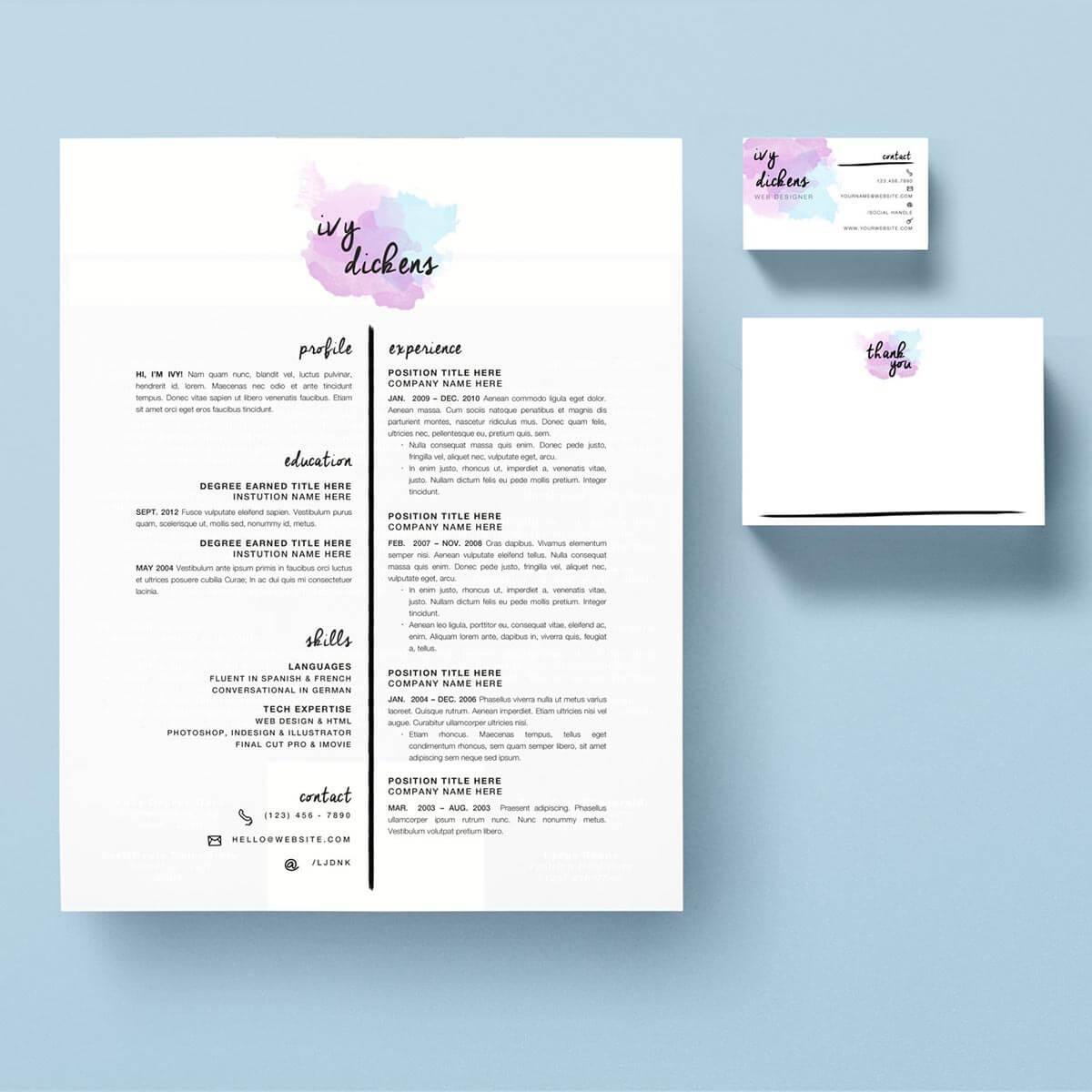 "The Ivy" by ResumeLab is one of the most creative one page resume templates you'll find. It's going to work great for graphic designers, art directors, content creators, or other creative positions.
Here's the link to this one-page resume template. (Matching business card and cover letter templates included.)
Enjoy this creative resume template? We've got a gallery packed with 15+ other ones. 16 Creative Resume Templates You Have to See
15
Emma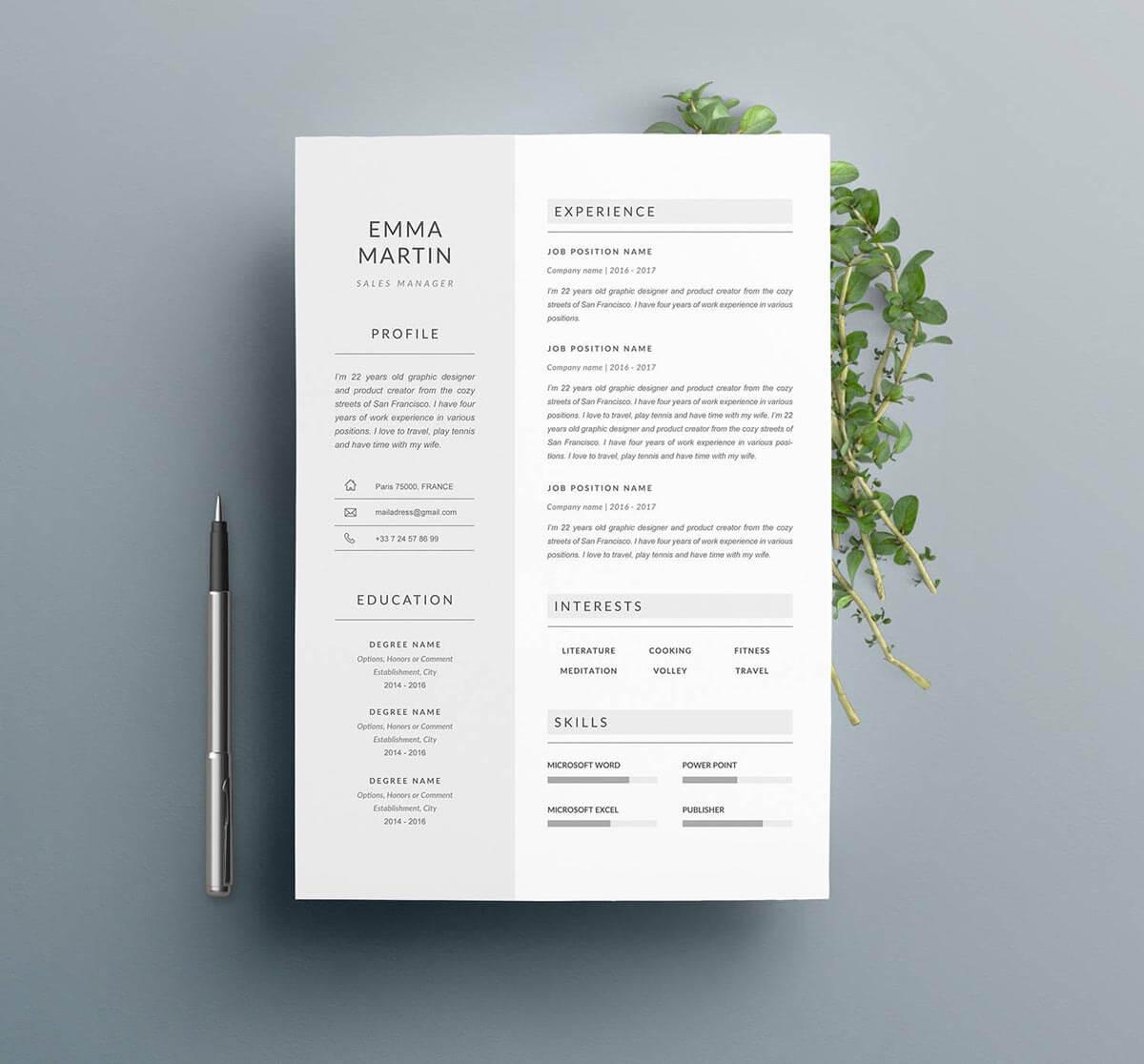 Last one on our list, Le Colibri Creations' "Emma" 1 page resume template is both modern and minimalist. A great choice for those who want a basic resume without unnecessary fireworks.
Here's the link.
You can see other amazing modern resumes here: 18 Best Modern Resume Templates You'll Find Online
Key Takeaway
Keep these points in mind as you write a one-page resume:
A one-pager isn't a must, but, more often that not, recruiters prefer concise and brief resumes. And you can get them one! Just pick your favorite one-page resume template from our list above and start writing!
Just remember that the contents of your resume matter more that the design.
If you want to make sure you'll write the perfect resume and wow every recruiter, read our comprehensive guide: How to Make a Resume Step by Step
Do you have any questions about making a single-page resume? Do you think that resumes longer than one page can hamper your chances? Give us a shout in the comments below and we'll get back to you. Thanks for reading!