How to Describe Yourself on a Resume the Right Way
Having a hard time figuring out how to describe yourself on a resume? Use these tips to make your About Me section say "Hire Me" in recruiter speak.
You know you're a great job candidate. You applied to over 20 jobs that match your skills and experience. But nobody replied. Why is that? Because recruiters couldn't decide if you're a good fit for the job.

Learning how to describe yourself on a resume is your priority to make the next job application more successful. Read on to learn how to describe yourself on a resume in a way that's personalized for you. You'll get a list of positive adjectives and tips on how to write the perfect "About Me" section on a resume with outstanding self-description.
Want to save time and have your resume ready in 5 minutes? Try our resume builder. It's fast and easy to use. Plus, you'll get ready-made content to add with one click. See 20+ resume templates and create your resume here.
Sample resume made with our builder—See more resume examples here.
Also interested in expert advice in writing the other parts of a resume? Check out:
1. Choose Powerful Adjectives and Provide Proof
Say you're attending a networking happy hour, and you hear a guy introduce himself as follows:
"Hi, I'm Louis. I'm amazing. I'm super knowledgeable, creative, and intelligent. I'm at the cutting edge of my field and I'm quite skilled in all things business-related."
Would you be impressed? Didn't think so. But that's the position you'd be putting the recruiter in if you listed those adjectives on your resume—without any examples or proof.
See, the key to describing yourself on a resume is to use adjectives sparingly and spend more real estate providing evidence of your qualities in the form of achievements. Anyone can describe themselves as organized, your resume needs to prove it.
Looking for some good adjectives to get started with your resume's about me section? Here's a list of great words to use when considering how to describe yourself on a resume:
1. Motivated
Example: Motivated college graduate looking to apply extensive skills in project management at Acme Corp.
2. Self-starter
Example: Self-starter that found a new vendor for office supplies saving the company $6,000 annually.
3. Organized
Example: Organized marketing coordinator that juggles projects for up to 10 clients simultaneously.
4. Efficient
Example: Developed a more efficient chatbot that reduced the workload of CSRs by 75%.
5. Flexible

Example: Organized travel arrangements while remaining flexible to changes in the plans of senior and executive-level employees.
6. Creative
Example: Generated up to 20 marketing pitches per client using creative brainstorming sessions.
7. Competent
Example: Competent in using Microsoft Office, Asana, and Salesforce.
8. Thoughtful
Example: Thoughtful customer service rep that empathizes with customers to solve problems together.
9. Experienced
Example: Industrial engineer experienced in manufacturing processes. Improved the efficiency of a manufacturing production process by 17%.
10. Sociable
Example: Sociable waiter who chats with customers to make them feel right at home.
11. Detail-oriented
Example: Detail-oriented UX researcher skilled at finding customer friction points through in-depth interviews.
12. Passionate
Example: Passionate copywriter with 5+ years of experience writing engaging content.
Read more: The Ultimate List of Words to Describe Yourself
When making a resume in our builder, drag & drop bullet points, skills, and auto-fill the boring stuff. Spell check? Check. Start building a professional resume template here for free.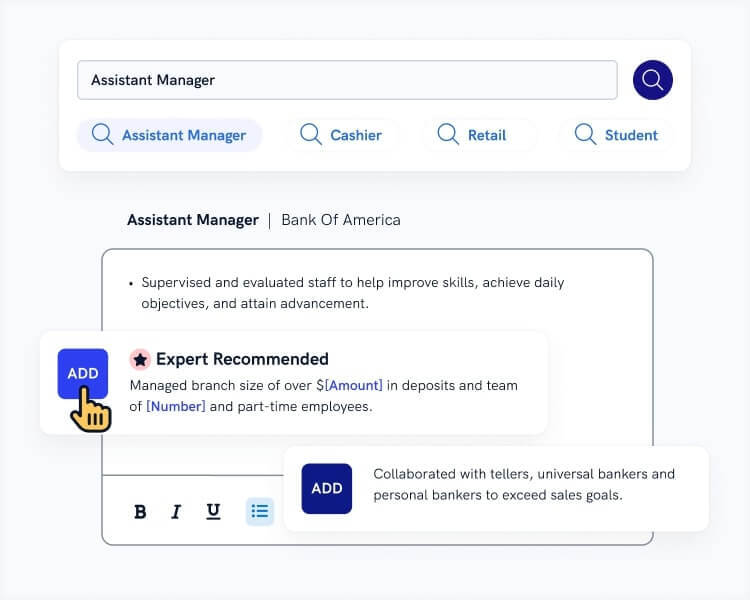 When you're done, our professional resume builder will score your resume and our resume checker will tell you exactly how to make it better.
2. Write the Perfect "About Me" Section on a Resume
Describing yourself in an "About me" section on a resume is daunting. It's meant to act as an elevator pitch to convince the hiring manager you're the candidate. But writing a compelling resume profile is hard if you don't you don't know where to start.
Use this formula to write your self-description for a resume easier:
[Powerful adjective] [job title] [your amount of experience]. Eager/seeking to assist/help/support/etc. [name of the company] with [what you can achieve for the employer achieve and how you plan on doing it]. [A few of your key achievements].
And here's an example of an "About me" section using that formula:
RIGHT
Passionate customer service representative with 2+ years of experience in customer support developing communication skills. Seeking to improve the customer service experience at Acme Co. by implementing a personalized approach to every client. Utilized new customer retention strategies at Flying Elephant that led to an 35% increase in customer satisfaction.
Wow. That resume introduction answers the question "why are you a good fit for this position?" perfectly. It has everything: descriptive and professional adjectives, mentions years of experience, and shows off an impressive professional achievement.
Just remember to include some resume keywords in your about me section or somewhere else on your resume. Afterall, most of recruiters these days use ATS that will be searching for those keywords.
And last but not least, experts say there are two common pitfalls jobseekers make when writing professional profiles: getting too personal and overselling oneself. So don't go overboard with superlatives, and find some other place to air your dirty laundry.
Pro Tip: If you don't have much experience yet, don't worry. You can write a resume objective without an ounce of work experience.
3. Let Verbs Do the Heavy Lifting
Employers want to see one thing above all else: relevant work experience. The way to show them what they want is by tailoring your resume to the job description.
The idea is to sprinkle a few of the adjectives from above when preparing your resume's about me section, but let action verbs do most of the talking. Here's a list of verbs to consider when thinking about how to describe yourself on a resume:
| | | |
| --- | --- | --- |
| Managed | Executed | Trained |
| Delivered | Produced | Performed |
| Directed | Achieved | Executed |
| Contributed | Cultivated | Spear­headed |
| Improved | Accomplished | Mentored |
| Participated | Negotiated | Created |
| Collaborated | Maximized | Organized |
| Completed | Facilitated | Reported |
Read more: 240 Resume Words: Action Words and Power Verbs
Plus, a great cover letter that matches your resume will give you an advantage over other candidates. You can write it in our cover letter builder here. Here's what it may look like: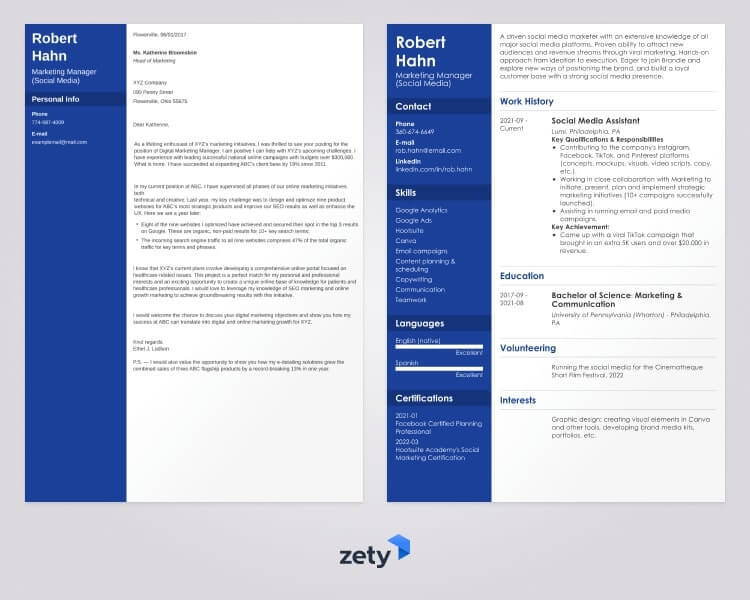 See more cover letter templates and start writing.
Do you have any questions about how to describe yourself on a resume? Or maybe you've got some tips of your own to share? We'd love to hear from you. Hit us up in the comment section below!
About Zety's Editorial Process
This article has been reviewed by our editorial team to make sure it follows Zety's editorial guidelines. We're committed to sharing our expertise and giving you trustworthy career advice tailored to your needs. High-quality content is what brings over 40 million readers to our site every year. But we don't stop there. Our team conducts original research to understand the job market better, and we pride ourselves on being quoted by top universities and prime media outlets from around the world.