18+ Professional Resume Profile Examples for Any Job
Just like every movie needs a good trailer, every resume needs a profile. Learn how to write the most impactful intro to your resume and see 25+ examples of good resume profiles.
A resume profile is a short summary of your work experience, skills, achievements, and goals. It's a professional introduction to your resume and it shows off your best qualities and how they relate to a specific job opening. A resume profile is essentially a short cover letter.
How to create it though?
This article will show you:
Different types of the resume profile section and which one to choose to present your best-selling points.
Step-by-step formula for writing a resume profile statement that will wow every recruiter.
Resume profile samples for 10+ professions—pick the one you like best, tweak it, and use on your resume.
Want to save time and have your resume ready in 5 minutes? Try our resume builder. It's fast and easy to use. Plus, you'll get ready-made content to add with one click. See 20+ resume templates and create your resume here.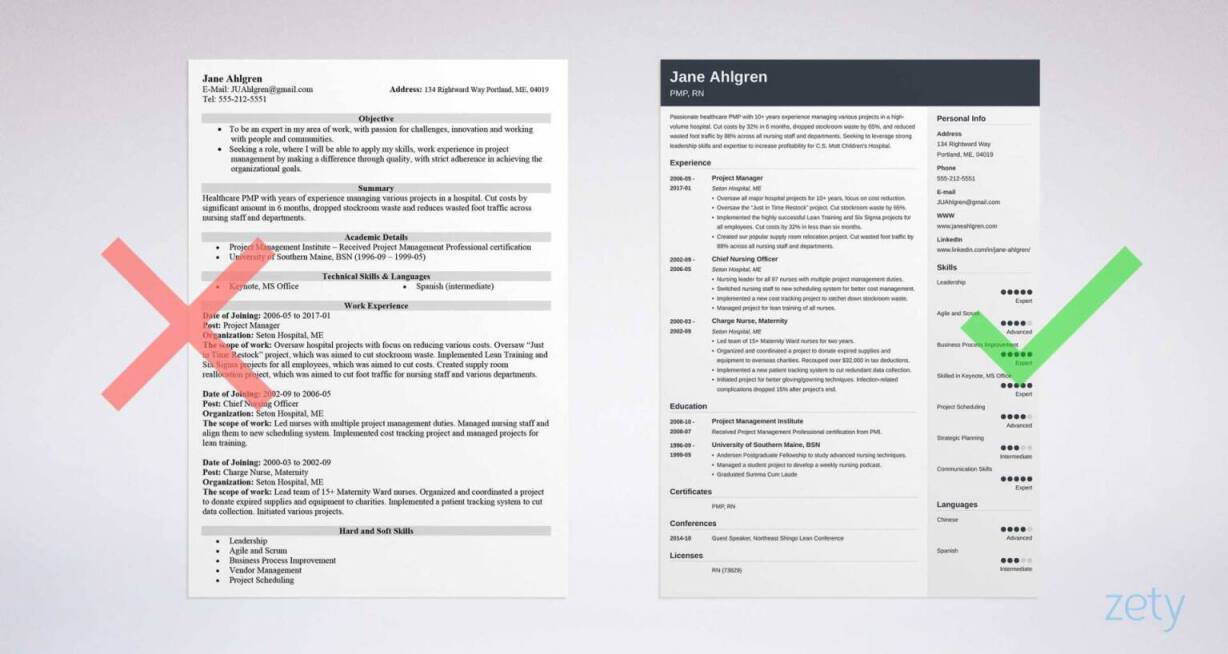 Sample resume made with our builder—See more resume samples here.
Want to laser in on a specific aspect of resume profile writing? Click on the table of contents below to go to the section of your interest.
Table of Contents
1
Why It Matters
Since the average recruiter will only spend about 7 seconds scanning your resume, you must be very selective about the things you want to highlight. And you'd better put your best foot forward.
This is what a well-written resume profile section looks like:
Resume Profile—Sample

Pro Tip: Don't confuse the resume profile with the resume header. The header is where you put your job title and contact information on a resume.
Now—
You may have come across other terms to describe the heading statement on a resume: a resume objective, resume summary, or even summary of qualifications.
Truth be told, the resume profile is a kind of umbrella term that encompasses all three.
The resume summary, objective, as well as qualifications summary can make a great resume profile statement and the main differences are minute.
Below, we'll briefly discuss three main types of resume profile.
Resume Profile Example—Objective
Disciplined and enthusiastic sales associate, conversant with POS and stock management systems. Eager to join the ABC Store team to boost sales numbers and customer loyalty metrics. Previous retail experience includes a summer job as a restocker and cashier at DEF Store. Commended on multiple occasions by the store management and customers themselves for superb customer service and communication skills.
A resume objective, or a professional objective as it's often referred to, is a brief paragraph that shows the recruiter how your skills turn you into a perfect fit for the position. Most of the time, it's recommended for candidates writing resumes for entry-level positions, resume for first job, or who want to change careers. See also a general guide on making a resume.
Resume Profile Example—Summary
Accomplished and highly-organized Project Manager (PMP certified) with a Ph.D. in physics and over 10 years of professional experience managing complex projects in the financial industry. Eager to join ABC Bank to help define product roll-out strategy, track progress against goals, and manage execution projects. At DEF Bank, delivered a $20M, four-year project modernizing back-end functionalities that saved over $200M on international transactions yearly.
As you can see, a resume summary is also a paragraph—but in contrast to the objective, it highlights your work history and key achievements to demonstrate to the recruiter what results you're able to deliver. As such it's suitable for more experienced candidates, e.g. those writing a project manager resume or a marketing manager resume.
Resume Profile Example—Qualifications Summary
Dedicated customer service representative with over 5 years of professional experience. Eager to join ABC Inc. to offer customized solutions, identify sales opportunities, and provide exceptional service to customers.
Attained >90% positive customer ratings at DEF Inc.
Maintained customer retention rate 20% above the average.
Onboarded and mentored 10+ new employees.
Finally, a summary of qualifications combines a short paragraph with a list of bullet points. It's a very versatile form of a resume profile, and depending on what information you include, it can work great on a student resume or a manager resume alike.
Note: It's easy to go overboard with the number of bullets you include in your resume profile. We recommend listing up to five at the maximum.
And one more thing—
Sometimes the term resume profile is used interchangeably with resume headline. However, the latter is more of a sentence than a paragraph.
Still not sure which type of resume profile statement you should opt for? Read our in-depth guides and find the answer:
2
How to Write a Resume Profile
Now you know what a resume profile is. You also know that all the best resumes start with a profile.

Let's have a look at how to turn yours into an employer magnet.
These simple tips will not only help you make the most of your resume profile, but also turn writing it into a walk in the park.
Write your resume profile at the very end—once your entire resume is ready.
Remember, your resume profile is a rundown of your entire resume and you need to have something to summarize in the first place. So first make sure your resume looks as it should and once it does, put the resume profile cherry on top.
Address the employers' specific needs.
Even if your resume profile reads great and looks fantastic, it will have zero impact if it's not targeted at the job offer. That's why you must always tailor your resume to the job offer.
Use the job offer as a guide.
The job offer you're replying to is full of keywords you can use throughout your entire resume, including the profile. Putting the right keywords on your resume is crucial for your document to pass the initial software scan. In fact, more than 98% of Fortune 500 companies use ATSs to scan resumes—therefore writing an ATS-optimized resume is crucial to your success.
Quantify your experience.
In the world of business, the language of numbers is the lingua franca of choice. Your resume profile will get a serious boost from putting numbers here and there. And don't be shy! You're up against dozens of equally determined candidates, so you need to stand out from the crowd.
Pro Tip: Using the right keywords is crucial to pass the ATS test but your resume must also impress the human reader. In order to do so, use resume action words when describing your experience and achievements.
So—
That's the theory. Now let's put it into practice.
Assuming you followed our advice, created a resume that's tailored to the job offer, and you put everything you need on a resume, your resume experience section could look something like this:
Resume Experience Section—The Basis for Resume Profile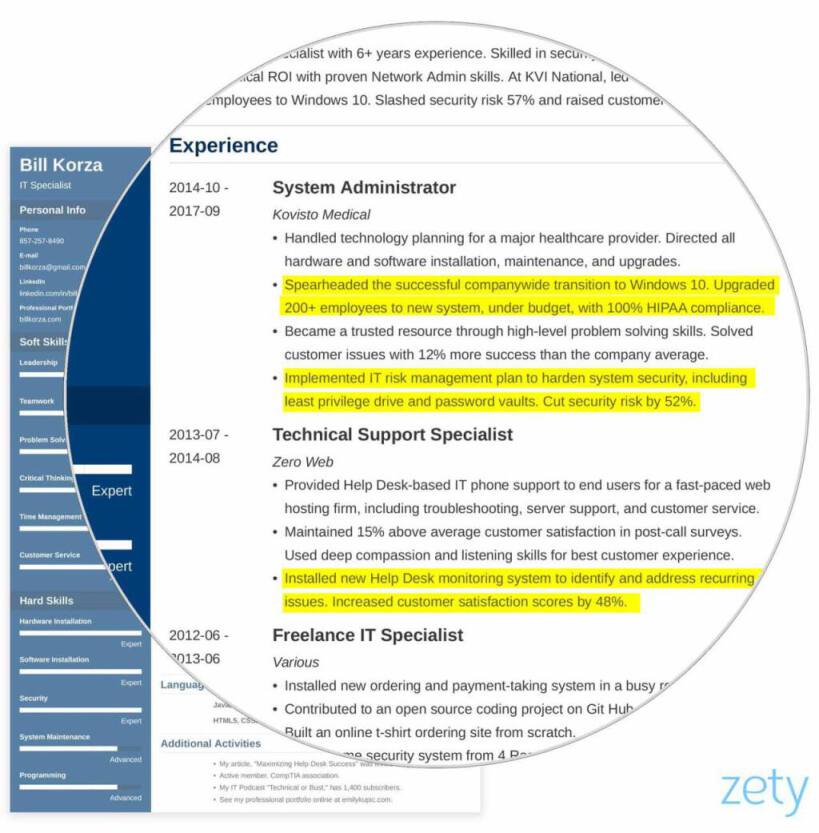 The yellow highlights indicate which parts from your experience section you can work into your resume profile.
The example of the resume experience section above lends itself to a resume profile summary. Why? The candidate's experience and expertise go a couple of years back and he has several impressive achievements to show off.
Since the job offer specifically stated that the position required at least 5 years of experience, understanding of a medical environment, and HIPAA compliance, this is what the candidate's resume profile could look like:
Resume Profile Example—Summary
Enthusiastic IT Specialist with 6+ years experience including 3 years with a major healthcare provider. Skilled in security and HIPAA. Seeking to boost Maheu Medical's ROI with proven Network Admin skills. At KVI National, led smooth transition of 200+ employees to Windows 10. Slashed security risk 57% and raised customer satisfaction 48%.
As you can see, it has all the key points the employer will be specifically looking for, as well as some of the candidate's most impressive achievements that demonstrate his real-life impact.
This is exactly why you should write the resume profile at the very end. You can clearly see which bits you want to highlight in the introductory paragraph.
And finally—
Here's a proven formula that will help you write your resume profile section paragraph quickly and easily:
How to Write a Profile for a Resume—Step-by-Step Formula
[strong character trait] + [job title] + [experience] + Eager to…/Seeking to…/etc. + [action verb + company name + value proposition] + [how you can help/what skills you have] + [your key achievement(s)]
In fact, the example above follows this formula rather closely:
Enthusiastic [character trait] IT Specialist [job title] with 6+ years experience. Skilled in security and HIPAA. [experience + skills] Seeking to boost Maheu Medical's ROI [action verb + company name + value proposition] with proven Network Admin skills. [how] At KVI National, led smooth transition of 200+ employees to Windows 10. Slashed security risk 57% and raised customer satisfaction 48%. [key achievements]
Even though we used a resume summary to illustrate the formula, you'll see that you can easily apply it to resume objectives and qualifications summaries as well.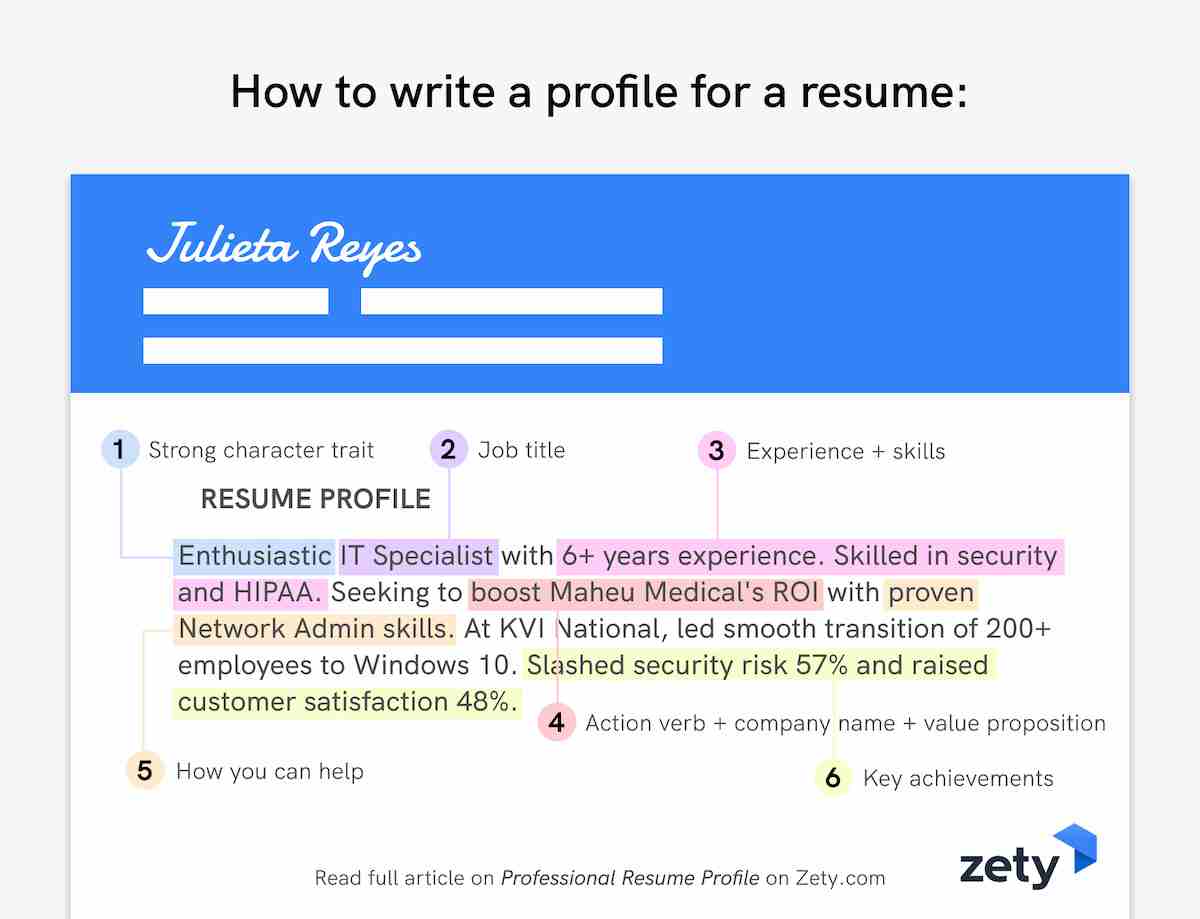 In the section below, you'll see sample resume profile statements for 10+ careers. Notice that they all use the bulletproof method you've seen above.
When making a resume in our builder, drag & drop bullet points, skills, and auto-fill the boring stuff. Spell check? Check. Start building a professional resume template here for free.
When you're done, our easy resume builder will score your resume and our resume checker will tell you exactly how to make it better.
3
Resume Profile—Examples for 10+ Professions
Here's the thing—
There's no better way of learning how to write a resume profile than studying examples, and then doing it yourself.
This is why this section is full of resume profile examples for some of the most popular professions.
Pro Tip: Not sure how to make the most of your resume? Before you start writing anything choose the right resume structure for your professional situation.
Note: Each resume profile example below has been created for a particular job offer and on the basis of a specific resume. Do not copy and paste these examples into your resume—treat them as a starting point for your own tailored resume profile.
Entry-Level Resume Profile Example for Students
Hard-working entry-level software engineer. Completed 8 freelance projects, including a working e-commerce site that sells fashion accessories. One of my CAD applications received a favorable review in the OnShape blog. Active member of the Association for Computing Machinery. 3rd place, SpOJ CodeWar. Seeking to deliver software engineering excellence for XYZ Corp.
Open-minded and reliable graduate from UCLA with a BS in IT, specialized in cloud-based solution infrastructure. Eager to assist DEF Inc. with the cloud budget and cost reduction efforts by leveraging cloud services. Skilled in:
Azure environment.
Setting up a site-to-site VPN.
Written and verbal communication skills.
Marketing Profile for a Resume
Experienced growth marketing manager with a background in sales. Looking to leverage 3+ years of experience to raise KPIs for ABC Global.
Boosted open rate for online campaigns by 22%.
Slashed churn by 36% through enhanced feedback programs.
Earned an Adrian Award in 2017 for excellence in marketing.
Adaptable marketing specialist with 5+ years of experience in managing all aspects of organic SEO and PPC campaigns with annual budgets over $200,000. Eager to increase XYZ's online presence and website traffic building campaigns. In previous roles boosted the number of monthly unique visitors by 500% YOY and increased CTR by 20% in marketing emails.
Project Manager Resume Profile
Passionate healthcare Project Manager and PMP with 9+ years of experience leading projects in a competitive hospital. Seeking to use solid organizational skills to raise profitability for A.D. Lewis Hospital. At Johnson Mott, trained 125 employees in lean principles. Cut stockroom waste by 52%. Saved $32,000 annually through better use of tax deductions.
Certified Project Manager (PMP) with over 7 years of experience. Eager to help ABC Inc. define, plan, and execute on deliverables throughout the project life cycle. At DEF Inc.:
Minimized overheads by 30% in 5 months.
Introduced and trained 80+ employees in lean management.
Customer Service Resume Profile
Open-minded and compassionate English student at UC Berkeley (GPA 3.9). Skilled in oral and written communication as well as negotiation techniques. Seeks to join ABC Inc. to provide a memorable experience for customers over the phone, as well as to build customer loyalty by leveraging interpersonal skills and offering top customer service. Previous three-month summer internship as a customer support representative at an FMCG company.
Likable and dependable customer service representative with over 10 years of professional experience. Seeks to join DEF Inc. to go above and beyond customer expectations in order to ensure an unrivaled shopping experience.
Kept customer retention rate 20% above average.
Received over 95% positive survey results from customers.
Awarded CSR of the Year twice in a row (2017, 2018).
Administrative Assistant Resume Profile
Meticulous, and exceptionally organized graduate from the University of Texas at Austin with a BA in English. Skilled in calendar and travel planning, email management, as well as oral and written communication. Eager to join XYZ Inc. as an administrative assistant. Previous experience includes a summer internship in an administrative role at a boutique PR firm.
Experienced administrative assistant with over 7 years of professional experience and a BA in finance. Seeks to join ABC Inc. to provide dedicated administrative support, maintain calendars, schedule meetings, and work on special projects.
Managed calendars of two C-suite members.
Organized 10+ large events a year at a 70+ people company.
Awarded Employee of the Year in 2017 and 2018.
Graphic Designer Resume Profile
Creative graphic designer with 5+ years of experience. Seeks to use exemplary time management skills to lower project time at XYZ Inc.
Developed over 300+ graphic projects.
Increased client transactions by 30%.
Enthusiastic graduate from CUNY with a major in graphic design. Skilled in Adobe CC, animation, typography, and layout techniques. Eager to join ABC Inc. to help generate forward-thinking creative solutions for print and digital media. Previous 3-month internship at Havas Creative.
Computer Science Profile on a Resume
Inquisitive computer science specialist with 8+ years of experience. Looking to leverage strong programming skills as a developer for Google.
Led a team of 11 coders at Halcyon-Berth Systems.
Delivered projects with 15% fewer errors than other teams.
Trained 25 programmers in cloud computing skills.
Forward-thinking graduate from Columbia University with a BS in Computer Science. Eager to join ABC Inc. to develop information systems by designing and implementing streamlined procedures to improve performance. Skilled in C++ analysis and programming as well as creating and updating design documents. 3-month internship at Google.
Nursing Resume Profile
Licensed RN with 2 years' clinical experience. Looking to provide excellent service at Brooklyn Regional Hospital through skills in triage and daily care.
Achieved 95% favorable preceptor evaluations.
Received 20% above average patient satisfaction scores at Fayette Urgent care.
ACLS and BCLS certifications.
Dedicated and dependable nursing student with two semesters of clinical practice. Eager to join St. Mary's Clinical Center to assist medical staff as a summer nurse intern. Skilled in taking vital signs, general health assessment, triage, and patient safety. During previous internship received 99% positive patient feedback.
Web Developer Profile on a Resume
Full-stack web developer with a love of beating personal bests. Prototyped 20+ new product features for Hitlz Transco Ltd. Cut costs by 18% and lowered rework by 23%. One of my sites received a 2017 Webby for Navigation.
Enthusiastic and challenge-driven graduate from UC Berkeley specializing in full-stack web development. Skilled in HTML, Angular, and CSS3. Eager to join XYZ Inc. to help develop internal and external websites.
Developed 10+ websites for businesses and individuals.
Winner of 2018 ADAA Student Web Developer Award.
3-month scholarship at Citrix.
Financial Analyst Resume Profile
Chartered Financial Analyst with 6+ years' experience. Aiming to employ proven budget maximization skills for Bank of America. In previous roles:
Saved $1.3 million by targeting low-margin projects.
Grew customer retention by 8%.
Ran a weekly investing podcast with over 6,000 subscribers.
Motivated and detail-oriented graduate from CUNY with a BS in Accounting. Skilled in compiling and organizing data for invoicing, as well as collecting and managing campaign data reporting. Seeks to join GHI Inc. to help monitor, maintain, and complete client billing and reconciliations. Previous experience includes a 3-month summer internship with JP Morgan Chase.
Teacher Resume Profile
Licensed substitute teacher, adept in special education and K-12. Seeking position with Middlebury High School. At Stebbins High, commended 4 times by principal for classroom management skills. Most-hired substitute at Mitchell Middle School in Center Falls.
Dedicated and creative English Teacher with 8+ years of classroom experience. Eager to join XYZ School to help ensure student success through differentiated instruction.
Skilled in working with high schoolers.
Average student exam scores >90%.
Awarded Teacher of the Year in 2018.
Restaurant Server Resume Profile
Experienced restaurant server with over 7 years of professional experience. Eager to join ABC Restaurant to delight the guests by offering an unforgettable experience and maintaining serving standards.
Trained 20+ new hires on the workflow process.
Obtained top sales scores during monthly sales competitions.
Catered to up to 150 people (incl. organizing large parties).
Likable and enthusiastic special education student with UCLA seeking to leverage exceptional communication skills in a fast-paced environment. Seeks to join ABC Restaurant as a part-time server to wow the guests by providing legendary service. Experienced with POS systems and cash handling.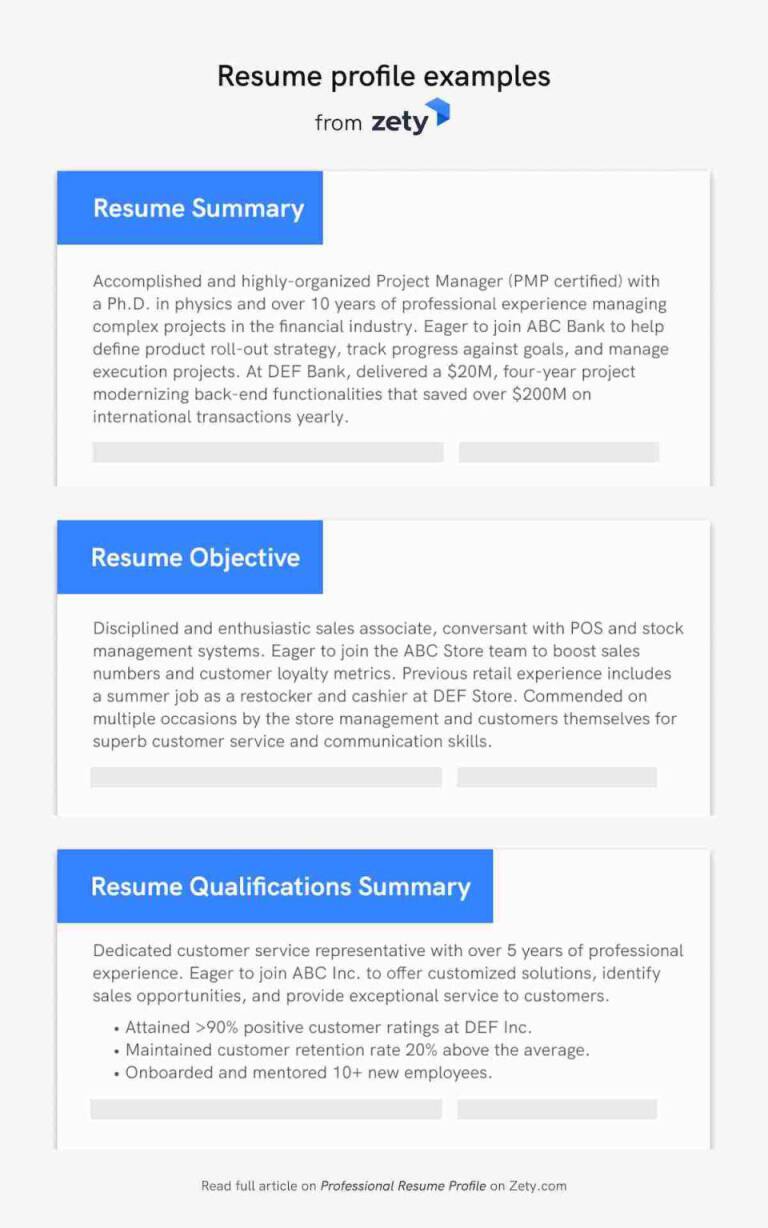 Couldn't find the resume profile that's right for you? Find it on our definitive list of resume samples.
Plus, a great cover letter that matches your resume will give you an advantage over other candidates. You can write it in our cover letter builder here. Here's what it may look like: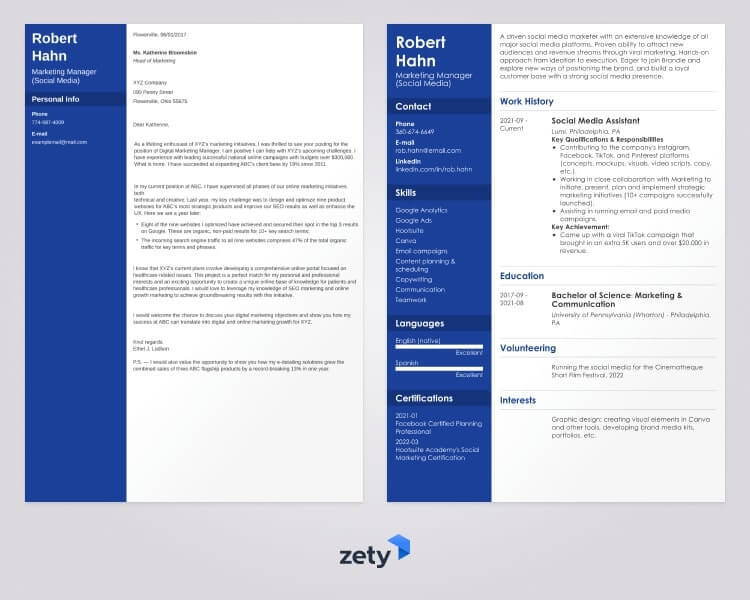 See more cover letter templates and start writing.
Key Takeaway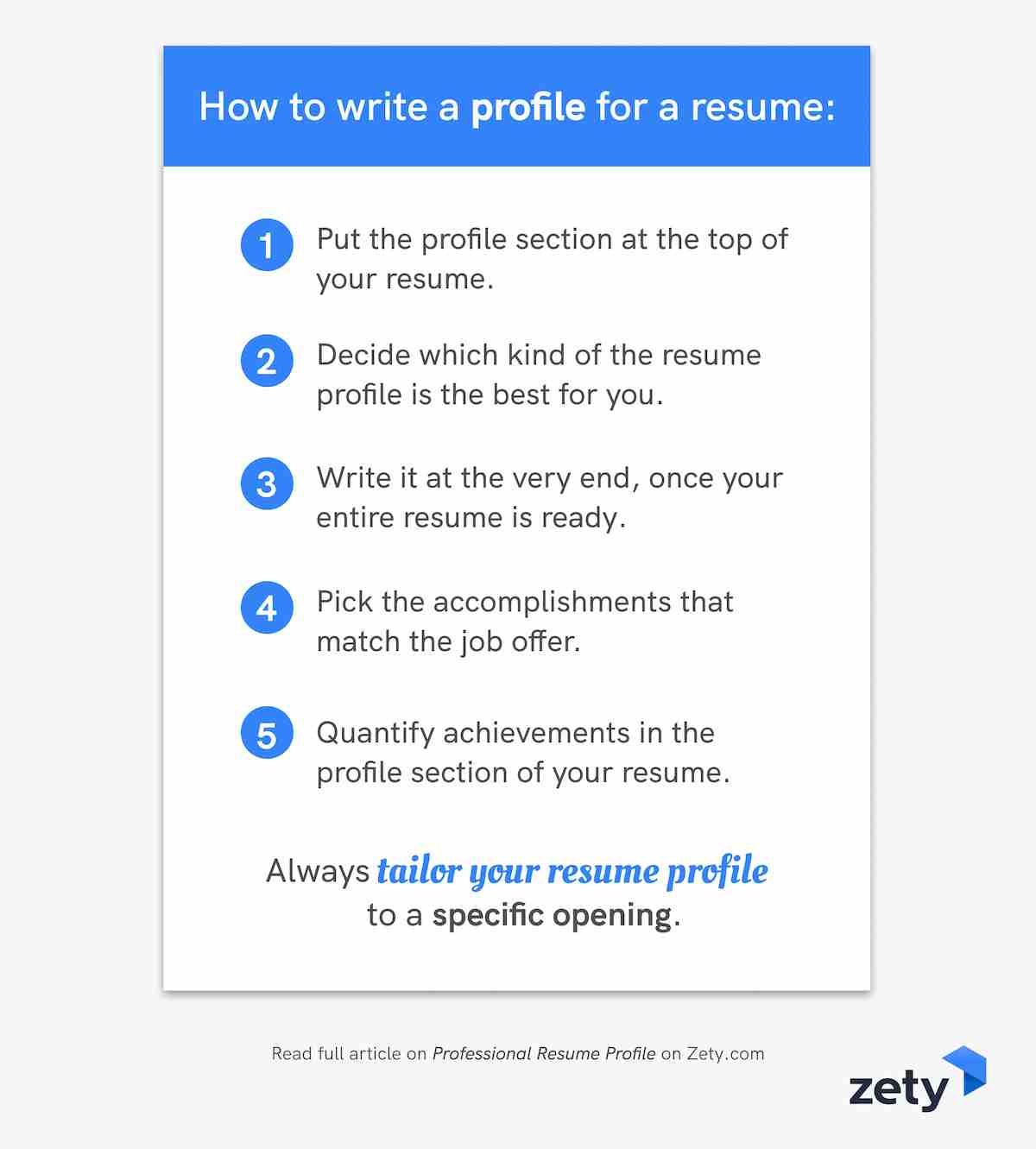 How to write a profile for a resume:
Put the profile section at the top of your resume.
Decide which kind of the resume profile is the best for you.
Write it at the very end, once your entire resume is ready.
Pick the accomplishments that match the job offer.
Quantify achievements in the profile section of your resume.
Always tailor your resume profile to a specific opening.
Need more info about how to build a great resume profile? Got a tip for making a great profile section of a resume? Give us a shout put in the comments below. Let's start the conversation!
About Zety's Editorial Process
This article has been reviewed by our editorial team to make sure it follows Zety's editorial guidelines. We're committed to sharing our expertise and giving you trustworthy career advice tailored to your needs. High-quality content is what brings over 40 million readers to our site every year. But we don't stop there. Our team conducts original research to understand the job market better, and we pride ourselves on being quoted by top universities and prime media outlets from around the world.
Frequently Asked Questions about Resume Profiles
What is a resume profile?
A resume profile is a brief resume introduction that encapsulates your expertise and main achievements. It's placed at the very top and may come in the form of a resume summary or resume objective, depending on your professional background. The goal of a good resume profile is to quickly show the recruiter you possess relevant experience for the position, and that you're a good fit. It's one of the most crucial elements of a resume, so getting it right will ensure your resume gets noticed.
How to write a profile for a resume?
Important tips on what to write in your resume profile:
How to write a resume profile with no experience?
If you're writing a resume with no experience, it's still important to focus on how the employer will benefit from hiring you. Highlight other strengths on your resume, like transferable skills, teamwork skills, academic successes, or volunteering experience. Consider writing a resume objective to clarify your career goals and show that they align with the company vision and priorities.
Do I need a different resume profile for every application?
Yes, you do! Out of all resume sections, this is by far the most important one. A targeted resume tailored specifically to the job description will increase your chances of getting an interview, while a generic resume profile will fail to make your resume stand out from the rest.
Using our resume builder will make altering your resume significantly easier, and will save you a lot of time by providing wording suggestions.
How to describe yourself in your resume profile?
Here are some basic tips on how to describe yourself on a resume that will work for any type of application:
Start by carefully studying the job description and seeing which of your skills match.
Make sure that you reflect relevant experience in your resume profile, as this is what any hiring manager would be looking for.
Include a powerful statement of your qualifications, keeping the position requirements in mind.
Focus not just on who you are, but also on the value you can bring to the potential employer—this is what makes a good resume that stays ahead of the competition.
What skills should I put in my resume profile?
There's no one-size-fits-all answer to this question, but the most important thing is to only focus on professional skills that make sense for the desired position. Go back to the job description, and look for resume keywords to include, i.e., things the recruiters will be looking for.
For more information on crafting a great resume, read our resume tips.