Our customers have been hired by:
What makes the CV format so important? Proper formatting makes your CV scannable by ATS bots and easy to read for human recruiters. In short, it makes all the difference between the hiring manager reading your CV in full or never seeing it in the first place.
In this guide, we'll cover all you need to know about formatting a CV in 2023.
Want to save time and have your CV ready in 5 minutes? Try our CV builder. It's fast and easy to use. Plus, you'll get ready-made content to add with one click. See 20+ CV templates and create your CV here.
Sample CV made with our builder—See more CV examples here.
This article explains how to format a CV for a job in the UK or other European countries. Here's what you'll get:
Table of contents
If you're more interested in formatting a US resume, switch over to: Resume Format: How to Format a Resume for the Greatest Impact
Not sure what the difference is? Find out from our guide: The CV/Resume Difference Explained
For an in-depth breakdown of the proper format for a CV for academic purposes, see: Academic CV: Template, Samples, Writing Tips
Finally, if you'd like to learn not only about formatting a CV but about writing each section too, see our CV 101: How to Write a Curriculum Vitae (CV) for a Job in 2023
1. CV Format: Overview
A standard curriculum vitae format should include the following sections:
Contact Information.
Personal Statement.
Professional Experience.
Academic History.
Key Skills and Qualifications.
Industry Awards.
Professional Certifications.
Publications.
Professional Affiliations.
Conferences Attended.
Additional Training.
Let's walk through these sections step by step:
Full name
Email address
Phone number
Home address
A CV personal statement is a brief (100 words tops), snappy paragraph at the top of your CV format that provides an overview of your qualifications and skills. It works as a "trailer" for the rest of your CV. Fill it with keywords relevant to the job opening and explain why you're the perfect candidate.
If you have years of relevant experience, write your personal statement as a CV summary: highlight your best professional achievements.
Not much experience yet? Go for a CV objective: summarise what skills you've mastered so far and how well you'd fit in.
Whichever one is right for you, don't focus it solely on what you want out of the job. Instead, emphasize what you have to offer. For instance:
Dependable licensed NMC Registered Nurse trained to work in high-stress environments and stay calm under pressure. Seeking to leverage meticulous record-keeping and analytical skills to help St Francis Hospital with your upcoming challenges.
Start with your current or most recent job.
Below, list your previous jobs chronologically descending.
List: your job title, the name of the company, dates worked.
Below each entry, add up to 5 bullet points explaining your responsibilities and achievements.
Quantify whenever possible. Numbers pop!
If you've got any post-secondary education, limit the CV education section in your curriculum vitae format to just that. Don't mention your high school, unless it's your highest degree of education.
Format your CV education section the following way:
Graduation year (if you're still studying, enter your expected graduation date)
Degree
Institution name
Sub-honours (if applicable)
Don't have a wealth of job experience? Place your education section in the CV format above your work history and mention the coursework you've completed, as well as extracurricular academic achievements.
Here's how to add a skill list to the CV format step by step:
Start with a spreadsheet with a master list of all the professional skills you've developed.
Read the job ad carefully and look for skill-related keywords.
Those skills from your list that match the job description go on your CV.
Instead of just listing skills in a separate skills section, mention them in your CV personal statement and in the work history section.
If you've participated in any activities relevant to your career that don't fit into any of the above sections, list them as extra sections in the CV format. Some CV examples of such sections include:
Industry awards
Publications
Professional affiliations
Conferences attended
Additional training
The above template is an example of a classic, reverse-chronological CV. But, according to many a career expert, there is an alternative. A skills-based CV format, also known as a "skills CV" or a "functional CV." Read on to find out what the right structure for a skill-based curriculum vitae format is.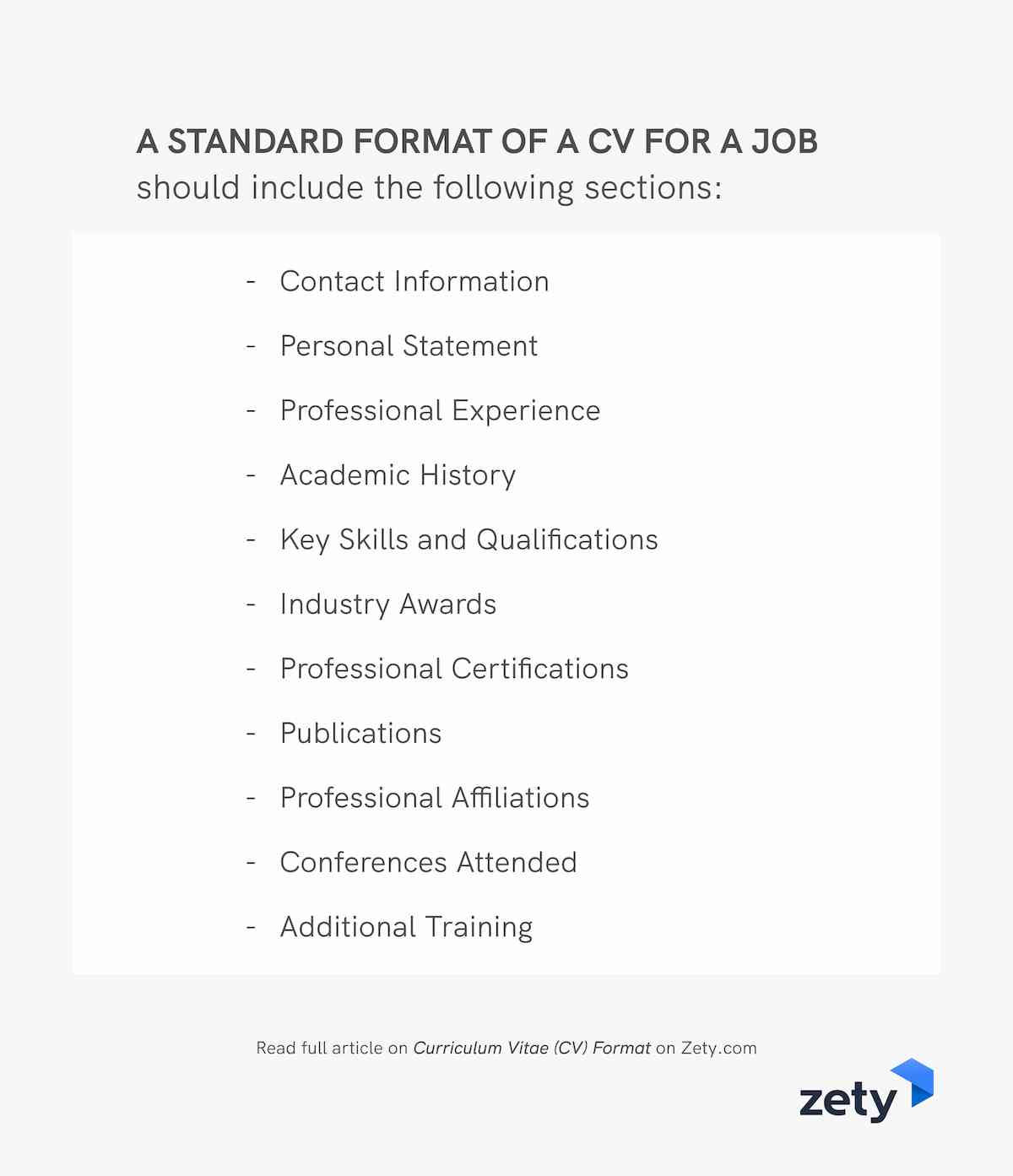 One more thing to keep in mind when formatting a CV is to make it skimmable for recruiters and hiring managers.
If potential employers cannot extract the most important information about your skills and expertise in a flash, it's game over. So—
How to Format a CV?
Here's how you should format your CV in 2023:
Set one-inch CV margins on all sides.
Use 1.0 or 1.15 line spacing.
Pick a good font for a CV and stick to it on the whole document.
Create a professional CV header format for your contact details.
Divide your CV into legible sections: Contact Information, Personal Statement, Work Experience, Education, Skills, Additional Information.
Make section headings slightly larger than the rest of the contents.
Add a blank line before and after each heading.
Save your CV format in PDF to keep it intact.
Follow the steps above, and you'll create an eye-pleasing CV format. Recruiters will appreciate a well-organized layout and you'll give yourself a good chance of passing the Applicant Tracking Software (ATS) CV scan.
And trust me—the latter matters a lot nowadays. According to the worldwide report on recruiting automation trends, 75% of talent acquisition professionals claim that AI-based technology will play a larger role in their hiring processes in 2023. And ATS is the cornerstone of modern-day recruitment technology.
2. Sample CV Format Templates You Can Make Yours
I know. All the information above might be hard to digest (and even harder to put into practice). It happens to all of us—the moment we start working on a CV format, our word processing software turns into a torture device. Nothing looks the way you want it to, random fragments of text spill over to the next line, and keeping a uniform design is little short of impossible.

But there's good news. Our builder takes care of CV formatting. You just need to write the contents and let us make them always look great. Have a look at some of the best CV format templates available in our builder, choose the one that fits your needs, and have a CV ready in minutes.
1. Nanica
A simple CV format that makes all the key information visible at first glance. Tons of white space will make this one easier on recruiters' eyes (and they'll thank you for it). We recommend Nanica to everyone eying traditional, corporate jobs.
2. Primo
Yet another simple and clean CV format. The timeline on the left makes your work history easy to navigate through. A column for your skills helps squeeze more onto a one-page CV. Plus, you get a nice piece of personal branding thanks to the initials in the header. This one will surely stick with recruiters!
3. Cubic
Perhaps the proudest piece of CV art we've created so far. Cubic has it all: a nice-looking header for your name and job title, a shaded side column for contact deets, skills, and extra information, and an elegant main area for all the "beef:" work experience and education. One of the most CV format templates on our offer, will work great for candidates eying jobs with modern companies.
4. Diamond
This one has been the favorite of Zety's users working in business and finance. Diamond uses some bold, dark elements to make a visual impression but, overall, it's very elegant and traditional. You can stick with black-on-white or play around with colors for a more relaxed look.
5. Newcast
Newcast is a great CV format template for candidates across all professions and levels of experience. Basic and traditional on the one hand, in line with modern, minimalistic design trends on the other.
When making a CV in our builder, drag & drop bullet points, skills, and auto-fill the boring stuff. Spell check? Check. Start building a professional CV template here for free.
When you're done, Zety's CV maker will score your CV and tell you exactly how to make it better.
3. What's Best In 2023: Skills-Based CV or a Chronological CV Format?
Some candidates with unorthodox work histories might want to consider using a skills-based CV format.
Skills based CV (also known as a functional CV or simply a "skills" CV) focuses on the candidate's skills rather than work experience. It's usually used by job seekers in creative industries who have done a lot of small freelancing gigs or by career changers.
Have a look at an outline of how to format a CV in a skills-based template.
Skills Based CV Format
Contact Information
CV Objective
Skills Summary
Work Experience
Education
Additional Skills
See what a "skills" CV looks like. We've created the sample in our CV generator.
Skills-Based CV Format Sample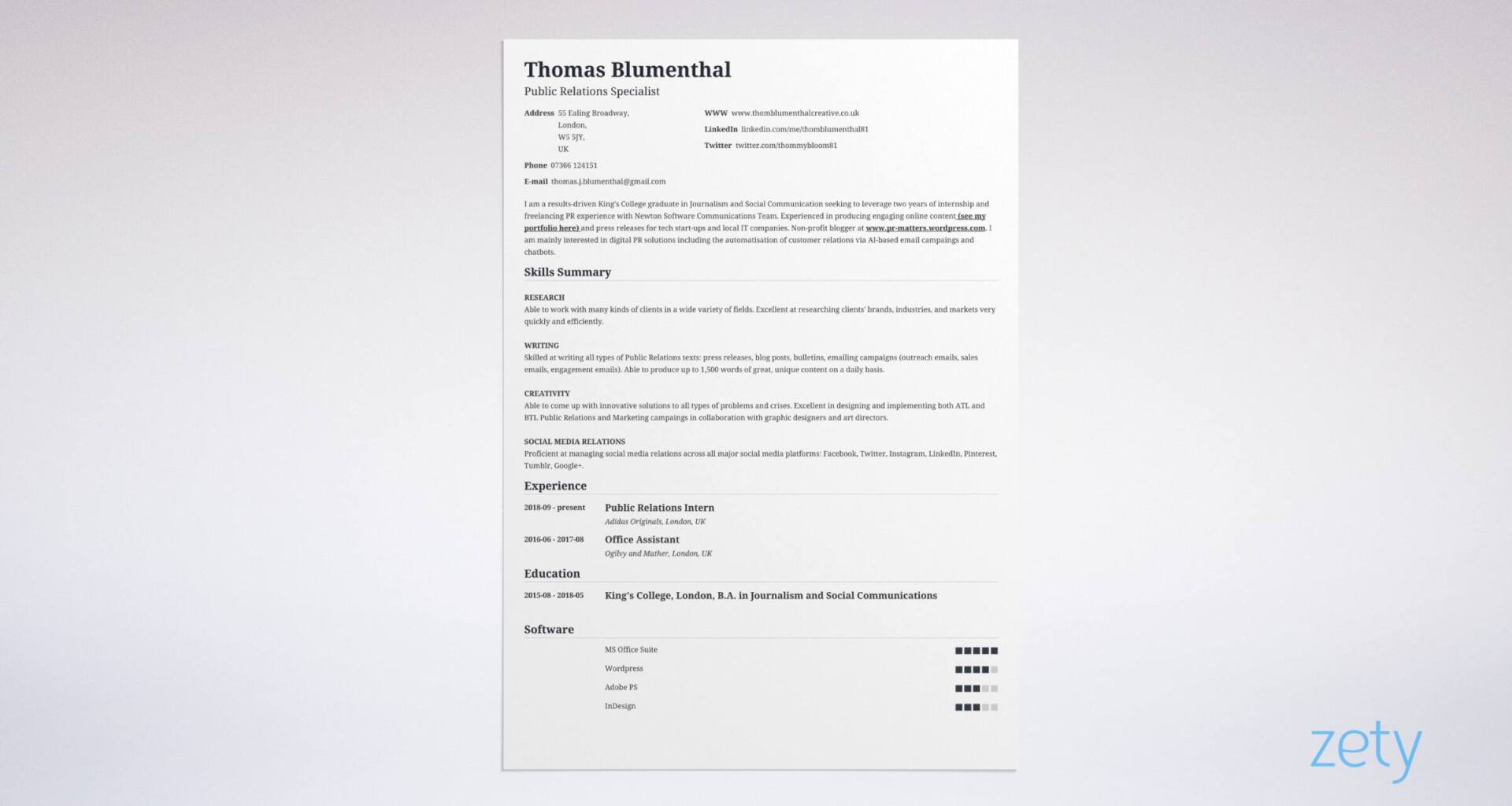 Use our CV creator to get your ready-to-download CV in no time. Pick a blank CV template, fill it in with your information, and download a perfectly structured CV—See 20+ CV templates and create your CV here.
As you can see, the central part of the skills-based CV format is the Skills Summary. Work Experience and Education sections are limited to lists of former employers and academic institutions, respectively.
While this might sound tempting to some candidates with flaws or gaps in their employment histories, a skills based/functional CV format is a risky choice. For years, creating a skills-based CV has been recommended as the best way to camouflage employment gaps or lack of job-relevant experience. As a result, this curriculum vitae format format has become a flashing neon that basically screams "I'm trying to hide something." Finally, skills-based CVs, due to their peculiar layout, might not be ATS-scannable.
If you still think creating a skills-based CV format might be right for you, see the table below for a detailed comparison of the reverse chronological CV and the functional CV formats.
Reverse-Chronological vs Skills Based CV Format

| | | |
| --- | --- | --- |
| | Reverse-Chronological CV | Skills Based CV |
| Main focus | Work history and education | Skills |
| Work history section | At the top | At the bottom |
| Skills section | At the bottom | At the top |
| Layout | Professional and traditional | Non-conventional and creative |
| Main advantage | Easy to read, universal | Emphasizes skills |
| Main disadvantage | Very common, might require tweaking | Suggests you're trying to conceal something |
| Good choice for | Virtually all candidates | Creative industries, Career changers |
| Bad choice for | Career changers | Experienced professionals |

For information on writing a skills based CV, see our guide: Skills-Based CV: Sample and Writing Tips
4. Ready-to-Use CV Format Templates + CV Formatting Tips & Ideas
Choosing a good format for a CV is a matter of highlighting your best professional strengths as well as following the rules of the HR etiquette. However, that doesn't mean your Curriculum Vitae format cannot reflect your individuality to a certain degree. You should choose a CV format you're fond of, personally, and match the CV design with the company you're applying to.
Below, you'll see some CV format and design ideas available in our CV maker.
Professional CV Format Template
We called this CV layout format "Crisp," and crisp it is indeed. The side column on the left is for your personal information and skills, allowing you to save space. Big section headings draw recruiters' eyes to what's important.
This CV format is universal: it will work well for candidates in traditional, conservative fields, as well as those applying to more relaxed companies.
Simple Curriculum Vitae Format
If you agree that simplicity is the ultimate sophistication then the "Nanica" CV format will be just right for you. It's a basic CV design utilizing lots of white space which gives recruiters some breathing room as they review your CV.
Modern CV Format
An all-time favourite amongst our readers, the "Cubic" CV format is our take on the modern CV.
With a three-tone background depending on the section, different areas of your CV stand out easily from each other. The header is sharply distinct from the rest of the template, making your name and job title more prominent and, thus, memorable.
A perfect resume CV format for tech, graphic design, and creative jobs.
Academic CV Format
Whether you're a seasoned academic teacher, or a student looking for a good CV format for graduate school, be sure that academic selection committees will appreciate this elegant, uncluttered CV format. Available in our CV builder along with 20+ other format templates.
Need more inspiration for formatting your CV the way that works best for you? We've got you covered.
CV Formatting Ideas, Inspirations and Examples
We'd love for you to give our builder a try, but if you insist on messing around with MS Word layouts, at least pick the best of the best: Free MS Word CV Templates and Formats (15+)
Want to give Google Docs resume formats a shot? Check out: Google Docs CV Format Templates
Going to an interview or a job fair and need to print a CV? Make sure your formatting will look good on paper: CV Paper: How to Choose The Best One (10+ Photos)
Finally, see some of our galleries and compilations of the best curriculum vitae formats you'll ever find online:
Plus, a great cover letter that matches your CV will give you an advantage over other candidates. You can write it in our cover letter builder here. Here's what it may look like: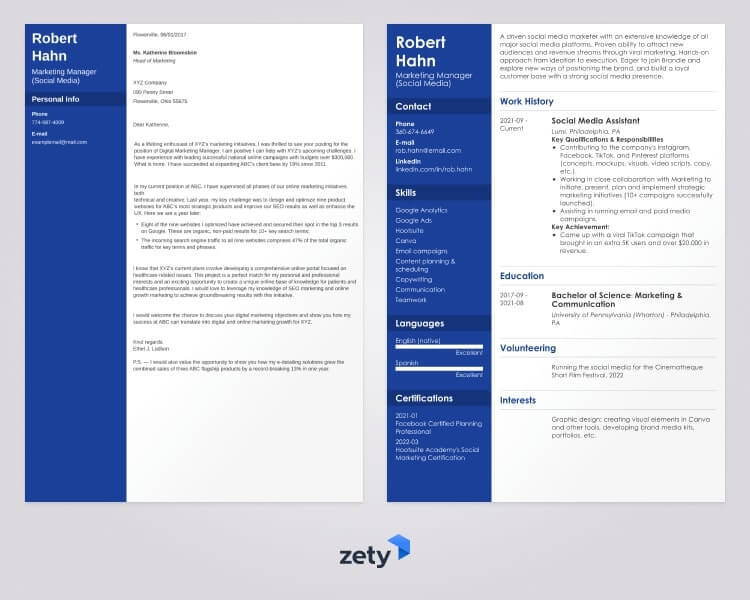 See more cover letter templates and start writing.
Key Takeaway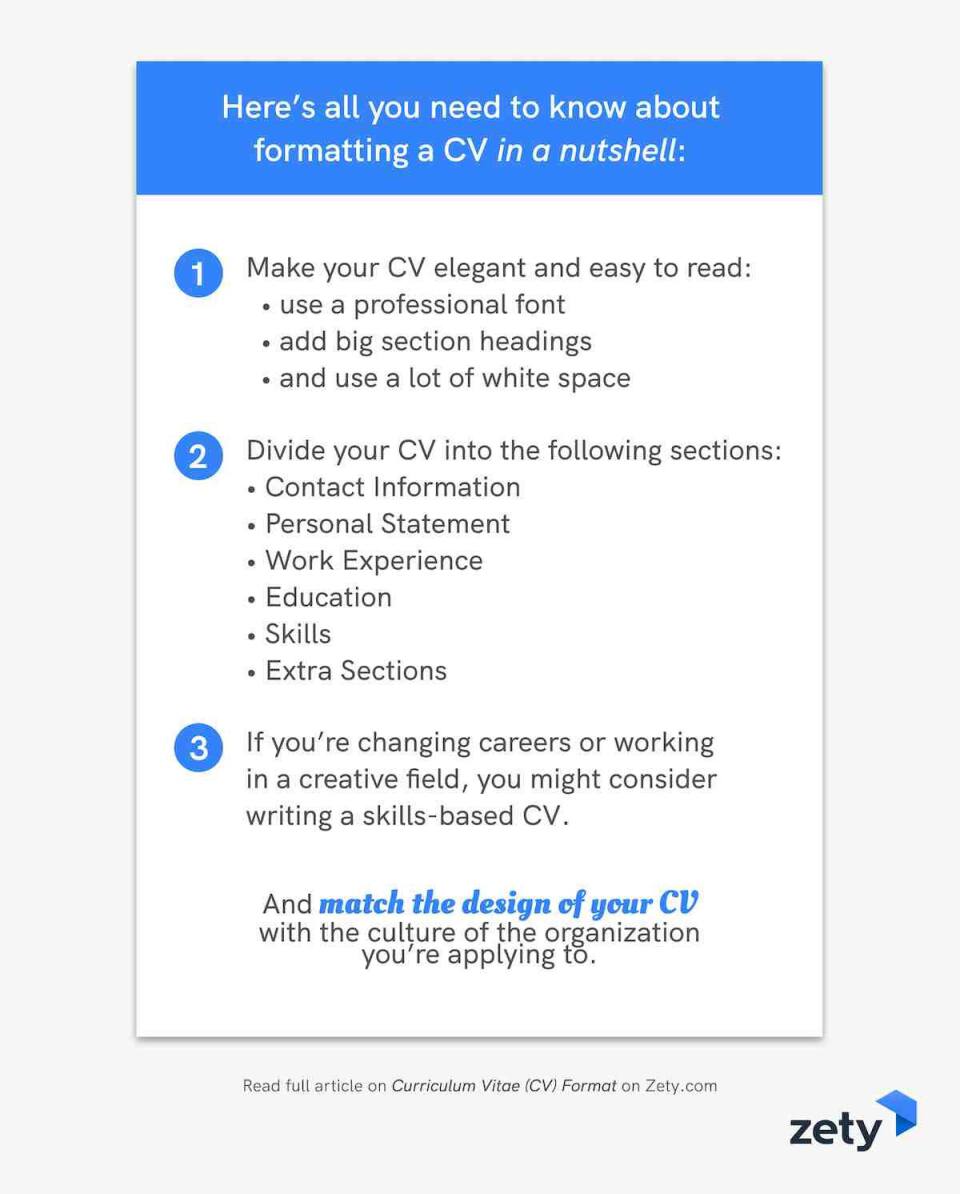 Here's all you need to know about nailing the CV format:
Make your CV elegant and easy to read: use a professional font, big section headings, and a lot of white space.
Divide your CV format into the following sections: Contact Information, Personal Statement, Work Experience, Education, Skills, Extra Sections.
If you're changing careers or working in a creative field, you might consider writing a skills-based CV.
Match the design of your CV with the culture of the organization you're applying to.
Questions? Concerns? Other queries? Great! I'm here to listen and respond. Drop me a line in the comments and I'll get back to you straight away.
About Zety's Editorial Process
This article has been reviewed by our editorial team to make sure it follows Zety's editorial guidelines. We're committed to sharing our expertise and giving you trustworthy career advice tailored to your needs. High-quality content is what brings over 40 million readers to our site every year. But we don't stop there. Our team conducts original research to understand the job market better, and we pride ourselves on being quoted by top universities and prime media outlets from around the world.
Frequently Asked Questions about CV Format
What's the Best Job CV Format in 2023?
The best CV format for a job in 2023 is, without a doubt, reverse chronological format. It puts your work experience and professional achievements at the heart of your job application, precisely what recruiters and hiring managers expect from a candidate. The reverse chronological CV format is the easiest for them and the Applicant Tracking Software to understand.
Figuring out where all the CV sections should go, how to name them, and whether you've got everything can be daunting. You don't have to worry about formatting when you create a resume using Zety's CV builder. We take care of it for you.
What Are the Types of CV Formats?
There are three types of CV formats:
Reverse-chronological CV: it puts your work experience and education in the center, emphasizing your achievements.
Functional CV: also known as a skills-based CV format; its structure that concentrates on your skills and their application helps you conceal your employment gaps.
Combination CV: it's a hybrid of the above two and gives equal attention to your work history and skill set.
Every CV format listed above should be a targeted job application, so you must be selective of the information you decide to include in your CV.
When to Write a CV Instead of a Resume?
When you apply for a job in academia, including research, education, or scholarship, or to join a fellowship, write a CV. Create an in-depth collection of your professional and academic qualifications and accomplishments that you've gathered throughout the years.
When you apply for a regular job in any other field, write a resume. Target it at a particular job description to create a job application with relevant work experience, qualifications, and qualities that make you the best candidate for the role.
Read more about the differences between a CV and a resume.
What's an Academic CV Format?
An academic CV is a document you write for jobs in education, research, and scholarships. Here's a standard structure to follow every time you write an academic CV:
Contact Information
Research Objective or Personal Profile
Education
Professional Appointments
Publications
Awards and Honors
Grants and Fellowships
Conferences
Teaching Experience
Research Experience
Additional Activities
Languages and Skills
References
How long should a CV be? Looking at the necessary sections above, you might think you need at least a few pages to fit all in. And you're right. Academic CVs don't have a length limit so type away!
What's a European CV Format?
In Europe, a CV is a synonym for a resume. So when you apply for jobs in the United Kingdom, for example, employers will ask for a CV. And what they mean by this is that you submit a brief overview of your work experience, educational background, and personal skills and competencies, which in the United States is called a resume. Considering that, CV formats and resume formats are the same.
What's the Publication Format for a CV?
Here's how to list publications on a CV:
Create a section called "Publications."
Depending on the field, choose either MLA (for humanities) or APA (for science) style for listing publications.
Start with the most recent publication and work backward.
Mention publications that are being reviewed.
The MLA format for citing journal publications:
[LAST NAME], [FIRST INITIAL]. "[ARTICLE TITLE]." [JOURNAL NAME] [VOLUME NUMBER].[ISSUE NUMBER] ([YEAR]): [PAGES]
The APA format for citing journal publications:
[LAST NAME], [FIRST INITIAL]. [ARTICLE TITLE]. [JOURNAL NAME] [VOLUME NUMBER] ([ISSUE NUMBER]) [PAGES]. [YEAR]
When to Save a CV in PDF format?
Always save and send your CV in PDF format unless the recruiter requested otherwise in the job posting. All of our CV templates are available in PDF or Word .docx formats.