9 Types of Extracurricular Activities on a Resume & Samples
Extracurricular activities don't just make school more fun, they prepare you for life. See what extracurriculars to put on your resume and how to do it right.
Extracurricular activities. You've done a pocketful of those. Work experience? Yeah, there's a hole in that pocket.

How are you going to make it out in the job market when everyone wants skills and experience and all you have are extracurricular activities? Stop worrying. Those activities can actually serve as proof of job-related skills and maturity. Include extracurricular activities in your resume correctly and watch them give you a fighting chance even against more experienced candidates!
Want to save time and have your resume ready in 5 minutes? Try our resume builder. It's fast and easy to use. Plus, you'll get ready-made content to add with one click. See 20+ resume templates and create your resume here.
Sample resume made with our builder—See more resume examples here.
Check out these useful articles for students:
The Best Extracurricular Activities for a Resume
1. Foreign Languages
Knowledge of a foreign language can sometimes be the single thing that sets you apart from other candidates. If, for example, Spanish is an absolute requirement for a given job, you can bet your sombrero that recruiters will check your resume language skills.
Also, jobs that require such a hard skill as foreign language knowledge are constantly on the rise and usually pay better!
Foreign language knowledge demonstrates:
Hard work
Cultural awareness
Interest in self development
Read more: Language Skills on a Resume: How to Show Your Proficiency
2. Student Council
It takes time, effort, and aspiration to be part of the student body in high school or college.
The wide variety of responsibilities that student body members have is an invaluable resource of experience that can be added to your resume to show that you have the skills for the job.
Involvement in the Student Council can prove:
Event planning
Fundraising experience
Hard work
Business skills
Told you it was a rich resource!
3. Sports
This isn't just boasting about being the quarterback on the school football team or how many slam dunks you made last season.
Most sports rely heavily on teamwork and constantly improving yourself as well as a lot of dedication. Most employers would love to see that same dedication applied at work.
Doing sports can demonstrate:
Teamwork
Dedication
Time management
Work ethic
Self improvement
Communication
Leadership (if you were team captain, for example)
4. Clubs/ Organizations/ Societies
This could be nearly anything ranging from your school debate team or drama club to being an admin on a virtual community forum. Sororities and fraternities also count.
Being a part of a bigger community not only lets you share your expertise and skills, but is also a great opportunity to learn from others and widen your knowledge.
Being a part of a club, organization, society may show:
Teamwork
Time management
Communication
5. Volunteering
Many people think volunteering isn't like a job because you don't get paid.
Actually, it's almost exactly like a job (except you don't get paid).
Not only do you show enough passion for a cause to devote your free time to it, you have specific responsibilities and deadlines to meet otherwise things go downhill for a lot of people. It also contributes to your personal development.
Recruiters will be very interested to know you drove things forward in the Salvation Army or Habitats for Humanity, for example.
Volunteering demonstrates:
Motivation
Self-starter attitude
Teamwork
Work ethic
Read more: How to Add Volunteering to a Resume?
6. Peer Tutoring
This is a specific way of giving your time to others.
Whether part of a formal school tutoring program or not, peer tutoring shows recruiters not only that you are knowledgeable in a given area, but are willing and able to share that knowledge and help others grow.
This can be a relatively hard trait to find in the workplace and hiring managers will value it a lot!
Peer tutoring can show:
Communication
Specific expertise
Teamwork
Flexibility
7. Studying Abroad
Studying abroad is a great high school or college experience and more so if it's part of a work-study program.
Meeting new people and cultures as well as trying to find your way around a new, foreign, and slightly scary situation can show hiring managers that you can adapt quickly to come out a winner.
Studying abroad can prove:
Cultural awareness
Foreign language knowledge
Adaptability
Independence
Stress resistance
Read more: How to Put Study Abroad on a Resume & Wow Employers
8. Fundraising
This could be your sole responsibility in an organization or one of many other duties. It could have also been part of a project or something you did just to help out a friend.
Fundraising isn't as easy as it sounds and to be successful you need a host of different skills that recruiters will definitely be interested in and that you should include on your resume.
Experience in fundraising can demonstrate:
Business savvy
Teamwork
Communication
9. Relevant Hobbies
They're just hobbies, aren't they?
Don't be so quick to judge.
Your passion for drawing fantasy maps can help you land that job as a creative writer since drawing maps requires good world building knowledge.
Your time spent tending your garden can prove you have a real interest in landscaping design.
Depending on the hobby, they can prove a whole host of things such as the transferable abilities listed above or something new!
Remember, though: don't include every activity you've ever heard of—it doesn't make you more impressive, it just makes more of a mess on your resume. If you weren't active in it, leave it out.
Looking for some more insight into hobbies and interests in a resume? Check out this nifty guide: Hobbies and Interests in a Resume
Extracurricular activities can prove that you have the skills and abilities that hiring managers are looking for. In that sense, they're very similar to relevant experience, only gained in a different setting.
When making a resume in our builder, drag & drop bullet points, skills, and auto-fill the boring stuff. Spell check? Check. Start building a professional resume template here for free.
When you're done, our online resume builder will score your resume and our resume checker will tell you exactly how to make it better.
How to List Extracurricular Activities on a Resume
There are a couple of different ways to list extracurricular activities on a resume, depending on the nature of the activity.
1. Activities in Your Resume Education Section
This would be the best place for activities in high school, college, or university. List it just before what you would normally put in your education section (college or university degree, diploma).
Extracurricular Activities on a Resume Samples—Education Section
Right
Education
Arizona State University
Master of Science in Psychology
2019
Mentor in Psychology Mentor Program
Psi Chi, ASU
2019
Read more: Education Section on a Resume
2. Activities in Your Additional Resume Section
For those activities that don't relate much to your education, you can create a separate resume section for them all together. Depending on the nature and amount of these activities, you give your section header a name that makes sense, e.g. "achievements", "volunteering."
If you're interested in IT or a similar industry, consider merging your extracurricular activities with projects you may have done and label it "Projects."
After all that, let's see examples of what extracurricular activities in a resume look like:
Sample Resume Extracurricular Activities—Achievements Section
right
Achievements
Held 100+ tutoring sessions in algebra and trigonometry as a member of the AMS Student Chapter.
Helped organize 5+ university fundraisers for local charities, exceeding expected donation amounts by 15% through the use of diverse marketing channels and gathering options.
Read more: How to Show Achievements and Awards on a Resume
Plus, a great cover letter that matches your resume will give you an advantage over other candidates. You can write it in our cover letter builder here. Here's what it may look like: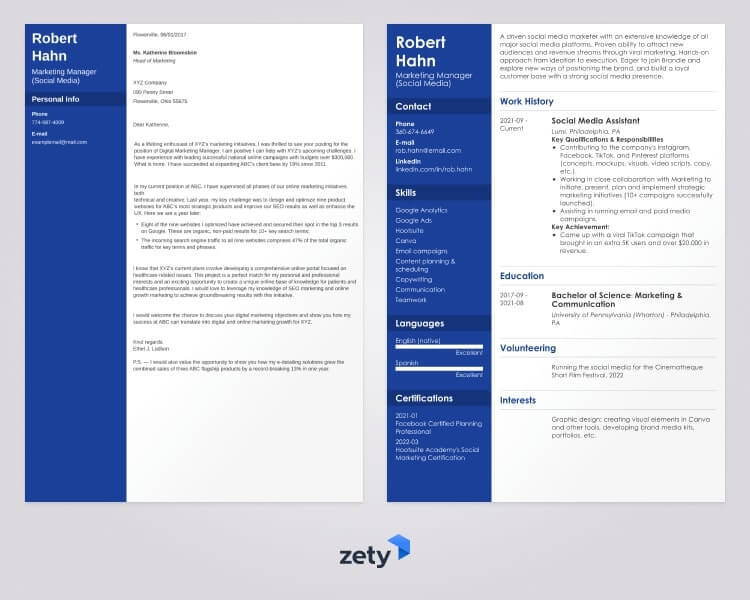 See more cover letter templates and start writing.
Key Takeaway
Whether it's tutoring your peers at your university, learning a new language, or helping organize an event, your extracurricular activities do matter on your resume.
When thinking about how to list activities on your resume, remember this advice:
Make sure the extracurricular activity is relevant to the role you're applying for.
Don't only mention the "title" you held or club you belonged to and stick to your responsibilities and key achievements.
List your extracurricular activities in the appropriate section of your resume.
That's it! Easy as 1-2-3!
Have any questions about how to list your extracurricular activities in your resume? Drop a comment down below!
About Zety's Editorial Process
This article has been reviewed by our editorial team to make sure it follows Zety's editorial guidelines. We're committed to sharing our expertise and giving you trustworthy career advice tailored to your needs. High-quality content is what brings over 40 million readers to our site every year. But we don't stop there. Our team conducts original research to understand the job market better, and we pride ourselves on being quoted by top universities and prime media outlets from around the world.
Frequently Asked Questions About Extracurricular Activities on Resume
Do hobbies count as resume extracurricular activities?
Hobbies, just like known foreign languages or sporting achievements, are considered extracurricular resume activities. Using hobbies on a resume shouldn't be underestimated, as they are great proof of possessing transferable skills.
Do employers look at extracurricular activities?
Employers will often look at your listed resume activities, as they can give recruiters an idea of your personal qualities, drive, and potential growth. Companies are also interested in whether you're a good cultural fit. So a tailored set of resume activities can supplement your work experience very well.
What doesn't count as extracurricular activities?
Any type of paid employment, whether full-time, part-time, or paid internship, cannot be considered an extracurricular activity. Similarly, your high school or university education section also doesn't count as resume extracurriculars unless you participated in an extracurricular program, like an abroad study.
Is it okay to have no extracurriculars?
Yes, you can still create an impressive resume without adding extra activities. There are other bonus resume sections you can use to enhance your application. We recommend starting with courses & certifications or publications for your resume.
What is a career-oriented extracurricular?
Career-oriented extracurricular activities go beyond just hobbies and interests, focusing on professional growth and job readiness. They can be club memberships, personal projects, or volunteering. Engaging in career-oriented activities demonstrates dedication, passion, and a proactive approach toward building a successful future in a chosen profession.