40+ Key Marketing Skills to Spice up Your Resume [2023]
You exactly know how to market a product. Now, it's time to market you as a candidate. Learn how to use marketing skills to win the job you desire.
Good marketing is what determines whether a product or service will be an instant hit or a fatal flop—so marketing is at the core of every business. But what is at the core of a good marketer?
Skills. And you came to the right place to learn all you need to know about marketing skills in today's world. Discover the best marketing skills to put on your resume and nail that dream job!d.
This guide will show you:
A list of the best marketing skills for a resume.
Statistics of marketing and digital marketing skills most valued by employers in 2023.
How to put marketing skills on a resume to impress recruiters and land more jobs.
Want to present your skills on a resume the best way possible?
Want to save time and have your resume ready in 5 minutes? Try our resume builder. It's fast and easy to use. Plus, you'll get ready-made content to add with one click. See 20+ resume templates and create your resume here.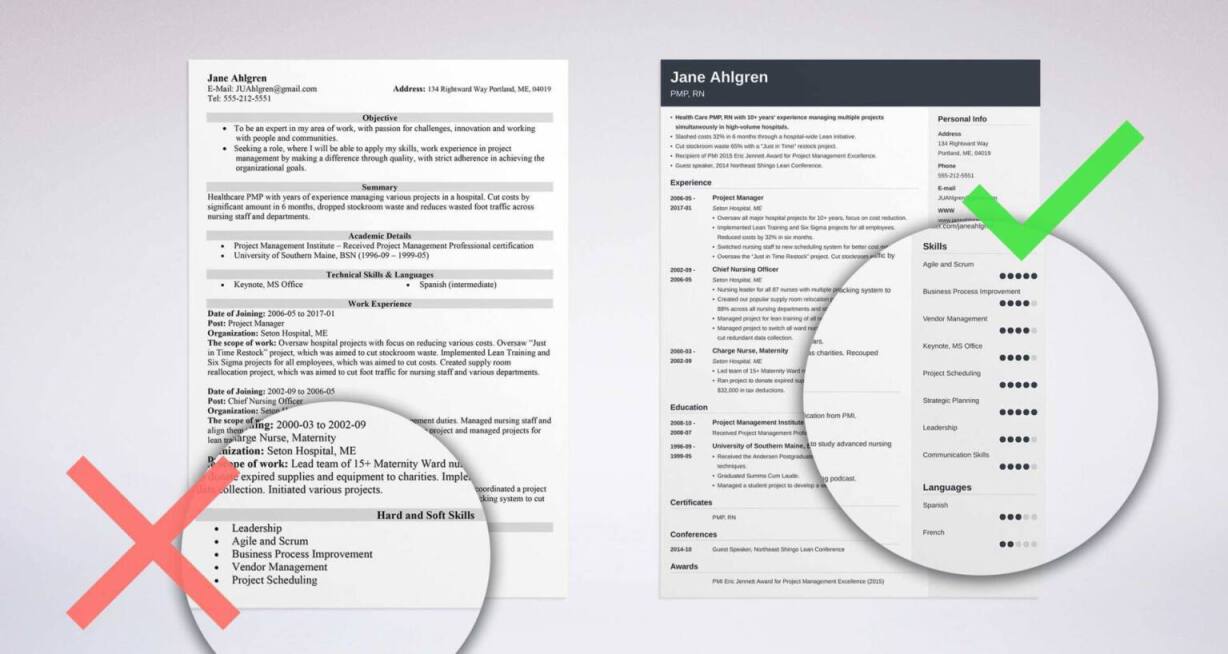 Sample resume made with our builder—See more resume examples here.
Read more about listing all kinds of skills on a resume in our guide: Best Job Skills to Put on a Resume
Need to focus on your job-specific skills? See: How to Put Hard Skills on a Resume (Examples)
For an in-depth breakdown of writing a job-winning resume for marketing gigs, see: Marketing Resume: Sample and Writing Guide
Are you a seasoned marketing pro already? Check out this guide: Marketing Manager Resume: Sample and Writing Guide
1
The Most Important Marketing Skills List
If you're looking for a list of good skills for marketing positions, you'll find just that below.
We've divided these marketing qualifications into three categories: transferable skills (important for marketing but applicable in any job or industry), technical marketing skills, and software skills.
If you want to learn exactly how to put marketing skills on a resume to land more interviews in 2023, read on, we'll cover that in depth.
(Hint: it's not enough to just dump all of your skills in the skills section.)
30 Basic Marketing Skills To Put on a Marketer's Resume
Marketing Skills

Transferable Marketing Skills

Technical Marketing Skills

Marketing Software Skills

SEO/SEM

Screaming Frog, Netpeak Spider

PPC

Adobe Premiere, Lightworks,
Apple iMovie

Aesthetic Sensibility

Social Media Marketing and Paid Social Media Advertising

HTML, CSS, and Other Coding Languages

CRO and A/B Testing

Ahrefs, SEMRush, SEO Power Suite, Majestic

Email Marketing and Automation

HubSpot, Aritic PinPoint, ONTRAPORT, Infusionsoft

Sales

Funnel Management

Google Drive, Dropbox, SkyDrive, SugarSync

Storytelling

CRM

WordPress, Wix, Weebly

UX Design

MailChimp, GetResponse

Stress Management

Data Visualization

Google Analytics and Google Search Console

Negotiation

CMS Tools

AdWords, Facebook Paid Ads
All these are great examples of marketing core competencies. But what marketing skills are the best? Well—those that are most sought-after by employers!
What Marketing Skills Are Most In-Demand In 2023?
A recent LinkedIn survey revealed 30 skills companies need most in 2023. 7 of them are very closely related to marketing:
What skills are marketing employers looking for?
Those are great examples of general marketing skills. Any company would benefit from hiring a candidate like this.

But you don't want to work for any company. You've always chased those unicorn digital marketing jobs. What skills should you master to put your hands on that dream gig with one of high-flyers of modern economy?
Let's consult some hard data. Recent report revealed that these are the digital marketing skills most valued by unicorn employers. And, at the same time, the hardest marketing skills to find.
10 Essential Digital Marketing Skills for Marketers in 2023:
Client Base Retention
Internet of Things
Social Media Integration
Go-to-Market Strategy
Information Architecture
Website Management
Market Analysis
Website Design
Sales Channels
Video Production
And, for the final word, the current top marketing skills according to The Pipeline:
So, you've seen a comprehensive list of skills needed for marketing and you know which ones are HOT right now.
The thing is—and I cannot stress it hard enough—raw lists of skills are useless. People don't want to buy a bed. They want a good night's sleep.
Features tell. Benefits—sell. To get ahead in your marketing career, you need to describe your skills as benefits you bring to the table. Not merely a list of things you think you're good at.
And remember: Job-winning marketing skills are a mix of soft skills and hard skills. Want to create a resume quick and with no hassle?
When making a resume in our builder, drag & drop bullet points, skills, and auto-fill the boring stuff. Spell check? Check. Start building a professional resume template here for free.
When you're done, our professional resume builder will score your resume and our resume checker will tell you exactly how to make it better.
2
How to Put Marketing Skills on a Resume
Remember: your resume is a mini-marketing campaign. The product you're advertising is you. Employers are the customers.
Just as you'd do with developing a campaign, start with thorough research. What does the company you're applying to want from candidates? What are their upcoming projects? What requirements and skills are listed in the job description?
You'll need to find their pain points. On your resume, show how your skills will solve their problems.
Marketing Skills for Resume: How to List Them
Start with a spreadsheet that lists all your professional marketing skills.
Read the job ad carefully and look for skills-related requirements.
See which of these marketing competencies match your skills listed in the spreadsheet. Quite a few, right?
Put those marketing resume keywords in a separate skills section of your resume.
Don't stop there: research the company online. Find what sort of technical knowledge and "soft" skills they value. Plug these into your resume as well.
Show, don't tell. Or, actually, show and tell. Provide proof for your most strategic skills instead of just listing them in bullet points.
Alright, enough theory. See what I mean on these examples of marketing resume skills lists.
Let's say the job ad requires candidates to be highly skilled in:
Marketing Skills Resume

Examples
right
SEO (grew organic traffic by 78% in 12 months).
CRO and A/B Testing (optimized sign-up rates by 37%).
Adept at Using HubSpot, Kissmetrics, and Google Analytics.
The right example shows the candidate fits the job like Spandex. The wrong one? Even a monkey could copy and paste the job description.
But for your marketing knowledge, skills, and competencies to truly shine—don't limit yourself to the skills section of your resume.
Mention one or two of your top marketing skills in the resume summary or resume objective. Give examples of how you used your marketing prowess and what you've achieved in the job descriptions in your work history section.
Finally: back up your skills with verifiable evidence. On your marketing resume add an extra section with proof of how you got your qualifications. List items such as:
Conference participation
Courses taken
Publications
This way, your marketing resume skills will become much more believable!
By the way, don't let your job interview leave you speechless. Make sure you read: Common Job Interview Questions and the Best Answers
Plus, a great cover letter that matches your resume will give you an advantage over other candidates. You can write it in our cover letter builder here. Here's what it may look like: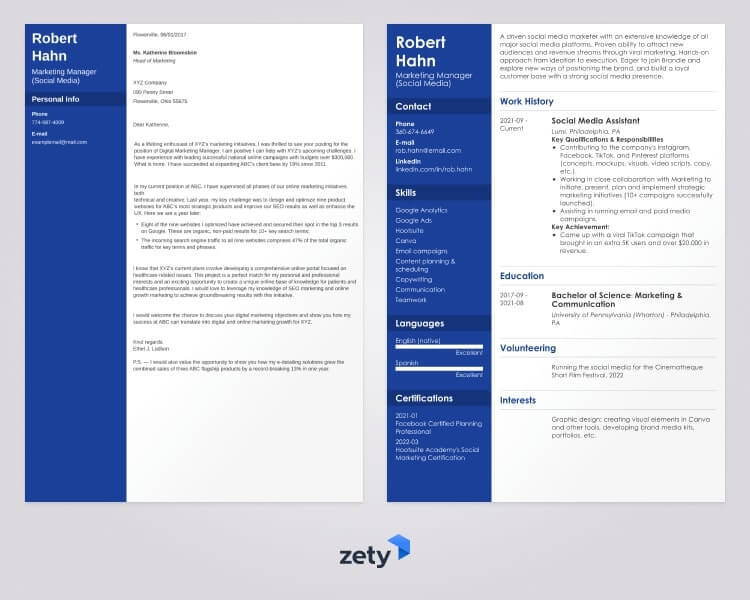 See more cover letter templates and start writing.
Key Takeaway
Here's a recap of the most important things you need to know about marketing skills:
Top marketing skills employers would kill for in 2023 are: creativity, UX design, video production, audio production, sales leadership, social media marketing, and digital marketing.
The best way to list marketing job skills on a resume is to customize your resume skills section so that it matches the requirements of the position.
Don't just showcase your marketing skill set in the skills section of your resume: sprinkle some skill-related keywords in your summary and the work experience section.
Thanks for reading my article! Now I'd love to hear from you. What marketing skills do you think are most important today? Do you have any questions about how to put marketing qualifications on a resume? Drop me a line in the comments and I'll get back to you straight away!
About Zety's Editorial Process
This article has been reviewed by our editorial team to make sure it follows Zety's editorial guidelines. We're committed to sharing our expertise and giving you trustworthy career advice tailored to your needs. High-quality content is what brings over 40 million readers to our site every year. But we don't stop there. Our team conducts original research to understand the job market better, and we pride ourselves on being quoted by top universities and prime media outlets from around the world.