You're about to see a perfect marketing manager resume sample.
Better yet? I'll teach you how to write an equally great one yourself.
But first—
Picture your dream job.
Exciting projects. Creative freedom. Flexible schedule. Great pay.
The problem?
Between you and this job there's a pile of 300+ resumes on the hiring manager's desk.
Most of these won't get more than a fleeting glance before getting tossed to the bin.
But your resume will make the hiring manager want to call you in the middle of the night.
This guide will show you:
A marketing manager resume sample better than 9 out of 10 other resumes.
How to write a marketing manager resume even if you have no experience.
Tips and examples of how to put skills and achievements on a marketing manager resume.
How to describe your experience on a resume for marketing management positions to get any job you want.
Here's a sample resume for a marketing manager made using our resume builder.
Want to save time and have your resume ready in 5 minutes? Try our resume builder. It's fast and easy to use. Plus, you'll get tips and right vs. wrong examples while writing your resume. See +20 resume templates and create your resume here.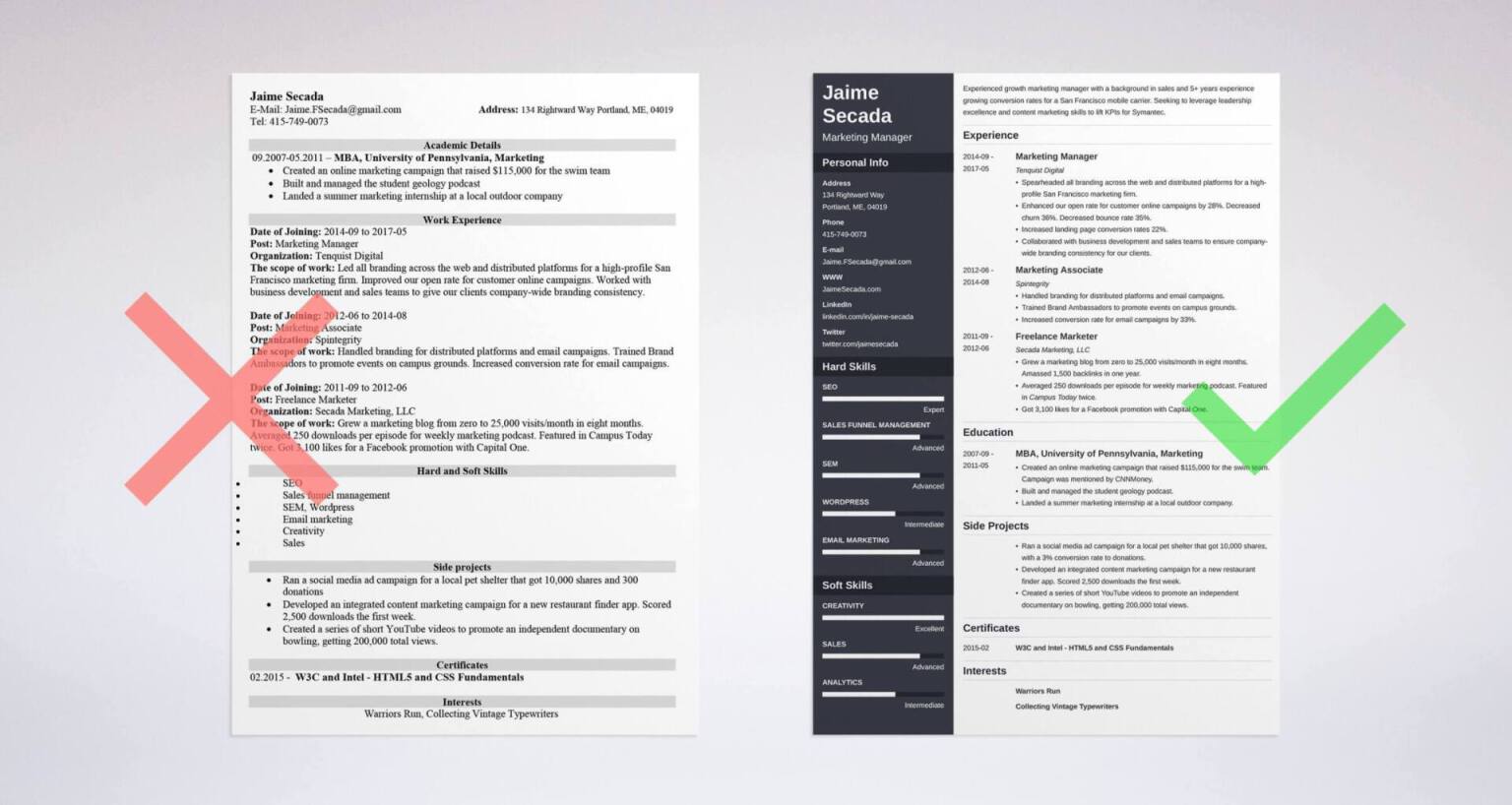 Marketing Manager Resume Example—See more templates and create your resume here.
Targeting a more specialized position in sales or marketing? See:
Need general advice on writing a resume for managerial and marketing positions? Have a look at these guides:
1
What's the Best Marketing Manager Resume Template?
WHERE'S THE BEEF?
That was a killer commercial slogan, right?
Would the ad have made any impact though, had it been shot in a poorly-lit basement with a hand-held camera?
The answer's clear. In marketing it's about what you say and how you present it.
Don't make hiring managers look at your resume and go "WHERE'S THE BEEF?"
Choose an elegant, respected reverse chronological layout for your marketing manager resume. It lets hiring managers grasp your value proposition fast.
Use clear, legible resume fonts, and big section headings.
Be generous on white space. Recruiters need some breathing room.
Finally, save your marketing manager resume in PDF. MS Word files can go south in transit.
Pro Tip: PDF resumes are best because their layout is always intact. But double-check with the job postings. Some employers who use old-school ATS expect marketing manager resumes in Word.
Not sure about the reverse-chronological format? Check out our handy guide: Resume Formatting: Which of the 3 Formats Is Best for You?
2
Marketing Manager Resume Objective or Summary?
Some food for thought:
On average, recruiters and hiring managers spend just 6 seconds on every resume they get.
Guess what?
You can actually make them read yours in full.
The trick?
Put a flawlessly phrased marketing manager resume objective or resume summary at the top—a short and sweet paragraph just below your contact information that explains why you're the perfect candidate for this job.
It works like a trailer for your whole resume. Get it right, and the hiring manager will be dying to read on and learn more about your career.
Alright, but which one should you choose?


Got relevant managerial experience? Go for the resume summary. Give an outline of your career and highlight your most impressive wins.
Writing a resume for your first marketing manager position? Switching careers? Choose a resume objective. Discuss what skills you've mastered so far and how well you'll fit in.
Whichever one is the right fit for your situation, here's one thing to keep in mind—
Features tell, benefits sell.
People don't want to buy a bed. They want good night's sleep.
Hiring managers don't want "a marketing pro highly skilled in X, Y, and Z." They want their company to earn a fortune and become a powerful brand.
Focus your marketing manager resume heading statement on your prospective employer's benefits. Don't make it a trophy case where all you do is brag unrelentlessly.
Let me prove my point by showing you some examples.
Summaries go first.
Product Marketing Manager Resume Summary Example
right
Highly capable marketing manager with 6+ years experience, seeking to leverage proven leadership and strategy skills to grow revenue at Eskelund Global. Met 150% of revenue goal in fast-paced tech firm. Led 7 cross-functional product teams to 25% efficiency improvement and $1.2M cost savings.
See the sentence in bold? The bottom line is "my expertise can help you make more money."
wrong
Marketing manager with advanced proven leadership and organizational skills. Seeking to join a company where I can supervise challenging marketing projects, both ATL and BTL.
What's so wrong about it?
First of all, it lists no specifics. "Proven" set of skills? Mentioning them on a resume doesn't automatically prove anything.
Secondly' it's all about me, myself, and I. All other candidates want to run challenging projects too. And one with a resume summary that proves her value will get to do it.
Now, let's have a look at two very different marketing manager resume objective examples.
Sales and Marketing Manager Resume Objective Example
RIGHT
Energetic sales and marketing professional seeking to help increase revenue at Jenny's Regional Design through a more comprehensive approach to visual social media marketing (Pinterest, Instagram, Tumblr). As a self-employed sales and marketing consultant, developed 15 wireframes for small businesses and took 2nd place in a Techstars Startup Weekend.
Nailed it.
Business owners would fight one another over who hires this one as their new marketing manager.
WRONG
Young marketing pro with 4+ years of freelance consulting experience seeking to join a tech startup to face the challenges of my first managerial position.
So you're a reckless, inexperienced millennial, dreaming about #startuplife?
Thanks, but no thanks.
Pro Tip: In every resume objective or summary for marketing manager positions, address the company by name and indicate the position you're targeting. As a marketing pro, you don't need to be reminded how powerful personalization is, right?
Our resume builder (you can create your resume here) will give you tips and examples on how to write your resume professional summary section. Or any section for that matter. You can copy the examples to your resume, customize, and save a lot of time.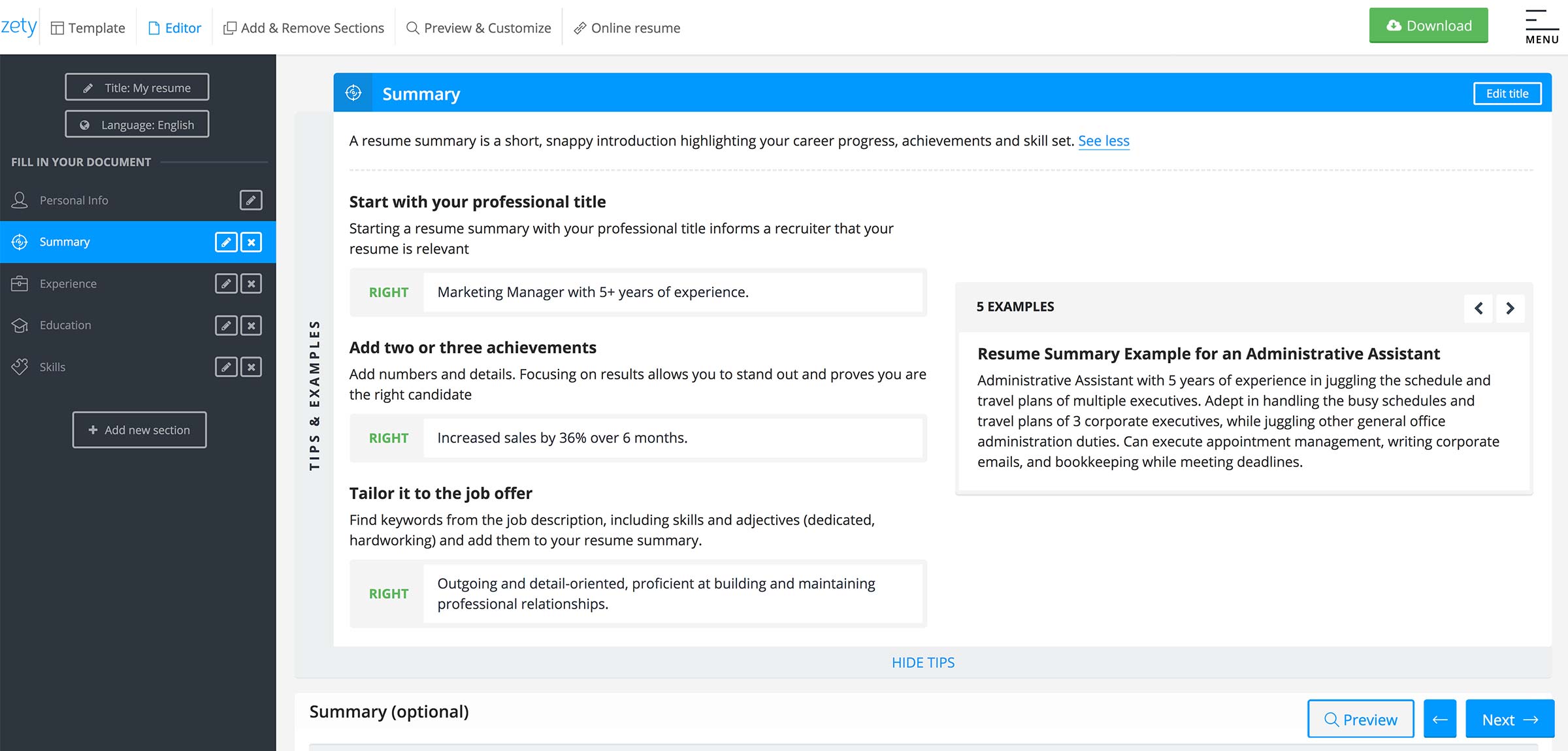 Inside our resume builder, you'll find expert tips and examples for your resume summary.
For more advice on writing your marketing management resume objective or summary, read: How to Write a Professional Summary and How to Write a Resume Career Objective.
3
How to Describe Your Marketing Management Experience?
You're not just a marketing pro.
You're a manager. The person held responsible for the whole team's performance.
When describing your past positions, you need to highlight that you're not only a skilled marketer, but also an inspired leader.
Here's what you need to do in your marketing manager resume work experience section, step by step:
Start with your current or most recent job.
Follow it with your previous position and the one before that, and so on.
For each position, add up to 5 bullet points describing your managerial duties and, more importantly, your achievements.
Quantify whenever possible. Don't say you "significantly increased sales." Say how much exactly. Numbers pop!
At the bottom, add a "Key achievement" subsection where you show off your best win.
Last but not least—pick phrases from the job ad, and refer to them in your work experience section. List relevant marketing manager duties, not every single task you've performed. It's called tailoring a resume and it's super effective. Want to learn more about it? Go here: How to Tailor (Target) Your Resume to Fit the Job Description
See these examples below:
Digital Marketing Manager Resume Sample—Work Experience
RIGHT
Digital Marketing Manager
Tenquist Digital
June 2014–May 2018
Spearheaded all branding across the web and distributed platforms for a high-profile San Francisco marketing firm.
Enhanced our open rate for customer online campaigns by 28%. Decreased churn by 36%.
Supervised business development and sales teams to ensure company-wide branding consistency for our clients.
Key achievement: Introduced an incentive-driven A/B testing competition among team members which resulted in increasing landing page conversions by 114% in 4 months.
See? Achievements, hard numbers, and a clear proof of leadership skills. All check.
Pro Tip: Pack your work experience section full of action verbs. Don't say you were "responsible for supervision" of something. Say you "supervised" it. This way, you'll convey a message of being an "achiever," not just a "doer."
Now, have a look at an example of a marketing manager resume that doesn't get it quite right.
Digital Marketing Manager Resume Sample—Work Experience
WRONG
2012—
GlaxoSmithKline
Digital marketing manager
Responsibilities:
Supporting brand managers in all their marketing activities
Monitoring all marketing KPIs
Analyzing sales trends
Improving web presence
All the information above is already contained in the "digital marketing manager" job title. This description could hardly get more generic.
For a more in-depth take on listing your past jobs, see: Job Description Bullet Points that Make Your Resume Stand Out
4
List Your Education the Right Way
Since you're applying for a managerial position, I'm guessing you're not a fresh graduate.
At this stage of your life, the primary purpose of your resume's education section is to assure recruiters that you've got a degree. Simple as that.
In your marketing manager resume education section, limit yourself to your highest level of education.
Include:
Degree type,
Your major (and minors, if you've got them),
Institution name,
Graduation date.
Like this:
Senior Marketing Manager Resume Sample—Education Section
RIGHT
2007 MA in Journalism and Social Communications, specialization in Media Marketing
Stanford University, Stanford, CA
And that'll do it.
Pro Tip: If you complete courses on digital marketing from Hubspot Academy, you can pin a badge to your LinkedIn profile.
If you're hungry for more tips about listing your education on a marketing manager resume, check out this piece: Resume Education Section 101
5
How to List Your Skills on a Marketing Manager Resume
Think about online marketing and optimizing your content for the best search engine performance.
You need to decipher users' search intent by analyzing keywords they type in Google so that you can provide them with information they want.
Writing your resume skills list isn't much different from SEO. It's just easier.
The search intent of recruiters is explicitly stated in the job ad. So are the keywords. You just need to use them on your resume.
Here's what you should do:
Start with a spreadsheet that lists all your professional marketing skills.
Read the job ad carefully and look for skills-related keywords.
See which of these keywords match your skills listed in the spreadsheet. Quite a few, right? These go on your resume.
Show, don't tell. Or, actually, show and tell. Provide proof for your most strategic skills, alongside listing them on your marketing manager resume.
For reference, see the example below.
Let's say, the job ad expects candidates to be savvy about:
Content Marketing Manager Resume Example—Skills Section
RIGHT
SEO (grew organic traffic by 78% in 12 months).
CRO and A/B Testing (optimized sign-up rates by 37%).
Adept at Using HubSpot, Kissmetrics, and Google Analytics.
Pro Tip: As a marketing director or manager in today's world, you need to keep up with the latest trends and constantly develop your skills. One of the most important new skills to learn (if you haven't mastered it yet)? Visual marketing. This study shows that the content distribution channels most companies plan to add to their marketing communication areas next year are: YouTube, Facebook Video, and Instagram.
Need your marketing resume skills section to positively glow? See our guide: 40+ Best Examples of Marketing Skills to Put on a Resume (Proven Tips)
You'll find more useful tips for listing all sorts of skills on a resume in this beast of a guide: The Best Skills to Boost Your Resume
6
How to Put Additional Sections on Your Marketing Manager Resume
Job seekers lie on their resumes and recruiters know that. That's why they read every resume they get with a pinch of salt.

Now—guess what?

You can make them actually believe yours.

How?

Add an extra section that provides proof that you're the best marketing manager they'll ever find. List your verifiable, unquestionable accomplishments.

Such as?

Have a look at some ideas for an additional section on a resume for marketing manager positions.
Additional Sections for a Marketing Manager Resume—Examples


Industry awards
Certifications
Publications
Industry blog
Influencing on social media
Additional training and participation in conferences
Don't have any of the above?
Well… Get some! Apply for a couple of conferences, consider taking a course, get more active on social media.
As a marketing manager, you surely have a lot of professional expertise and insights many junior-level professionals would love to learn.
Pro Tip: If your schedule is too busy to take a traditional course, consider completing one online. You can finish most of these in just a couple of weeks and easily beef up your marketing manager resume.
Not quite sure what to include in the extra section of a good marketing manager resume and what to leave off? Read our guide: Resume Sections to Include on Your Resume
7
How About a Marketing Manager Cover Letter?
Contrary to what you might have heard, the cover letter isn't dead.
It's alive and well. So well, in fact, that 45 out of 100 recruiters won't even bother to open your resume if there's no cover letter attached.
Besides—it's a powerful tool.
Storytelling sells. That's a research-proven fact that has greatly influenced marketing in the last few decades—something you surely know.
It should also influence your job search.
In a well-written marketing manager cover letter, you can tell a story even the best resume won't ever tell.
But even if you're more of a data-driven marketer than storyteller, never forget that attaching a cover letter to your job application basically doubles your chances of landing the interview. There's no arguing with data, is there?
Plus, a great cover letter that match your resume will give you an advantage over other candidates. You can write your cover letter in our resume builder here. Here's what it may look like: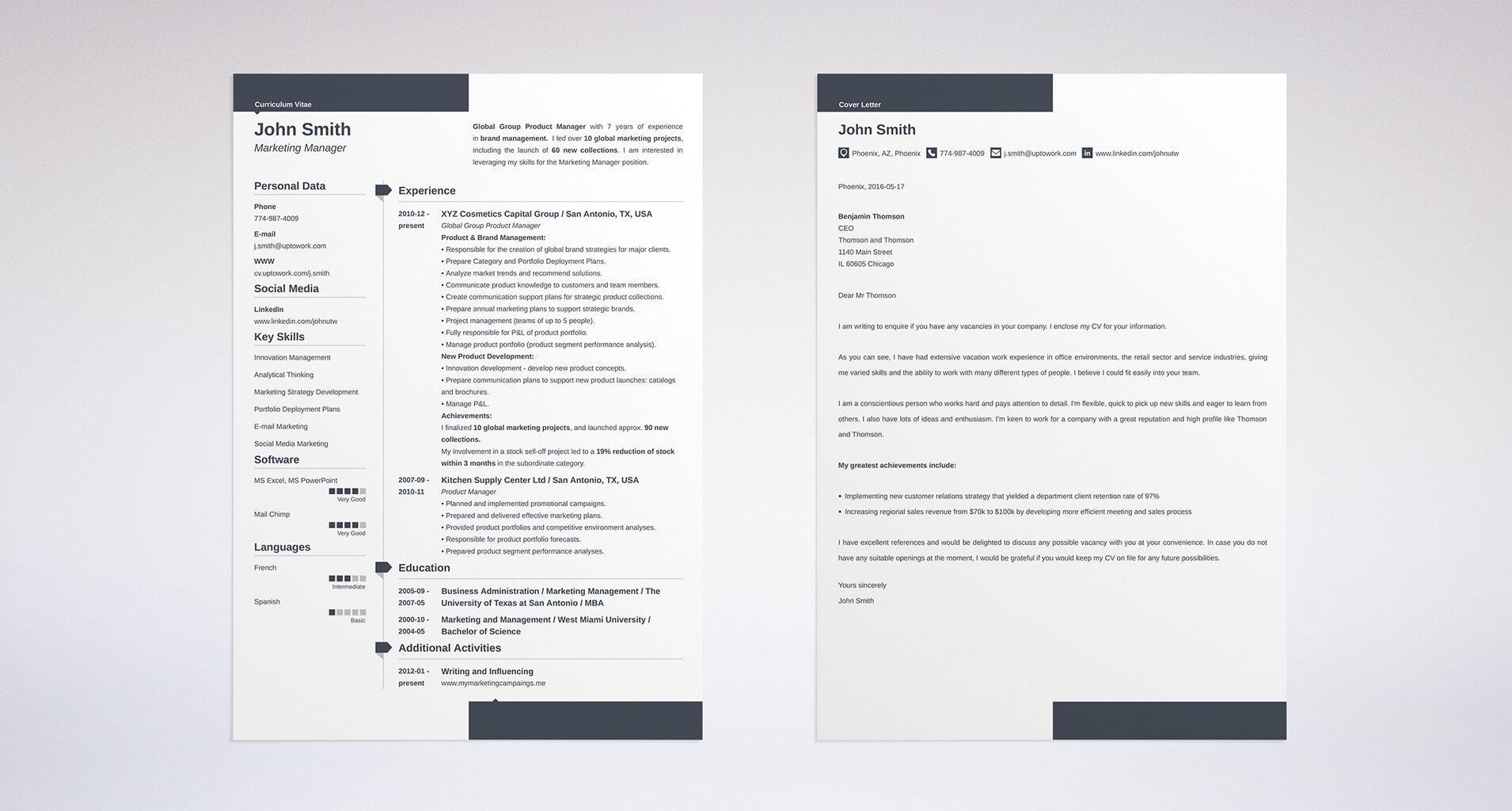 See more templates and create your resume and cover letter here.
Pro Tip: Once you send your marketing manager resume and cover letter, don't forget to follow up on your application. A well-placed phone call or email can put you top of mind.
Want to learn the art of writing a job-winning cover letter? Read this guide and become a cover letter writing pro in no time: How to Write an Application Cover Letter
Key Takeaway
To write the best marketing manager resume out there, follow the key steps we covered:
Open your resume with a resume summary or a career objective. Say what makes you a great candidate and make an offer.
In the work experience section, focus on your achievements, not just responsibilities. Highlight your leadership and managerial skills, not just technical marketing skills.
Match your resume skills list with the keywords from the job ad.
Include additional sections that prove your value as a candidate.
Personalize every resume you send. Use the name of the company you're applying to and tailor the contents of your resume to the requirements in the job description.
All check? Well then—Good luck at your big interview!
Got any more questions? Need further help? That's great cause I can't wait to hear your thoughts! Drop me a line in the comments and I'll get back to you double-quick. Let's chat!