How to Make an Elevator Pitch (With Examples)
See elevator pitch examples for jobseekers and entrepreneurs. Learn how to write an elevator speech step by step, and how to deliver it like a pro. Read more!
What's a good elevator pitch? It's the one that gets attention. Makes people genuinely interested in you. Lands you a job of your dreams, or helps build a lasting relationship with a strategic client.
In 7 minutes, you'll learn everything you need to know to create an elevator pitch that works every time.
This guide will show you:
What is an elevator pitch and when to use it.
Step-by-step instructions on how to nail your elevator pitch in every situation.
How to write a universal elevator pitch you can later adjust.
Elevator pitch examples for various scenarios: semi-formal conversations, job interviews, or pitching your business ideas.
Want to save time and have your resume ready in 5 minutes? Try our resume builder. It's fast and easy to use. Plus, you'll get ready-made content to add with one click. See 20+ resume templates and create your resume here.
Sample resume made with our builder—See more resume examples here.
Looking for something slightly different? See our other guides:
Before we move on, let's start with some basics:
1
What Is an Elevator Pitch
Elevator pitch (also known as an elevator speech) is a short, persuasive speech you use to introduce yourself, your product, or your company. Its purpose is to explain the concept quickly and clearly to spark interest in who you are and what you do.
An elevator pitch should be 30-seconds long at maximum: short enough to get your message across anytime and anywhere—even during a quick elevator ride (hence the name).
Simply put—
It's an answer you give to the good 'ol "So… What do you do?" question:
A short-and-sweet sales message so compelling that, once you've finished, whoever you're talking to likes you enough to hire you or give you money.
Sound scary? Awkward? Plain impossible?
Nah. It's easier than you think. Below, I break down a good elevator pitch template for different scenarios:
General, introductory elevator pitch for job seekers to use at networking events, job fairs, and career expos.
Elevator speech for job interviews.
Elevator "sales" pitch to get stakeholders interested in your organization.
And if you feel you could work on improving your communication skills, check out our guide: 20+ Effective Communication Skills for Resumes & Workplace Success
2
How to Make an Elevator Pitch: Step-by-step Guidelines
Depending on the situation, your elevator pitch will have a slightly different purpose.
Whatever it is that you'd like to achieve, we've got you covered. Here's how to craft an elevator pitch for three different occasions.
(If you just want to see elevator pitch examples for reference and inspiration, feel free to scroll over to the next section.)
Introduction Speech: Elevator Pitch for Career Fairs
Career fairs are busy environments. Hundreds of candidates vying for attention of few big fish.
Any idea why I italicized attention?
Because without it, you might as well talk to the hand. There's no point of launching your pitch if you don't have the attention of the person you're talking to.
Capturing your audience's interest comes first in this four-step elevator pitch formula:
How to Make an Introductory Elevator Pitch
Grab their attention. Open your elevator speech with something captivating and relatable. For instance, identify a common industry pain point they'll be familiar with.
Spark curiosity. Tell them you've found a solution to that very problem.
Summarize what you do. Then say how you do it and what's the outcome.
Be ready for more questions. A good elevator pitch is an invitation to a conversation, not an ad slogan.
Have a business card at hand. If the person you spoke with wants to continue the talk later, handing a business card will be much more professional that just giving your phone number.
Let's see how it works on these a real-life elevator pitch samples.
Imagine this: you go over to the CEO of your dream company.
"Hello, my name is Jerry Brown."
"Nice to meet you Jerry. So tell me… What do you do?"
Elevator Pitch Examples: Introduction at a Career Fair/Networking Event
wrong
I'm a sales executive with over 10 years of experience leading automotive sales teams to victory and delivering extraordinary sales results.
"That sounds amazing, Jerry, congratulations!" (Euphemism for: "You've just bored me to death.")
It's the hundredth time today they hear someone droning on about being an X with Y years of experience in Z.
How about doing this instead?
right
I'm sure you've heard that famous sales statistic: 80% of sales are made by the top 20% of salespeople. [Grabbing attention by identifying the industry problem]
"Yeah, that's correct."
I've decided to take advantage of it to skyrocket the sales my team generates. [Sparking curiosity]
"Oh, how's that?"
I introduced a peer-to-peer learning program where top performers share their expertise with others [What you do] through curated content and "learning weeks." [How you do it] In 6 months, my team started generating sales 120% above company average. [What's the outcome]
"Jerry, I'm sure we could use such a learning scheme at our organization! But tell me—what's in it for those top-performing salespeople?"
[Now it's time to keep the conversation going!]
See what happened here?
The formula Jerry used turned the CEO from someone asking "What do you do?" out of sheer politeness into an engaged listener.
For more elevator pitch examples for job seekers in semi-formal networking situations, scroll down. Keep reading if you want to learn more about…
Elevator Pitch for a Job Interview
The elevator speech you need for job interviews is, in essence, the answer to the tell me about yourself interview question.
And it's actually easier to deliver it than during a conversation with a potential career connection at a networking event.
You have your listeners' attention. They want to find out more about you.
Three key things:
Open with a very brief introduction to your professional persona.
Secondly, don't just tell them what you do. Highlight how well you can do it. Use the PAR (Problem—Action—Result) formula.
Last but not least, identify their challenges. In your elevator pitch, make an offer to solve them.
See sample elevator pitches for a job interview below:
Elevator Pitch for an Interview: Examples
wrong
I'm a Project Manager with 10+ years of experience in major state hospitals. I'm skilled in kanban, Scrum, and Agile methodologies. And I have a proven record of delivering projects on time and within budgets.
right
I'm a Senior Project Manager with a creative attitude to problem solving [Professional Persona]. In my current position as Chief of Project Management at Seton Hospital, my recent challenge has been the reduction of stockroom waste [Problem]. I introduced a new kanban system and designed Lean training programs [Action] to be carried out across all departments. We managed to cut stockroom waste by 65% which, ultimately, slashed monthly costs by a quarter [Result]. I know cost-saving solutions for the infant ward are amongst your key priorities. I'm sure I can use my expertise to achieve great results with this initiative [Your offer].
The right elevator pitch example screams "I'm the candidate you've been looking for your whole life."

The wrong one? Yeah, I know who you are, your job title contains that.
To make sure you'll be ready for that big interview, see our guide to all of the most typical interview questions: Common Interview Questions and Best Answers (Examples)
Entrepreneur Elevator Pitch
The third type of an elevator speech we'll break down is the one you use to describe your business, product, or an idea to a client, stakeholder, or a potential VC.
In this case, the elevator pitch formula boils down to five steps.
Elevator Speech Template for Startup Owners or Entrepreneurs
Explain what your company does in a simple, not overly technical way.
Identify what makes your business proposition unique.
Back up your value with numbers.
Ask an engaging question.
Have your business card ready.
Don't beat yourself up if your sales pitch doesn't work: you need to try many times until you succeed.
See these sales pitch examples:
wrong
My company's core competency is the development of highly effective, personalized sales funnels based on machine learning for ecommerce startups. Our algorithms work in synergy with every customer's behavioral characteristics so that we manage to upsell our clients' products while delighting their customers.
right
My company develops and designs personalized online sales funnels [what your company does]. That means two things: one, online customers enjoy a flawless user experience tailored to their needs and interests, and two: our clients get automated solutions that dramatically boost sales [unique business proposition]. We helped our last client increase online revenue by 120% month-on-month [hard numbers behind your results]. Does your company have any experience with ecommerce automation? [engaging question]
The wrong example isn't actually awful.
But it's too self-centered, much too complicated, and filled with unnecessary business jargon and meaningless buzzwords.
It's not 2010 anymore, for goodness sake. Everyone's had enough of startup dudes' talk. Do your best to avoid coming across as one of them!
Also, if your elevator pitch doesn't immediately bring the desired outcome, don't worry.
Research has proven that there's almost no correlation between the presence of an elevator pitch and the final decision of potential stakeholders.
Another study published by the MIT Press focused on elevator pitches used by tech innovators to sell their ideas to potential VC investors: they suffer a failure rate of 96%.
But—
Not getting what you want straight away doesn't mean you've failed. It just wasn't the right time nor the right audience, but the good impression you've made will last. And pay off in the future!
Alright.
Before we move on to more examples of elevator pitches, one final thing—
Although most of the time you'll deliver your pitch during a conversation, it's good to have an adjustable template ready beforehand. Here's how to make yours:
When making a resume in our builder, drag & drop bullet points, skills, and auto-fill the boring stuff. Spell check? Check. Start building a professional resume template here for free.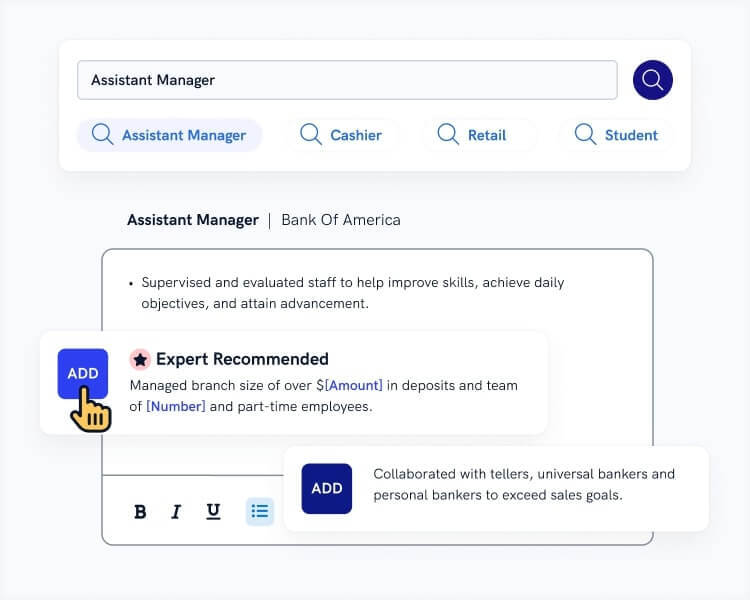 When you're done, our online resume builder will score your resume and our resume checker will tell you exactly how to make it better.
3
How to Write an Elevator Pitch
If you're feeling paralyzed just by the idea of "selling yourself" to someone in 30 seconds or less, you're not alone.
To get more comfortable with an elevator pitch, prepare the basic framework for yours so that you can adjust it to a particular situation later on.
Here's how to write a powerful elevator pitch in six easy steps:
Start with who you are.
Write about what you do and how you do it.
Explain the results of your work and what makes you unique.
Edit what you've written. Erase sentences that are too long or unclear. Leave those that sound the way you speak.
Add a good conversation-starter at the beginning. An interesting fact about your career that grabs attention.
Record your pitch. Check if you aren't repeating any words, make sure no sentences sound too awkward or salesy.
Make sure you stay within the 30 seconds without talking too fast.
Practice a lot. Ideally, with someone who knows you. Ask for feedback: do you sound natural? Is your elevator pitch conversational and free-flowing?
So there you have it.
Everything you need to know about an elevator speech or a sales pitch.
And if you'd like to check how to work on your writing skills, follow up with: 160 Best Writing Skills for Job & How to Improve Them
Now, get inspired by these sample elevator pitches from various professionals.

Hint: in each of the pitches below, try to identify the ingredients of a perfect elevator pitch we've discussed.
Which example do you think is best?
Let's start with an elevator pitch from someone without much work experience.
Elevator Pitch Example for a Student—Networking Event/Job Fair
I'm a recent UPenn graduate with a degree in English and a minor in Film Studies. I work as a freelance copywriter for local businesses and nonprofits, and a movie critic for the Huffington Post: actually, my recent review of The Favorite got 52 thousand shares on Twitter. Maybe you've come across it? Anyways, if you know someone in need of unique, buzz-worthy content, feel free to send them my way!
Now, see two examples of elevator pitches for an interview.
Digital Marketing Elevator Pitch—Job Interview
As a Digital Marketing Manager at XYZ, I coordinate all stages of creating audiovisual marketing materials: from the concept, to execution, to promotion. At the beginning of last year, I got a list of 15 campaigns and a set budget for all of them. Together with our Technology Department, we came up with a strategy of cross-departmental communications calibrating the tech solutions with all team's talents to cut redundant costs and increase efficiency. Under my leadership, we completed all 15 projects on time and over 10% below budget. By the end of the year, sales from all campaigns contributed to increasing revenue by 48%.
Customer Service Representative Elevator Pitch—Job Interview
I'm a Customer Service Representative who works with one mission in mind only: to maximize business opportunities by connecting every customer with personal support at every step of their life journey. In my current position, I've planned and supervised online and phone surveys prior to the redesign of our home page. The product we've created resulted in a boost of the mean NPS from 7.9 to 8.6. My goal is to translate that expertise into sky-high customer happiness scores for your company.
The next sample, in turn, is an actual elevator pitch I've heard from one of Zety's readers, Joseph.
Elevator Pitch Sample—Semi-Formal Introduction
First and foremost, I'm saving the world economy. Other than that, I grow corals on dead and declining reefs. I'm travelling the world to evaluate reefs. Currently, my team and I are growing corals in Fiji, next year we'll do the same on the Great Barrier Reef, together with a team of Australian scientists. What does that have to do with the world economy, you might ask... Well—if humans kill off the reefs, whole oceanic ecosystems will follow. And soon after—the Earth. Last time I checked, you couldn't grow any economy on a dead planet.
Finally, here's my elevator pitch I launch whenever someone asks me "So what do you do?"
Elevator Pitch Sample from Zety's Career Advice Writer
Do you know anyone who genuinely enjoys the job search? I don't. And it doesn't surprise me. It's super stressful and, worse than that, feels like you're playing a game against recruiters. That's because recruitment is a game. And I'm on a mission to help job seekers win that game every time they play. I write career advice based on hard data and insights from actual HR pros. Thanks to my help, thousands of job seekers from all over the globe find and land careers they've always dreamt about: quickly and with no fuss. So tell me—what's your dream career?
And if you're on the lookout for a new job, learn how to use job boards to your advantage. Check out the article: Best Online Job Hunting Sites & How to Use Them
Plus, a great cover letter that matches your resume will give you an advantage over other candidates. You can write it in our cover letter builder here. Here's what it may look like: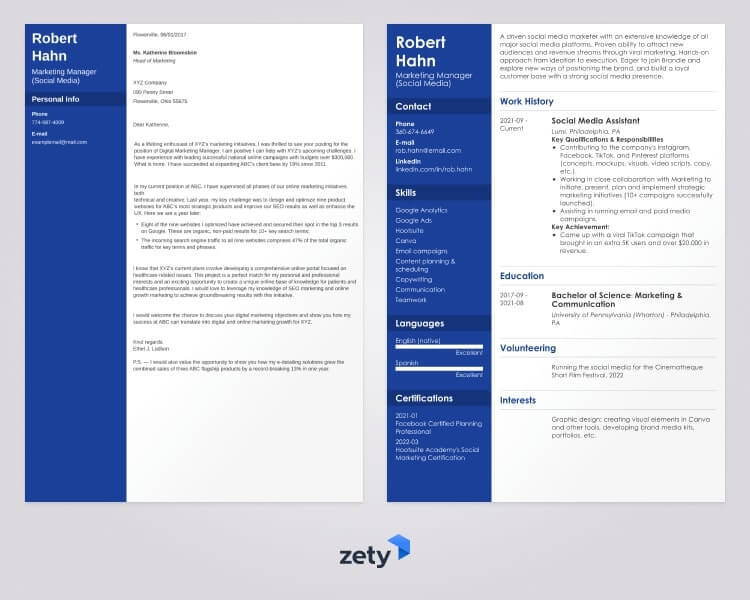 See more cover letter templates and start writing.
Here's how to make an elevator pitch:
Start your elevator pitch with something that grabs attention and builds rapport, like a common problem in your industry everyone will be familiar with.
Spark curiosity by saying that you solve this problem.
Say who you are and what you do.
Explain how you do it and what the results are.
Be ready to answer questions: you need to keep the conversation going.
Always have a business card at hand.
Don't get upset if your elevator speech doesn't get you what you want immediately.
Thanks for reading! Drop me a line in the comments if you want to learn more about crafting an unforgettable elevator pitch.
And, tell me... What do you do? Try to answer using the elevator speech tips from the article. I can't wait to hear your pitch!
About Zety's Editorial Process
This article has been reviewed by our editorial team to make sure it follows Zety's editorial guidelines. We're committed to sharing our expertise and giving you trustworthy career advice tailored to your needs. High-quality content is what brings over 40 million readers to our site every year. But we don't stop there. Our team conducts original research to understand the job market better, and we pride ourselves on being quoted by top universities and prime media outlets from around the world.
Sources