Letter of Introduction: How to Write & What It Is
What is a letter of introduction, and when should you create it? How do you write a letter of introduction for a job? Find out that and more in our article.
These days, networking is everything. Every connection is precious, and if you know the right people, you can learn about opportunities and job openings before they even go public. How do you build new relationships yourself and help others develop new contacts?
The easiest way is to write a professional letter of introduction—and you're about to learn how.
This guide will show you:
What a letter of introduction is.
How to write a letter of introduction for a job, step by step.
How to introduce yourself or a person to someone and establish a connection—with a letter of introduction example for both.
What to write in your introduction letter to get the result you want.
Need a resume to attach to your letter of introduction? You can get one ready in no time. Start by picking one of our professional resume templates and get custom content suggestions, or upload your file to get a resume score!
Sample resume made with our builder—See more resume examples here.
Looking for a way to express your interest in working for a particular company, even if there are no open positions? Try these guides:
Require an addition to your resume to complete an application for an existing job opening? This is the article for you: How to Write a Cover Letter for a Job
To find out what the difference is between the two, read this: Letter of Interest vs. Cover Letter
You may also find the following guides useful:
What Is a Letter of Introduction?
An introduction letter is a type of letter that aims to establish a new business relationship between two or more people. You may introduce yourself (e.g., when you're joining a company through a referral) or others (colleagues, former clients, a freelancer, a job candidate, etc.).
The reasons for writing a letter of introduction for a job may vary:
You want to gain a new connection, which may lead to a new job opportunity/interview.
You'd like to exchange connections for future collaborations.
You wish to put your professional contacts in touch regarding a job opening/project.
An introduction letter is a strong networking tool that aims to maximize mutual advantages and increase value for both sides. For example, you end up getting a job at the company because you're a great fit, and the company gains a good employee that covers their need.
How to Write a Letter of Introduction
In the business world, time is money. Studies show that people receive up to a whopping 87 emails daily, and opening each of them creates at least a minute-long interruption to the person's workday.
That's why if you want your letter of introduction to deliver results, you have to respect the recipient's time and explain the value of that email ASAP.
To do that, follow the basic rules of writing a letter of introduction for a job:
Introduce yourself. It has to be clear who you are and how the person might know you.
Present the reason for writing immediately. Explain why you decided to write, who you'd like to introduce, and why. If you're introducing another person, explain how you know them and what their greatest relevant accomplishments are. If you're introducing yourself, talk about your motivation and potential value.
Get to the point. Make each line count—describe the outcome you want to achieve and the potential benefits for all parties involved.
State the desired next step. Whether it's just an exchange of contact info, an interview, or a meeting, let the other person know what action needs to be taken.
Sign off. Use a professional closing, your full name, and your job title.
If you find yourself a bit hesitant to write an introduction letter for a job, keep in mind that, according to studies, 40–85%of jobs are never advertised. It's very worth giving a shot!
Here are two examples of an introduction letter for a job application written with those guidelines in mind:
Letter of Introduction Example—Introducing Another Person
Dear Rachel,
I'm writing to introduce my friend, Irena Chapman, and submit her candidacy for the position of Director of Product. Irena is an experienced product manager and business analyst that I had the pleasure of studying and working with, and I'm certain she could be an asset to our company.
Irena has worked as a product manager for Accenture for the last five years, successfully overseeing the three most significant projects the company has ever had. She's known to be a great leader and an outstanding manager, respected and beloved by her colleagues.
I put Irena in the copy, and she can be reached at irena.chapman@email.com. I've also attached her resume—please, let me know what you think.
Kind regards,
Gary Shipley
Project Manager
gary.shipley@email.com
415-358-0283
Letter of Introduction Sample—Introducing Yourself
Dear Ms. Allen,
My name is Richard Levingston, I'm a former colleague of your Marketing Director, Scott Storch. Scott has mentioned recently that Balthazar Inc. has an opening in Sales that I'm a possible great fit for.
I have over 10 years of experience in Sales and Marketing, working with several Fortune 500 companies and bringing in over $1M in revenue annually through regular sales and upselling.
If that's something you'd be interested in discussing, I'd be happy to jump on a call. Please, find my resume attached to see my experience and qualifications in greater detail.
Sincerely,
Mike Green
Sales Lead
m.green@email.com
973-309-3016
As you can see, even 4–5 sentences can do the trick—if they're written according to the right logic. More on the things your introduction letter for a job application should contain below.
So they're asking you to send a resume. No worries! Get it right with our guide: How to Write a Resume: A Step-by-Step Guide
When making a resume in our builder, drag & drop bullet points, skills, and auto-fill the boring stuff. Spell check? Check. Start building a professional resume template here for free.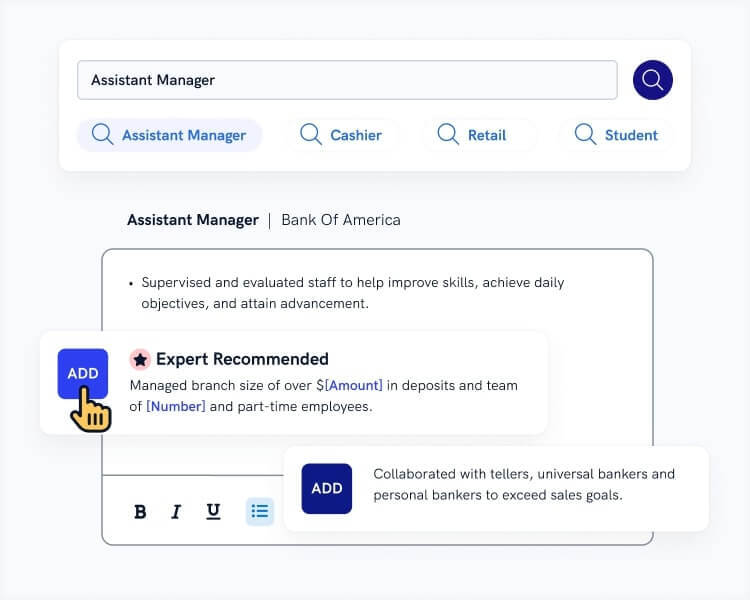 When you're done, our professional resume builder will score your resume and our resume checker will tell you exactly how to make it better.
What to Include in a Letter of Introduction for a Job
Just as with other formal letters, good structure is key. Aim for maximum clarity, politeness, and a length of 2–3 paragraphs.
Here are the things you should include in your introduction letter:
A professional greeting, such as Dear [Name], or Dear [Ms./Mr. Name]
An opening sentence that clarifies who's writing and why
A paragraph presenting the desired course of events, or a call-to-action, for example:

You/another person would like to get some recommendations.
You want the recipient to put you in touch with someone else within the company.
You wish to schedule a meeting or a job interview.
You'd like your resume added to the company database for future reference, etc.

A mention of how the parties could get in touch:

The person you're introducing is put in copy ("Peter is CC'd").
There's an alternative form of communication (you provide a phone number, personal email, etc.)

Attachments (e.g., a resume), if you're including any
A sign-off with your contact information (according to the same rules as for how to close a cover letter or pretty much any business letter)
Don't forget to proofread before you send it. Double-check if you've CC'd the person you're introducing and attached all the necessary files.
That's it! Your introduction letter for a job application is ready to go.
A letter of introduction follows similar formatting rules as a cover letter. Get more tips from this guide: How to Format a Cover Letter
Key Takeaways
Here's how to write a letter of introduction:
Be straightforward, make it clear who you are/whom you're introducing and why.
Aim for maximum value for all parties—stress how the collaboration could be beneficial.
Suggest a desired course of action and a convenient contact method.
Add attachments.
Close your business introduction letter with a professional sign-off.
Thanks for reading! Hope you've found our letter of introduction guide helpful. Are there any other tips you could use to make writing an introduction letter for a job easier?
Comment below, and let's discuss!
About Zety's Editorial Process
This article has been reviewed by our editorial team to make sure it follows Zety's editorial guidelines. We're committed to sharing our expertise and giving you trustworthy career advice tailored to your needs. High-quality content is what brings over 40 million readers to our site every year. But we don't stop there. Our team conducts original research to understand the job market better, and we pride ourselves on being quoted by top universities and prime media outlets from around the world.
Sources