You're about to see how to write a great letter of reference, but first, think about this:
Meet Stu, the hiring manager.
Nice Teamwork wall-hanging.
Stu just opened your reference letter. Three seconds later, he closed it again and clicked delete.
A dozen rookie moves can sink a well-intentioned recommendation.
Your letter of reference can't just say, "Jane's great. Please hire her."
It must do so much more. But once you know the simple rules, the world's your oyster.
This guide will show you:
How to write a reference letter for jobs or internships.
What to put in a recommendation letter so it works like a Swiss watch.
The perfect letter of reference example to land the interview.
How to ask for a letter of reference.
How to write a character reference letter.
Here's a sample reference letter made with our fast online business letter tool. Want to write your letter in 15 minutes? Use our templates and build your version here.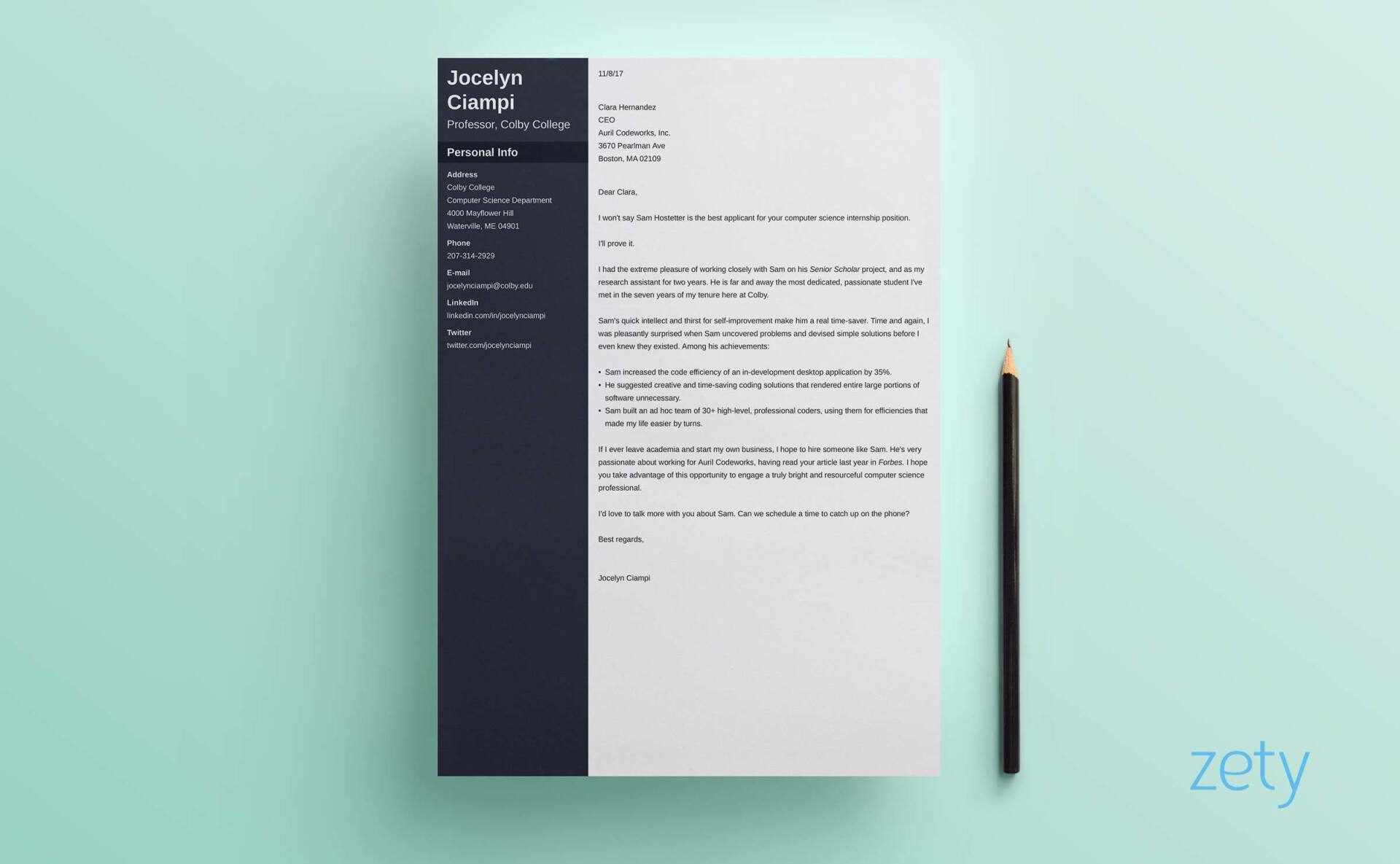 That reference letter template works because it's personal, passionate, and detailed. Now let me show you how each part works, and how to do it perfectly.
1
What's the Best Reference Letter Format for Jobs?
Picture this:
Someone hands you a big bag of those alphabet refrigerator magnets, then walks.
That's how a poorly-formatted letter of professional reference feels.
The best letter of reference format does one thing.
It puts the right elements in order to lock in the interview.
The most important are:
A hook
How you know the applicant
An overview of her best qualities
Details that fit the job description like a lifejacket
See how those work in this professional reference letter sample:
Letter of Reference Template
Use this sample reference letter template to make your writing crackle:
Jocelyn Ciampi
Computer Science Professor
Colby College
4000 Mayflower Hill
Waterville, ME 04901
12/6/17
Clara Hernandez
CEO
Auril Codeworks, Inc.
3670 Pearlman Ave
Boston, MA 02109
Dear Clara,
[Part 1 – A Great "Hook"]
[Part 2 – How You Know the Applicant]
[Part 3 – Details that Fit the Job Description]
[Part 4 – Call to Action and Closing]
Best regards,
Jocelyn Ciampi
Bingo. There's your simple recommendation letter template. Follow it, and your applicant is on the way to gainful employment.
If you use the above reference letter template in MS Word, add 1 inch margins. Also use single spacing and a clear font like Arial or Cambria.
Next, I'll show you how to work each of those references letter elements to make it shine.
Pro Tip: Don't know the applicant well enough to comment? Consider saying, "I don't think I'm the best person to write your recommendation letter."
A letter of reference for a job needs a resume. Want to make one fast? Use our online builder: Resume Builder: Create a Professional Resume in 5 Minutes!
2
Why Your Professional Reference Letter Needs a Hook
Let's sneak up behind the hiring manager.
She's behind on seven deadlines. She's got 387 unread emails. She just used her tablet pen to stir her moccachino.
Now she gets a resume, a cover letter, and three letters of reference.
Glance, glance, glance, and into the pile of despair it goes.
Make her stop and read your letter.
Look at this reference letter sample hook:
Reference Letter Example [The Hook]
The typical recommendation letter starts out in a generic, unengaging way:
wrong
Dear Clara,
Steven Pomerleau is applying for your project manager opening...
That's not awful, but it's a grey suit in a crowd of others, all alike.
How do you begin a letter of reference so it cracks the manager's attention like a whip?
right
Dear Clara,
I won't say Sam Hostetter is the best applicant for your project manager position.
I'll prove it.
That sample reference letter opening stops the bustle and drowns out the ringing phone.
Can't say something quite that glowing?
A hook for a letter of reference can be anything eye-grabbing, including:
How you feel in general about the applicant's qualities.
A stunning fact about the applicant.
An award the candidate won.
Anything that gets attention.
Pro Tip: Is someone writing a reference letter for you? Don't forget to send a thank you letter in return. They'll remember the gesture, and that's networking 101.
A letter of recommendation is very similar to a cover letter. Get more tips here: How To Write A Cover Letter [Complete Guide With Examples]
3
How to Write a Reference Letter Second Paragraph
Let's assume you've written a great hook.
You've got to keep that interest rolling.
Of course the next step is to say how you know the applicant.
But do it wrong, and the manager's busy life will kidnap her again.
The best reference letters combine "how you know" with "why she's great." They also add details.
Reference Letter Example [2nd Paragraph]
Spot the difference in these two reference letter examples:
wrong
Steven is a student of mine.
That gets the job done, and it's short. But it's as generic as a box of supermarket cornflakes.
Give it the five star treatment, as in this next referral letter sample:
right
I had the extreme pleasure of working closely with Sam on his Senior Scholar project, and as my research assistant for two years. He is far and away the most dedicated, passionate student I've met in the seven years of my tenure here at Colby.
That shows how to write a reference letter for a student that works like an electromagnet. It's detailed and intensifies the interest.
If you can't crow quite that much. don't worry. Just make sure to:
Share details about how you know the applicant.
Add a fact that shows why you think highly of him.
Pro Tip: Don't have time to fit your letter of reference to the job offer? Ask to see the applicant's resume. It should be chock-full of tailored achievements and skills.
Need some good things to say in a professional reference letter? They're the same as what you'd say in a resume. See this guide: Achievements to Put on Resume - Complete Guide (+30 Examples)
4
How to Make a Reference Letter Fit the Job Description
You get the nagging feeling nobody will read your letter of professional reference.
You're probably right.
Generic references letters get a glance, if that.
You know how to write a reference letter that gets read once you add the right details.
So, ask to read the job description. Then lock your letter of reference to it like something from Escape from Alcatraz.
Letters of Reference Examples [How to Customize]
Look at these two very different samples from reference letters:
wrong
Steven would make a good fit for your position. He's a hard worker, conscientious, bright, and very punctual.
Steven sounds okay, doesn't he? But this position likely has 300+ applicants all bumping elbows. They won't hire "okay."
Now check out this next job letter of reference example:
right
Sam's quick intellect and thirst for self-improvement make him a real time-saver. Time and again, I was pleasantly surprised when he found simple solutions before I even knew about the problem. Among his achievements:
Sam increased the code efficiency of an in-development application by 35%.
He suggested creative, time-saving coding solutions that rendered entire large portions of software unnecessary.
Sam built an ad hoc team of 30+ professional coders, using them for efficiencies that made my life easier by turns.
If I ever leave academia and start my own business, I hope to hire someone like Sam. He's passionate about working for Auril Codeworks, having read your article last year in Forbes. I hope you take advantage of this opportunity to engage a truly bright and resourceful computer science professional.
Now that's how to write a reference letter for a student that lands the interview.
Does your letter have to be so grandiose? Of course not. But include at least these elements:
Name specific ways the applicant has helped you.
Match the achievements in your letter to requirements in the job offer.
Include a detail about why the applicant is passionate about the job.
Pro Tip: Your letter of recommendation's middle can be one paragraph or three. It can include bullet points or a table. The format isn't as important as the right details.
Almost one fifth of all new hires come from referrals, yet only 3% of applicants use them. See more in our guide: Recruiting and Hiring Stats HR Pros Must Know in 2017
5
End Your Reference Letter with this or Fail
Bad news: Your applicant didn't get the job.
Now she's crying to her Facebook friends about how hopeless everything seems.
She was so close.
If you'd known how to write a letter of reference ending, she'd be set.
To seal the deal, end your letter with a request.
Reference Letter from Employer Samples [Request]
What is a letter of professional reference without a request? Take a look:
wrong
Thank you for your time,
Jocelyn Ciampi
That's polite, right? Inoffensive. So is an antique Edsel with the engine taken out. But neither one will get you to the beach.
But look at this next example of how to write a reference letter for an employee:
right
I'd love to talk more with you about Sam. Can we schedule a time to catch up on the phone?
Best regards,
Jocelyn Ciampi
Can you see how that would boost the chances of an interview?
First, it shows you respect the applicant enough to share your time. That's guaranteed to shake and wake the hiring manager.
Next, it creates an opportunity to take the conversation further.
Don't feel comfortable offering to talk? You probably won't have to. The offer alone pumps up your letter's stock price.
Pro Tip: Not sure how to address a references letter? Use "Dear" and a first name, or "Mr." or "Ms." and a last name. "Ms." works regardless of marital status.
Ending a letter of reference is similar to ending a cover letter. See this guide: How to End a Cover Letter: Sample & Complete Guide [+20 Examples]
6
How to Write a Character Reference Letter
Here's the good news:
If you know how to write a letter of reference for a job, you also know how to write a character reference letter.
It should include:
How you know the applicant.
Her shining qualities.
How she's helped you (or others).
A request.
Use the sample character reference letter template below.
Personal Reference Letter Example
This personal reference works as a character reference letter for court, for a friend, or for immigration or landlord use.
John Scott
Officer
Waterville Police Department
10 Colby Street
Waterville, ME 04901
12/7/17
Vicki Corral
District Judge
US District Court
405 W Congress St #1500
Tucson, AZ 85701
Dear Ms. Corral,
[Part 1 – How You Know the Applicant]
[Part 2 – Details that Prove Good Character]
[Part 3 – Recommendation and Closing]
Best regards,
John Scott
That's the bare bones of how to write a personal reference letter.
Now, stuff that letter of character reference skeleton with these details:
In Part 1, be as specific as possible. The more interaction you can cite, the more powerful the reference.
In Part 2, list positive qualities and specific ways the person has shown character. Honesty, a strong work ethic, and competence are all in-bounds.
Part 3 can be as simple as, "I give Tim my highest possible recommendation for character, work ethic, and dependability."
Looking for a job, an internship, or other position? You'll do better with the tailored reference letter for employment at the top.
Pro Tip: Writing a character reference letter for a friend? Include your title if it ups your credibility (i.e. Officer, Doctor, Judge, Town Selectman).
Avoid boring language in your letter of reference. See this guide: 80 Examples of Resume Action Words for Every Profession
Key Takeaway
Knowing how to write a letter of reference can be the difference between success and failure. Follow these key tips to do it right:
Give details for how you know the applicant. The closer you've worked with her, the stronger your reference letter.
Paint the picture of why you recommend the candidate. Measurable achievements make a letter of reference sparkle.
Offer to talk more with the addressee. Chances are you won't have to, but an offer puts the icing on the reference letter cake.
Want to know more about how to make a letter of reference? Maybe you have a perfect recommendation letter template? Give us a shout in the comments! We love to help!