Want to start getting more job offers? Want to learn how to write the perfect CV for your profession?
Well, you can. And save time while doing it!
Want to save time and have your CV ready in 5 minutes? Try our CV builder. It's fast and easy to use. Plus, you'll get tips and right vs. wrong examples while writing your CV. See 20+ CV templates and create your CV here.
20 Most Popular Example CVs
CV samples by CV experts. Each guide will provide you with brilliant advice—no more worrying whether your curriculum vitae is good enough. Just follow our easy how-tos!
Here are the most popular curriculum vitae examples on our site:
Simple CV-Writing Guides
Does sending each and every CV feel like sending a message in a bottle?
Chin up, we've got what it takes to help you turn this around.
Our English CV-writing guides will help you work your way through the entire process, from top to bottom and section by section. Who's the perfect candidate? You are. And we'll help you show that!
Get your Sunday best out. You're about to get hired.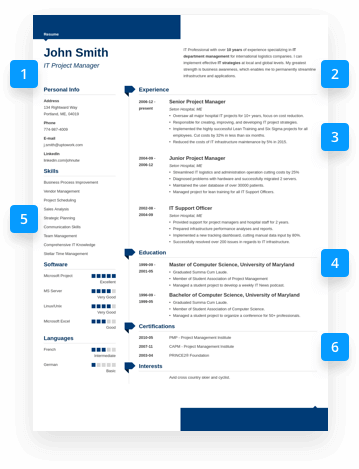 CV Example Guides by Industry
Our curriculum vitae writing guides provide you with right and wrong examples and sample CV text created by career pros. Simple, easy, they'll undoubtedly save you hours of work.
Here's a list of our perfect CV guides by trade. No need to read a lengthy how-to if you can get precisely what you need with a single click.