You're about to write a painter resume. They give you a canvas and a dream, and you return quality and long-lasting beauty. Painting professionally is your thing.
But employers have a bottomless bucket of paint when it comes to hiring. And, by that, I mean there's a lot of competition. Let's take your dull or unfinished painter's resume and splash some color onto it.
This professional painter resume guide will show you:
Great painter resume examples better than 9 out of 10 other resumes.
How to write the best painter's resume and cover letter that'll land you more interviews.
Tips and examples of how to put skills and achievements on a good painting resume.
How to describe your experience on a resume for a painter to get any job you want.
Below is a sample resume for a painter made using our resume builder.
Want to save time and have your resume ready in 5 minutes? Try our resume builder. It's fast and easy to use. Plus, you'll get ready-made content to add with one click. See 20+ resume templates and create your resume here.
Sample resume made with our builder—See more resume examples here.
Not a house painter but a visual artist? Switch over to: Artist Resume Sample & Writing Guide
Not sure about that painting career? Targeting other jobs in maintenance, too? See:
Painter Resume Example
Leonard Piccini
Painter
(000) 000-0000
leonard.piccini@email.com
linkedin.com/in/leonard.piccini
Summary
Driven painter with a solid attention to detail, 8+ years of experience in the painting industry, and certification in lead-safe renovation practices. Seeking employment as a painter at ColorCraft Paintworks to help the company create beautiful works of art for their clients. Completed over 20 projects on time and under budget for Brushstroke Pro Coatings in 2022.
Experience
Painter
Brushstroke Pro Coatings, Lincoln, NE
October 2018–June 2021
Key Qualifications & Responsibilities
Prepared surfaces for painting by washing walls, repairing holes and cracks, sanding and filling imperfections, and applying primer when needed.
Selected appropriate colors, textures, and materials based on project requirements while meeting the client's budget constraints.
Applied paint using brushes, rollers, spray guns, stencils, or other tools according to instructions. Inspected finished work for quality control purposes before presenting results to clients.
Maintained job sites organized by cleaning up after each day of work.
Key Achievements:
Completed over 20 projects on time and under budget in 2022.
Led the successful completion of 15 high-end residential projects in Lincoln's historic district, with safety protocols implemented in each.
Painter
PaintMasters Inc., Lincoln, NE
July 2014–October 2018
Key Qualifications & Responsibilities:
Mixed paints according to manufacturers' instructions or customized colors when clients requested.
Operated spray guns for large surface areas such as exteriors of buildings.
Developed creative solutions to difficult repair issues related to rusting metal or rotting wood.
Installed casings on doors or windows upon completion of the painting project.
Key Achievement:
Received positive customer feedback due to efficient painting techniques that ensured minimal disruption during the process.
Education
High School Diploma Lincoln High School, Lincoln, NE
September 2010–June 2014
Skills
Lead abatement
Sanding
Wallpapering
Caulking
Power Washing
Surface Preparation
Attention to detail
Time management
Collaboration
Communication
Certifications
Painting Maintenance Program Certification Penn Foster Career School July 2020.
Lead Renovator Certification Environmental Protection Agency (EPA), August 2016.
Awards
Employee Excellence Award PaintMasters Inc., June 2018.
Memberships
Member of Painters Union Local 817 since July 2015.
Language
English—Native Proficiency
Interests
Sculpture Making
Painting Artwork
Climbing
1
What's the Best Format for a Painter Resume?
Before you start painting, there's prep work to be done.
Same here on a resume for painting jobs.
Before you get to the writing part, choose the best painter resume format.
How to Format a Painter Resume with Experience
Been painting for ages?
Professional painters usually attack a room in a specific way - first trim, then ceiling, then walls, as it's easier to tape off trim than to tape off the walls (or both).
On your resume, the preferred method is the reverse-chronological format.
This format emphasizes your painter duties and responsibilities. List your most recent painting positions first, then go backwards from there.
How to Format a Painter Resume with No Experience
How to format a resume with no experience with painting jobs?
In this case, you'll highlight relevant duties, skills, and accomplishments from other past jobs. Only add them if they relate to painting somehow. Featuring them in a bullet point list (around 5 or 6).
Pick and choose transferable skills to match the painter job description for resumes from the ad.
No work experience at all? Then the education section moves to the top, followed by other sections (e.g., volunteering, languages), which we'll talk about more in just a moment.
Pro Tip: Save your resume as a PDF, as it renders correctly on any device. However, check the job ad to make sure they don't ask for a painters resume in Microsoft Word format.
Not entirely sure about the reverse-chronological format for your painter resume? See our guide: 3 Resume Formats: How to Choose the Best One [Examples]
Want to make sure your resume will hook every recruiter and get you that interview? Get our free checklist and learn what makes a job-winning resume: 46 Things You Need To Do Before You Send Your Resume
2
Painter Resume Objective or Resume Summary?
You want to show the hiring manager that you are THE painter for the job.
How to do that?
By starting at the top with a compelling painter resume summary or a professional resume objective.
Painter Resume Summary
Do you have experience working as a painter?
Opt for the resume summary:
It highlights your related work history.
It promotes you with a previous achievement.
Here are examples of professional summary templates for experienced commercial painters:
Commercial Painter Resume Examples
right
Personable building painter with 2+ years' expertise in a commercial environment. Achieved company-highest client satisfaction rating according to exit surveys (97.53%). Seeking to advance professional painting career by growing with the Paint Saints, LLC team.
wrong
I have been a painter of interior and exterior surfaces for the last 2 years. In addition to my knowledge of applicators, such as sprayers and brushes to apply paint, I also carried out various duties on construction sites (e.g., bricklaying, drywalling, erect scaffolding) during slow seasons.
Do you see the differences of these experienced resume summaries?
Take the wrong example: it's great that you are able to handle the related duties of construction at different job sites.
However, you're just listing your regular tasks as if they were accomplishments, which they aren't.
The first example, however, verifies your skills by stating a proud, paint-related achievement for the win.
When making a resume in our builder, drag & drop bullet points, skills, and auto-fill the boring stuff. Spell check? Check. Start building a professional resume template here for free.
When you're done, our free resume builder will score your resume and our resume checker will tell you exactly how to make it better.
Professional Painter Resume Objective
Don't have any professional painting experience?
Go with the resume objective:
It highlights transferable skills related to painting.
It promotes you with a similar, verifiable achievement.
It gives the employer a quick statement of your career goals.
Here are two sample painter resume objectives:
Painter Resume Examples of Objectives
right
Friendly and personable technical school graduate with 5+ years utility experience for large family home. Obtained highest grades in two different woodworking classes (100%). Seeking to jumpstart my career by growing with the Paint Saints, LLC team.
wrong
I am a technical school graduate eager to switch to a painting career. I don't have experience as a commercial painter, but people say that I am a fast learner. I am also highly motivated because I need to start paying back those pesky student loans.
In the first one, we used some transferable skills from a technical school class, as well as listed our handiness around the home and an achievement to secure our victory.
The second one will be relegated straight into the "pass" pile.
Pro Tip: Personalize your painter CV / resume example by dropping the painting company's name into your resume summary or objective. They'll immediately see it's no generic resume—they hate those.
Itching for more advice and examples of a summary or objective for commercial and residential painting resumes? Check out our guides: How To Write A Resume Summary: 21 Best Examples You Will See and 20+ Resume Objective Examples - Use Them On Your Resume (Tips)
3
How to Describe Your Painting Experience
"If It Matters, We're on It."
That's not only Valspar Paint's slogan - it's what the hiring manager is thinking as they sift through that stack of painter resumes.
One of those is yours.
So, talk about your past work experience in a way that's as vivid as YInMn blue.
Here's how:
Painter Resume With Experience:
Held one or more construction painter jobs or house painter jobs before?
That makes things as simple as a paint-by-numbers kit.
Take a look at these creative painter resume examples:
Professional Experienced Resume for Painters Examples
right
Commercial Spray Painter
January 2010 - December 2012
Benjamin Williams Paint Co., New York, NY
Key Painting Responsibilities
Managed and translated clients' project ideas into finished realities.
Encouraged and influenced business customers to make color-pairing decisions based on budget, desire, neighborhood, and medium.
Instituted workplace tool tutoring, increasing employee skills and productivity.
Key Painting Achievements
Identified alternate painting solution which led to a cost reduction of 17% while increasing productivity by 39.4%
wrong
Commercial Rust Sign Painter & Sandblaster
January 2010 - December 2012
MB Jessee, Alameda, CA
Key Responsibilities
Completed painting projects for clients.
Advised clients on paint colors.
Trained fellow employees on tools.
The "wrong" sandblaster painter resume example just listed your duties in a humdrum way. Dull.
The "right" spray paint resume example, however, lists those past painting responsibilities in far greater detail. On top of that, it adds some numbers (those percentages, in this case) to prove to the employer you're as skilled as you claim.
Painter Resume With No Experience:
If this is your first time as a painter, let's go about it like this:
Entry-Level Painter Resume Sample with No Experience
right
Home Department Team Leader
January 2010 - December 2010
House Depot, New York, NY
Key Responsibilities
Assisted with preparing and promoting weekly paint specials to guests.
Influenced customers with paint-pairing decisions based on home and palette.
Key Achievements
Instituted monthly color promotions which raised sales by 37%
In this example, you never painted. However, you list painter-related job tasks and accomplishments so that the employer can easily picture you as the perfect candidate for the job.
Need more ideas on how to write your work experience section on a resume for painter jobs? Check out this guide: Resume Job Description Samples for an Effective Work Experience Section
4
Is Your Education Section Underperforming? It Might Be.
You don't need a degree to paint.
But.
This doesn't mean you can skip your academic history on a painting resume.
Most requirements for professional painter resumes require you to have a minimum education.
Take a glance at this:

See?
So, how do you list education on a resume for painter jobs?
Auto Painter Resume Example of Education
Here's how to include your certificate or degree on your auto body painter resume:
2008 Certificate in Auto Painting (Trade) (Level 2)
NorthTec, Whangarei, New Zealand
But what if you are still completing your certificate or degree?
Marine Painter Resume Example of Education
Here's how to list a degree or certificate still in progress on a shipyard painter resume:
Shipyard Painting (Trade) (Level 2)
NorthTec, Whangarei, New Zealand
Expected Certification in 2020
And what if all you have is your high school diploma?
Painter Resume Example of Education
List your high school, styling it like this:
Bronx Academy Senior High School, Bronx, NY
Graduated: 2014
Pro Tip: Skip adding your high school if you finished a college degree.
Would you like more ways on how you can make the best use of your painter resume? Check out: How to Put Education on a Resume [Tips & Examples]
5
How to Put Skills on a Painter Resume
If you've used PPG paints, you might be familiar with their motto: "Because every job matters."
But to a paint company hiring manager, only one recruit matters out of all those painter resumes.
You want to be that one.
So, the skills section.
A skills section on your resume for painting is like the colors you add when mixing paint - important, but only the right ones. You want the right tone and value, just like with paints.
First, make a list of generic hard and soft skills for painter resumes.
Hard skills are specific abilities and know-how (e.g., Spray Master 5000, paint mixer). Soft painter resume skills are self-developed, life-learned attributes (e.g., safety consciousness, adaptability).
What are some skills to put on a resume for painters? Here are some basic painter resume skills as an example:
Skills for Painter Resume List
Skills for Painter Resume List

| | |
| --- | --- |
| Painter Resume Hard Skills | Painter Resume Soft Skills |
| Roller Operation | People Skills |
| Industrial Painter Mixer | Project Management Skills |
| Spray Master 5000 Maintenance & Use | Communication |
| Taping & Measuring | Safety Consciousness |
But!
Don't just take any random painter skills list from Google and stick it right into your resume.
That won't work.
Instead, look again at the painter job description. Underline the best keywords to use on a resume from the job requirements section.
Take a look at this real example of a painter job description:
Job description for art painter resume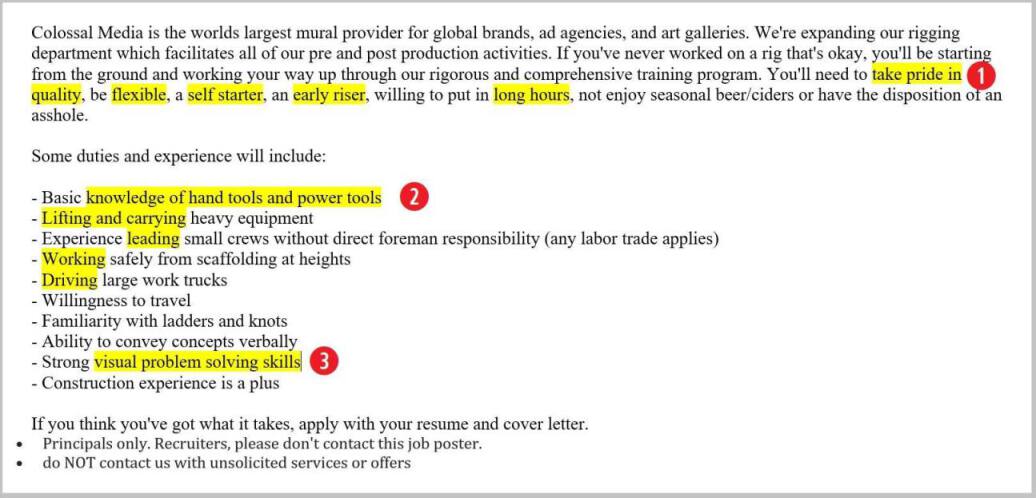 Now, let's see these painter skills for resume examples in action:
Painter Resume Skills Section Example
| Good | Bad |
| --- | --- |
| Proud, high-quality work [1] | Quality work |
| Excellent knowledge of hand and power tools [2] | Tools |
| Strong visual and cognitive problem-solving skills [3] | Problem-solving |
That good example is tailored to just what the painting employer is looking for.
Pro Tip: By the way, aside from the job description, another great place to get some relevant skills and keywords for your painter resume is to look for sample painting contracts or painters' contract templates.
Want more tips for listing your painter skills and abilities? See our guide: 30+ Best Examples of What Skills to Put on a Resume (Proven Tips)
6
How to Add Other Sections for an Effective Painter Resume
You've now got the basics on a painter resume, but it still looks just plain, dismal gray.
Make it more vibrant and colorful by adding extra resume sections.
Every painter job candidate needs to include their contact details, work history, education, and
Painter Resume Other Sections Example
wrong
Volunteered at local shelter serving meals.
Voracious reader (over 500 books per year).
Voted "Funniest Employee" three months in a row.
See what's wrong here?
You have every right to be proud of these accomplishments - hell, I would be. However, they're not friendly for the resumes of painters looking for work on residential painting jobs.
Here are some better, more relevant examples.
Volunteer Experience
Whether it's a construction painter resume or aircraft painter resume, volunteer experience on a resume looks great. But, keep it relevant to painting jobs.
Here are a couple great examples:
right
Volunteered after Hurricane Kuhrayzee reconstructing homes.
Assisted veteran's nonprofit with relocation to new site.
Hobbies & Interests
Think it doesn't matter what you do in your spare time? It might not, but it could also be a good way to show them your human side.
Here are some interests and hobbies that would pair well, whether it's a painting contractor resume or a journeyman painter resume:
right
Baseball - member of local league for over four years.
Avid Crossfit masochist.
Baseball and team sports show that you function well on a team, an important trait for the fast environment of those earning a painting job salary.
Crossfit shows that you can handle the physical exertion that commercial painting jobs might throw at you.
Certifications & Awards
Voted "funniest employee" three months in a row? Impressive! But not as relevant as:
right
Passed five-year workplace safety certification.
Placed second in last year's Pretty Pro Paint-Off.
Languages
Knowing another language is like being able to operate both the spray gun and the 8-foot roller - they'll broaden your painting opportunities.
Don't turn in a painting resume with so much blank, white space. Well, you can, but it is like missing a spot when you're painting a blank, white wall.
Only the client would just ask for it to be fixed, while the hiring manager will simply put your resume aside.
Relevant extra sections on your painter resume are the answer.
Pro Tip: Don't add too many extra sections on your resume for painters. Add only enough extra sections to fill the rest of the current resume page - not more that it spills over onto a new one.
Need more examples of hobbies and interests which work well on painter resumes? Still not sure if you even want to add extra sections? Read our guide: 20+ Best Examples of Hobbies & Interests To Put on a Resume (5 Tips)
7
Here's the Most Common Myth About Cover Letters
Would you touch a painted wall that hadn't dried yet? No, right? A painter resume without its cover letter is the same thing.
Nearly half of recruiters say they will reject a resume without a cover letter, according to our HR statistics report.
Don't believe me? Then take a peek at this:

See what I mean? You've taken your time on your resume measuring the paints and mixing it all together.
Now we have to draft up a cover letter before sending it all to the painting manager. Here are a few helpful painter resume tips to deliver a great cover letter they'll just love:
Explain why the painting job excites you.
Drop names - name the hiring manager and paint company to personalize it.
Inform them why they need you for this job.
Pro Tip: Research the painting client or job description online and mention something in particular that stands out to you. This is something a resume can't include and will really catch their eye!
Plus, a great cover letter that matches your resume will give you an advantage over other candidates. You can write it in our cover letter builder here. Here's what it may look like: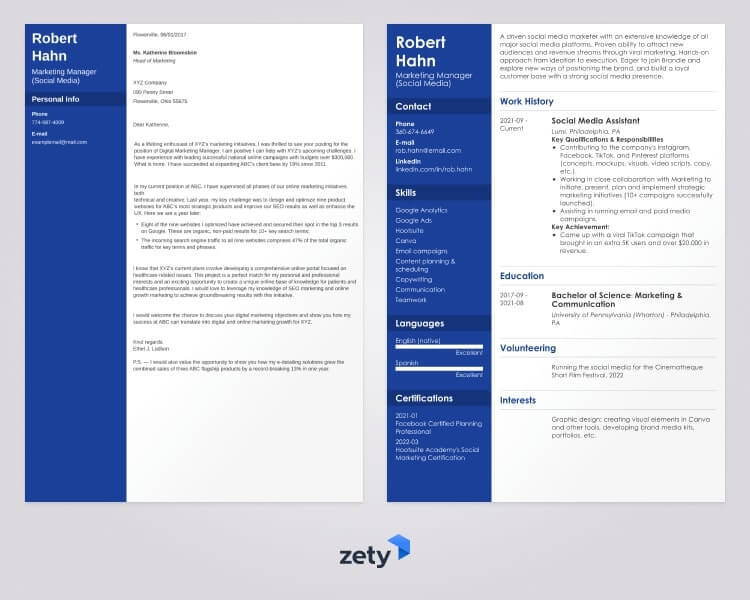 See more cover letter templates and start writing.
Did you know that our resume builder will also help you write a professional cover letter for a painting job? For more, read our cover letter tips or find out exactly what to include on a cover letter.
Key Takeaway
The key to the painting job interview is through the perfect painter resume and cover letter.
Using this recipe for a good painter resume and cover letter, you will have a strong finish - just like the best protective paint varnish lacquer.
Personalize, Personalize, Personalize. Address the hiring manager by name in the cover letter. Mention the company in the resume heading. Make yours stand out.
You want to join them, so make them need you. Touch it up with action verbs and impressive achievements to wow them. Paint the best picture of yourself.
Double- and triple-check. Spend an extra few minutes making sure that your painter resume and cover letter are up to par.
Now. You should have a creative painter resume that's mixed to perfection and coated just right. Time to attach the final painter cover letter and resume to an email and send it off.
Hopefully we've taken the pain out of your painter resume!
Now, just check out our career glossary, brush up with our interview tips, and practice the STAR method to be ready for your interview!
Do you have any questions on how to write a painter resume? Not sure how to describe your skills, achievements, or professional experience on resumes? Give us a shout in the comments below and we will answer your question. Thanks for reading!
About Zety's Editorial Process
This article has been reviewed by our editorial team to make sure it follows Zety's editorial guidelines. We're committed to sharing our expertise and giving you trustworthy career advice tailored to your needs. High-quality content is what brings over 40 million readers to our site every year. But we don't stop there. Our team conducts original research to understand the job market better, and we pride ourselves on being quoted by top universities and prime media outlets from around the world.