You're about to tailor your application with the best resume keywords, but first, think about this:
Blah blah blah blah 5 years professional graphic design experience blah blah blah blah blah blah blah blah blah Proficient in Adobe Photoshop CC blah blah blah blah blah blah blah blah blah Image database management skills blah blah blah blah blah blah...
Those highlighted words? These are resume keywords.
The rest is pretty much your resume.
This is exactly what recruiters and hiring managers see when they read your resume.
Don't have the right resume keywords? The employer will move on to someone who more-closely matches their tastes.
So, how do we find the best resume keywords and phrases?
Keep reading! We'll go through this together, step-by-step from beginning to end. You'll soon know what resume keywords to use to finally get that dream job.
This keywords for resumes guide will show you:
Action verbs and resume keywords to use. Plus, what resume buzzwords to avoid.
How to include keywords in resumes, cover letters, and emails for greatest impact.
What is a scannable resume and how to pass the ATS resume test.
The best way to determine what keywords to add to your resume to land the interview.
Want to get advice on top resume keywords to put on your resume and save time while you're at it? Try our resume builder. It's fast, easy-to-use, and you'll get good resume keywords examples while writing your resume. See 20+ resume templates & create your resume here.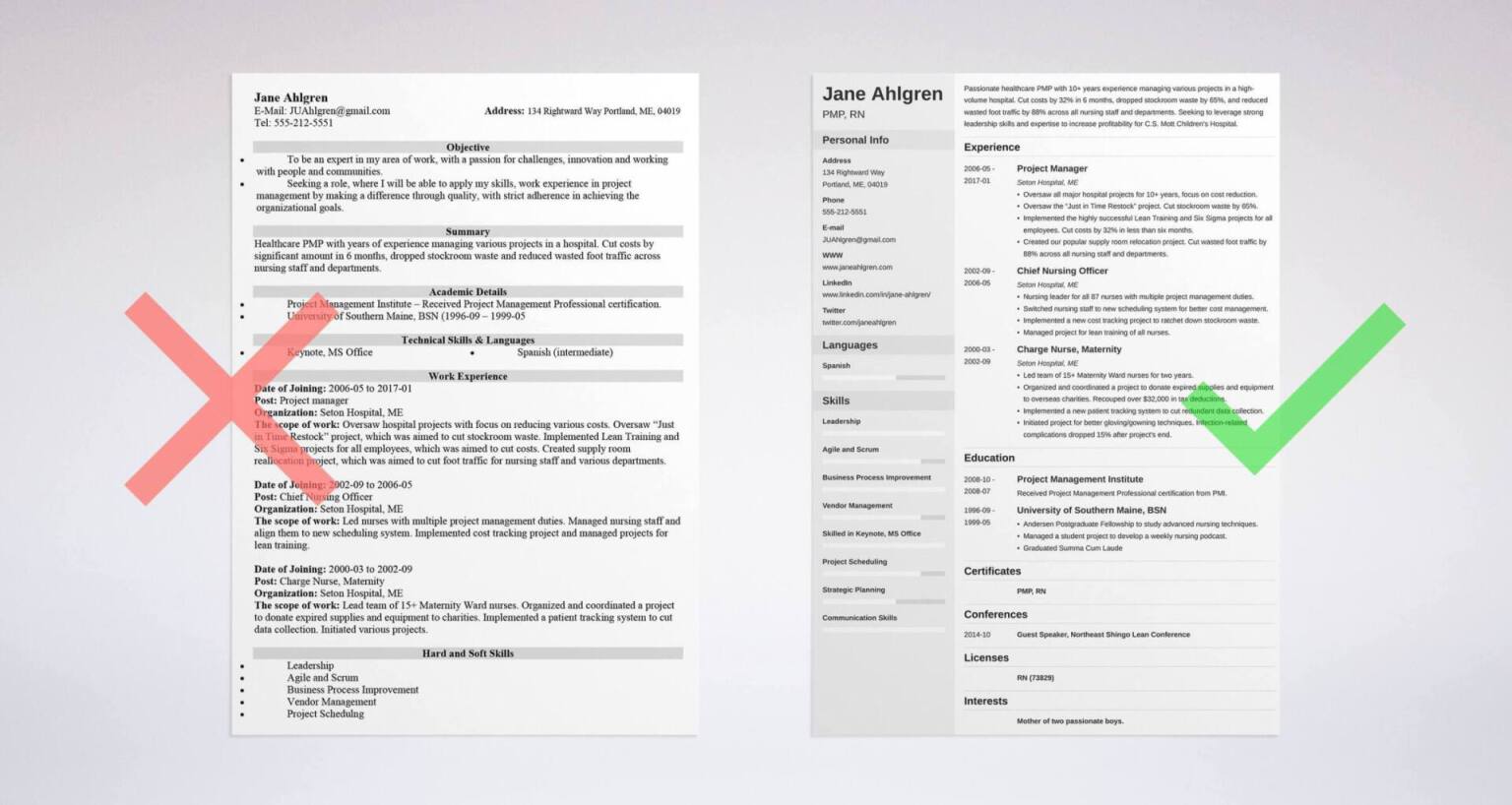 Example of a resume making use of resume keywords - See more templates and create your resume here.
1
Resume Keywords: What's the Big Deal?
There are ~250 applicants for typical corporate job openings. That's too much for a human to handle, so recruiters rely on Applicant Tracking Software (ATS), which we'll explain in more detail in a moment.
Screening software such as this gets the job done in a second by scanning for resume keywords. Did you pass the ATS resume-scanning test?
Don't get excited just yet. Hiring managers take roughly 6 seconds scanning each surviving resume.
Guess how they get the job done so fast. Exactly. They look for resume keywords, too.
What are resume keywords? Resume keywords are position-related expressions which describe experience, skills, and traits.
Be careful: Optimizing resumes involves more than just adding keywords. It also means omitting bad ones.
How many resume keywords? The general rule is 25-30 resume keywords. Don't spam the bots and their human overlords.
What keywords should I use? Read on to find out!
Pro Tip: Make sure everything's spelled correctly. Misspellings often look worse than inexperience.
Want to make sure your resume will hook every recruiter and get you that interview? Get our free checklist and learn what makes a job-winning resume: 46 Things You Need To Do Before You Send Your Resume
2
Identify What's Important to the Employer
There was this girl I liked back in high school.
I knew this girl enjoyed volleyball and loathed US Gov. But, everyone else knew that, too.
Bringing these points up would have been just as lame as commenting on the weather.
So, how to impress?
Love prospects remain a mystery, but employers will help you out. Just read the job posting: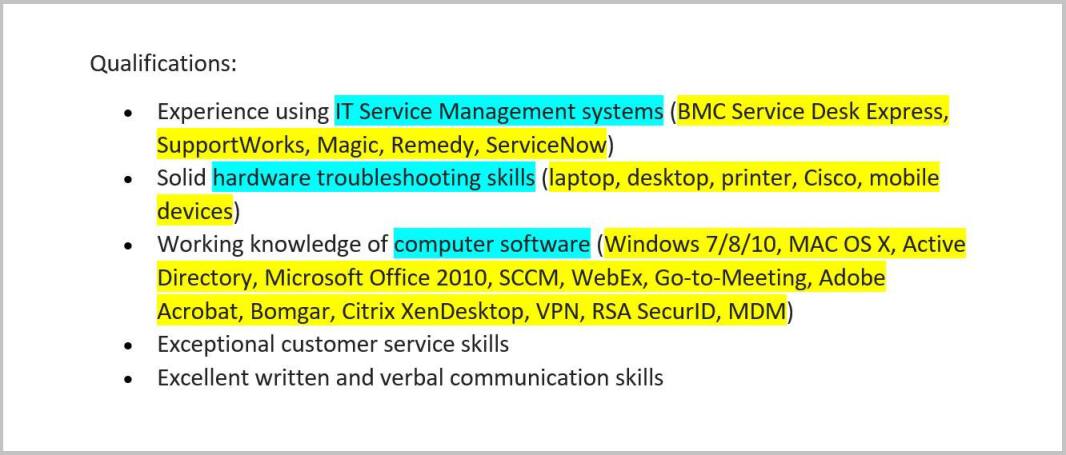 It's like the perfect OKCupid profile!
Googling gives good descriptive words for resumes (blue-highlighted), but we'd miss employer-specific ones (yellow-highlighted).
Most important resume keywords come from job listings.
Just one important note: Resume keywords aren't magic words you have to use no matter what. Don't lie! You'll crash and burn in a blaze of unemployment glory, quickly.
Where should you add these resume keywords?
In the following sections, we'll look at how to strategically place resume keywords in all the important places: in the resume summary, objective statement, experience section, education, skills, and even in the cover letter and email.
One Resume Keyword You Must Always Use—
What's the best resume keyword? The company name.
And the right job title. But you know that already!
Add it in the heading statement (cover letter, too, but we'll talk about that shortly), which is the resume summary or resume objective:
right
Personable customer service representative with 2+ years expertise in fast-paced call center environment. Achieved company-highest satisfaction rating according to surveys (99.36%). Seeking to advance career with the team at Carson Logistics.
wrong
Friendly customer service rep for the last 2 years. With my knowledge of phone and email support systems, I hope to join a valuable company for a rewarding career.
The right example is personalized and includes one of your most important searchable keywords. The wrong example's made for mass-delivery. Use it and prepare for mass-rejection.
Pro Tip: Use a job description keyword finder for resumes such as Jobscan which'll give your resume a free ATS scan. They often provide resume wording examples, too.
Got the company's name? Great! That's one of the best keywords for resume scanners and resume keywords generators. Complete the resume objective: 20+ Resume Objective Examples - Use Them On Your Resume (Tips) or resume summary: How To Write A Resume Summary: 21 Best Examples You Will See
Don't Forget Your Education
That's right. Of the types of keywords in resume writing, education can be some of what the ATS will parse with most weight:

See this example? You'll need a bachelor's degree, but they'll also look for computer science-related resume phrases.
Not finished yet?
Do this:
Completed ¾ Bachelor's requirements.
Majoring in Computer Science.
Expected graduation 2020.
See? We've got the "bachelor's degree" resume keywords employers look for in there!
Want more advice on keywords to use in a resume education section? See this guide: How to Put Your Education on Resume [Tips & Examples]
3
Identifying What's Important to the Industry
You've identified some ideal resume keywords from the job listing - good work!
However, those can't be all the resume keywords that you use. It would be like me telling that girl I liked that I enjoy every single thing that she likes - suspicious and borderline-stalkery, no?
Now it's time to build up the rest of our character by doing some industry research.
Where do we begin? An areas-of-expertise resume keywords search through Google works wonders: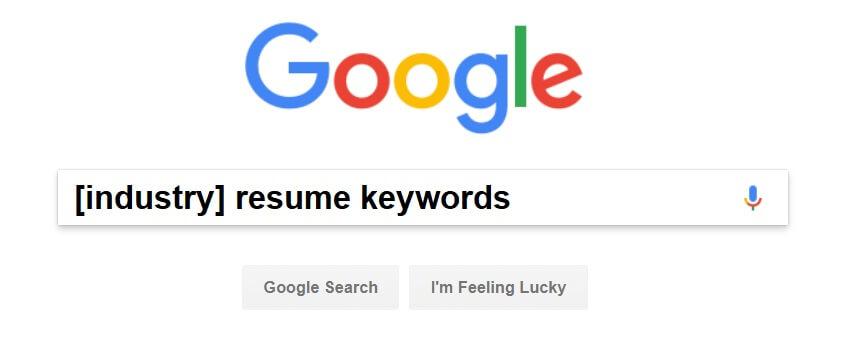 Applying for an airline's cabin crew? Google keywords for a flight attendant resume.
Need keywords for skills on an IT resume? Google those, too.
However! Use the resulting list of skill keywords as guide, not gospel.

Take this excerpt of business manager resume keywords, for example: you could have 10 years of related manufacturing experience, but you probably do not. Don't copy-paste!
Where do you put these resume keywords? If you have hands-on experience, mention them in the work experience section. You can also do the same when talking about your education, if applicable.
Here's an example of how that could look on the final resume, with keywords in the resume's experience section and education section: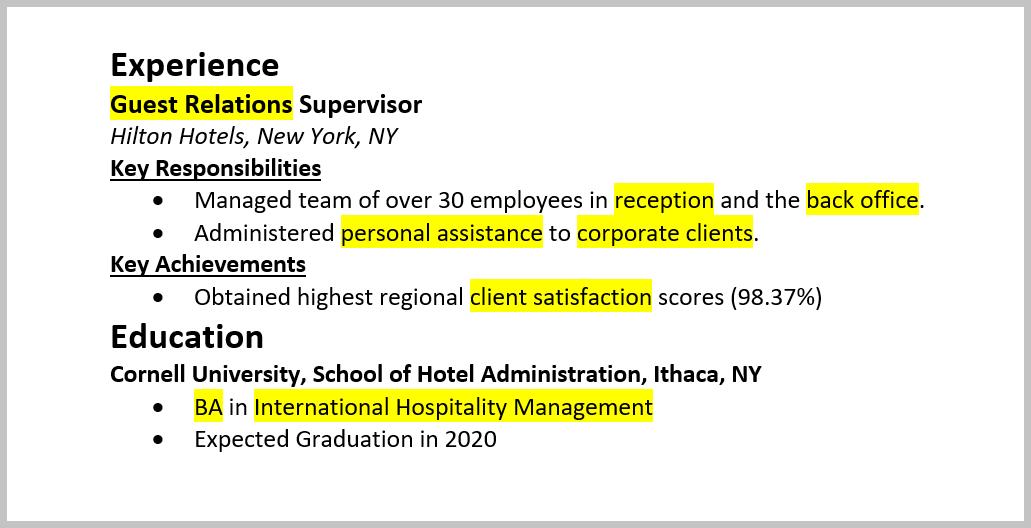 See that? We inserted hospitality and customer service resume keywords throughout the relevant sections.
If you've no quantifiable way to show skills and experience keywords, include a skills section that gives a general idea of your knowledge (and also some resume keywords!):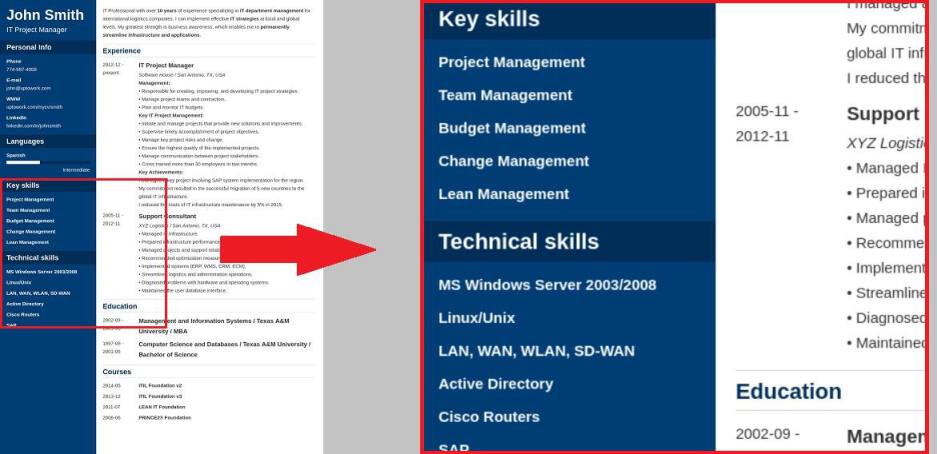 Pull from both the soft & hard skills lists. Hard skills are specific abilities & know-how (Photoshop). Soft skills are self-developed, life-learned attributes (adaptability). (By the way, if you want other definitions like this, check out our helpful HR glossary of terms.)
Again, no lying! This will see you out the door, lickety-split. Now you've got a general list of skills and qualities to grab the manager's attention, and a specific list of personal skills from the job listing to keep it.
Pro Tip: If there are resume keywords you believe more important than others, increase its "keyword density" by using more.
Like this resume keywords guide? We've a list of good skills to put on a resume: 30 Best Examples of What Skills to Put on a Resume (Proven Tips)
Our resume builder saves time, and with tips and advice on resume keywords, you'll have a quality resume.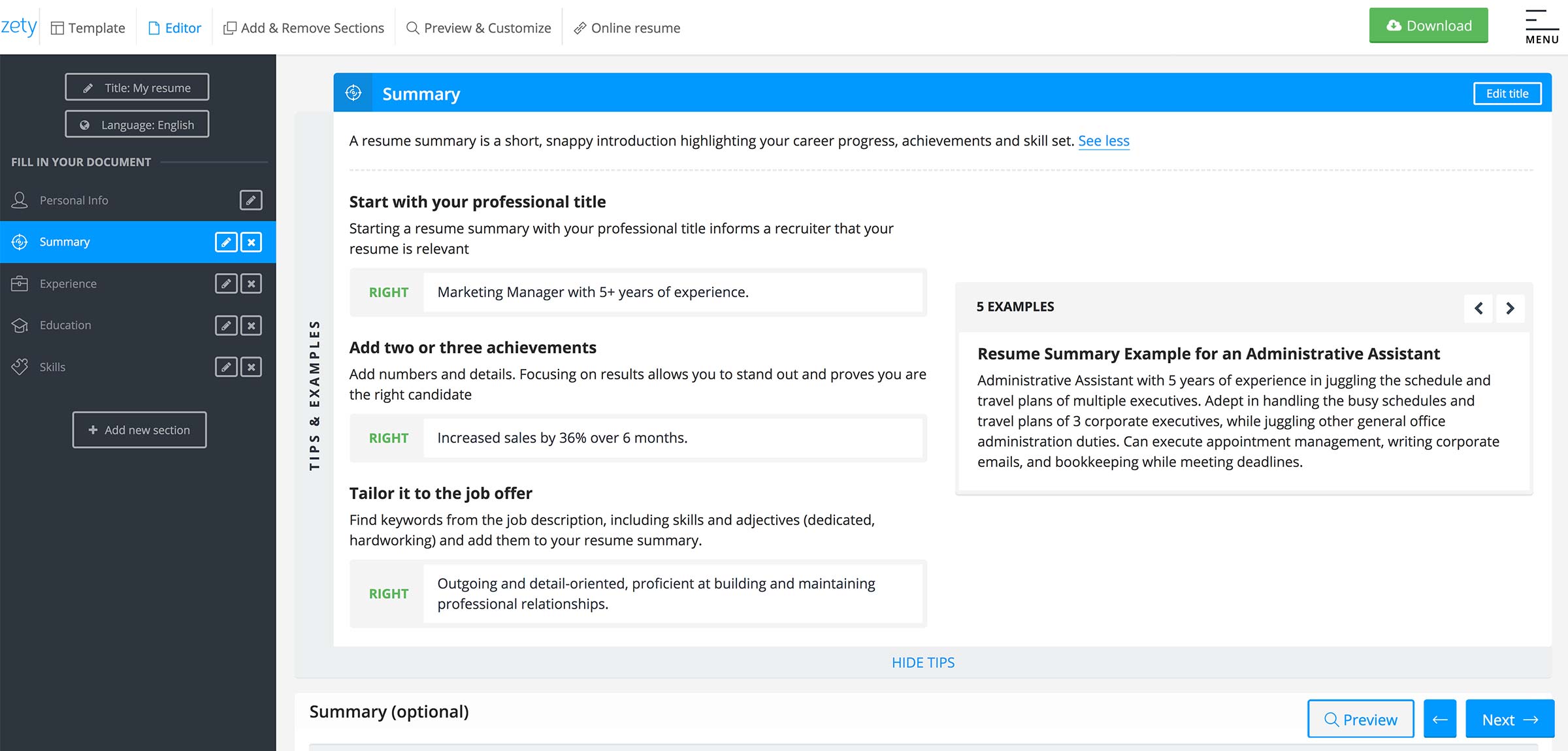 Use our resume builder to have a great resume ready in as little as 5 minutes! See scannable resume examples which work with ATS resume checkers.
4
Where To Put Keywords On Your Resume
So, we've gone through resume keywords from A to Z, from all the sections on your resume through to your cover letter and email.
Now, I'd like to briefly reiterate how to use these resume keywords and where to put them on your resume:
In the Resume Heading Statement (Summary or Objective)
Add the company's name to make it personalized:
... Seeking a position with Acme Incorporated which utilizes...
Identify some resume keywords from the job listing to strengthen your case:
Personable customer service representative with 2+ years expertise in fast-paced call center environment
In the Resume Experience Section
Use keywords from the job description to show that you are familiar with the tools they would want you to use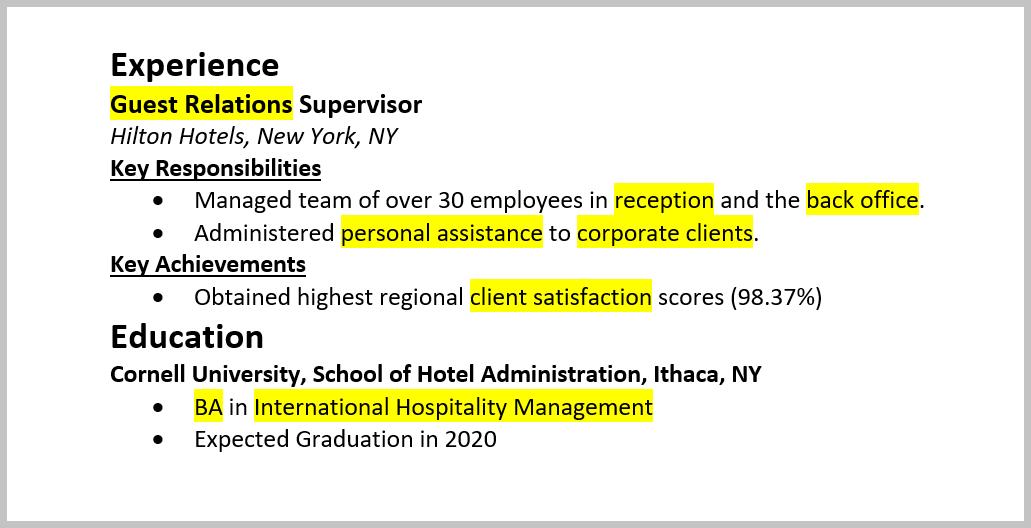 In the Resume Education Section
State your major (and minor) instead of just saying "B.A."
Check the job listing again; they may want you to list related coursework - and yes, these are resume keywords they might look for:

In the Resume Skills Section
Add skills for those that you have no way of quantifying. List relevant skills to show them how broad your skill set is for their industry: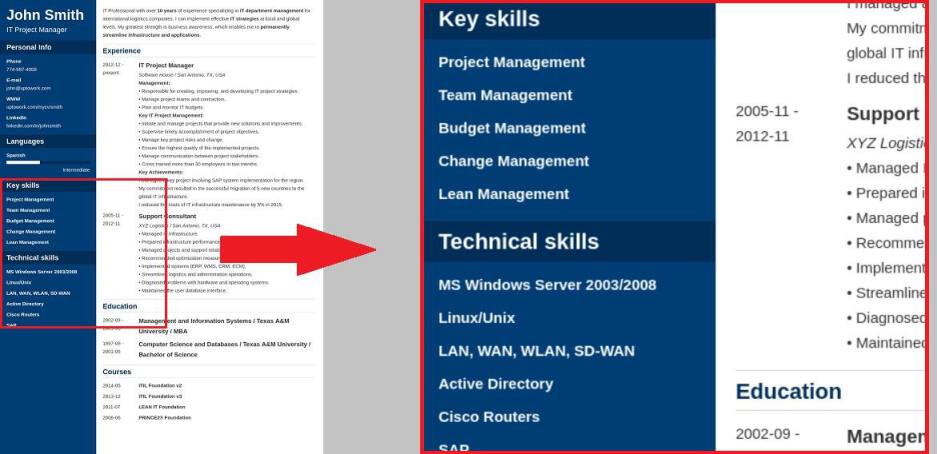 Now, time to learn why resume keywords really matter.
5
Resume Keywords & the ATS
Recruiters are getting more and more applications these days, and that number will only continue to increase. How can they keep up with the flood of job applicants?
By outsourcing some of the work to the robots. That's right - robots.
In this case, robots mean the ATS, or the Applicant Tracking System, which is software that hiring managers can use to help them sift through resumes and identify those with particular resume keywords.
Here's how the ATS works:
Manager scans resumes into computer.
Manager gives ATS keywords to look for.
ATS reads resumes, looking for keywords.
ATS sorts and grades resumes based on keywords.
According to score, hiring manager will/won't call applicant for interview.
While they're getting better, they remain outdated and buggy. Most don't yet compensate for spelling variations.
For example, MA in Investigative Journalism could be M.A. or Master of Arts. So search LinkedIn to find the most common spellings.
For example, AvidCareerist performed a study:
About 6K users use C.P.A., but a whopping 862K members use CPA.
About 1.1M go with M.B.A., but 3M members use MBA.
Resume robots reject up to 75% of CVs and resumes before they reach a human recruiter. By learning how to speak the ATS's language, you dramatically increase your chances of securing an interview. To succeed, read the job description thoroughly, target your titles, expand on relevant skills and experiences, and cut the fluff. You'll show the robots and the humans why you're the perfect match for the job.
Lee Biggins
You need to make your resume scannable to help them out: Mirror the wording of the job ad. Use key phrases verbatim, but don't just copy and paste everything from the ad.
Pro Tip: Increase chances further by adding more than one variation: I have a Master of Business Administration (MBA)...
6
Don't Forget Them On Your Email & Cover Letter
Names
To whom it may concern...
Though formal and valid, it also feels cold and impersonal, like how commoners might've addressed the gentry in the Dark Ages.
You don't want that. You want to make the recruiter feel nice and comfortable. How do you that?
Easy. Use the best resume keyword - their name. It's a personal touch, likely granting you more than the typical six seconds scanning your resume. It shows you took time researching them and that you're not just spamming your resume everywhere.
Subjects
Another super-important resume keyword:

Did you catch that? Does the job description require something specific in the subject line? Don't forget the position title is a critical resume keyword!
Pro Tip: Drop their name in the beginning: "I'm super interested in working at [COMPANY-NAME] because..." See? Feels much more personalized.
Cover letter keywords are important. Need more advice on crafting cover letters? Check out our 35+ successful cover letter tips or learn what to include on a cover letter.
7
Dangerous Instances You Need To Avoid
There are also some dangerous keywords. Whether it paints a negative picture or is just TMI, here are keywords you need to avoid:
Buzzwords
Results-oriented professional with unparalleled passion, dedication, and drive seeking to utilize industry-proven track record and go-getting attitude to land a lucrative career...
What does that even mean? A few of those power keywords and resume buzzwords here and there sound great. But if you stuff it to the gills with every industry and corporate buzzword out there, you'll end up hurting your chances instead.
Bragging
Avoid calling yourself the best of this or exceptional at that. Let your experience and qualifications speak for themselves. No one likes braggers.
Jargon
At a previous job working with cell phones, we made up words for our own benefit. The Nexus phone, for example, we pluralized as Nexi (like cactus to cacti). Nexus is easily understood. Nexi wouldn't be recognized by the ATS or hiring manager.
Too-Impressive Past Positions
LinkedIn gives 4 words to avoid: Founder, Entrepreneur, CEO, & Owner. These signal overall management, raising flags—
Would she fit well here when she's been the boss previously?Include these only if you must (e.g., parallel position).
Pro Tip: Look through your resume & see if "boring" words are overused. Replace these for more of a kick.
There are more than important resume keywords to avoid when preparing your application: 6 Tips on How to Tailor Your Resume to a Job Description (Examples)
8
Resume Wording: Use Active Voice
We want your resume actively considered, and active voice is important towards this goal.
Passive Voice vs Active Voice
| Active | passive |
| --- | --- |
| Managed homewares department. | Homewares department was managed by me. |
See the difference? The first is concise and to-the-point; the second seems evasive and less-clear.
Active voice is preferred on resumes. We use them to actively describe your main tasks and achievements.
Want more on choosing action verbs, resume keywords, and a resume action word list? Take a gander: 80+ Examples of Resume Action Words for Every Profession
Key Takeaway
So, we understand why keywords are important on resumes and cover letters, but keep these points in mind:
Job-Tailor. Obtain perfect resume keywords as you match resume to job description. Use resume keywords finders and job posting keyword analyzers to help.
Company-Tailor.

Name-dropping the company within the heading is great for the ATS and manager.

Manager-Tailor.

Address managers by name in cover letters to personalize them.

Tailoring is shortening.

Avoid jargon, specific titles, and other poor resume keywords.
You're now ready to send resumes and cover letters that'll be the key to unlocking desirable opportunities and scoring a word with the employer. Now, go check out our interview tips and STAR method article to prepare for your big meeting.
Good luck!
What did you think? Questions on resume keyword scanning software or how to insert perfect resume keywords? Got more advice on keywords for resumes? Let us know in the comments below!