Being in the loop of the newest TikTok trends, researching SEO, and deciding how to generate more leads, sales, and subscriptions is an exciting thing to do. But to get there, you need to write a digital marketing resume better than any newsletter.
Digitally market yourself to your future employers by converting them with the content and design of your perfect resume for digital marketing! Here you'll learn how to do that.
This digital marketing resume guide will show you:
SEM and online advertising resume examples better than 9 out of 10 other resumes.
How to write a digital marketing manager resume that gets more interviews.
Tips on how to put skills and achievements on a market research resume.
How to describe your experience to get any digital marketing job you want.
Want to save time and have your resume ready in 5 minutes? Try our resume builder. It's fast and easy to use. Plus, you'll get ready-made content to add with one click. See 20+ resume templates and create your resume here.
Sample resume made with our builder—See more resume examples here.
This guide is about writing a resume for digital marketing, including SEO, SEM, E-commerce, email marketing, content marketing, influencer marketing, and display advertising.
Looking for specific resume samples and guides for these and other areas of marketing? We've got them for you right here:
Now, here's how to write a digital marketing resume:
1
Digital marketer resume example v2
Danica Deegan
Digital Marketing Professional
(123) 456-7890
danica.deegan@email.com
linkedin.com/in/danica.deegan
Summary
Highly experienced and creative Digital Marketing Strategist offering over 7 years of expertise in developing campaigns to increase brand visibility, boost customer engagement and generate leads. Seeking a position at Quantum Enterprises to utilize my skills and knowledge in digital marketing to help the company achieve its goals. Launched an integrated digital marketing campaign for Stellar Systems that resulted in a 25% increase in website traffic, brand recognition, and market share within 6 months.
Experience
Digital Marketing Strategist
Stellar Systems, Las Vegas, NV
July 2013 – Present
Key Qualifications & Responsibilities:
Developed strategic plans for campaigns across email, social media, SEO/SEM, and display advertising techniques.
Analyzed data trends from Google Analytics and prepared reports on consumer insights.
Collaborated with marketing teams to design promotional materials such as newsletters, brochures, posters, and flyers. ​
Worked across several departments to ensure the timely delivery of promotional assets.
Key Achievement:
Launched an effective integrated digital marketing campaign, resulting in a 25% increase in website traffic, brand recognition, and market share over 6 months.
Digital Account Manager
Synapse Solutions, Las Vegas, NV
October 2011 – June 2013
Key Qualifications & Responsibilities:​​
Implemented promotional activities such as re-targeting campaigns for e-commerce businesses.
Monitored the performance of PPC campaigns through Google Adwords. ​
Wrote engaging content for websites that increased web search ratings. ​
Negotiated contracts with vendors.
Key Achievement:
Successfully managed multiple accounts with total revenue exceeding $50K per month.
Education
BSc Computer Science
University of Las Vegas
September 2007 – June 2011
Member of the University's Programming Club (2007–2011)
Skills
Analytical Thinking
Project Management
SEO Strategies
Social Media Optimization
Content Writing
Campaign Analysis & Reporting
PPC & SEM Strategies
Market Research
Budgeting & Cost Estimation
Creative Problem-Solving
Certifications
Google Ads Certification (Fundamentals), Google Inc., 2020
Awards
Award for Best Digital Marketer of the Year 2019 by National Association for Online Marketing
Memberships
Member of the American Marketing Association since 2018
Languages
English—Native speaker
Spanish—Advanced level
Interests
Creating YouTube tutorials about how to use digital advertising platforms (10k subscribers).
Basketball enthusiast; Volunteer coach at local basketball camp for youth.
Format for a Digital Marketing Resume Right
To get a high candidate Quality Score, like any SEM campaign, your resume has to make an impression—
In fact, MANY great impressions.
Followed by recruiters clicking on your job application like crazy.
How?
You have to use the best digital media resume format out there.
HR managers are most familiar and comfortable with this format. You've got to impress them before you're hired to impress their clients with your digital creations.
Here's how to structure a digital marketing resume:
Start with a captivating resume introduction paragraph / resume headline at the top.
Continue with work history and education in the reverse-chronological order.
List your creative, advertising, and digital marketing skills.
Add extra resume sections to stand out from the sea of candidates.
Use the job ad as you write, and include resume keywords throughout.
While writing, use legible fonts, white space, and headings to guide the recruiter through all of the valuable sections of your resume. You can pick a creative resume template but make sure it's ATS-friendly.
Just starting out in digital marketing?
Place your work experience section below the education section on your resume (or leave it off entirely).
Pro Tip: If you're changing careers or have mostly freelance experience, you might want to write a functional resume. This resume style gives prominence to your skills.
Not persuaded using the reverse-chronological format is right for your advertising resume? Well, you have two more options. See our guide: Best Resume Format & How to Choose It [Guide with Examples]


2
Write a Digital Marketing Resume Summary or Objective
Any successful internet resume for digital marketing positions must trigger engagement.
In PPC, you do it with a catchy H1.
In resume writing, you do it with a catchy resume introduction.
Fortunately, it can be longer than the darned Google Ads H1 limit of 30 characters.
A resume heading statement (sometimes called a resume personal statement) is 3–4 lines long and you place it at the top of your digital marketing resume. It gives hiring managers an introduction to you and to the rest of your resume.
It comes in two varieties: a resume summary and a resume objective.
If you have at least a few years of digital marketing experience, use a resume summary.
A summary statement sums up your relevant online advertising skills and experience, painting a picture for them as to why you're the best candidate for the digital marketing job. It also includes a key accomplishment with numbers to prove you're the right choice.
Digital Marketing Resume Resume Summary Example
right
Diligent marketing coordinator with 3+ years experience building a digital-first culture at a large, international corporation. Implemented new competitive analysis and consumer trend reports to increase quarterly sales by 15%.
wrong
Having been a marketing specialist for more than 3 years now, I believe I have the skills and experience that you are looking for. I know SEO, SEM, content marketing, and, like any Millennial, I tweet like a champion.
That wrong example gives your past responsibilities without proving how well you carried them out.
That's as useless as G+.
In the right example, however, you gave a quantifiable achievement with your relevant experience—
It confirms your awesomeness like 5-star testimonials.
Now, what if you've never worked in digital marketing?
Use a resume objective.
You'll still give numbers to prove your knowledge. Here, list where you're coming from and your career objective, using transferable skills (e.g., from your education or hobbies) to bridge the gap.
Digital Marketing Resume Objective Example
right
Recent bachelor recipient and food blogger with self-taught knowledge gaining traffic, increasing conversions, and writing great copy. Seeking to leverage personal approach to content marketing (400% traffic increase 2018 vs. 2017) to become the next Digital Marketing Specialist for DeeDee Media.
wrong
I've just recently graduated from university and received my bachelor's degree. I don't have experience with search engine optimization except some self-taught stuff I did for my blog.
In this A/B test, there's one clear winner.
The wrong example will make David Ogilvy turn in his grave.
The right example shows how your past experience equipped you with relevant skills. And those numbers!
Finally, you included the company's name to win them over.
Now that's SEO—a Super Effective Objective!
Pro Tip: Just because the "About me" section goes at the top of your resume, don't write it first. It's hard to summarize your resume into a brief introductory paragraph if you haven't written it all yet!
Want more advice on writing a career summary or career objective on a resume for digital marketing positions? Check out our guides: Professional Resume Summary: 30 Examples of Statements [+How-To] and 20+ Resume Objective Examples for Any Career [+General Proven Tips]
When making a resume in our builder, drag & drop bullet points, skills, and auto-fill the boring stuff. Spell check? Check. Start building a professional resume template here for free.
When you're done, our online resume builder will score your resume and our resume checker will tell you exactly how to make it better.
3
Describe Your Digital Marketing Experience on a Resume
Digital marketing jobs will grow by over 10% between 2016–2026.
That's 24,000 new marketers to compete against.
Whether it's a blogger resume or a digital market research resume, write a work experience section that sells.
Here are two digital marketing resume examples:
Digital Marketing Experience Examples for a Resume
right
Marketing Coordinator
January 2015–December 2018
CeeCee Marketing, New York, NY
Key Qualifications & Responsibilities
Identified and executed improvements for processes, content, and lead generation.
Collaborated with Content Team to promote blog posts and guest posts.
Provided market research, forecasts, campaign results, and consumer trends.
Key Achievements
Implemented new competitive analysis and consumer trend reports to increase quarterly sales by 15%.
Suggested new SEO tools which increased copywriters' output by 25%.
wrong
Marketing Coordinator
January 2015–December 2018
CeeCee Marketing, New York, NY
Key Responsibilities
Promoted blog posts on various channels.
Did some outreach to get links.
Disavowed toxic backlinks.
That wrong one is as boring and outdated as snail mail advertising.
But that right example has your future in sight with relevant duties and accomplishments.
Remember: Tailoring your resume to the job ad is a must, so keep the job description open as you write. What Agency A wants in an employee will be completely different than what Agency B prefers, so write one resume customized to each employer.
Now, what if you have no digital marketing experience?
No problem.
You still have skills and experience related to it to land you that marketing job.
Here's how to list other experience in a relevant way:
Digital Marketing Job Description for a Resume
right
Executive Assistant
January 2016–December 2018
Some Icon, LLC, New York, NY
Key Qualifications & Responsibilities
Prepared written text proposals and speech writing drafts.
Assisted in creating corporate sales pitches for future meetings.
Managed all public social media profiles of important public figure.
Key Achievement
Identified new autoposting solution to cut social media time spent by 35%.
How about that?
At first, being an executive assistant to a public figure doesn't seem so relevant to digital marketing jobs.
However, in our example, we give an appropriate achievement and list responsibilities that do relate to digital marketing.
Pro Tip: How to put multiple positions and promotions on a resume? List every single position you've ever held in separate entries of your work experience section.
Whether you're writing a digital strategist resume or an ad content creator resume, adding your education correctly will get you further in the hiring funnel.
Here's how to list a completed certificate or degree:
BS in New Media & Internet Marketing
Cornell University. Ithaca, NY
Relevant Coursework: Marketing Strategy and Planning, Marketing Information, Management and Research, Buyer Behavior Theory, Global Marketing.
In digital marketing, a bachelor's degree in marketing, advertising, or communications is recommended. However, if you just have relevant coursework in those areas, list those!
Haven't finished college yet?
Include it like this:
Majoring in Digital Marketing
New York University, New York, NY
Expected Graduation: 2021
Relevant Coursework: Advertising and Promotion, Applied Technology for Managers, International Issues in Business, Marketing Research, Consumer Behavior.
Only have high school so far?
Add it like this:
CSI High School for International Studies, Staten Island, NY
Graduated 2017
Also, if you've completed a university degree, don't add your high school diploma.
And use the reverse-chronological order in your education section, as well.
Pro Tip: Add coursework relevant to your specific job title, rather than to marketing as a whole. "Digital marketing" is a broad term, and chances are you'll specialize in one aspect, such as PPC campaign management & optimization, influencer marketing, or content creation.
Got something other than these common educational scenarios? Check this guide out: Education Resume Section: How to List High School & College Education.
5
Put Skills on a Digital Marketing Resume
Looking for a 0% bounce rate?
Then, whether it's an ad resume or a digital strategy resume, show them you've got the skills they're looking for.
But, which marketing skills?
First, make a basic list of digital marketing skills, like the one below. Include hard and soft skills.
And don't confuse them—
Hard skills are abilities you're able to learn (e.g., CRO), while soft skills are your character traits that you develop throughout your entire life (e.g., communication skills).
Top 20 Digital Marketing Resume Skills
Search Engine Optimization
Search Engine Marketing
Attention to Detail
Copywriting & Copyediting
Problem Solving
Email Marketing

Content Creation & Automation

Analytics Tools (e.g., Amplitude)
Results Orientation
CMS (e.g., Wordpress)
Accountability
Pay-Per-Click Advertising (PPC)
Integrated Marketing Communication
Conversion Rate Optimization (CRO)
However—
Cramming your digital project manager resume with just any skill you can think of is as irrelevant to them as being on the second page of Google.
Instead, go back to the job ad.
Here's a sample digital marketing resume job description:
Organize and prioritize projects with cross-functional teams for social media, SEO, SEM, email, and content creation. [1]
Write creative briefs for new online marketing campaigns and ensure that assets are compliant and delivered timely. [2]
Act as liaison between external Affiliates and our marketing team.
Manage all timelines for art, graphics, editorial, website updates, ad creation, etc.
Coordinate online marketing calendar with cross-functional partners; partner with merchandising on email content and product and analytics partners on exposure. [3]
You see, if you read the job ad carefully, you'll know exactly which skills they value.
And you will be able to optimize your digital marketing resume to satisfy their searcher intent.
Just look at these examples:
Digital Marketing Resume Sample—Skills Section
right
Efficient in organizing projects across multiple teams [1]
Skilled in implementing creative digital marketing campaigns [2]
Effective at managing complex marketing calendar [3]
wrong
A/B Testing.
Content Management Systems.
Geographic Segmentation.
Those wrong skills may be right for a digital marketing job—
But not for this particular job description.
The right example is tailored and fits this job like a glove.
Finally, flatter the ATS.
The applicant tracking system is a program which helps larger digital advertising agencies cope with the hundreds of resumes they receive every day. HR staff scan a resume into the system, search for specific resume keywords, and receive a quality score in return based on your match.
So, the ATS in recruitment is just like a search engine in SEO. Pretty much a heartless algorithm.
For a pixel-perfect digital marketing resume that beats the ATS, use keywords which the job ad mentions. Write them word-for-word so the software easily ranks you at the top of their candidate search results.
Pro Tip: In digital marketing, hard skills you're able to prove more than soft skills. Go for depth, not breadth, by focusing on skills which specifically relate to the position you're applying for—not to every digital marketing job that exists.
Need your digital marketing resume skills section to positively glow? See our guide: 40+ Best Examples of Marketing Skills to Put on a Resume (Proven Tips)
Want more general tips for writing the skills section? See our guide: 99 Key Skills for a Resume (Best List of Examples for All Types of Jobs).
Add Other Sections for an Effective Digital Marketing Resume
Before you dazzle consumers with your content creativity, you need to SERP-rise the hiring manager, first.
How?
On a digital marketing resume, this means including additional resume sections to complement those core areas of your marketing expertise.
Here are some great additions to a resume for digital marketing jobs:
Digital Marketing Resume Sample: Extra Sections
Marketing certificates bolster your resume, especially if you don't have the university background they prefer.
When you get a new certification, add it to your resume before you forget! There are always new marketing certs coming out, and a ton of free ones you can snag. By updating which ones you have completed you can stay relevant and show potential employers that you are willing to keep learning (which is huge considering the rate at which things change).

Here are top choices for digital marketing certifications:
HubSpot Content Marketing Certification
Facebook Blueprint Certified Buying Professional
Google Analytics Individual Qualification (IQ)
Google Ads Certification
HubSpot is the leader in inbound marketing, and their HubSpot Academy is not to be missed. Check it out!
If you don't have digital marketing experience, adding fee-free work looks great, such as that time you rebuilt your community center's homepage. Just remember to keep it relevant.
Another language is a huge plus for digital marketing managers. From doing keyword research in Spanish to building a landing page in French, your proficiency in a second language gives you an advantage.
Relevant interests and hobbies say you're marketing material without using those exact words. Choose relevant ones (e.g., lifestyle blogging) rather than irrelevant ones (e.g., karaoke).
We've got a great guide on the right things to add to a resume, as well as a complete guide on resume sections and categories. Make sure to check them out!
Pro Tip: As a digital marketer, you're savvy with social media. But, before you hand in that resume, check your online presence and purge any drunken photos and political rants.
7
Write a Digital Marketing Cover Letter
A digital marketing resume without a cover letter is like a landing page without a CTA—
What's the point?
Always include a cover letter, because more than 53% of employers say a resume alone just won't cut it.
Here's how to write a cover letter for digital marketing jobs that'll make you the qualified lead:
Start with a compelling introduction that captures their interest.
Add a body area which explains why you are the best candidate for the job.
Show them that they are the company you want to work for.
Close with an attractive call-to-action which makes them read your resume.
Think of your Internet marketing cover letter as your first task for the job—
If you don't sell them here, you won't sell clients on their behalf.
Pro Tip: There is an email marketing trick that works well on cover letters, too: add a postscript at the bottom of your digital marketing cover letter. This is like adding a second CTA button on a landing page—it gives you additional chance to grab their attention.
Want to know more cover letter tricks that always work? See these articles: 35+ Successful Cover Letter Tips, Advice & Guidelines (With Examples) and How to Write a Job-Winning Cover Letter in 8 Simple Steps (12+ Examples)
Plus, a great cover letter that matches your resume will give you an advantage over other candidates. You can write it in our cover letter builder here. Here's what it may look like: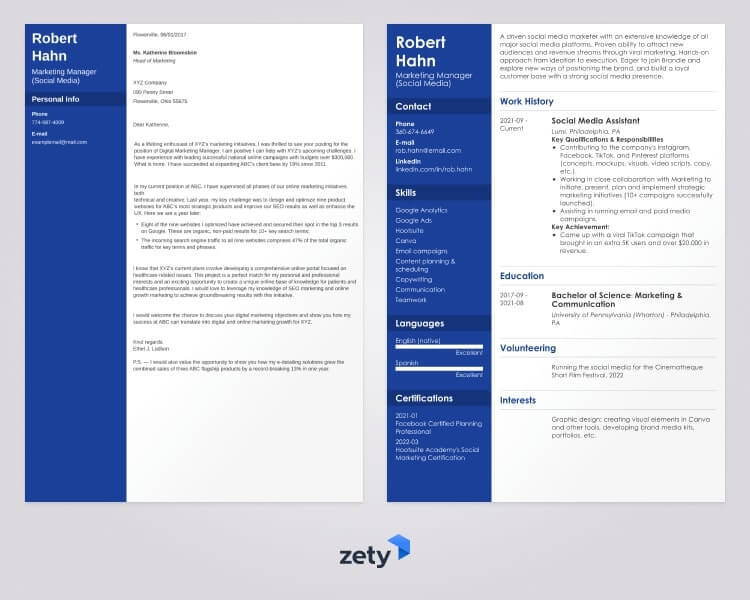 See more cover letter templates and start writing.
Key Takeaway
Let's recap. Remember to:
Use the reverse-chronological format to make your resume easy-to-read.
Write a compelling digital marketing resume objective or summary.
Add work experience with relevant duties and quantifiable achievements.
Put an education section on your marketing resume that impresses them.
List digital marketing skills which the employer mentions in the job ad.
Include relevant additional sections like digital marketing certifications to boost your chances of getting that job.
Attach a great digital marketing cover letter to your resume to outscore other candidates.
Now THIS is a digital marketing resume that will give you a high return on investment!
Got any questions on how to write an SEM or digital marketing manager resume? Not sure how to talk about advertising skills or copywriting achievements? Get at us in the comments below, and thanks for reading!
About Zety's Editorial Process
This article has been reviewed by our editorial team to make sure it follows Zety's editorial guidelines. We're committed to sharing our expertise and giving you trustworthy career advice tailored to your needs. High-quality content is what brings over 40 million readers to our site every year. But we don't stop there. Our team conducts original research to understand the job market better, and we pride ourselves on being quoted by top universities and prime media outlets from around the world.