In this article, you'll learn everything you need to know about writing a functional resume. Just let me ask you something:
Not proud of your work history?
Worried that employers will reject you because you hopped jobs too many times? Don't want to draw attention to employment gaps? No work experience in the industry you're transitioning to?
The Internet says the functional resume format also known as the skills based resume is a solution to most issues with employment history.
The Internet is wrong.
Truth is, the functional resume format is dysfunctional.
Luckily, there are way more effective methods of dealing with quirks in your work history.
They're easier than you think. And I've got you covered.
This guide will show you:
How to write a functional resume in a special way so that it's better than 9 out of 10 functional resumes out there.
An example of a functional resume.
Who might benefit from using a functional resume and who needs to avoid it.
Why recruiters usually hate functional resume templates.
Here is an example of a functional resume—
Want to save time and have your perfectly formatted resume ready in 5 minutes? Try our resume builder. It's fast and easy to use. Plus, you'll get tips and right vs. wrong examples while writing your resume. See 20+ resume templates and create your resume here.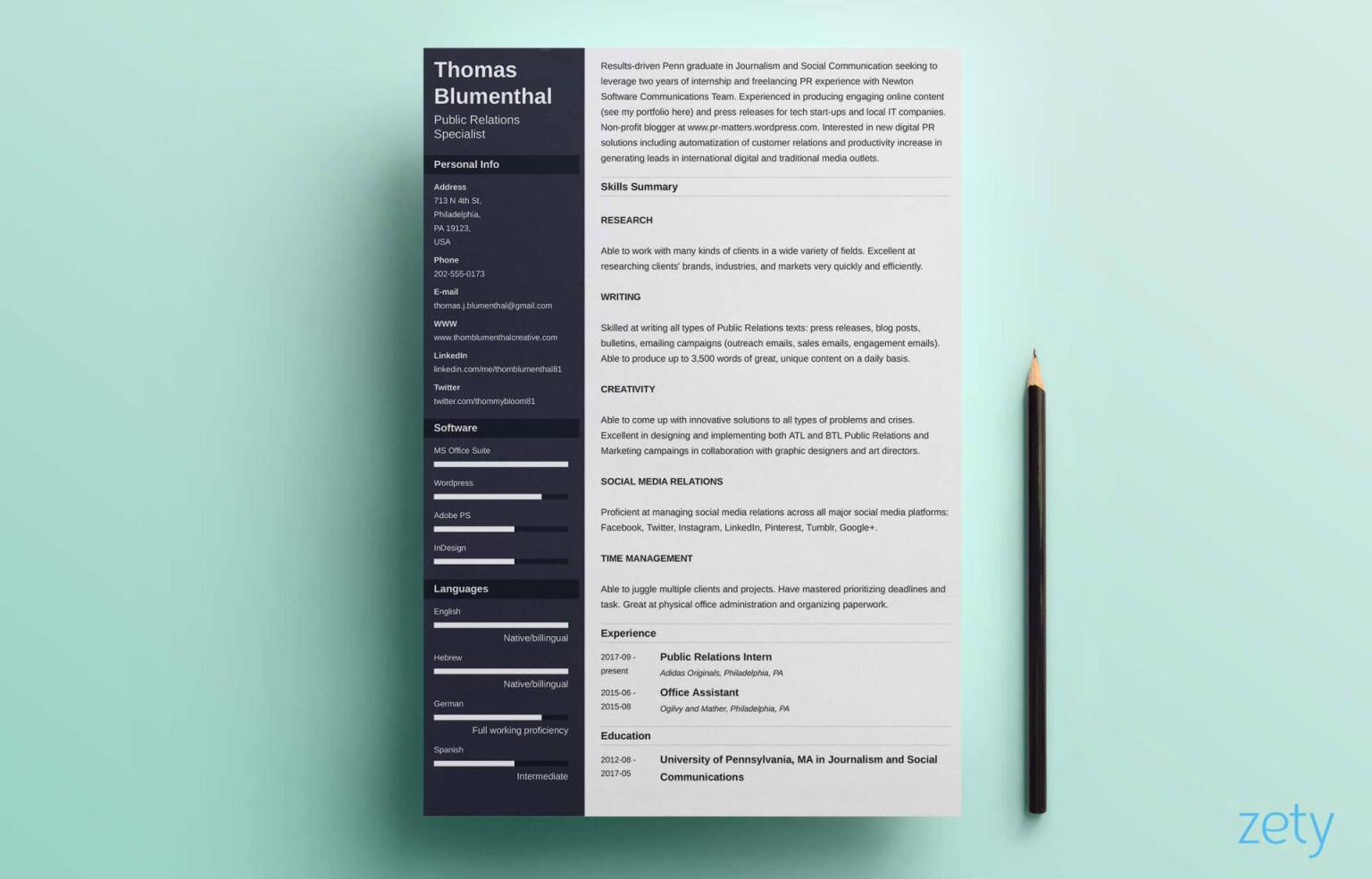 Functional resume made with our builder. See 20+ resume templates and create your resume here!
Changing careers? Read: Career Change Resume: Sample and Complete Guide
1
How to Write a Functional Resume
What is a functional resume?
Here's the best definition of a functional resume:
A functional resume highlights your skills and expertise rather than your work history in order of date. The functional resume format is recommended if you are a career changer, have gaps in employment, or apply for a job which is only indirectly related to your so far professional experience.
And here's how to create a functional resume:
You start a functional resume with a skills summary. It goes right below your contact information.
You list your abilities under specific skill headings (or skill categories). For example: "Leadership," "Customer Service," or "Business Management."
Below each heading, you make a list of bullet points that describe the tasks, assignments, and projects that you've completed that show you have those skills.
The skills summary is the most important part of writing a functional resume.
Below the skills list, at the bottom of your resume, you put your work experience.
Finally, you enter your highest degree of education.
What does the functional resume format look like?
Here's an example of a functional resume:
Sample Functional Resume Template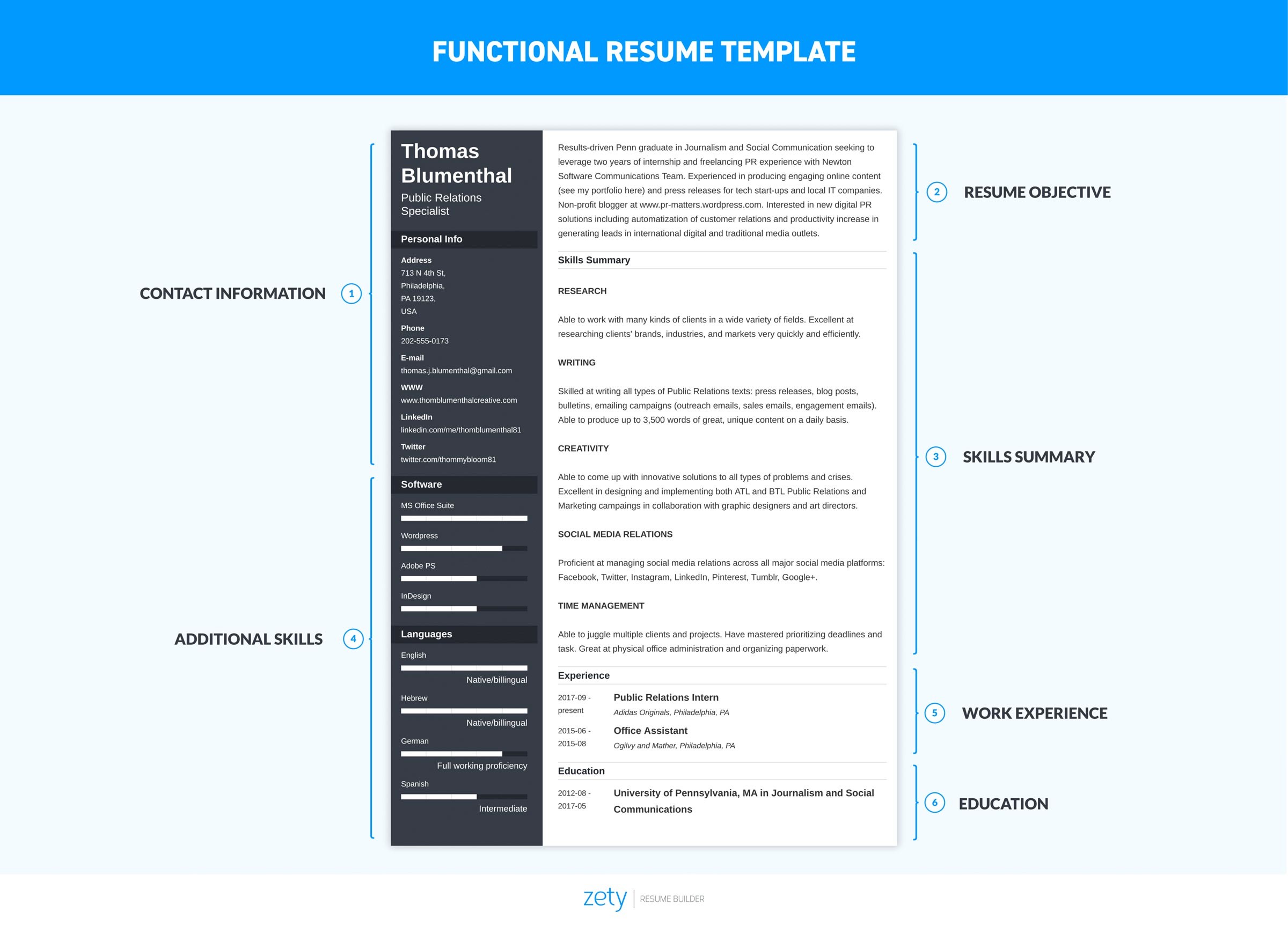 Sample functional resume made with our builder. See 20+ templates and create your resume here.
See the problem?
You don't have to link your skills to your job experience or explain how you got them.
What does that mean?
That the recruiters won't believe your vague headlines like "training capabilities" or "managerial skills" if the rest of your resume doesn't give solid, verifiable proof.
Want to get some ideas on how to use a resume format to help you land the interview? Read our complete guide on resume formatting 3 Resume Formats: How to Choose the Best One [Examples] for resume format examples, samples, and expert tips.
And if you'd like to make sure your resume will hook every recruiter and get you that interview—get our free checklist and learn what makes a job-winning resume: 46 Things You Need To Do Before You Send Your Resume
2
Functional Resume vs Other Resume Formats
Thirty or so years ago there used to be only one resume format. It was reverse chronological.
It was elegant, plain, simple, easy to write, and understandable for the recruiters (it's called chrono-LOGICAL for a reason).
Then the 90s happened.
And they brought us some really ridiculous trends - soul patches, JNCOs, chain wallets, Tae Bo, and, last but not least: the functional resume.
Luckily, in most cases, the human race grasped just how absurd these things were.
Yet some still believe that the functional resume is a thing.
It's not.
Let's make a quick comparison of the functional resume layout and two other types of resume formats. You'll see that even the best functional resume will hurt your chances of getting hired.
Functional Resume vs Chronological Resume
Unlike the functional resume format, the chronological resume emphasizes your work history. You begin with describing the peak of your career - your most recent job - and follow with previous positions listed in reverse chronological order.
The chronological resume is the most typical resume format. The recruiters are familiar with it and will process it in a flash.
And it has an additional edge:
Nowadays, many employers use Applicant Tracking Software (ATS) for scanning job applications.
The ATS has been designed, primarily, to read reverse chronological resumes.
So if you submit a resume in this format, you can be sure that the ATS won't choke on it.
Functional Resume vs Combination Resume
The combination resume format, as the name implies, combines the features of a functional resume and the reverse chronological resume.
Like the functional resume, it opens with a summary of your skills. The difference is, the combination resume format is all about linking those skills with your professional experience.
This way, you emphasize your skills and provide tangible evidence of your abilities and knowledge.
Have a look at this table summing up the differences between the three resume structures:
Chronological vs Functional vs Combination Resume

Chronological vs Functional vs Combination Resume

Reverse Chronological resume

Functional resume

Combination resume

Chief focus

Work experience / Education

Skills

Skills and work experience

Work experience section

At the top, relevant

At the bottom, irrelevant

In the middle, relevant

Skills section

In the middle, relevant

At the top, relevant

At the top, relevant

Layout

Professional and traditional

Non-conventional, confusing

Professional and creative

Applicant Tracking Software scannability

Scannable

Non-scannable

Scannable

Main advantage

Easy to read, universal

Conceals flaws in work history

Emphasizes and validates skills

Main weakness

Very common, might require tweaking

Suggests you're hiding something

Suitable for few candidates

Good for

Virtually all candidates

Creative jobs,

Military transitioners,

Candidates who don't want to seem overqualified

Career changers, experienced professionals

Not ideal for

Career changers

Students, experienced professionals, career changers, entry-level candidates

Entry-level candidates, students
Who might benefit from using a functional resume template?
Military transitioner resumes - because the recruiters might not understand the detailed descriptions of military work experience.
People seeking creative jobs - because it's usually their portfolio that matters most and the functional resume could serve as a creative addition to spice up the application.
Candidates who want to avoid coming across as overqualified.
For all of the others, the functional resume format is a high-risk choice.
Want to find out more about how to create a resume in a different format? Check out these comprehensive guides on how to write them:Chronological Resume Template & 20+ Examples [Complete Guide]
3
Here's Why a Functional Resume is Unlikely to Get You a Job
In case you're still wondering, here's a quick answer:
Because the recruiters and hiring managers hate it.
Why?
First of all, it's a waste of their time. And their time is precious.
Hiring is fast and furious:
Corporate jobs attract around 250 resumes. Now, guess how much time, on average, recruiters take to read each of those resumes.
That's right.
Here's what they look for during those six seconds:
Your relevant qualifications
Your job titles
The highest level of responsibility you reached
Where and when you developed your skills
And what does a functional resume do? - It hides or omits pretty much all of the above.
It forces the recruiters to read between the lines or follow up with questions.
And they just won't be bothered to do it.
Why?
Because the recruiters are not your friends. Nor do they work for you. They have no interest in selling you.
Once the recruiters are done with scanning hundreds of resumes, they have to present the best candidates to hiring managers and provide solid reasons that these candidates are worth hiring.
Functional style resume gives no such reasons whatsoever.
And it has way more shortcomings.
Have a look:
1. A functional resume is a red flag
For years, creating a skills based resume has been recommended as the best way to camouflage employment gaps or lack of job-relevant experience.
The result?
It's become a flashing neon that screams "I'm trying to hide something!"
2. It doesn't tell a story
Think about it:
You're applying for the job because you think you'll meet the employer's expectations. Whatever your past was, it's made you who you are today - a perfect candidate for this job.
Think about your resume as a way of telling the story of how your experiences made you an ideal contender for the job. A functional resume provides no narrative.
3. It undersells you
By leaving off key details such as dates of tenure and education, or schools you've attended, you make the recruiters suspicious:
One, your qualifications become questionable. Two, it looks as if you were hiding dates because you don't want the recruiter to guess your age. Paradoxically, this opens you up to age discrimination.
4. It's against logic
You know exactly what information the recruiters and hiring managers are looking for.
And what does a skills based resume format do?
Hides this information.
Submitting a functional format resume is just as ridiculous as replying to job interview questions by: "I'm not gonna tell you."
Hey there, students! You might have read somewhere that a student functional resume template is something worth considering. IT IS NOT! There are loads of better ways to land your first job and we've made a handy guide to show them to you. Check it out: How to Write a Resume with No Work Experience [A Complete Guide].
4
Here's a Quick Way to Make Your Functional Resume Effective
If the skills based resume layout is worthless, does it mean you have to stick to the reverse chronological one?
Hell no!
There are some easy tweaks that can make a functional resume advantageous!
Let's have a look:
Add a timeline of your education and experience.
You can put it under your skills section so that it's not the focal point of your resume. Remember that if you have employment gaps or no job-related experience, the recruiters will find out, no matter what resume tricks you try.
Link your skills to specific achievements from your career.
For instance, if you're writing an IT functional resume, write about how and where specifically you used your IT skills.
Add a link to your LinkedIn profile.
It will show the recruiters that you're not hiding anything.
Add a resume objective.
If you're writing a student functional resume or a functional resume for career changers, include a resume objective at the top of your resume template: a brief paragraph in which you tell the recruiters how you're gonna leverage your skills to your future employer's benefit.
Easy, right?
Our resume builder (you can create your resume here) will give you tips and examples on how to write your resume summary or any other section. You can easily copy them straight into your resume - it will save you a ton of time.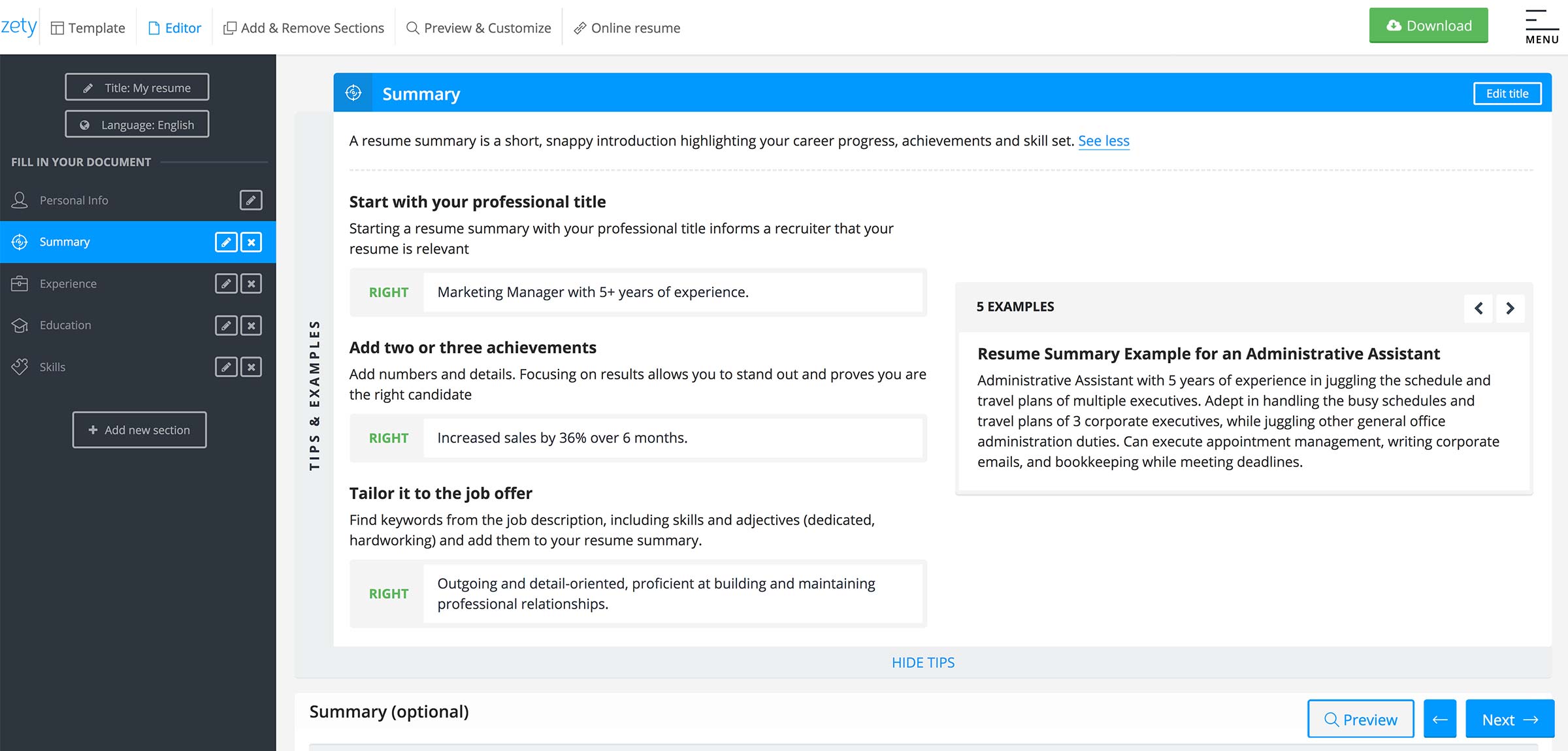 Inside Zety's resume tool you will find tips and examples for your resume.
Apply these strategies, and you'll have the best functional resume out there.
The only thing is - it's not really going to be in the standard functional format. Those simple tweaks are all it takes to transform your functional resume into a combination resume.
The combination resume format might be your best bet. And it's not that much different from the functional resume template. Check out our comprehensive guide for resume examples and expert tips on how to use this format to highlight your skills: Combination Resume Template & 5+ Examples [Complete Guide]
Key Takeaway
Job seekers with an imperfect work experience history are vulnerable.
That's why they're often tempted to create a functional resume and hide what they're ashamed of.
The Internet is filled with skills based resume templates and samples that are completely useless. Most recruiters and human resources specialists hate this resume format because it excludes everything that's of value to them.
Instead of writing a functional resume, try a slightly different resume setup:
You can still highlight your skills, but you have to relate them to specific experiences and achievements.
You also need to include dates of employment and education

on your resume—without them, the recruiters won't be able to say anything specific about your career to hiring managers.

If you're trying to write a skills based resume with no experience to list, include a resume objective. Focus on what you can offer your employers and how they will benefit from your skills.
You're targeting a career change and want your resume to highlight your skills? Want to learn more on how to tweak your functional resume to make it more efficient? Give us a shout in the comments, and we'll answer your questions!