You came to the right place to write your combination resume. Just give this a thought first:
Before you start writing your resume, you have to choose your resume format.
You can either highlight your job history and career progress on a reverse chronological resume or you go for a skills-based resume format.
You can't have your cake and eat it too.
So you've been told. It's a matter of common sense, right?
More like common nonsense.
There is an alternative: a combination resume format template also called a hybrid resume or a chrono-functional resume.
Combination resumes break the boring either-or rule. They can do both: highlight your best skills in a creative way and present your work history.
They let you have your cake and eat it.
Already feel like writing one?
Not so fast. A combination resume template is unsuitable for many candidates, especially for those with little work experience.
Plus, if you don't know how to get it right, you'll probably fail. Making a professional combo resume is not as easy as it seems.
The good thing is, it's not that hard either. Read on and you'll learn how to do it in no time!
This guide will show you:
A combination resume example better than 9 out of 10 other resumes.
A handy checklist for a combination resume format template.
How to write a combination resume that will land you more interviews.
How to describe your experience on a hybrid resume.
Tips and examples on how to put skills and achievements on a combination resume.
Here's a sample combination resume made with our online resume builder.
Want to save time and have your combination resume ready in 5 minutes? Try our resume builder. It's fast and easy to use. Plus, you'll get tips and right vs. wrong examples while writing your resume. See 20+ resume templates and create your resume here.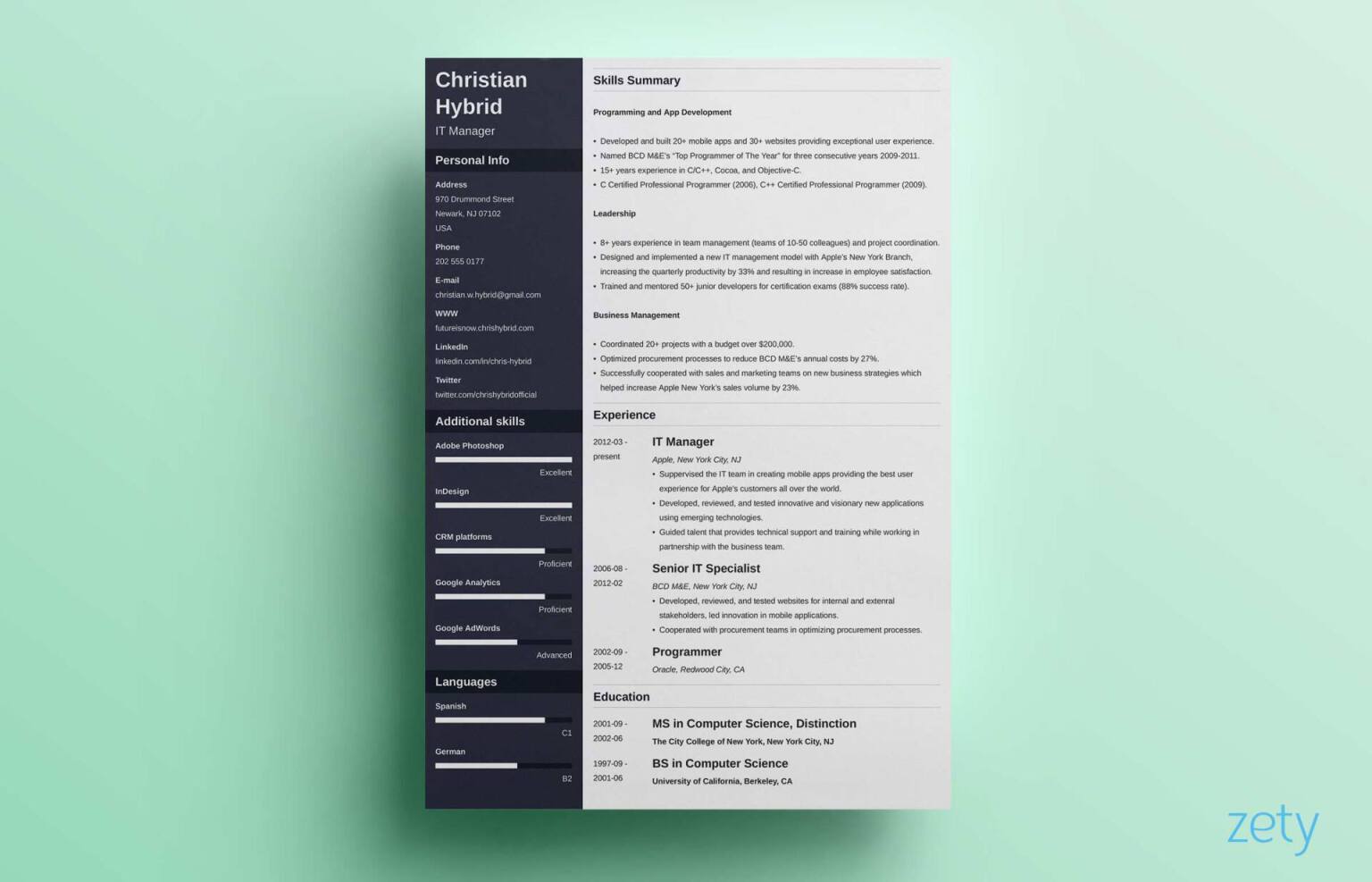 Sample combination resume made with our builder. See 20+ resume templates and create your resume here!
1
What is a Combination Resume Format and When to Use a Hybrid Resume
Who doesn't love a great duo?
Just think about peanut butter & jelly, Thelma & Louise, Netflix & chill.
Recruiters like duos too: especially a duo of stellar skills and impressive work experience in their candidates.
And you can get them their fave duo by submitting a well-written combination resume.
Rather than provide you with a dry definition of the combination resume, we will show you how it works:
The combination resume format combines the best features of a chronological resume and a skills-based resume.
Its focal point is your skills summary, also called a professional profile or a qualifications summary. This section comes at the top of a hybrid resume, just below your contact information.
The skills summary lists skills relevant to the job and validates them by providing examples of past achievements and professional experience in bullet points.
Let's have a quick look at a handy table that shows pros and cons of a combination resume template and explains how it differs from other resume layouts:
Chronological vs Functional vs Combination Resume

Chronological vs Functional vs Combination Resume

Reverse Chronological resume

Functional resume

Combination resume

Chief focus

Work experience / Education

Skills

Skills and work experience

Work experience section

At the top, relevant

At the bottom, irrelevant

In the middle, relevant

Skills section

In the middle, relevant

At the top, relevant

At the top, relevant

Layout

Professional and traditional

Non-conventional, confusing

Professional and creative

Applicant Tracking Software scannability

Scannable

Non-scannable

Scannable

Main advantage

Easy to read, universal

Conceals flaws in work history

Emphasizes and validates skills

Main weakness

Very common, might require tweaking

Suggests you're hiding something

Suitable for few candidates

Good for

Virtually all candidates

Creative jobs,

Military transitioners,

Candidates who don't want to seem overqualified

Career changers, experienced professionals

Not ideal for

Career changers

Students, experienced professionals, career changers, entry-level candidates

Entry-level candidates, students
As you can see, the major weakness of a combination resume is that it can be used by relatively few types of job seekers.
Who can benefit most from creating a combination resume template:
Seasoned professionals with very extensive work experience: for them, a combination resume is a perfect way to emphasize their most impressive achievements.
Career-changers who haven't yet worked in their target industry, but have otherwise developed key skills relevant to the job they're trying to land.
Employment-gappers who, nonetheless, have many years of relevant work experience. With enough verifiable wins under their belt, they'll be able to assure the recruiters any potential gaps don't matter.
If you think you'd benefit more from choosing a classic reverse chronological resume, here's a must-read piece for you: 3 Resume Formats: How to Choose the Best One [Examples]
Want to make sure your resume will hook every recruiter and get you that interview? Get our free checklist and learn what makes a job-winning resume: 46 Things You Need To Do Before You Send Your Resume
2
How to Write an Effective Combination Resume and What Sections to Include
When you're looking for a job, a proper layout of a resume is your best friend.
Why?
Because it keeps the recruiters from getting frustrated.
Recruiters usually spend only 6 seconds on each resume they review.
If they find what they're looking for during those 6 seconds, you've passed to the next stage. If not - say goodbye to your dream job.
To make your combination resume template scannable, you have to divide your resume into specific sections.
Here's what sections a good template for a combination resume has to include, from top to bottom: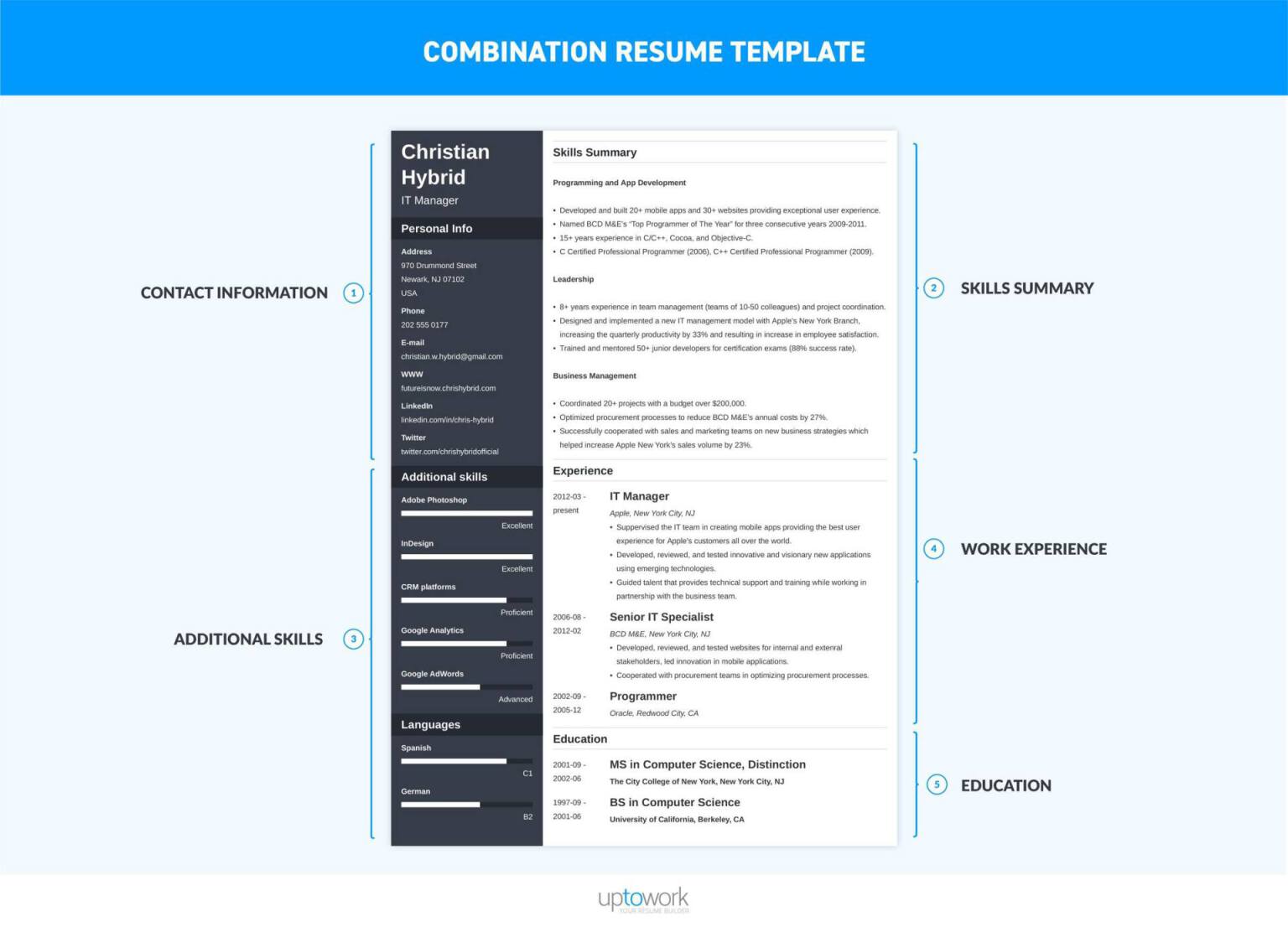 Combination resume made with our builder. See 20+ templates and create your resume here.
Now, let's break down how to make the most of each of the combination resume format sections.
1. Contact information
Yup, the basics first. If the recruiters are interested in interviewing you, they need to know how to reach you.
In the contact information, enter your:
Full name,
Email,
Telephone number,
Web addresses,
Licence number,
Your home address (optional).
2. Skills summary
Now, time for the real make-or-break part of a combination resume. This section is critical.
How do you write it?
In your skills summary, you file a list of your skills that are most relevant to the job you want to get. Underneath each skill-related subheading, you put bullet points describing your professional achievements that validate the skill you're mentioning.
Here's a real-life example:
Meet Christian. He's applying for an IT executive position with a tech company that specializes in mobile apps development.
That's why he needs to identify the key skills required from a successful candidate. In this case, these will be related to programming, team leadership, and business management.
Have a look at Christian's executive combination resume skills summary:
Programming and App Development
Developed and built 20+ mobile apps and 30+ websites providing exceptional user experience.
Named BCD M&E's "Top Programmer of The Year" for three consecutive years 2009-2011.
15+ years experience in C/C++, Cocoa, and Objective-C.
C Certified Professional Programmer (2006), C++ Certified Professional Programmer (2009).
Leadership
8+ years experience in team management (teams of 10-50 colleagues) and project coordination.
Designed and implemented a new IT management model with Apple's New York Branch, increasing the quarterly productivity by 33%.
Trained and mentored 50+ junior developers to help them prepare for certification exams (88% success rate).
Business Management
Coordinated 20+ projects with a budget over $200,000.
Optimized procurement processes to reduce BCD M&E's annual costs by 27%.
Successfully cooperated with sales and marketing teams on new business strategies which helped increase Apple New York's sales volume by 23%.
This is a great example of a combination resume put to proper use.
See what Christian did here?
He didn't want to make hiring managers hunt for his achievements.
Instead, he pulled out a standalone skills-related summary of what he's accomplished and spiced it up with a mix of his awards and certifications.
That's exactly how you should do it if you're writing an executive combination resume.
ProTip: If you're writing a combination resume for a career change, focus on highlighting those skills that your potential employer is looking for. Don't place too much focus on achievements unrelated to the job offer, even if you're insanely proud of them.
Our resume builder (you can create your resume here) will give you tips and examples on how to write your resume professional summary section. Or any section for that matter. You can copy the examples to your resume, customize, and save a lot of time.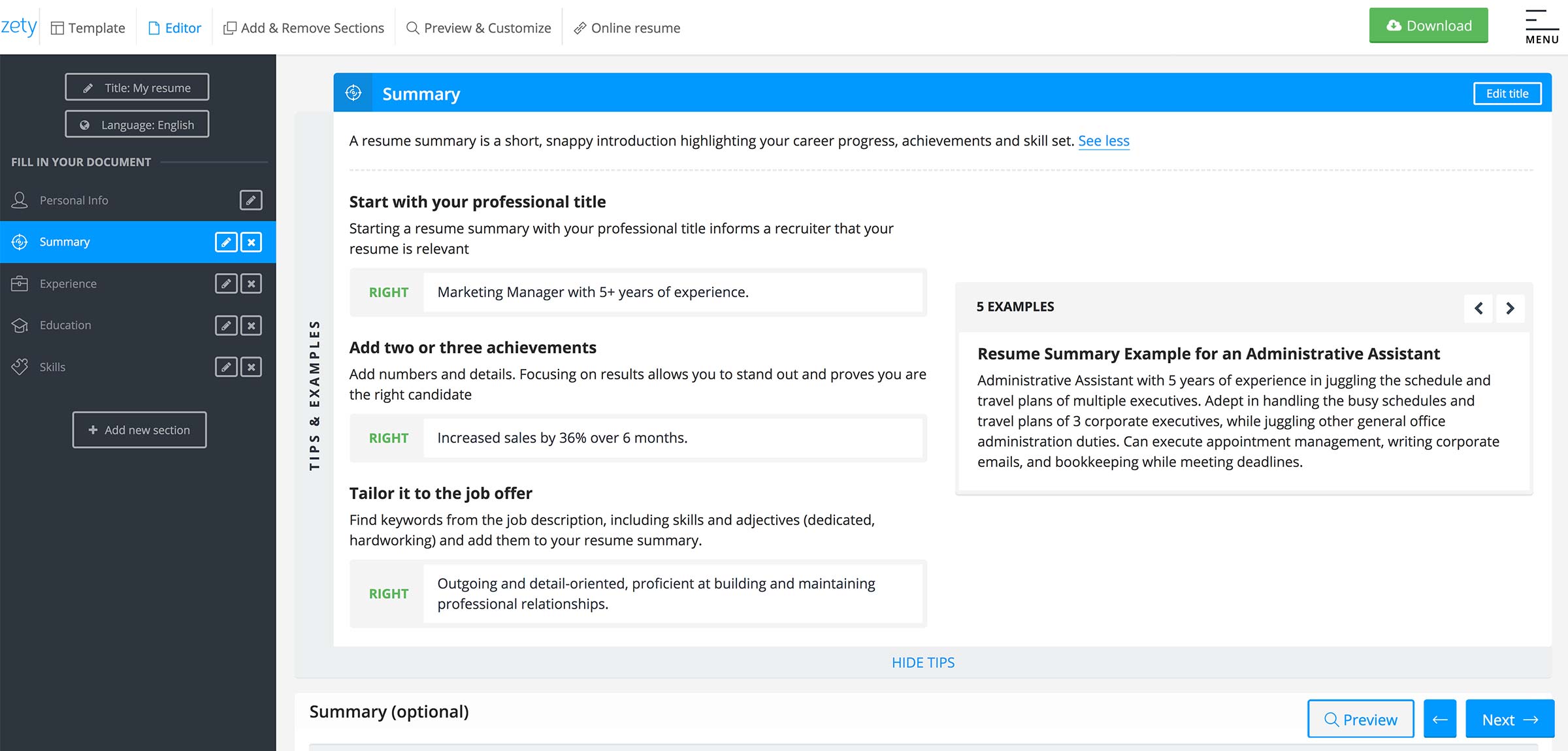 Inside our resume builder, you'll find expert tips and examples for your resume summary.
3. Additional skills
If you're an experienced candidate, your skills summary section probably does not include all of your key skills - only those that show you'll excel in the position you're applying to.
But other skills also matter. They present you as a high level professional with a comprehensive professional knowledge.
Name the skills section "Additional skills" or just "Skills". Include up to five bullet points describing your abilities. And be specific - briefly explain your level of proficiency in each of your skills.
Need some ideas on what skills to list and how to describe them? See our guide:
30 Best Examples of What Skills to Put on a Resume (Proven Tips)
4. Work experience
A combination resume highlights your skills and achievements before anything else, true.
But your work experience section is still vital. The recruiters are interested in your career progress and want to see where exactly your skills came from.
On a combination style resume, put your work experience section below the skills-related sections.
Start with your current or most recent job. Then, enter your previous positions in reverse chronological order.
Under each job, add up to two bullet points that illustrate your responsibilities and achievements.
Here's a sample hybrid resume work experience entry:
Project Manager
Electronics Fab
January 2007‒April 2014
Atheon MDC, Massachusetts
Led electronics fab project management for Raytheon MDC's 85 employees.
Managed Lean Training project for three years. Improved quality by 32%, cut lead times 21%.
ProTip: It's fine if you repeat some achievements from your skills summary in your work experience section. It makes your resume consistent and highlights your best wins.
Want to learn more about how to describe your work experience on a combination resume format? Read our guide: Job Description Bullet Points for a Killer Work Experience Section
5. Education
Your education section comes last on a hybrid resume template.
And it's pretty straightforward.
All you have to do is list your highest degree of education. Include:
The type of your degree.
Your major.
The name and location of your school.
Your honors or awards.
Here's an example of a combination resume education section:
2015 MA in Journalism and Social Communication, with Distinction
Eastern Kentucky University, Richmond, KY
So there you have it. A complete combination resume format template.
ProTip: Once you're done with writing, save your chrono-functional resume in PDF. It makes sure that your layout stays intact. But make sure to read the job ad carefully and check if PDFs are accepted - sometimes resumes are scanned by Applicant Tracking Software bots which can choke on a PDF file. In such case: send your combination resume in Word.
Want some more expert tips and examples on how to structure your resume sections? Read our guide: Resume Sections to Include on Your Resume: Guide (+20 Examples)
Key Takeaway
If you're an experienced professional, making a combination resume is a great way to make sure the recruiters pay attention to your stellar skills.

To make sure your combination resume is up to par, use these key strategies:
Validate your skills by linking them to relevant professional achievements, awards, or certifications.
Tailor your skills summary to the job description. Don't show off the skills that you're most proud of, but those the employers are looking for.
When listing your work experience, remember to briefly explain your duties or highlight your top achievements.
Repeating some information from the skills summary is perfectly fine—it makes your resume consistent and your skills more convincing.
Do you have any questions on how to write a combination resume? Want to discuss the pros and cons of the combination resume format? Give us a shout in the comments and we'll answer your questions!