We're about to discuss how to correctly address a resume and add your contact info, but first:
You've got the perfect resume.
The education section is unbeatable, your work experience section lists achievements that'll have them calling you up for an interview ASAP, and your skills—well, they kill.
But none of that matters—
—if you don't have your resume contact information formatted correctly and including the proper details.
But do I need my address on my resume? Should you put LinkedIn on resumes? What about my date of birth?
The personal information on your resume feels so easy compare to the other parts, and therein lies the problem. Many people overlook exactly which contact details to include and how to include them.
Don't worry. Our guide will walk you through what to include in your resume contact section, how to format your resume address, and which personal details to avoid including.
This resume address and contact info guide will show you:
How to write an address on a resume and format it correctly.
Tips and examples of how to format your resume contact information.
Whether or not to include personal details such as social media and websites.
Want to save time and have your resume ready in 5 minutes? Try our resume builder. It's fast and easy to use. Plus, you'll get ready-made content to add with one click. See 20+ resume templates and create your resume here.
Sample resume made with our builder—See more resume examples here.
You have your resume ready but don't know how to email it properly? Check our Sample Email to Recruiter with Resume.
Before we begin, what is contact information?
Contact information is the data you provide that lets recruiters get in touch with you. For all professionals, that includes your name, email address, and phone number. Most of you will also want to consider adding at least an address and LinkedIn profile.
1
What Contact Information Should be on a Resume?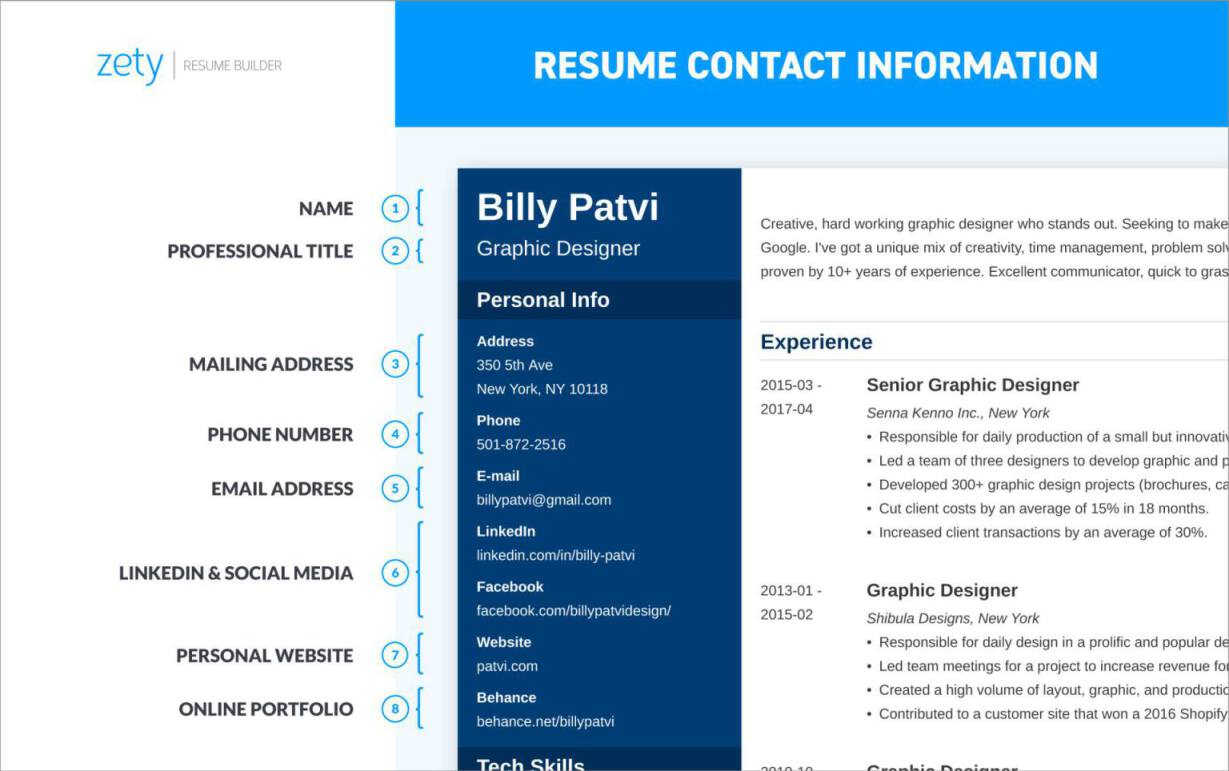 Resume Contact Information Elements

| | | |
| --- | --- | --- |
| Item | Necessary? | Explanation |
| | Yes | First name then last (middle name optional). |
| | Optional | Brief title or branding statement, like a catchphrase. |
| | Problematic | Many employers still send offers & rejections via post. Also, some jobs may prefer local candidates. |
| | Yes | Personal cell phone preferred over house phone. |
| | Yes | Today's preferred means of communication. |
| | Recommended | Preferred networking platform for professionals. |
| | Optional | Especially if related to the job, like Behance for designers or Github if you've made IT contributions. |
| | Optional | Got a relevant website, portfolio, or blog? Add its URL to your personal info section to show it off! |
Now these are the contact information details in a nutshell, but read on as we explain more about how each resume information section should be done.
Pro Tip: You could list an explanation of each contact detail before each item (PHONE: 555-555-1234, EMAIL: jon@gmail.com), but save yourself space and skip them. They're easily identifiable, anyway. Or, if you'd like to be creative, use icons instead.
This is just one of many important sections of what goes on a resume. For more, read: What to Put on a Resume to Make it Perfect
2
Your Name and Professional Title
Just like contact details in general, adding your name onto a resume seems straightforward and unnecessary to discuss.
However, there are a few points to keep in mind:
Go full legal. Use the your full first name and your last name, and spell it the way it is spelled on your identification card or passport.
Be consistent. Make sure you follow the same naming convention across all other correspondence with the company.
Professional Acronyms
You earned them, so list them! Feel free to list any certification, education, or professional abbreviations, also called post-nominal letters, after your name and a comma:
However, these conventions differ by country, so double-check.
Middle Name on Resume?
Putting your middle name or middle initial on your resume is fine. Just remember the point mentioned above and stick to this naming format on your cover letter, as well.
Nicknames on Resume?
Avoid nicknames. Until you're out of the uncertainty of the hiring process, stick to your full and formal name in documents. During an interview, or after you're hired, feel free to inform your new coworkers that you're Robert, but they can call you Bob. (Or O Captain! My Captain!)
Professional Title on Resume?
Many modern resumes include an area for you to include a professional title directly under your name. You can use this to briefly describe your professional brand, sort of like a LinkedIn headline. Some refer to this as a resume subtitle or headline, as it goes under your name (your name being the title, in this case).
Here's what a subtitle can look like in a resume header:

Your contact info is just the tip of the iceberg when it comes to preparing a resume. For a complete guide, read: How to Create the Perfect Resume for Your Dream Job
3
Your Address on the Resume
Adding an resume address is a traditional inclusion, but here are some points to ponder before doing so:
Should I put my address on my resume?
In this day and age, an address on a resume is not always necessary. While the employer could send an offer or rejection letter by snail mail, most likely they'll opt to shoot you an email.
However, some employers may only want to hire local candidates, perhaps due to local tax incentives or for viability.
Adding an address to a resume may be required for those positions, but it could also exclude you from the candidate pool if you're not within their boundary parameters.
Some also pay attention to where you live because they want to know how much time you'll need to commute and if you're a tardy risk.
On the flip side, for those employers who only want local candidates, leaving your address off of your resume may give you a fighting chance. You could get called in for an interview so they can see if they like you, and then your distance will matter much less to them.
The city and state might not tell the employer much, but the zip code or street address has been used, unfortunately, for discriminatory purposes.
It's quite easy these days to get data (socioeconomic, ethnicity, political leanings, etc.) based on this information.
Is it safe to put an address on a resume?
There is a risk every time you hand out personal information, especially your address. However, it is usually safe, as the laws against them using your address in a bad manner far outweigh the small risk of disclosing it. Just avoid spammy Craigslist ads and stick to the best job boards.
If you're unsure and willing to accept the negligible risk that your employer could use your address nefariously (i.e., identity theft), go the traditional route and add your address.
Home or mailing address on resume?
Most people receive their mail at their home, meaning their home address, mailing address, and street address are all one and the same.
However, if you receive your mail elsewhere, such as to a post office box, make sure you include that address. Avoid the chance that you'll miss their offer letter!
Oh, and if you feel that you may have your home address held against you (for reasons we mentioned from before), consider opening a post office box of your own!
Also, if you have a city that can be abbreviated, like New York, NY (NY, NY), it's best to spell out the full city name. The city could be a resume keyword, but leave the state abbreviated to its two-letter form, though.
On street addresses—make sure you also know how to write them for different countries, if necessary.
Relocation on a resume
If you are relocating to a city where the prospective employer is based, skip the mailing address.
However, be sure to mention that you are relocating on your cover letter, so that questions don't arise as to why all your work history is nowhere near the company.
Pro Tip: Some people have asked: is it illegal to use another person's mailing address on a resume? As long as you have permission, it's legal. However, make sure that you have easy access and check it regularly—don't miss that crucial reply!
Your cover letter should be made out properly, too, but it won't include all the same details. Read this for more: How to Address a Cover Letter
When making a resume in our builder, drag & drop bullet points, skills, and auto-fill the boring stuff. Spell check? Check. Start building a professional resume template here for free.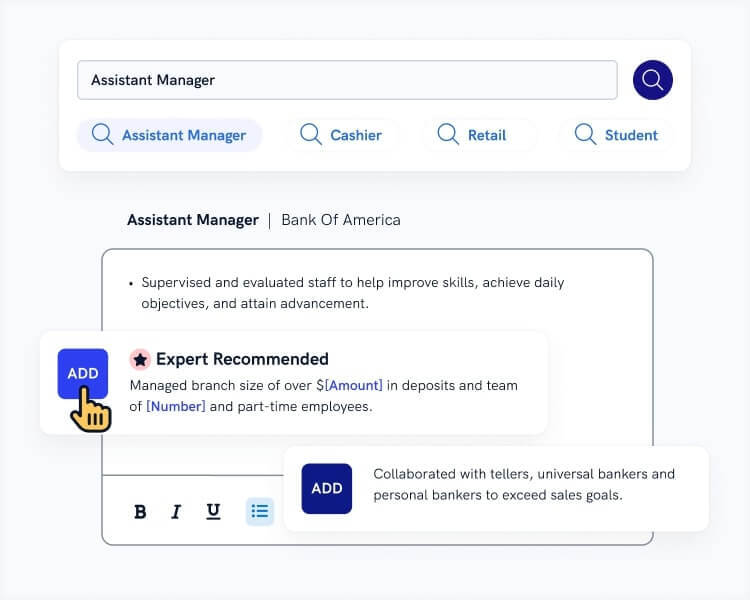 When you're done, our easy resume builder will score your resume and our resume checker will tell you exactly how to make it better.
4
Email Address & Phone Number
Your email address and phone number are the two most important contact methods to include on a CV or resume. Make sure you get them right.
Email Address on a Resume
Professional email address for resumes are key—don't use an unprofessional high school one as your resume email address:
| right | wrong |
| --- | --- |
| john.smith@gmail.com | jdogg69@aol.com |
Also, don't use a current work address! Doing so looks disloyal, unprofessional, and you will soon lose access to it anyway, if you're changing jobs.
Finally, use a trusted and respected email provider that is current, like Gmail.
Phone Number on a Resume
It is best to include your cell phone number (if you also happen to still have a landline).
How to properly write a phone number varies by country. Just remember, if you are looking for a job in another country, include your country's dialing code with your phone number:
+1 (718) 555-1212
Just like with other personal information on a resume, be consistent across documents.
Other Contact Methods
Some job seekers may want to consider adding another contact method, especially if across pricey international borders. Perhaps add a Skype handle or a Google Hangouts URL, depending on your circumstances.
Pro Tip: Whatever phone number you choose to give, make sure that the voicemail is ready for the employer—your funny message recorded with your significant other about being away having intercourse may not be ideal during your job hunt!
Styling your resume's contact section is mainly about your font choice and sizing. Read this for more: Best Font for a Resume: What Size & Typeface to Use?
5
LinkedIn & Social Media on Resume
Though not exactly contact methods, social media profile handles and URLs are common choices of what to include in a resume.
LinkedIn on a resume is not only common—we highly recommend it. 87% of recruiters use it to research candidates, according to our HR statistics report. As the quintessential career and networking platform, you'll want to be sure you have an optimized LinkedIn profile.
How to put LinkedIn on resumes and CVs? Just add your LinkedIn address onto the resume and be sure to make it hyperlinked. This will allow the employer to easily click and view your profile.
Social media accounts like a Facebook or Twitter are common to add these days, as well. While they are usually not relevant, the recruiter or HR manager is probably going to look you up anyway. So, clean up your online presence!
On top of that, a resume with social media links has the redeeming quality of making you a little more current and tech-savvy.
If you are something of a public figure, it's best to opt for adding social media to a resume. Also, consider adding a Facebook page (for your brand) instead of your personal profile, for example.
Pro Tip: How to list social media on resumes? Make sure you are properly hyperlinking your social profiles or social handles (@johnsmith), particularly on digital versions of your resume, such as a PDF.
If you have a relevant blog/website or online portfolio, consider adding its URL to your contact information resume section to show it off!
For example:
Behance - Useful for creative types and designers to show off your artistic talent.
Github - For contributors and coders to highlight and share snippets and programs.
Muck Rack - Journalists and bloggers can share all a portfolio of all their published pieces.
Also, you may want to include a link to your personal blog or website so that they can get to know more about you.
Pro Tip: As with your social media links, be sure to purge or hide any objectionable content from your websites and online portfolios!
Don't have a professional website but curious or ready to build one? Check this out: How to Make a Personal Website That Helps You Find a Job
7
Which Information NOT to Include in the Contact Section
Resume writing is all about including the right information—but also about excluding the wrong items. Some things should not be included in a resume.
Contact details on a CV or resume are no different.
Here are some contact section details to avoid on a resume:
The Wrong Address
We've already talked about this, but I would be remiss if I didn't mention it in this section. Don't include your home or street address on resumes if you receive your mail elsewhere, such as at a PO box.
Pager or Fax Number
Do you really need an explanation?
Current Job's Phone Number
Though you might spend most of your waking hours at your desk, avoid this. Even if your current job knows you are actively seeking other employment, it could make your prospective employer uncomfortable—stick with a cell phone number.
Photo
In many countries, particularly in continental Europe, it is common to include a photo (headshot) near your CV contact information. However, in most English-speaking countries, particularly in the US, the UK, Canada, Australia, and New Zealand, don't add a photo unless you are handing in an acting resume or a model resume.
Date of Birth
A birth date on resumes is usually a bad idea, as adding your date of birth could lead to ageism. At the same time, there are certain jobs where you need to prove your age (bartenders, for example).
Second Address or Number
There's almost never a reason to include a second mailing address, phone number, or email address. Adding any of these could just confuse both you and the HR manager.
Just remember that these rules are not set in stone. Like references on a resume, consider your own scenario and adjust accordingly.
Pro Tip: Your personal info and address may go on top of resume headers, just below the name. However, it could also be disconnected, such as at the top of a sidebar.
These are a lot of no-nos for your contact section. For some that relate to the overall resume, read this: Resume Dos and Don'ts: 50+ Tips & Advice on Building Great Resumes
Plus, a great cover letter that matches your resume will give you an advantage over other candidates. You can write it in our cover letter builder here. Here's what it may look like: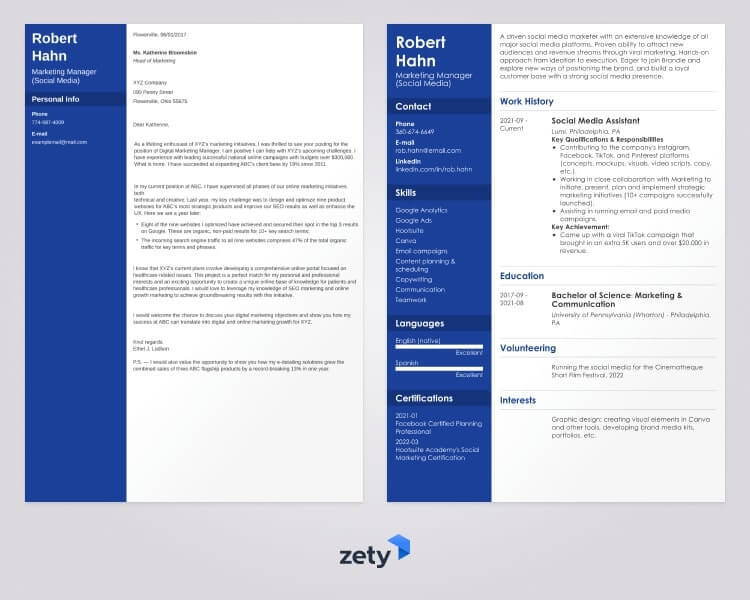 See more cover letter templates and start writing.
Your contact information section is the most minor part of your resume—but it's at the same time the most important.
Here's a recap of how to write address on a resume:
Your name should be simple and displayed exactly as you do on your cover letter. If you choose to use a title, make it succinct but descriptive.
Your email address should be simple and professional. Your phone number should be a cell phone, if possible.
Your address on the resume must be formatted correctly. Give your mailing address; don't give your home address if you receive mail elsewhere.
Only include relevant online profile links to your social media accounts. A LinkedIn URL these days is generally recommended.
If you have a relevant website or online portfolio, include a link to find it.
Don't include in your address sections uch things as a birth date, and make sure you understand if you are in an appropriate location and industry to include a resume profile photo.
Good luck on your resume writing!
Do you have any questions on how to include contact information on a resume? Not sure whether to include address on resumes or what personal information should be on a resume? Give us a shout in the comments below and we will answer your question. Thanks for reading!
About Zety's Editorial Process
This article has been reviewed by our editorial team to make sure it follows Zety's editorial guidelines. We're committed to sharing our expertise and giving you trustworthy career advice tailored to your needs. High-quality content is what brings over 40 million readers to our site every year. But we don't stop there. Our team conducts original research to understand the job market better, and we pride ourselves on being quoted by top universities and prime media outlets from around the world.