Should I Put My Address on My Resume in 2023?
Should I put my address on my resume? It seems impossible to get a straight answer. We examine the pros and cons and put this issue to bed once and for all.
Should I put my address on my resume? There are arguments both for and against including your address on your resume. Some say putting an address on a resume makes it harder to find a job. On the other hand, some say leaving it out is the problem.
But you're not interested in reading a dozen opinions that all say different things. You want to increase your chances of being hired. Let's cut through the noise.
This guide will show you:
How to write an address on a resume.
Whether you should put your address on a resume.
The pros and cons of writing an address on a resume.
How to include your address on a resume without harming your job search.
Want to save time and have your resume ready in 5 minutes? Try our resume builder. It's fast and easy to use. Plus, you'll get ready-made content to add with one click. See 20+ resume templates and create your resume here.
Sample resume made with our builder—See more resume samples here.
Here's a selection of guides on what should be included in a resume:
1
How to Write an Address on a Resume
When putting your address on your resume include either your full mailing address (street address, city, state, and zip code), or just your city and state. It's a good idea to write your state name in full if the postal abbreviation is easily confused with another, like MI, MS, and MO.
Here's how the two variations look.
Address on a Resume Examples
103 S Commercial St, Branson, MO 65616
That's how to write your address on your resume. Next, let's cover where to put your address on your resume.
Thankfully that's not up for debate. Just include your resume header, alongside your name, optimized LinkedIn profile and cleaned up social media links.
Now for the controversial part. Let's look at the arguments for and against putting your address on a resume.
Want to learn how to write every section of your resume? See our guide: How to Create a Resume for a Job [Professional Writing Guide]
2
Home Address on a Resume—Pros
Addresses in resumes date back to the time when an employer could only write back by sending you a paper communication device known as a letter.
Back to modern times however and everything occurs online, but this holdover from recruitment days of yore still persists.
Here's some of the arguments for including your address on your resume.
Location
If your home address is close to the workplace you're applying to, then it could be seen as a positive.
If there are two identical candidates separated only by geography, plenty of hiring managers would prefer the one less likely to turn up to work late. There's also the issue of avoiding potential problems with relocation.
Makes sense.
Background Checks
Some say that including your address on your resume helps employers carry out background checks.
However, these usually take place later in the recruitment process, and if the employer needs your mailing address they can ask for it.
So don't let this make you feel obliged to include your address on your resume. It's a pretty weak argument for including an address on your resume.
ATS
This has been presented by some experts as the ultimate argument for why you should put your address on your resume.
The claim is that ATS software scans for your address as a resume keyword. A keyword so essential you'll get rejected if you don't include it.
But—
The only original source insisting that an ATS compliant resume means including your address is a Time magazine article. It says, "If you don't include it, you might not get considered at all." It's from all the way back in 2012, so it's out of date and it was vague about the source of the info.
It doesn't help that the companies responsible for developing ATS suites remain tight-lipped about the exact specs of their products. If they publicize that info candidates could game the system and make the software useless for their customers.
So in the absence of evidence either way, I'm going to file this under "unproven." If I still haven't convinced you then relax. I've got a tactic for you to beat the system. But first—
What are the arguments against putting your address on a resume?
When making a resume in our builder, drag & drop bullet points, skills, and auto-fill the boring stuff. Spell check? Check. Start building a professional resume template here for free.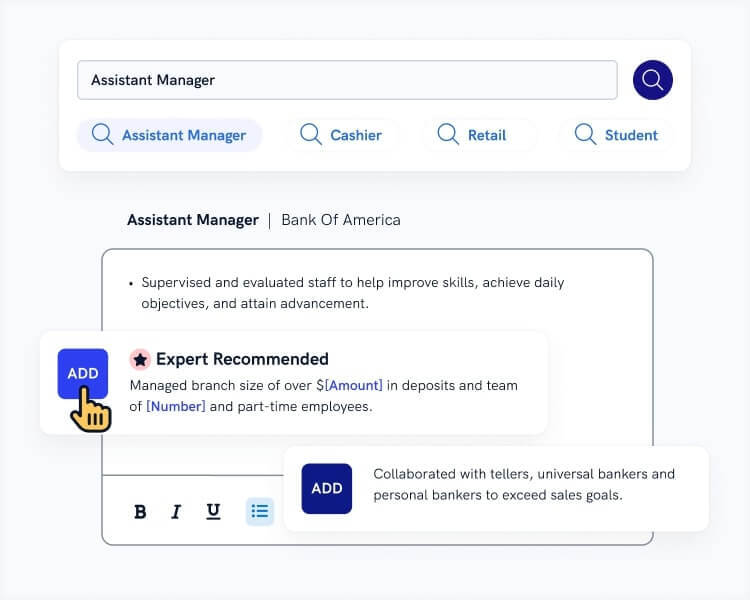 When you're done, Zety's resume builder will score your resume and our resume checker will tell you exactly how to make it better.
Maybe you're wondering how to address a cover letter? Go one better and learn the whole nine yards with our guide: How to Write a Cover Letter That'll Get You Noticed
3
Putting Your Address on Your Resume—Cons
There are some purely practical arguments against writing your address on a resume and some reasons that are sinister. First up, a practical consideration.
Layout
You know, the stuff that actually lands you the job.
Good point. With 250 applicants battling for each job, one additional skill or achievement could make all the difference. This one makes perfect sense.
Let's move onto the next argument against putting an address on a resume.
Location
If your mailing address is a long way from your desired place of work then this could put off recruiters.
Yes, it cuts both ways. Why take the risk of someone relocating from 500 miles away when you have an acceptable candidate in the same city?
Or maybe the hiring manager doesn't think a candidate from Vermont could be a good cultural fit or have the expertise to work for an oil company in Dallas. This seems plausible.
But there are even darker reasons your address may work against you.
Discrimination and Bias
Title VII of the Civil Rights Act of 1964 protects individuals against employment discrimination on the basis of race and color as well as national origin, sex, or religion.
Sadly though, resume bias still persists. On average, white applicants receive 36% more callbacks than black applicants with identical resumes. Compared to Latino applicants, it's 24% more.
So how is this relevant to putting your address on your resume?
It could be that you live in an area stereotypically associated with a certain demographic. Therefore you could be discriminated against and rejected because of your address.
Directly asking about a candidate's racial background would be considered an illegal interview question. But making a decision based on your address is a way of getting around that.
You probably wouldn't want to work for an employer where decision-makers hold such reprehensible views. But—
A job's a job, so you may wish to leave out the address on your resume to cover that possibility and hope the person carrying out the interviews isn't so judgmental.
Discrimination has been statistically proven to exist, so this one is a reasonable argument for not putting your address on a resume.
Bet you didn't see that coming when you started reading.
4
Conclusion and Solutions
The arguments for including your mailing address aren't convincing and the evidence backing them is weak.
On the other hand, at least one of the arguments against is backed by solid evidence and they seem more plausible.
There is a real practical implication when you look at the way it impacts your resume layout for example.
Therefore, my final answer to should I put my address on my resume is—
Should I Put My Address on a Resume
It's optional. So—
If you think you've got an advantage from living close to your desired employer, include your address in the header of your resume.
If you're worried about discrimination or you live further away, don't put your home address on your resume.
If you're really worried about the ATS implications of leaving out your address then do this. Put the city and zip code of the employer on your resume in your professional summary.
ATS software is programmed to scan for keywords. This way it'll pick up the location keywords and you'll be covered.
It may look slightly odd when a human looks at it, but not enough to get you rejected. Here's how to do it.
ATS Resume Address Example
Energetic and driven customer service rep with 3+ years of professional experience assisting customers in resolving challenging issues. Awarded Consultant of the Month three times. Helped reduce First Response Time by 20% within the first quarter of employment. Looking to support ABC Inc. in San Diego 92071 in its drive to become a market-leading solution through proven customer support skills.
Not strictly necessary, but a way to get around this potential issue if it concerns you.
That's it, we've fully addressed this question!
Plus, a great cover letter that matches your resume will give you an advantage over other candidates. You can write it in our cover letter builder here. Here's what it may look like: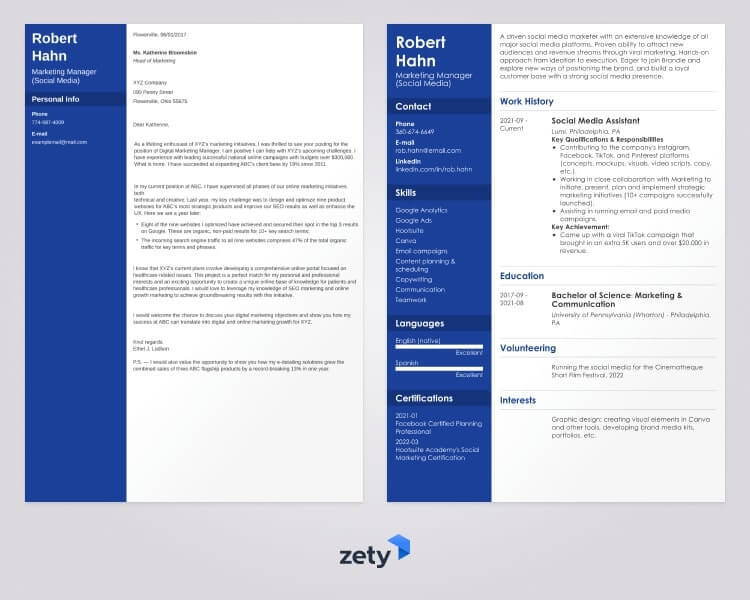 See more cover letter templates and start writing.
Let's sum it up.
If you do include your address on your resume, the place to put it is in your resume header.
Should you put your address on your resume? It's optional. In certain situations, including it could be helpful, but leaving it out won't get you rejected.
Put the city and zip code of the employer in your professional summary if you're really concerned about being rejected by the ATS.
Have you got anything to add to the debate? Maybe some insider tips to answer the ATS question of do you put your address on a resume. Let us know in the comments section.
About Zety's Editorial Process
This article has been reviewed by our editorial team to make sure it follows Zety's editorial guidelines. We're committed to sharing our expertise and giving you trustworthy career advice tailored to your needs. High-quality content is what brings over 40 million readers to our site every year. But we don't stop there. Our team conducts original research to understand the job market better, and we pride ourselves on being quoted by top universities and prime media outlets from around the world.