Should a Resume Be in Past Tense or Present Tense?
Choose the right resume tense and voice, pass the ATS scan and land that interview. Here's how.
Whether you only start your job search journey, or you're on an intense career lookout—
There's probably one thing on your mind:
Get ready for the new and leave the past behind!
But wait a second—
In terms of work experience, the past matters. A lot!
And so does the present.
What tense to use on a resume to reflect both and create a professional resume experience section? Read on and get to know.
In this article you'll learn:
When to use the past tense in your resume
What duties to describe using the present tense
How to use the right resume tense to pass the ATS test
What voice to use in a resume.
Want to save time and have your resume ready in 5 minutes? Try our resume builder. It's fast and easy to use. Plus, you'll get ready-made content to add with one click. See 20+ resume templates and create your resume here.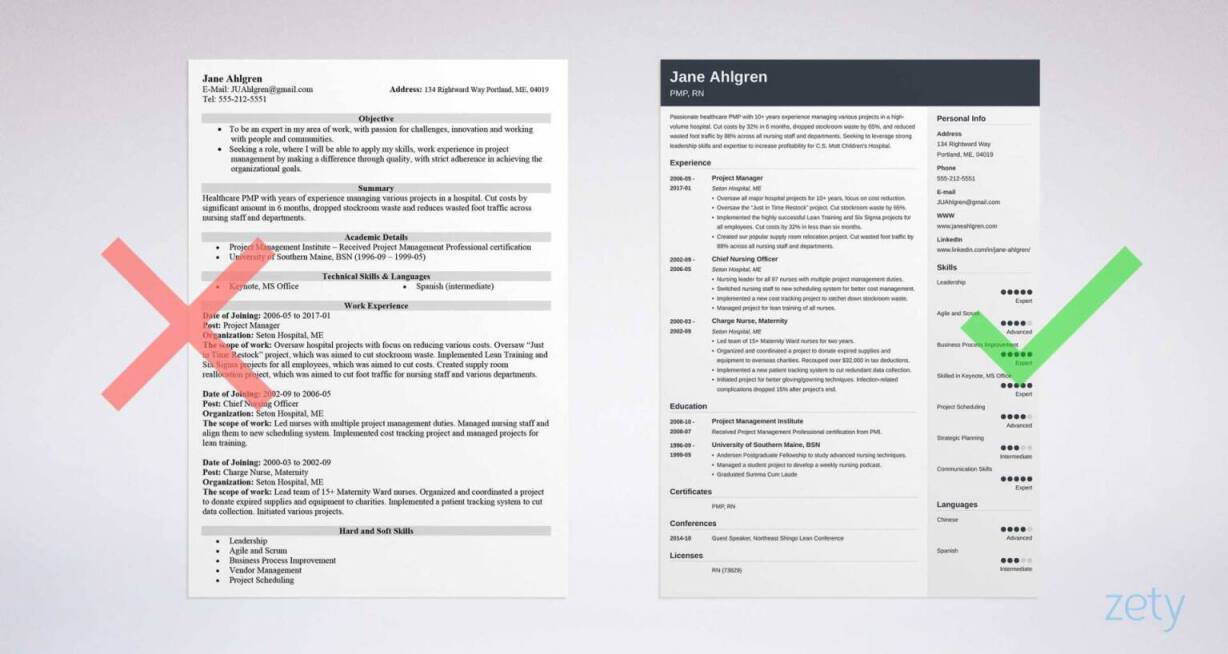 Sample resume made with our builder—See more resume samples here.
Looking for more advice on how to write resumes? Check our dedicated guides:
1
Use Past Tense for Past Positions
Should a resume be in the past tense?
The answer to this question seems straightforward:
If you write about the past—use the past tense, if you write about the present—use the present tense.
That's the simplest rule.
Whenever talking about the job you no longer do, use the past tense.
To brush up on grammar:
Most verbs in the past end with -ed, e.g., worked, discovered, designed. The irregular ones live their own lives though, like made, ran, oversaw.
But don't just use any verbs when describing your job experience—
If you select them carefully, they'll become resume power words.
So how to paint a vivid picture of what you've done so far?
List your duties and achievements in bullet points (around 6 bullets for each position).
Use resume action verbs in Past Simple (one verb per each bullet point).
Don't go "responsible for" kind of style; choose verbs that name specific activities.
Here's a list of example resume action verbs in the past tense:
Acknowledged
Authorized
Blended
Collaborated
Contributed
Created
Diversified
Delegated
Designed
Directed
Executed
Encouraged
Energized
Fostered
Gathered
Harmonized
Inspired
Increased
Made
Mentored
Merged
Led
Participated
Partnered
Performed
Produced
Set up
Trained
Volunteered
As you can see, they all name real actions.
They lead the recruiter towards your work experience and career wins.
Note: Perfect resumes don't use Perfect tenses. They also stay away from continuous forms. Keep your resume simple—Present or Past Simple.
Pro Tip: Whenever you use resume action verbs, add a number to back them up. E.g., Increased sales by 20% in six months.
If you're wondering how many jobs you should list on a resume, check out our dedicated guide: How Far Back Should a Resume Go?
2
Use Present Tense for Current Job Duties
Present tense on a resume is for what you do now. As simple as that.
Use the present tense to describe:
Things you still do in your current job.
Other relevant activities you perform after work.
Voluntary actions you take regularly.
Any activities related to industry associations you belong to.
Verbs in the present tense are those without any "ed"s added: brainstorm, reinvent, educate.
Mixing Past and Present Tense
But what if there are projects in your current job that are already closed? Or you want to show the goals you achieved so far?
Then (and only then!) you can combine the two tenses on a resume under one header.
List your current duties using the present tense first. Then, follow up with the finished actions and accomplishments using the past tense. See the example below:
Tenses on a Resume
ESL Teacher
Victoria High School, New York, NY
May 2016-now
Key Qualifications & Responsibilities
Teaches

ESL to 60 students of diverse cultural backgrounds in an international classroom.

Creates

audio-visual educational resources to help students develop their language skills.

Prepares

extra-curricular activities and after-school assistance for individual students.

Provides

mentoring for a new teaching assistant.
Key Achievements
Planned

and

run

a 1-year educational program for beginner students that concluded with an intermediate-level final exam (100% positive exam scores).

Won

a "Teacher of the Year" award in 2017.
Pro Tip: Whenever you use both the present and past tense on a resume, keep them separate. Don't change the tense here and there. Present—responsibilities, past—achievements and completed tasks.
One more thing.
If you're updating your resume with new positions, remember to change the verb tense of your so far positions to past, and keep your current duties in the present tense.
What's the secret of writing an ideal resume? Find out in our article: *The* Perfect Resume: 8 Things the Best Resumes Have in Common
3
Choose the Right Tense and Optimize Your Resume for the ATS
Most big companies nowadays use the Applicant Tracking System (ATS) that scans job seekers' applications for resume keywords.
It turns out that even the tense of the verb can affect the way ATS searches for results.
If the job ad said "research" (present tense) and you went for "researched" (past tense) on your resume—ATS will overlook the result.
The only way to figure out which search terms the recruiter is likely to put into their ATS is to read the job description closely.
You have to recognize the form of the keyword the company uses in the job ad and optimize your resume accordingly.
For instance, when they use the verb "inspire" in the present tense, you can always change your resume phrase from "inspired students to prepare creative projects" to "managed to inspire students' creativity."
Such little optimizing tricks will help your resume beat the system.
Read more about tailoring your resume to the job description in our guide: Targeted Resume: How to Match Your Resume to the Job You Want?
When making a resume in our builder, drag & drop bullet points, skills, and auto-fill the boring stuff. Spell check? Check. Start building a professional resume template here for free.
When you're done, our easy resume builder will score your resume and our resume checker will tell you exactly how to make it better.
4
Write Your Resume in Active Voice
Though we naturally use passive voice on a daily basis, it is not recommended for resume writing purposes.
Why?
Passive voice makes your resume less engaging to the reader and downplays your achievements.
Let's take a look at some examples.
Passive voice: Website traffic was increased by 150% in 12 months.
Active voice: Increased website traffic by 150% in 12 months.
Passive voice: A new marketing strategy was implemented resulting in 20% product sales growth.
Active voice: Implemented a new marketing strategy and increased product sales by 20%.
Why are the active voice examples better?
Because they show you took responsibility and were directly involved.
Plus, they are easier to read.
Pro Tip: How can you identify you're using active or passive voice? If you can add "by me" at the end of the sentence, it means you are using passive voice (e.g. CRO was improved by 1.5% by me).
Forcing passive voice onto your resume job description as a sign of formal detachment is old school.
Hiring managers want to get to know you as a person. If they see you as the main character of the piece—they will identify with you.
But—
If "I'm" the one who speaks, can I use "I" in my resume?
Even if you're writing your resume using active voice, avoid using the personal pronoun "I."
In a career summary or career objective and in your work experience section, say "Developed a new marketing strategy" instead of "I developed a new marketing strategy." That's a preferred form according to academic sources.
Keen on other grammatical intricacies related to the job hunt? Check out our "resume" spelling guide: How to Spell Resume: Accents or Not? Resume, Résumé, Resumé?
Plus, a great cover letter that matches your resume will give you an advantage over other candidates. You can write it in our cover letter builder here. Here's what it may look like: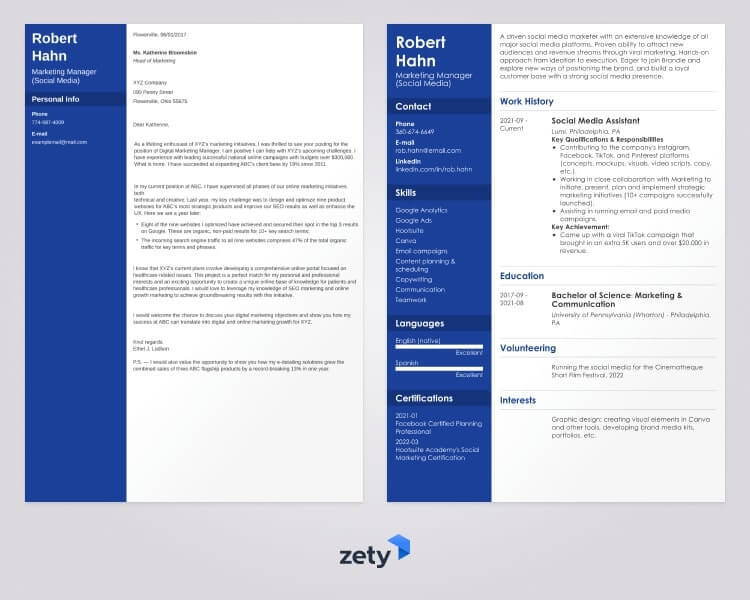 See more cover letter templates and start writing.
Describe your past duties and accomplishments in the past tense.
When referring to your current job: use present tense for things you still do, use past tense for achievements.
Optimize your resume for keywords to pass the ATS test.
Avoid using passive voice and personal pronouns in your resume.
Still wondering if resumes should be in the past tense or present tense? Did you face any problems with a resume tense when applying for a job? Drop me a line in the comments.
About Zety's Editorial Process
This article has been reviewed by our editorial team to make sure it follows Zety's editorial guidelines. We're committed to sharing our expertise and giving you trustworthy career advice tailored to your needs. High-quality content is what brings over 40 million readers to our site every year. But we don't stop there. Our team conducts original research to understand the job market better, and we pride ourselves on being quoted by top universities and prime media outlets from around the world.
Sources