CV vs resume - what's the difference?
One day you're walking down the street, and everything is beautiful.
Then you overhear a conversation.
A woman is telling a friend about her "CV." You eavesdrop.
From what she says, a CV sounds a lot like a resume. But why would she talk about a CV if she meant resume?
What is a CV anyway? Everything you thought you knew about the world is suddenly called into question.
Don't panic.
In the United States and Canada, there is a big difference between a CV and a resume. And this article is going to tell you everything you need to know about both documents.
This article will tell you:
CV vs resume - the difference between documents in the US.
What to put on both documents and when to use them.
What the term CV means in countries outside of the US.
Here's an example of a resume. See other resume templates (create your resume here).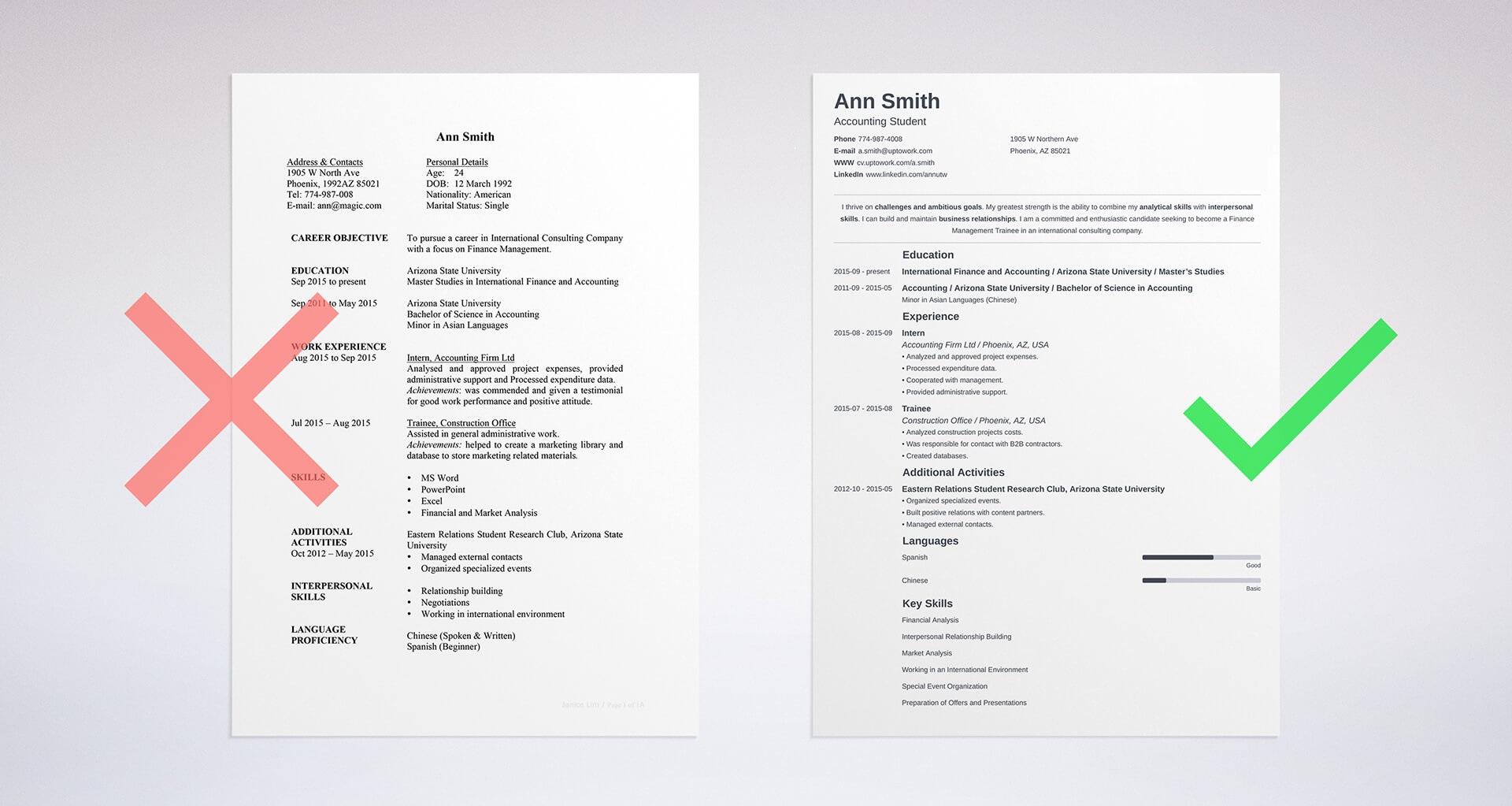 Sample resume template - See 20 other templates and create your resume here.
1. What is a Resume and What is it Used For?
What is a resume?
A resume is a short document (1 -2 pages) that you use to give future employers a brief overview of your work history.
The term resume or "résumé" is a French word that means "to sum up." And that's what you use a resume for - to sum up your job-related accomplishments and experience.
Pro Tip: What is the proper spelling - resume or résumé? Both ways are acceptable.
Need a step-by-step guide on how to write a resume for any profession? Read our guide: How to Make a Resume: A Step-by-Step Guide (+30 Examples)
2. What is a Curriculum Vitae or CV?
What is a CV document?
A CV or Curriculum Vitae is a record of your academic and professional achievements. Latin for "course of life," a CV is often a longer document that goes into detail where a resume doesn't.
A CV is often used to apply for an academic job, research position, grant, or scholarship. The length of a CV is often subject to the applicant's experience.
Pro Tip: When you hear "CV" in an international context it often means the same thing as "resume" in the United States. More on that later.
Targeting a job outside of the US or Canada? You'll need to write a CV for a job. Here's how: How to Make a CV for a Job (UK, Other European Countries, New Zealand).
And if you're applying for a position in India, chances are you'll be asked to submit a biodata. Go here to learn more: Biodata Format: Writing Guide and Free Templates for Download
To learn how to put education on a non-academic resume, see: How to Put Your Education on a Resume [Tips & Examples]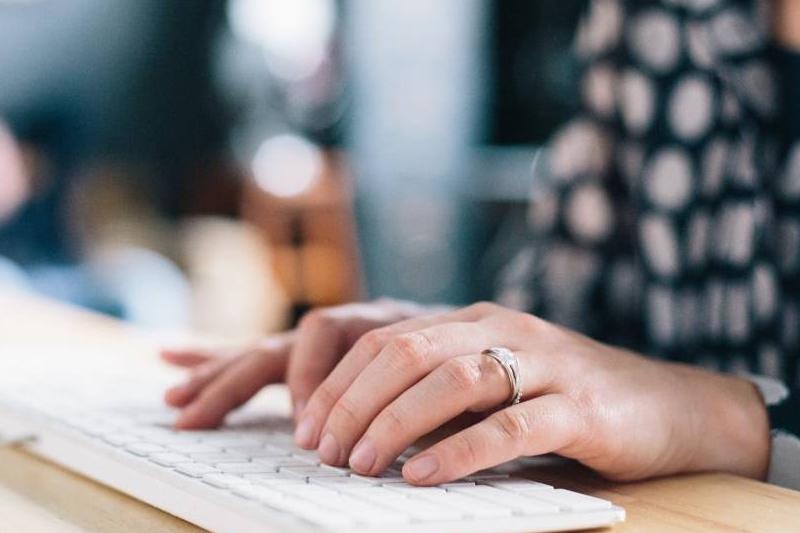 3. CV vs Resume - What is the Difference?
What is the difference between a CV and a resume?
In the United States, the main difference between a CV and a resume is the purpose of the documents.
You will use a resume when you apply for most jobs. You will use a CV if you want to apply for academic or research positions.
Other differences include length, layout, and the information included.
CV vs Resume - Length:
The ideal resume length is one page with a two-page upper limit.
The ideal CV has no page limit. The length of your CV can range from a double-digit page count to a few pages.
CV vs Resume - Layout:
Resumes lead with contact information plus a resume summary or objective. Your education and experience sections come next. Depending on your career progress either can come first. Finally, you add a skills section to your resume and any extra sections you need.
If you have little to no work experience, you might want to put your education first. Professionals with work experience will want to lead with their experience section.
Make sure you display your information in reverse-chronological order. Start with your most recent job and degree first.
A skills section should round out your resume. You can also add your hobbies, which remain an optional addition to most American resumes.
You should always tailor your resume to match the information in the job description.
Right:
A resume should include jobs, responsibilities, education, and relevant skills.
Wrong:
A resume should not include every job you've ever had, plus every skill you've learned over the course of your career.
There is no clear layout for a CV. Your best course of action will be to look for examples of CVs. You can use the CVs of people who have applied to similar positions to get an idea of how yours should look.
Also, use the resources available to you at your university if you're applying for an academic position. For example, Harvard University's Office of Career Services provides guidelines for CVs and cover letters.
At the end of the day, a CV should contain as many achievements and details about your work as necessary.
Right:
A CV should include your education, work history, skills, publications, public speaking engagements, awards, and interests.
Wrong:
A brief overview of your work experience and education.
What format should you choose for a professional resume? Want examples of great resume layouts? Read our guides: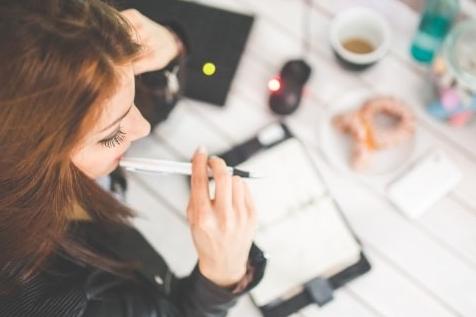 4. CV vs Resume - What Information Can You Find on Each Document?
What should you put on a great resume when applying for a job in the US?
Here is an easy checklist of what to include on an American resume:
Contact Information
Work History / Experience
Education
Skills
A Resume Summary or Objective (Optional)
Hobbies and Interests (Optional)
Want to make 100% sure your resume will hook every recruiter and land you that dream job? Here's a free ultimate checklist for you: 46 Things You Need To Do Before You Send Your Resume
What should go on a great CV when you're applying for an academic or research position in the US?
Your CV can include everything that you've done to date. And that is a lot of material if you've been in the game for a long time.
As mentioned, CVs don't have a length limit. You may also need to include specific information.
Here is a list of 20 potential things you can include on an academic CV:
Contact Information + Brief Biography
Areas of Academic Interest
Education + Qualifications
Employment History + Achievements and Responsibilities
Professional Development Courses + Training
Teaching Experience
Research Experience + Lab Experience
Graduate Fieldwork
A List of Skills + Technical, Computer, and Language Skills
Professional Licenses and Certifications
Scholarships, Grants, Fellowships, and Assistantships
Study Abroad and International Experiences
Descriptions of Theses and Dissertations
Bibliography + Publications
Presentations, Lectures, and Other Public Speaking Engagements
Exhibitions
Awards and Honors
Memberships
References
Hobbies, Interests, and Related Extracurricular Activities
Want more information about what to put on a resume? Finding it hard to fill even one page? We've got you covered: "What to Put on a Resume to Make It Perfect [Tips & Examples]"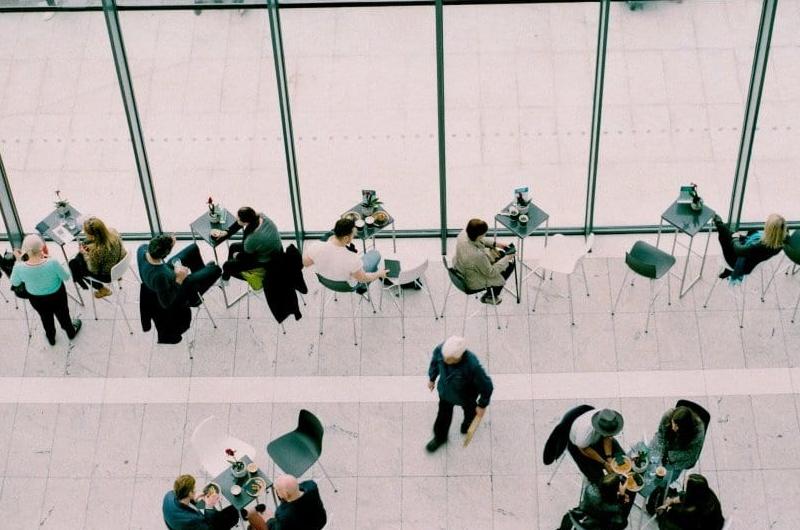 5. CV vs Resume - What Do You Use When You Want to Work Abroad?
One thing to keep in mind is that the term "CV" has different meanings outside the US.
In European Union countries, the term "CV" is equal to the American "resume." So, when you apply for a job in Greece, the UK, or Denmark, your potential employer will ask you for a CV.
And that means they want to see your resume. You can even use the same resume templates and layouts as you would use for your American resume. That's also true for New Zealand.
One of the significant differences that you may come across is that some EU employers want to see photographs on your CV.
For example, in Germany, Poland, Greece, Italy, or Portugal you will want to put your photo on your CV. German and Polish employers expect to see photographs. In Portugal, your picture is more optional.
Otherwise, there is not much difference between EU CVs and American resumes. The rule of thumb is to check out CV requirements in the country of your choice.
That's because you'll find small differences across countries. For example, European employers prefer to see hobbies on a CV, and UK employers expect to see your references.
In other parts of the world, the term "CV" keeps its American meaning.
For example, an Indian employer may ask you for a CV or a resume. When they request a CV, they want a record of your education, work history, training, accomplishments, activities, affiliations, and publications.
Pro Tip: American resume formats and resume templates are welcome in most EU countries.
In some cases, you can use your American resume with very few changes. You may want to translate your CV.
Want to work for a European employer but don't know how to put hobbies on your resume? Read our guide: "+20 Best Examples of Hobbies & Interests to Put on a Resume (5 Tips)"
Here's an example of a CV. See other CV and resume templates (create your CV here).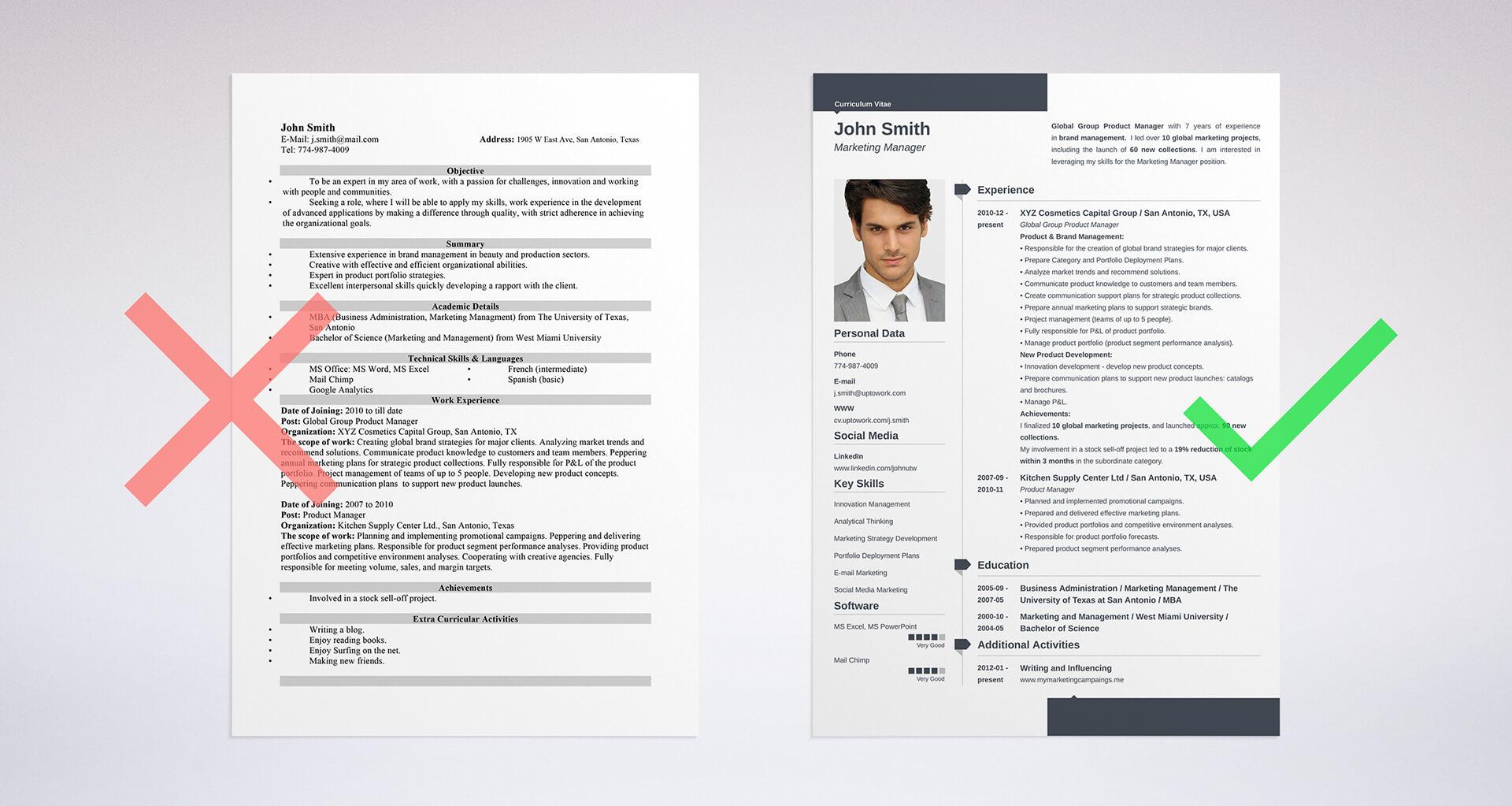 Sample International CV template - Create your resume or CV in 12 languages.
Key Takeaway
Remember these items to write a great CV or resume:
If you're applying for jobs in the US, you'll almost never have a need to make a CV. You'll want to know how to make a resume instead.
A CV is great outside of the United States, where it is usually synonymous with a resume.
Knowing the answer to the CV vs resume question is handy knowledge. Especially if you travel or work abroad and hear the terms used in a different way.
Now go forth into the world and spread the news about the differences between the CV and the resume.
I hope this article helped clear up the differences between CVs and resumes. If you're still not sure about some points, leave us a comment. We'll answer all your CV vs. resume questions.