Our customers have been hired by:
What is a CV? Is it any different from a resume? Why do some candidates apply with a CV, and others use a resume? Is any of the two actually better than the other? Is resume just another word for CV, and vice versa?
In 5 minutes, you'll learn everything you need to know about the CV vs. resume difference.
This guide will show you:
CV (Curriculum Vitae) definition and sample, and a resume definition and sample.
The difference between a CV and a resume compared.
When to use a CV and when to use a resume when applying in the US or Canada.
What CV stands for outside of North America and what document to use when applying internationally.
Want to save time and have your resume ready in 5 minutes? Try our resume builder. It's fast and easy to use. Plus, you'll get ready-made content to add with one click. See 20+ resume templates and create your resume here.
Sample resume made with our builder—See more resume examples here.
If you're just looking for the bottom line, here it is:
The Key Difference Between a CV and a Resume
A resume is a one- to two-page document presenting key facts about your professional experience, educational background, and skills. A CV (Curriculum Vitae) is a longer document that details the whole course of your career. A resume is used for job search, a CV—for academic purposes.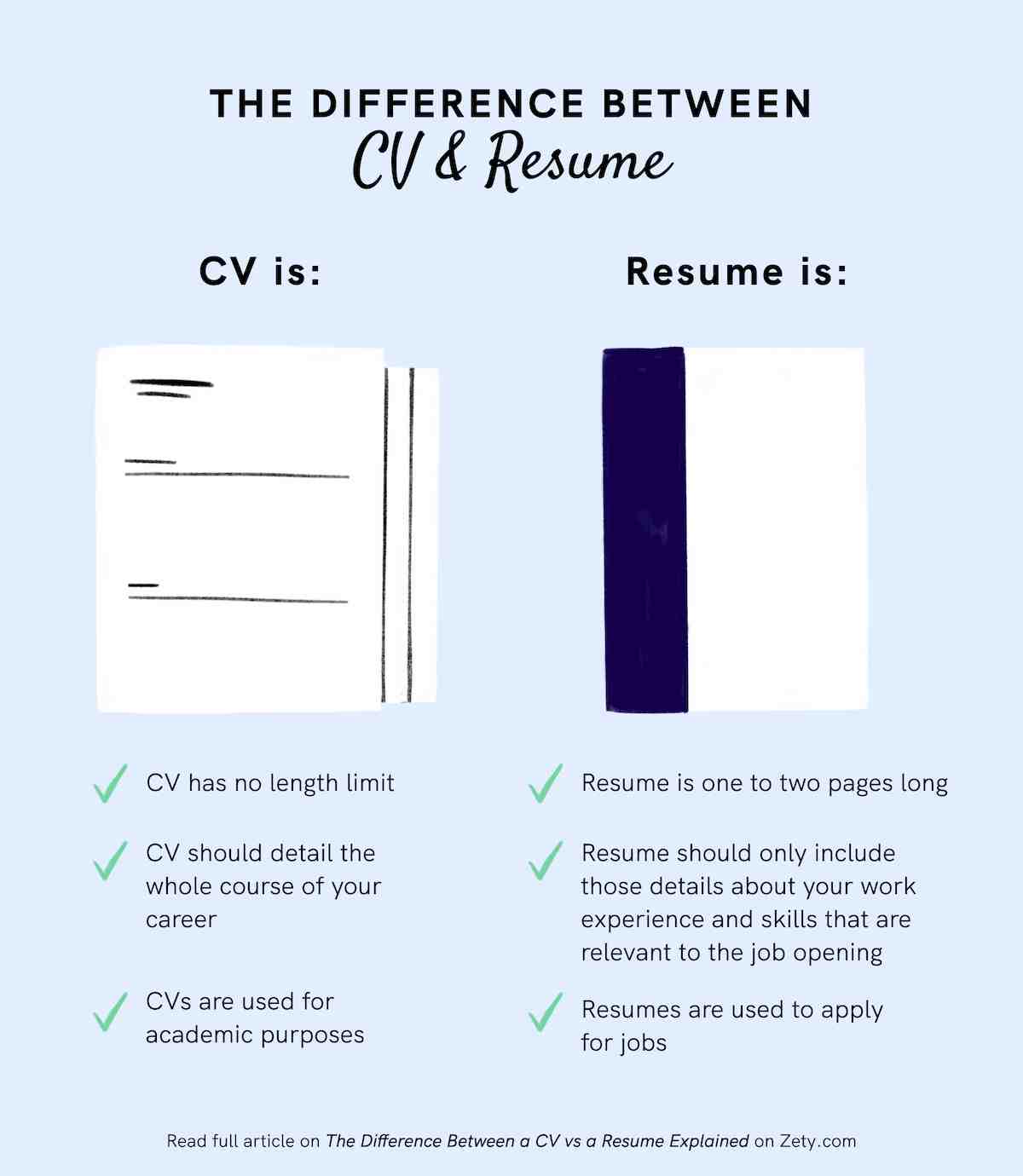 Not quite clear? See the detailed overview of a CV versus a resume below:
CV
A CV (full form Curriculum Vitae which is Latin for "course of life") is an in-depth document which describes the whole course of your career in full detail. It's usually two- or three-page long but can just as well be laid out over 10+ pages, if necessary. A Curriculum Vitae contains details about your education, professional career, publications, awards, honors, and other achievements. In the USA and Canada, a CV is used only for academic applications: academic jobs, grants, research fellowships, etc.
To see what it looks like check out the CV example below.
Curriculum Vitae Sample
Want to save time and create your CV in minutes? Use our CV maker. Just fill in the blanks and have a perfectly formatted CV ready for download. See 20+ CV templates and create your CV here.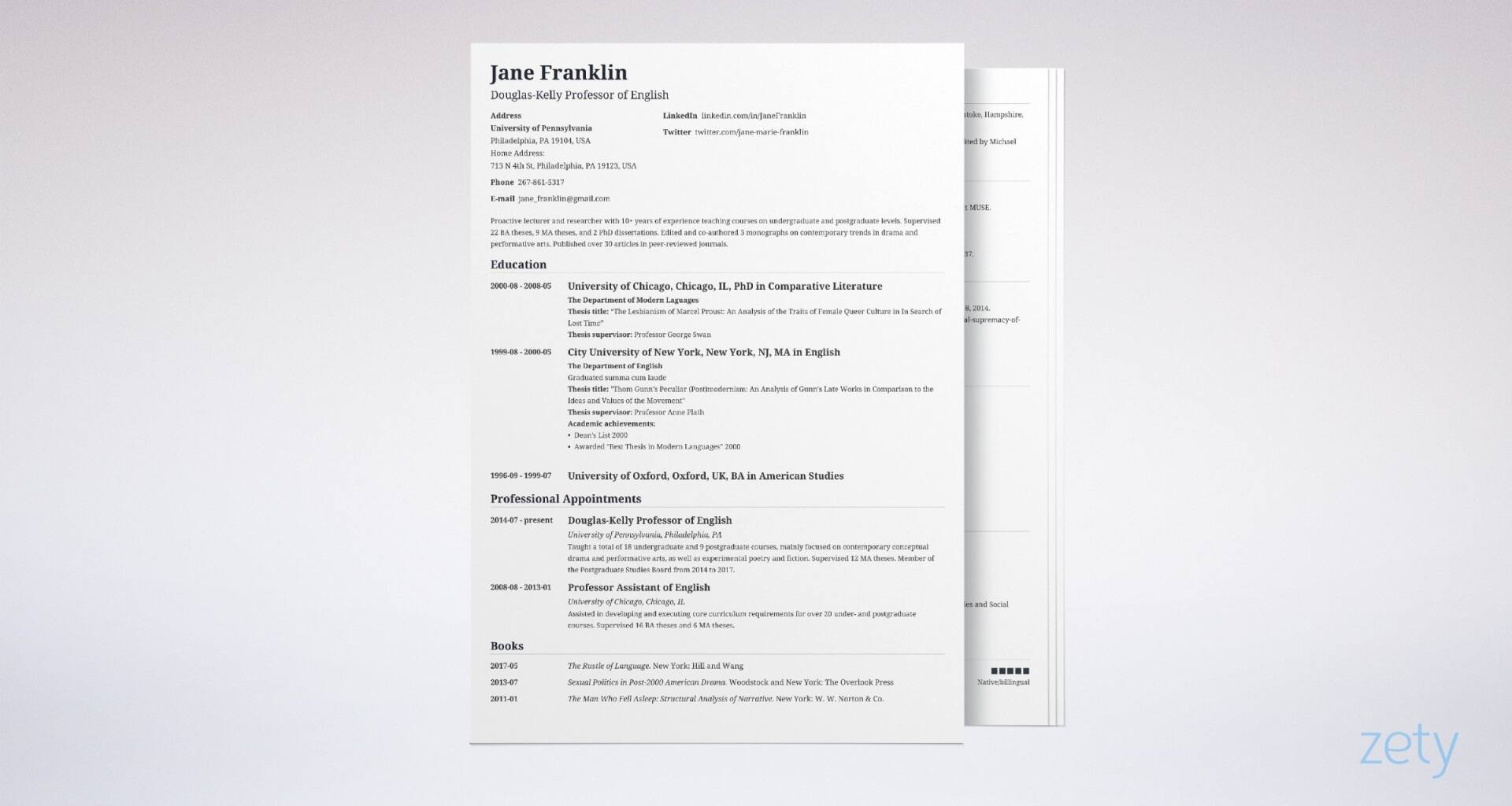 Sample CV made with our builder—See more templates and create your CV here.
For more examples and guidelines on how to write an American CV, see: How to Write a US CV for Academic Applications (Examples)
As you can see, what goes on a CV is very detailed and comprehensive: many sections, no bullet points, just plain text (after all, CV meaning is a course of life, no wonder it's that long!)
Below you'll see a full list of sections to put on a CV.
What to Include in a CV:
Contact Information
Research Objective, Personal Profile, or Personal Statement
Education
Professional Academic Appointments
Books
Book Chapters
Peer-Reviewed Publications
Other Publications
Awards and Honors
Grants and Fellowships
Conferences
Teaching Experience
Research Experience / Lab Experience / Graduate Fieldwork
Non-Academic Activities
Languages and Skills
Memberships
References
Before we show you a full resume/CV comparison, let's quickly define résumé.
A resume (or résumé, from French "to sum up") is a short, concise document used for job applications in the US and Canada. The purpose of a resume is to provide recruiters with a brief overview of the candidate's work history. A good resume should be targeted at a specific job and one to two pages long.
Have a look at the below example made with our builder in US resume format. The difference between a resume and a CV is clear, isn't it?
American Resume Sample
You can use our convenient Online Resume Builder to create a perfect American Resume. Simply pick one of our resume templates here.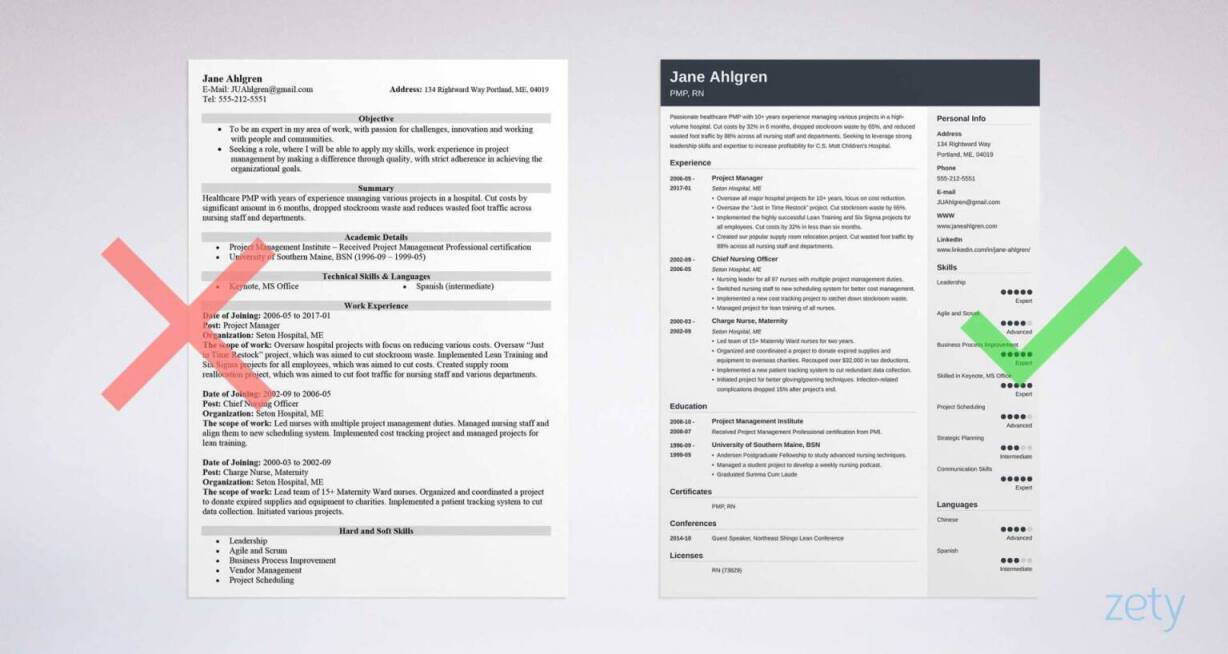 If you want to learn more about how to write a job-winning resume, switch over to: How to Make a Resume for a Job (Samples & a Writing Guide)
Or check out a dedicated example of a resume for your job. We guarantee you'll find it here: 99+ Resume Examples for All Jobs in the World
What should be on a resume, then?
What to Include on a Resume:
So now you know how should a resume look, but before we move on, a technical thing that confuses many job seekers: How to type a resume?
What's the Proper Resume Spelling?
Although originally spelled "résumé" in French, in English both forms—"resume" and "résumé"—are correct.
When making a resume in our builder, drag & drop bullet points, skills, and auto-fill the boring stuff. Spell check? Check. Start building a professional resume template here for free.
When you're done, our online resume builder will score your resume and our resume checker will tell you exactly how to make it better.
To sum up, then:
The Difference Between a CV and a Resume In a Nutshell
The difference between a CV and a resume lies in the length, layout, and purpose of these documents. CVs have no length limit; resumes are typically one to two pages long. A CV details the whole course of the candidate's academic career; a resume summarizes skills and work experience.
What is the Difference between CV and Resume
| | | | |
| --- | --- | --- | --- |
| | Length | Layout | Purpose |
| CV | No page limit | In-depth description of your academic and professional experience | For academic placements |
| Resume | 1 page | Brief document highlighting your professional experience | For all kinds of jobs |
All of the above holds true for the US and Canada.
But what about international applications?
Resume vs. CV: International Differences & When to Use Which
In all of Europe (the UK, Ireland, and other European countries), as well as New Zealand, the term CV is used to describe an equivalent of a US resume: a short, targeted document you use to apply for jobs. There's no such thing as a "resume" there.
There are only minor, region-specific differences between a New Zealand or European CV and an American resume. To learn more about writing a job CV, see: How to Write a CV for a Job Application

In Australia and South Africa, "Curriculum Vitae" and "resume" are synonyms that can be used interchangeably. Both words stand for a brief, one- to two-page document.
In South Asia, jobseekers might need to use a slightly different document: a biodata. It's a document which contains more personal, "biographical" data (hence the name): date of birth, gender, race, ethnicity, marital status, and salary. It's commonly used in India and Bangladesh.
Here's a full, step-by-step guide on writing a biodata: Biodata Format: Samples and 20+ Expert Tips
But if a South Asian employer asks you for a "resume" or a "CV" specifically, don't send over a biodata. Go for a document that follows the American resume rules.
Plus, a great cover letter that matches your resume will give you an advantage over other candidates. You can write it in our cover letter builder here. Here's what it may look like: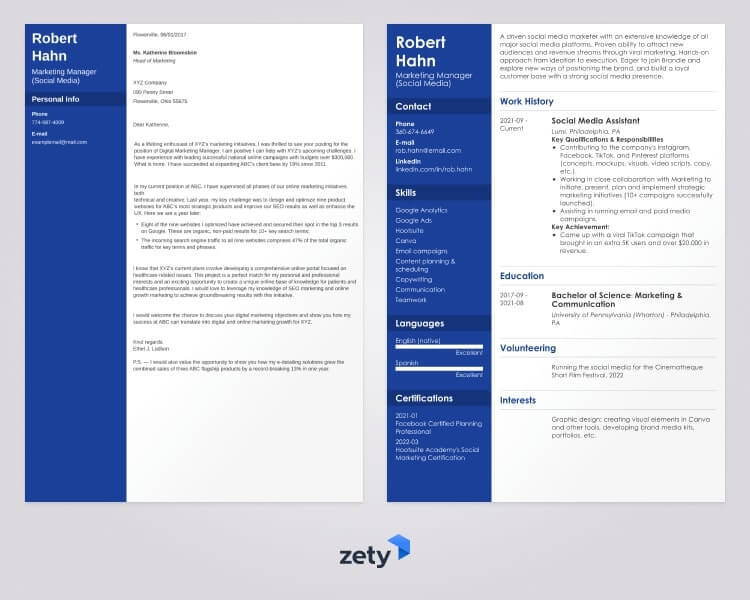 See more cover letter templates and start writing.
Key Takeaway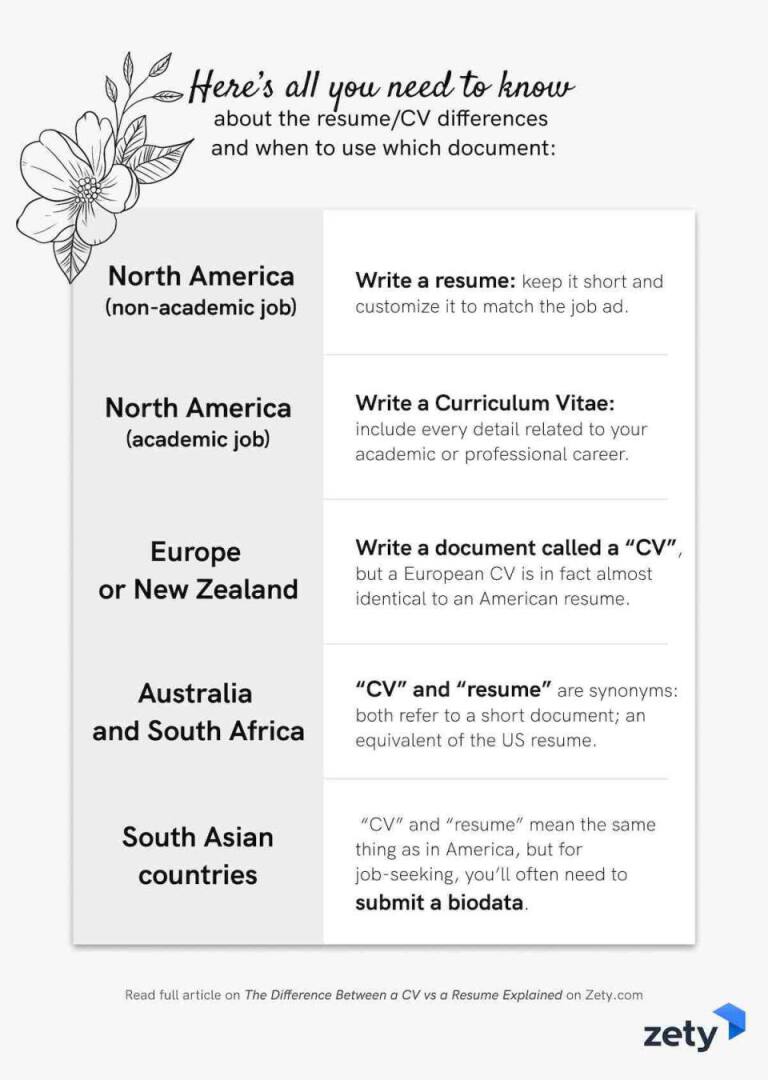 Here's all you need to know about the resume/CV differences and when to use which document:
If you're applying for a job in the US or Canada, write a resume: keep it short and customize it to match the job ad.
For academic positions in North America, write a Curriculum Vitae: include every detail related to your academic or professional career.
When applying for jobs in Europe or New Zealand, you'll need to submit a document called a "CV", but a European CV is in fact almost identical to an American resume.
In Australia and South Africa, "CV" and "resume" are synonyms: both refer to a short document; an equivalent of the US resume.
In South Asian countries, "CV" and "resume" mean the same thing as in America, but for job-seeking, you'll often need to submit a biodata.
I hope this article helped clear up the differences between CVs and resumes. If you're still not sure whether to choose a resume or a CV, leave a comment. We'll answer all your CV vs. resume questions!
About Zety's Editorial Process
This article has been reviewed by our editorial team to make sure it follows Zety's editorial guidelines. We're committed to sharing our expertise and giving you trustworthy career advice tailored to your needs. High-quality content is what brings over 40 million readers to our site every year. But we don't stop there. Our team conducts original research to understand the job market better, and we pride ourselves on being quoted by top universities and prime media outlets from around the world.