You're about to choose the best resume format, but first, think about this:
Starting to write your resume can be hard, right?
The dreaded cursor-on-a-blank-screen experience.
What to write? How to begin?
Luckily, there are proven resume formulas that can land you that dream interview.
They're called resume formats.
Choosing the right format of a resume is key to presenting your strongest suit to the hiring manager.
The wrong resume layout can make the recruiters reject your application at first glance.
Don't panic. Resume formatting isn't as hard as it seems.
This guide will show you:
Three samples of resume formats (chronological, functional, combination)
How to format a resume to make hiring you a no-brainer.
How to make the most of your resume format even if you have no experience.
Take a look at the graphic below:
What are the different types of resumes?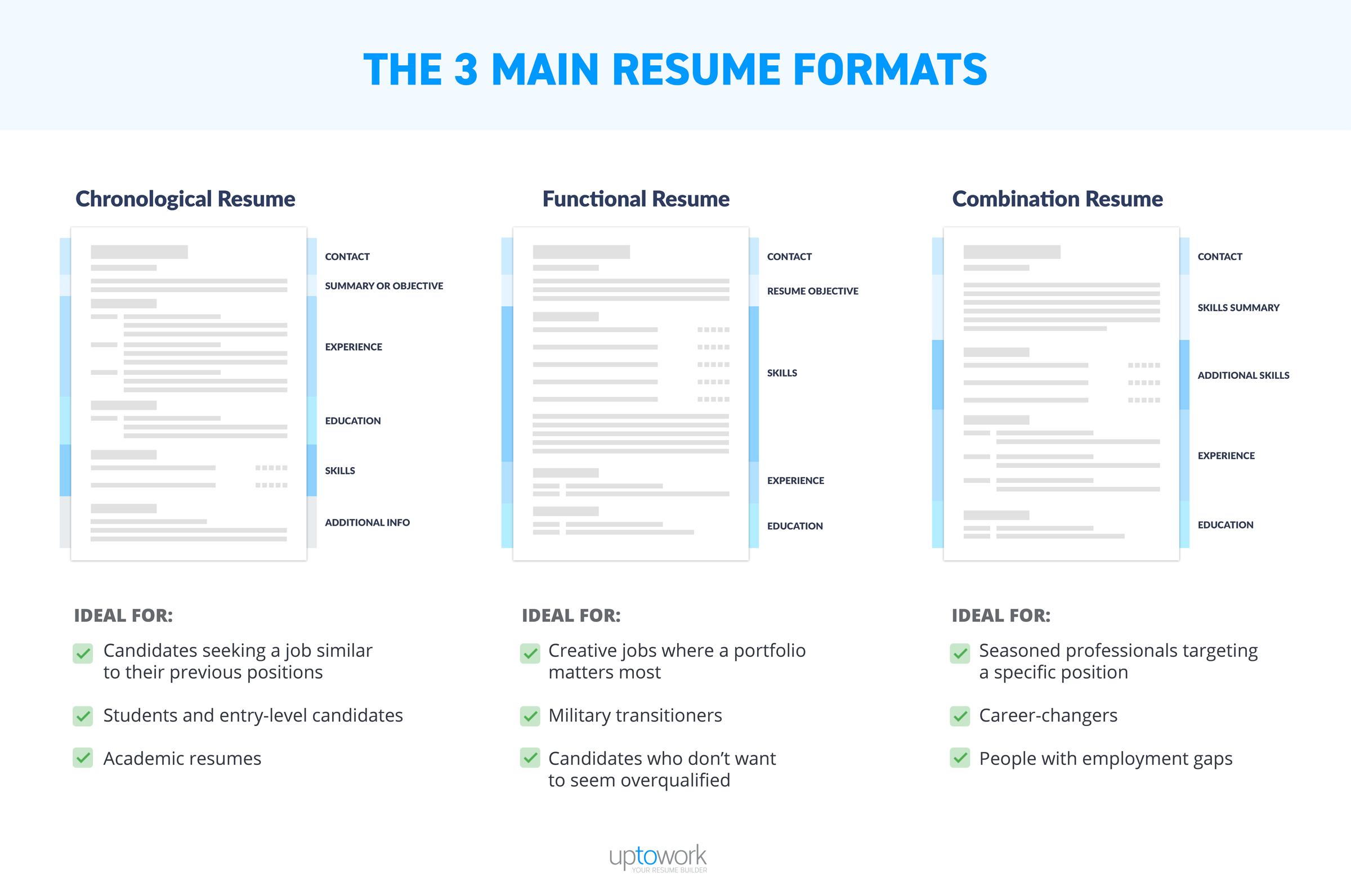 Resume formats: chronological, functional, combination
How to Choose the Best Format for Your Resume?
As you can see, the best resume format is the one that works for you. You should pick a resume format suited for your experience, qualifications, and the job you're applying for.
You might have also heard about a "targeted" resume format, but it's not really a separate type of resume layout.
A targeted resume is a resume written for a specific job. It's also called a tailored resume.
Tailoring your resume to the job description is crucial if you want to get that dream job! Learn how to do it and gain a massive edge over 9 out of 10 other candidates: 6 Tips on How to Tailor Your Resume to a Job Description (Examples)
Okay, back to business. So now you know what is the proper format for your resume.
Read on and learn how to structure each resume format to impress every recruiter!
1
The Reverse Chronological Resume
Or: The Gold Standard.
Want to see what it looks like? Have a look at a sample chronological resume format template including all the necessary sections. We created it in our resume builder.
Want to save time and have your resume ready in 5 minutes? Try our resume builder. It's fast and easy to use. Plus, you'll get tips and right vs. wrong examples while writing your resume. See 20+ resume templates and create your resume here.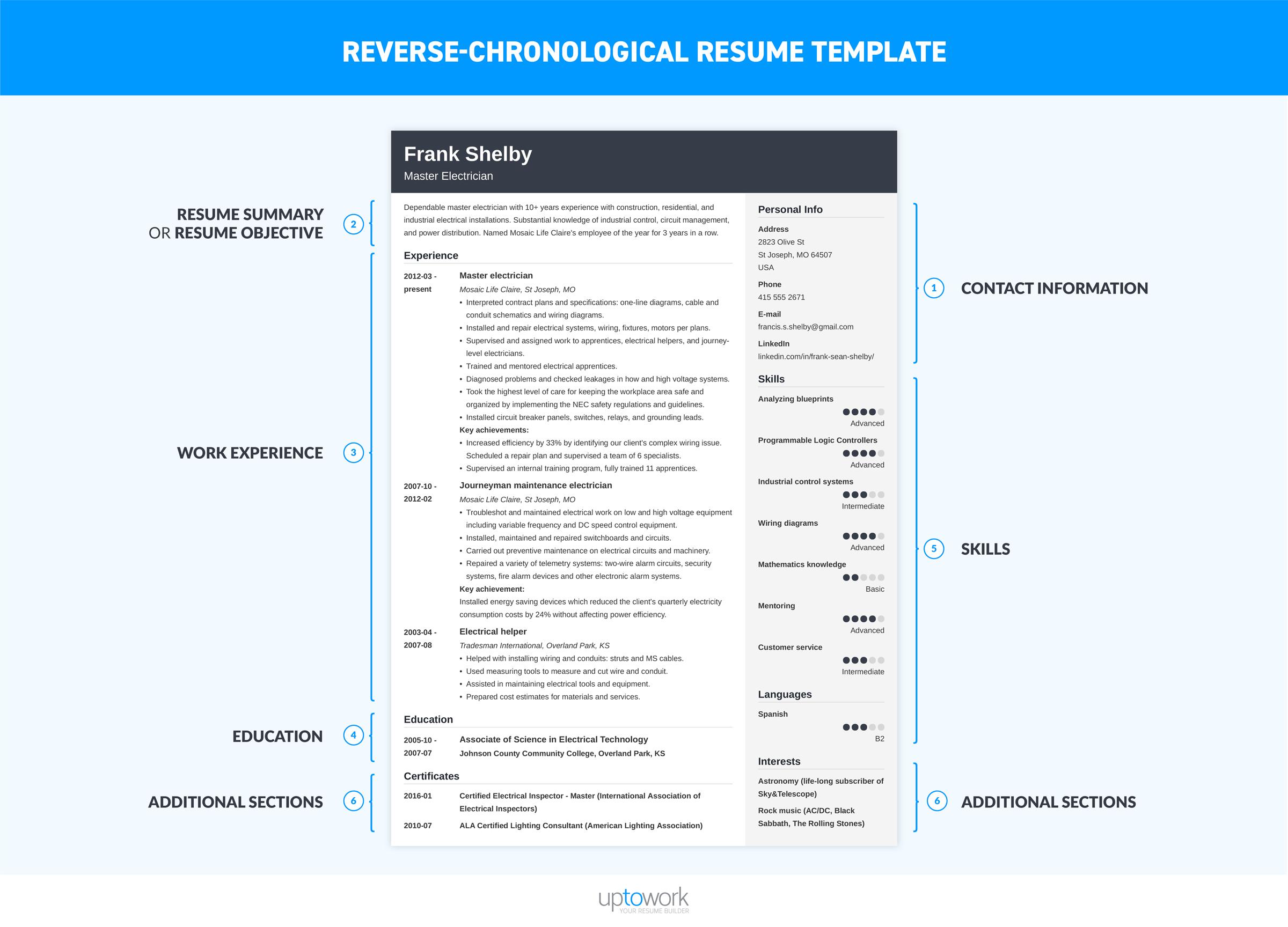 An example of a reverse-chronological resume template from our resume builder - create your resume here.
The reverse chronological resume format rules. It's like a Swiss Army knife: it's useful to everyone.
This is the most popular US resume format. It's a safe choice for virtually all job seekers. It's also a simple resume format to use.
Here's how a proper reverse chronological resume works:
Reverse Chronological Resume Layout
Contact information
Resume summary or resume objective
Work experience
Education
Skills
Additional Sections
The reverse chronological resume format puts emphasis on your work history because that's what's most relevant for hiring managers.
Since this type of resume is the most popular resume format, let's have a quick breakdown of its pros and cons.
Pros and cons of reverse chronological resume format
| pros | cons |
| --- | --- |
| The recruiters are familiar with it. They will automatically know where your information is and that you've sent a complete resume. | It will require tweaking. It's the most common resume layout for job applications. You will need to make some extra effort to catch the recruiter's eye and showcase your skills and achievements. |
| It's guaranteed to go through an Applicant Tracking Software (ATS) resume test. The bots will be able to find the different sections of your resume and extract the most important information. | If you have large gaps in your work history, the recruiters will notice them immediately. The reverse-chronological format brings attention to your work history and experience. |
| The reverse chronological resume format highlights the peak of your career. And it's your most recent employment that is most relevant for the hiring managers. | It's not an ideal format of a resume for career changers. If you have little work experience in a position similar to the one you're applying for, it may not be the best resume format for showing off your skills. |
Want to make sure your resume will hook every recruiter and get you that interview? Get our free checklist and learn what makes a job-winning resume: 46 Things You Need to Do Before You Send Your Resume
Want to learn exactly how to format a resume in reverse chronological order and what to write in each section? We've got a dedicated guide just for you: Chronological Resume Template & 20+ Examples [Complete Guide]. Follow our reverse chronological resume format samples and basic resume format examples to convince the employer you're the best candidate out there.
Not sure about the reverse chronological format? There's an alternative for you!
2
The Combination Resume Format
Or: The Best Way to Show Off Your Skills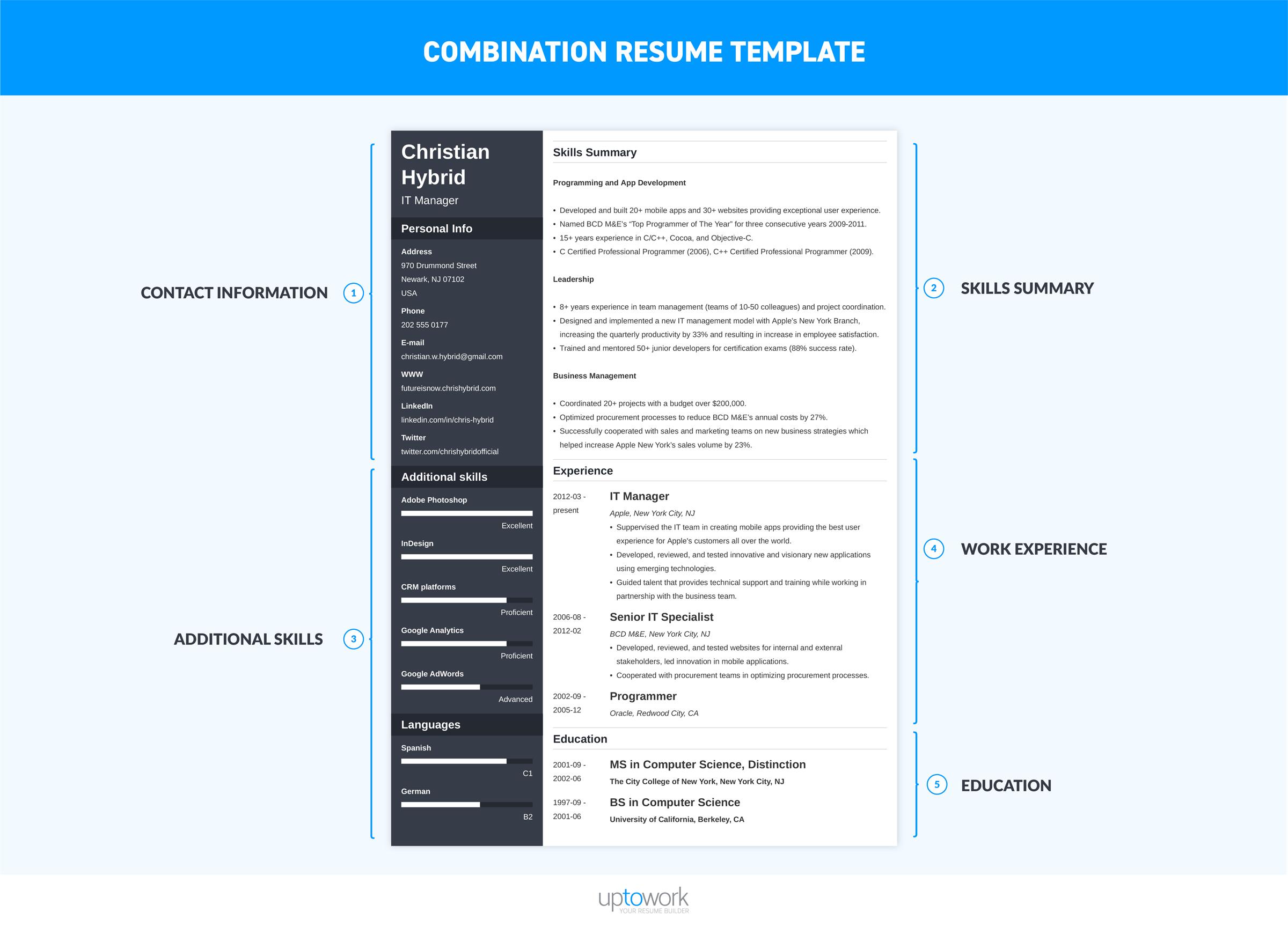 Sample combination resume format template. Create your resume here.
The combination resume format (hybrid resume) can be a great alternative to the reverse chronological layout.
As the name suggests, it combines the aspects of the other two resume types. It focuses on skills without throwing off the work experience section.
Who can benefit from the combination resume format?
Candidates with a lot of relevant work experience and oodles of professional achievements.
Career-changers who want to highlight how the skills they've developed over the years will help them succeed in their new career path.
Here's how to structure a combination resume to highlight your best assets:
Combination Resume Layout
Contact information
Skills Summary
Additional Skills
Work Experience
Education
You start the combination resume with a summary of your skills. You list those skills that are most relevant to a particular job opening. Underneath each skill, you make a bulleted list of professional achievements which highlight the skill.
Then, you spice up the descriptions of your skills by listing your relevant certifications and awards that validate your skills.
Pro Tip: Grouping your bullet points under skills-related subheadings is also good for providing ATS with keywords.
If you're writing a combination resume, there are two crucial things you have to remember:
Tailor the mix of your awards and benchmarks to a position you want to land and be specific: You got promoted? Why? Saved your company's money? How much? Led a high-stakes project and pulled off a spectacular success? How?
Choose the combination resume format only if you can link your skills to your actual, relevant achievements. If you don't have much work experience, don't go for the hybrid resume.
Feel like it's the best resume format for you? Not sure how to format a combination resume and write up each section? Use our guide to make the most of it and land that interview: Combination Resume Template & 5+ Examples [Complete Guide]
3
The Functional Resume Format
Or: The One That Will Get You Rejected.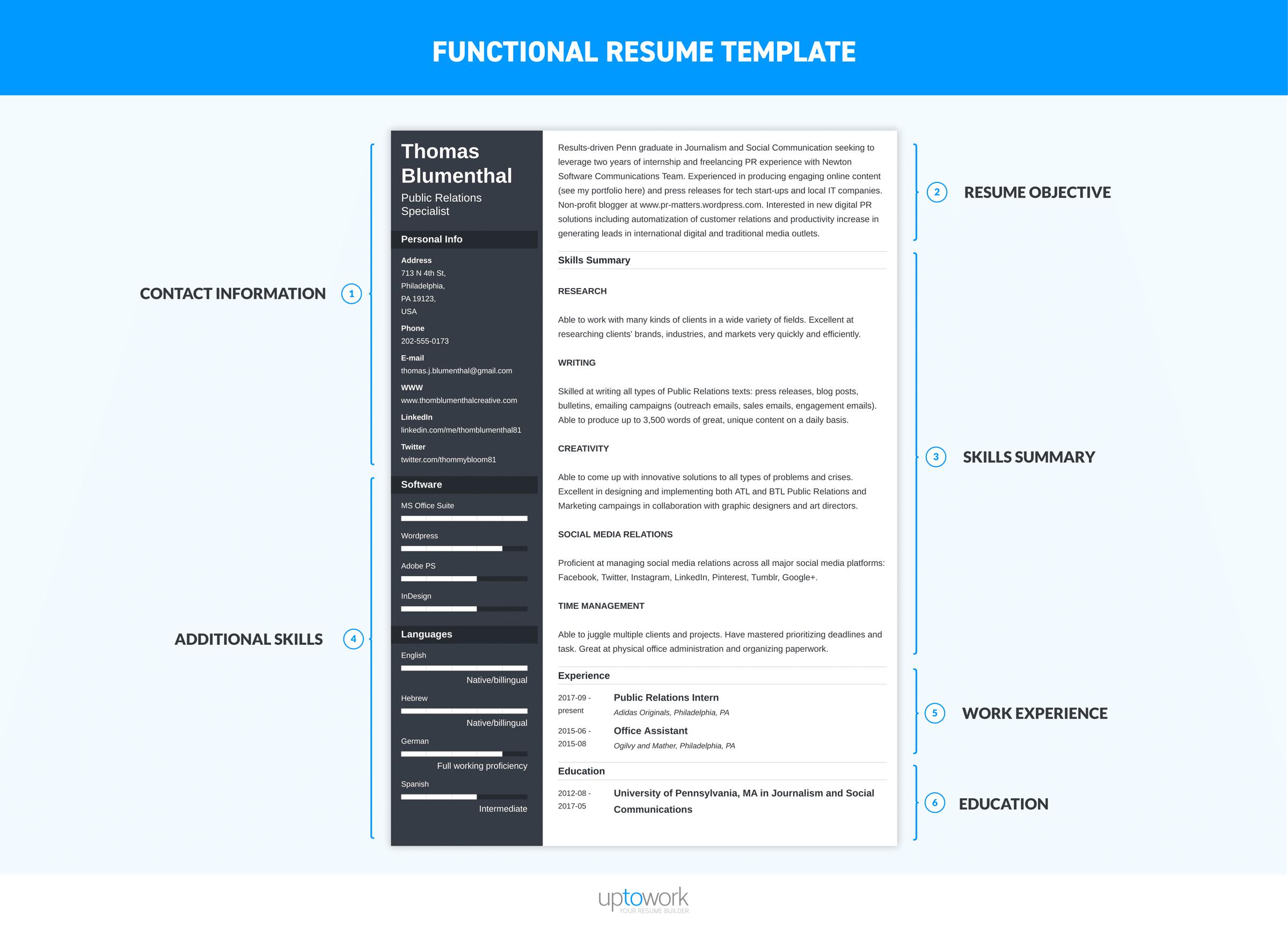 Sample functional resume format template. Create your resume here.
Some job seekers see the functional resume as the cool resume format that makes your application more entertaining and unique.
In fact, the only job seekers who can potentially benefit from a functional resume are:
Those looking for jobs in creative industries, where your portfolio matters more than your resume.
Military transitioners—because their detailed job descriptions could be too difficult for non-military recruiters to comprehend.
Candidates who, for some reason, do not want to seem overqualified, for example ex-CEOs applying for mid-level positions.
Here's how to structure a functional resume:
Functional Resume Layout
Contact information
Resume objective
Skills Summary
Additional Skills
Work Experience
Education
The functional resume format allows you to take the pressure off of your work history and focus only on your skills and abilities. That's why it's also called the skills based resume format.
In theory, that sounds great, right?
In practice?
It gets rejected in the first stage of the recruitment process.
And you're not getting any job interviews.
Why?
Because, in practice, the functional format of a resume just throws your job history out the window.
Your work experience section becomes reduced to a tiny list of your past employers at the bottom of the resume. The skills section becomes the meat and potatoes of your resume.
True, your abilities are what the employers ultimately look for, but you can't just randomly file your skills in whatever order you see fit.
You need to give the recruiters some tangible proof and the functional resume format won't help you do it.
The fact that there is no specific evidence that you learned your skills in any sort of job setting is what makes the functional resume the least successful resume format.
It makes you look suspicious and sneaky—like you're hiding something or simply lying.
Some experts say the skills based resume is good for a student resume format or a resume format for fresh graduates, but, in fact, it's not.
Even if you don't have much work experience, you should still link your skills with either your academic achievements or part-time jobs and volunteer experience.
Finally, the functional resume format is very likely to fail the ATS resume test. The robots won't be able to scan your resume for dates or specific sections and they won't extract relevant information.
So, long story short: we strongly advise against using the functional resume format for job applications. It's not a creative resume format as some people apparently think. It's simply unreliable and useless for most.
Still entertaining the idea of writing a functional, skills based resume? Almost no one knows how to get it right. You can learn it here: Functional Resume Template & Examples [Complete Guide]

Want to save time and have your perfectly formatted resume ready in 5 minutes? Try our resume builder. It's fast and easy to use. Plus, you'll get tips and right vs. wrong examples while writing your resume. See 20+ resume templates and create your resume here.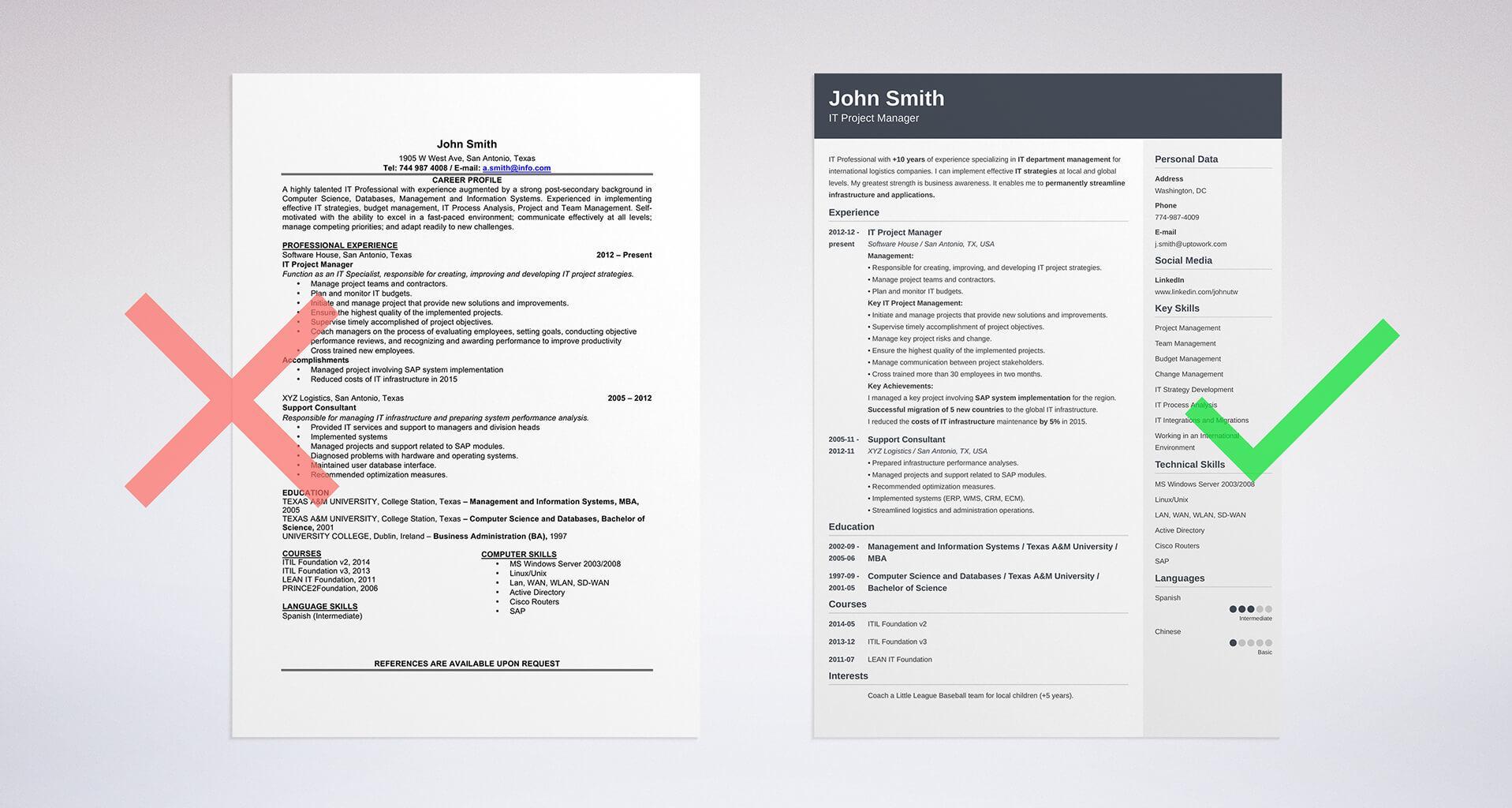 Sample resume made with our builder. See 20+ resume templates and create your resume here!
4
The Best Resume Format If You Have No Work Experience
Writing an entry-level resume is tough, right?
You feel like you're not experienced enough and have too few achievements to write a typical resume in a reverse chronological format.
Some entry-level candidates assume a functional resume is the right resume format for freshers.
And that's why they struggle to land their first job.
The last thing recruiters want is a vague, unspecific skills list typical for a skills-based resume format.
Your best pick is still the reverse chronological resume layout.
If you have no experience relevant to the job opening, begin your resume with your education section. Always put your best foot forward. List your most relevant coursework, your academic interests, and favorite fields of study.
Without relevant job experience, you have to list your education in a way that'll convince the recruiters you'll manage your future tasks. Here's how to do it: How to Put Your Education on a Resume [Tips & Examples].
What comes next on a resume format for freshers?
That's right, work experience.
If you're not yet experienced in your field, list your volunteer experience and part-time gigs.
Even if your job history is not related to the position you're trying to land, your work experience has helped you acquire soft, transferable skills such as teamwork or customer service.
We know that it's a grueling task to write a first job resume. That's why we've made a dedicated guide on how to write a resume with no experience. Read our article First Resume with No Work Experience Samples (A Step-by-Step Guide). Get expert tips, actionable examples, and sample fresher resume entries.
1
Resume Formatting
So now you're familiar with the concept of the three main resume formats.
Let's do a quick recap of what we've covered so far.
Have a look at this handy comparison between the 3 resume formats:
Chronological vs Functional vs Combination Resume

Chronological vs Functional vs Combination Resume

Reverse Chronological resume

Functional resume

Combination resume

Chief focus

Work experience / Education

Skills

Skills and work experience

Work experience section

At the top, relevant

At the bottom, irrelevant

In the middle, relevant

Skills section

In the middle, relevant

At the top, relevant

At the top, relevant

Layout

Professional and traditional

Non-conventional, confusing

Professional and creative

Applicant Tracking Software scannability

Scannable

Non-scannable

Scannable

Main advantage

Easy to read, universal

Conceals flaws in work history

Emphasizes and validates skills

Main weakness

Very common, might require tweaking

Suggests you're hiding something

Suitable for few candidates

Good for

Virtually all candidates

Creative jobs,

Military transitioners,

Candidates who don't want to seem overqualified

Career changers, experienced professionals

Not ideal for

Career changers

Students, experienced professionals, career changers, entry-level candidates

Entry-level candidates, students
Easy, right?
But hold up a sec.
Before you start writing that killer resume, remember that resume formatting is not only about the chronological vs. combination vs. functional format. It's also about creating a neat, legible document, pleasing to the recruiter's eye.
How to Format a Resume
Choose clear, legible, and respected fonts.
Custom-made typefaces or extravagant fonts might look good on book covers or marketing bulletins, but on your resume, go for simplicity. Choose one from the best fonts for a resume. Size 11 or 12 pt for the main text.
Be consistent with your resume layout.
When planning your resume layout, set 1 inch margins. All headings should look the same. Stick to the same date format: for example 11–2017, or November 2017.
Don't cram your resume with gimmicky graphics.
Less is more. White space is your friend—recruiters need some breathing room! With graphics you have little to gain, a lot to lose—like failing an ATS resume test.
Get photos off your resume.
The recruitment process is a whole lot like Tinder. It's just that you're looking for a job, not a date. So it's your "bio," not your profile pic that gets you the swipe right.
Make your resume brief and relevant.
But don't obsess over trying to fit every important information on a one-page resume. The two-page resume format is perfectly fine for some. Leaving off key details about your career isn't. How long is too long? Find the answer here: How Long Should a Resume Be? Ideal Resume Length for 2018 (+Tips)
2
Spice Up any Resume by Adding Extra Sections
As we explained, there are three resume formats of resumes you can choose from.
Does that mean that all resumes have to be boring and look pretty much the same?
Of course not!
There's an easy way to make your application stand out.
Whichever resume format you choose, you can dress up your resume in three following ways:
Add a resume summary or resume objective
The best place to start buffing up your resume is at its very top.
Start your resume with a resume summary or a resume objective—a brief, concise paragraph at the top of your resume.
A resume summary highlights your career progress and achievements.
A resume objective, in turn, shows what skills you've mastered and how you'd fit in.
Put it right below your contact information and try to make it no longer than four lines of text.
Why is it so important?
Because, as research shows, recruiters usually focus on the top third of your resume.
The point of both your resume summary and objective is to highlight what you don't want a potential employer to miss.
Our resume builder (you can create your resume here) will give you tips and examples on how to write your resume summary or any other section. You can easily copy them straight into your resume - it will save you a ton of time.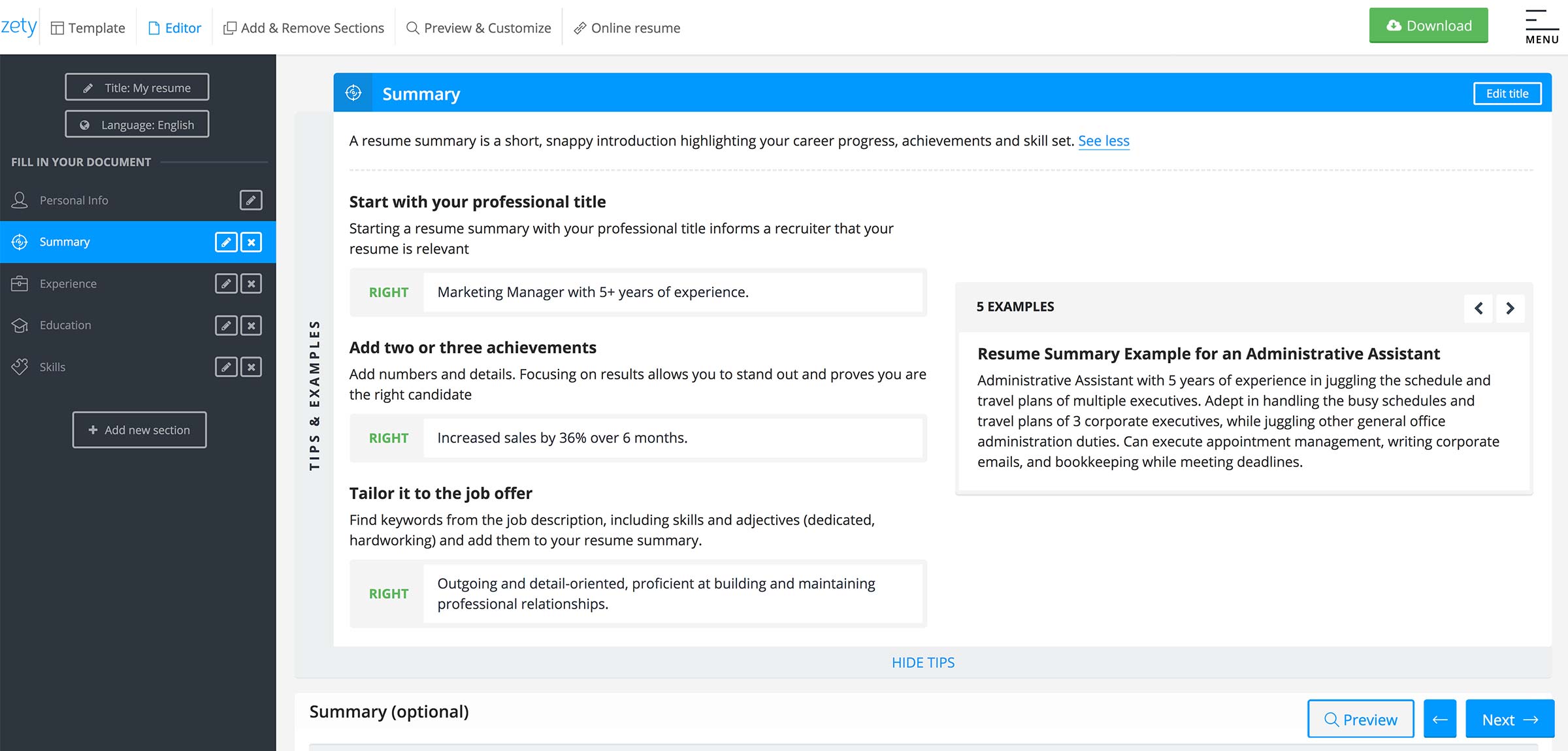 Inside Zety's resume tool you will find tips and examples for your resume.
Resume objectives and summaries are crucial for a successful resume. And, for most candidates, they are quite hard to write.
That's why we've written complete, step-by-step guides to writing effective resume summaries and objectives.
(We've also made examples for almost every profession so you can see a sample from your own field of expertise. Check them out!)
Make an additional section for your certifications, awards, interests, or hobbies
Candidates lie on their resumes and recruiters know it.
Things like your certifications, industry awards, or articles you've published are your unquestionable triumphs that you need to show off in a separate section. Here's how to add them to your resume to convince every recruiter that hiring you is a no-brainer: Achievements to Put on a Resume - Complete Guide (30+ Examples)
But what if you're a fresh graduate and don't yet have any of the above?
Add a hobbies and interests section. It will give the recruiters a fuller picture of you as a person.

Think it's too cheesy?
Think again.
Nowadays, a lot of businesses look for candidates who will fit into their office culture.

Your personal interests can make you more attractive and memorable to a recruiter, and signal that you would be an ideal fit for the company.

If you want to find out how to put hobbies and interest on your resume to show the employers you're a good cultural fit, read our article: The Only Way To Put Hobbies & Interests on a Resume [5 Tips].
3
How to Choose Your Resume File Format: PDF or Word?
Once you've chosen the perfect resume format and wrote your killer professional resume, you're still facing a formatting dilemma.
Which resume file format is best for saving your resume?
Should you send a resume in PDF or in Word?
The benefit of creating a PDF resume is that your resume formatting will not get messed up when it gets opened by a recruiter.
At the same time remember that nowadays, most resumes are scanned by ATS bots before they even make it to the hiring manager's desk. And some ATS software may have trouble reading a PDF resume.
So—
What format should a resume be in?
Above all, check if your potential employer accepts resumes in PDF format. Some job postings explicitly state that they want your resume in MS Word.

In any situation, having both formats on hand is best practice.
Want to learn more about how to properly choose your resume file format? Read our complete guide: Word vs. PDF Resume: What is the Best Resume Format?
Key Takeaway
There are not many correct resume formats to choose from. And not a single recommended official one. Choosing the best resume format for the job application is critical.
Picking a proper format of a resume really comes down to what you want to focus on: either your skills or your career progression.
Also, make sure that your resume format won't make the recruiters think that you're trying to hide something. Support your skills and achievements with valid evidence.
The best way to boost a classic resume format is to enhance each standard resume section and to place your most important achievements and skills on the top third of your resume.
Open with either a great resume summary or resume objective. Add your measurable achievements in the work experience section using the PAR (Problem Action Result) formula. Write a strong skills section and boast any certifications or awards you've received.
All check? Then you can make any traditional resume format work for you.
Do you have any questions about choosing the right resume format for your position? Is there anything else about formatting a resume that you'd like to know? Give us a shout in the comments and we'll answer your questions!