Resume Structure & How to Organize a Resume
The way you structure your resume could mean the difference between landing an interview and rejection. But do you really know how to organize your resume in the most effective way?
A recruiter will spend only a few seconds scanning your application documents.
If your resume structure is confusing and disorganized it will end up in the rejected pile.
You don't want this.
Fret not.
In a couple of minutes, you'll know exactly how to make an unforgettable first impression on any recruiter.
This article will show you:
Three most popular resume structures.
Pros and cons of each structure of a resume.
Pro tips on resume writing.
What all good resume structures should have in common.
Want to save time and have your resume ready in 5 minutes? Try our resume builder. It's fast and easy to use. Plus, you'll get ready-made content to add with one click. See 20+ resume templates and create your resume here.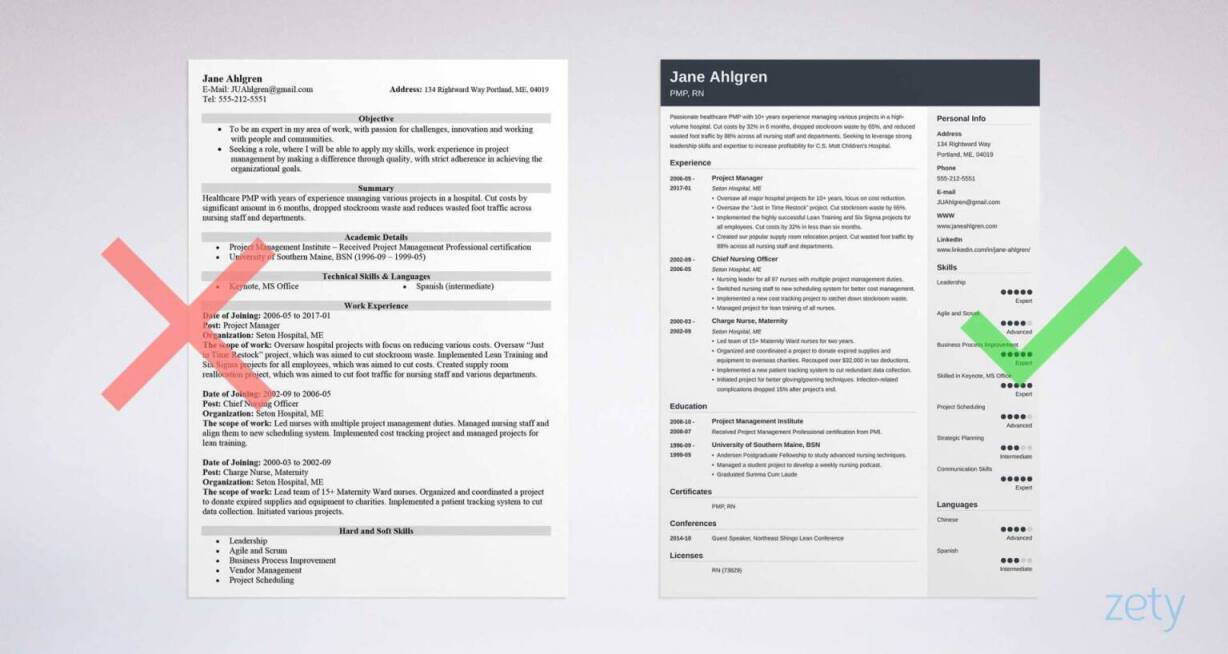 Sample resume made with our builder—See more resume samples here.
1
How to Structure Your Resume
Cut to the chase—
There are three main ways in which you can structure a resume:
Here's what the general resume structure of each of these types looks like:
Three Types of Resume Structure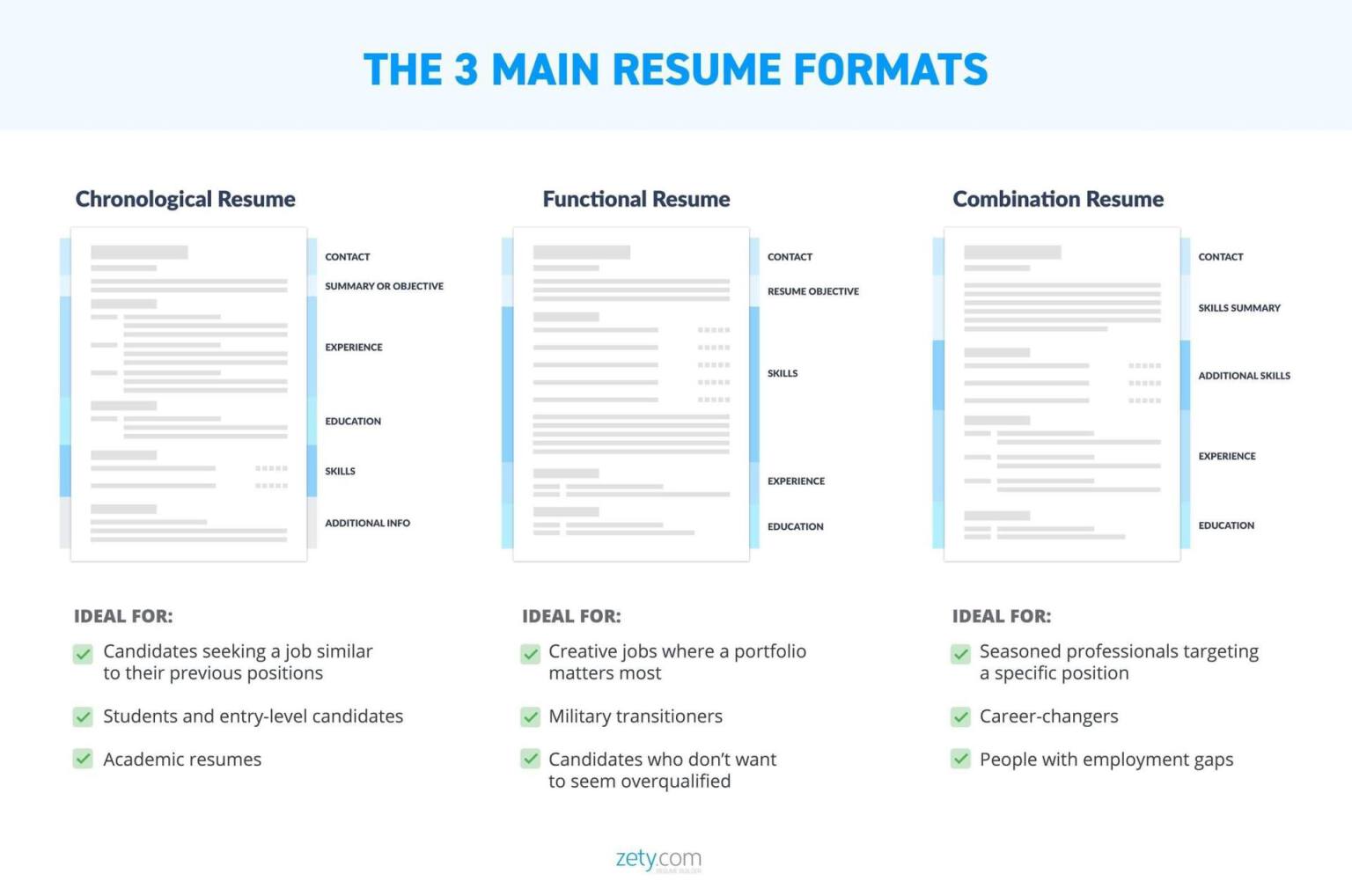 Remember—
There's no such thing as the perfect resume structure.
Your resume structure will look different depending on your work experience, career path, and the things you want to highlight.
If you take a good look at the image above, you'll notice that each resume's central section is different.
In the case of the chronological resume structure, the majority of space is taken up by experience. On the functional resume, the skills section is the largest. And the bulk of the combination resume's real estate is occupied by skills and experience.
And this is exactly how you should choose the best resume structure for your purposes:
If you wish to attract the recruiter's attention to your experience, go for the reverse-chronological structure.
If it's your skills you want to capitalize on, choose the functional resume.
If the position you're applying for calls for a seasoned pro with a unique combination of skills and experience, the combination resume may be your safest bet.
Now—
Let's take a closer look at each type of resume structure:
Chronological Resume Structure
The chronological resume is easily the most versatile and popular resume structure with job seekers and recruiters alike.
Why?
First and foremost, it's very easy to scan.
The latest study by the Ladders shows that recruiters typically spend about 7.4 seconds looking at a resume.
This isn't much time, is it?
That's why a good resume structure is one that:
lets the recruiters quickly laser on the most important information and,
allows job seekers to format and organize resume information clearly.
And this is exactly how the chronological resume works.
Here's how to organize your resume so it has a chronological resume layout:
Remember what the most important section of a chronological resume is?
Work experience.
So—
Here's how to organize experience on a resume:
List your latest position first and follow it up with the previous one(s).
Add your professional title, name of the employer, and dates worked.
Be consistent. If you bold a job title in one entry, let the others follow suit.
Let each entry consist of up to 6 bullet points describing your duties and achievements.
Start each bullet point with a strong resume action verb.
Show your real-life impact by adding numbers to as many bullets as possible.
Give more prominence to your key achievements by listing them in a dedicated subsection.
And—
Finally, let's take a look at the pros and cons of the chronological structure of a resume.
pros
Easy for the recruiters to scan.
Sure to pass any ATS scan.
Highlights your experience.
cons
Requires careful and consistent formatting.
Exposes gaps in your career.
Not great for career changers.
One more thing—
Even though the chronological resume structure focuses so much on professional experience, it's also a good structure of resume for freshers.
How's that possible?
Well, you're free to rearrange the sections. If you're making your first resume with no work experience, you may want to put the resume education section up top.
Want to make the most of your chronological resume structure? Head straight to our article: Chronological Resume Template & 20+ Examples [Complete Guide].
Functional Resume Structure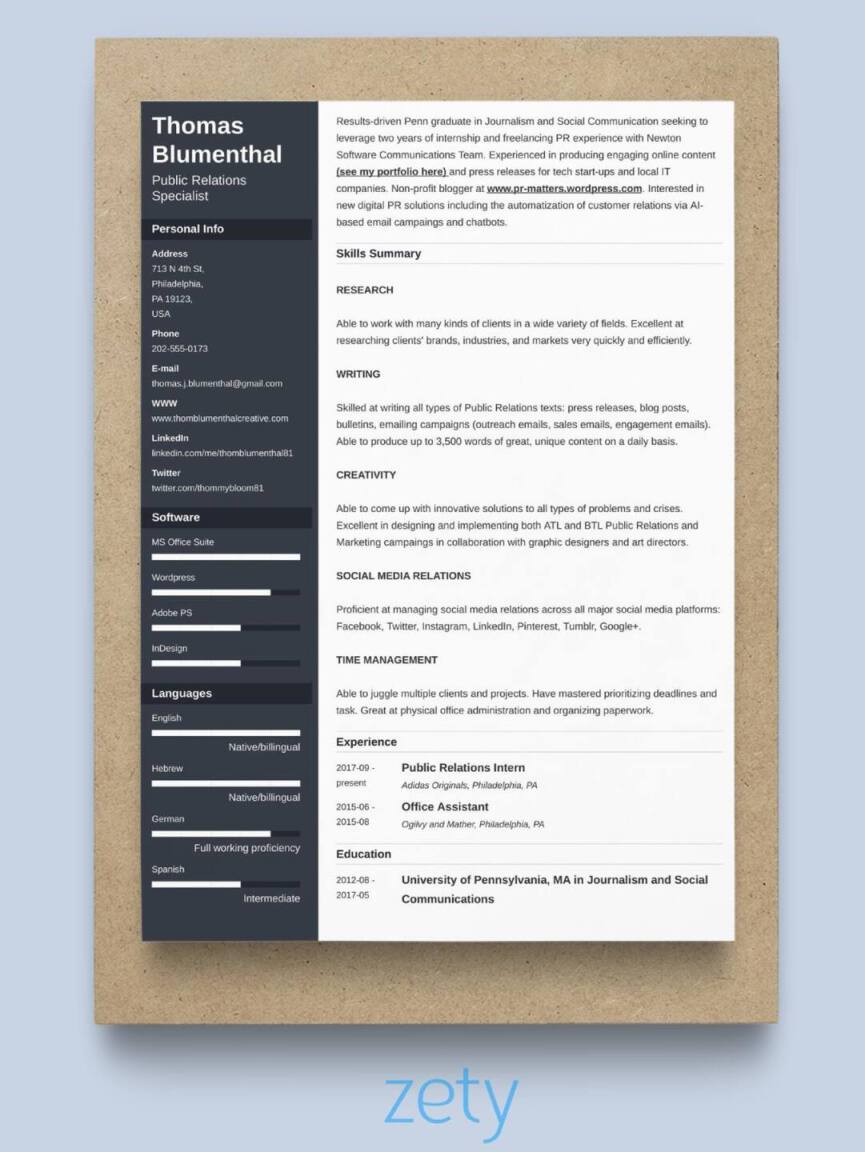 The functional resume structure puts your skills and qualifications in the limelight. That's why it's often referred to as the skills-based resume.
It's a good resume structure if you want to detract the recruiter's attention from your professional experience.
A typical functional resume structure comprises the following sections:
Contact Information
Resume Objective
Additional Skills
Experience
Education
Resume objective and the skills summary are the most important components of the functional resume structure. Make sure to get them right:
Use the resume objective to outline your top skills and explain how they make you a great fit for the position.
Link to your portfolio, or examples of your work (e.g. blog, personal website, etc.)
Focus on up to five of your most relevant skills in the skills summary section. But don't just list them—be specific, refer to the situations in which you had to use them.
Don't neglect your software skills. Say what you're good at, and preferably put some numbers to prove it.
Stick to bullet points or write short paragraphs written in plain language.
When you come to think of it, the functional resume structure seems to have it all.
Well—
You'd be surprised to learn that most likely it won't get you anywhere.
Why?
The latest Jobvite Recruiter Nation report reveals that for a staggering 92% of the recruiters it's the candidate's previous job experience that's the most important hiring factor.
And what does the combination resume structure do?
Tries to detract the recruiter from your past experience.
That's a bummer.
Plus—
The eye-tracking study by the Ladders shows that recruiters scan resumes for job titles and subheadings.
And the functional resume structure is great at… hiding them.
More than that—
Any ATS (Applicant Tracking System) will have a hard time scanning such a resume as well.
Pro Tip: If you go for a functional resume structure, avoid sending it via an ATS system. Do your best to identify the recruiter or hiring manager, and send it as an email attachment.
The question is:
Who is the functional resume structure good for then?
As a matter of fact, it's good for a very narrow group of candidates:
Creatives
Freelancers with a varied portfolio
Candidates who don't want to come across as overqualified.
Pro Tip: Looking for inspiration for your creative resume? Visit our gallery of the best creative resume templates.
To sum up—
Let's take a look at the advantages and disadvantages of a functional resume structure:
pros
Directs the recruiter's attention to the candidate's skills.
Works great for creatives whose employability lies in their portfolio.
Helps military transitioners translate their skills into civilian parlance.
cons
Hated on by the recruiters for limited scannability.
Hides your professional experience thus decreasing your chances.
Likely to fail the ATS scan.
If you believe the functional resume structure will work for you, read our guide on Functional Resume Template and Writing Tips for detailed advice.
Combination Resume Structure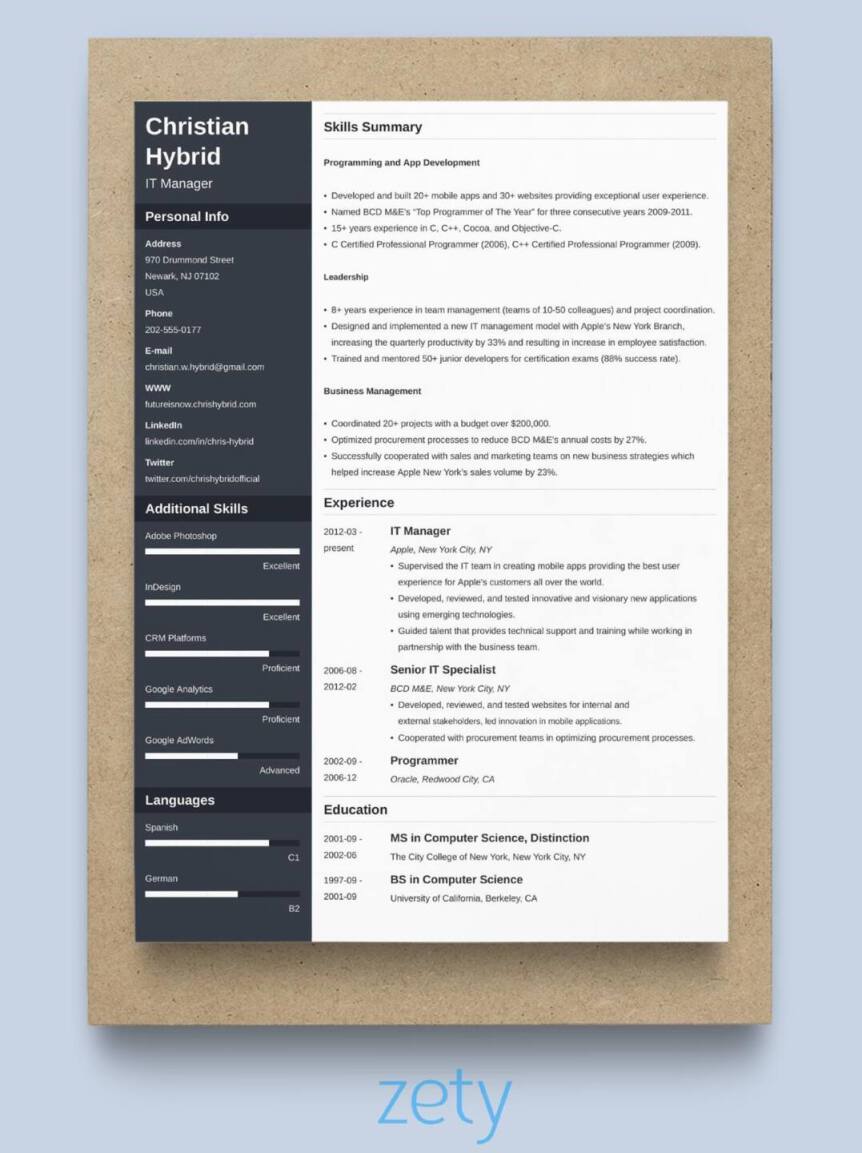 As the name suggests, the combination resume structure… combines the best elements of the chronological and functional resumes.
Here's how to organize a combination resume structure:
Contact Details
Summary of Skills
Professional Experience
Additional Skills
Education
The most important sections of a combination resume are the skills summary and professional experience sections.
Here's how to structure the resume skills summary section to make the most of it:
Focus on your top skills relevant to the position.
For each skill list up to 4 bullet points with a more detailed description.
Outline your skills in terms of achievements, i.e. show what results each skill allowed you to produce.
Try to quantify whatever you can. Numbers speak louder than words.
As to the experience section—
Follow the reverse-chronological order, that is put your latest job up top.
Format each entry consistently, and make sure your job titles are clearly visible.
List up to three bullet points in each entry.
Pro Tip: The combination resume allows you not to put any additional bullet points under the job titles. Because of the resume organization, your key achievements are in the skills section.
Here's a quick roundup of the pros and cons of using the combination resume structure:
cons
Suitable only for highly-experienced candidates seeking specialized positions.
Possibly, the most complicated resume structure to organize efficiently and effectively.
Want to make a job-winning combination resume? Head straight to our dedicated guide for more detailed advice: Combination Resume Template & 5+ Examples [Complete Guide]
When making a resume in our builder, drag & drop bullet points, skills, and auto-fill the boring stuff. Spell check? Check. Start building a professional resume template here for free.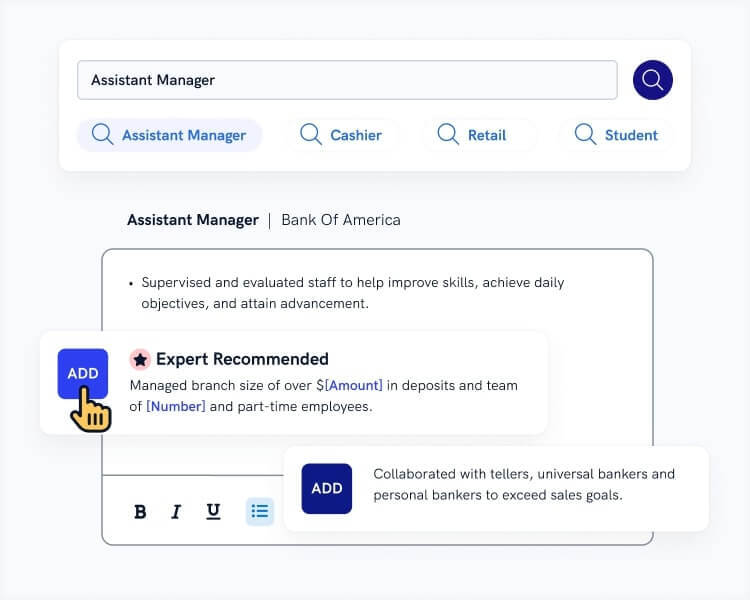 When you're done, our easy resume builder will score your resume and our resume checker will tell you exactly how to make it better.
2
Resume Structure—Final Thoughts
At the end of the day, what you want your resume structure to effectively communicate to the recruiter is that—
You're the one who'll get the job done better than 250 other candidates.
With this in mind, let's take one last look at the results of the eye-tracking study by the Ladders.
Here are the qualities shared by bad resume structures:
Cluttered look
Too little white space
Long sentences
Keyword stuffing
Too many columns
And—
Poor resume layout (e.g. unclear division into sections, badly formatted section headers)
Once you pick out the resume structure that works best for your situation, do your best to avoid making these mistakes.
Pro Tip: Not sure your resume is up to snuff? Read our guide on resume dos and don'ts, and make yourself irresistible to any recruiter.
3
BONUS: Resume Structure Fixtures or What All Resumes Have in Common
Finally—
Before you start writing your resume, remember that all resumes are business documents.
As such, they all must be formatted accordingly.
Here's a quick checklist for you to ensure your resume comes across as professional.
Make sure the resume margins are set to one inch on each side.
Use a simple and readable resume font. Stay within 11-12pt range.
Add a professional resume header. This is where you put your resume contact details.
Divide your resume into easily navigable resume sections. Most resumes will have such sections as:
Format each of these sections in a consistent manner. If you decide to put your professional job title in bold, make sure it's bolded in each entry.
Sick to single line spacing, or use 1.15 at the maximum.
Tailor your resume to the job offer. Avoid squeezing in too much information. That being said, if your resume is longer than one page, don't worry. Make it as long as necessary.
Only put photos on your resume if asked by the employer.
Remember—
You must get the formatting right if you want to your resume to come across as scannable and well-organized.
Don't know how to structure your resume so it's scannable by any Applicant Tracking System. Read our guide to learn how to make a perfect ATS resume.
Plus, a great cover letter that matches your resume will give you an advantage over other candidates. You can write it in our cover letter builder here. Here's what it may look like: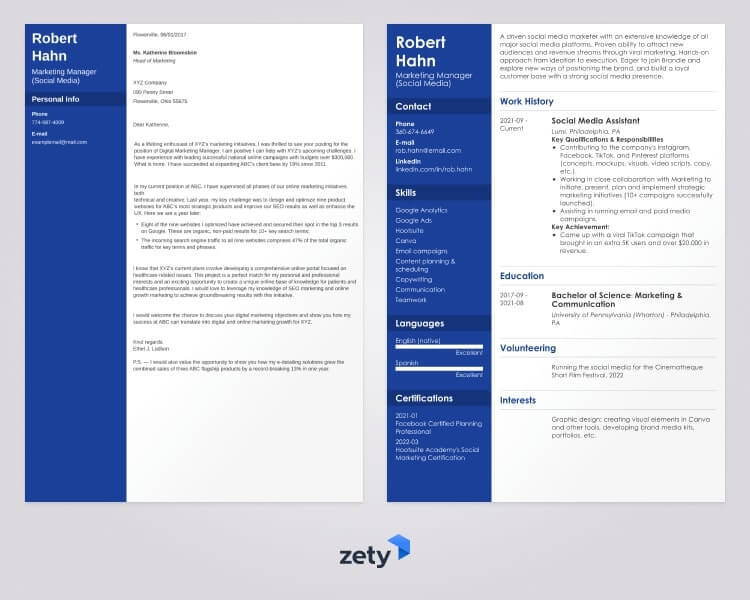 See more cover letter templates and start writing.
Key Takeaways
Here's how to structure a resume:
Put your contact information at the top of your resume.
Start off with a strong resume profile to rivet the recruiter's attention.
Choose a chronological resume structure to focus on your experience. It's a good resume structure for all kinds of job seekers, including students, and entry-level candidates.
Pick a functional resume if you want to highlight your skills. Remember, though, that this resume structure is suitable for a narrow group of job seekers and mostly shunned by the recruiters.
Select a combination resume to put both your skills and work experience in the limelight. Mind you, this resume structure is most suitable for seasoned pros or employment gappers.
Make sure your resume formatting is consistent across the entire document.
Remember to organize your resume in an ATS-friendly way. Otherwise, it will never reach any human recruiter.
Do you have any questions about how to structure a resume? Or maybe you'd like to share advice on how to organize your resume in the most effective way? We'd love to hear from you! Give us a shout out in the comments below.
About Zety's Editorial Process
This article has been reviewed by our editorial team to make sure it follows Zety's editorial guidelines. We're committed to sharing our expertise and giving you trustworthy career advice tailored to your needs. High-quality content is what brings over 40 million readers to our site every year. But we don't stop there. Our team conducts original research to understand the job market better, and we pride ourselves on being quoted by top universities and prime media outlets from around the world.
Sources