Got gaps in employment?
You're probably terrified, and rightly so.
Gaps on a resume are a big red flag.
Without an explanation, employers may assume you're a criminal, an alcoholic, or worse.
Except I'm about to show you how to turn that on its head.
Why should you trust me?
Here's a confession of my deepest, darkest secret:
I have more gaps in my employment history than the London Underground. Yet because I'm a freelancer, I'm faced with constant interviews.
Yet hiring managers often tell me things like, "Of the 600 applicants we looked at, you're our favorite."
But my personal story isn't enough. So I asked three bestselling career experts for their best employment gap explanations.
This guide will show you:
Why managers hate employment gaps and how to explain a gap in employment.
How to do an end-run around resume gaps to avoid writing a bad resume.
Where to find value in a gap in a resume employers love.
Good reasons for a gap in employment that managers will understand.
Got gaps in employment? Consider the combination resume format.
Here's a combination resume template made with our online resume builder tool.
Want to save time and have your resume ready in 5 minutes? Try our resume builder. It's fast and easy to use. Plus, you'll get tips and right vs. wrong examples while writing your resume. See +20 resume templates and create your resume here.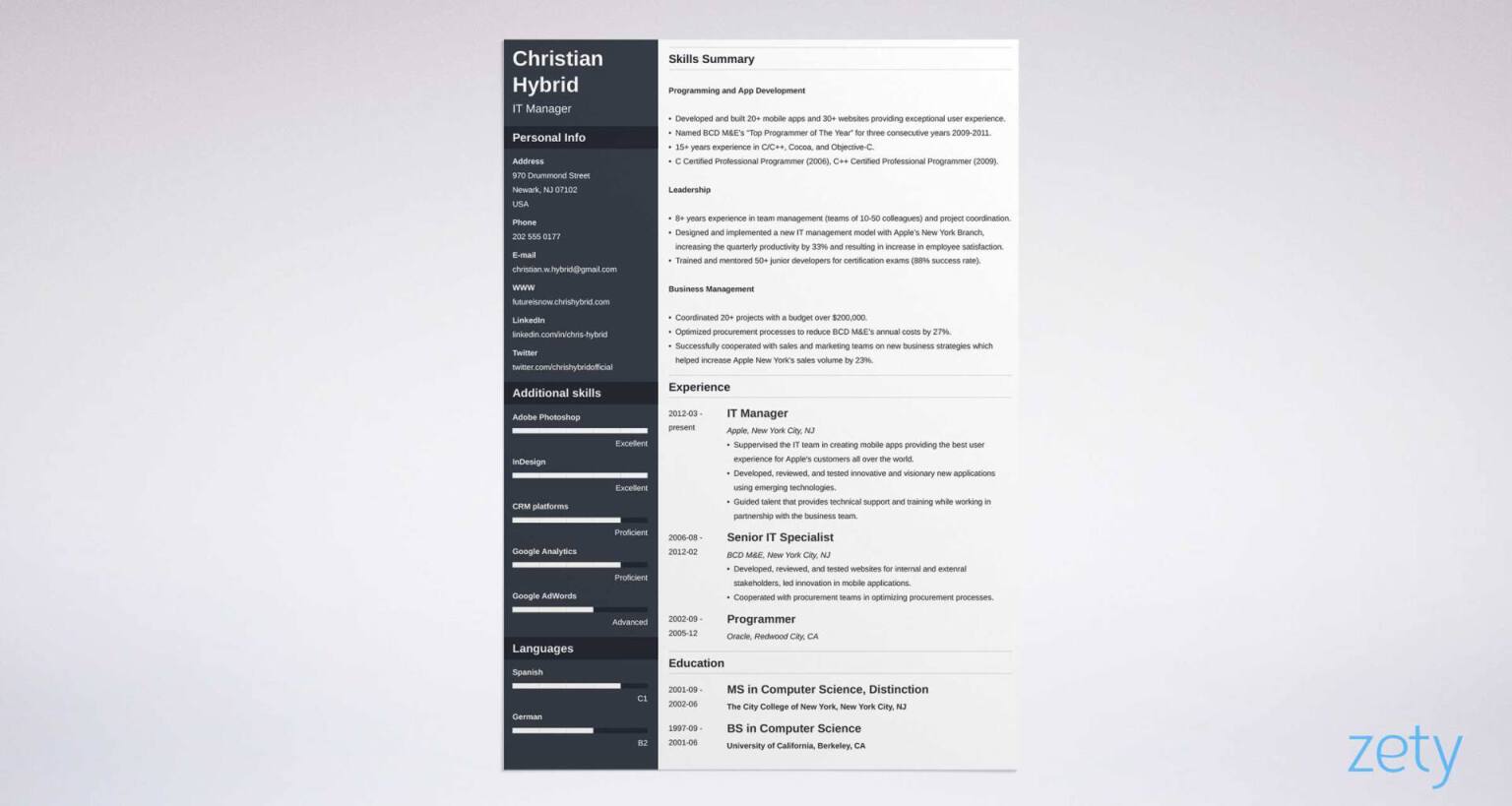 Sample combination resume made with our builder. See 20+ resume templates and create your resume here.
Two formats work great for resume gaps. The combination resume and the functional resume focus on relevant skills. See our guides for gaps in resumes and job hoppers:
Now let's look at advice from career experts for how to explain resume gaps.
1
How to Explain Gaps in Employment
Why are employment gaps so bad?
Because of what employers fear is hiding in them.
Without explaining gaps in employment, the hiring manager may assume the worst.
So—
Be Honest
According to Orville Pierson, author of The Unwritten Rules of the Highly Effective Job Search, honesty is key.
"People have great imaginations," says Pierson. "If employers see a gap in employment, they might assume you were incarcerated, an addict, or just plain lazy."
"That's the #1 reason not to display any gaps in your resume. The moment you explain the real reason, the imagined worst-case goes away."
| do | don't |
| --- | --- |
| DO assume the employer will find out about the gap through a basic employment check. | DON'T cover gaps in resumes with dates. Just writing years in your work experience without months comes off as, well, trying to hide stuff. |
| DO show the gap in your resume, but explain it briefly. In two lines or less, simply state what you were doing. See the employment gap example below. | DON'T make up heroic reasons for a gap in a resume, like you were rescuing beached whales. Employers can smell dishonesty a mile away. |
Employment Gap Explanation Example
March 2015–June 2016
I was seriously injured in automobile accident. After several rounds of surgery, I completely recovered and returned to all of my activities, including jogging and softball.
Don't Fret EVERY Gap in Employment
"You have to be honest," says Pierson. "But you don't have to sabotage your own job search by volunteering things that will hurt you."
What is an employment gap? Anything less than six months is generally OK. You still need to explain it, but "Job seeking" will cover it.
Is your resume gap old? Don't sweat gaps in employment 7-10 years ago. Again, you may need to explain, but an old gap isn't serious.
Job h

opping isn't a gap in a resume.

Leaving a job in less than a year isn't gr

eat. Sill, more than half of all employers hire job hoppers anyway.
Be Prepared
If you've got a gap in your resume, it will come up.
When it does, stammering like a high school freshman on a first date is not an option.
So—have an employment gap explanation ready. Then, like a fireman or a warrior in battle, fall back on your training.
Explain why you've got gaps in your resume.
Reassure the hiring manager why you won't be doing it again.
Share the value you picked up along the way.
Keep your explanation short. Have a finish line so you don't trail off into embarrassed silence.
Need to know exactly how to explain gaps in employment so you don't write a bad resume? I'll give you some surprising answers next.
Steve Dalton, author of The 2-Hour Job Search, has a unique way of patching a gap in employment:
"If I have a job-seeker with a gap in their resume," says Dalton, "I encourage them to overcome it with a referral."
Referrals create instant liking.
"Once I like you, you'd basically need to tell me you committed a felony to change my mind."
To get referrals:
Find the companies you most want to work for.
Contact employees at those companies.
Turn them into advocates by A) having a conversation and B) being a good listener.
"Interested is interesting," Dalton says. "The #1 factor in charisma is how well you're perceived to be listening."
Pro Tip: Are you a job hopper? That's worse than a resume gap, but it doesn't mean you'll write a bad resume. Many managers actually like to hire job hoppers, as this Forbes article explains.
Our resume builder (you can create your resume here) will give you tips and examples on how to write your resume summary or any other section. You can easily copy them straight into your resume - it will save you a ton of time.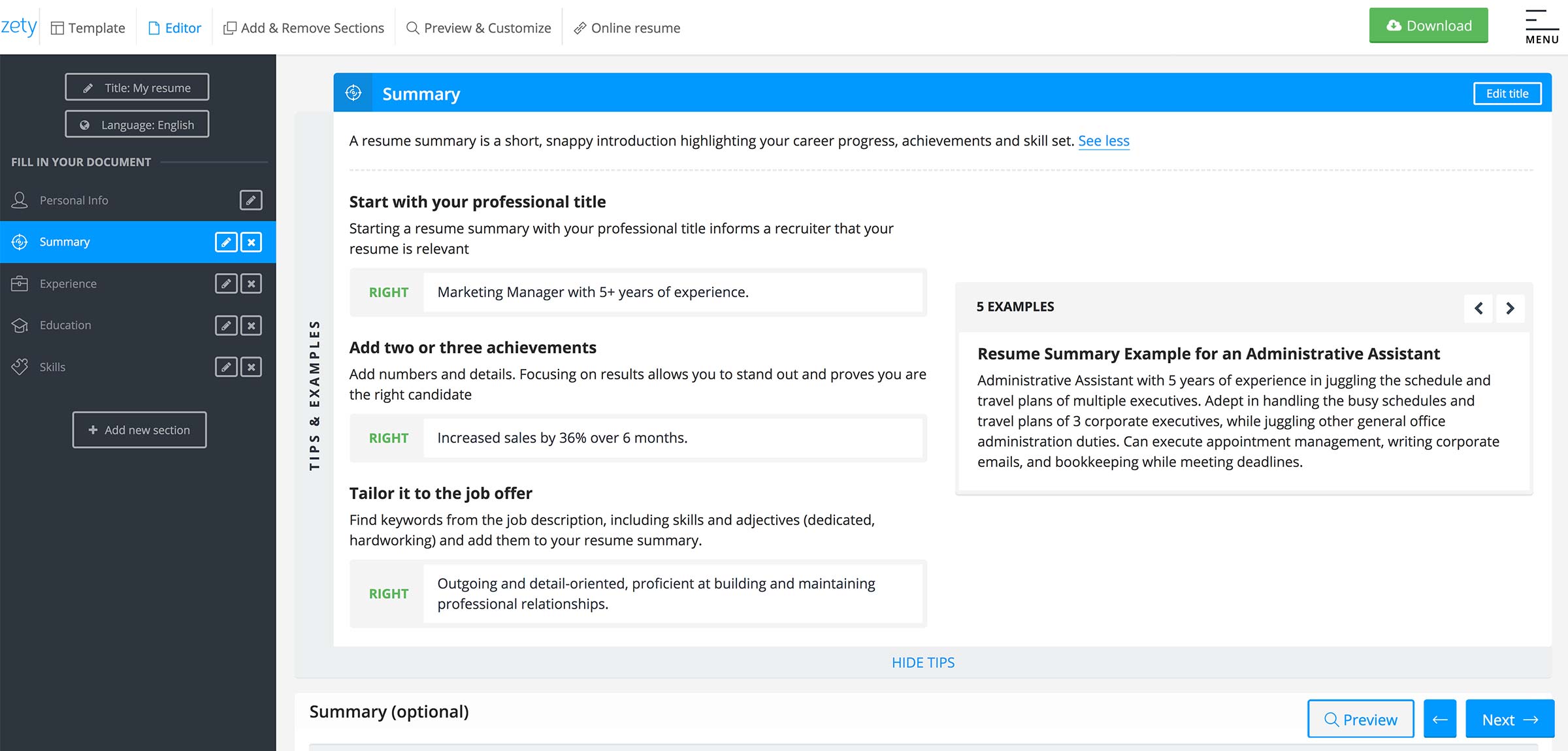 Inside Zety's resume tool you will find tips and examples for your resume.
Are you coming out of a gap in your employment and into a new career? Afraid you might face an employment check? See our guide: Career Change Resume: Sample and How-To-Guide
2
A Solid Plan to Explain Gaps in Employment
Imagine you're in an interview.
Across the conference table sit three hiring managers.
On the wall behind them is a poster of an eagle that says, Leadership.
Then they ask the dreaded question:
"What's this job gap here?"
The skin behind your ears begins to burn. Did you write a bad resume?
How should you explain gaps in employment in an interview?
Prove You Won't Do it Again
A bad hire costs a company $50,000 to $100,000.
One of the hiring manager's biggest fears? One gap in employment means you may do it again.
"Let's say you have a resume gap because you were in a bad car accident," says Pierson. "You must tell them it's completely resolved. Otherwise they might wonder if you're fully capable of work."
Find the Value
Were you a ski bum during your gaps in employment? Maybe you did some ski instruction.
"That's a reputable part-time job," says Pierson.
Being a stay-at-home mom is respectable work too. One of Pierson's clients added value by volunteering at a church where she managed 30 other volunteers. That was real managerial experience and she put it on her resume.
Look for Relevant Achievements In:
Volunteer Work
Freelancing
Part Time Work
Challenges You Faced
Match Your Gap in Employment to the Job Opening
Your employment gap explanation should prove you weren't idle.
But linking gaps in employment to the job offer is masterful.
A ski bum who did ski instruction is a match for jobs requiring training skills, communication, or experience with children.
The real trick?
Read the job offer carefully. Find the qualities it's looking for.
Then examine the gap in your resume. Find achievements that prove you have those qualities.
Shorten Your Job Gap Now
What's better than explaining gaps in employment?
According to Pierson, the best strategy is avoiding having a resume gap in the first place. As soon as you're unemployed, start consulting or volunteering.
It's best if it's related to your primary skills, but any work at all gives additional experience, skills, and references.
Consider a Cover Letter
Do I need a cover letter if I've got gaps in my resume?
Some experts say yes.
For example, see this shortened sample cover letter explaining a gap in employment. It explains that the gap won't repeat. It also lists a relevant achievement.
During the gap in employment from 2014 through 2016, I traveled South America and Africa, kayaking Class V rivers. It was a once-in-a-lifetime experience that helped me find my big, audacious career goal. I also picked up a unique set of logistics skills I think will fit extremely well with your executive assistant opening...
However, Pierson cautions against explaining unemployment gaps with cover letters. He prefers to save the cover letter for more supplemental information.
David Perry, author of Guerrilla Marketing for Job Hunters, lays out a great plan to explain gaps in employment. Namely, don't sweat the employment gap explanation.
"Instead," says Perry, "use your resume to show: 1. How you can make them money, 2. How you can save them money, 3. How you can boost their efficiency."
How?
Google search a company you want to work at + department name + "resume" + "-apply".
Click the images tab. You'll see resumes from people who worked there.
Contact some of them and have a chat. You'll get a great sense of the issues in that department.
Map those issues against your past accomplishments and put them in your resume.
"If you target 10 or 20 companies that way," says Perry, "you won't get past #7 without an interview.
What about the resume gap? The hiring manager will barely notice it by then.
Need some tips to write a cover letter that explains your gap in employment? Looking for some letter of explanation samples? See our guide: How to Make a Cover Letter for Any Job in 8 Simple Steps
3
Four Good Reasons for Employment Gaps
Need some good example reasons for gaps in employment?
Here's a short list. Make sure to explain why you won't repeat the gap.
A Failed Business
Did the gaps in your resume come from a failed startup?
A failed business doesn't mean a bad resume.
In fact, career experts encourage showing a failed business.
Even a failed attempt conveys a whole raft of information about your competency level.
Find achievements from the business that fit the current job. Then add them to your resume as bullet points.
Family Reasons
Starting a family—or family troubles—are excellent reasons for gaps in employment.
As with any gap, show closure. The divorce is final. Or you went to counseling and are now in love. Or the kids are now in school.
Most employers know family is important. They'll be reassured it wasn't drugs, jail, or something equally as frightening.
Finding Your Way
Did your employment gap come from needing a break?
Hiring managers will generally understand, as long as you can prove you're done.
In a crucial interview, I had to explain to the Dean of Admissions at Colby College why I'd spent two years out of school.
"You had a C average too," he said. "What's my guarantee you won't do it again?"
My answer? I finally understood I wanted to be a writer. Colby was the perfect next step.
He smiled and shook my hand. Two years later, I graduated with a writing degree, high honors, and a post-graduate fellowship.
Illness
Injuries and illnesses explain gaps in employment.
Just make sure to show it's in the past.
You can leave it as, "I had an illness, but I'm 100% recovered with no chance of a relapse."
In the U.S., employers can't legally ask questions about an illness-related gap in employment.
Pro Tip: How much worse is job-hopping than an employment history resume gap? There are pros (upward mobility) and cons (a reputation as a quitter) as this RobertHalf survey shows.
Need achievements from your gap in employment to prove your skills? See our guide: Achievements to Include on a Resume (30+ Examples)
Key Takeaway
Here's a recap of how to explain gaps in employment so they don't torpedo your job search:
Come up with an employment gap explanation.

Without one, employers will assume the worst. Be honest. An employment check will catch you if you're not.

Prove you won't do it again.

Tell your story to show why the resume gap will not recur.

Find the value.

Identify achievements in the gap in employment that fit the job offer like Isotoners.
Make an end-run around the gap in your resume. Work to get a referral from a company employee. Do some research to find out what the company needs. Then show matching achievements on your resume.
Do you have questions on how to explain gaps in resumes? Not sure how to find the right achievements? Give us a shout in the comments! Let's get you in that dream job.