How to Write a Cover Letter in 2023 [Step-By-Step Guide]
So you need to write a cover letter. Where do you start? How long should it be? Do yourself a favor: follow our guide on making the best cover letter the recruiter has ever seen.
A cover letter is more than just a formal introduction. It's your unique opportunity to not only showcase your personality and skills but also demonstrate why you're the ideal candidate for the job. Knowing how to write a cover letter can significantly influence your career trajectory.
This comprehensive guide will demystify the process of cover letter writing, providing you with valuable insights and practical tips to help you craft a standout document with confidence and finesse.
This guide will show you:
What a cover letter is and why you should write one.
How to write a cover letter for a job—better than 9 out of 10 others.
A sample cover letter to tweak, customize, and get more interviews.
Tips and hacks for writing a cover letter to boost your chances of landing a job.
And if you experience writer's block, let us write your cover letter for you. Tell us your name, job title, and years of experience to get an automatically generated cover letter in less than a minute. Pick from 18+ cover letter templates and match your resume!
Sample cover letter for a resume—See more cover letter samples here.
Here's what you'll find in this article (jump right into the desired section):
What Is a Cover Letter?
A cover letter is an integral part of your job application, along with your resume. It's designed to introduce you in a more personal way, expanding on relevant skills and achievements, and highlighting a selection of your most prominent accomplishments.
How long should a cover letter be? Aim at 2–4 paragraphs within one page.
Not many achievements or relevant experience to talk about yet? Don't worry—read our dedicated guides:
What Is the Purpose of a Cover Letter?
A good cover letter persuades the employer your qualifications match their needs, plus:
Shows you did research and take the job seriously.
Proves you understand the challenges of the company.
Reflects that your vision aligns with their goals.
Presents how your skills and experience are a solution.
Ultimately, a good cover letter should be all about "why should we hire you" and "what's in it for us." The winning tactic here is focusing on them, not just on you, which will ultimately make you stand out from other applicants
And that's why it's worth spending time writing a solid cover letter.
Let's find out how to do it.
How to Write a Cover Letter
To write a great cover letter, use a business letter style. Include your and the employer's contact details, and address the hiring manager if you can. In 200-400 words, highlight your achievements, skills, and experience that make you the best fit for the job.
Let's now move on to detailed instructions on how to write a successful cover letter: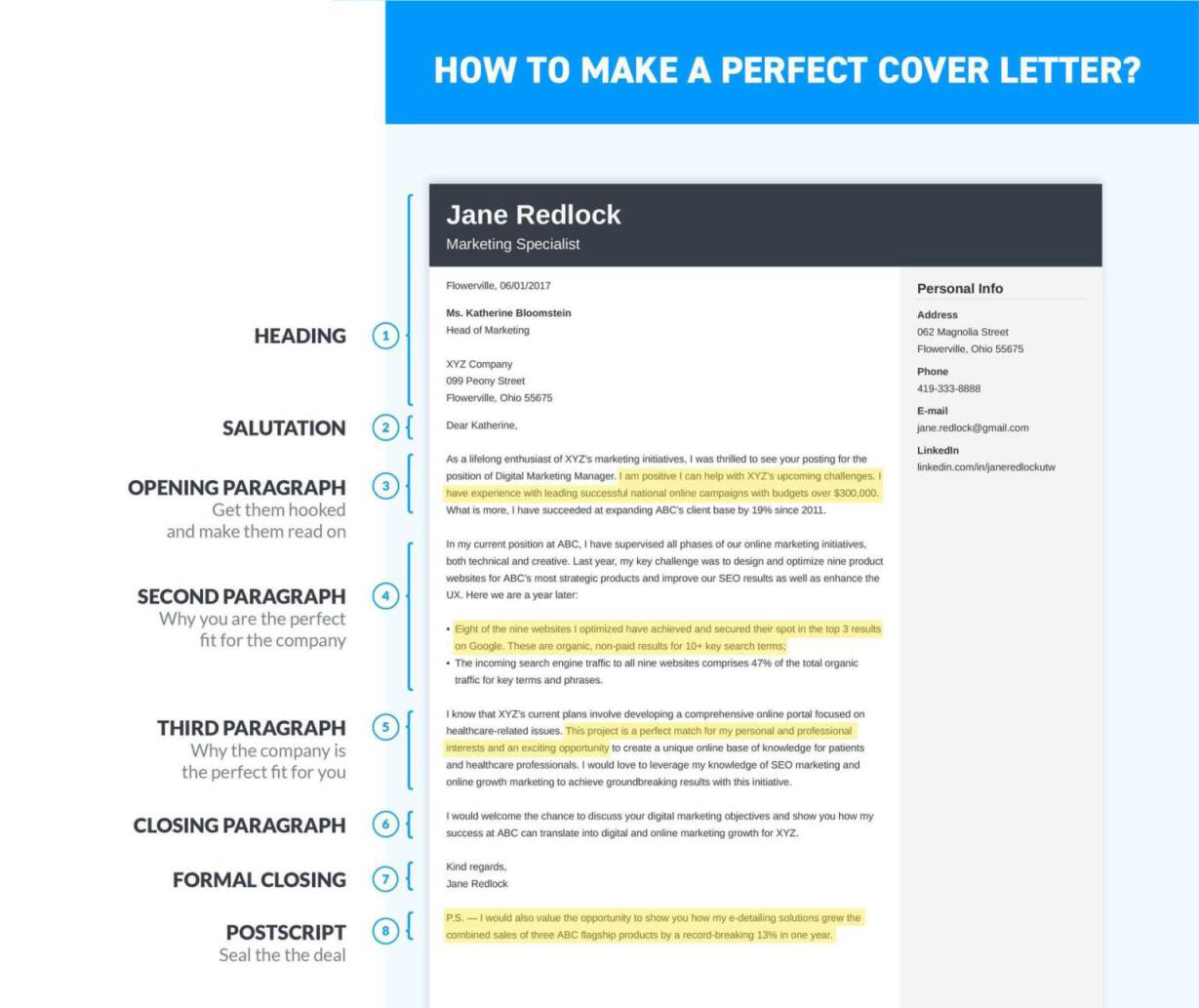 By the way, you can upload your resume into our cover letter builder, and it will convert the info into the cover letter!
1. Start With a Header
A professional cover letter opens with a header. Ideally, your cover letter header should be the same as in your resume (for consistency), so feel free to use the same template.
If you prefer to write the header of your cover letter from scratch, include the following contact information:
Full name
Job title
Phone number
Email address
Pro Tip: If you send your cover letter via email, don't use your current work email address. It's impolite to your current and potential employer.
2. Address the Reader
Once you're done with the header, it's time to mention the location and date of writing.
Then, address your cover letter directly to the hiring manager like so:
Dear Katherine,
Dear Ms. Smith,
Dear Mr. McConnor,
According to studies, people respond actively to hearing/seeing their names—so use it in the cover letter salutation. Look for the hiring manager's name by:
Checking the job description
Going to the company's LinkedIn page (to look for the person responsible for uploading the job offer)
If you can't find the name by any means possible, opt for "Dear Hiring Manager." Avoid starting your cover letter with "To Whom It May Concern" like the plague. And if you're not living in Victorian England, don't start a cover letter with "Dear Sir or Madam," either.
Follow this template to make sure you include everything:
[Location, MM/DD/YYYY]
[Hiring Manager's or Recruiter's Name]
[Hiring Manager's or Recruiter's Job Title]
[Company Name]
[Company Address]
Dear [Ms./Mr.] ...
Pro Tip: Wondering whether you should use the hiring manager's first or last name? That depends on the company culture. Use the first name if you're applying to a relaxed, casual company. For corporate cover letters, it's safer to use the addressee's last name.
3. Make a Proper Introduction
Here's the brutal truth: these few sentences at the beginning of your cover letter will determine whether the hiring manager will read on. So you need to start your cover letter in a way that attracts and holds the reader's interest.
Here are several proven strategies for starting your cover letter:
Highlight your achievements.
Display your passion and enthusiasm.
Drop names.
Do all the above.
Have a look at these two sample cover letter opening paragraphs:
RIGHT
As a lifelong enthusiast of XYZ's marketing initiatives, I was thrilled to see your posting for the position of Digital Marketing Manager. I am positive I can help with XYZ's upcoming challenges. I have experience with leading successful national online campaigns with budgets over $300,000. Moreover, I have expanded ABC's client base by 19% since 2018.
WRONG
In response to your posting for the Digital Marketing Manager position, I would like to express my interest in participating in the recruitment process. As a digital marketing manager with 8+ years of experience, I am positive that I would succeed in this role.
Why is the wrong example not delivering? Because it provides no value and details. The bottom line is: "I've already done this job, so I think I'd fit in." And it's just not enough for someone with more than eight years of experience to get the job.
Prefer the video format? Watch this video to uncover the simple truth of how to write a cover letter for a job application:



Worried you might miss something? We've got a checklist guide for you: What to Include in a Cover Letter
4. Explain Why You're the Perfect Fit
The second paragraph (main body) of your cover letter has a couple of jobs to perform:
Give the hiring manager what they're looking for.
Show that you'll satisfy the company's specific needs.
Let's look at the cover letter example from above to see how this could be done.
Remember Jane, our digital marketing manager candidate? The XYZ company she applies to needs (based on the job ad):
A savvy digital marketing manager (1)

Someone who will supervise the development of their new online portal (2)
Let's look at how Jane managed to show that she's both:
RIGHT
In my current position at ABC, I have supervised all phases of our online marketing initiatives, both technical and creative (1). Last year, my key challenge was to design and optimize nine product websites for XYZ's most strategic products, improve our SEO results, and enhance the UX (2). Here we are a year later:
Eight of the nine websites I optimized have achieved and secured their spot in the top 3 results on Google. These are organic, non-paid results for 10+ key search terms.
The incoming search engine traffic to all nine websites comprises 47% of the total organic traffic for key terms and phrases.
Your go-to strategy on what your cover letter should say in the main body:
In the first sentence, prove you're an expert in your field (refrain from bragging too much).
The remaining part should be all about how your previous experiences will help your future employer press ahead with their plans.
Pro Tip:A cover letter also is a great place to explain gaps in your employment, if you have any.
5. Show Your Motivation to Join the Company
Your future employers have needs. If they're willing to hire you, it's because they think you'll satisfy those needs. But they also want you to enjoy working with them. That way, they know you're more likely to stay with them for longer.
The key to writing a perfect third paragraph of your cover letter is showing the hiring manager why you want this job, not just any job. That's particularly important for entry-level candidates—enthusiasm and passion help prove you'll hit the ground running.
Have a look at these cover letter examples:
RIGHT
I know that XYZ's current plans involve developing a comprehensive online portal focused on healthcare-related issues. This project perfectly matches my personal and professional interests and is an exciting opportunity to create a unique online knowledge base for patients and healthcare professionals. I would love to leverage my knowledge of SEO marketing and online growth marketing to achieve groundbreaking results with this initiative.
WRONG
XYZ looks like a fantastic opportunity for me. I thrive in fast-paced environments and would love to leverage my current skill set to do better for your company.
Above all, you want to avoid writing too much of a general cover letter. Generic doesn't win jobs; targeted does. (We're, of course, assuming you tailored your resume to every job description you're after, too.)
Job seekers impress employers by identifying transferable skills related to new positions. People often apply to new positions, so it's likely you'll not have the exact experience requested. But employers would rather know how your past experiences will inform future decisions. You were a hostess? Relate those management and organizational skills to the Executive Assistant position.
6. Close With a Promise
How to make the best cover letter ending? By providing value.
The worst mistakes you can make in writing the final paragraph of your cover letter are:
Coming off needy
Focusing on how much you want the job, not on what you have to offer
Repeating the clichéd phrase, "Thank you for your consideration and your time"
Instead, tell the hiring manager that you're looking forward to meeting in person and discussing how your experience and knowledge can help your future employer fulfill their goals. Like here:
RIGHT
I would welcome the chance to discuss your digital marketing objectives and show you how my success at ABC can translate into digital and online marketing growth for XYZ.
Trying to find exciting ways to end your cover letter, but to no avail? See how to write a convincing final paragraph here: How to Successfully Close a Cover Letter
7. Stay Formal in the Closing Salutation
Once you've written the body of your cover letter, you just need to put a formal closing at the very end. Write "Sincerely" and follow it with your full name. Adding your handwritten signature is optional (recommended for more formal cover letters).
If you're not a fan of the well-worn "Sincerely," feel free to use any of the following:
Thank you,
Best regards,
Kind regards,
Respectfully yours,
With best regards,
8. Add a Postscript
All of the above sections are must-haves in a good cover letter. But there's one special trick you can use—the postscript. Why is it so important? Because it's like a magnet for the hiring manager's eyes that screams: "you cannot miss this information."
Use the postscript when creating a cover letter to tell the hiring manager about something impressive about your career, even if it's not strictly related to the job opening. And say you'd be happy to provide them with more details if they find it interesting.
RIGHT
P.S.—I would also value the opportunity to show you how my e-detailing solutions grew the combined sales of three ABC flagship products by a record-breaking 13% in one year.
Pro Tip: Looking to work for a company, but there aren't any open positions? Try writing a letter of interest for a job. It's a great way of uncovering vacancies that aren't even advertised.
9. Double-Check the Formatting
So, you're done writing the cover letter. Now all you have to do is send it, right? Hold up!

Before you hit send, make sure your cover letter formatting is intact.
Here's everything you need to know about how to format your cover letter:
Choose a legible cover letter font like Arial or Garamond, and keep it between 10 and 12 points in font size.
Set even margins on all sides—1-inch margins should be perfect.
Left-align all your contents.
Use double cover letter spacing between paragraphs and 1–1.15 between lines.
Title your cover letter by JobTitle—CoverLetter—YourName.
Let your cover letter layout stay intact en route to the recruiter by saving the file in PDF.
The final step of writing your cover letter is, in fact, checking up on your resume to see if they both match the job requirements. Make sure you meet your hiring manager's expectations to the best of your ability.
Plus, a great cover letter that matches your resume will give you an advantage over other candidates. You can write it in our cover letter builder here. Here's what it may look like: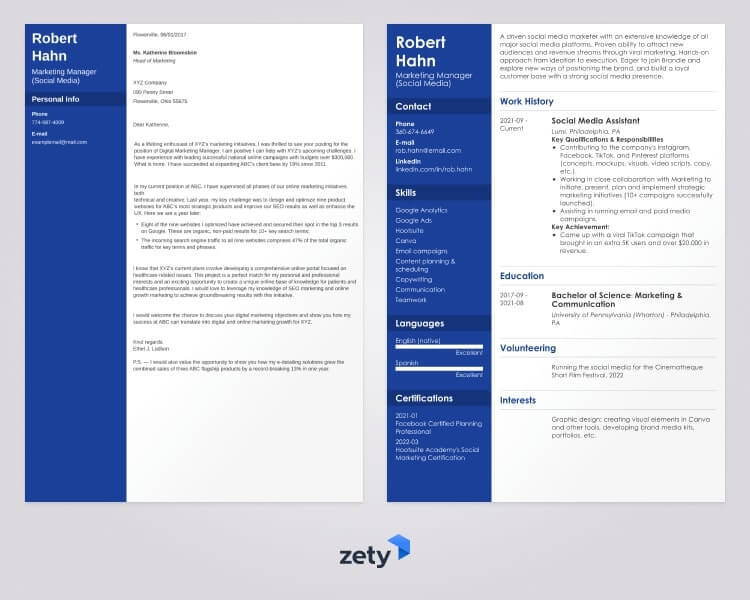 See more cover letter templates and start writing.
Key Takeaway
For the final thought on how to write a great cover letter in 8 steps:
Ensure your contact info in the header is correct.
Address your hiring manager or recruiter personally.
Attract their attention in the introduction.
Use your experience to prove you're the exact match to the company's needs.
Explain your motivation and fit for the position.
Finish with a call to action and ask for a meeting.
Be formal in the closing sentiment.
Include a postscript.
Or use our cover letter builder to remember it all for you!
Thank you for taking the time to read my article. Do you have any questions about how to make a cover letter? Want to share an example of a cover letter? Give us a shout in the comments, and we'll reply!
About Zety's Editorial Process
This article has been reviewed by our editorial team to make sure it follows Zety's editorial guidelines. We're committed to sharing our expertise and giving you trustworthy career advice tailored to your needs. High-quality content is what brings over 40 million readers to our site every year. But we don't stop there. Our team conducts original research to understand the job market better, and we pride ourselves on being quoted by top universities and prime media outlets from around the world.
Frequently Asked Questions about How to Write a Cover Letter
What is a cover letter?
A cover letter is a formal letter that accompanies a CV or a resume. It includes a candidate's introduction and an overview of the candidate's qualifications, skills, and accomplishments most relevant to the job they're pursuing. The cover letter also serves to express the candidate's interest in the position and the company, as well as eagerness to contribute to the company's success. It can also help to explain employment gaps.
What are the four parts of a cover letter?
What should a cover letter say?
That you're the one. That you want them, but that they want you, too. That you're the solution to their problems. That's what your cover letter should say.
And you can achieve all of that by having a number of things in your cover letter:
accomplishment statements
organized cover letter layout, and
enthusiastic but determined tone of voice
How to write a simple cover letter?
To make cover letter writing simple, you need to know a couple of things first:
Create proper cover letter formatting before putting down words. You'll ensure a correct structure and that you'll fit onto one page with your cover letter.
Find your hiring manager's or recruiter's name. By personalizing your cover letter, you have a higher chance of landing the gig.
Create a list of job keywords you need to target with your application. Have a look at the job ad and mark those words which speak of necessary qualifications and qualities. Then use them in your paragraphs.
Never lie in your job application.
And lastly, do as extensive research about the company as possible. The intricate details about their mission, values, and vision will help you find an angle to write your cover letter.
How to write a cover letter for an internship?
A cover letter to an internship resume is a fantastic way to shoo away your competition. So don't hesitate and write a cover letter for an internship you've dreamt of for too long.
First and foremost, prove to your potential employer that you're worth hiring, and that they're a great company to work for. Do your research and don't be shy to show what you've learned. Later use that knowledge to give away your connection to the company and its values. Show your transferable skillset and achievements, and let your determination and motivation do their magic.
How to write a cover letter for 2023?
In 2023, write your cover letter with these simple steps:
Create a consistent look by mirroring a resume header to your template.
Make a clean cover letter layout to keep enough whitespace on the page.
Find an angle to write your cover letter—motivation to advance, shared values or mission statement, recent developments in the industry. Doing thorough research always helps.
Start your cover letter with a relevant accomplishment that makes the reader want to carry on.
Create a smooth transition from the hook through your strengths to motivation in 3 to 4 paragraphs, tops.
Call your recruiter to action in the cover letter closing and ask for a meeting with you.
Is a cover letter necessary?
Yes.
Almost half of the recruiters reject applications without a cover letter. Cover letters are a treat for those who still care to hire dedicated professionals. (And that's you, right?)
It's no surprise, though, that you're questioning whether a cover letter is necessary. The entire job application process can be exhausting, so cutting down on documents you have to produce always seems like a good idea. But not this time.