What Does the Best Cover Letter Look Like in 2023
Not sure what a cover should look like? Confused by all the contrasting guidelines? Here's an article that will straighten out all your queries once and for all.
So you're wondering...
What does a cover letter look like?
Heck, what should a good cover letter look like, anyways?
Should I format it as a resume? Are there any fundamental rules to follow?
In truth, cover letters look pretty much like other formal business letters.
It's no rocket science. But—
There are critical things you have to remember. And you've come to the right place to learn all you need to know about how a cover letter should look.
First things first. See this example of a professional cover letter.
What Should a Cover Letter Look Like? Like This:
Want to write your cover letter fast? Use our cover letter builder. Choose from 20+ professional cover letter templates that match your resume. See actionable examples and get expert tips along the way.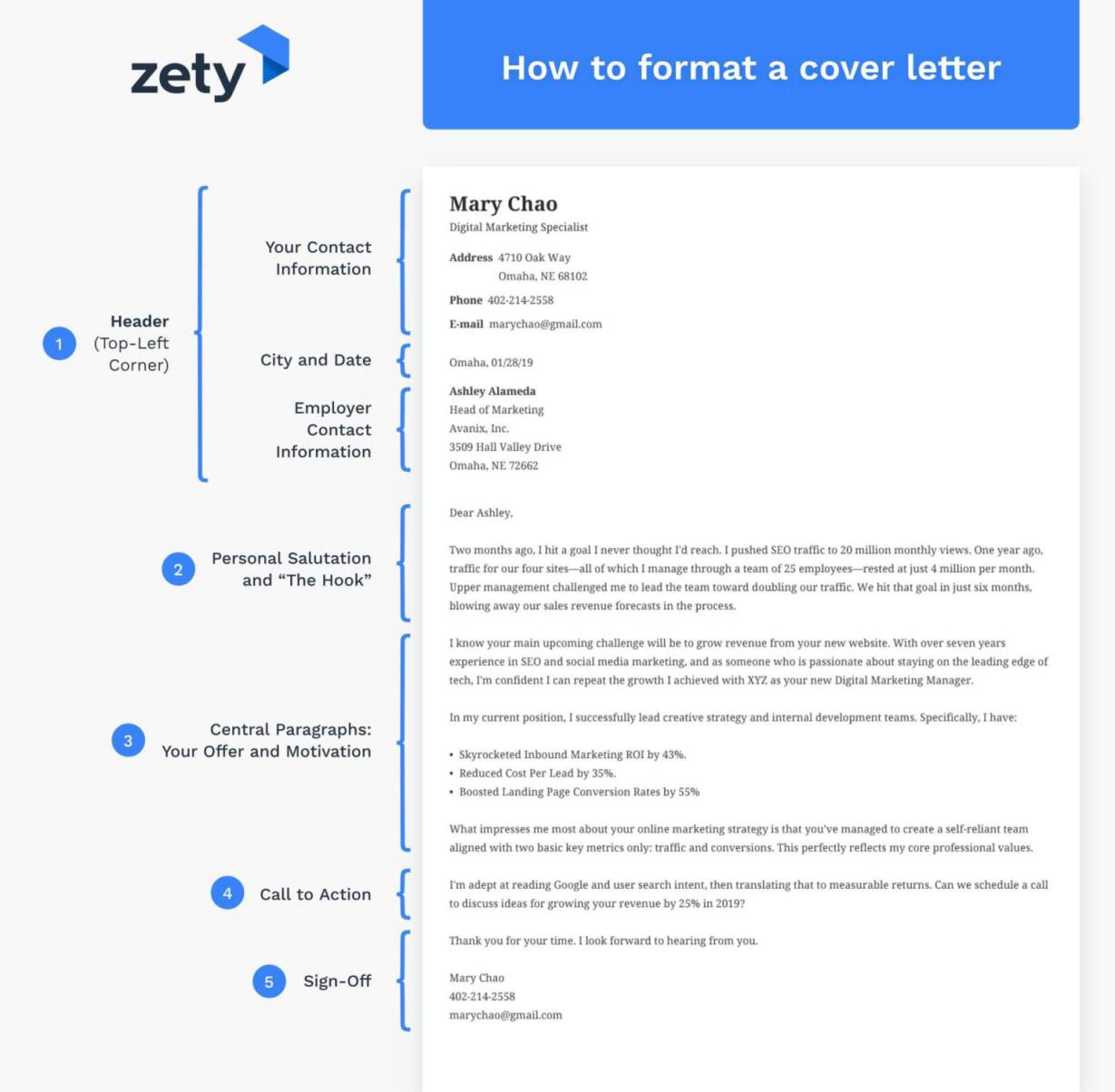 Sample cover letter for a resume—See more cover letter samples and create your cover letter here.
That's a great-looking cover letter for a resume. Let's break down how you can make an equally stunning one.
What a cover letter should look like boils down to two things:
Proper, formal layout and formatting.
Well-written, succinct contents.
This article will teach you everything about 1. and 2.
Writing a cover letter in a job application email body? It's a different game. Learn about the ins and outs here: What to Write in an Email Cover Letter
More interested in how to write a cover letter than in its looks? Check out: Cover Letter for a Job Application 101
And don't forget to browse actual cover letter examples for popular professions: Cover Letter Examples for Any Career
1
What Should a Cover Letter Look Like?
"Don't judge a book by its cover" is a wonderful moral to teach your kids.
But kids don't need to work and you do.
Your cover letter is the cover of your job application. And you will be judged by it.
Here's how to make sure the verdict reads: "Job interview for this one!"
1. Pick a good cover letter font and stick to it.
Use a professional font: Arial, Calibri, Verdana, Helvetica, Cambria, or Times New Roman. Don't go for fancy typefaces or custom-made fonts. Keep the cover letter font size between 11 and 12 pt.
2. Set 1-inch margins on all sides.
If you want extra white space to create more "breathing" room, you can make your cover letter margins slightly larger. Never make them smaller.
3. Left align the contents
Avoid justification. It's against the business etiquette.
4. Create a professional cover letter header.
Ideally, it should match that of your resume. Include:
Your full name
Professional job title,
E-mail
Phone number
5. Get your line spacing right.
Start with the date and city—put it a double-space below the last line in the heading.
Put the hiring manager's name and address below the date: you can adjust the spacing to produce a balanced page.
Type the salutation a double-space below the last line of the hiring manager's details.
Begin the body of the cover letter another double-space below the salutation.
Use double-spaces between cover letter paragraphs.
Write the formal closing ("Sincerely" or a synonym) a double-space below the final paragraph.
Leave three blank lines before your name at the bottom to leave space for a handwritten or an electronic signature.
And, presto. That's what a great cover letter should look like.
One way to step up your cover letter game is to match your cover letter to your resume. Here's an example of a matching set made using our cover letter templates: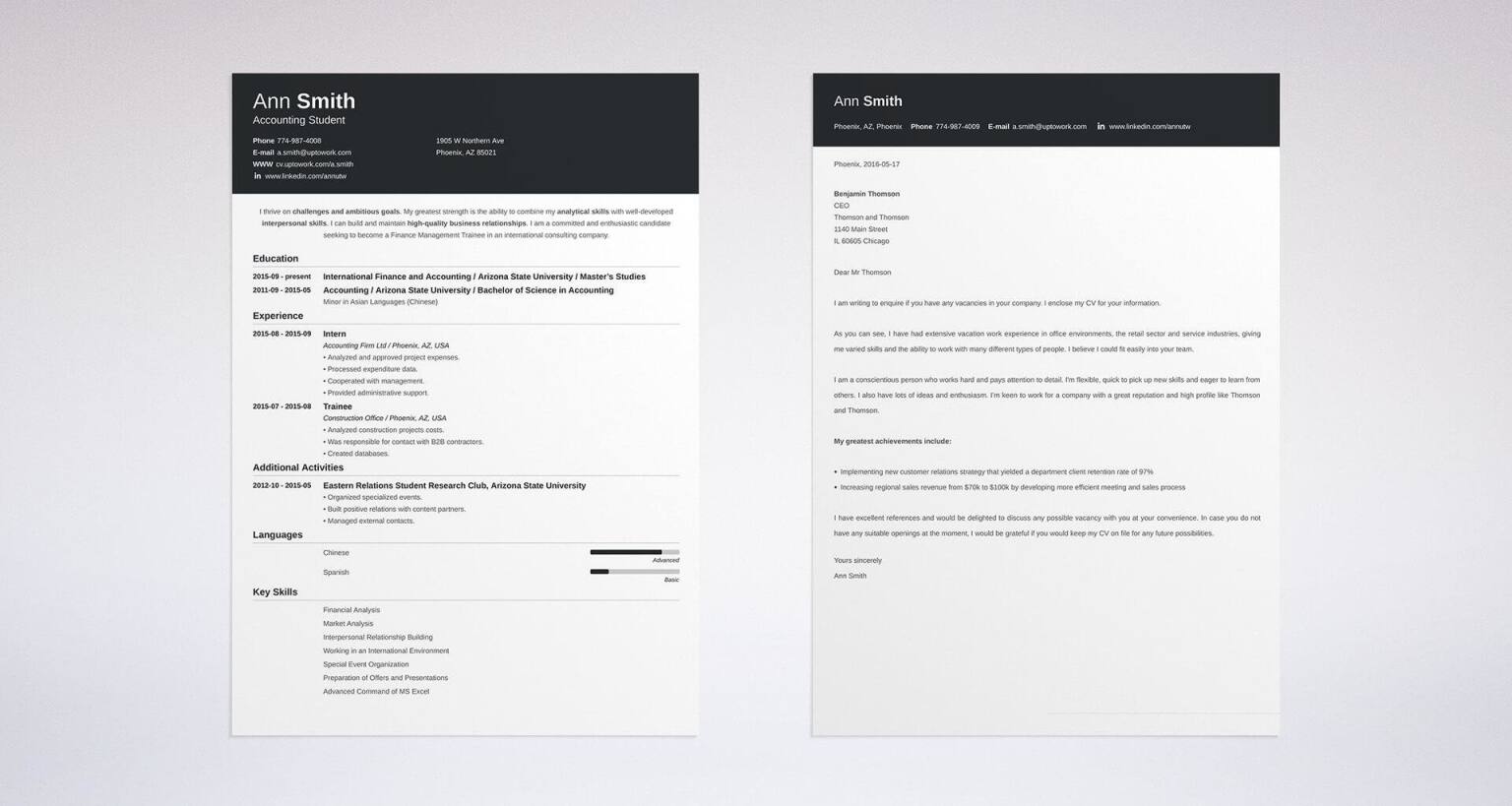 Sample cover letter for a resume. Pick a template and write your cover letter here.
But let's not be so superficial for a sec.
Get a grasp of the basics of cover letter writing, too.
2
What Does a Cover Letter Look Like? The Contents
Before I share my key insights with you, let's see what cover letter writing gurus have to say on the subject.
Here's an excerpt from the official guidelines of the Professional Association of Résumé Writers and Career Coaches.
Remember, a cover letter will be the first thing a decision-maker sees. It must grab the attention of the reader in the first paragraph. Each cover letter should be specifically written for the desired position. Almost all cover letters can be fully stated on one page. If yours goes beyond that, review the information and see if it can be effectively reduced.
If there are just two things you'll remember after reading this guide, they're contained in the paragraph above.
Always personalize each cover letter you write to match the position on offer.
When it comes to the cover letter length, make it single-page. 350 words is an absolute max.
Other than that, make sure you include all the key sections and paragraphs in your cover letter.
1. Start with a cover letter header
As discussed above, make a good-looking cover letter header with your contact details, city and date, and the addressee's contact details.
Find out more here: How to Address a Cover Letter
2. Open with a personal salutation and a strong first paragraph
Start your cover letter with "Dear + [Hiring Manager's Name]." If it's for a job with a relaxed culture, feel free to use their first name only.
For corporate positions and more traditional industries, go with the full name.
In the first sentence, introduce yourself, identify the position to which you're applying and mention an impressive achievement.
Learn more handy tricks from this guide: How to Start a Cover Letter Right
3. In the central paragraphs, show you're the perfect candidate and explain your motivation.
Stay relevant to the position. Discuss how your experience and skills will make you successful in the job. Make them understand you are the candidate they've been waiting for.
Then, drop in a compliment or two. Highlight that you want this job, not just any job.
4. Finish off with a call to action, complimentary closing, and your signature
In the final paragraph, make an offer. Then, ask for a personal meeting or a call.
Sign off with a "Sincerely" or its synonym + your full name.
Find out how to end a cover letter with a bang here: How to End a Cover Letter
And, for the final word—
Do write that cover letter!
Even when the job posting reads "cover letters optional," including one will greatly boost your chances.
This study has shown 56% of employers prefer to receive cover letters.
Even external recruiters appreciate cover letters. This report suggests more than 1 in 4 recruiters read cover letters and consider them important in their decision-making.
Key Takeaway
Let's sum up what a cover letter should look like:
Pick an elegant font and stick to it.
Set 1-inch margins.
Left align all contents, don't use justification.
Use double spaces between paragraphs.
Make your cover letter single-page.
Start with a personal salutation.
Show your value and make an offer.
Finish with a call to action and a professional sign-off.
Got more questions? Still not sure how a cover letter should look? Drop me a line in the comments and I'll get back to you in no time.
About Zety's Editorial Process
This article has been reviewed by our editorial team to make sure it follows Zety's editorial guidelines. We're committed to sharing our expertise and giving you trustworthy career advice tailored to your needs. High-quality content is what brings over 40 million readers to our site every year. But we don't stop there. Our team conducts original research to understand the job market better, and we pride ourselves on being quoted by top universities and prime media outlets from around the world.
Sources