Here are 450+ job titles, organized by field.
You need them:
To put your current title on a resume
To find a job
You're in luck.
They're grouped by industry. You can jump to marketing job titles, sales titles, or any other job positions, fast.
This guide contains:
20 IT job titles, 20 sales titles, plus a list of titles for office jobs, construction jobs, leadership titles, and more.
What "current title" means on a job application and how to write yours.
Job positions lists for customer service, business owners, management and executive business titles.
Answers to questions like what is a job title and what does job function mean.
Want to save time and have your resume ready in 5 minutes? Try our resume builder. It's fast and easy to use. Plus, you'll get tips and right vs. wrong examples while writing your resume. See 20+ resume templates and create your resume here.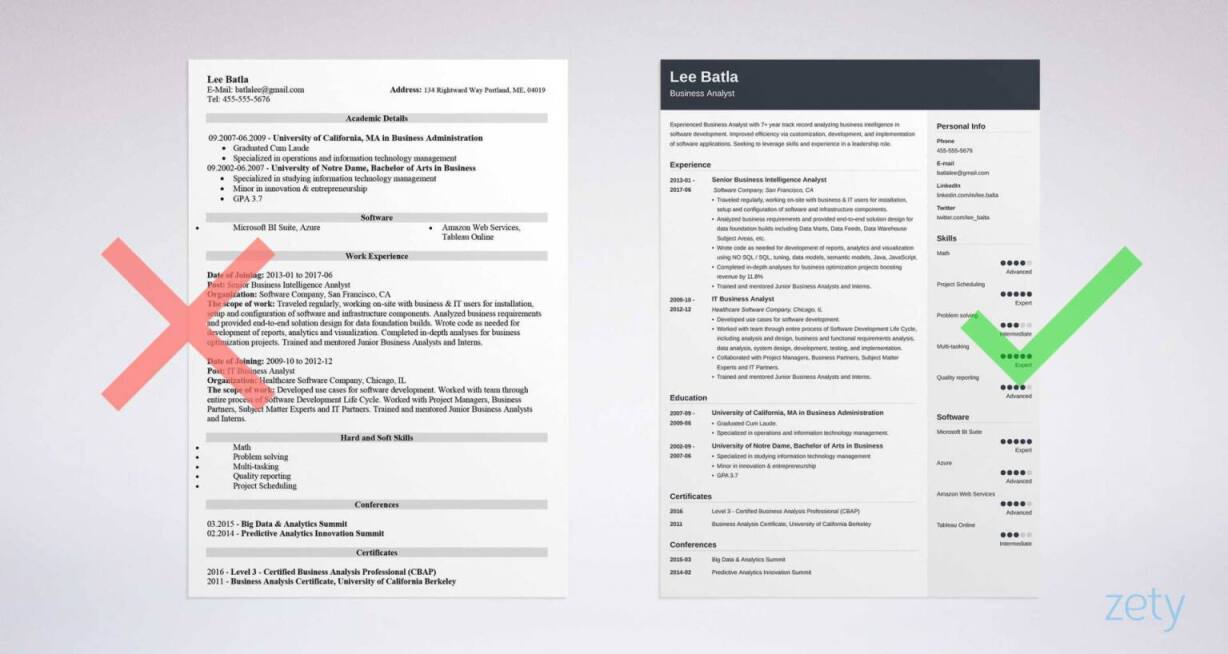 Business Analyst Resume Example - See +20 resume templates and create your resume here
450+ Job Titles Organized by Field
Looking for specific job positions like marketing job titles, IT, sales, construction, or leadership titles?
Click any link below to jump to a job titles list in this article.
Need a resume example for a job title? We've got job-getting resume samples for all top job positions in this guide.
450+ Job Titles for Every Profession
Here they are—
More than 450 job positions. Business titles, sales titles, and all the company titles anyone could need.
The job title examples are grouped by category like IT Job Titles or Construction Business Titles to make them easier to find.
Marketing Job Titles
Marketing Specialist
Marketing Manager
Marketing Director
Graphic Designer
Marketing Research Analyst
Marketing Communications Manager
Marketing Consultant
Product Manager
Public Relations
Social Media Assistant
Brand Manager
SEO Manager
Content Marketing Manager
Copywriter
Media Buyer
Digital Marketing Manager
eCommerce Marketing Specialist
Brand Strategist
Vice President of Marketing
Media Relations Coordinator
Writing a marketing resume? Let our guide market you: Marketing Resume: Sample & Complete Guide
Looking for company titles that fit veteran-to-civilian jobs? See our guide: Jobs for Veterans: How to Find a Civilian Career [20+ Expert Strategies]
Business Job Titles
Here are 25 office job titles and administrative titles for different company positions and types of office jobs.
Business titles are often the same across all industries. A manufacturing firm and a marketing firm can both have managers, admin assistants, receptionists, and other types of business jobs.
Administrative Assistant
Account Executive
Branch Manager
Business Manager
Office Manager
Quality Control Coordinator
Administrative Manager
Chief Executive Officer
Business Analyst
Risk Manager
Human Resources
Office Assistant
Receptionist
Secretary
Office Clerk
File Clerk
Account Collector
Administrative Specialist
Auditing Clerk
Bookkeeper
Executive Assistant
Program Administrator
Program Manager
Administrative Analyst
Data Entry
Writing a business resume? We're in the business of getting you hired. See our guides:
C-Level Job Titles
C-Level business titles (or C-Suite job positions) are top leadership titles.
The "C" almost always stands for "Chief."
The most common are CEO, COO, and CFO. Others like CMO and CPO aren't set in stone. CIO could be "Chief Innovation Officer" or "Chief Information Officer" and CDO could be "Chief Digital Officer" or "Chief Data Officer."
CEO—Chief Executive Officer
COO—Chief Operating Officer
CFO—Chief Financial Officer
CIO—Chief Information Officer
CTO—Chief Technology Officer
CMO—Chief Marketing Officer
CHRO—Chief Human Resources Officer
CDO—Chief Data Officer
CPO—Chief Product Officer
CCO—Chief Customer Officer
Looking for a new ship to steer? See our guide: Executive Resume: Sample and Complete Guide
Want more executive job titles? Some companies to invent their own. "Chief Environmental Officer" and "Chief Talent Officer" are legitimate upper management titles.
Leadership Titles
C-Suite job positions aren't the only fish in the business sea. Here are 20 management job titles.
Team Leader
Manager
Assistant Manager
Executive
Director
Coordinator
Administrator
Controller
Officer
Organizer
Supervisor
Superintendent
Head
Overseer
Chief
Foreman
Controller
Principal
President
Lead
Writing a manager resume? Our guide can lead the charge to get you more interviews: Manager Resume: Sample and Complete Guide
Want to find job positions that fit senior citizens? See our guide: 100 Great Jobs for Seniors for Money, Friends, Freedom, and Flexibility
IT Business Titles
IT jobs are among the most lucrative job positions. They pay anywhere from $60,000 to $200,000 a year. The 25 types of computer jobs in the IT jobs list below are the most common.
Computer Scientist
IT Professional
UX Designer & UI Developer
SQL Developer
Web Designer
Web Developer
Help Desk Worker/Desktop Support
Software Engineer
Data Entry
DevOps Engineer
Computer Programmer
Network Administrator
Information Security Analyst
Artificial Intelligence Engineer
Cloud Architect
IT Manager
Technical Specialist
Application Developer
Chief Technology Officer (CTO)
Chief Information Officer (CIO)
Writing a computer science resume? Our guides can crack the code on getting you hired:
Writing a DevOps engineer resume, computer programmer resume, or any other tech resume? We've got guides for all of them. See this article:
Sales Job Titles
Sales jobs include all company positions where someone sells something. They range from entry-level sales jobs like cashier all the way up to Director of Sales.
Sales Associate
Sales Representative
Sales Manager
Retail Worker
Store Manager
Sales Representative
Sales Manager
Real Estate Broker
Sales Associate
Cashier
Store Manager
Account Executive
Account Manager
Area Sales Manager
Direct Salesperson
Director of Inside Sales
Outside Sales Manager
Sales Analyst
Market Development Manager
B2B Sales Specialist
Sales Engineer
Writing a sales resume? Let our guides help hone your pitch:
Construction Job Titles
The construction industry employs 6.88 million workers. Most fit one of the 20 types of construction jobs below.
Construction Worker
Taper
Plumber
Heavy Equipment Operator
Vehicle or Equipment Cleaner
Carpenter
Electrician
Painter
Welder
Handyman
Boilermaker
Crane Operator
Building Inspector
Pipefitter
Sheet Metal Worker
Iron Worker
Mason
Roofer
Solar Photovoltaic Installer
Well Driller
Making a construction resume? Build your case to get hired. See our guide: Construction Resume: Sample and Complete Guide
Business Owner Titles
Heavy hangs the head that wears the crown. Here are ten business owner titles from the top of the food chain.
CEO
Proprietor
Principal
Owner
President
Founder
Administrator
Director
Managing Partner
Managing Member
Positions in a Company
Most companies have a similar structure. In any industry, big organizations have a board of directors. Those directors hire C-Suite employees like the CEO and CFO. Both are accountable to the shareholders, who fund the company.
From there, all the other roles in a company follow.
Board of Directors
C-Level or C-Suite.
Shareholders
Managers
Supervisors
Front-Line Employees
Quality Control
Human Resources
Accounting Staff
Marketing Staff
Purchasing Staff
Shipping and Receiving Staff
Office Manager
Receptionist
Customer Service Job Titles
Every company needs to talk to its customers. These ten job positions fill that vital role.
Virtual Assistant
Customer Service
Customer Support
Concierge
Help Desk
Customer Service Manager
Technical Support Specialist
Account Representative
Client Service Specialist
Customer Care Associate
Writing a customer service resume? It'd be our pleasure to help you get hired! See our guides:
Trying to find job positions for people with disabilities? See our guide: 100+ Great Jobs for People with Disabilities to Get You Out and Earning
Operations Business Titles
Operations make sure a business runs efficiently. These ten operations job titles do that at different levels of a company.
Operations Manager
Operations Assistant
Operations Coordinator
Operations Analyst
Operations Director
Vice President of Operations
Operations Professional
Scrum Master
Continuous Improvement Lead
Continuous Improvement Consultant
Writing an operations manager resume? Let our guides get you hired as quickly as possible:
Finance and Accounting Job Positions
Cash is king. Here are 20 job titles in the accounting/finance world.
Credit Authorizer
Benefits Manager
Credit Counselor
Accountant
Bookkeeper
Accounting Analyst
Accounting Director
Accounts Payable/Receivable Clerk
Auditor
Budget Analyst
Controller
Financial Analyst
Finance Manager
Economist
Payroll Manager
Payroll Clerk
Financial Planner
Financial Services Representative
Finance Director
Commercial Loan Officer
Count on our guides to write the best financial resume you can:
Engineering Job Titles
These 20 engineering job positions turn ideas into reality. Engineers apply math and science to create efficient solutions to technical problems.
Engineer
Mechanical Engineer
Civil Engineer
Electrical Engineer
Assistant Engineer
Chemical Engineer
Chief Engineer
Drafter
Engineering Technician
Geological Engineer
Biological Engineer
Maintenance Engineer
Mining Engineer
Nuclear Engineer
Petroleum Engineer
Plant Engineer
Production Engineer
Quality Engineer
Safety Engineer
Sales Engineer
Design an engineering resume that gets the job done. Our guide can help:
Cool Job Titles
Looking for weird business titles? Some companies have fun with company positions. Here are a few from real life.
Chief People Officer
VP of Miscellaneous Stuff
Chief Robot Whisperer
Director of First Impressions
Culture Operations Manager
Director of Ethical Hacking
Software Ninjaneer
Director of Bean Counting
Digital Overlord
Director of Storytelling
Just be careful with those: they look great on a LinkedIn profile, but they also hide that very profile from recruiters! Few HR pros would spend time brainstorming all the novelty and weird job titles out there.
Social media ninjas simply don't get looked up!
Researcher/Analyst Job Titles
The truth is out there. Researchers dig it up, and analysts process it. These 10 job positions crunch the data.
Researcher
Research Assistant
Data Analyst
Business Analyst
Financial Analyst
Biostatistician
Title Researcher
Market Researcher
Title Analyst
Medical Researcher
For an analyst resume that fills spreadsheets with interviews, see our guides:
Teacher Job Titles
A teacher's work is never done. Teachers help develop young minds from preschool all the way through high school and higher education.
Mentor
Tutor/Online Tutor
Teacher
Teaching Assistant
Substitute Teacher
Preschool Teacher
Test Scorer
Online ESL Instructor
Professor
Assistant Professor
Writing a teacher resume? Let our guides help you get hired:
Artistic Job Positions
Artists can do everything from sculpting to storytelling to taking professional photographs. These 15 artist job titles cover the most popular positions.
Graphic Designer
Artist
Interior Designer
Video Editor
Video or Film Producer
Playwright
Musician
Novelist/Writer
Computer Animator
Photographer
Camera Operator
Sound Engineer
Motion Picture Director
Actor
Music Producer
Director of Photography
If you're crafting an artist resume, our guides can help you land the gig:
Healthcare Job Titles
Healthcare is one of the fastest growing fields, with 13 million jobs in the U.S. There are jobs in hospitals, clinics, online, and even in fitness centers. Here's a medical jobs list with 20 common titles.
Nurse
Travel Nurse
Nurse Practitioner
Doctor
Caregiver
CNA
Physical Therapist
Pharmacist
Pharmacy Assistant
Medical Administrator
Medical Laboratory Tech
Physical Therapy Assistant
Massage Therapy
Dental Hygienist
Orderly
Personal Trainer
Massage Therapy
Medical Laboratory Tech
Phlebotomist
Medical Transcriptionist
Telework Nurse/Doctor
Reiki Practitioner
For a healthcare resume that cures your lack of employment, our guides are the best prescription:
Hospitality Job Positions
The hospitality industry includes hotels, cruise ships, casinos, and resorts. The 30 hospitality job positions below keep travel and vacation comfy.
Housekeeper
Flight Attendant
Travel Agent
Hotel Front Door Greeter
Bellhop
Cruise Director
Entertainment Specialist
Hotel Manager
Front Desk Associate
Front Desk Manager
Concierge
Group Sales
Event Planner
Porter
Spa Manager
Wedding Coordinator
Cruise Ship Attendant
Casino Host
Hotel Receptionist
Reservationist
Events Manager
Meeting Planner
Lodging Manager
Director of Maintenance
Valet
Writing a housekeeping resume? Let our guide help you tidy up your job situation: Housekeeping Resume: Sample & Complete Guide
The food service industry is part of the hospitality field. See the 10 food service and restaurant business positions below.
Food Service Job Titles
The restaurant industry has front-line staff, supervisors, managers, and executive job positions just like any other industry.
Waiter/Waitress
Server
Chef
Fast Food Worker
Barista
Line Cook
Cafeteria Worker
Restaurant Manager
Wait Staff Manager
Bus Person
Restaurant Chain Executive
Writing a food service resume? Getting hired is all about the presentation. See our guides for help:
Scientist Job Titles
The job position of a scientist doesn't always reflect her college degree. A sociologist might be a marketing manager. A biologist could work as a seafood buyer.
Political Scientist
Chemist
Conservation Scientist
Sociologist
Biologist
Geologist
Physicist
Astronomer
Atmospheric Scientist
Molecular Scientist
On-the-Phone Jobs
Some roles in a company require an employee to work exclusively on the phone. Here are ten phone job titles:
Call Center Representative
Customer Service
Telemarketer
Telephone Operator
Phone Survey Conductor
Dispatcher for Trucks or Taxis
Customer Support Representative
Over the Phone Interpreter
Phone Sales Specialist
Mortgage Loan Processor
If you're writing a call center resume, let our guide dial up some interviews: Call Center Resume: Sample and Complete Guide
Counseling Job Positions
Counselors may help people cope with grief, addiction, or help plan for the future. Counseling business titles can describe jobs in clinics, hospitals, or large corporations.
Counselor
Mental Health Counselor
Addiction Counselor
School Counselor
Speech Pathologist
Guidance Counselor
Social Worker
Therapist
Life Coach
Couples Counselor
Cosmetology Job Titles
Cosmetologists use nail service, hair styling, makeup application, and other talents to help clients look their best. Here are ten cosmetology job openings.
Beautician
Hair Stylist
Nail Technician
Cosmetologist
Salon Manager
Makeup Artist
Esthetician
Skin Care Specialist
Manicurist
Barber
Writing Job Titles
Writing skills can open doors to dozens of unique, high-paying jobs. Here are 20 roles in a company that need writing ability:
Journalist
Copy Editor
Editor/Proofreader
Content Creator
Speechwriter
Communications Director
Screenwriter
Technical Writer
Columnist
Public Relations Specialist
Proposal Writer
Content Strategist
Grant Writer
Video Game Writer
Translator
Film Critic
Copywriter
Travel Writer
Social Media Specialist
Ghostwriter
Physical Labor Job Positions
Here are ten job titles that need more brawn than brains.
Warehouse Worker
Painter
Truck Driver
Heavy Equipment Operator
Welding
Physical Therapy Assistant
Housekeeper
Landscaping Worker
Landscaping Assistant
Mover
Writing a warehouse resume? Our guide can put you back in stock: Warehouse Resume: Sample and Complete Guide
Jobs Working With Animals
Dozens of job positions offer careers working with animals. Here are ten:
Animal Breeder
Veterinary Assistant
Farm Worker
Animal Shelter Worker
Dog Walker / Pet Sitter
Zoologist
Animal Trainer
Service Dog Trainer
Animal Shelter Manager
Animal Control Officer
Driving Job Titles
These 10 jobs require a CDL or driver's license. Driving job positions get people or materials from point A to point B.
Delivery Driver
School Bus Driver
Truck Driver
Tow Truck Operator
UPS Driver
Mail Carrier
Recyclables Collector
Courier
Bus Driver
Cab Driver
Volunteer Job Titles
These 19 job positions come with zero salary, but a big inner reward. Volunteer business titles look great on any resume.
Animal Shelter Board Member
Office Volunteer
Animal Shelter Volunteer
Hospital Volunteer
Youth Volunteer
Food Kitchen Worker
Homeless Shelter Worker
Conservation Volunteer
Meals on Wheels Driver
Habitat for Humanity Builder
Emergency Relief Worker
Red Cross Volunteer
Community Food Project Worker
Women's Shelter Jobs
Suicide Hotline Volunteer
School Volunteer
Community Volunteer Jobs
Sports Volunteer
Church Volunteer
Not sure how to put volunteer work on a resume? We'd be glad to help for free: How to List Volunteer Work on Your Resume
Other Job Titles
Here are 30 job positions that can't be pigeonholed into a big category. Security guard, attorney, shelf-stocker, and 27 more.
Archivist
Actuary
Architect
Personal Assistant
Entrepreneur
Security Guard
Mechanic
Recruiter
Mathematician
Locksmith
Management Consultant
Shelf Stocker
Caretaker or House Sitter
Library Assistant
Translator
HVAC Technician
Attorney
Paralegal
Executive Assistant
Personal Assistant
Bank Teller
Parking Attendant
Machinery Operator
Manufacturing Assembler
Funeral Attendant
Assistant Golf Professional
Yoga Instructor
There's our roundup of 450+ job titles from every field, including:
Marketing job titles, business, office, and IT job positions.
Construction, operations, engineering, and sales job titles
Leadership titles like C-Suite, management, and other positions in a company.
What "current title" means on a job application and answers to more questions.
Do you have questions about this mega-piece on company titles? Not sure how to list your job position on a resume? Give us a shout in the comments! We'd be happy to reply