Our customers have been hired by:
You showed your dad how to work his cell phone. Set up your Grandma's Facebook (and now regret it). Tech stuff? You just seem to get it.
Time to land that dream job. Free coffee, office chairs with lumbar support, a health package sure to make Bernie smile… Problem is, there are many others in this help desk queue, and the leading companies want the best. Let's give them the help desk resume they're looking for!
This guide will show you:
A help desk resume example better than 9 out of 10 other resumes.
How to write a help desk resume that will land you more interviews.
Tips and examples of how to put skills and achievements on a help desk resume.
How to describe your experience on a resume for a help desk professional to get any job you want.
Want to save time and have your resume ready in 5 minutes? Try our resume builder. It's fast and easy to use. Plus, you'll get ready-made content to add with one click. See 20+ resume templates and create your resume here.
Sample resume made with our builder—See more resume examples here.
Looking for a similar position? We've got you covered:
And for guides for any job you care to mention: Resume Examples for Every Career
Help Desk Resume Example
Clara Fisher
Help Desk Specialist
(123) 456-7890
clarafisher@email.com
linkedin.com/in/clara.fisher
Summary
Efficient Help Desk Specialist with over 5 years of experience in the tech industry. Eager to support DynaTech Systems in providing top-notch customer service and resolving complex technical issues. Successfully reduced resolution time by 25% at InnoSource Labs.
Experience
Help Desk Specialist
InnoSource Labs, Salem, OR
June 2016–Present
Key Qualifications & Responsibilities
Managed and resolved up to 30 daily tickets, prioritizing high-impact issues.
Collaborated with cross-functional teams to ensure prompt and efficient support to all technical queries.
Trained 5 help desk team members on internal procedures and software tools.
Key Achievement:
Implemented a new ticket prioritizing system, reducing customer resolution time by 25%.
Junior Help Desk Representative
Zenith Innovations, Salem, OR
August 2014–June 2016
Key Qualifications & Responsibilities
Assisted with troubleshooting of software, hardware, and network issues.
Maintained detailed records of customer interactions and actions taken.
Supported user account management, including password resets and user access control.
Key Achievement:
Earned "Employee of the Month" award 5 times for consistently exceeding all customer service goals.
Education
Bachelor of Science in Computer Science
Oregon State University, Corvallis, OR
September 2010–June 2014
University Hackathon - 2nd Place.
Active Member - Computer Science Club.
Skills
Problem-solving
Excellent verbal and written communication
In-depth knowledge of Windows/Mac OS
Advanced knowledge of help desk software
Customer service skills
Team collaboration
Attention to detail
Software troubleshooting
Certifications
CompTIA A+ Certification, CompTIA, 2014
Microsoft Certified Professional, Microsoft, 2016
Awards
2017, Employee of the Month, Zenith Innovations
Languages
Interests
Volunteering at local community tech workshops.
Building custom PCs as a hobby.
1
What's the Best Format for a Help Desk Resume?
Most of the time, hiring managers won't read your whole resume. If they read it at all.
It gets worse: they take seconds to scan a resume. That's 6 seconds to consider you for an interview.
What does it mean for you?
You need a good help desk resume format that will grab their attention and not let go.
Luckily, it's not as hopeless as it sounds. Depending on your past work history, there are two main ways to go about this.
Want to make sure your help desk resume will hook every recruiter and get you that interview? Get our free checklist and learn what makes a job-winning resume: 46 Things You Need To Do Before You Send Your Resume
How to Format a Help Desk Resume with Prior Experience
Been on a help desk team before? Fantastic! You've got an advantage. The reverse-chronological format is best for your experienced help desk resume.
Why is that?
The reverse-chronological format emphasizes your help desk work history and experience.
Using this format on your IT or computer help desk resume, you will list your most recent work positions first, and go back through past jobs from there.
As the standard format, it's the easiest to read and scan - for hiring managers and applicant tracking system (ATS) software alike.
This is important because those little ATS robots read your resume first and make sure you've got the goods the hiring manager wants. But more on that later!
Make sure you get your resume right by reading up on how to start a resume, choosing the best font for resume, and our resume dos and don'ts.
How to Format a Help Desk Resume with No Experience
But, how to get a help desk job using a resume without experience?
This is where the combination resume format comes in.
Using this format on your sample help desk resume, you'll highlight relevant skills on previous jobs. Feature them in bullet points to make them stand out. List them under appropriate subheadings like Communication Skills.
In your work history, include key tasks and duties with each job. Focus on those which translate to similar actions on a help desk. These are "transferable skills," which we'll touch on more below.
Don't have any past work experience? No problem. Instead, begin with your education. Follow that with non-traditional work (e.g., internships) in the work history area.
Still not sure which format will work best for your sample help desk resume template? Want to see other examples on how to lay out your resume? Read our guide: 3 Resume Formats: How to Choose the Best One [Examples]
2
Help Desk Resume Summary or Resume Objective?
You want to make an impression. You want to draw them in. You want something they'll be unable to forget. Remember that you have 6 seconds? You'll want to do this all quickly.
You need a resume objective or a professional resume summary.
But which one?
Don't worry! We'll go over the two now, and you'll be able to pick the best one.
Professional Help Desk Resume Summary
You've been assisting customers with their new tech ever since tech was new.
You've got help desk experience?
Then use a resume summary.
Your help desk resume summary will point out your tech support skills and achievements like a tech support agent pointing out problems on a PC.
Highlight your career experience in a brief introduction. This will show them that you're the right person for the job.
Pro Tip: Personalize the resume by professionally name-dropping the company you're applying to in the help desk resume summary or objective statement.
Here's a sample resume summary for an experienced technical support resume done right and wrong:
right
Personable technical support representative with 4+ years of experience analyzing issues with drone hardware and software. Achieved and maintained company-high customer retention rate of 99.32% Seeking to ignite career by growing with the team at Argo Drones, Inc.
wrong
I have been a tech support agent for the last four years. Besides my knowledge of drone hardware, I also carried out various office duties (e.g., filing, accounting) during downtime.
Do you see the difference?
Let's debug. Take the "Wrong" technical support resume sample summary: It was sweet of you to perform those different office tasks during off-peak hours, but, at the same time, who cares?
Those skills aren't relevant to a technical help desk resume. Also, steer clear of using the first person in your resume.
The "Right" tech support summary example quantifies your experience (4+ years) and also adds one of your proudest accomplishments for the win.
When making a resume in our builder, drag & drop bullet points, skills, and auto-fill the boring stuff. Spell check? Check. Start building a professional resume template here for free.
When you're done, our online resume builder will score your resume and our resume checker will tell you exactly how to make it better.
Want some more advice on how to make a sample help desk resume summary? Check out our guide: How To Write A Resume Summary: 21 Best Examples You Will See
Pro Tip: Aim for one page on a help desk resume with no experience. Two pages for career help desk job seekers. More than two pages might get overlooked, whether it is a tier 1 IT support resume or a tier 3 computer support technician resume.
Example Help Desk Resume Objective
The pinnacle of your help desk experience so far (and the biggest regret of your life) was when you helped your grandma create her Facebook account.
New to the field? Will this be a resume for a help desk job with no experience?
Use the resume objective.
You don't have the necessary experience. But I repeat: don't worry! Instead, we'll explain how your past skills will be useful on technical support resumes.
Don't forget to mention the company name!
right
Personable sales representative with a keen interest in drone hardware and software. Seeking to use proven marketing track record and region-high sales conversion rate of 89.7% to invigorate and grow with the team at Argo Drone, Inc.
wrong
I have been a sales rep for the last four years, and I am looking to become a help desk agent with your company. I don't have knowledge yet, but I'm willing to learn.
How about here? Do you see the differences?
While in the "Wrong" example, you show commendable ambition, everyone shows that in their resume. The "Right" technical help desk resume example shows our that our experience, though unrelated, can be relatable. And a proud achievement in there to seal the deal.
The company is taking a bigger chance on you if you've had no previous help desk experience. So, it is even more important to show them that you have what it takes.
Want some more tips on how to write a help desk resume objective? Check out our guide: +20 Resume Objective Examples - Use Them On Your Resume (Tips)
3
How to Describe Your Help Desk Experience
On the help desk, you'll help some clueless people with self-inflicted problems while maintaining the patience of a saint.
You'll perform magic.
To cast a spell on the recruiters, you must know how to describe your work history by creating the perfect help desk resume job description.
How to Choose the Right Experience on a Help Desk Resume
Know your IP address better than your home address?
If you have experience on a help desk team, you have a nice head start. Still, pick those help desk resume bullets which match the company's interests. Complicated?
Don't worry. It's easy. Let me show you how:
right
Tier 2 Technical Support Specialist
January 2011 - December 2016
Silicon Circuitry, Inc., New York, NY
Mentored fast-paced team of 12+ technical support specialists for over four years.
Quickly promoted from Tier 1 to the Tier 2 team due to extensive knowledge of IT help desk ticketing system and help desk software.
Achieved and maintained company-high customer retention rate of 99.32%
Efficiently cultivated fresh outsourced help desk team and remote help desk jobs.
wrong
Tier 2 Technical Support Specialist
January 2011 - December 2016
Silicon Circuitry, Inc., New York, NY
Completed technical support specialist training.
Answered IT support phone calls and emails.
Helped resolve complex technical issues.
Did various other tech support duties and IT help desk jobs.
Do you see the difference? In the second example, we list our help desk duties and responsibilities. Short and sweet, right? It won't be sweet when they short you the job.
Now, take the first help desk support resume example. We list achievements and successes at the previous position, with some modifying words that will impress them and benefit you.
How to Write a Help Desk Resume With No Experience
Almost any past experience will have something which is relevant to a help desk resume. Analyze tasks you had that would be useful on a resume for a help desk job.
These are transferable help desk responsibilities and skills.
Handled the calendars of corporate titans as a secretary? Impressive! But not transferable.
Delegated and managed phone calls and emails from clients? Now that's transferable!
Let's look at some help desk resume examples for an entry-level position in practice:
right
Secretarial Assistant
January 2010 - December 2010
Carson Logistics, LLC, New York, NY
Managed and delegated phone and online tickets for clients.
Encouraged and influenced potential clients on company portfolio decisions, cutting down on false leads.
Instituted customer promotional survey to assess brand demand, which soon became adopted company-wide.
Key Achievements
Identified and implemented digital storage solution which led to a cost reduction of 17%
wrong
Secretarial Assistant
January 2010 - December 2010
Carson Logistics, LLC, New York, NY
Answered phone calls from clients.
Responsible for filing and retrieval of documents.
In charge of managers' calendars and scheduling.
You see what we did there?
On our entry-level technical support resume samples, sure, we could list our secretarial duties like filing documents and jotting appointments down into calendars.
But, since we want a help desk position, we need to list the most tasks and achievements which would be relevant to IT help desk responsibilities. In the first one, we highlighted our tasks which are most relevant, and then we add a proud achievement for the win.
Pro Tip: The one-word 'helpdesk resume' is quite common, but incorrect by most authorities. Even if it were, keep it consistent - choose one spelling and stick with it.
Looking for more ideas on how to put relevant skills and achievements on a help desk resume? Check out this guide: Achievements To Put On A Resume - Complete Guide (+30 Examples)
4
Is Your Education Section On Hold? It Might Be
The education section. What a waste of valuable real estate on your help desk resume, right?
You'd better think again.
An education section is a key part of the perfect resume. Whether you are submitting an entry-level help desk resume or a tier 2 help desk analyst resume, the hiring manager will appreciate your academic recap.
So, how should we list education on our help desk resume?
Here's how to include your degree on your help desk resume:
2008 BA in Investigative Journalism
Columbia School of Journalism, New York, NY
3.8 GPA
But what if you are still completing your university degree?
Here's how to list a degree that is still in progress:
BA in Investigative Journalism in Progress
Columbia School of Journalism, New York, NY
Expected Graduation in 2021
And what if all you have is your high school diploma?
Not to worry!
List your high school, styling it like this:
Townsend Harris High School, Flushing, NY
Graduated in 2004
If you're going to list a degree, skip adding your high school.
Pro Tip: For the best help desk technician resume, you should only include your GPA if it is as close to 4.0 as possible. Too low and it'll hurt instead of help. We don't want that!
Want more examples of how to put your education on a help desk resume? Have an educational scenario that is not listed here? Read our guide: How to Put Your Education on a Resume [Tips & Examples]
5
How to Put Skills on a Help Desk Resume
Need to pay your bills?
Then you need to play up your skills, because as the Beastie Boys say:
I've got the skills to pay the bills, ya
I got the got the got the skills to pay the bills
I've got the skills to pay the bills
Ah what you got, I got the skills to pay the bills
Clearly it's important.
The skills section is as important as a tech support agent understanding your OS. Tailor this to the employer by choosing the perfect listings. And it doesn't end there - we also need to identify the right help desk hard skills and soft skills.
Pro Tip: Hard skills are specific abilities and know-how (e.g., Microsoft Azure Active Directory). Soft skills are self-developed, life-learned attributes (e.g., safety consciousness, adaptability).
Does it sound confusing?
Fear not! First, let's make a list of some generic hard and soft skills for a help desk position:
Help Desk Skills List
Help Desk Skills List

| | |
| --- | --- |
| Help Desk Hard Skills | Help Desk Soft Skills |
| IT Help Desk Ticketing Systems | Communication |
| Help Desk Software | Deductive Reasoning |
| Desktop Support & Operating Systems | Managing Customer Expectations |
| Phone System Support | People Skills / Customer Service |
| Printer Support | Problem-Solving |
| Software Troubleshooting | Conflict Resolution |
| Hardware Troubleshooting | Time Management |
These are great IT help desk services to have for the average help desk applicant.
But you're not average, right? So no generic terms.
Now it's time to scrutinize the job listing and underline resume keywords - the most important phrases in the job offer.
Just like when someone calls us for some IT support, we need to tailor the response to match. We want words that fit the job like an ergonomic office chair.

Now, how would you tailor your skills to this IT technical support engineer job description? See the skills there? Let me show you a few examples:
| right | wrong |
| --- | --- |
| Mac & Windows Desktop Support[1] | Desktop Support |
| ShoreTel Phone System Support[2] | Phone System Support |
| Printer Support (Brother, HP, LG, Roch)[3] | Printer Support |
See the differences?
In the second one, your laziness is evident. In the first one, you look like the Chosen One, ready to lead the company into the help desk promised land.
Skills From Experience
So, you know how to use the ShoreTel phone system. That's good.
But, let's go for excellent.
Instead of stating that we understand the ShoreTel phone system in our skills section, we can quantify it by adding it under the appropriate experience:
Tier 2 Technical Support Specialist
January 2011 - December 2016
Silicon Circuitry, Inc., New York, NY
Trained 30+ new employees with ShoreTel phone system.
Here, they'll understand that we know the particular phone system. Rather than a vague knowledge, we show that we have years of hands-on experience.
Pro Tip: Try this: Type a bunch of your skills into an Excel column, with a number (1-10) of importance and help desk relevance in the adjacent column. Then, trim that fat until you have the best 5 or 6.
Want more tips for writing the perfect help desk resume skills list? See our guide: +30 Best Examples Of What Skills To Put On A Resume (Proven Tips)
6
How to Add Other Sections for an Effective Help Desk Resume
Contact info, check. Resume objective-slash-summary, got it.
Experience, education, skills - everything seems in order.
Time to send it off!
Not so fast.
Everyone since the dawn of time has added these sections to their help desk resumes.
Want to really tip the scales in your direction?
Then you need to add some other sections.
If you have some experience outside of work and school, list that on your help desk resume.
If you've volunteered at a summer camp, you could easily add this to your "Experience" section.
What if you've got an award, certification, or other commendation? Simple, create a dedicated section to highlight your additional superpowers:
right
Awards and Acknowledgements
Voted "Friendliest Employee" in region (out of 350+ employees).
Commended by local newspaper for outstanding service.
wrong
Miscellaneous Stuff
Volunteered bi-weekly at local animal shelter.
Voted "Most Likely to Succeed" in high school yearbook.
Remember - relevant! That first one uses numbers and specifics to paint a picture of your talent. The second one is irrelevant, especially for a help desk resume.
Also, add two or more creative help desk resume bullets. If you can only think of one, skip it (unless it is a big one).
Pro Tip: When wrapping up, save your resume as a PDF. Your help desk resume PDF will keep your layout intact while presenting it in a popular and easy way.
Need more examples of hobbies and interests which work well on help desk resumes? Still not sure if you even want to add extra sections? Read our guide: +20 Best Examples of Hobbies & Interests to Put on a Resume (5 Tips)
7
Here's the Most Common Myth About Cover Letters
Peanut butter without jelly. Tricks without treats. Resumes without cover letters.
What do these all have in common?
They are all missing that one thing which completes them.
45% of recruiters say they will reject a resume without a cover letter. That's about HALF.
But they're so boring! And more than half don't need it.
True, but you cut your chances in half if you don't take the time to write a good help desk cover letter.
So, here's a better idea: we're going to make the best help desk cover letter possible.
Do you like getting emails addressing you as Dear User?
Of course not. Neither do hiring managers.
Address the hiring manager by name in the help desk cover letter. It works like a dog whistle.
Cover letters are more than resumes with proper sentences. They are the difference between calling support and speaking to a live human rather than a terrible robot.
You don't want to sound like a broken record. Don't regurgitate the contents of your help desk resume but rather expand on your key selling points.
Use the cover letter to prove you can deliver on your promises.
Mention something about the company that you relate with. You dropped their name and caught their attention - now seal the deal with this next personalization.
Be witty. Be charming. Be clever.
Positively grab their attention - it will mean more than degrees and certifications you list in your professional help desk resume.
Plus, a great cover letter that matches your resume will give you an advantage over other candidates. You can write it in our cover letter builder here. Here's what it may look like: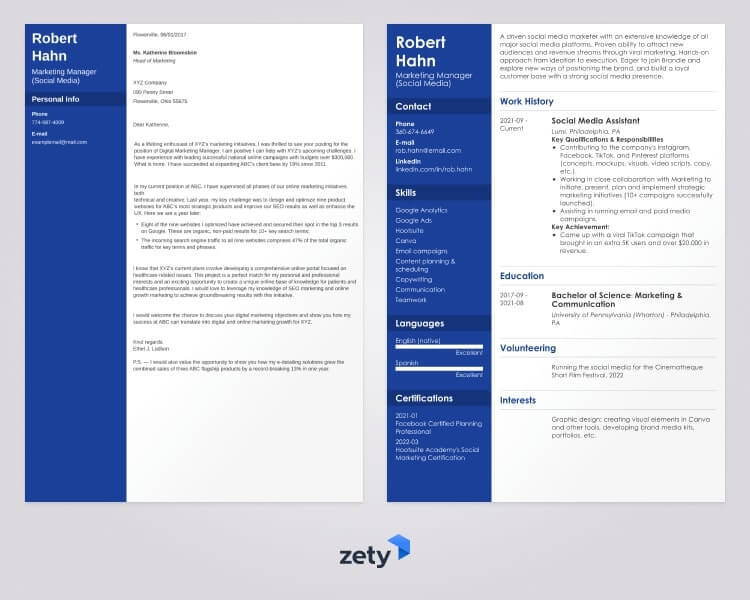 See more cover letter templates and start writing.
Pro Tip: Research the company online and mention something in particular that stands out to you. This is something a resume can't include and can really catch their eye!
Did you know that our resume builder will also help you write a professional help desk cover letter for the job of your dreams? For more, read our cover letter tips or find out exactly what to include on a cover letter.
Key Takeaway
Using this formula for a help desk resume and cover letter, you will have the key to unlocking many doors of opportunity.
Personalize, Personalize, Personalize. Address the hiring manager by name in the cover letter. Mention the company in the resume heading. Make yours stand out.
You want to join them, so make them need you. Use help desk resume action words and impressive achievements to wow them. Make your case by painting the best picture of yourself.
Double- and triple-check. Spend an extra few minutes making sure that your resume and cover letter are up to par.
Now. You should have the most attention-grabbing, best help desk resume out there. It's time to attach the final help desk cover letter and resume to an email and send it off. Fingers crossed!
Now, just check out our career glossary, brush up with our interview tips, and practice the STAR method to be ready for your interview!
Do you have any questions on how to write a professional resume for help desk specialist positions? Not sure how to describe your skills or achievements? Give us a shout in the comments, and we'll answer your question.
About Zety's Editorial Process
This article has been reviewed by our editorial team to make sure it follows Zety's editorial guidelines. We're committed to sharing our expertise and giving you trustworthy career advice tailored to your needs. High-quality content is what brings over 40 million readers to our site every year. But we don't stop there. Our team conducts original research to understand the job market better, and we pride ourselves on being quoted by top universities and prime media outlets from around the world.