Tech Resume Examples, Template & Full 2023 Guide
A technical resume is a document listing your work history and skills that prove your ability to successfully fill a technical position.
You came to the right place to write your technical resume. But first, here's a thought—job growth in the U.S. is on a bender. With the tech talent shortage, you can write your resume in Intercal and you'll get the job.
But hold up a sec. You don't want just any tech job. You want a unicorn job. One with great benefits, where management treats employees like Bitcoin. To get that kind of tech job, your technical resume needs to shine like lens-flare in a J.J. Abrams movie.
This guide will show you:
A technical resume example better than 9 out of 10 other resumes.
How to write a technical resume that lands more interviews.
Tips and examples of how to put skills and achievements on a tech resume.
How to describe your experience on a resume for technical jobs that really works.
Here's a technical resume sample made using our resume builder.
Want to save time and have your resume ready in 5 minutes? Try our resume builder. It's fast and easy to use. Plus, you'll get ready-made content to add with one click. See 20+ resume templates and create your resume here.
Sample resume made with our builder—See more resume samples here.
Technical Resume Example
Mark Robins
Technical Project Manager
(555) 555-5555
markrobins@email.com
linkedin.com/in/mark.robins
Summary
Experienced and detail-oriented Technical Project Manager with over 7 years of experience managing complex projects in the technology sphere. Eager to support Synapse Solutions in driving large-scale technical projects to completion. Reduced project completion timelines by 35% at Aetherix Technologies by restructuring the team and the priorities of each member.
Experience
Technical Project Manager
Aetherix Technologies, Akron, OH
June 2013–Present
Key Qualifications & Responsibilities
Managed a team of 15 programmers and engineers to deliver complex technical projects.
Implemented Agile methodologies to streamline project processes.
Coordinated with stakeholders to ensure project requirements are met.
Conducted project risk assessments and formulated mitigation strategies.
Key Achievement:
Reduced project completion timelines by 35%.
Systems Analyst
Nebula Dynamics, Akron, OH
March 2009–May 2013
Key Qualifications & Responsibilities
Analyzed system requirements and collaborated with the development team to design suitable solutions.
Conducted testing and debugging to ensure system functionality.
Assisted with system documentation and user training.
Key Achievement:
Improved system efficiency by 25%.
Education
Bachelor of Science in Computer Science
University of Akron, Akron, OH
August 2005–May 2009
Relevant extracurricular activities
Computer Science Club, President
Collegiate Hackathon, Participant
Academic achievements
Dean's List, 2007–2009
Awarded Best Capstone Project, 2009
Skills
Project Management
Systems Analysis
Agile Methodology
Stakeholder Relationship Management
Risk Assessment
Effective Communication
Problem-Solving
Team Leadership
Certifications
Certified Scrum Master, Scrum Alliance, 2015
Certified Project Management Professional, Project Management Institute, 2011
Awards
2017, Project Manager of the Year, Aetherix Technologies
Memberships
Member of the Project Management Institute since 2011
Served as the Akron Chapter President, 2018-2019.
Languages
English—Native proficiency
Interests
Tech Blogging: Write a weekly blog about the latest trends in project management and technology.
Long-distance running: Completed four marathons since 2015.
1
24 Great Free Technical Resume Templates
If you need resumes for specific tech jobs, see the 10 great tech resume examples and guides below:
You can find resumes for other jobs in our collection of 500+ resume examples for all job types.
Just want advice to make the best resume for a technical job you can? Scroll down. We've got zillions of tech resume tips and samples to help you nab the interview.
2
What's the Best Format for a Technical Resume?
Technical resume fail! The hiring manager just nuked your great tech resume. It'll wither in the Almighty Sarlacc for 1,000 years of unemployment.
Why? It wasn't your skills or experience. Those are both great. You just picked the wrong tech resume format. Format matters in a job where small details build massive systems.
Choose a respected format like reverse-chronological. It shows your best achievements first. Use plenty of white space, big, accessible headings, and a no-nonsense font.
Finally, save your tech resume as a PDF. Tech resume PDFs look great on any machine. MS Word-formatted resumes can turn to spaghetti in transit.
Pro Tip: Check the tech job description to ensure it doesn't ban PDFs. Some Applicant Tracking Systems stumble on technical resume PDFs.
Want to check our math on the reverse-chronological format for your technology resume? See our guide: 3 Resume Formats: How to Choose the Best One [Examples]
3
How to Write a Resume Summary or Resume Objective
Good news! The hiring manager has three hours to read your technical resume. She'll understand every word.
Not. In reality she's got a stack of tech resumes as big as 350 East Cermak to get through by snacktime. And according to our HR statistics report, she'll only spend six seconds on yours, if you're lucky.
That means you've got to grab her like a DNS request. Do it with a resume summary or a resume objective.
A resume summary uses your experience to prove you fit the job. Choose it if you've got servers full.
A resume objective cites your passion for the job opening. Use it if you're still wet behind the .EAR files.
Either way, include your biggest, baddest achievements. Again, here are two tech resumes examples examples:
Technical Resume Examples – Resume Summary
Try to find the difference in these two professional technical resume samples:
wrong
Experienced technical specialist and IT professional, proficient in systems administration, with a background in programming. Skilled in C#, C++, HTML network architecture, and problem solving.
What's the issue there? Nothing, on its own. But stack it up near 200 others and it reads like an infinite loop. It needs specifics, and measurable accomplishments.
right
Dedicated IT Specialist with 5+ years experience. Seeking to help improve Salesforce's IT ROI through proven skills in Systems Administration. At Kovisto Medical, led successful transition of 100+ employees to Windows 10. Cut security risk by 57% and boosted customer satisfaction by 75%
That's more like it. The hiring manager just stopped daydreaming about The Walking Dead.
When making a resume in our builder, drag & drop bullet points, skills, and auto-fill the boring stuff. Spell check? Check. Start building a professional resume template here for free.
When you're done, our easy resume builder will score your resume and our resume checker will tell you exactly how to make it better.
Don't have that kind of experience? Don't worry. The technical resume objective statement is here to help.
How to Write a Resume Objective for an Entry-Level IT Resume
Even with no experience, your technical resume doesn't have to seem "under construction." A resume objective shows passion with no experience. But there's no reason you can't inject a little experience in anyway.
Look at these two tech resume examples to see what I mean:
right
Hard-working technical specialist, seeking to solve customer problems for Zero Web. Have performed several IT duties, including installation of order-taking system in a busy restaurant and building a t-shirt ecommerce site from scratch.
wrong
Technical specialist with IT skills and BS in computer science. Seeking a position in the IT field. In past jobs I've waited tables and done construction work.
That first technical resume sample could be Leonard from The Big Bang Theory. The second is very nearly undefined.
But wait. Where did a total noob get that kind of tech resume experience? He did it by doing a couple freelance projects and looking at past non-tech jobs for evidence of tech skills. I'll explain more next.
Pro Tip: Your tech resume summary or resume objective is your elevator speech. Write it last so you'll have plenty of material. Then make it short.
For more help, check out the sample technical resume template up top. Also, see these guides: How To Write A Resume Summary: 21 Best Examples You Will See and +20 Resume Objective Examples - Use Them on Your Resume (Tips)
4
How to Describe Your Technical Experience
How important is experience in a technology resume? Only as important as hardware, software, and data. Employers care about experience even more than education.
If you don't have it, don't panic. I'm about to show you how to get some, fast. If you do, display it right or the recruiter will drop you like a 400 request.
List your last job first. Add 4-6 bullet points that match the tech job description. That's crucial, so look at these two technical resume examples to see how.
Senior Technical Resume Examples
right
System Administrator
Kovisto Medical
2014 - 2017
Handled technology planning for a major healthcare provider. Directed all hardware and software installation, maintenance, and upgrades.
Spearheaded the successful company-wide switch to Windows 10. Upgraded 100+ employees to new system, under budget, with 100% HIPAA compliance.
Implemented IT risk management plan to harden system security, including least privilege drive and password vaults. Cut security risk by 57%.
wrong
System Administrator
Kovisto Medical
2014 - 2017
Senior technical specialist at a major healthcare business.
Handled technology planning.
Directed all hardware and software installation and maintenance.
Performed regular upgrades on systems and software.
In charge of IT risk management.
Yuck, that last one, right? It's just so... unconfigured. But the first tech resume sample would get you an IT job on the Enterprise.
Next: What if your tech experience is file-not-found?
How to Write a Technical Resume with no Experience
"You can't have a job unless you've had one." That logic is so looped you could use it to count sand.
The good news? You don't need years of experience to get a tech job. Even if the job description calls for "1-2 years experience," that's usually flexible.
To get some experience:
Do freelance projects. Get on FieldNation, WorkMarket or other freelance sites.
Post code you've written on GitHub, or on a personal website.
Do volunteer projects or personal projects.
Contribute to open source jobs online.
Take part in hackathons.
Look at past non-tech jobs where you performed technical duties and responsibilities.
Watch how that works in these two entry-level technical resume examples:
Entry-Level Technical Resume Samples – No Experience
wrong
Technical Experience: I just got out of college, so I don't have any work experience in the IT field yet.
Other Experience
Waiting tables
Construction
right
Freelance Technical Specialist
2016 - 2017
Installed new ordering and payment-taking system in a busy restaurant.
Contributed to Zofo open source coding project on Git Hub.
Built an online t-shirt ordering site from scratch.
Built a home security system from 4 Raspberry Pi units.
See that second example? I for one welcome our new tech employee overlord. But it didn't take two years to build that experience.
It just took a little volunteering, a few home projects, and a little scrutiny of past tech-free jobs.
Pro Tip: You could probably write 100 bullet points from your last job. Just pick the 4-6 that match best with this job opening.
Want to keep that hiring manager from low power mode? Salt your professional technical resume with action words. See this guide: +80 Examples of Resume Action Words for Every Profession
5
Is Your Tech Resume's Education Section Offline? It Might Be
Wait. Didn't he just say education doesn't matter?
Not quite. I said experience matters more in a good technical resume. But education is like a golden ticket that can get you in the door. Or it can be, if you use it right.
It's not about what school you went to, though obviously MIT beats Charley's House of Tech Stuff Larnin'. It's not about your coursework either. Though, yeah, a tech degree crushes a sheepskin in "exercise science."
It's about linking you to the job like you used a cable lock.
Of course you'll add:
College Name and Location.
Years in School.
Degree.
But the real gems are in the bullet points.
Two Technical Resume Examples – Education
wrong
BS in IT, 2008 - 2012
Baldwin Wallace University
Received degree in IT.
GPA 3.4
Awful, right? All your construction job are belong to us. But look what happens when we add the right details:
right
BS in IT, 2008 - 2012
Baldwin Wallace University
Received Degree in Information Technology with a focus in Information Systems.
Excelled in computer science coursework.
My school blog article on network architecture was linked to by Engadget.
Poof. Like Chewie's resume to Han.
When I say, "right" details, I mean they've got to fit the job description.
Pro Tip: To GPA or not to GPA? If it's impressive, add it to your technology resume. Otherwise, toss it down a deep, dark hole.
Want to make your web technical resume blaze like Marvel's Tesseract? See our guide: How to Put Your Education on a Resume [Tips & Examples]
6
How to Write Technical Skills in a Tech Resume
Let's meet the hiring manager. Her name's Jill. Nice buckyballs toy. Near it, on her desk, sit 350+ technical resumes. They are giving her a headache. All of them list the same technical skills.
How is she supposed to know one from the next?
Then she reads your tech resume. She stops. You've done something so simple, but so brilliant, that she starts to smile. What did you do right?
You used the right skills, then you proved them. Like this:
Technical Resume Skills and Experience Section
The skills in Jill's tech job description are Help Desk, customer service, and problem solving. You list those, plus troubleshooting and server support to take it up a level.
Then you prove those skills in technical resume bullet points:
Provided

Help Desk

-based IT phone support to end users for a fast-paced web hosting firm, including

troubleshooting

,

server support

, and

customer service

.
Maintained

15% above average customer satisfaction

in post-call surveys. Used deep compassion and listening skills for best customer experience.
Became a trusted resource through high-level

problem solving

skills. Solved customer issues with 12% more success than the company average.
Perfect. The hiring manager's thinking you're the next Larry Ellison.
List of Skills to Put on a Technical Resume
Let's get this party started with a list of resume technical skills. Fill it in with more from your own history, and from job offers online.
Resume Technical Skills
Do the above, and your tech resume will make you look like Sheldon Cooper with people skills.
Pro Tip: Not every IT job needs programming languages. If a skill speaks to the job description, add it to your tech resume. Otherwise, it's sayonara.
Want to hack your skills section? Use the technical resume template at the top of this post. Also, see this guide: +30 Best Examples of What Skills to Put on a Resume (Proven Tips)
7
How to Add Other Sections for an Effective Tech Resume
Stop. You think you're writing an original resume, but the odds are against you. The biggest complaint from hiring managers? Most resumes are as alike as tarballs.
Your technical resume needs to prove that you can run the table. You'll do that by providing proof. That means testimonials, awards, test results, and projects you have worked on. Put those in "other" sections in your tech resume.
Make sure every bullet point will widen the recruiter's eyes like Elliott's when he first saw E.T.
Technical Resume Sample "Other" Sections
Certificates
CompTIA A+ Certification
MS Server Certification
Languages
Java, C++, PHP, MySQL, Javascript, JQuery
Additional Activities
My article, "Maximizing Help Desk Success" was linked to by HuffPost.
Active member, CompTIA association.
My IT Podcast "Technical or Bust," has 1,400 subscribers.
See my professional portfolio online at emilykupic.com.
See that? Those aren't just needlepoint and bowling team fluff. They'll make your technology resume stand out like a lightsaber at a Chuck E. Cheese.
You can add CCNA certifications, Microsoft certs, Help Desk, A+, or other licenses to a resume for a technical specialist.
Why You Need an Online Portfolio
A resume is kind of like a postage stamp. You can't fit much on it, but at least it sticks. An online portfolio can teleport the hiring manager beyond your tech resume. If you don't have one, build one. Then link to it from your great resume.
Can't fill a portfolio? Sign up for some small projects or freelance jobs, or do a little fun work for yourself. Even a project that takes hardly any time can make a technical resume for freshers stand out like Bill Gates in a paper hat.
Pro Tip: If you're an entry-level IT specialist, work for a small company. Big companies will let you sharpen pencils. A smaller one might put you in charge.
Need more pointers for your tech resume "other" sections? See our guide: "+20 Best Examples of Hobbies & Interests To Put on a Resume (5 Tips)"
8
Here's the Most Common Myth About Cover Letters
Are cover letters a waste of time? If that's true, so is writing a technical resume.
Yes, half the hiring managers won't read technical cover letters. The other half won't read tech resumes without them. So, write a cover letter, but here's the trick:
Don't make it a rehash of your resume. Make is short. Make it sweet. Make it personal.
First, use the hiring manager's name. Don't know it? Find it out online, or call the company.
Second, prove you understand the problem. Read the job description for a hint.
Third, show how you can help. You can point to an accomplishment as simple as an article you wrote.
Add a call to action like, "I'd welcome the chance to talk more with you." That's it. You're done.
Pro Tip: After you send your professional technology resume, follow up! A call or email in about a week can put you top-of-mind at just the right moment.
Plus, a great cover letter that matches your resume will give you an advantage over other candidates. You can write it in our cover letter builder here. Here's what it may look like: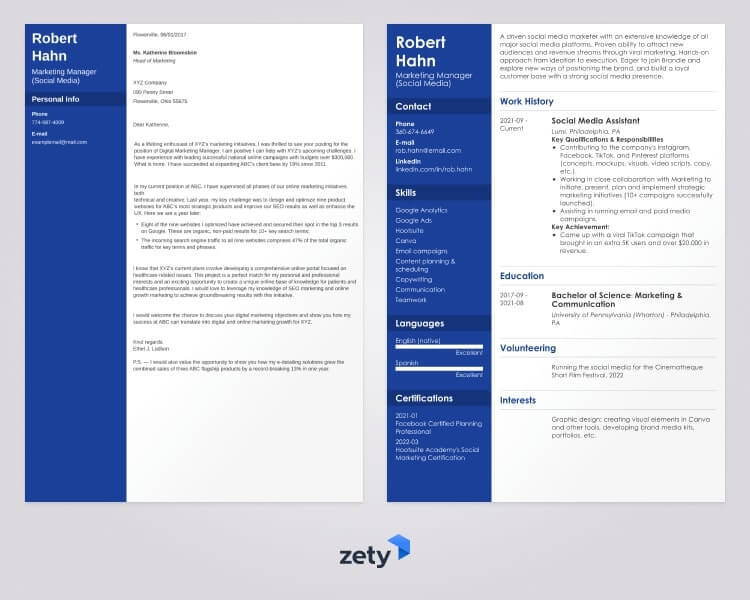 See more cover letter templates and start writing.
Want more advice to make your professional technical resume cover letter win like Elon Musk? See our guide: How To Write A Cover Letter [Complete Guide With Examples]
9
How to Add Contact Info to Your Resume
If you remember to add just basic contact info to your technology resume... You're doing it wrong.
You probably know to add your:
Full Name
Updated Phone Number
Professional Email Address
Like this:
Emily Kupic, emilykupic@gmail.com - 216-774-3373
But if you're not including a LinkedIn profile, think again. LinkedIn is a great way to let managers switch off your cloaking device. You can also add your Twitter handle or other social media addresses to a tech resume.
Pro Tip: Turn your LinkedIn profile into part two of your good technical resume. See our guide on LinkedIn profile mastery here.
Want more advice to make a technical resume that does the trick like Tony Stark? See this guide: How to Make a Resume: A Step-by-Step Guide (+30 Examples)
Key Takeaway
Even with the best resume templates and examples, writing your own is hard. Follow these key points to show you fit the job:
Read the job offer. Highlight all the skills in it. Then list them in your tech resume.
Put a well-phrased technical resume summary or objective at the top.
Prove your skills in your experience section. The best bullet points in a resume for tech jobs will always match the job offer.
Add "other" sections that prove your muscle. If you don't have any accomplishments to put in them, create some.
Do you have questions on how to write a great resume for technical jobs? Not sure how to describe your skills or achievements? Give us a shout in the comments! We love to help!
About Zety's Editorial Process
This article has been reviewed by our editorial team to make sure it follows Zety's editorial guidelines. We're committed to sharing our expertise and giving you trustworthy career advice tailored to your needs. High-quality content is what brings over 40 million readers to our site every year. But we don't stop there. Our team conducts original research to understand the job market better, and we pride ourselves on being quoted by top universities and prime media outlets from around the world.