You're about to see a perfect, professional IT resume sample. But first, think about this:
Diagnosing system malfunctions. Quality-testing changes in the sandbox before deployment. Racing your coworkers in your rolly chairs when the IT director ain't looking.
This job seems coded just for you.
You know you'll excel once you get there, but how to prove it?
How to write an IT resume that will showcase your exceptional skills?
Don't worry! It's easy as plug-and-play. With just a bit of time and this guide, you'll soon be talking about your professional IT resume at the interview.
This IT resume guide will show you:
Great IT resume examples better than 9 out of 10 other resumes.
How to write an information technology resume that will land you more interviews.
Excellent IT resume tips and examples of how to include skills and achievements.
How to describe your experience on a resume for IT worker to get any job you want.
Here's a sample resume for IT jobs made using our resume builder:
Want to save time and have your resume ready in 5 minutes? Try our resume builder. It's fast and easy to use. Plus, you'll get tips and right vs. wrong examples while writing your resume. See +20 resume templates and create your resume here.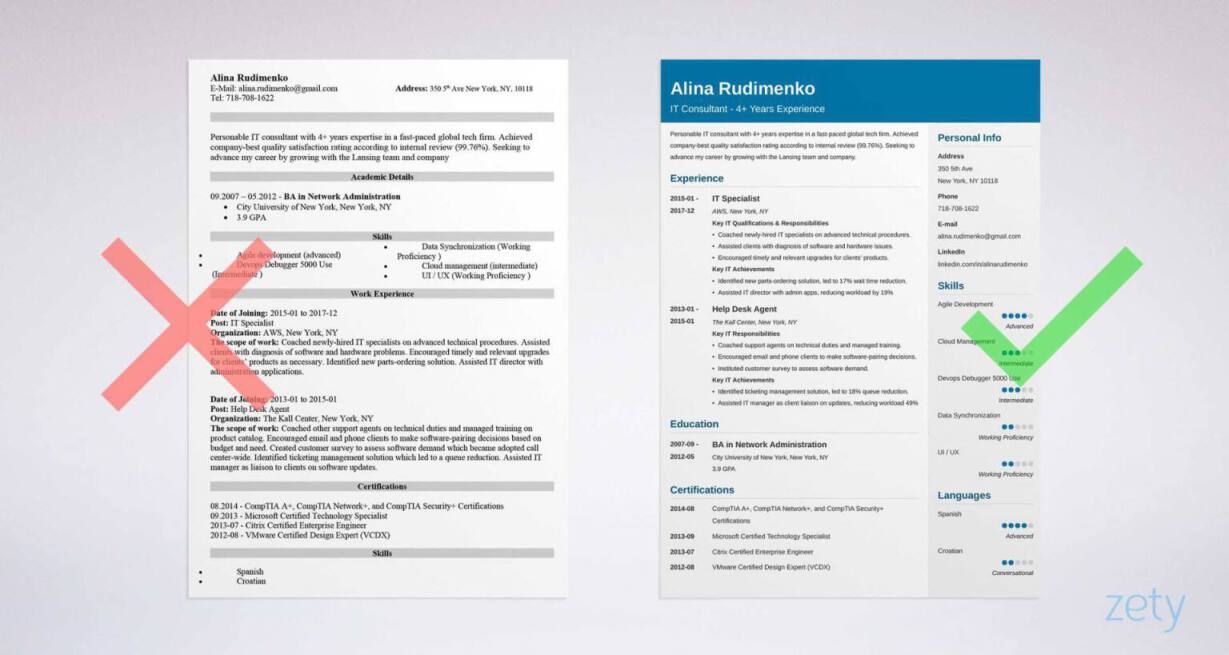 IT Resume Example - See +20 resume templates and create your resume here
1
What's the Best Format for an IT Resume?
Bad news: the IT manager won't read your whole resume at first. In fact, they'll take just 6 seconds to scan it.
What's that mean for you?
Like modern UX catering to ever-decreasing attention spans, you need to catch their attention. You need to do it fiber-optic quickly. And you need to not let go.
You need to choose the best IT resume format.
Thankfully, it's not as tough as it sounds. Depending on your past work history, there are two ways to go about this:
How to Format an IT Resume with Experience
Got experience working in IT before? You've got it made. You'll want to use the reverse-chronological format for IT resumes.
This format emphasizes your tech duties, work experience, and IT work history.
You'll list your most recent work positions first, and go back through past jobs in reverse-chronological order from there.
How to Format an IT Resume With no Experience
But, what if you need an entry-level IT resume format?
Don't worry, because here's the thing: you might not have experience for this job, but you have experience relevant to the job. On a first-time resume for IT, you'll still list other work you've had in reverse-chronological order.
However, this time you won't just talk about your professional tech duties and responsibilities. Instead, you'll highlight relevant skills and achievements from past jobs in the neatly-aligned bullet points. List them under relevant subheadings like: Software Skills.
Pick and choose transferable skills to match the professional IT resume job description from the ad.
Have no IT work experience at all? Not to worry! Instead, the education section moves to the top, followed by other sections (e.g., volunteering, languages), which we'll talk about more in just a moment. Then, save your IT resume as a PDF, as this format keeps the layout in shape.
Pro Tip: Check the job posting to make sure PDFs are OK. Some Applicant Tracking Systems (ATS) get jammed like an infinite loop on PDF formatting. The ATS scans for resume keywords; if it can't read your file, it'll assume you can't do anything right.
Not entirely sure about the reverse-chronological format for your IT professional resume? See our guide: 3 Resume Formats: How to Choose the Best One [Examples]
2
IT Resume Summary or Resume Objective?
You want to catch the IT director's eye like a 1 in a string of 0s.

You need an IT resume objective or resume summary. But which one?

Let's go over these two now, and you'll be able to pick the best one to appeal to any tech agencies looking for applicants.
Example IT Resume Summary
If you have IT experience, such as if this is an IT director resume or IT manager resume, then opt for the resume summary:
It highlights your related information technology work history.
It promotes you with a previous technical achievement.
Here are examples of IT consultant resume summaries:
right
Personable IT consultant with 4+ years expertise in a fast-paced global tech firm. Achieved company-best quality satisfaction rating according to internal review (99.76%). Seeking to advance my career by growing with the Lansing team.
wrong
I have been an IT consultant for the last 4 years. In addition to my knowledge of various front-end and back-end duties, I also handle server infrastructure, hardware, software, and key maintenance and administration procedures.
Do you see the differences? While the "Wrong" one has some impressive experience listed, it plays up your everyday duties as if they're accomplishments, which they aren't. In the "Right" example, you give evidence of your IT consultant resume skills, achievements, and experience.
Writer's block? If you're having trouble getting started on your IT specialist resume, check out this guide: How to Start a Resume: A Complete Guide With Tips & 15+ Examples
Pro Tip: Personalize your IT resume example by dropping the company's name into your resume summary or objective.
If you're craving more advice and examples of summaries for IT resumes, check out our guide: How To Write A Resume Summary: 21 Best Examples You Will See
Example IT Resume Objective
If you don't have IT experience, go with the IT resume objective:
It highlights your tech skills and qualities.
It promotes you with a related achievement.
It briefly explains the career path change.
Here are examples of objectives for IT technician resumes without experience:
right
Diligent support specialist with 3+ years experience with large cloud services agency. Obtained highest grades in build spec (100%) and quality (97.3%). Seeking to further IT career by growing with the Lansing team as the IT technician.
wrong
I am a support specialist eager to become a field technician. I don't have experience in field work, but coworkers often say that I am a quick learner. I am highly motivated because I enjoy being outside for work rather than behind a desk in a dismal, gray box.
See the differences here? Lansing is taking a bigger chance by hiring someone without exact experience - in this case, a support specialist for a technician role. You'll need to show them that you have what it takes.
In the "Right" one, we used some transferable skills from the cloud services company and some proud achievements for a quantifiable win. The "Wrong" one doesn't show enough to hold the IT manager's attention.
Our resume builder (you can create your resume here) will give you tips and examples on how to write your resume summary or any other section. You can easily copy them straight into your resume - it will save you a ton of time.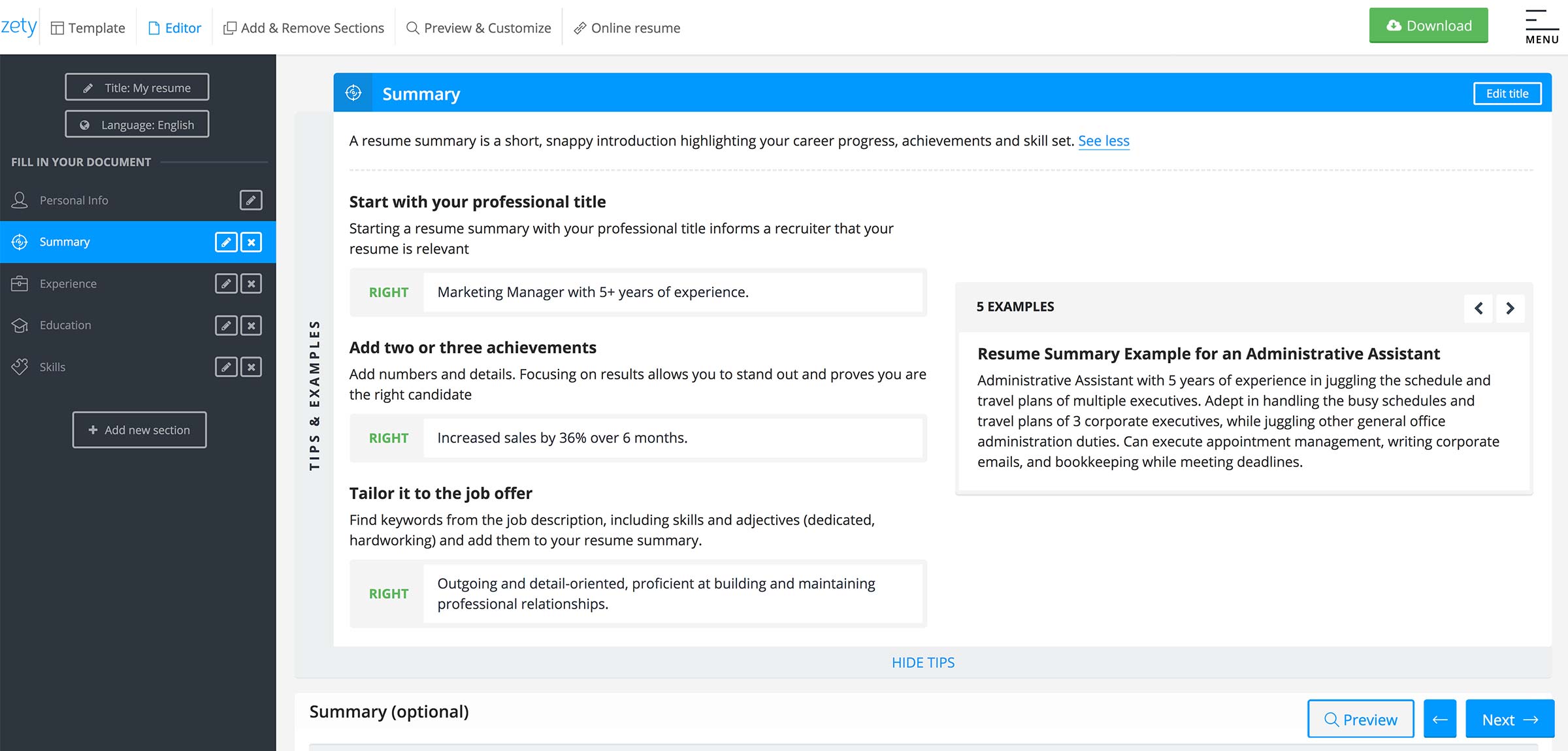 Inside Zety's resume tool you will find tips and examples for your resume.
Fancy more advice and examples of a resume objective for IT gigs? Check out our guide: 20+ Resume Objective Examples - Use Them On Your Resume (Tips)
3
How to Describe Your IT Experience
"Wow. This is friggin' awesome!"
That's not only what you'd like end users to say upon trying out any updates you push them - it's the reaction you want from the hiring manager when they look at your professional IT specialist resume.
To get there, you'll rave about the experience on your resume in a way which stimulates their senses like the next big thing in VR. Here's how:
Experienced IT Resume:
If you've held one or more tech jobs before, you've got a head start. Still, pick the best tech responsibilities that match the company's interests.
Take a look at these IT resume samples:
right
IT Specialist
January 2014 - December 2017
AWS, New York, NY
Key IT Qualifications & Responsibilities
Coached newly-hired IT specialists on advanced technical procedures.
Assisted clients with diagnosis of software and hardware issues and concerns.
Encouraged timely and relevant upgrades for clients' products as necessary.
Key IT Achievements
Identified new parts-ordering solution which led to a client wait time reduction of 17% and an increase in client satisfaction by 39%
Assisted IT director with administration applications, reducing workload by 19%
wrong
IT Specialist
January 2014 - December 2017
AWS, New York, NY
Trained employees in IT tasks.
Helped customers with their products.
Upgraded clients' products.
See the differences? The "wrong" example seems fine, but the items listed were your everyday IT responsibilities. In the "right" example, however, we itemized your duties in IT with more detail, and then included achievement(s) with quantifiable numbers for the win.
Tailoring your resume will not only help you find your ideal resume length, it will turn recruiters into believers: 6 Tips on How to Target Your Resume to a Job Description (Examples)
IT Resume With No Experience:
Never been in IT before? Switching fields within information technology?
No problem. We just need to find a way to show them that you're worth your weight in Bitcoin.
right
Help Desk Agent
January 2013 - December 2015
The Kall Center, New York, NY
Key IT Responsibilities
Coached other help desk support agents on technical duties and managed hardware and software training on product catalog.
Encouraged and influenced email and phone clients to make software-pairing decisions based on budget and need.
Instituted customer promotional survey to assess software demand, which soon became adopted call center-wide.
Key IT Achievements
Identified ticketing management solution which led to a queue reduction of 18%
Assisted IT manager as liaison to clients on software updates, reducing workload by 49%
See what we did here?
At first, having a help desk resume doesn't seem too similar to a job in IT. But, we played up those duties and achievements which translate well for a resume in information technology - whether for an IT consulting resume or an IT supervisor resume.
Pro Tip: Take some time to think about your past jobs. Which areas relate best to having strong IT skills and know-how? Pick those for your IT Resume.
But what if you have no past experience at all? Not to worry! See this guide: First Resume with No Work Experience Samples (A Step-by-Step Guide)
4
Is Your Education Section Underperforming? It Might Be.
The education section - a waste of space, like unminified comments in your style.css, right?
You'd better think again. The education section is a valuable part of the perfect resume for IT positions. In the case of those without experience, the education section becomes the most important.
So, how to make an IT resume's education section?
Here's how to include your completed degree:
2012 BA in Network Administration
City University of New York, New York, NY
3.9 GPA
But what if you are still completing your university degree?
Here's how to list a degree that is still in progress:
BA in Network Administration
City University of New York, New York, NY
Expected Graduation in 2020
And what if all you have is your high school diploma?
List your high school, styling it like this:
Townsend Harris High School, Flushing, NY
Graduated in 2008
If you've completed a degree, skip listing your high school.
Pro Tip: On your IT specialist resume, when applicable, only include your GPA if it is as close to 4.0 as possible. Too low will hurt instead of help. We don't want that!
Would you like some more ways on how you can make the best use of your tech resume? Then check out: How to Put Your Education on a Resume [Tips & Examples]
5
How to Put Skills on a Resume for IT
Two things make IT management sit right up: a flawless software deployment and a great IT resume.
So far, you've done a good job, but how can you make it great?
Let's audit the computer skills to put on resume and include the perfect ones on yours.
Skills on your resume for information technology are important, but only the right ones. Also, not too many and not too few.
How do we add just the right amount to describe your IT job experience?
First, make a list of some generic hard and soft skills to put on a resume for IT. Hard skills are specific abilities and know-how (e.g., Devops Debugger 5000). Soft skills are self-developed, life-learned attributes (e.g., people skills, adaptability).
Here are some basic IT resume skills examples:
IT Skills List

| | |
| --- | --- |
| IT Resume Hard Skills | IT Resume Soft Skills |
| Agile Development | Attention to Detail |
| Database Administration | |
| UI / UX | Multitasking |
| Devops Debugger 5000 Use | Analytical Skills |
| Front-End & Back-End Development | Teamwork |
| Cloud Management | Creativity |
| Data Synchronization | Problem Solving |
However! These are good skills for a resume - for average technical resume examples.
But you're not average, right? Don't let your IT resume be average, either. To make your resume unique, don't just list these generic skills relevant to all tech staff.
It's time to browse the job listing and underline IT resume keywords that match their needs.
Pro Tip: Type a bunch of your skills for IT resume(s) into an Excel column, with a number (1-10) of importance and relevance in the next column. Then, filter the worst ones down like a perfect query until you have the best 5 or 6.
Ugh! So many IT resume rules! Don't worry, we've simplified them here: Resume Dos and Don'ts: 50+ Tips & Advice on Building Great Resumes
IT technician resume job description skills and requirements:
Job objectives and responsibilities
The following represents the key activities that the IT Technician will be responsible for:
Installing and configuring computer hardware, operating systems and applications [1]
Conducting electrical safety checks on computer equipment
Monitoring and proactively maintaining computer systems and networks
Replacing parts as required
Troubleshooting system and network problems and diagnosing and solving hardware or software faults [2]
Monitoring Help Desk tickets and resolving user issues
Responding within agreed time limits to call-outs
Working continuously on a task until completion (or referral to third parties, if appropriate)
Talking staff or clients through a series of actions, either face-to-face or over the telephone, to help set up systems or resolve issues
Rapidly establishing a good working relationship with colleagues, customers and other
professionals, such as software developers
Setting up new users' accounts and profiles and dealing with password issues
Providing support, including procedural documentation and relevant reports
Following diagrams and written instructions to repair a fault or set up a system
Supporting the roll-out of new applications or updates [3]
Testing and evaluating new technology
Maintaining documentation and hardware/software registers
See the skills on this IT technician job description? Let me show you a few examples:
good
Exceptional understanding of computer hardware, operating systems and applications [1]
Quick and accurate diagnosis of network problems [2]
Terrific knowledge of application and update rollouts [3]
bad
Microsoft Excel & Word

Database administration
Customer service
Notice the differences between the two? In the second one, your laziness is obvious - you just googled "basic computer skills resume" and stuck the results in. In the first one, you look like just the one the IT manager has been searching for.
Don't have the right skills, and you could miss out on your ideal job opportunity. See our guide: 30+ Best Examples of What Skills to Put on a Resume (Proven Tips)
6
How to Add Other Sections for an Effective IT Resume
Contact info, got it. Experience, check. Education, Objective, Skills - yeah, yup, and yes.
You've got all the main ingredients, but it's missing your secret ingredient: extra resume sections.
Extra sections make IT resumes more unique. Everybody puts their name, experience, and skills. This is where you'll list relevant things that you're proud of to really stand out.
wrong
Volunteered after Nor'easter Nellie reconstructing homes.
Voracious reader (over 200 books per year).
Voted "Strongest Employee" three years in a row.
See what's wrong here? You have every right to be proud of these accomplishments - hell, I would be. However, they're just not relevant for information technology.
But which ones are right? Let's go over some of the most popular additional sections for your resume now, along with some better, more relevant examples.
Volunteer Experience
Helped reconstruct damaged homes after Nor'easter Nellie swept through? You are a hero and a saint! However, it isn't relevant on IT position resumes. Check out a better example:
right
Volunteered in community upgrading elderly citizens' networks.
Volunteering on a resume looks great, but only if you format it the right way: How to List Volunteer Work on Your Resume [+Sample]
Hobbies & Interests
Like a keyboard and mouse, here are interests and hobbies that would pair well with a resume for IT:
right
Softball - captain of local team for three years.
Avid tech blogger and gadget reviewer.
Team sports show that you function well on a team, an important trait for the fast environment of a growing tech startup. The tech blogging and gadget reviewing show that you are knowledgeable and stay up to date about technology and cutting-edge equipment.
Need more examples of hobbies and interests which work well on IT specialist resumes? Still not sure if you even want to add extra sections? Read our guide: 20+ Best Examples of Hobbies & Interests To Put on a Resume (5 Tips)
Certifications & Awards
Voted "funniest employee" three years in a row? Impressive! But not as relevant as:
right
CompTIA A+, CompTIA Network+, and CompTIA Security+ Certifications.
Microsoft Certified Technology Specialist.
Citrix Certified Enterprise Engineer.
VMware Certified Design Expert (VCDX).
Voted "Most Accurate Typist" 3 months in a row.
Professional certifications are proof you have the IT knowledge and skills to do the tech job right. Don't list them the right way, and you can kiss your chances goodbye: How to List Certifications on a Resume: Guide (+20 Examples)
Portfolio
Do you have samples of work that you think would help you make your case to the IT supervisor?
Perhaps you've open-sourced some code and posted it on Github?
Include a section with links, or, better yet, create an online portfolio to showcase your brand: How to Make a Personal Website That Helps You Find a Job
Languages
Know another language? That could be very helpful on an IT resume, and maybe a necessity, especially abroad or in locales where English isn't the first language. Knowing another language is like understanding more than one coding language - it can only help.
right
Advanced proficiency of French (Canadian) language.
Pro Tip: Don't add too many extra sections on your resume for IT. Add only enough extra sections to fill the rest of the current resume page - not more that it spills over onto a new one.
7
Pairing a Cover Letter for IT Resumes
So, you ask yourself: Do I need a cover letter?
How about: Do I need a job?
An IT resume without its cover letter is not ready to turn in, and here's why: 45% of recruiters say they will reject a resume without a cover letter.
That's about HALF.
So, it's obvious you need an IT resume cover letter, but what to include on the cover letter?
Here are a few tip-top tips to deliver an IT cover letter they'll just love:
Explain why this particular tech job excites you.
Drop names - name the hiring manager and company to personalize it.
Inform them why they need you for this IT job.
Mention something about the company that you relate to on a personal level.
Be witty. Be charming. Be clever. Positively grab their attention - it will mean more than the degrees and certifications you listed in your IT resume template.
Plus, a great cover letter that matches your resume will give you an advantage over other candidates. You can write your cover letter in our resume builder here. Here's what it may look like: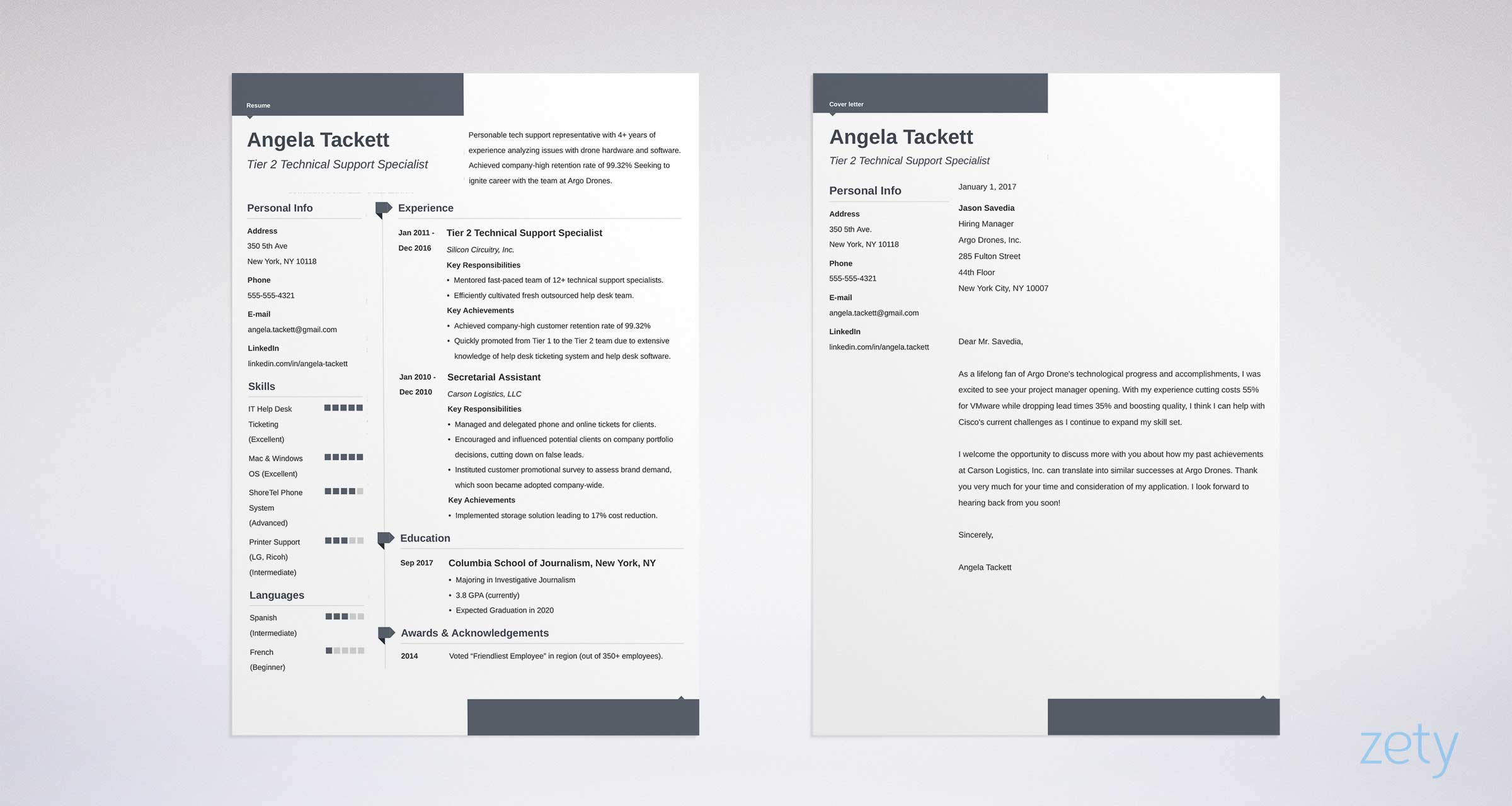 See more templates and create your resume and cover letter here.
Pro Tip: Research the tech startup online and mention something in particular that stands out to you. This is something your IT resume can't include and will really catch their eye!
There are right ways to do a cover letter for IT positions, and there are wrong ways. Read our guide and learn how to overclock your information technology cover letter: IT Cover Letter Sample and Writing Guide
Or see general cover letter writing instructions here: Cover Letter in 8 Simple Steps (Examples)
Key Takeaway
Whether you're a career IT specialist or pursuing an IT internship, if you've followed this guide, you should have a tech industry resume that's sure to get you an interview. Here's a quick recap:
Personalize, Personalize, Personalize. The startup or tech firm will be accepting applications by the dozens. Address them by name in your cover letter. Mention the company in the heading. Make yours stand out.
You want to join them, so make them need you

. You're eager to take this IT job, so be all in. Spice it up with action verbs and impressive achievements to wow them. Paint the best picture of yourself.

Double- and triple-check

. Spend an extra few minutes making sure that your

IT

resume and cover letter are up to par. Did they ask you to include a particular phrase in the email subject line? Are your email and cover letter addressed to the right manager or partner?
You now should have a great resume for IT jobs that's ready to be sent to even the most discerning hiring managers. Time to attach the final cover letter and resume to an email and send your job appliaction off.
Do you have any questions on how to write an IT resume? Not sure how to describe your skills or achievements on a resume for information technology? Give us a shout in the comments below and we will answer your question. Thanks for reading!