Does your resume feel dry, almost soulless? There's a solution to your predicament, and it's way easier than arranging a new photoshoot in your kurta for your application picture.
You can impress the hiring managers with the best summary for a resume.
Continue reading to see how a resume summary sets the right tone for your job application and works on your behalf to attract employers.
This guide will show you:
The perfect formula to write a great summary for a resume.
Reasons why adding a resume summary for a job can improve your chances of landing your dream position.
18 examples of summary for a resume to inspire you to write your own.
Want to save time and have your resume ready in 5 minutes? Try our resume builder. It's fast and easy to use. Plus, you'll get ready-made content to add with one click. See 20+ resume templates and create your resume here.
Sample resume made in our builder—See more templates and create your resume here.
What is a summary for a resume?
A summary for a resume is a short introductory paragraph that appears at the top of a resume. It presents the highlights of your career and your key qualifications for the job. A professional summary for a resume can help the candidate to stand out from other job applicants.
Why do you need a resume summary?
The answer is pretty simple. There are over 470 million working people in India. That means thousands of other applicants for any job you're interested in. The better the job, the bigger the competition.
You need all the tools available to boost your chances of landing an interview. And adding a resume summary is a straightforward and effective way to increase those chances.
Which resume profile to pick: resume summary or career objective?
You might have heard of another type of resume profile—a career objective. So, how do you know whether to write a resume summary or an objective?
It all depends on your experience:
A career objective is best for candidates who don't have much work experience.
A summary for a resume is recommended for applicants with at least a year of work experience.
However, that doesn't mean that students or less experienced candidates can't write a beginner summary for a resume. They can adapt the resume summary format by showcasing other relevant experiences, such as academic achievements, personal projects, volunteering experience, freelance work, etc. The next chapter of this guide will tell you how to do that!
Are you a fresher writing a resume for your first job? Check this guide: How to Make a Resume for Freshers
How to write a summary for a resume?
You're lucky—writing a resume summary isn't rocket science. You simply need to follow the proper steps and pick the most impressive facts about your career to create one.
Here's how to write a resume summary in 8 easy steps:
Write 3–4 sentences in the third-person narrative.
Start with a strong personal adjective to describe yourself.
Add your job title.
Follow up with years of experience, professional certification, or your area of expertise.
Continue to express your interest in the offered position and name the position you're after.
Explain what you can do to help the company achieve its goals.
Highlight a major relevant accomplishment from your previous jobs or experience.
Check for spelling and grammar.
After you finish writing your summary for a resume, read it aloud to check if it sounds good. Remember that it should be easy to read, so don't use complex grammar structures or unnecessarily long sentences. This isn't the next Bhagavad Gita; no need for poetry!
Want something even more manageable than the eight steps described above? I've got something for you.
Here's the job-winning formula for writing the perfect summary for a resume:
[adjective(s)/strong character trait(s)][your job title][your experience]. Eager/Keen to support/help/assist/etc. [company name][what you want to help the employer achieve and how you want to do it]. [your key achievement(s)].
Isn't this amazing? Just fill it in, and voilà!
Check the example of a profile summary for a resume below to understand what I'm talking about:
Sample resume summary for a job
Right
Compassionate biology teacher with 6 years of classroom experience. Member of the Association of Teachers in Biological Sciences. Enthusiastic about inspiring students at Bhichari Secondary School to learn biology through modern teaching methods, such as gamification and using technology in the classroom. Identified and helped key talents to reach the second round of the Indian National Biology Olympiad in 2020.
This teacher sounds impressive. I bet A. P. J. Abdul Kalam would shake their hand after reading their resume. But what makes this job applicant's resume summary so great? Several things:
It's short: the whole resume summary is just four sentences long.
It's easy to read: there are no complex sentences or grammar structures.
It's enthusiastic about the job offer: the candidate expressed what they'll do if they get that position.
It's impressive: the job applicant shared one of their achievements to prove their worth.
Now, let's talk about entry-level resumes. What do you write in the summary of a resume in terms of a key achievement if you don't have much experience? It's an essential part of a resume summary, after all.
Here are a bunch of ideas on what to use instead of work history in a summary for a resume with no experience:
Internships or freelance gigs if they're relevant to the job you're applying for.
Academic accomplishments including organising events, being a president of a student organisation, participating in national competitions, speaking at conferences, etc.
Personal projects, such as building a website for a family business, running social media accounts for a school team, learning software skills in your free time, or mastering any skill relevant to the job offer.
Volunteering experience, such as helping arrange fundraising events, tutoring children, designing leaflets, managing a charity project, etc. As the volunteering rate in India is growing, more opportunities arise to do charity work in communities and online.
Remember that no matter what type of experience you choose to describe, it must match the position you are applying for. You might have ten years of experience up your sleeve, but if you're applying for a job with an accounting resume and talk about loving work parties instead of showing accounting-related achievements, it won't get you far.
Have you completed your first year of work? Then you're not a fresher anymore. See more: Writing a 1-Year Experience Resume
When making a resume in our builder, drag & drop bullet points, skills, and auto-fill the boring stuff. Spell check? Check. Start building a professional resume template here for free.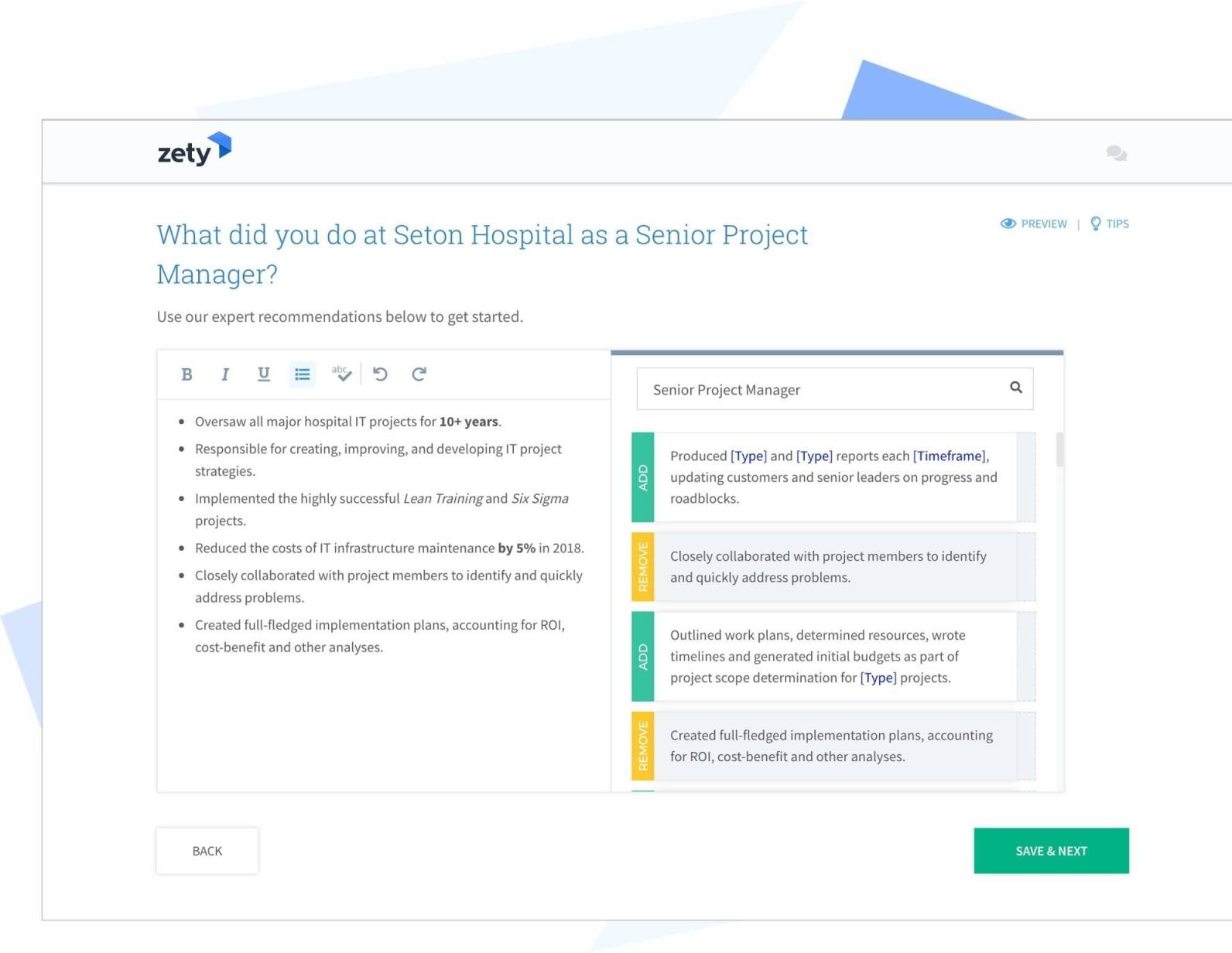 When you're done, Zety's resume builder will score your resume and tell you exactly how to make it better.
Professional summary for a resume: Examples
It can be difficult to develop a witty personal summary in a resume. That's why I've collected a bunch of resume summary examples to serve as inspiration for you. You can even mix and match!
Here's a collection of resume summary examples for multiple jobs:
Resume summary for an executive assistant
Dependable executive assistant with 6+ years of experience. Hoping to support the board at PushCats Ltd. with organisational and analytical skills. Managed to decrease travel costs at Screenify by 28% and initiated a new policy for internal assemblies to reduce unnecessary meetings and save employees' time.
Beginner summary for a resume for an IT helpdesk agent
Empathetic software engineering student with advanced knowledge of computer hardware. Keen to join XFC Printers as an IT helpdesk agent to solve customer problems promptly and efficiently. Provided technical support for over 100 campus residents from Lucknow University. Ran a computer club for Rani Senior Secondary School students in Lucknow in 2018–2019.
Resume summary example for students: Software engineering student
Motivated student working towards a B.Sc. in Software Engineering at Delhi Technological University (CGPA 8.9). Enthusiastic about joining G&Q Software as a Junior Tester to improve user satisfaction with newly developed applications by performing automated and manual testing. Detected and fixed a critical error in an e-commerce application during an internship in 2021.
Resume summary for experienced candidates: Social media manager
Conversion-oriented social media manager with 5+ years of experience in a fast-paced SaaS business. Increased Facebook engagement rate by 42%, boosted the number of Instagram followers by 84% and established a YouTube channel with 4000+ followers in 2020–2021. Identified a more accurate target customer base, which increased retention by 22%.
Accounting summary for a resume
Meticulous chartered accountant with over 6 years of professional experience. Keen to employ proven account reconciliation skills at Trading Overseas Ltd. Identified and eliminated a taxation issue that saved almost ₹3,97,81,502 in 2021.
Executive summary for a resume
Goal-oriented sales executive with 10+ years of experience, skilled in new business development and communication. Seeking to reinvent and boost BangaFinance Inc. KPIs. Increased revenue by 32% while cutting costs by 28% at Stripes&Dots Consulting in 2018–2020.
Resume summary for bank jobs
Financial analyst with over 5 years of professional experience. Seeks to leverage risk assessment and forecasting expertise for Bank of Kolkata. At K&P Finance, prevented a major loss of ₹7,95,74,700 by identifying a series of fraudulent transactions.
Resume summary for customer service jobs
Personable customer service representative with over 4 years of professional experience assisting customers in solving complex issues. Keen to support Diamonds & Pearls International in becoming a market leader through proven customer support skills. Awarded Agent of the Year in 2021. Resolved 97% of customer queries without the need for escalation.
Resume summary for software developers
Creative software developer with 6+ years of experience. Keen to join Growing Trees Coding to help develop reliable applications for e-commerce businesses. Previous accomplishments include increasing the coding efficiency of the Dolphin Factory web app by 72% and helping to boost client retention by 62%.
Resume summary for software engineers
Determined software engineer eager to use Python and Java skills to support Bangalore Shared Services in delivering programming excellence. Developed a total of 12 mobile and web apps. Collaborated on 7+ projects on GitHub and tested and debugged 15+ applications. Contributed to developing back-end code for over 20 e-commerce websites.
Marketing summary for a resume
Driven marketing consultant with 7+ years of experience. Passionate about planning marketing strategies to support the growth of new businesses. Seeks to improve brand recognition at PinkoLingo to bring new customers and increase revenue. At Taurus Learning, developed a successful digital marketing strategy that boosted sales by 48%.
HR summary for a resume
Efficient HR manager with 7+ years of experience. Eager to boost employee retention for WorkHard Inc. In 2021, managed to increase employee retention by 18% YOY, improved employee effectiveness by up to 22%, and boosted participation in internal training sessions by 36%.
Summary for a business analyst resume
Goal-oriented business analyst with an M.Sc. in Computer Science and 7+ years of professional experience. Eager to employ top-class leadership and analytical skills at Fireside Works. Increased warehouse profitability by 30% for a Fortune 500 retail company in 2020 and performed in-depth business process analyses that helped optimise costs by 23% in 2021.
Summary for a project manager resume
Experienced project manager with a background in data analysis and 5+ years of experience growing revenue for an international shipping company. Seeking to lead overseas trading projects at Goldmine Ltd. to successful completion within established deadlines and budgets. Found opportunities to save project costs by 17% by setting clear roles and delegating duties to team members in 2021.
Summary for a civil engineer resume
Detail-oriented civil engineer with 5 years of experience. Seeking to use proven project management and problem-solving skills to improve quality, cost, and time metrics for Agra Engineering. Completed 3 major city infrastructure projects on time in 2018–2021.
Receptionist summary for a resume
Well-organized receptionist with 5+ years of experience in the business and hospitality sectors. Enthusiastic about supporting Go Here Hotels with organisational and communication skills to create an unforgettable experience for business travellers. At Grand Hotel Delhi, implemented a booking system with reporting capabilities that contributed to cutting costs by up to 18%.
Sales resume summary
Effective sales representative with over 5 years of experience in pharmaceutical sales and managing key accounts. Exceeded sales goals by more than 26% each quarter. Seeking to leverage solid negotiation skills and extensive product knowledge to be the senior pharmaceutical sales rep for Stardust Pharma.
Mechanical engineer resume summary
Detail-oriented mechanical engineer with 7+ years of experience. Expert at performing static, fatigue, and fracture analyses for F-21 structural components of the main landing gear. Seeking to leverage project management skills as a senior mechanical engineer at Aircraft Technologies.
Want a reminder of how to write a resume from scratch? See here: Guide for Writing a Good Resume
A great cover letter that matches your resume will give you an advantage over other candidates. You can write it in our cover letter builder here. Here's what it may look like: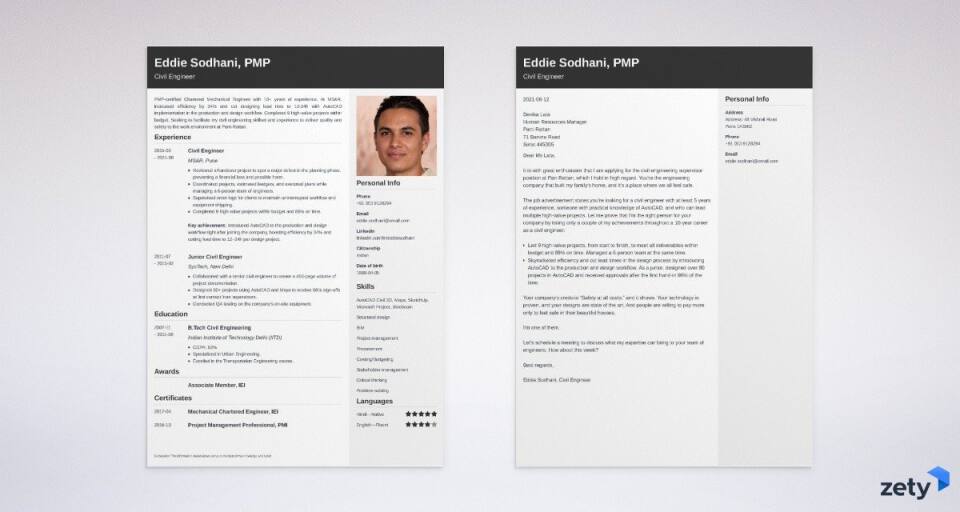 See more cover letter templates and start writing.
Key takeaway
Need a quick reminder of the principles for writing a great summary for a resume? Here it goes!
Here's how to write a resume summary:
Start with a strong personality trait.
Add your job title and years of experience.
Show your interest in the advertised position.
Explain how you can help the company achieve its goals.
Show off a relevant accomplishment from your career.
And that's it!
Thank you for taking the time to read my article. Now, feel free to share your thoughts:
Do you find writing a resume summary easy or difficult?
Do you always add a profile summary to your resume?
What's the perfect resume summary, in your opinion?
Let me know in the comments below!