You might be one of the very few people who are not afraid of numbers and data. You don't run away screaming from graphs and bar charts. And you might actually understand pivot tables in Excel.
But there's still something that scares you.
And that's your resume. It's old and outdated. It doesn't include essential data. And the visual presentation… Just forget about it.
But don't worry—there are simple algorithms for resume writing. It's time to write a data analyst resume that gets the jobs you want.
This guide will show you:
A data analyst resume example better than 9 out of 10 other resumes.
How to write a data analyst resume that will land you more interviews.
Tips and examples of how to put skills and achievements on a data analyst resume.
How to describe your experience on a resume for a data analyst to get any job you want.
Want to save time and have your resume ready in 5 minutes? Try our resume builder. It's fast and easy to use. Plus, you'll get ready-made content to add with one click. See 20+ resume templates and create your resume here.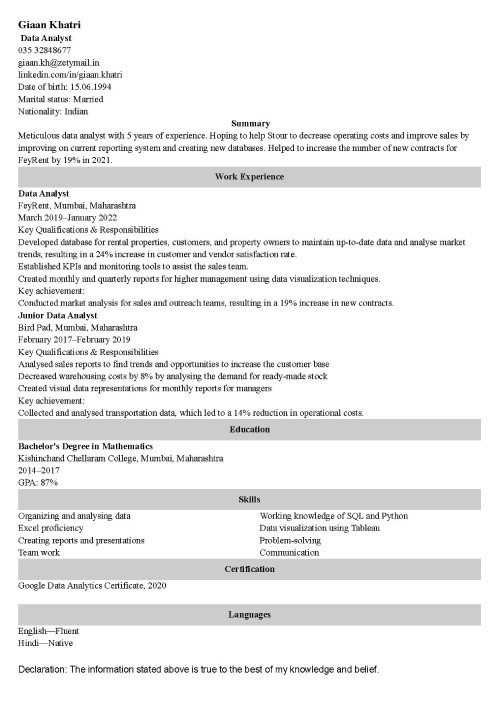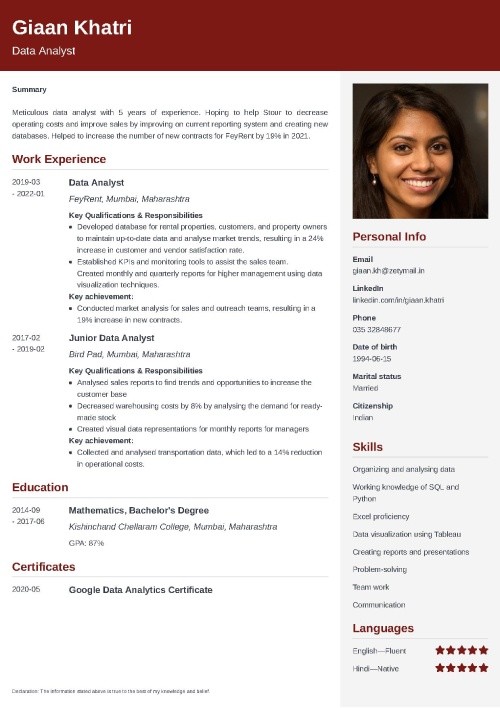 Sample resume made with our builder—See more resume examples here.
Sample Resume: Data Analyst
Giaan Khatri
Data Analyst
035 32848677
giaan.kh@zetymail.in
linkedin.com/in/giaan.khatri
Date of birth: 15.06.1994
Marital status: Married
Nationality: Indian
Summary
Meticulous data analyst with 5 years of experience. Hoping to help Stour to decrease operating costs and improve sales by improving on current reporting system and creating new databases. Helped to increase the number of new contracts for FeyRent by 19% in 2021.
Work Experience
Data Analyst
FeyRent, Mumbai, Maharashtra
March 2019–January 2022
Key Qualifications & Responsibilities
Developed database for rental properties, customers, and property owners to maintain up-to-date data and analyse market trends, resulting in a 24% increase in customer and vendor satisfaction rate.
Established KPIs and monitoring tools to assist the sales team.
Created monthly and quarterly reports for higher management using data visualization techniques.
Key achievement:
Conducted market analysis for sales and outreach teams, resulting in a 19% increase in new contracts.
Junior Data Analyst
Bird Pad, Mumbai, Maharashtra
February 2017–February 2019
Key Qualifications & Responsibilities
Analysed sales reports to find trends and opportunities to increase the customer base
Decreased warehousing costs by 8% by analysing the demand for ready-made stock
Created visual data representations for monthly reports for managers
Key achievement:
Collected and analysed transportation data, which led to a 14% reduction in operational costs.
Education
Bachelor's Degree in Mathematics
Kishinchand Chellaram College, Mumbai, Maharashtra
2014–2017
GPA: 87%
Skills
Organizing and analysing data
Working knowledge of SQL and Python
Excel proficiency
Data visualization using Tableau
Creating reports and presentations
Problem-solving
Team work
Communication
Certification
Google Data Analytics Certificate, 2020
Languages
English—Fluent
Hindi—Native
Declaration: The information stated above is true to the best of my knowledge and belief.
This guide explains how to write a perfect data analyst resume:
1. Follow the Best Format for Data Analyst Resume
Data analysts maintain, gather, and evaluate information stored by companies to help solve business problems and make strategic decisions. The point of writing a great data analyst resume is to show you've got all the skills and knowledge needed to aggregate and process all types of data.
Formatting a resume for data analysts is as important as visualizing information. It makes everything much easier to read and interpret.
To make sure your resume for a data analyst is easy to read, follow these foolproof rules:
Add your contact information at the top—remember about your phone number and email address, so the recruiter can contact you easily
Use the reverse-chronological layout to describe your work experience
Mention education and the key skills that match the job description
Choose easy-to-read resume fonts—Arial, Calibri, Verdana, or Helvetica are the best
Keep the text readable with proper font size: 11–12 for the content and 13–14 for headings
Include white space with even 1-inch margins and 1–1.15 line spacing
Save the data analyst resume in PDF format
That's not rocket science, right? Now with these bits of info on how to write a resume, let's start formulating your data analyst resume together.
Want to make sure your data analyst resume looks professional? Go for ready-made solutions: 20 Free Resume Templates to Download
2. Add a Resume Objective or Resume Summary
It's time to present yourself with a resume summary or resume objective—a short paragraph that explains why you're the best data analyst out there. Highlight your achievements and show what you can bring to the table.
Write a resume summary if you own 2+ years of relevant experience:
Charm the reader with your best accomplishments.
Throw in 3 or 4 data analyst skills that match the keywords of the job posting.
Write a resume objective if you've recently graduated, or you're changing careers:
Show how your knowledge can make you a great fit for the position.
Mention how your academic or previous work experience can assist you.
For more information about writing a data analyst resume for freshers, check this helpful guide: Resume for Freshers: How to Write, Guide & Examples
3. Present Your Work Experience in a Resume for a Data Analyst
The work experience resume section is the key element of your data analyst resume. Many recruiters stop reading after this part. Catch their attention in this way:
Place the most recent work first, and follow in reverse-chronological order
List your job titles, company names, dates, and up to 4-6 bullet points describing your tasks
Include only the most impressive achievements
Use an action word for each bullet point
Mention numbers, statistics, percentages—anything that proves your accomplishments
Match your resume's work experience part with the job offer
Pro Tip: When writing an entry-level data analyst resume, think of internships, freelance work, or past jobs that included fitting experiences. For example, customer service work often requires working with customer databases, filtering information, or identifying missing data. Mentioning this in your data analyst fresher resume gives you an advantage over candidates who have zero work experience.
4. Add Your Education to Your Data Analyst Resume
You don't need a Master's Degree in Big Data Science to be a successful data analyst—but still, make sure your education is listed in your data analyst resume. Here's how you can do it:
Got 5+ years of work experience? List only the school name and location, years of study, degree, major, and minors.
Not much experience? Spice up that education resume section with academic achievements and mention relevant coursework.
Pro Tip: Bishwarup Bhattacharjee, one of the top 10 data scientists from India, started out with a bachelor's degree in statistics. How did he do that? By learning programming languages in his spare time. There are many roads that lead to a career in data analysis.
When making a resume in our builder, drag & drop bullet points, skills, and auto-fill the boring stuff. Spell check? Check. Start building a professional resume template here for free.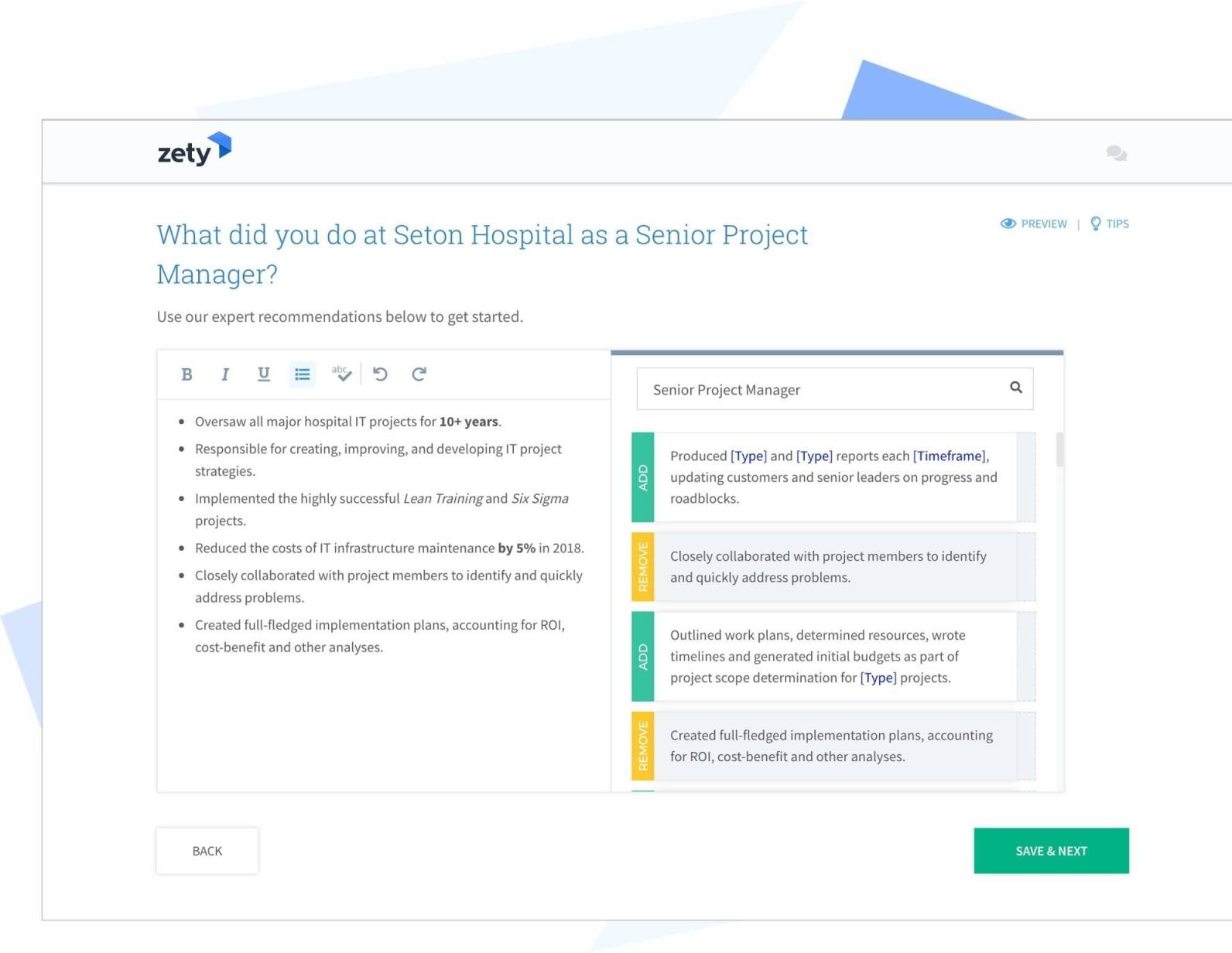 When you're done, Zety's resume builder will score your resume and tell you exactly how to make it better.
5. Make a List of Data Analyst Skills
Don't put a skill for every letter of the alphabet—be selective:
First, think of all the expert skills you've got, including soft and hard skills, technical and computer skills, and any other skills.
Then, choose the skills that match the job posting and list them in your data analyst resume.
Here's an example to get you started:
Data Analyst Skills (Resume)
Data collection
Data visualization
Machine learning
Business analysis
Communication
Presentation
SQL
Excel
Computer skills can boost your career. If you need more info about valuable digital skills, check this article: Computer Skills & Software List for a Resume
6. Put Other Sections at the End of Your Data Analyst Resume
Show how unique you are by adding a few extra pieces of information to your resume.
Mention language proficiency—with many international companies hiring in India, it's important to show you know English as well as any other language.
List matching certificates, such as Data Analysis with Python.
Add side projects, memberships, interests, volunteer work, or anything else that fits.
Stun the recruiter with your passion—prove the job is a significant part of your life.
Pro Tip: Kaggle is an online data science community that offers machine learning competitions, cloud-based team projects, and self-study opportunities. Becoming a Kaggle Grandmaster opens unbeatable job opportunities in the data analysis field.
7. Write a Cover Letter for Your Data Analyst Application
Yep. There's one more thing you must write. A cover letter. Think of it as a neat report summary that explains why the board should listen to your analysis instead of thinking about their lunch breaks.
Just follow these steps to write your data analyst cover letter:
Go for an easy-to-read cover letter format.
Start the cover letter with an attention-grabbing claim.
Prove your work experience can benefit them.
Finish your cover letter with a tempting offer and a call to action.
And voila!
For a more detailed guide on cover letters, check here: How to Write a Cover Letter for Job Applications
A great cover letter that matches your resume will give you an advantage over other candidates. You can write it in our cover letter builder here. Here's what it may look like: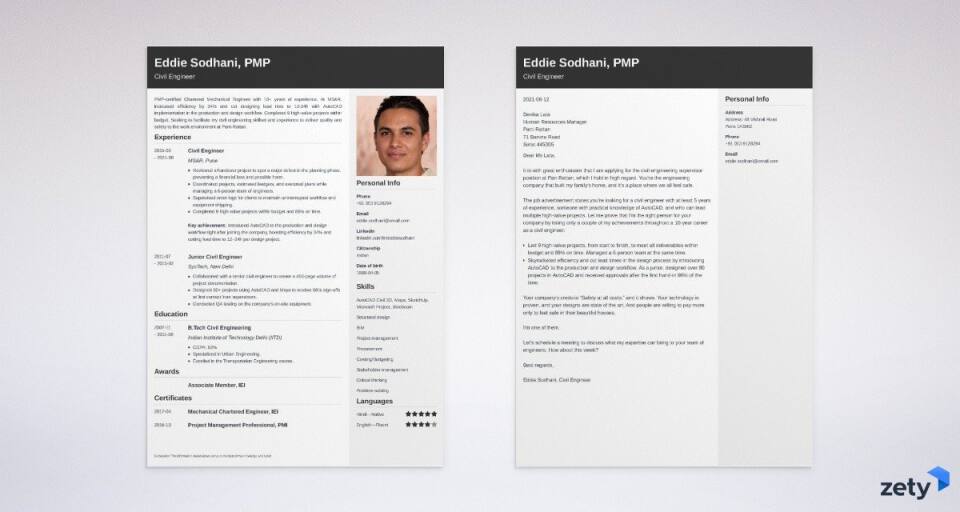 See more cover letter templates and start writing.
Aaand it's done! Your perfect data analyst resume is ready to win jobs for you.
Maybe you've got some great tips for writing a professional data analyst resume? Let us know in the comments!