The full form of the word 'CV' is curriculum vitae which means "course of life." The good news is, it doesn't mean you have to describe your whole life from birth to now when applying for a job.
The bad news? Depending on the country you live in, the word can mean different things. This guide will help you avoid the confusion.
It will also show you:
What a CV is.
Is a resume and CV the same thing
What to write in the body of your CV.
Want to save time and have your CV ready in 5 minutes? Try our CV builder. It's fast and easy to use. Plus, you'll get ready-made content to add with one click. See 20+ CV templates and create your CV here.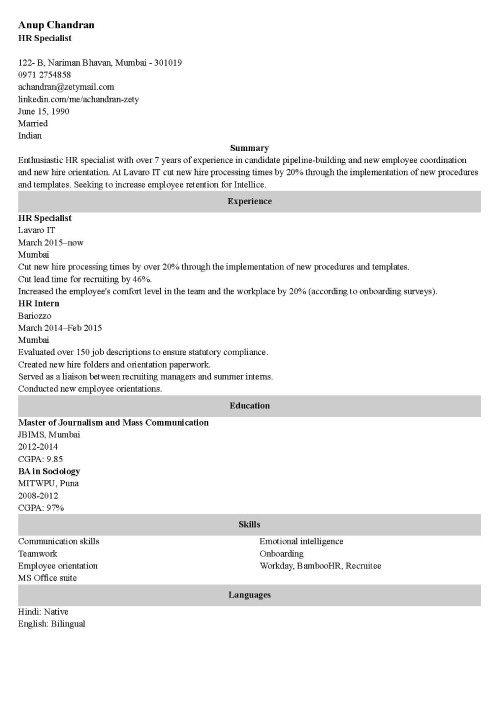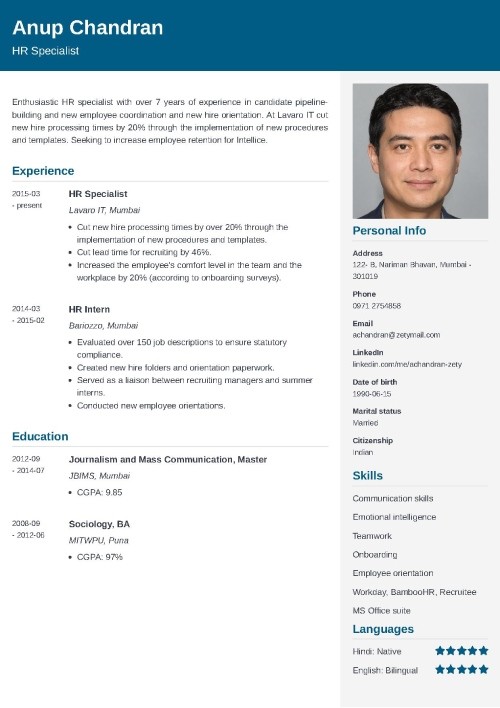 Sample CV made with our builder—See more templates and create your CV here.
What is a CV: Example
Anup Chandran
HR Specialist


122- B, Nariman Bhavan, Mumbai - 301019
0971 2754858
achandran@zetymail.com
linkedin.com/me/achandran-zety
June 15, 1990
Married
Indian
Summary
Enthusiastic HR specialist with over 7 years of experience in candidate pipeline-building and new employee coordination and new hire orientation. At Lavaro IT cut new hire processing times by 20% through the implementation of new procedures and templates. Seeking to increase employee retention for Intellice.
Experience
HR Specialist
Lavaro IT
March 2015–now
Mumbai
Cut new hire processing times by over 20% through the implementation of new procedures and templates.
Cut lead time for recruiting by 46%.
Increased the employee's comfort level in the team and the workplace by 20% (according to onboarding surveys).
HR Intern
Bariozzo
March 2014–Feb 2015
Mumbai
Evaluated over 150 job descriptions to ensure statutory compliance.
Created new hire folders and orientation paperwork.
Served as a liaison between recruiting managers and summer interns.
Conducted new employee orientations.
Education
Master of Journalism and Mass Communication
JBIMS, Mumbai
2012–2014
CGPA: 9.85
BA in Sociology
MITWPU, Puna
2008–2012
CGPA: 97%
Skills
Communication skills
Emotional intelligence
Teamwork
Onboarding
Employee orientation
Workday, BambooHR, Recruitee
MS Office suite
Languages
Hindi: Native
English: Bilingual
1. What is a CV?
CV stands for curriculum vitae which means "course of life" in Latin. It's a document detailing your academic and employment history. A CV presents your work experience, skills, achievements, awards, publications, coursework and research projects, and is usually used to apply for jobs in academia.
As you can see, the list of things to include in a CV is rather long, and that's why the average length of a CV exceeds two pages (unlike a resume, which is typically one-page long).
2. What Is the Meaning of 'CV' in Europe and Elsewhere?
In the United States, Canada and most of Europe, resumes and CVs are not interchangeable.
In the US and Canada a CV is used when searching for an academic or research position. When applying for regular positions, Americans and Canadians send a resume. A resume is a one-page document outlining your qualifications which are suitable for the job. It comes from the French word résumé which means 'summary'.
The situation looks different in Europe and New Zealand, though. In these regions, the word 'CV' is synonymous with the word 'resume'. So when applying for a job in the UK or Ireland, for example, you'll be asked to submit a CV, but what they'd need from you is a short overview of your professional skills, achievements, and work experience.
In other anglophone countries, such as India, South Africa and Australia, both terms CV and resume are used interchangeably to refer to a document similar to a resume.
When making a CV in our builder, drag & drop bullet points, skills, and auto-fill the boring stuff. Spell check? Check. Start building a professional CV template here for free.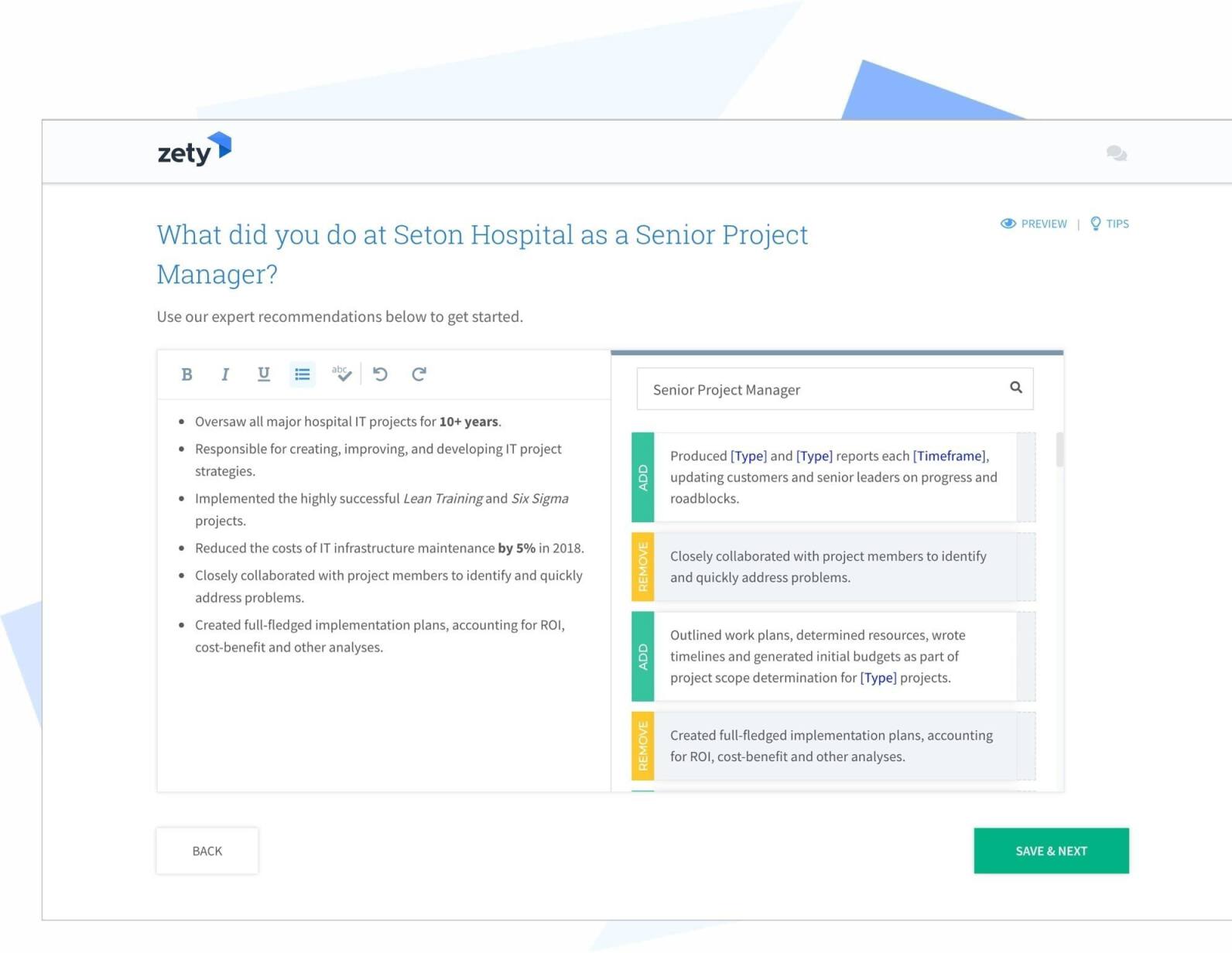 When you're done, Zety's CV maker will score your resume and tell you exactly how to make it better.
3. What to Include in a CV
A CV typically consists of the following sections:
Contact information
Research objective or personal profile
Education
Employment history
Qualifications and skills
Publications
Awards and honours
Grants and fellowships
Conferences
Research experience
Professional associations
Licences and certificates
Volunteer work
References
Hobbies and interests (optionally)
When formatting your CV, set up 1-inch margins all the way around the page and 1 to 1.15 line spacing. Choose an elegant font in 11 to 12pt. And… you're done!
A great cover letter that matches your CV will give you an advantage over other candidates. You can write it in our cover letter builder here. Here's what it may look like: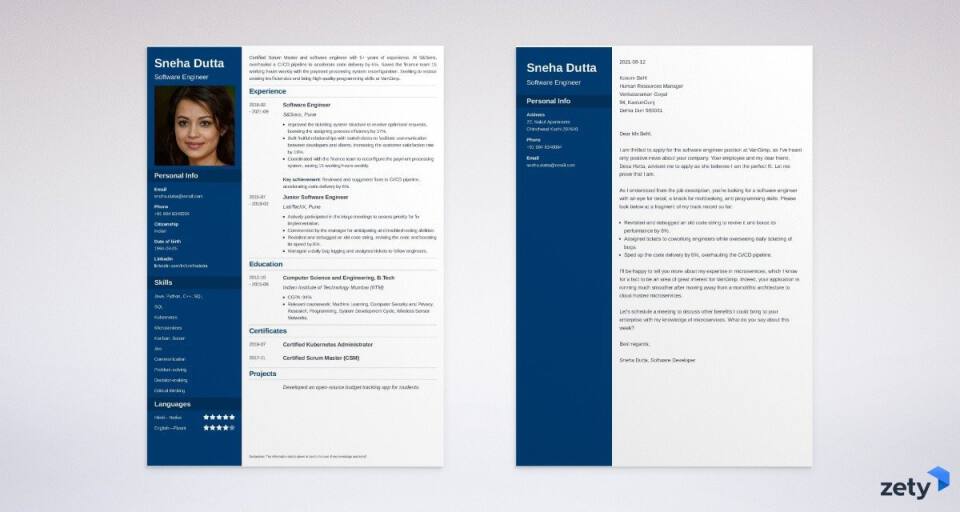 See more cover letter templates and start writing.
Thanks for reading! Do you have any other questions about what a CV is? Give us a shout-out in the comments below!