You're here—
That means you're aware that your CV format is important. Good on you!
It's true: whether the hiring manger for your dream job will actually read your CV often depends on whether it looks clear, organised, and easy to navigate.
And today, you'll learn exactly how to make sure that your CV format meets all of those requirements, and then some!
Here's what you'll find in this guide:
Want to save time and have your CV ready in 5 minutes? Try our CV builder. It's fast and easy to use. Plus, you'll get ready-made content to add with one click. See 20+ CV templates and create your CV here.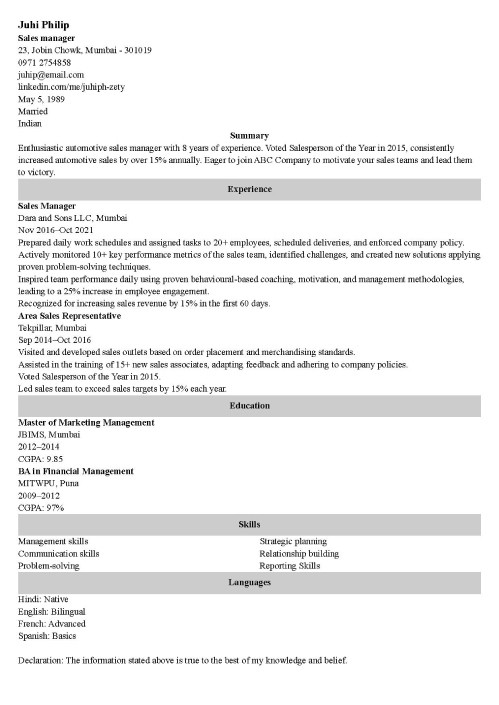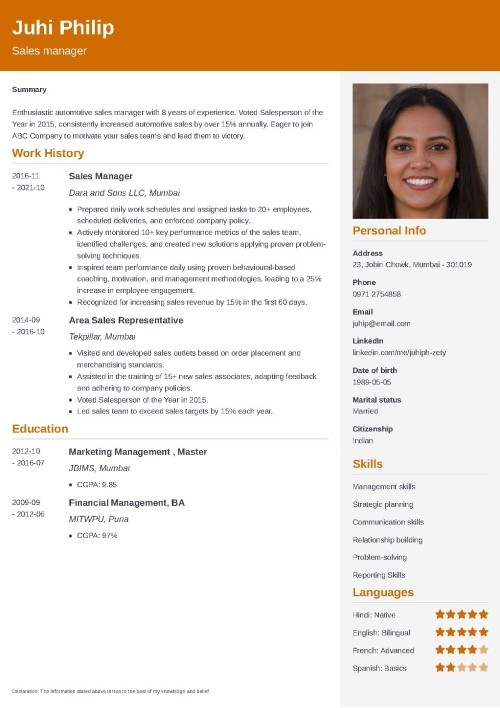 Sample CV made with our builder—See more templates and create your CV here.
Sample CV Writing Format
Juhi Philip
Sales manager


23, Jobin Chowk, Mumbai - 301019
0971 2754858
juhip@email.com
linkedin.com/me/juhiph-zety
May 5, 1989
Married
Indian
Summary
Enthusiastic automotive sales manager with 8 years of experience. Voted Salesperson of the Year in 2015, consistently increased automotive sales by over 15% annually. Eager to join ABC Company to motivate your sales teams and lead them to victory.
Experience
Sales Manager
Dara and Sons LLC, Mumbai
Nov 2016–Oct 2021
Prepared daily work schedules and assigned tasks to 20+ employees, scheduled deliveries, and enforced company policy.
Actively monitored 10+ key performance metrics of the sales team, identified challenges, and created new solutions applying proven problem-solving techniques.
Inspired team performance daily using proven behavioural-based coaching, motivation, and management methodologies, leading to a 25% increase in employee engagement.
Recognized for increasing sales revenue by 15% in the first 60 days.
Area Sales Representative
Tekpillar, Mumbai
Sep 2014–Oct 2016
Visited and developed sales outlets based on order placement and merchandising standards.
Assisted in the training of 15+ new sales associates, adapting feedback and adhering to company policies.
Voted Salesperson of the Year in 2015.
Led sales team to exceed sales targets by 15% each year.
Education
Master of Marketing Management
JBIMS, Mumbai
2012–2014
CGPA: 9.85
BA in Financial Management
MITWPU, Puna
2009–2012
CGPA: 97%
Skills
Management skills
Strategic planning
Communication skills
Relationship building
Problem-solving
Reporting Skills
Languages
Hindi: Native
English: Bilingual
French: Advanced
Spanish: Basics
Declaration: The information stated above is true to the best of my knowledge and belief.
1. Job CV Format: Sections to Include
Let's start with the basics.
Here's the correct order of CV sections used in a professional CV format:
Contact information
Personal profile (or research objective for academic CVs)
Employment history
Education
Qualifications and skills
Publications
Awards and honours
Grants and fellowships
Conferences
Research experience
Professional associations
Licences and certificates
Volunteer work
References
Hobbies and interests (optionally)
Of course, your CV may not include all of these, depending on your profession and circumstances. Sections 1 to 5 are obligatory, 6 to 15 are only included if you have relevant information to share. After all, not everyone has won awards or spoken at conferences!
Now, let's explore the key CV sections, step by step:
1. Contact Information
This one should be easy, right? You know to include your email and phone number…
But what about other things, like your address or social media?
Let's clear things up, once and for all.
Here's what you can add to this section:
Full name (Required)
Professional title (Recommended)
Email address (Required)
Phone number (Required)
LinkedIn profile (Optional)
Home address (Optional)
Date of birth (Optional for CV Format in India)
Nationality/ Citizenship (Optional for CV Format in India)
Marital Status (Optional for CV Format in India)
Gender (Not Recommended)
Pro tip: For International or European CVs, do not add your date of birth, nationality, marital status, or gender. This information is optional to add for the Indian CV format, but not used elsewhere in the English-speaking world.
2. Personal Statement (Summary or Objective)
A CV personal statement is a brief (100 words tops) introduction of yourself. It's the snappy paragraph at the top of your CV that provides an overview of your qualifications and skills. It works as a "trailer" for the rest of your CV.
The ideal personal statement includes keywords relevant to the job offer and explains why you're the perfect candidate.
Now, there are two types of personal statements: a CV summary and a CV objective.
If you have a few years of relevant experience, go for a CV summary. Pick the most impressive bits of your CV and your best professional achievements and compile them into a 3 to 5-sentence paragraph.
Are you a fresher with not much experience? Write your personal statement as a CV objective: summarise what skills you've mastered so far and how they will comes in handy for the position.
No matter which one works best for you, rather than put all your focus on what you want out of the job, emphasise what you can offer the employer. For instance:
RIGHT
Dependable licensed Registered Nurse trained to work in high-stress environments and always able to stay calm under pressure. Seeking to leverage meticulous record-keeping and analytical skills to help Fortis Hospital Mulund overcome upcoming challenges.
3. Professional Experience
This is where you describe your relevant work experience. Here's how to do it:
Start with your most recent job (it can be your current job).
Below, list your previous jobs chronologically descending.
List: your job title, the name of the company, dates worked.
For each job position, add up to 5 bullet points explaining your responsibilities and achievements.
Quantify whenever possible. Numbers make all the difference!
Here's an example:
RIGHT
Sales Manager
Dara and Sons LLC, Mumbai
Nov 2016–Oct 2021
Prepared daily work schedules and assigned tasks to 20+ employees, scheduled deliveries, and enforced company policy.
Actively monitored 10+ key performance metrics of the sales team, identified challenges, and created new solutions applying proven problem-solving techniques.
Inspired team performance daily using proven behavioural-based coaching, motivation, and management methodologies, leading to a 25% increase in employee engagement.
Recognized for increasing sales revenue by 15% in the first 60 days.
4. Academic History
Format your CV education section the following way:
Degree
Institution name
Graduation year (if you're still studying, enter your expected graduation date)
Sub-honours (if applicable)
If you have university education, limit your CV education section to just that. Mention your high school only if it's your highest level of education, or if you're still studying at university to get your first degree.
Pro tip: If you don't have relevant experience, place your education section above your experience section. Focus on your education and mention the coursework you've completed, as well as academic achievements and extracurriculars.
5. Skills
Although it wasn't always this way, the latest CV format features a list of relevant skills that you bring to the table.
But you have lots of skills, and only room enough for about 10! So, how do you choose the best ones?
Here's the quickest way to pick skills for your CV:
Start with a list of all the professional skills you've developed.
Read the job ad carefully and look for skill-related keywords.
Those skills from your list that match the job description go on your CV.
As a final skills-related tip:
Don't just list your skills in a separate skills section, mention them in your CV personal statement and work history sections, too. This helps to make your CV believable.
6. Additional Sections
Can you think of any activities you've participated in that are relevant to the job offer, but don't fit into any of the above CV format sections?
If so, include this information in the form of separate sections, each with its own heading.
Some of the additional CV format sections that you may want to add include:
Publications
Awards and honours
Grants and fellowships
Conferences
Research experience
Professional associations
Licences and certificates
Volunteer work
References
Hobbies and interests
Whatever you decide on, just make sure that it actually helps your chances in some way. You may be proud of the paper about patterns in summer bird migration you published at university, but it won't be relevant to a job application for a role in marketing.
Okay, so—
You know what sections to include in your CV format. But are you 100% sure how to organise your document? Let's double-check:
2. How to Format a CV? Best CV Format
You want the recruiter to read your CV, right? So, let's make the task as easy for them as possible—
Here's how to format your CV document:
Set one-inch margins on all sides.
Use 1.0 or 1.15 line spacing.
Pick an appropriate, readable font for a CV and stick to it in the whole document.
Create a professional CV header format for your contact details.
Divide your CV into legible sections: Contact Information, Personal Statement, Experience, Education, Skills, and any extra sections you want to add.
Make section headings slightly larger than the rest of the contents. This will make your CV easier to skim-read.
Leave enough white space in your CV by adding a blank line before and after each heading.
Save your CV in PDF to keep your formatting intact.
See? You now have an eye-catching CV that's sure to attract the hiring manager's attention. Recruiters will appreciate your well-organized layout, and it'll give you a good chance of passing the Applicant Tracking Software (ATS) CV scan.
And trust me—today, ATS matters a lot. According to a worldwide report on recruiting automation trends, 71%of recruiters said they need intelligent tools, and 55% consider their ATS to be an important source of hire.
Each ATS software is slightly different, but a clear layout with larger headings and relevant keywords will always help your CV pass the initial scan.
When making a CV in our builder, drag & drop bullet points, skills, and auto-fill the boring stuff. Spell check? Check. Start building a professional CV template here for free.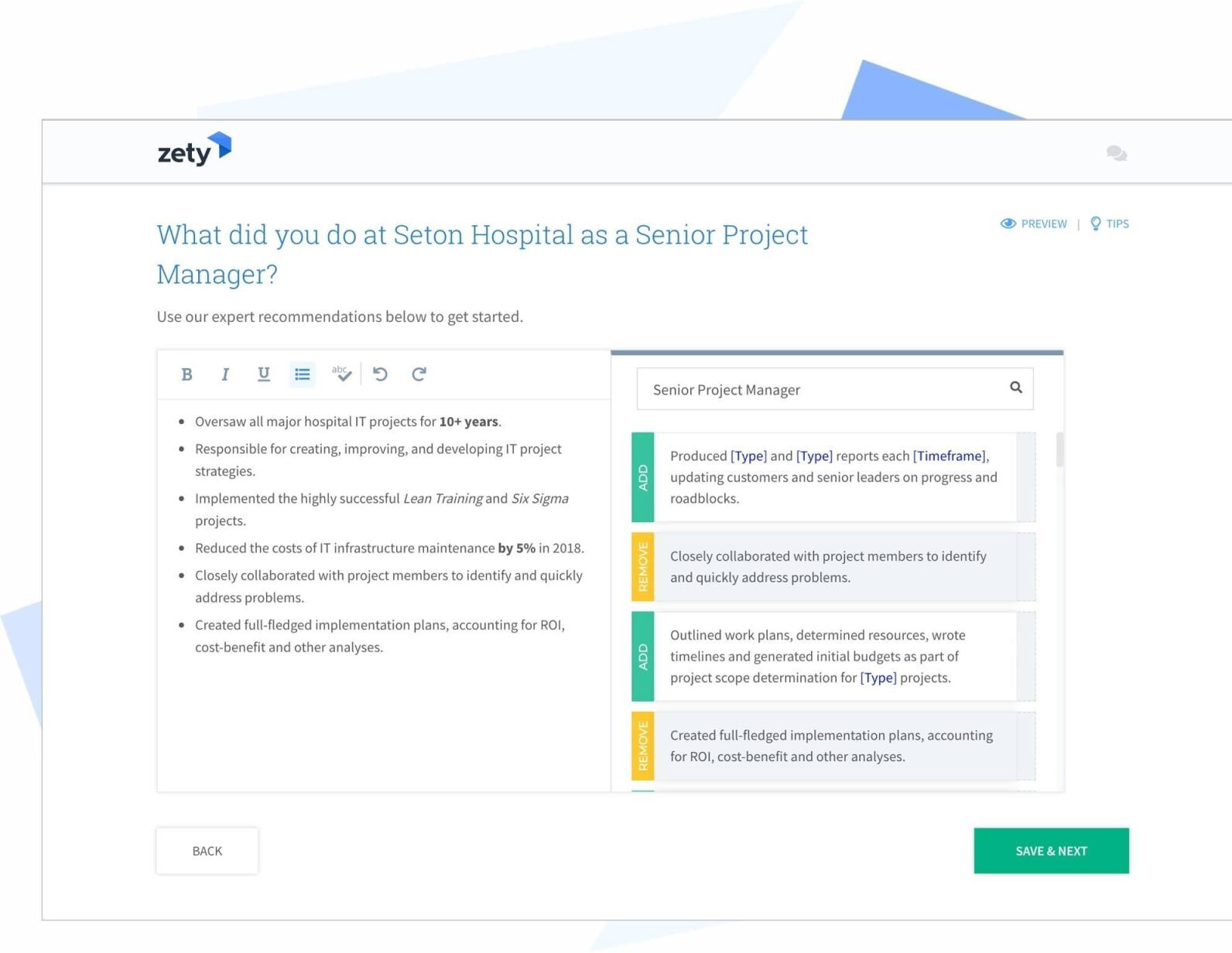 When you're done, Zety's CV maker will score your resume and tell you exactly how to make it better.
3. Well-Formatted CVs to Make on Your Own
I know.
All the information above might seem difficult to digest (and even more difficult to put into practice). It's something common happening to all of us—the moment we start working on a CV, our word-processing tools turn into torture devices. Nothing looks the way you expect it, random segments of text appear in the next line, and keeping a uniform design seems—let's just say it—impossible.
Don't worry!
I have good news. Our builder takes care of every aspect of your CV format. You just need to add the contents and our CV creator will take care of the rest.
Here you can have a look at some of the best CV formats available in our builder. Choose the one that fits your needs and have your perfec CV ready in minutes.
1. Nanica
If you agree that simplicity is the ultimate form of sophistication, then the "Nanica" CV format will be the right choice for you. It's a basic CV design utilising lots of white space, which gives recruiters some breathing room as they review your CV.
2. Primo
Another simple and clean CV format. The timeline on the left makes your work and education history easy to navigate. The skills column on the right helps squeeze more information onto a one-page CV. On the other hand, thanks to the initials in the header, you get a nice piece of personal branding. This one will certainly stick with recruiters!
3. Cubic
We believe this one is the proudest pieces of CV art we've created so far. Cubic has everything that makes your CV a perfect CV: a nice-looking header for your name and job title, a shaded side column for adding more information such as skills and languages, and an elegant main area for the required sections: experience and education. As one of the most creative designs in our offer, Cubic will work great for candidates applying for jobs with modern companies.
4. Diamond
Diamond is the top pick for Zety's users who work in business and finance. This CV format uses bold, dark elements to make a strong visual impression, but it's still a traditional and elegant design. You can stick with black-on-white or play around with colours for a more relaxed/modern look.
5. Newcast
Newcast is a great CV format for candidates across all professions and levels of experience. Basic and traditional on the one hand, in line with modern, minimalistic design trends on the other.
4. What's Best In 2023: Skills-Based CV or a Classic Chronological CV?
There's one more aspect to CV formats that we haven't covered yet—
Alternative CV structures, or layouts.
So far, we've focused on what's known as the chronological (or reverse-chronological) CV.
It's by far the most popular and universal choice, but in some cases, candidates may want to consider taking an alternative route:
And that's the skills-based (or functional) CV format. As the name implies, it focuses on the candidate's skills rather than work experience.
This CV format is usually used by freshers in creative industries who may have done a lot of small freelancing projects, by career changers, or by senior professionals who don't want to seem overqualified.
Here's what goes into a skills-based CV format:
Skills-Based CV Format Structure
Contact Information
CV Objective
Skills Summary
Work Experience
Education
Additional Skills
Not sure you know what a skills-based CV would look like? We've created a sample for you in our CV generator:
Skills-based / Combination CV Format Example
"Skill CV sample mockup"
As expected, the central part of the skills-based CV format is the skills summary. Work experience and education sections are limited to lists of former employers and academic institutions, respectively.
Although this might seem incredibly tempting to freshers or candidates with gaps in their employment history, a functional CV format can be a risky choice.
Wondering why?
Well, over the years, the skills-based CV format has acquired a bad reputation. Candidates would misuse it to hide their complete lack of experience or employment gaps. As a result, this CV format has become something of a red flag. To some recruiters, a skills-based CV screams "I'm trying to hide something."
Another issue here is that considering the specific layout of functional CVs, ATS might not be able to scan them the way you wish.
If you still think creating a skills-based CV might be right for you, see the table below for a detailed comparison of the reverse chronological CV and the functional CV formats.
| | | |
| --- | --- | --- |
| | Reverse-Chronological CV | Skills-Based CV |
| Main focus | Work history and education | Skills |
| Work history section | At the top | At the bottom |
| Skills section | At the bottom | At the top |
| Layout | Professional and traditional | Non-conventional and creative |
| Main advantage | Easy to read, universal | Emphasizes skills |
| Main disadvantage | Very common might require tweaking | Suggests you're trying to conceal something |
| Good choice for | Virtually all candidates | Creative industries, Career changers |
| Bad choice for | Career changers | Experienced professionals |
5. Ready-to-Use Professional CV Format Layouts and Templates
Choosing the proper format for your CV is a matter of featuring your biggest professional strengths as well as following the rules of HR etiquette. Yet, this doesn't mean you can't show your individuality (to a certain degree) with your Curriculum Vitae format.
Below, you'll see some CV format and design ideas available in our CV maker.
Professional CV Format
We decided to call this CV format "Crisp," because crisp it is indeed. The side column on the left is for your personal information and skills, allowing you to save space. Plus, big section headings draw recruiters' eyes to what's important.
Pro-tip: This CV format is universal: it will work well for candidates in traditional, conservative fields, as well as those applying to companies with a more relaxed or casual culture.
Simple CV Format
A simple CV format that makes all the key information visible at first glance. Tons of white space will make this one easier on recruiters' eyes (and they'll thank you for it). We recommend the Minimo CV design for everyone applying for traditional, corporate jobs.
Modern Curriculum Vitae Format
This CV format gives you the chance to add more details to your CV as it has a dedicated column for the skills section. Partitioning sections with lines and noticeable headers helps hiring managers see all that matters to them in one look.
A great cover letter that matches your CV will give you an advantage over other candidates. You can write it in our cover letter builder here. Here's what it may look like: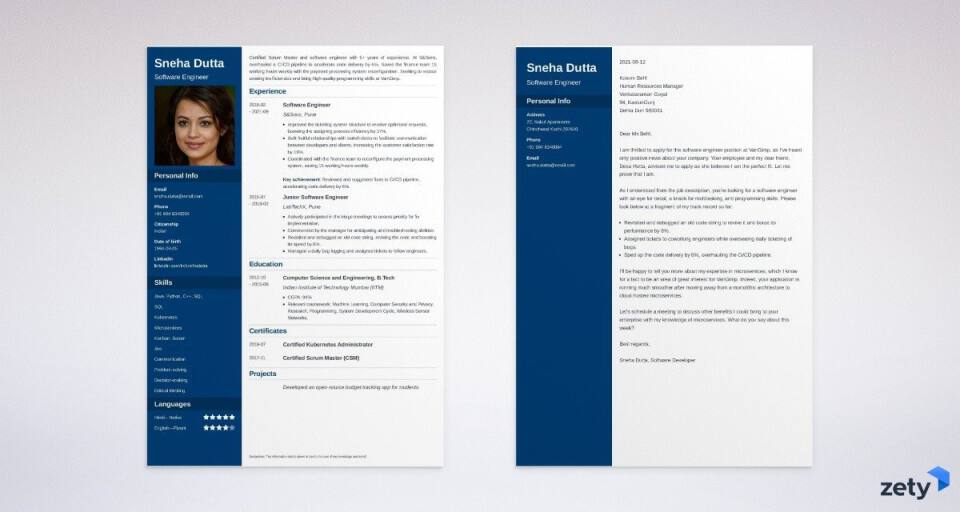 See more cover letter templates and start writing.
Key Takeaway
Here are the most important points you need to know about formatting a CV:
Use an elegant and easy to read template for your CV: choose a professional font, big section headings, and enough white space.
Divide your CV into the following sections: Contact Information, Personal Statement, Work Experience, Education, Skills, Extra Sections.
If you're a fresher or someone changing careers, you might consider writing a skills-based CV.
Match the design of your CV with the culture of the organization you're applying to.
Questions that we haven't covered? Concerns? Other queries about CV formats for job applications? Great! I'm here to listen and respond. Drop me a line in the comments and I'll get back to you straight away.