Imagine this—
You've just found a job offer that you've been dreaming of. It matches your background perfectly. The salary looks great. And the benefits… It's more than you could ever expect. So, of course, you apply.
But wait a second. Is your resume up to date? Uh-oh. It doesn't even follow any professional resume formats. Don't rush it. Learn about the best resume format to get the job you want and do the work you should've done.
This guide will show you:
The best resume formats that fit any job you want.
Examples of each resume format that you can tailor for your own use.
Tips on how to make sure your professional resume format gets spotted by recruiters.
Want to save time and have your resume ready in 5 minutes? Try our resume builder. It's fast and easy to use. Plus, you'll get ready-made content to add with one click. See 20+ resume templates and create your resume here.
Sample resume made in our builder—See more templates and create your resume here.
The Best Resume Formats for Jobs
You don't need the literary skills of Khushwant Singh to write a successful resume. What you simply need to do is follow a professional resume format.
Need a reminder of the best resume formats out there? Don't worry. We've got you covered!
These are the three best formats of resumes for job applications:
Reverse-Chronological Resume Format
The reverse-chronological resume format is the most popular type of resume. It lists the candidate's work history from the most recent position to the oldest one. This simple resume format focuses on work experience and highlights the progression of the candidate's career.
Plus, it's beloved by recruiters. Why? Because it gives a clear picture of the candidate's work history. And many recruiters make their judgement based on this section.
Let's have a look at a standard reverse-chronological resume:
Reverse-Chronological Resume Format: Sample
Lakshmi Desai
Science Teacher
+91 52 15481094
lakshmi.desai@zetymail.in
linkedin.com/in/lakshmi.desai9
Marital status: Married
Date of birth: 19.02.1992
Nationality: Indian
Summary
Personable Science Teacher specialising in secondary education. Keen to improve students' grades from Raja Secondary School by sparking their interest in science subjects through engaging, real-life activities that use cross-curricular teaching and blended learning methodology. Retained 98% of students while boosting their average grades by 23% over two terms in 2020.
Work Experience
Science Teacher
Patholi Secondary School, Agra, Uttar Pradesh
March 2018–present
Implemented cross-curricular teaching strategies and gamification techniques that helped to improve students' attendance by 54%.
Provided additional support for students with learning difficulties via one-on-one tutoring.
Led training sessions for other teachers about online teaching and useful digital tools at the beginning of the COVID-19 pandemic.
Organised a science fair in January 2019 that 250+ students' family members attended.
Key achievement:
Retained 98% of students during the 2020 wave of the COVID-19 pandemic and helped them improve their grades by 23% by using engaging online activities.
Assistant Teacher
Excellence School, Agra, Uttar Pradesh
May 2016–February 2018
Used classroom management techniques to improve students' behaviour during lessons.
Helped to boost students' motivation to do homework, resulting in 88% of assignments being finished on time.
Adapted coursebook materials to create engaging lessons that used students' interests as inspiration.
Collaborated with other teachers to prepare syllabi for three terms.
Key achievement:
Organised tutoring sessions for three students at risk of dropping out and worked with their parents to convince them to let those students continue learning.
Education
Bachelor of Education at Raja Balwant Singh College, Agra, Uttar Pradesh
September 2013–April 2016
CGPA: 88%
Bachelor of Science at Dayalbagh Educational Institute, Agra, Uttar Pradesh
August 2010–April 2013
CGPA: 89%
Skills
Classroom management
Lesson and curriculum planning
Cross-curricular teaching
Online teaching
Parent-teacher communication
Monitoring progress of students
Problem-solving
Adapting lesson materials
Microsoft Office software
Microsoft Teams, ClassDojo, Quizlet
Conferences
Virtual Association for Science Teacher Education International Conference, 14–15 January 2021
Prepared a summary of the conference for a local teacher magazine.
Education Conclave, 23 May 2018
Led a presentation titled Holistic approach to teaching science subjects. 150 guests attended.
Languages
Hindi—Native
English—Advanced
French—Intermediate
Volunteering
Contributor
New Life Fund, Agra, Uttar Pradesh
May 2019–October 2021
Helped raise funds for underprivileged children from the local area to purchase computer equipment for online education.
Tutored 5 students during one-on-one sessions.
Convinced eight families to let their children continue secondary education and helped organise financial support for those families.
Interests
Creating unique lesson plans and teaching materials and sharing them on busyteacher.org
Declaration: The information stated above is true to the best of my knowledge and belief.
It's easy to read, isn't it?
That's because there's a logical progression between elements of the resume. Just like the history of Indian cinema wouldn't be complete without mentioning Amitabh Bachchan, a resume format wouldn't be complete without all specific resume sections.
What's included in the reverse-chronological resume format:
Full name, job title, and contact information: they're placed at the top, so they're easy to spot.
Resume summary or career objective: this statement helps to provide an overview of the candidate's profile.
Work experience: it's the longest and most detailed section of your resume.
Education: it starts with the most recent degree or qualification.
Skills: they're a mix of hard and soft skills.
Additional sections: they include certificates, languages, and interests for an extra boost.
When you write a reverse-chronological resume, focus on describing your relevant work experience. This section should give as much information about you as possible. Mention achievements, describe responsibilities with quantifiers, and use action verbs to emphasise your initiative. Also, ensure to represent your skill set and qualities relevant to the job with every bullet you attach.
This is exactly how you should write an experience section for the reverse-chronological resume format:
Mention your job title.
Add the name and location of the company.
List the months and years of the work period.
Write 4–6 bullets describing your experience.
Add one key achievement.
Always give more information about the most recent position and less about former jobs.
So we've established that the reverse-chronological resume format is the most popular. Does it mean it's perfect in all situations? What are the pros and cons of the reverse-chronological resume format? Let's have a closer look:
Pros:
Emphasising the work experience
Preferred by hiring managers
Scannable by the applicant tracking systems
Cons:
Not suitable for candidates without a standard career progression
Difficult to use for freelancers, candidates who change careers, and freshers
Making employment gaps clearly visible
Despite the cons, it's the best resume format for candidates with a conventional career path.
Just noticed a job advertisement that asks for a CV? Check how to write it here: How to Write a CV
Functional Resume Format
In a perfect world, every job is great.
But in reality, many people discover that the profession they want to pursue causes them to feel burnt out. Or, the job offers that match their education are limited, which makes it next to impossible to beat the competition. Either way, they decide to follow a different career path, take a break, or learn a new skill.
Does it mean that such people aren't good candidates for jobs? Certainly not! And a functional resume format helps recruiters see that.
The functional resume format (or skill-based resume) is a type of resume that emphasises the candidate's skills. The work experience section is limited to a minimum, while selected skills are described in detail, with examples and achievements that prove the candidate's abilities.
Let's have a look at an example of a functional resume:
Functional Resume Format: Sample
Parminder Hayer
Graphic Designer
+91 13 83061364
parminder.hayer@zetymail.in
linkedin.com/in/parminder.hayer
Marital status: Single
Date of birth: 30.08.1997
Nationality: Indian
Career Objective
Creative graphic designer with experience in digital illustration and social media. Proficient in graphic software including Adobe Illustrator, Photoshop, InDesign, CorelDRAW, and Clip Studio Paint. Created a unique infographic in 2021 that was reposted over 750,000 times within a week. Keen to improve the brand recognition of Flamingo Brews by creating brand new visual identity and marketing materials.
Skills Summary
Graphic Design
Created an infographic about animal rights for a local charitable organisation that was reposted over 750,000 times within a week.
Developed all elements of the visual identity of 7 local companies.
Created over 1500 engaging graphics in Canva for social media campaigns.
Designed layouts for websites, magazines, business cards, leaflets, and product packaging.
Digital Illustration
Created a set of digital watercolour illustrations in Clip Studio Paint for a children's book that was sold in over 50,000 copies.
Published 50+ cartoons in an online magazine, Millennial Mumbai.
Design 8 T-shirt graphics with indigenous animals from India using Adobe Illustrator.
Work History
Associate Graphic Designer
Monstera Marketing, Mumbai
October 2020–present
Content Creator
TeleBrand Ltd., Mumbai
March 2019–September 2020
Junior Editor
New India Fashion Mag, Mumbai
January 2018–February 2019
Education
Master Diploma in Graphic Design, Graphic Design Training Institute, Mumbai
April–August 2020
Bachelor of Arts in Communication and Journalism, University of Mumbai
September 2015–April 2018
Additional Skills
Adobe Photoshop, InDesign, Illustrator, AfterEffects
CorelDRAW
Languages
Hindi—Native
Marathi—Native
English—Advanced
French—Intermediate
Declaration: The information stated above is true to the best of my knowledge and belief.
This candidate certainly doesn't look unprofessional. Their career path is just less conventional than others.
While the emphasis is clearly on professional skills, it doesn't mean that work history isn't listed there. It's just minimised to the basic information: position name, company and location, and period of employment.
Here are all the sections of a functional resume format:
Full name, job title, and contact information: placed at the top of the resume.
Resume summary or career objective: with an overview of the candidate.
Skill summary: very detailed, with quantifiable achievements.
Work experience: limited to basic information.
Education: with most recent degrees or qualifications listed first.
Additional skills: only those that match the job posting.
Additional resume sections: such as languages, conferences, and volunteering.
The skill summary is what makes this resume format unique. In this section, candidates focus on 2–3 key skills most relevant to the position they want. Then, they prove how they used those skills in previous jobs, during freelance work, academic projects, etc.
Follow these steps to create a skills summary for a functional resume:
Read the job advertisement closely and note down the skills required for this position.
Think of the skills you've got that match the job requirements.
Choose 2–3 key skills you want to highlight. Go for hard skills rather than soft skills.
Mention 3–5 accomplishments and situations from your past to prove you've mastered each skill.
Add information about certifications relevant to the skills you're describing.
Not very complicated, right? If you don't have work experience to support your candidature, feel free to describe other experiences, such as volunteering, academic or school projects, and freelancing.
If you have any gaps in your work history, be prepared to explain them. Even if you cleverly hide them using a functional resume, you might still be asked about your detailed work history during a job interview.
Be honest. There's nothing shameful about being unemployed due to sickness, nursing your child, caring for a family member, or prolonged job searching. Even if you took time off work because you wanted to travel, you can show it in a positive light. Rather than saying: "I relaxed on a beach in Goa for 3 months", you may state: "I needed time to decide on my next steps and distance myself to see my career from a different perspective."
But how do you know if the functional resume format is good for you? Let's have a look at the advantages and disadvantages of the functional resume:
Pros:
Makes your achievements shine by listing them at the top of your resume
No need to explain any gaps in your work history
Great for freelancers, candidates who want to change careers, and freshers
Cons:
Not ATS friendly—filtering systems may reject this type of resumes
Many recruiters focus on the work experience section, which is kept at a minimum in this resume format
Not very useful for candidates with traditional career paths
It's easy to see that the functional resume format is good for some candidates, but it's not a one-size-fits-all format.
Combination Resume Format
What if you'd like to highlight your work experience and skills in a resume? This is precisely where the combination resume format steps in.
The combination resume format is a link between a reverse-chronological and a functional resume. It describes both the candidate's skills and work experience in detail to provide more information about the candidate's abilities and work-related achievements. Additional resume sections are minimised, though.
Let's have a look at an example of a combination resume format for better understanding:
Combination Resume Format: Sample
Karim Nagarajan
IT Project Manager
+91 16 09334555
karim.nagarajan@zetymail.in
linkedin.com/in/karim.nagarajan
Marital status: Married
Date of birth: 25.11.1990
Nationality: Indian
Summary
Certified Project Manager with 5+ years of experience leading software projects to successful completion. Experienced in Scrum methodology, communicating with stakeholders, and boosting productivity. Keen to work with Pillowee's flagship products to introduce new features and increase the number of active users. Achieved 98% of deadlines on time while leading 20+ software development projects.
Professional Skills
Project Management
Coordinated 24 software development projects using Scrum methodology and achieved 98% of deadlines on time.
Communicated regular updates to project stakeholders, with a satisfaction rate of 94%.
Led teams of 8–20+ software developers with overwhelmingly positive feedback from all team members.
Increased team productivity by 12% by introducing daily sprints and the Asana project management tool.
Project Management Professional Certification Training (2019)
Software Development
Developed 16 mobile applications in Java, with an excellent satisfaction rate from partner businesses and users.
Created a mobile meditation app used by over 580,000 subscribers monthly.
10+ years of experience in JavaScript, C, and C++
Certified Associate in Python Programming (2018)
Additional Skills
HTML and CSS
Quality Analysis
Effective Communication
Creative Thinking
Problem Solving
Work Experience
Project Manager
Dotto Soft, Kolkata
June 2016–Present
Managed all projects within the planned budget.
Provided feedback to junior developers bi-weekly to suggest further training opportunities and spot valuable talents.
Collaborated with the HR team to help decrease the onboarding period from 6 to 4 weeks.
Software Developer
Code Cat, Kolkata
January 2013–May 2016
Performed quality testing of newly developed mobile applications and helped decrease the critical error rate by 17%.
Achieved 100% deadlines on time while working with a team of 10 software developers to create web applications for partner businesses.
Education
Bachelor of Science in Computer Science, Asutosh College, Kolkata
September 2008–April 2011
Declaration: The information stated above is true to the best of my knowledge and belief.
This is it. A smooth mix of the two resume formats we've mentioned before. The detailed skill summary and work experience sections take a lot of space, so it can be a bit of a challenge to fit all other necessary sections.
Sections of the combination resume format include:
Full name, job title, and contact information: placed in the resume header.
Resume summary or career objective: contain a brief description of one's experience.
Skill summary: a detailed description that mentions the candidate's achievements.
Additional skills: a short list of job-related or digital skills.
Work experience: this detailed section describes the candidate's responsibilities and accomplishments.
Education: this time, at the end of the resume.
Additional resume sections: are kept at a minimum, as there's not much space to squeeze in more information.
In the combination resume format, you must write a good summary of your key skills and describe your work experience. The combination resume format is best for candidates with impressive work experience who want to highlight certain skills to catch the recruiter's attention.
Is this the best resume format? Well, let's see:
Pros:
Makes your key skills pop while providing enough information about your work history
Very useful for candidates who apply to high-ranking positions that require specific skills
Good for candidates who work on individual projects outside their primary job
Cons:
Not great for freshers and candidates with gaps in their work history
Applicant Tracking Systems may not be able to process this format of a resume
Very little space for additional resume sections
As you can see, this resume format certainly isn't for everybody.
Pro Tip: Apart from the three resume formats mentioned above, some candidates opt for a different solution—a visual resume. This format of resumes is used mainly by creative professionals. They have one strong disadvantage: visual resumes are mostly rejected by ATS filters. It's better to use one of the three formats mentioned above and show your creative skills in a separate portfolio.
As you can see, it all depends on you. When choosing the best resume format, consider your career and work history.
When making a resume in our builder, drag & drop bullet points, skills, and auto-fill the boring stuff. Spell check? Check. Start building a professional resume template here for free.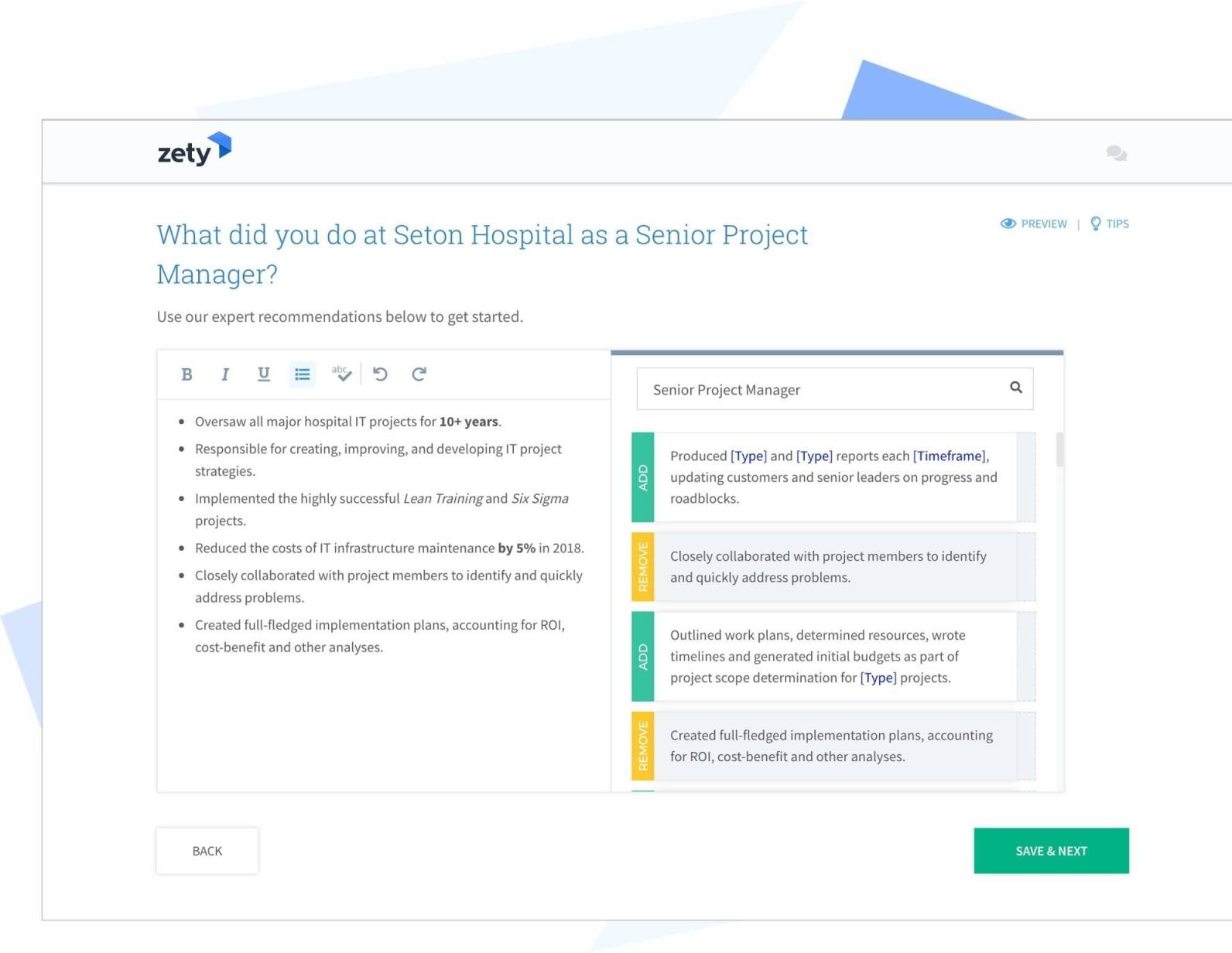 When you're done, Zety's resume builder will score your resume and tell you exactly how to make it better.
Key Steps for Making a Professional Resume Format
While the contents of your resume are essential to recruiters, they're not all that matters. Looks are important, too. And I'm not talking about your appearance on the resume photo you will use. The appearance of your resume must be professional. To achieve this, follow these steps:
Correct Format of a Resume
Fit all information on one page.
Set margins on all sides of the resume to one inch.
Use professional resume fonts such as Calibri, Helvetica, Verdana, or Times New Roman.
Set font size to 11–12 for the contents and 13–14 for the headings.
Use 1 or 1.15 line spacing for readability.
Divide the contents of your resume into clear sections.
Save your resume in a DOCX or PDF format (unless the job ad asks for a different file type.)
You can quickly complete all of these steps in any word processing software, such as MS Word, LibreOffice, and Google Docs.
You can choose ready-made resume templates if you'd rather save time creating your resume from scratch. See more: Resume Templates in Word and PDF
Templates for Any Resume Format
Finding a good template to fit your preferred resume format can be difficult. That's why I've collected examples of the best ones—they can match any resume format in Word, PDF, or other file types.
Cascade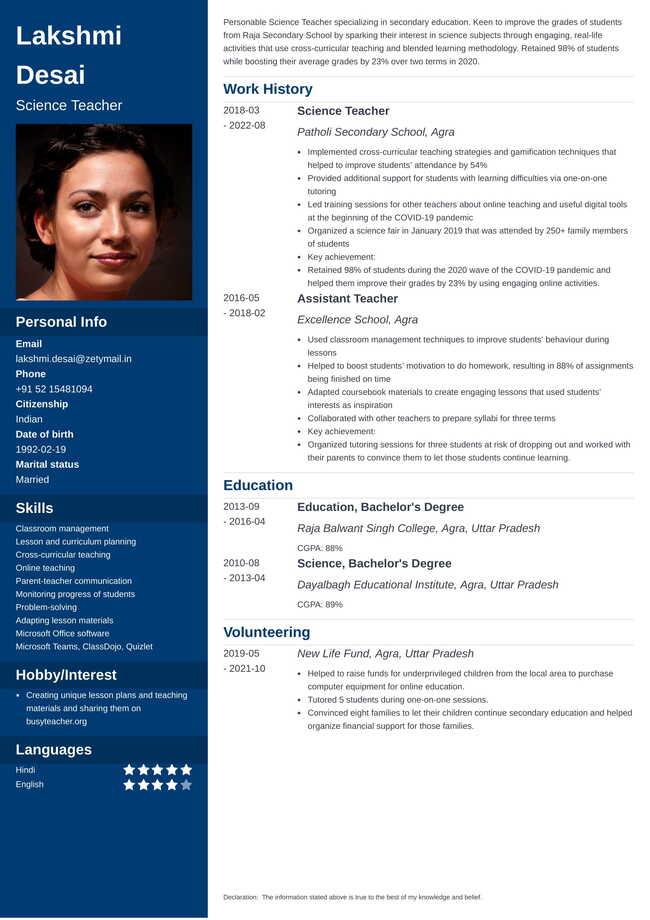 This modern resume template features a two-column layout, which helps to fit a lot of information about the candidate on a single page. The dark background of the left column provides a contrast for the right side of the document, making it more engaging to read.
Cubic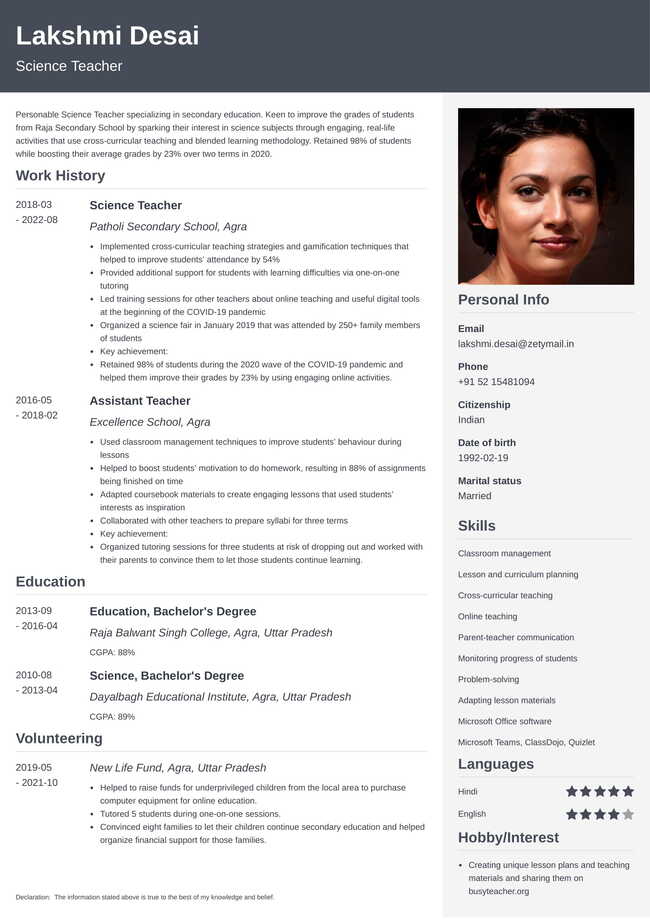 Cubic is another minimalist resume template that's perfect for any profession. The candidate's name is highlighted at the top of the document, so it's easy to spot and remember for the hiring manager.
Squares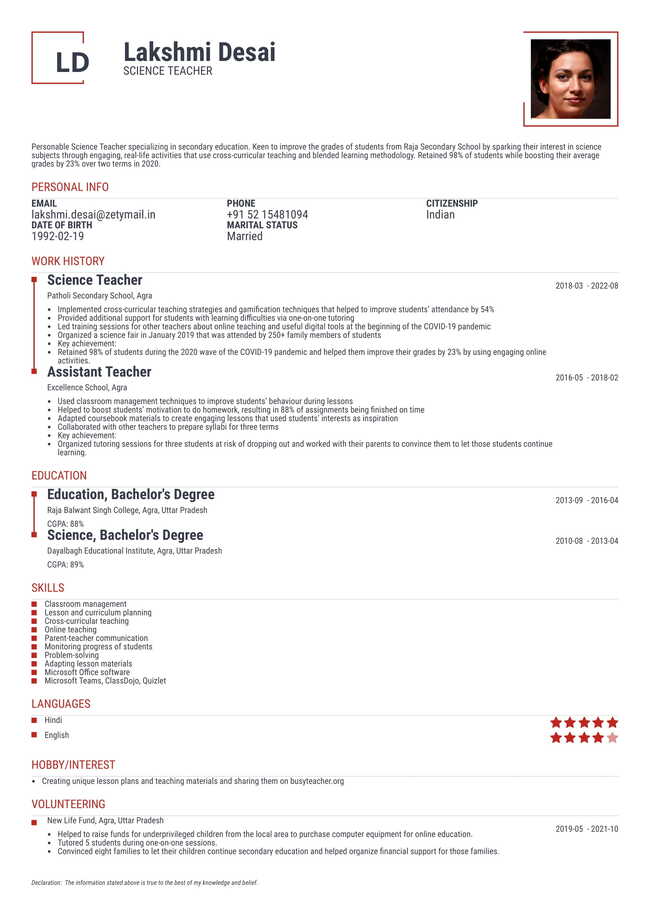 This resume template includes visual elements to help the candidate stand out from the crowd. The minimalist icons indicate the beginning of each resume section. The addition of colour makes the document more appealing.
Initials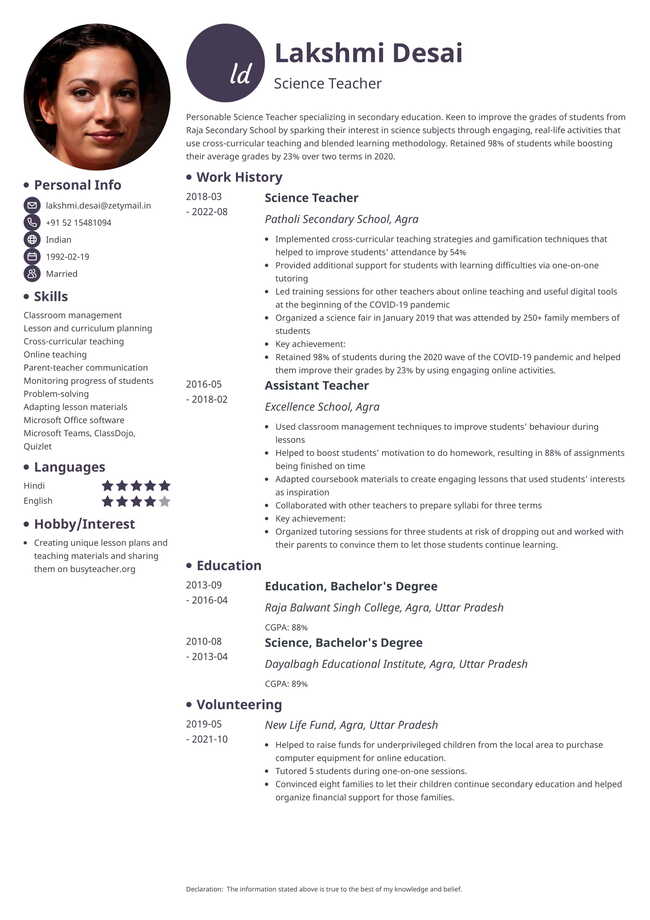 This modern and professional template highlights the candidate's profile by giving their name and initials a prominent place on the page. The template uses a two-column layout to help fit a lot of information about the applicant on one page.
Vibes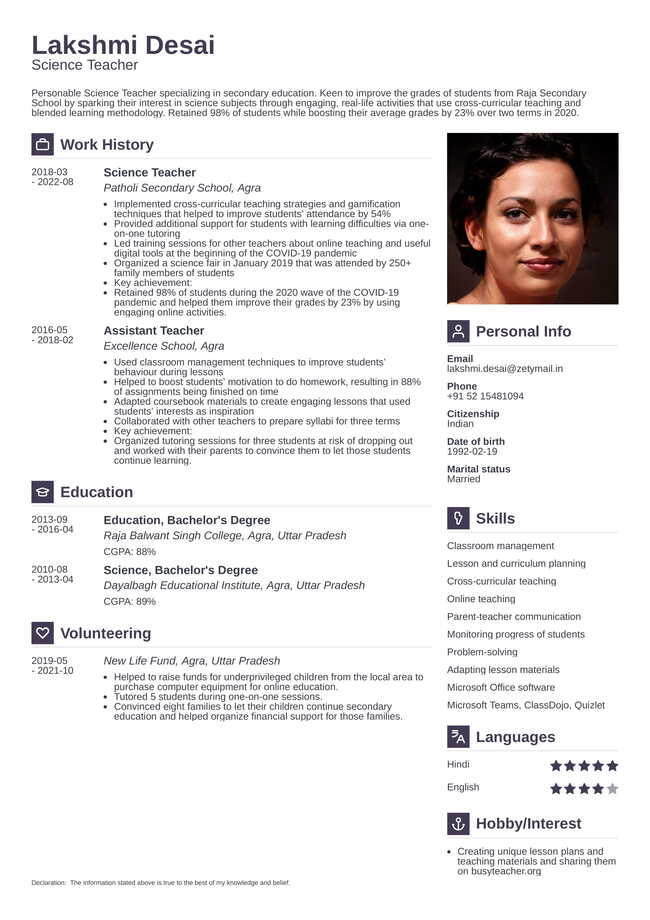 This stylish template is simple yet stunning. What makes it special? The icons that adorn each section heading. Such visual elements help engage the reader and provide a chance for the candidate's profile to shine among hundreds of tedious job applications.
Resumes aren't the only documents you can use to apply for a job. Check here: Definition of a CV
A great cover letter that matches your resume will give you an advantage over other candidates. You can write it in our cover letter builder here. Here's what it may look like: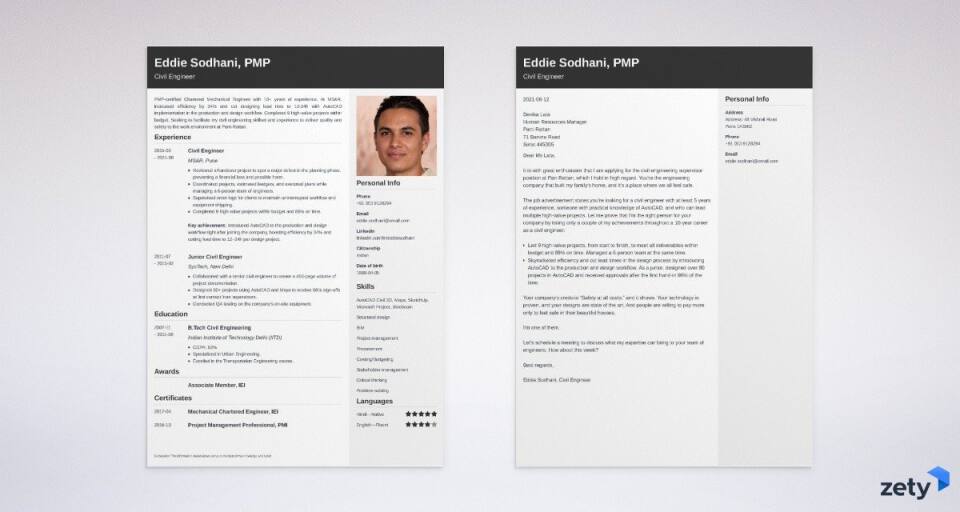 See more cover letter templates and start writing.
Key Takeaways
Now you know all there is to know about professional resume format. Would you like a quick reminder of the most important points? Here it goes!
How to pick the best resume format:
Select the resume format matching your experience and career: reverse-chronological, functional, or combination.
Include all the necessary resume sections, such as contact information, summary or objective, work history, skills, and education.
Keep your resume limited to one page only—trim any unnecessary information.
Create a professional resume template by formatting the document correctly.
That's all! Now you're ready to kickstart your career.
What's your favourite resume format? Do you find any resume formats confusing? Do you need help choosing the right format for your resume? Let me know in the comments below!