The document you send to recruiters, correct?
Maybe! Or maybe it's the job application you fill? Um, is it the same as a CV? A cover letter?!
Confusing, right? But we're here to help.
You're about to find out:
What is a resume for a job application.
Resume meaning and use cases.
Why it's needed.
What a resume should look like.
Want to save time and have your resume ready in 5 minutes? Try our resume builder. It's fast and easy to use. Plus, you'll get ready-made content to add with one click. See 20+ resume templates and create your resume here.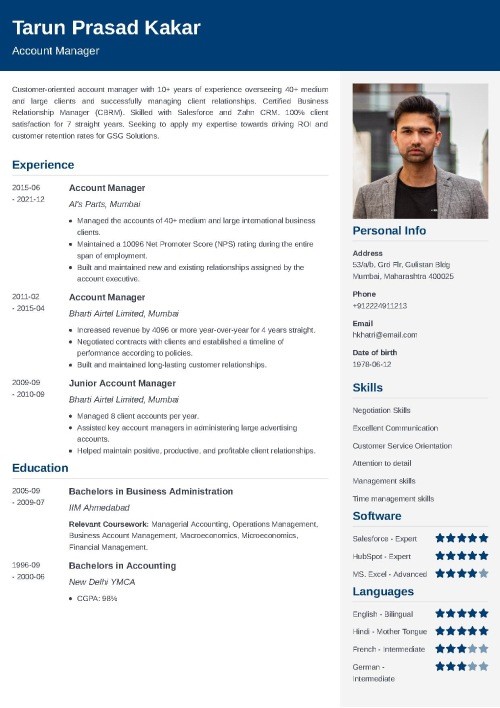 Sample resume made with our builder—See more resume examples here.
Let's start with a demo. This is what a well-written resume should look like:
What is a Resume: Sample
Personal Info
Tarun Prasad Kakar
Account Manager
Address
53/a/b, Grd Flr, Gulistan Bldg
Mumbai, Maharashtra 400025
Phone
+912224911213
E-mail
hkhatri@email.com
Date of Birth
12.06.1978
Summary
Customer-oriented account manager with 10+ years of experience overseeing 40+ medium and large clients and successfully managing client relationships. Certified Business Relationship Manager (CBRM). Skilled with Salesforce and Zahn CRM. 100% client satisfaction for 7 straight years. Seeking to apply my expertise towards driving ROI and customer retention rates for GSG Solutions.
Experience
Account Manager
Al's Parts, Mumbai
June 2015–Dec 2021
Managed the accounts of 40+ medium and large international business clients.
Maintained a 10096 Net Promoter Score (NPS) rating during the entire span of employment.
Built and maintained new and existing relationships assigned by the account executive.
Account Manager
Bharti Airtel Limited, Mumbai
Feb 2011–April 2015
Increased revenue by 4096 or more year-over-year for 4 years straight.
Negotiated contracts with clients and established a timeline of performance according to policies.
Built and maintained long-lasting customer relationships.
Junior Account Manager
Bharti Airtel Limited, Mumbai
Sept 2009–Sept 2010
Managed 8 client accounts per year.
Assisted key account managers in administering large advertising accounts.
Helped maintain positive, productive, and profitable client relationships.
Education
Bachelors in Business Administration
IIM Ahmedabad
2005–2009
Relevant Coursework: Managerial Accounting, Operations Management, Business Account Management, Macroeconomics, Microeconomics, Financial Management.
Bachelors in Accounting
New Delhi YMCA
1996–2000
Skills
Negotiation Skills
Excellent Communication
Customer Service Orientation
Attention to detail
Management skills
Time management skills
Software
Salesforce—Expert
HubSpot—Expert
MS. Excel—Advanced
Languages
English—Bilingual
Hindi—Mother Tongue
French—Intermediate
German—Intermediate
1. What Is a Resume? Resume Meaning
The word"Resume",sometimes spelled résumé, comes from the French term for "summary"—although nowadays, French people use the word CV. Go figure!
In any case, a resume is a formal document that serves one basic purpose: to show a person's skills and their professional background.
Often, it's created to help a job seeker land a new job. A traditional resume contains a professional summary, plus work experience and education sections. You can think of a resume as a marketing tool: your expertise is the product, and a resume is your advert.
Why Do You Need a Resume? The Purpose of a Resume
The purpose of a resume is to:
Introduce yourself to employers,
Present your qualifications and achievements,
And secure an interview.
The goal of writing a resume is to show your experience, education, and skills in a standardized format that is easy for recruiters to read.
A resume is certainly a must-have. Otherwise, you can't expect to be invited to a job interview.
Usually, a resume is sent along with a cover letter. What is a cover letter and what's the difference between the two?
Resume vs. cover letter:
A resume is a bulleted overview of your work experience, education and skills. A cover letter, as the name shows, displays your skills and accomplishments in letter-form.
Resumes need to be brief and present a quick glimpse into your career highlights, partly because recruiters use resumes as a reference when conducting job interviews. Cover letters go into more detail about particular career moments.
Pro Tip: Job advertisement asking for a CV? Beware: that's not the same thing as a resume. CVs include an in-depth description of your career history that may run for 2 or more pages. They are sometimes used for academic purposes. Read more here: What is a CV?
When making a resume in our builder, drag & drop bullet points, skills, and auto-fill the boring stuff. Spell check? Check. Start building a professional resume template here for free.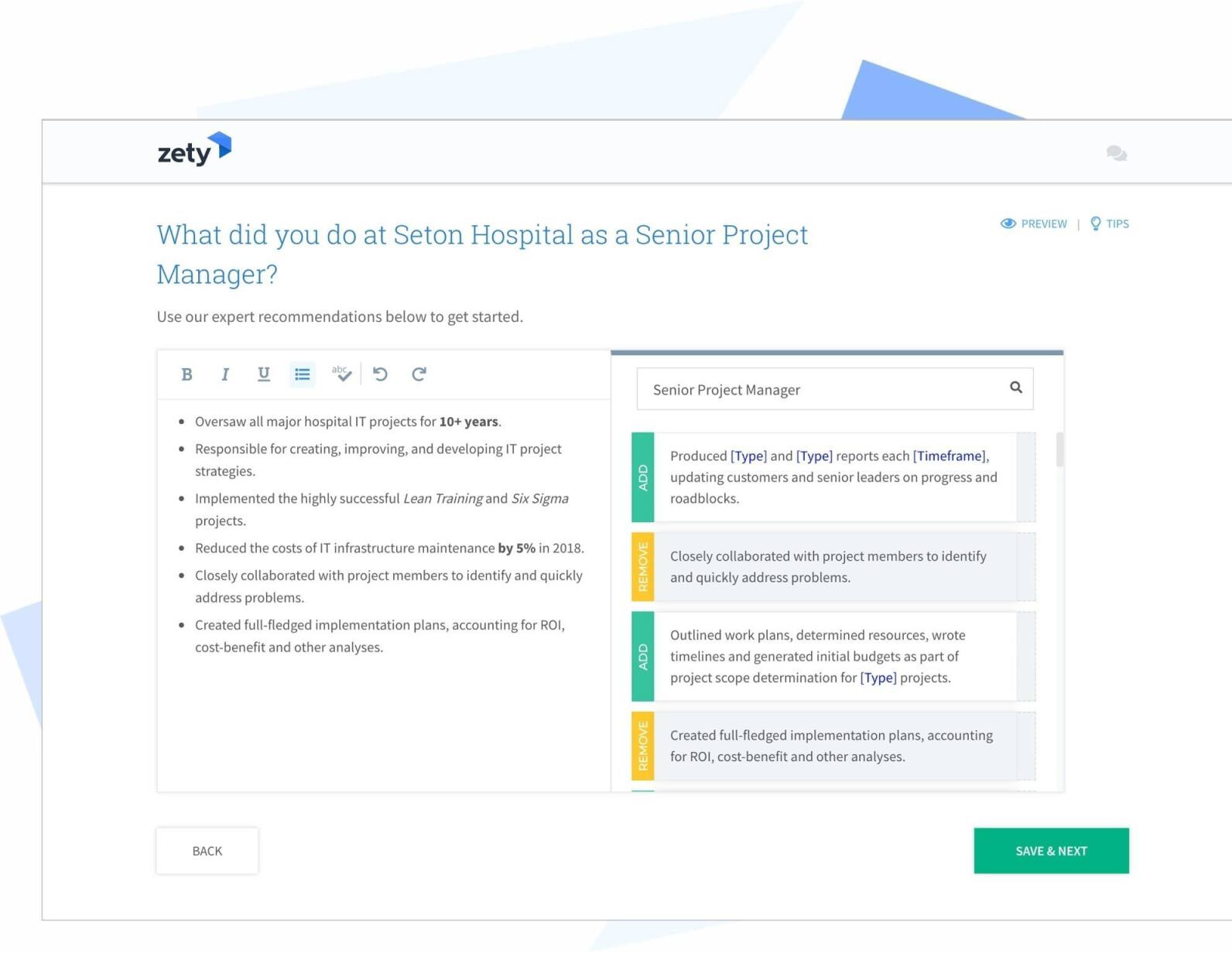 When you're done, Zety's resume builder will score your resume and tell you exactly how to make it better.
2. What is a Resume: Key Components
Your future career hinges on the quality of your resume, that's why you need to get it right. There are two main areas to focus on: using the proper formatting for your resume and adding the right contents.
Resume Format
As the first step, clear your resume structure so it catches the recruiter's eye right from the beginning.
To do so, you can follow these simple resume formatting tips:
Set the margins on each side of the page to 1 inch.
Choose single or 1.15 line spacing.
Use a legible font and keep it at 11 or 12pt.
Add your contact info in a separate header.
Divide your resume into easy-to-navigate sections.
Present your experience and job descriptions in the form of bullet points.
Leave white space for a balanced resume layout.
Now let's learn which resume format will help you convey your uniqueness to the employer. There are three standard resume formats (or layouts):
Reverse-chronological resume: the best choice for most candidates. Recruiters are familiar with it, plus it places your latest or current experience upfront and promotes your latest achievements.
Functional resume: sets a focus on skills rather than work experience. It's perfect for freshers, career changers, and those with gaps in employment.
Combination resume: a mix of the two formats described above. Starts with a professional summary, then proceeds to the most relevant experience—the most flexible format.
That's it, when it comes to structuring your resume.
Now you need the right content to put into this empty frame.
So let's see what the main sections of a resume are.
Things to Include on a Resume
A standard resume should include the following sections:
Contact information: your full name, phone number, updated email address, and optionally relevant social media handles, such as your LinkedIn profile.
Resume headline (title): entirely optional. If you're wondering what is a headline on a resume, it is a short sentence which shows your experience and skills. The purpose is to make a good first impression and catch the hiring manager's attention.
Resume profile: a brief summary of your skills and the most important accomplishments. It comes at the top of your resume and works as your job bio.
Work history: the fundamental component of your job application. It's the part in which you tell your career history. Your job positions, company names, responsibilities, achievements, and years worked—all go into this section.
Education: your school/university names, degrees, courses of study, and optional CGPA and relevant coursework.
Hard/Soft skills: job-related skills that may be worthwhile to your intended employer. Believe it or not, a well-crafted skills section can boost your chances of getting a new job!
Apart from the headline, all of these resume sections are more than essential. In addition, you can also include other sections depending on the position you're targeting.
Consider adding one of these resume nice-to-haves:
Certifications and licences
Languages
Conferences
Publications
Projects
Awards and honours
Volunteer work
Interests and Hobbies
Freelance work experience
Pro tip: If you are a fresher, put your education first, and don't forget about extracurricular activities, internships, and volunteer work. Read more: How to Write a Resume for Freshers
3. Additional Resume Tips
Remember to double-check your resume for typos and grammatical errors. These are, without exception, big disadvantages.
Plus, keep it brief and attractive. Based on our HR statistics report, hiring managers look at each resume just for about six seconds. If your resume feels like an eternal story—it won't sell as you wish.
It's much better to customize your resume to the specific job application, instead of listing all skills and responsibilities that you think of. Targeting your application for a particular job is what genuinely makes a fine resume.
Pro Tip: Checking your resume and "responsible for" appears several times? Avoid passive phrasing and use resume action words instead. These will help your resume go through the Applicant Tracking Software (known as ATS), used by about 66% of mid- to large companies.
A great cover letter that matches your resume will give you an advantage over other candidates. You can write it in our cover letter builder here. Here's what it may look like: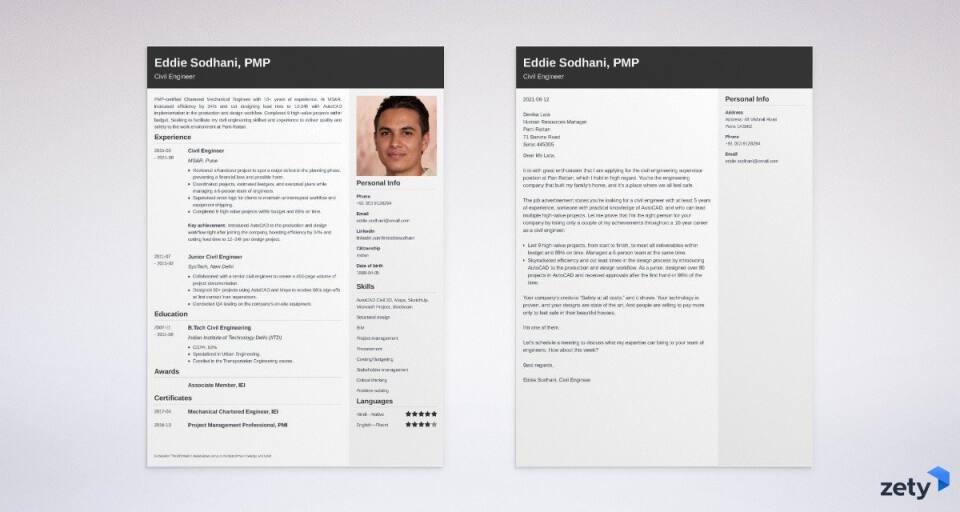 See more cover letter templates and start writing.
Key Takeaway
Here's a recap of what you should know before sending your resume to an intended employer:
Your resume is a marketing document. Its purpose is to make a favourable impression on the hiring manager.
Think of your resume as a summary of your work history, education, and skills. Be brief and only write down key career achievements. Plus, stay relevant.
Make your resume aesthetically appealing. Use acceptable formatting rules.
Respect your reader, refine your resume and make it a five-star experience.
Thanks for reading! What is your opinion about the resume definition above? Does this concise overview cover your resume concerns?
Give me a shout in the comments!