What is a Cover Letter for a Resume / CV / Job Application
To send or not to send, that is the question. Cover letters can be a secret weapon in the job hunt today. Here's why.
A cover letter, or a covering letter, is a one-page document which usually accompanies your resume or CV. As part of your job application, it introduces you to the recruiter and sells your necessary skills and job experience.
Including a cover letter is standard practice and you should generally do so unless the potential employer specifically asked not to.
What else do you need to know about cover letters?
This guide will show you:
What the purpose of a cover letter is.
How a resume/CV and cover letter complement each other.
What to write in the body of your cover letter.
Want to write your cover letter fast? Use our cover letter builder. Choose from 20+ professional cover letter templates that match your resume. See actionable examples and get expert tips along the way.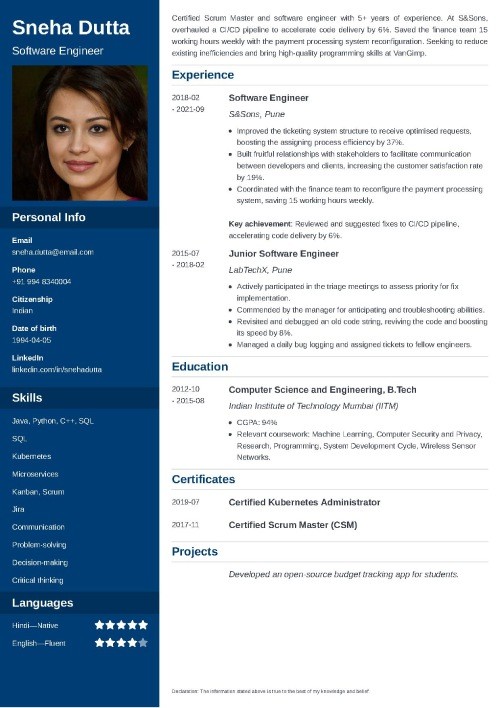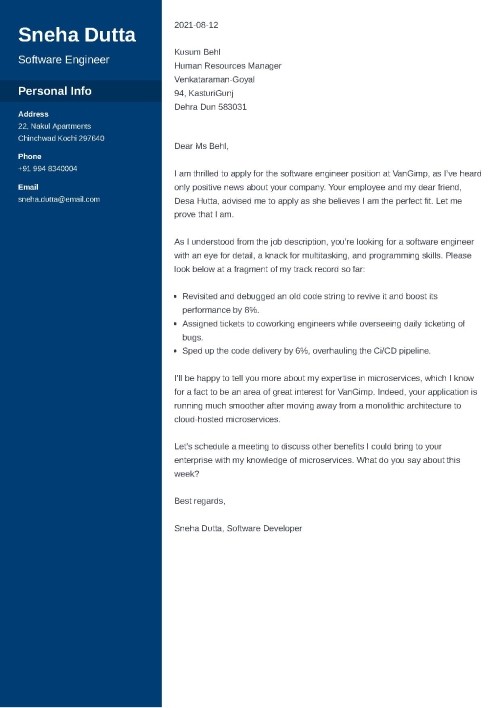 Cover letter sample for a resume—See more cover letter templates and create your cover letter here.
What Is a Cover Letter for a Job Application: Example
Lilavati Koshy
2524, Hudson Lane
110009, Delhi
3rd May 2021
Mr Vishnu Chaudry
HR Manager
Daneery IT
110009, Delhi
Dear Mr Vishnu Chaudry,
I was excited to see an opening for the position of HR specialist on Monster India as I feel your core mission and culture suit what I offer as a professional. With over 5 years of experience in Human Resources, I think I can make a real and lasting contribution to Daneery IT's story.
My current role as a human resources specialist at Tosofy India has strengthened my capabilities in organization and teamwork, including a keen attention to detail and accuracy. I have a well-rounded skill set in candidate pipeline-building and honed talents in new employee coordination and new hire orientation. To give a couple of examples of what I could bring to Daneery IT, my most recent achievements include:
cutting new hire processing times by over 25% through the implementation of new procedures and templates
cutting lead time for recruiting by 46%
increasing the employees' comfort level in the team and the workplace by 20% (according to onboarding surveys).
I know I can bring value to your organization and would love the chance to discuss how my skills and experience align with your needs. I'd be very grateful for a chance to present my candidature further during the course of an interview and very much look forward to hearing from you.
Yours faithfully,
Lilavati Koshy
What Is the Purpose of a Cover Letter?
The purpose of a cover letter is to introduce you as a candidate without summarising your entire career. A cover letter is more personal than a resume/CV, as it allows you to show your enthusiasm for the job and the company. And that's why it shouldn't be generic. You have to show how your qualifications and personal traits match a certain job description and company culture.
When making a resume and a cover letter in our builder, drag & drop bullet points, skills, and auto-fill the boring stuff. Spell check? Check. Start building a professional resume template here for free.
When you're done, Zety's resume builder will score your resume and tell you exactly how to make it better.
Is a Cover Letter the Same Thing as a CV or Resume?
No. A cover letter is not the same thing as a CV or resume. A CV/resume is a document presenting the whole outline of your career. A cover letter, on the other hand, tells employers why you're the best person for the job. It usually accompanies your CV/resume. Traditionally, its purpose was to invite the recruiter to read the rest of your job application documents (it was the first document the recruiter would see, hence the name).
Do you need to include a cover letter in 2023?
Yes, you should definitely include a cover letter with your job application unless you've been told not to. Studies show that more than half of employers prefer candidates to include a cover letter.
Read more: What is a Resume? Resume Meaning
How To Write a Cover Letter?
Firstly, always write a new cover letter for each job application. As daunting as it sounds, it will allow you to tailor it to the job description.
Secondly, use the right cover letter format and make sure to address your letter to the recruiter or hiring manager by their name. Find it on the company's website, LinkedIn, or call the receptionist to find out. If you're struggling to find a name, use the title instead, e.g. 'Dear Hiring Manager.'
Thirdly, use the body of your cover letter to show passion about the company and role, and demonstrate that your accomplishments are exactly what the company is looking for. Don't rehash your CV/resume. Show you have a deep understanding of the role and use numbers (percentages, dollars) to prove your achievements.
Lastly, sign off your cover letter. Go for 'Yours sincerely,' if you know the person you are writing to. If you don't, use 'Yours faithfully,'.
And… that's it! Good luck!
Read more: How to Write a Cover Letter: Guide and Examples
A great cover letter that matches your CV will give you an advantage over other candidates. You can write it in our cover letter builder here. Here's what it may look like: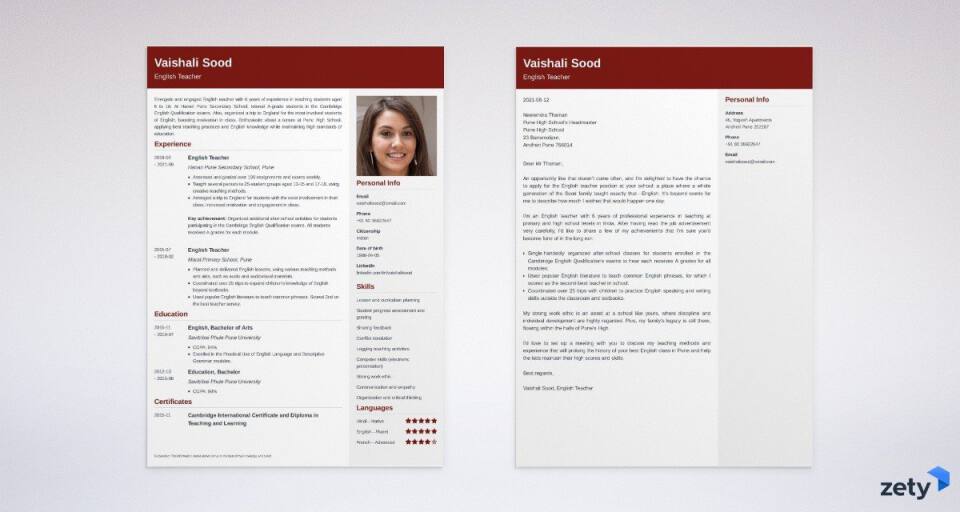 See more cover letter templates and start writing.
Thanks for reading! Do you now know what a cover letter for a resume/CV is? Are there any tips you think are missing? Let us know in the comments below!