Your first step into the professional world is not an easy one:
How are you even supposed to write a resume if you have barely any experience?
Good news:
It's possible. And it's not as difficult as it may seem at first. Plus, you're in the right place to learn everything you need to know about writing a job-winning resume for freshers!
Whether you're diving into being an engineer or a teacher or flying into the science world; get ready to embrace the opportunities and challenges of post-grad life.
In this article, you'll see:
How to make a resume for a fresher that will boost your chances of landing your first job.
Which resume sections you should include in your fresher resume and in what order.
How to show your skills on a resume for freshers when you don't have experience.
How to write a career objective for a resume for freshers.
Ready for your next adventure?
Want to save time and have your resume ready in 5 minutes? Try our resume builder. It's fast and easy to use. Plus, you'll get ready-made content to add with one click. See 20+ resume templates and create your resume here.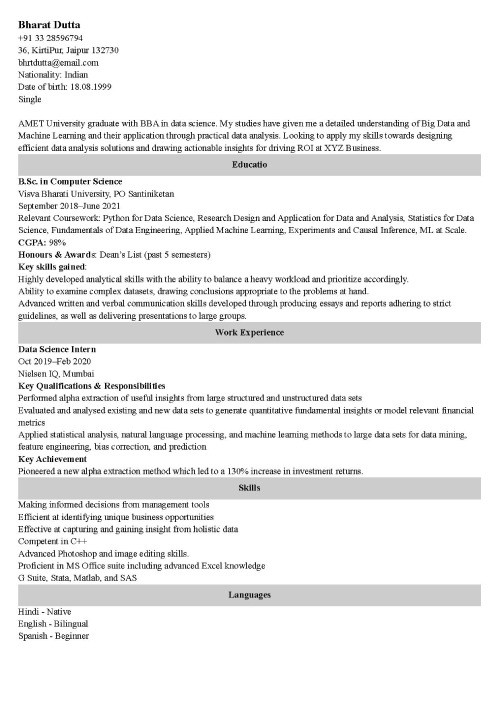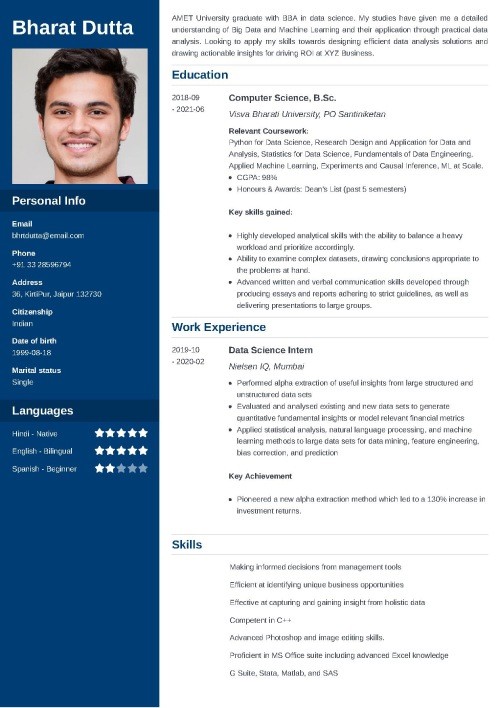 Sample resume made in our builder—See more resume templates here.
Sample Resume for Freshers
Bharat Dutta
+91 33 28596794
36, KirtiPur, Jaipur 132730
bhrtdutta@email.com
Nationality: Indian
Date of birth: 18.08.1999
Single
AMET University graduate with BBA in data science. My studies have given me a detailed understanding of Big Data and Machine Learning and their application through practical data analysis. Looking to apply my skills towards designing efficient data analysis solutions and drawing actionable insights for driving ROI at XYZ Business.
Education
B.Sc. in Computer Science
Visva Bharati University, PO Santiniketan
September 2018–June 2021
Relevant Coursework: Python for Data Science, Research Design and Application for Data and Analysis, Statistics for Data Science, Fundamentals of Data Engineering, Applied Machine Learning, Experiments and Causal Inference, ML at Scale.
CGPA: 98%
Honours & Awards: Dean's List (past 5 semesters)
Key skills gained:
Highly developed analytical skills with the ability to balance a heavy workload and prioritize accordingly.
Ability to examine complex datasets, drawing conclusions appropriate to the problems at hand.
Advanced written and verbal communication skills developed through producing essays and reports adhering to strict guidelines, as well as delivering presentations to large groups.
Work Experience
Data Science Intern
Oct 2019–Feb 2020
Nielsen IQ, Mumbai
Key Qualifications & Responsibilities
Performed alpha extraction of useful insights from large structured and unstructured data sets
Evaluated and analysed existing and new data sets to generate quantitative fundamental insights or model relevant financial metrics
Applied statistical analysis, natural language processing, and machine learning methods to large data sets for data mining, feature engineering, bias correction, and prediction
Key Achievement
Pioneered a new alpha extraction method which led to a 130% increase in investment returns.
Skills
Making informed decisions from management tools
Efficient at identifying unique business opportunities
Effective at capturing and gaining insight from holistic data
Competent in C++
Advanced Photoshop and image editing skills.
Proficient in MS Office suite including advanced Excel knowledge
G Suite, Stata, Matlab, and SAS
Languages
Hindi - Native
English - Bilingual
Spanish - Beginner
1. Choose the Best Format for a Fresher Resume
Fresher, right? First time writing a resume for a full-time job?
There's one crucial fact you need to know about recruiters:
They skim through resumes fast as possible.
That's right: employers don't read each resume top to bottom. In fact, they spare no more than a glance for each job application. To be more precise, you have just 7 seconds to grab their attention!
As our HR statistics report shows, this is the average time recruiters spend on each resume. This means those who don't make it past that first scan must continue their job hunt elsewhere.
So, make the most of your 7 seconds, making a good impression with impeccable resume formatting and readable content.
Here's how to format a resume for a fresher that can land you a job:
Use the reverse-chronological resume layout. This means listing your most recent experience (be it professional or academic) first and working your way back through older entries. This format shows off your biggest strengths and achievements, plus it's what recruiters are most familiar with.
Set your page margins to 1 inch all the way around and include plenty of white space to guide the gaze.
Pick a professional, readable resume font and set it to 11 or 12 points.
Include a larger heading for each section (13 to 14 points) to make your resume easy to skim.
Don't go overboard on crazy graphics or unnecessary details: stick to the most relevant essentials and limit yourself to one page.
Now, here's what you need to include on a fresher resume:
Header with your contact information.
Resume objective for freshers, showing your transferable skills and academic achievements. If you have relevant work experience, replace it with a resume summary.
Education section, documenting your knowledge and academic experience.
Work experience, if you have any (including internships and volunteering).
List of skills and abilities you have which match the job advertisement.
Extra resume sections to help you stand out from other applicants.
Don't have any work experience yet?
No problem. Just drop that section and go hard on the others.
And before you move on to more exciting resume sections, make sure to get your contact details right in your resume header. Because believe it or not, there's a right and a wrong way to do it!
Here are a few pointers to set your resume header up for success:
Your contact info goes at the very top, above your resume summary or objective on a single-column resume, but beside it on a two-column resume.
Give a professional email address. You're all grown up now, no more "Surajxxx@yahoo.com."
Add relevant social links. LinkedIn is always a good idea, but rarely Facebook or Twitter. Designers can add Behance, while IT pros might add GitHub, for example.
Include a branding statement as a subtitle below your name to stand out.
Finally, optimize your LinkedIn profile! Whether you put it on your resume or not, employers will most likely check it out before giving you a call.
Pro Tip: Save fresher resumes in PDF format. Like references from an accredited school, the PDF format ensures the resume is accepted no matter which device the HR staff view it on.
2.Write a Compelling Resume Objective for Freshers or a Resume Summary
Your resume formatting made a great first impression. Well done!
But now that you have the recruiter's attention, how do you keep it?
Write a heading statement that shows your value and makes them want to read on!
You've got two options: the resume summary or resume objective.
Here is how you choose:
If you have experience in your prospective industry from some part-time work or an internship, use the resume summary.
The summary statement is a short paragraph summing up your experience and skills. It's brilliant to use an accomplishment with numbers to prove your value.
Here's an example resume summary for a fresher in a data science job:
Resume Summary for Freshers: Examples
Right
Certified data scientist with 10 months' experience from data science internship at private investment banking startup. Achieved 125% investment returns through pioneering a new alpha extraction method and modelling relevant financial metrics.
Wrong
I have just finished a data science internship where I learned many new data analysis skills and knowledge. During this time, I created AI models, studied machine learning, assisted with statistical analysis, and designed automated pipelines.
Both look kind of impressive, don't you think?
However, looking closer, you'll see that in the right example, the candidate gives a key accomplishment with numbers to back it up. It proves their experience rather than just giving a list of duties.
But what if you have no relevant work experience?
Use a resume objective.
The objective tells your potential employer how your career goals align with their plans. You'll still use relevant skills, experience, and quantifiable achievements.
Here are two example resume objectives for freshers:
Objective for Resume for Freshers: Examples
Right
Recent university graduate in computer science. Created class project utilizing AI to beat 500+ students at determining winners across multiple sports disciplines. Seeking to leverage 98% CGPA and 80 data science-related classroom hours to obtain the junior data scientist position at Shell.
Wrong
I've just graduated from university with a bachelor's degree in computer science. I haven't had any paid working experience yet, but I have the will to learn and many classroom hours.
Do you see it? In the right example, a brief introduction about your background, a key achievement, and mentioning the company's name all let them know you tailored your resume to the job.
Pro Tip: Both resume objectives or summaries appear first on your fresher resume. However, it's better to save writing it for the end, so you have the rest of your resume to help you out.
When making a resume in our builder, drag & drop bullet points, skills, and auto-fill the boring stuff. Spell check? Check. Start building a professional resume template here for free.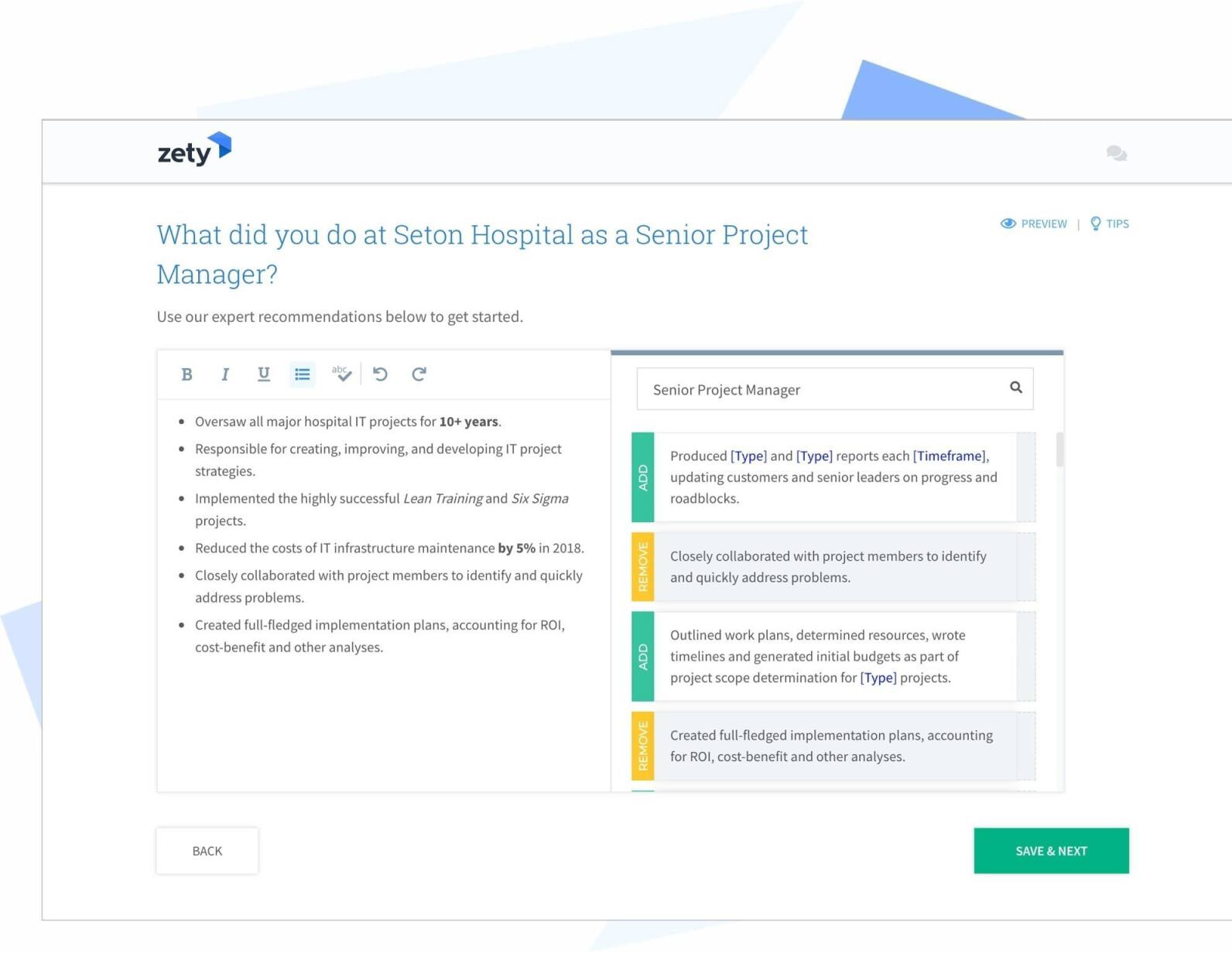 When you're done, Zety's resume builder will score your resume and tell you exactly how to make it better.
3. Use your Education Section to its Full Extent on a Fresher Resume
Have you just finished your studies? Graduated without any other experience?
That means—
The education section of your resume is the key to your fresher resume, so you have to get it right!
Let's see how to list education on fresher resumes:
Resume Samples for Freshers—Education Section
BSc in Computer Science
Visva Bharati University, PO Santiniketan
September 2018–June 2021
Focus: Data Science
Relevant Coursework: Python for Data Science, Research Design and Application for Data and Analysis, Statistics for Data Science, Fundamentals of Data Engineering, Applied Machine Learning, Experiments and Causal Inference, ML at Scale.
CGPA: 98%
Honours & Awards: Dean's List (past 5 semesters)
One thing you should remember here is to mention your CGPA only if it's higher than 90% (or 9 in MA). Otherwise, it just won't work to your advantage.
Since you're a recent grad and don't have much experience, go detailed on your education section. Add any honours and awards, achievements, publications, and especially any coursework relevant to your job field. Anything that you did during your uni years and somehow shows your skills is worth adding.
Finally, you don't need to add your high school diploma since you've completed university. You would, however, have to mention your high school if your degree was still in progress.
Pro Tip: If you took part in an externship during your studies, add their details here in your education section. But if it's an internship, place that in your work experience section.
4. Add Experience to Your Fresher Resume
Statistics show that about 9 million students finished their undergraduate degree and 1.5 million their postgraduate degree in 2019. It seems like you have a lot of competition...
But hey, that's why you're here! To find a way to beat all the fresher competitors and get The Job!
Here is the thing: if you have previous relevant experience, such as an internship, adding it to your work history will make a big difference and put you ahead of other applicants.
Better still, there are a few tricks to listing your experience in a way that impresses recruiters even more.
Most importantly, don't just list your job duties and responsibilities. Include some key accomplishments with numbers to prove your abilities. You'd be surprised how far that goes towards making you stand out as the best candidate!
These fresher resume examples show exactly what we mean:
Fresher Resume Template: Work Experience
Right
Data Science Intern
March 2018–December 2018
Nielsen IQ, Mumbai
Key Qualifications & Responsibilities
Performed alpha extraction of useful insights from large structured and unstructured data sets
Evaluated and analysed existing and new data sets to generate quantitative fundamental insights or model relevant financial metrics
Applied statistical analysis, natural language processing, and machine learning methods to large data sets for data mining, feature engineering, bias correction, and prediction
Key Achievement
Pioneered a new alpha extraction method which led to a 130% increase in investment returns.
Wrong
Data Scientist Intern
March 2018–December 2018
Nielsen IQ, Mumbai
Key Responsibilities
Created AI models.
Assisted with statistical analysis.
Designed automated pipelines.
Imagine an assignment without your name on it. See, the problem? The second internship experience is just not ready to hand in.
Detailed responsibilities and a numbered achievement are what makes the difference.
What if you're a fresher without any relevant experience?
No worries.
Talk up your most significant duties and achievements in any other job to show them your work ethic matches their company values:
Fresher Resume Example—No Related Experience
Right
Bank Teller & Consultant
Feb 2016–Jan 2018
Standard Chartered Bank Ltd, Mumbai
Key Qualifications & Responsibilities
Recorded transactions and prepared currency transaction report.
Reconciled cash drawer by proving cash transactions.
Assisted clients with AI program to help identify perfect loan products.
Key Achievement
Adopted ML and AI to increase loan applications and approvals by 250%.
Experience as a bank teller seems to have nothing to do with our other example of becoming a data analyst. However, pick the responsibilities and achievements which are most relevant and help you to show the recruiter you are a match for their culture.
If you've done some freelance work or online gigs, add only the most impressive ones.
And, if you are writing a resume for your first job, just skip the work history section. In this case, be sure to double down in the other areas if you want to stay in the running!
5. Put the Right Skills on Your Resume for Freshers
You've gained various skills in your life so far.
But—
They span a broad spectrum, from financial management to social etiquette. Which skills to add to a resume for freshers?
No need to worry!
First, create a simple list of skills, like the one below.
Include both hard and soft skills:
Hard skills are ones you study and learn (e.g., Microsoft Office), and
Soft skills are ones you develop during life (e.g., decision-making skills).
Top 14 Skills in Resumes for Freshers
Technical Skills
Effective Communication Skills
Management Skills
Decision-Making Skills
Marketing Skills
Creative Thinking
Computer Skills
Writing Skills
Project Management Skills
Active Listening Skills
Problem-Solving Skills
Time Management Skills
Analytical Skills
Critical Thinking Skills
The point is that you can't just add a list of random skills and call it a day!
Instead, go back to the job description to figure out the specific skills your company requires.
For example, imagine this is our data analyst job description:
You will build and maintain reporting dashboards and management tools to help stakeholders make decisions [1]
You will develop and manage systems and data models for new and rapidly-evolving business processes - including our sales funnel, global expansion, member value programming and more
You will systematically improve our operations by identifying opportunities, deriving business hypotheses on how we might leverage those opportunities, and validating those hypotheses through experimentation [2]
Institute data capture systems and processes to help us understand what's going on in our business and in our spaces around the world
Capture holistic data and use that insight to identify creative ways to improve financial and operational performance [3]
Reading the job ad truly makes it easier to pick the proper skills:
Fresher Resume Samples—Skills Section
Right
Skilled in making informed decisions from management tools [1]
Efficient at identifying unique business opportunities [2]
Effective at capturing and gaining insight from holistic data [3]
Wrong
Tech skills.
People skills.
Emotional intelligence.
The skills list in the second example looks general and will not help you impress the hiring manager!
In contrast, the first example gives the exact material they are looking for. Impressive!
Keep in mind that you're not just looking to please hiring professionals: you're also appealing to the ATS software the company uses to filter job applications.
An applicant tracking system, or ATS, is a piece of software that helps larger companies and recruitment firms handle the many resumes they receive each day.
It works like this:
HR professionals scan resumes into the software. Next, they input specific keywords to search for on those resumes. Then, they receive a score back for each resume based on how well they match the job description.
No match, no job!
That's why tailoring your fresher resume and using the right keywords in every section, including your skills list, are so important.
Now everything makes sense. Right?
Pro Tip: Soft skills are great, but lean towards hard skills in your skills section. Save your cover letter and interview for showing them you have great social skills and problem-solving abilities.
6. Add Other Sections for an Effective Fresher Resume
Here's the thing: most probably every recent uni grad or fresher will have the above sections on their resume.
How do you want to stand out? Like this:
Include additional resume sections to show you're one of a kind.
Here are great extra sections to include on a resume for freshers looking for the first job:
Resume Template for Freshers: Extra Sections
1. Certifications
Many employers weigh official certificates heavier than even your degree (don't tell your parents). Add relevant ones, such as CompTIA A+ for IT or software certifications, such as CATIA for mechanical engineers.
2. Volunteer Experience
Volunteer experiences on fresher resumes is an awesome way to add work experience when you don't have any paid job history. If you have had multiple volunteer positions in your past, choose the most job-related ones.
3. Language Skills
In this globalized world, proficiency in a second (or third!) language is more important than ever. Add the language and your skill level to it on a standardized proficiency scale.
4. Hobbies and Interests
Adding your interests and hobbies to a resume is a great way to indirectly highlight skill sets.
5. Professional Portfolio
Not a resume section, per se, but an impressive addition for certain industries, nonetheless! For example, if you've been writing a personal blog, a portfolio of your successful articles would look great for marketing positions. Add the portfolio URL to your resume contact information section.
Pro Tip: If you're applying for a fresher job in India, make sure to include a declaration at the end of your resume. A simple statement like "Declaration: The information stated above is true to the best of my knowledge and belief." will suffice.
A great cover letter that matches your resume will give you an advantage over other candidates. You can write it in our cover letter builder here. Here's what it may look like: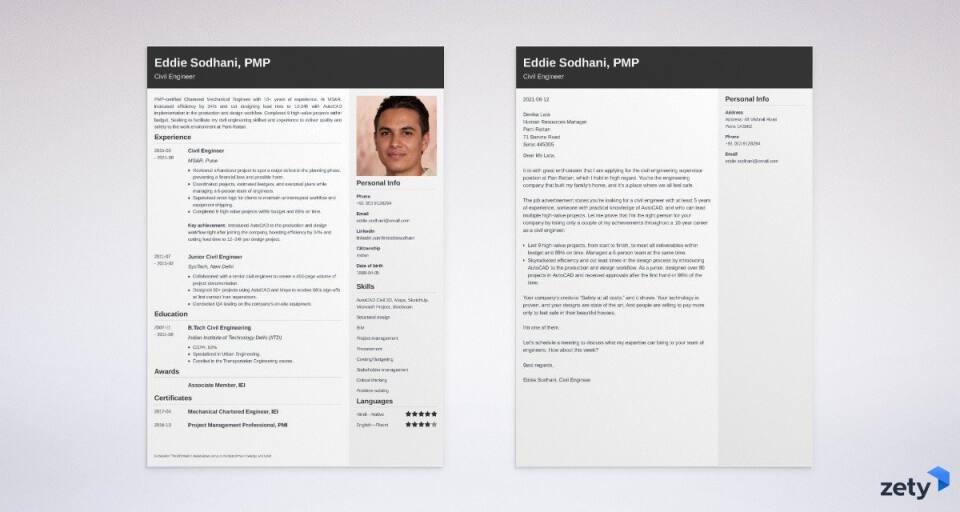 See more cover letter templates and start writing.
Key Takeaway
Making a fresher resume seems easy now, right?
Let's sum it all up.
Here's how to make a resume for freshers:
Use the reverse-chronological format to make it familiar and easy for HR.
Begin with an intriguing fresher resume objective or summary.
List your educational achievements with relevant coursework and honours.
Talk up any experience and internships you have using relevant wins.
Document your skills in a list that uses the job ad to pick applicable ones.
Include extra college resume sections to stand out from the other new grads.
Attach a fascinating recent graduate cover letter to your university resume.
Now, THIS is a fresher resume that aces Career Ready 101!
Got any questions on how to write a fresher resume? Not sure how to talk about fresher resume skills or professional achievements? Let us know in the comments below, and thanks for reading!