Wow, looking sharp in that photo! This shirt compliments your eyes. And that smile… You're ready to win the world over!
Now, it's time to put that photo on a resume, and you're ready to send it to recruiters. But hold on. Are you sure how to do it? I hope you're not looking for a paper clip or glue to paste your photo onto a printed job application.
If you're not sure how to create a professional resume with a photo, just read this article. You'll learn how to do it in minutes. No need for a stapler or sticky tape!
This guide will show you:
A resume with a photo example better than 9 out of 10 other resumes.
How to create a resume format with a photo that will land you more interviews.
Tips and examples of how to place a photo on a resume.
Customizable resume templates with photos that you can make yours in minutes.
Want to save time and have your resume ready in 5 minutes? Try our resume builder. It's fast and easy to use. Plus, you'll get ready-made content to add with one click. See 20+ resume templates and create your resume here.
Sample resume made in our builder—See more templates and create your resume here.
Looking for other career-boosting guides? Take a look at these:

Read the guide below and learn everything you need to know about making a resume with a photo:
Should I put my photo on a resume?
Now, this is a tough question. Opinions differ on the matter of photos on resumes. Some advise that a professional photo can boost your chances of getting a job, while others believe it's not professional.
The truth is: it all depends on the job and the company. Before you decide to make a resume with a photo, read the job advertisement closely and see if a photo is mentioned anywhere. If the job ad specifically says not to include a photo—kindly adjust your resume to the requirements. If a photo is required—you know what to do.
When the job advertisement doesn't say anything about photos, think carefully about:
Your resume template: will it look professional when you add a photo? If adding a photo means you must delete some important information about yourself, then it's not a great idea. However, you can always pick a different template for a resume with a picture, or format your resume to include everything.
Job type: does appearance matter in this job? If the answer is yes: it's worth attaching a professional headshot. Many employers believe that the staff must look presentable, as they represent the business. Showing a good photo on a resume may help you get an interview.
To sum up, a good rule of thumb is to attach a professional photo to a resume, unless the job posting specifically says that photos are forbidden.
Pro Tip: Rules regarding resumes with photos are different in each country. When you apply to a job abroad, make sure to check the local customs. For example, photos on CVs are welcome in many European countries, such as France or Germany, but using a resume with a photo in the US, Canada, Australia, or United Kingdom can even hurt your chances of getting hired.
What photo can I use for a resume?
That's obvious. Your resume photo must be first-class. But what does that mean, exactly? It's not only about the way you look in the photo, but also about the format, the size, the background, and a lot of other factors.
Here's what to consider when choosing a photo for a resume:
Format: headshots are the best choice for creating a resume with a photo because they focus on the face. You can use a passport photo or a diploma photograph for a resume with a picture. Never use photos with other people, holiday photos, etc.
Colour: it's up to you if you prefer a black-and-white or a colour photograph. If your resume template doesn't include any colours, it might be a good option to go with a black-and-white photo.
Background: neutral, such as grey, white, or light blue, are best. Avoid using photos with colourful backgrounds, such as natural landscapes, wallpapers, etc. Unless you edit them, they won't look professional.
Clothes: business casual or formal attire is best. A white or pale-blue shirt will look great. Funny T-shirts are out of the question!
Expression: a professional smile will make you look confident and approachable.
Remember that a resume with a photo must be up-to-date. Don't use a photograph from a diploma you received 10 years ago, or from your fresher resume created right after graduation. If you're tempted to just take a selfie and paste it onto your photo resume, that's also not the best idea, unless your selfie game is top-notch. Do one thing, just go to a local photographer.
Pro Tip: Applying for flight attendant, modelling, or acting jobs? The job advertisement may ask for a full-body shot. Don't paste it onto your resume! Just attach it as a separate file. You may also make a portfolio of your photos and send it along with your resume.
How do I make a photo resume?
If this question is eating your brain, it's time to stop worrying. Making a resume with a picture is quite simple, really. You can easily create your resume in MS Word or Google Docs. First, learn how to write a good resume for a job. Then, just insert a photo into your resume file. Choose the best place in the document to show off your looks.
However, sometimes adding an image to a text file can mess up the resume layout pretty badly. If you want to avoid the hassle of changing alignment, moving tables, and setting up image borders, just use ready-made resume templates with photos.
Free resume with a photo templates
There are multiple online resources offering different types of resumes with photos. The good news is: it's possible to find them for free!
Here are a few websites offering free resume formats with photos:
Canva: this super popular graphic editor has a collection of over 600 pictures of resumes. They are super modern and stylish. On the downside, some resume templates with photos may be too fancy and colourful for some recruiters' taste.
Office: Microsoft Office also has a few resume formats for freshers and experienced candidates up its sleeve. Resume formats with photos can be edited in Word. However, the selection is rather limited, and editing requires access to MS Word and some knowledge of the software.
Adobe Express: This drag-and-drop graphic editing app offers professional photo resume templates that can be edited just in a few clicks, and then downloaded in PDF format. However, these highly visual designs may be impossible to scan by applicant tracking systems, which means you risk getting rejected before your application even reaches a recruiter.
As you can see, finding good resume templates with photos isn't easy, but they all come with some disadvantages.
Scratching your head and wondering if you need a resume or a CV? Check here: CV vs Resume: Key Differences
When making a resume in our builder, drag & drop bullet points, skills, and auto-fill the boring stuff. Spell check? Check. Start building a professional resume template here for free.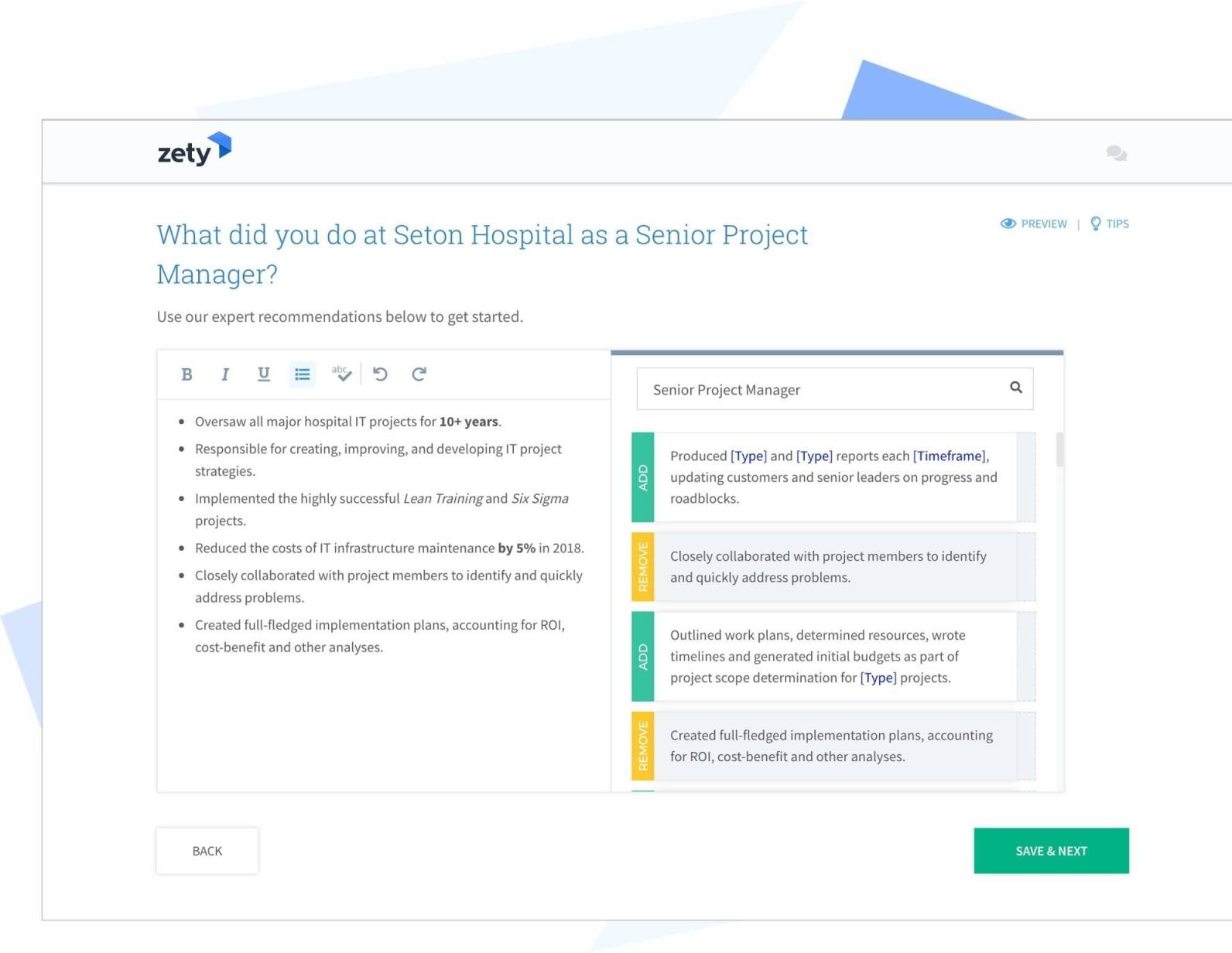 When you're done, Zety's resume builder will score your resume and tell you exactly how to make it better.
Zety resumes with photos
You look like a person who knows what is a resume and how to write it. Now, how about trying a resume builder with photos? One that could set your photo resume up in a few minutes? No need to worry about adjusting resume margins, moving the columns from left to right, and resizing your photo for the right format. Sounds like a dream?
Check the resume samples with photos below, and see what Zety's online resume maker can do:
1. Resume with photo template: Muse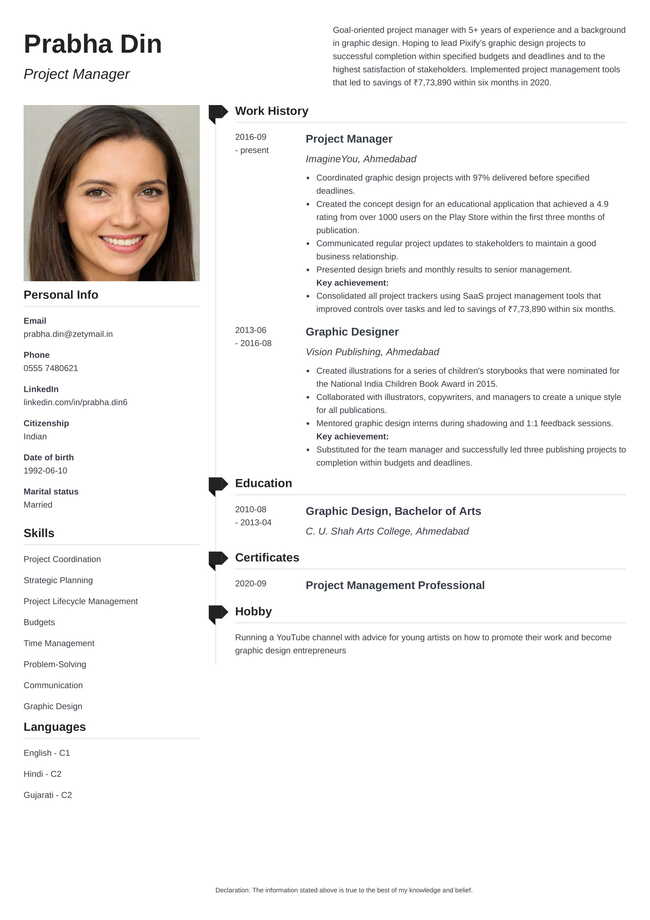 This two-column photo resume layout is great for fitting much information while looking simple and classy. The sections are distinguished by simple graphic elements and straight lines. This resume format with photo is great for men and women of any professions.
2. Sample resume with photo: Modern template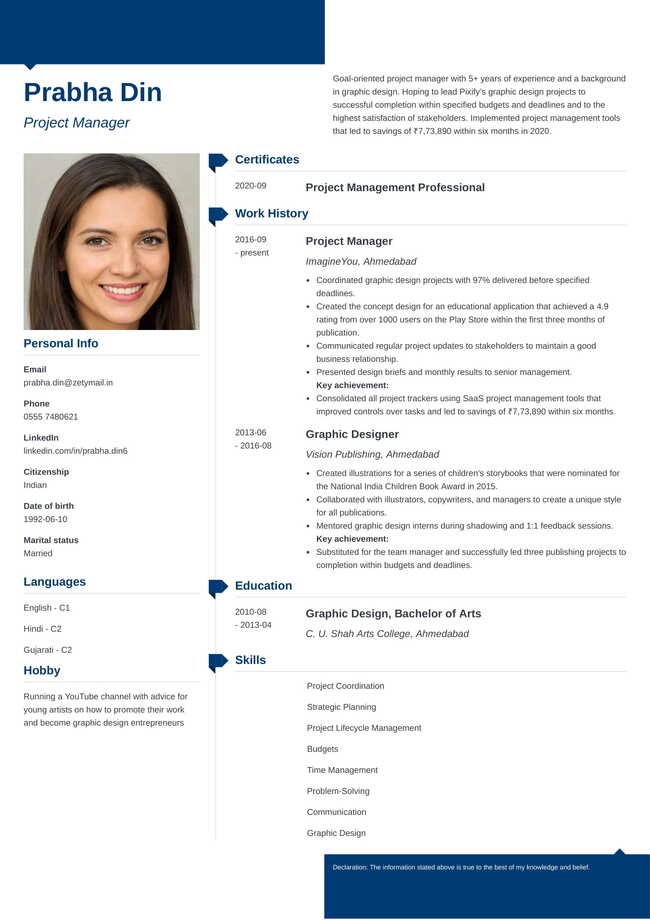 This modern layout is very similar to the previous one. The main differences are the bold rectangles at the top and bottom of the document. This simple addition has a massive visual impact. This resume format with photo is great for confident candidates who want to create an eye-catching resume.
3. Resume with a picture template: Cubic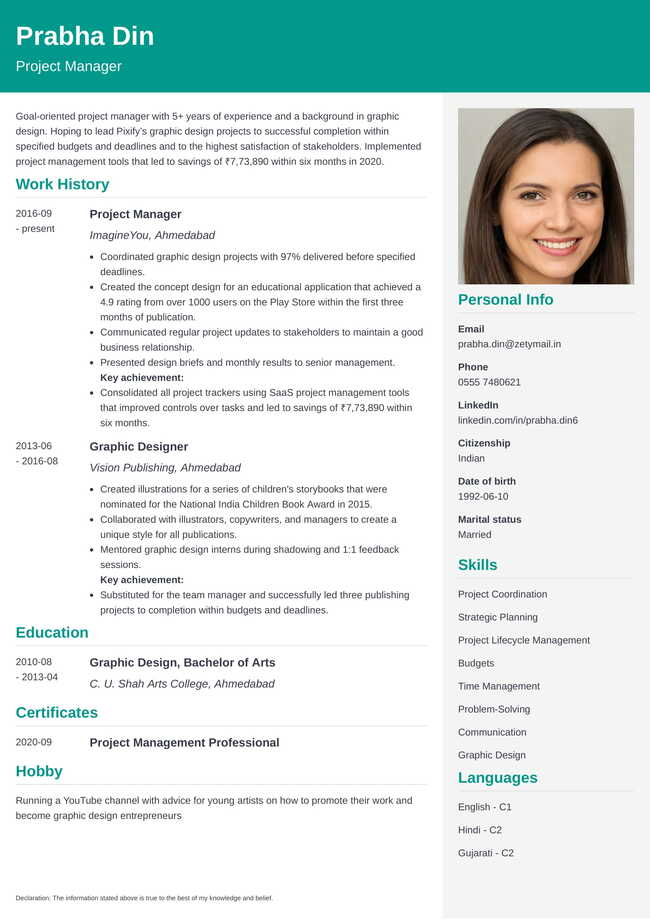 What looks like a very simple resume format with a photo is actually quite impressive. The colour palette can be adjusted for any preferences. The two-column layout can encompass a lot of information about the candidate.
4. Resume with a photo template: Primo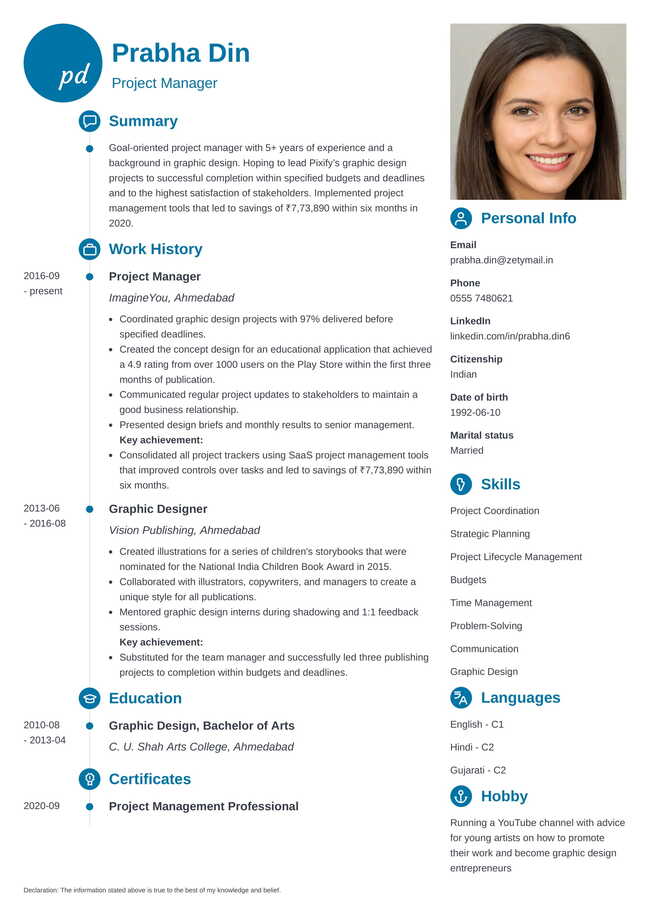 At the first glance, it's just a simple resume template with a photo. But the second look helps to notice the smart resume icons as well as the initials at the top. They're subtle yet memorable, a great addition to a resume with a picture. A very good choice for candidates who feel at home in the 21st century.
5. Free resume template with photo: Cascade
Need a resume with a traditional look? This photo resume template is one of the most popular ones at Zety. The background of the left column can be adjusted to make a bolder impression on the recruiter, and the right column is wide enough to include a lot of information.
A great cover letter that matches your resume will give you an advantage over other candidates. You can write it in our cover letter builder here. Here's what it may look like: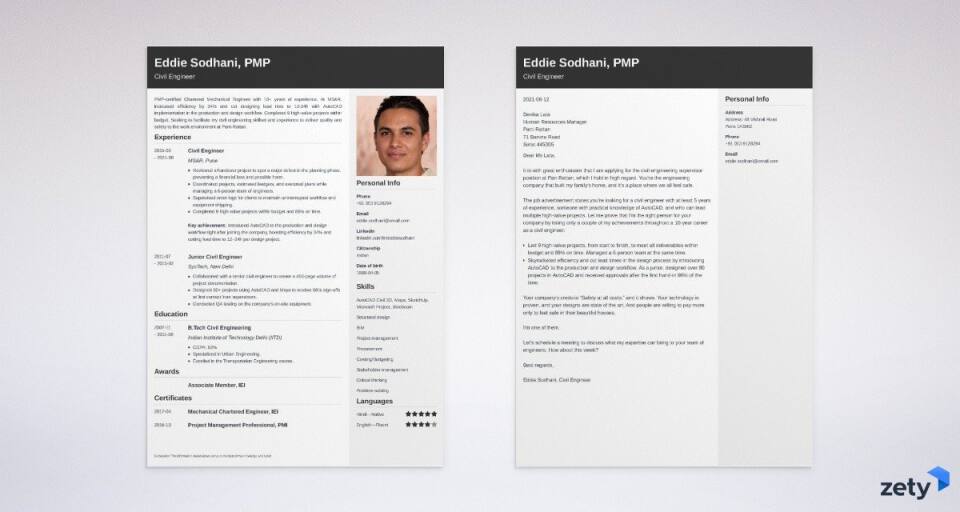 See more cover letter templates and start writing.
Key Takeaways
Here's a recap of what you need to consider when writing a resume with a photo:
Check if the job advertisement says anything about photographs.
Consider the local requirements and customs related to resume writing.
Use professional headshots instead of random selfies or holiday photos.
Attach a separate portfolio when full-body photos are required for the application.
Format the resume with a photo correctly to keep all necessary information, or pick a resume template specifically made for photo resumes.
That's all!
Thanks for reading! Now, let me know in the comments below:
- Do you always use resumes with photos?
- Would you send a resume with a photo to high-profile corporate job offers?
- Do you have any tips on choosing the best resume photo?
Share your thoughts, and thanks!